Written by Jen & Anthony Toops
Photos by Butch Phillips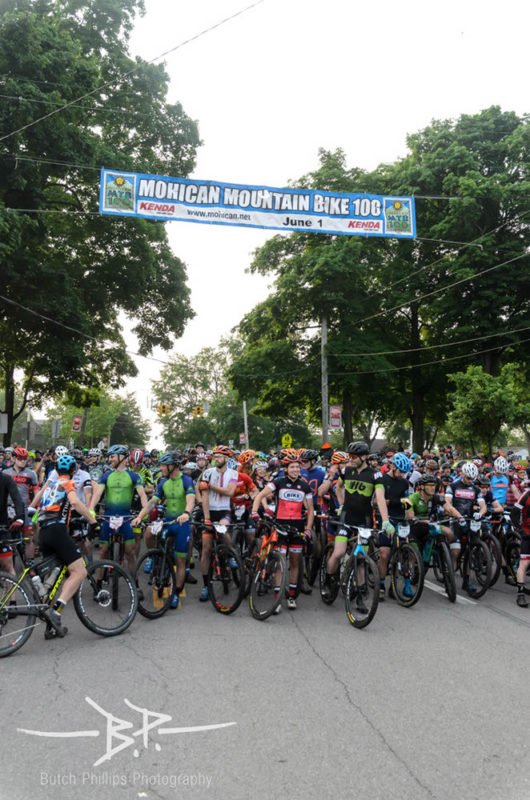 The 17th annual Mohican MTB100 kicked off on June 1st at 7am sharp. Hundreds of racers from around the country gather in Loudonville, Ohio each year to take on the deceptively tough course. Before the start riders were given some encouraging words from the Mayor of Loudonville, Steve Strickland, race director Ryan O'Dell, and a duo rendition of the National Anthem. 100mile and 100k racers then proceeded with a neutral rollout lead by the Ashland Sheriff's Department to the steep paved climb out of town, where the race officially starts.
The first 7 miles are a fast paced paved section where racers jockey for position going into the 25 miles of single track in Mohican State Park. After the single track is a mix of mostly gravel roads with some technical single and double track sections thrown in. Being in Ohio, most assume this course is relatively flat. What the race lacks in elevation it makes up for in dozens of steep, punchy climbs strewn throughout the entire distance. The 100k and 100m course splits after aid station 3, where the 100k turns left and completes the last sections of the course and the 100mile turns right to add in the extra miles (and tough climbs!).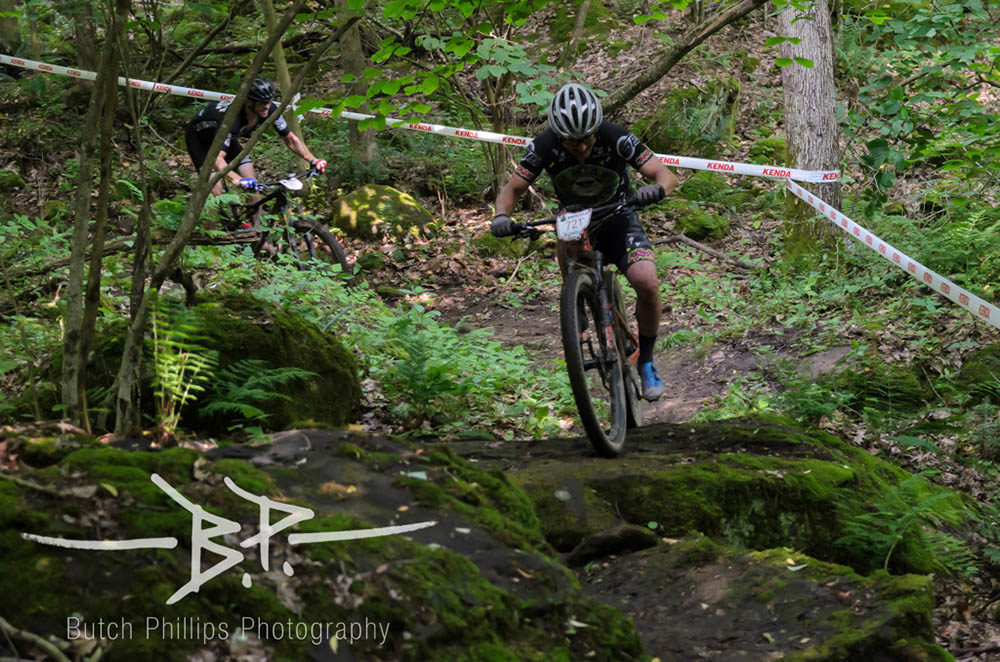 This year, a large technical rock garden located at Mohican Wilderness, was brought back thanks to some dedicated trail crew. This section hasn't been included since the first race, 17 years ago. There are also Tree Frog canopy tours, zip lines, and platforms directly overhead enjoyed by racers families. Also added was a new "secret trail" that removed a notorious hike a bike that had become known as "Big A** Climb". Only one racer in our 17 year history has ever ridden it during the race. That racer was Jeremiah Bishop, who went on to win in both 2017 and 2018.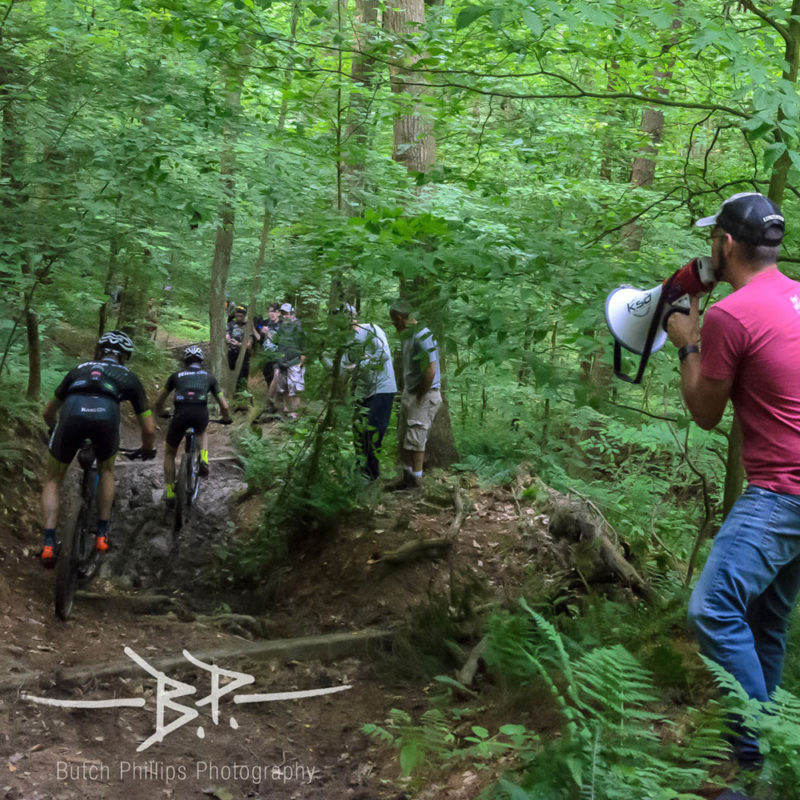 Finishers cross the line and grab a pint glass(100k) or a growler(100m) and can enjoy the post race atmosphere. Families and friends gather for food from Smokin' Bros BBQ, beer from Great Lakes Brewing, and live music.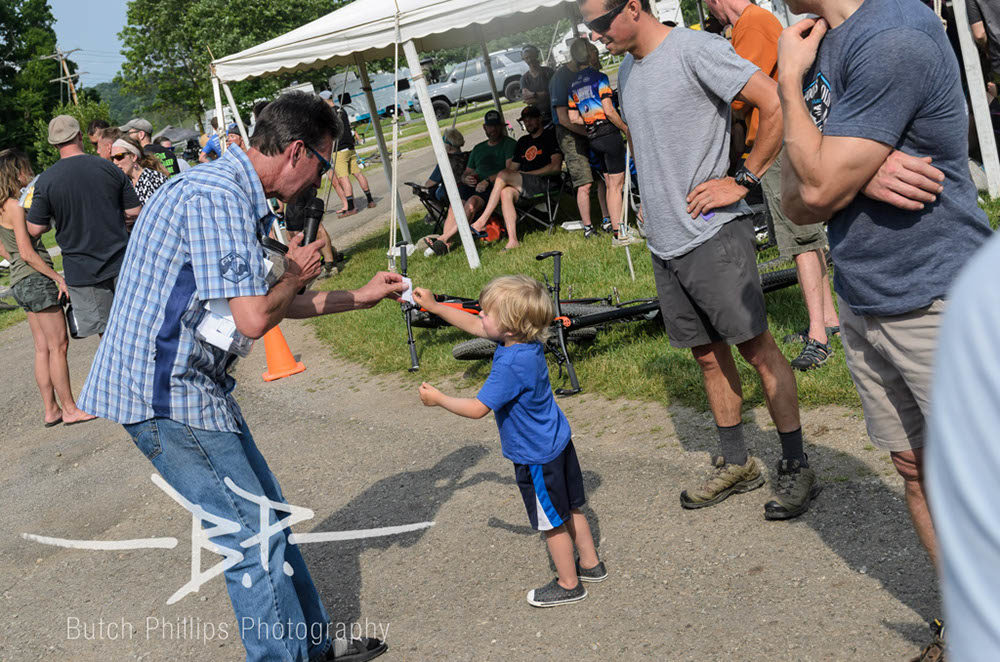 "The biggest improvement at this year's race was added safety for Mohican racers. The Mohican100 formed a new partnership with University Hospital of Ashland that included a much more detailed medical plan, including a med-evac helicopter at the race, medical room and doctor on call at the finish line, medical staff and tents at each aid station, and quads permitted to go anywhere necessary for rescue of injured racers. The racers who were injured this year had great reports about the speed and helpfulness of our new UH team of professionals." Race Director, Ryan O'Dell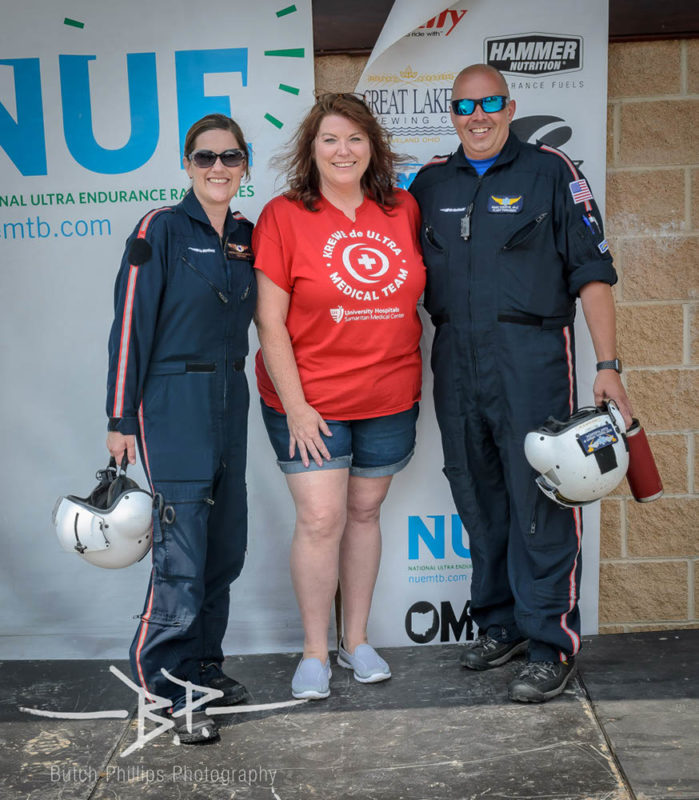 Women's Open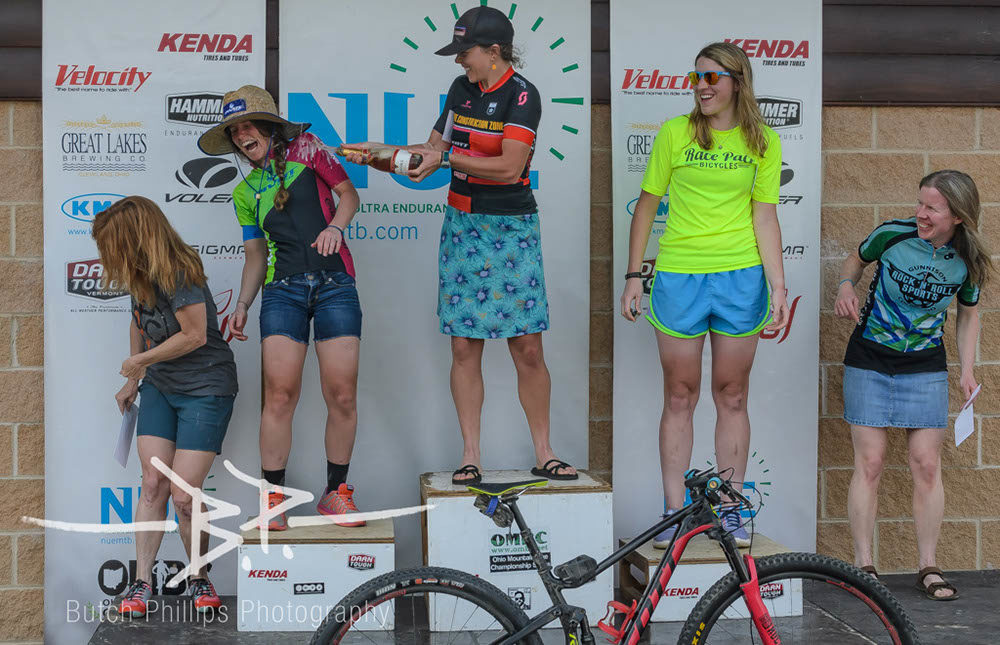 Edwards Repeats at Mohican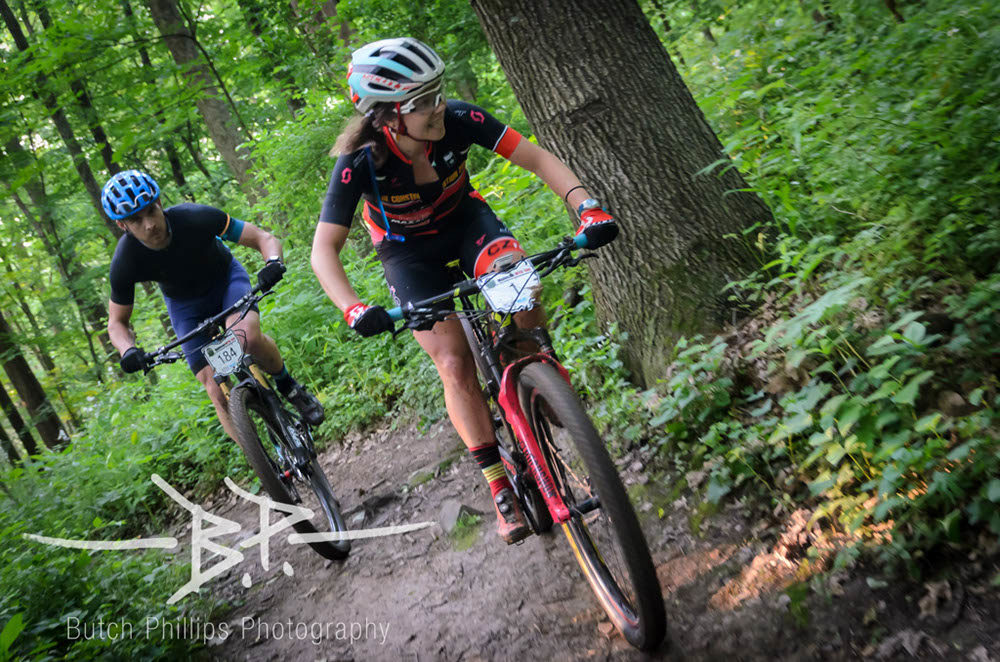 Taking the win in the women's open with a time of 8:30:56 was Chase Edwards of Construction Zone Racing. This was her second Mohican 100 win after winning last year in 2018.
"I was nervous going into Mohican! My body had not been performing the way I'd wanted it to most of the spring, and I also find wet and muddy singletrack to be extremely challenging. At the start, I stayed focused on Jen Toops who is a really strong rider and also from the area. My plan was to ride behind her for most of the first singletrack section, however, I got knocked down by an overly aggressive rider during the neutral roll out. Adrenaline from the crash helped me catch back up to Jen, and then without thinking I got in front of her just before the singletrack. I rode the first 48 miles of singletrack as smooth as possible, and when I got to the dirt road section in the middle of the race I was feeling great and decided to turn it up and widen my gap. The green rolling hills of the Mohican State Park make for an awesome course! I crossed the finish line with juice still left in my legs, which makes me extra excited for the rest of the NUE season. Lumberjack 100 is up next! Thanks Construction Zone Racing, Tenac Coaching, and Paragon Athletics for the support this season."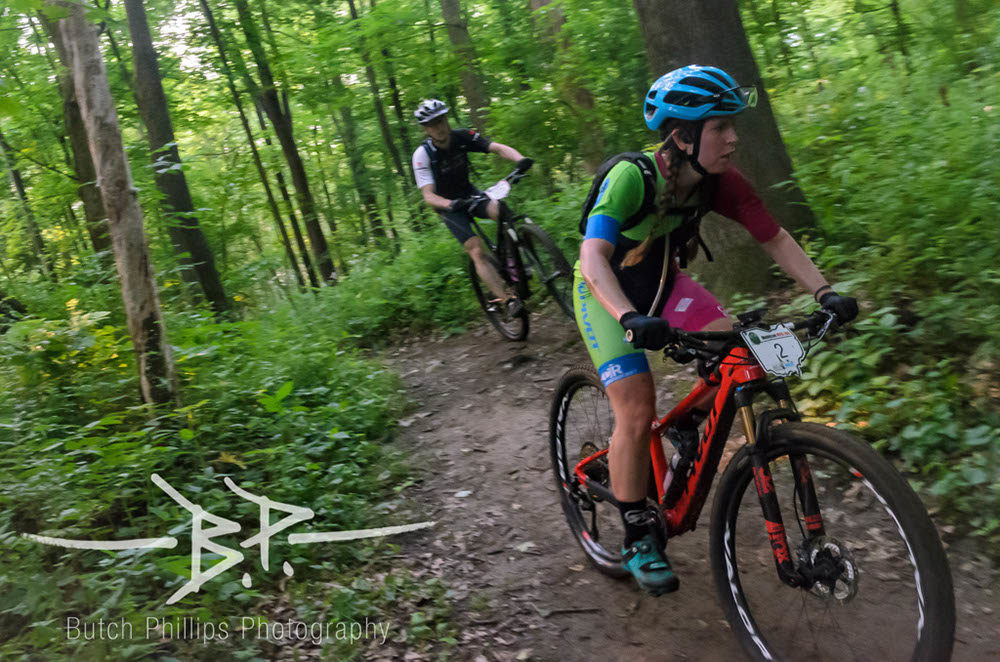 On her first Mohican 100 Mile attempt, 2018 NUE Marathon Series Champion, Jen Toops of Pearl Izumi/Pivot Cycles, finished second with a time of 8:52:49.
"I lined up near the front to get a good position for the opening sprint to the single track and hopefully avoid any crashes. Having just finished racing the Trans-Sylvania Epic 5 day stage race only 4 days prior, I had no expectations for race day other than to enjoy some new trails. It's funny living only an hour a way but I've never ridden most of wilderness.
Chase started strong and entered the state park single track a few positions ahead of me. It was hard to watch Chase disappear and not hold her wheel but I just didn't have it today and decided to race my own race. The rest of the day was pretty uneventful. I felt like a yo-yo all day getting burst of energy and then just trying to keep the pedals turning. Mentally I wanted to go catch Chase but my body said, nope. I didn't see any other women throughout the day but was happy to chat with some guys to pass the miles. To my understanding there was mostly gravel after the 100k split. Wow, was I surprised of the singletrack climb after aid 3. The second half of the race was beautiful and I had a blast riding some new trails in Ohio. I thankfully caught a pace line on the rail trail and we all worked together to knock that out. A few gravel roads and some more singletrack later and I crossed the finish under my goal of 9hrs.
Thanks to all the amazing volunteers this year! Especially aid 4.5 to give me something to read up that climb and the motivational stickers to get me to the finish! Big congrats to Chase for a strong race and Julia who finished 3rd after also taking on the Mohican 100 after the TSE stage race."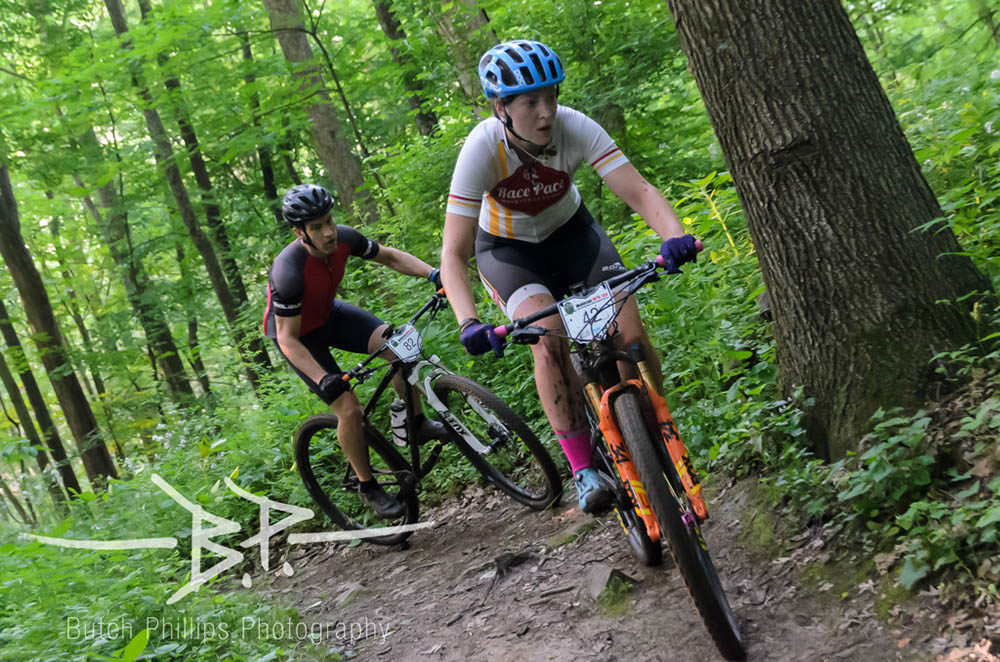 Also coming off the TSE stage race and taking the third step, Julia Thumel of Race Pace Bicycles, finished in 9:21:08.
Men's Open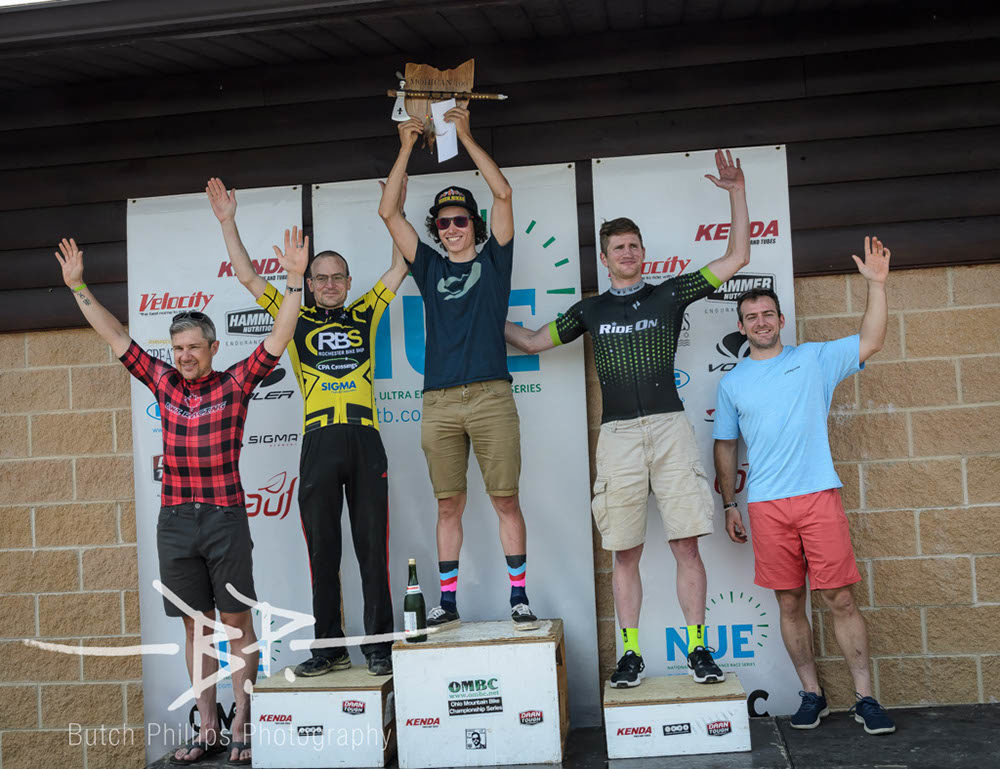 Johnson is TWO for TWO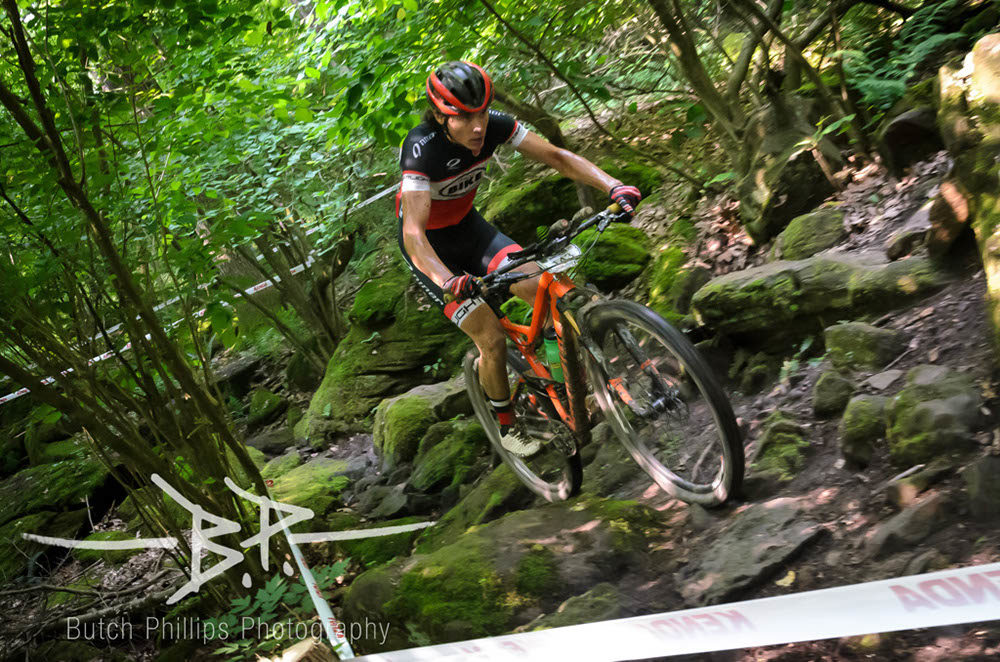 After coming off the NUE Cohutta win in April, Dylan Johnson, takes the NUE Mohican 100 mile win in a time of 6:49:22. He is now two-for-two and leads the 2019 NUE EPIC series. Christian Tanguy of RBS Cycling Team finished second in 7:03:11 and Jeffrey Pendlebury of RideOn Wooster took third place crossing the line in 7:09:42.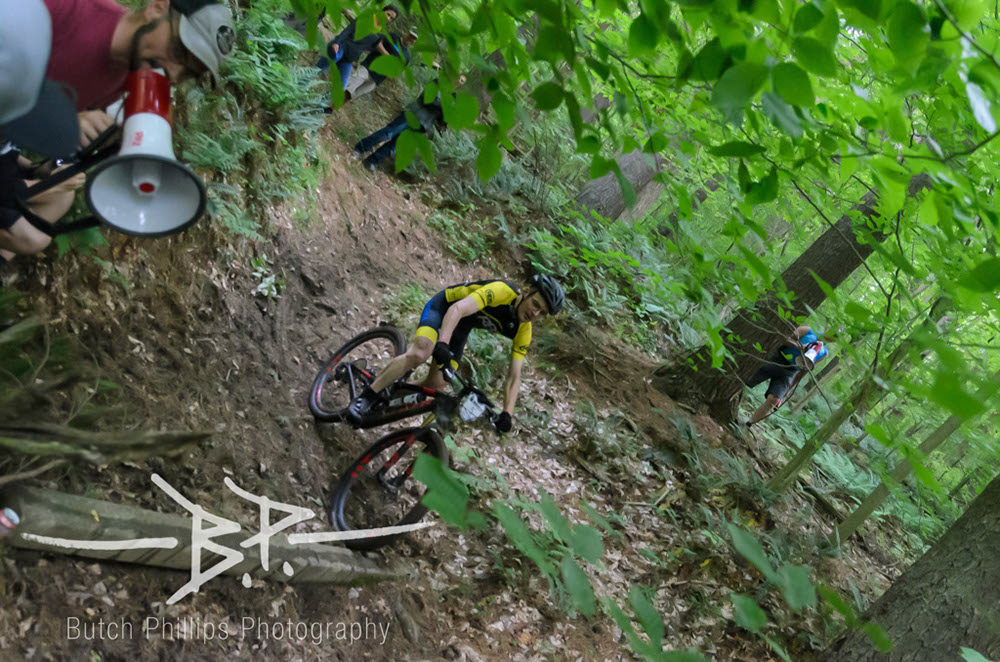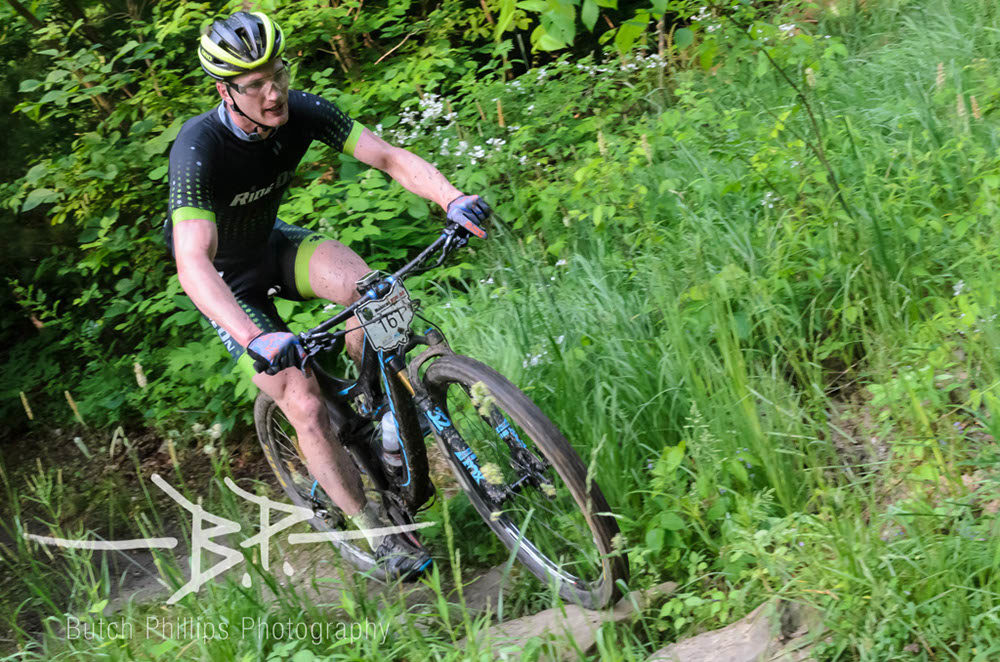 Singlespeed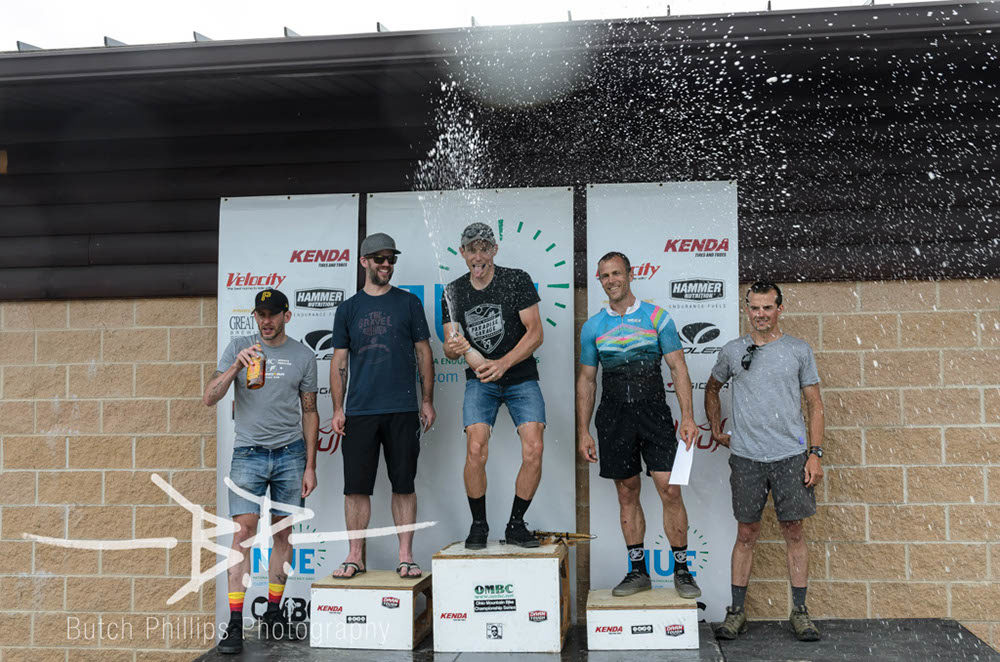 TOOPS gets 1st NUE EPIC win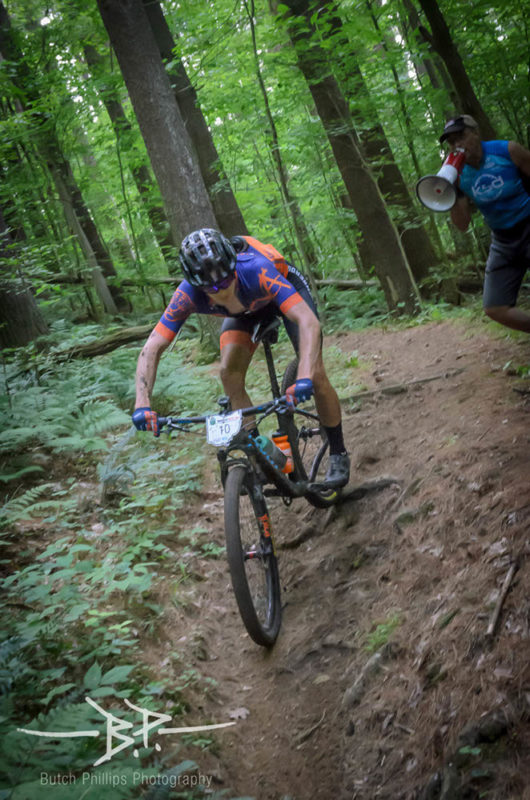 2018 NUE Marathon Singlespeed Champion, Anthony Toops of Paradise Garage, gets his first Mohican 100 Mile win finishing in 7:37:33.
"Going into this race I had no expectations after spending the previous week racing the Trans-Sylvania Epic stage race. I wasn't sure how my legs would be come race day. Mohican has always been a tough race for me, even though it's my home course. I previously always hit a wall somewhere around the wilderness area either due to pacing or nutrition issues. This was also my first race back on my Pivot LES hardtail; that bike rips!. I ran 32×19 gearing which I thought was perfect. There are some long flat sections in the course, but I think if you geared for those you would really struggle on all the steep punchy climbs, which there are a lot of.
This year I had a different race plan approach. Being my first Mohican 100 mile attempt I decided to ride my own race for the most part, making sure to keep my competitors in sight. The race started off as usual with some jockeying for position going into the single track. Pahrs was the first 100mi SS'r to get there and I was back about five geared riders and Peyton, a 100k SS'r. For the most part the positions stayed the same throughout the park single track with a few passes here and there. The pace was fast but sustainable. Just before the infamous water bar downhill I passed Pahrs and decided to ride the bars as fast as I could to open a small gap going onto the road. Gotta say, the heckle section this year was the best I've ever seen!
Once on the road, I concentrated on keeping my pace up because I knew Pahrs would be strong on the roads. Going into aid 2 I had about a 30sec lead so I made sure to get in and out quick. Heading up the Griffen Rd climb I was cresting over as Powers was hitting the bottom. I knew I had to keep pushing it here since its a long road section before the Mohican Wilderness single track. I have to give a big thanks to Josh Kunz, Ryan, and anyone else for all the work on the wilderness trails this year! That section was a blast and definitely tough!
Going into Aid 3 I was out of sight of 2nd place and I had linked up with a top 10 geared rider. We would end up working together until the end of the race and I traded pulls as best I could being a single speeder. From Aid 4 on I made sure to keep the fluids/calories flowing and just concentrate on riding that fine line of going hard and not cracking. This was a tough portion of the course. The heat and humidity was getting higher and the legs were starting to feel it. Aid 4.5 was ran by some great people from the shop I ride for, Paradise Garage in Columbus. Tunnel vision was heavy at this point so I missed out on the all the fun they were having. I grabbed fluids, chugged some M&M's, and kept pedaling. Going past aid 5 is always a good feeling because you know the only thing in your way is more fun single track. The adrenaline kicks in here and you end up finding energy that you didn't know you had. Heading down the last road to the finish was a relief! I crossed the line, grabbed my Mohican 100mi finishers growler, and finally got revenge on the race that has always kicked my butt!
Thank you to all the volunteers and staff for putting on an amazing race as always and thanks to Paradise Garage for all the support!"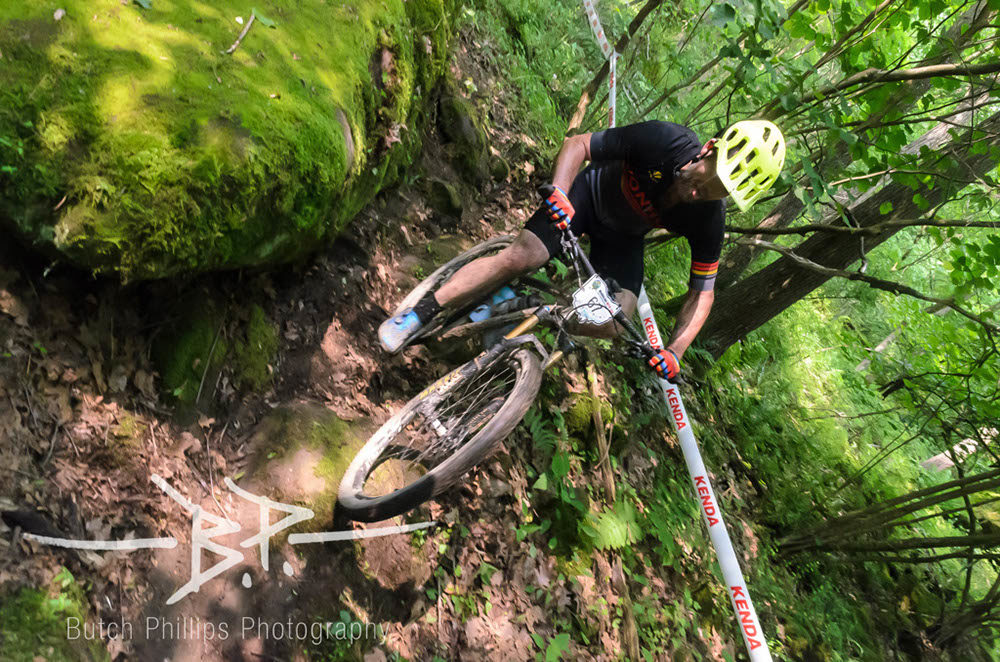 Finishing about ten minutes later, Shane Kramer crossed the line second at 7:47:08. Taking third place was, Eli Orth of Team Hungry, finishing at 7:49:58.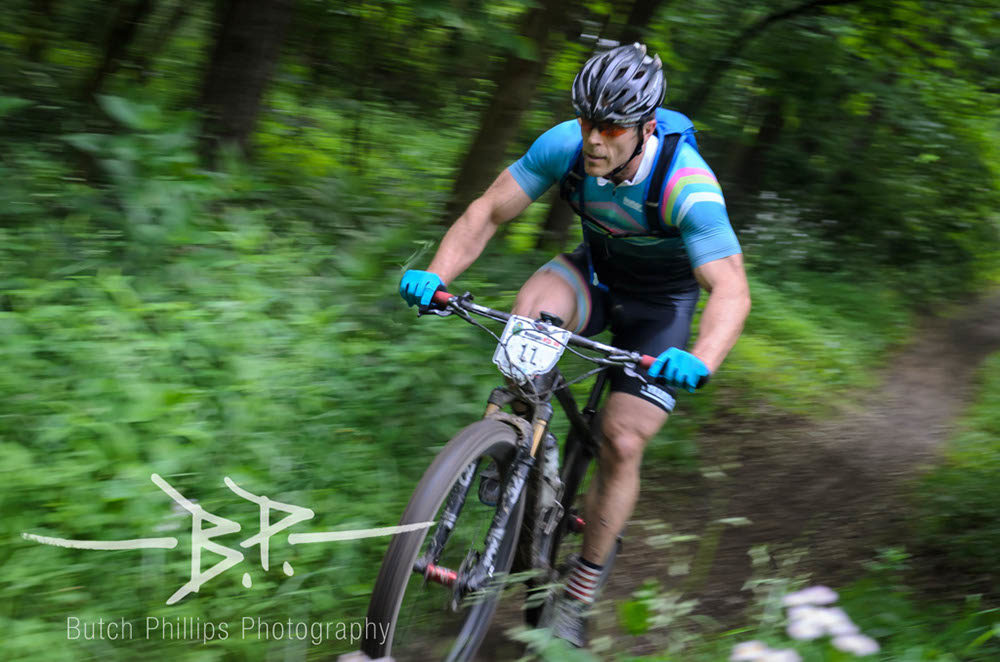 "Coming off of just finishing the 5 hard days of stage racing single speed at TSE on Monday it was a quick turnaround to racing Mohican on Saturday. The start seemed to be a really relaxed pace leading up the first climb. I worked my way to the front to try to get good position leading into the single track. Once to the single track i found myself in good position where i could ride hard without worrying about trying to pass a bunch of people. I kept a steady consistent pace like i had planned. I spent a lot of the day in the company of my friend Michael Gottfried. Having him there made the day go quicker and at times we helped push each other. He especially helped me once we hit the flat bike path! We caught the 2nd place ss and he latched onto our train.. then I saw good ol Dahn Pahrs up ahead just spinning away. I must say I was happy to see him, but he wasn't so happy to see me haha. After a short chat i knew I had to keep the pace up as 2nd 3rd and 4th place single speeders were now all together. We all stayed together and stopped together at aid 4 (mile 72). Some of us were in and out quickly. After that aid stop i never saw Dahn again. I was still going back and forth with the 2nd place single speeder Shane Kramer though. Eventually he was able to put a little space on me and i was unable to pull him back in. Overall it was a great race especially on my not so fresh legs. Great to see Ohio take 2 of the top 3 spots in the Epic distance SS! Huge congrats to Anthony Toops on the win!My gearing was 34×20 which seemed to work well.
Thanks to my team/sponsors Team Hungry and Absolute Black. My next race will be the Lumberjack 100 after two short weeks of rest and recovery."
Masters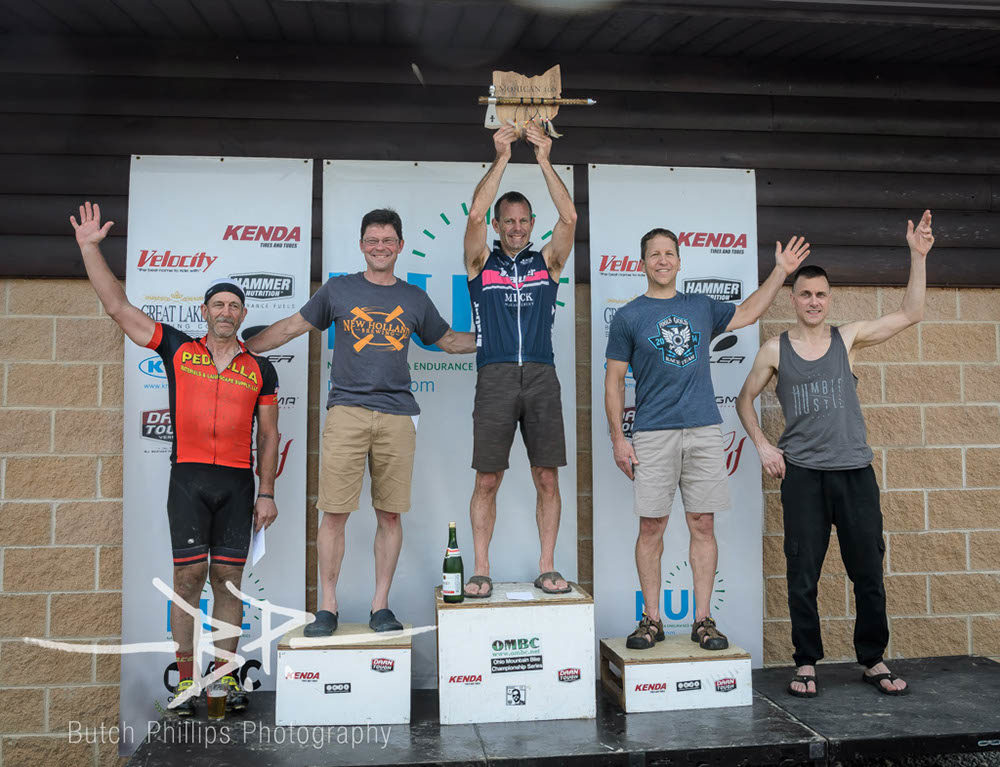 Johnston goes sub 8hrs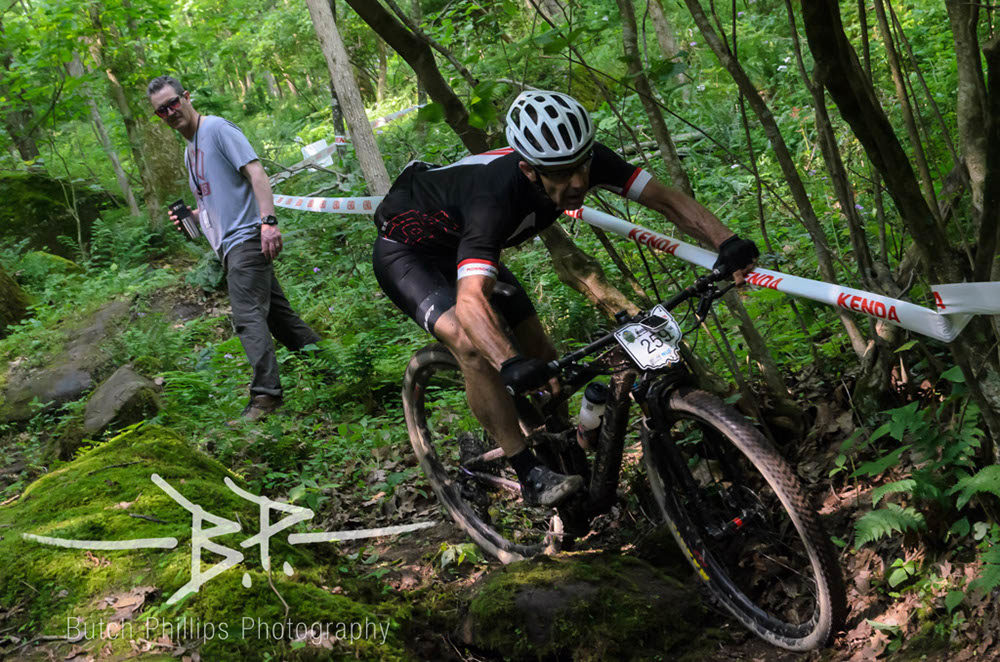 Taking the win in the Masters class was, Joe Johnston going sub eight hours and finishing in 7:58:25. About six minutes later Devin Debower took the second position in 8:04:03 and Christian Butts finished third crossing the line in 8:41:28.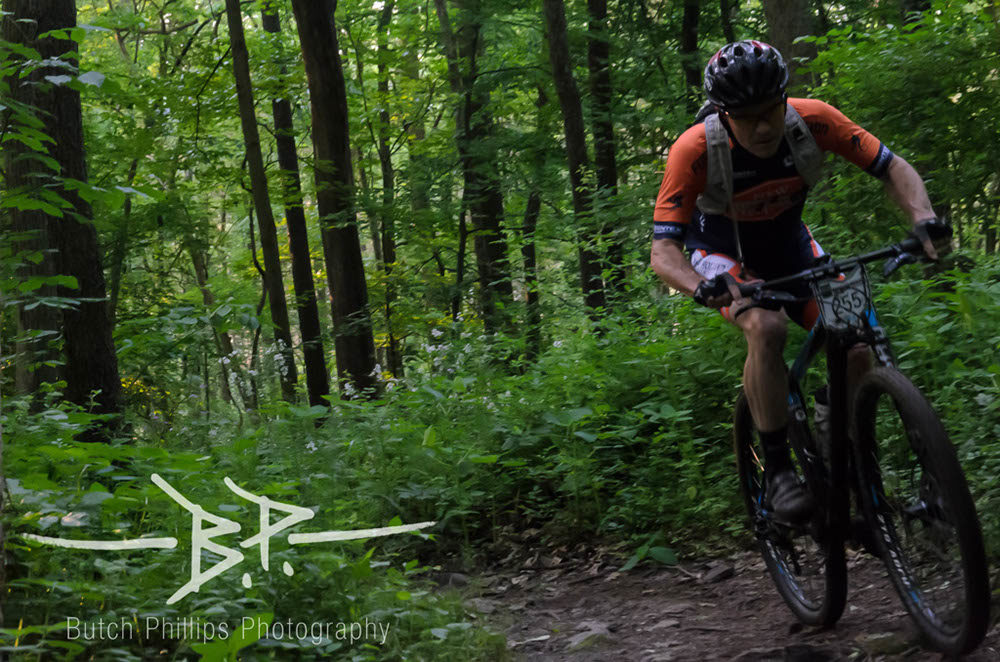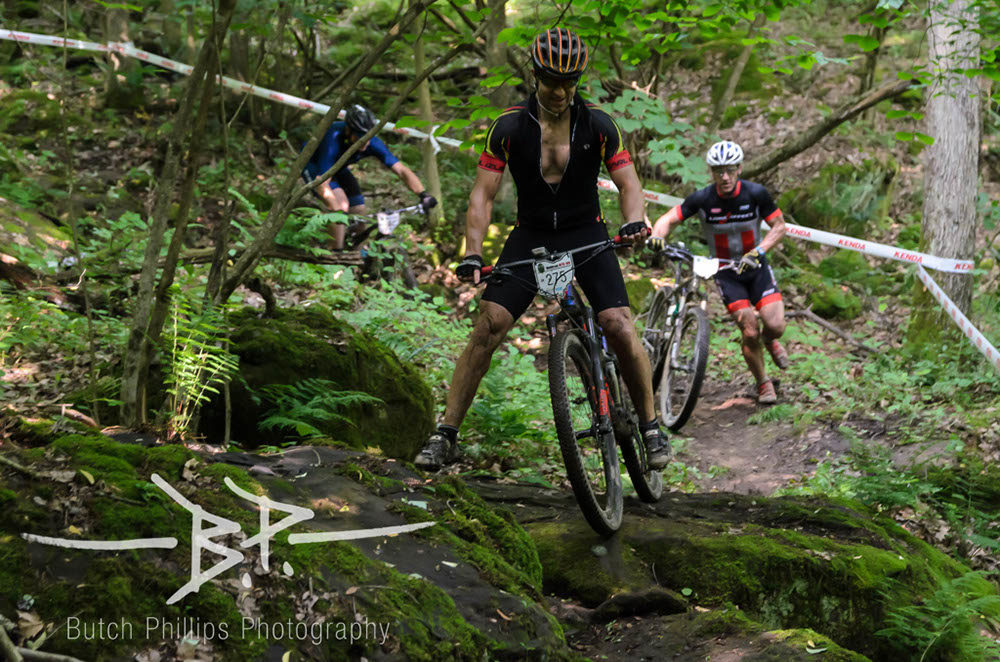 For full results CLICK HERE
Butch Phillips Photo Gallery CLICK HERE
Next up on the 100 Mile Epic NUE Series is the High Cascades in Bend, OR. CLICK HERE to register.