Written by: @jentoops
The 20th annual Mohican MTB 100k/100m kicked off on June 5th, 2021. Hundreds of racers from around the country gather in Loudonville, Ohio each year to tackle this tough course. A new course for 2021 would eliminate gravel and add more private single track sections making it quite possibly the toughest course yet.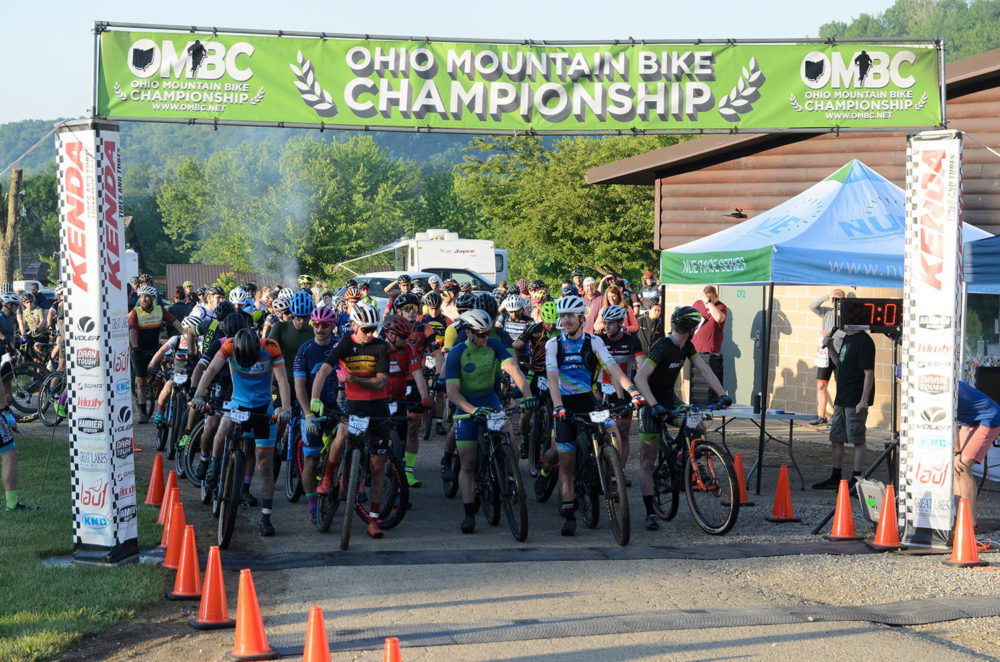 The 100k race took off at 9AM and started/finished at Mohican Adventures campground. It was a full sun, scorching hot, and humid day with temperatures reaching mid 80's. Due to a short run out before the singletrack, a mass start wasn't possible this year and race director, Ryan O'dell, sent racers off in 5 min waves by category.
The racers quickly jockey for position going into the 25 miles of fast flowing single track in Mohican State Park. After the single track is a mix of mostly gravel roads with some technical sections and the newly added Mohaven single track. The famous Mohican Wilderness rock garden was included where racers are heckled as they try to maneuver this technical section. Being in Ohio, most assume this course is relatively flat. What the race lacks in elevation it makes up for in dozens of steep, punchy climbs strewn throughout the entire distance and eventually climbed over 8000 feet.
What makes this race special is the amazing group of volunteers from New Hope Church that run the aid stations. Ryan O'dell stated, the church has been helping for 10 years now. The New Hope volunteers bring a unique excitement and enthusiasm to the event that makes racers feel welcome and appreciated. I can't thank them enough." No matter if you are leading the race or in the back the volunteers make signs, are out cheering racers on and have a "Nascar" style to get you in and out of aid stations quickly.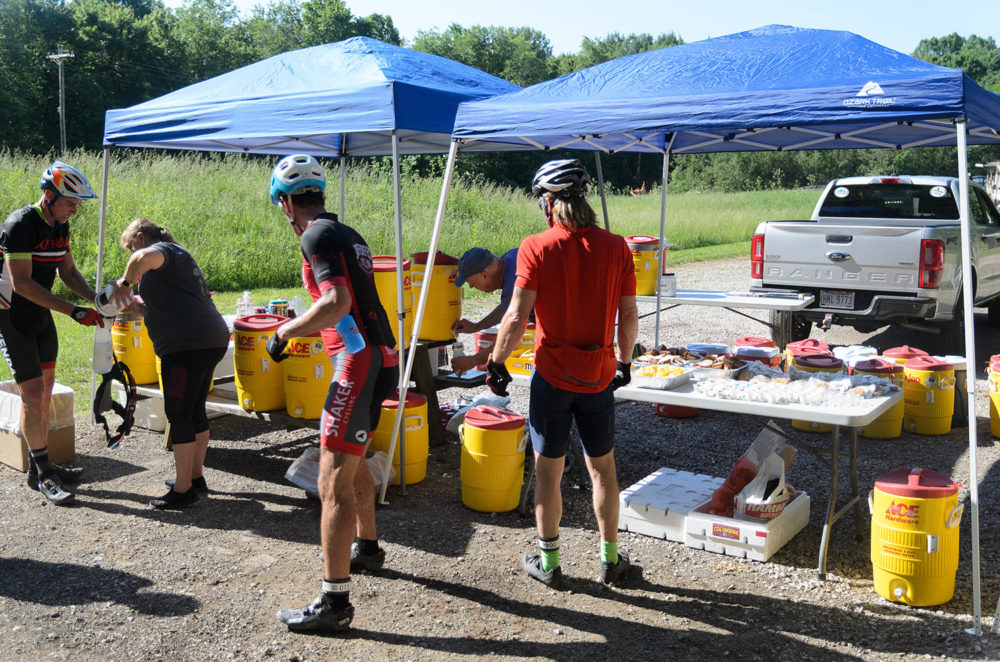 Finishers cross the line and grab a pint glass(100k) or a growler(100m) and can enjoy the post race atmosphere.  Families and friends gather food from Grants Guac and Roll and beer from Great Lakes Brewing all while cheering racers on as they cross the finish line.
Men's Open
Taking the men's open 100k win and finishing fourth overall was local, Andrew Purcell (Purcell Construction), with a time of 5:55:12.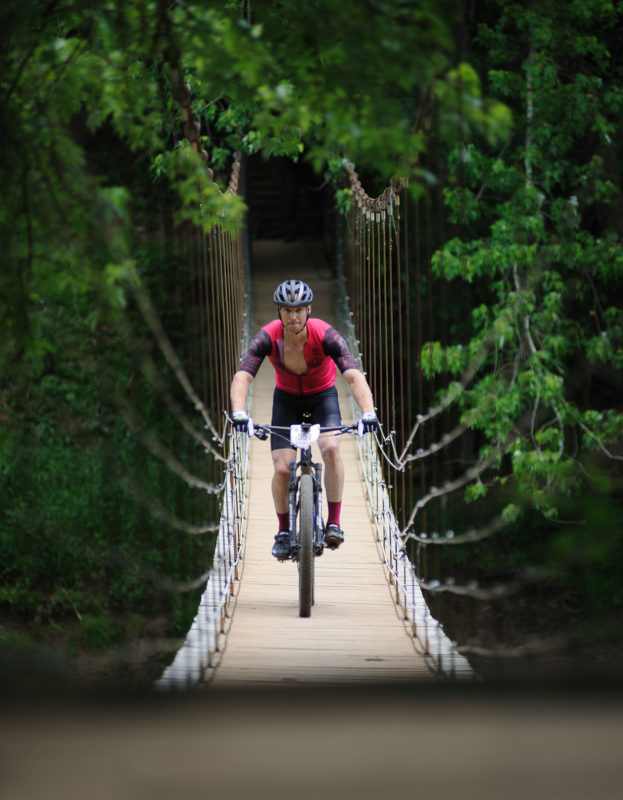 "I rolled off the start line and entered the single track about 6th place. I live in the mohican area and know these trails really well. After a few miles i decided to head to front to up the pace. We split off into a group of three. Not going to hard but using the flow of the trail to our advantage. 100 yards from the first road section coming off the horse trails one of the riders went over the bars pretty hard and that left two of us to get after it. We rode together to wilderness and i thought for sure he had the better legs on the day. I let him go on back side of wilderness climb. I knew we still had a good bit of riding left. Rode solo till heading back home out of mohaven when i came up on Ryan. He said his legs were cramping and just wanted to get home. I tried to encourage him and said this is the only way home. We are so close. We rode together until climb up to back side of suspension bride where i pedaled on and basically crawled home to the finish. Home field advantage was a huge bonus. Bike worked flawless all day. Lucky win– Sponsor is Purcell Construction"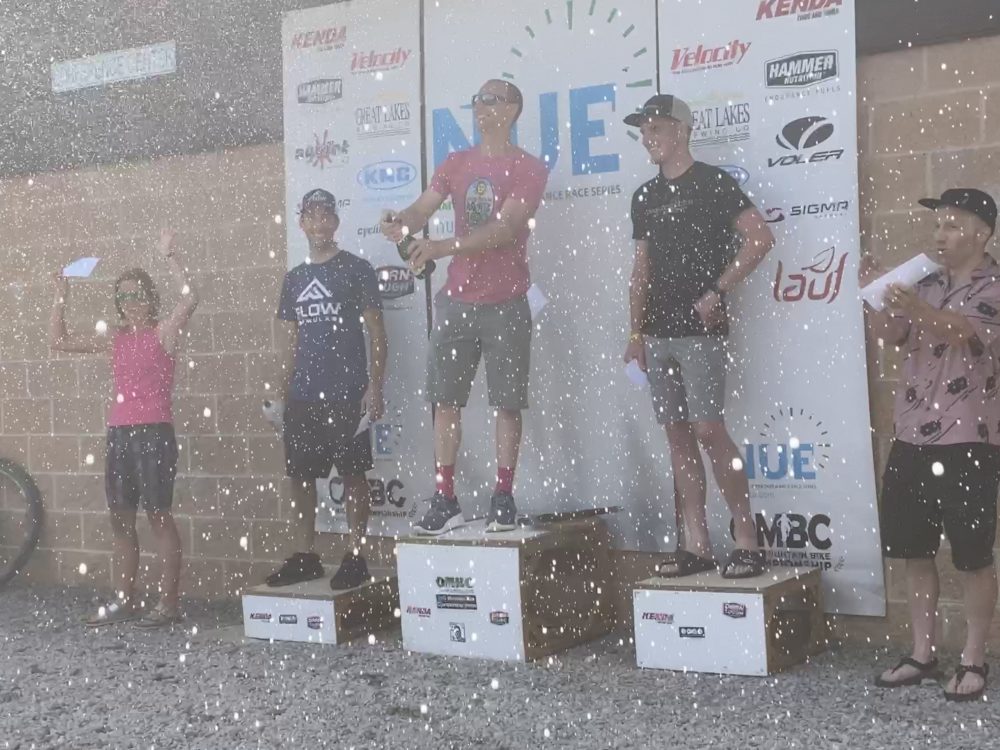 Taking second place was, Ryan Johnson (Cannondale) of PA, finishing in 6:02:27. About seven minutes back, Will Pfeiffer (Flow Formulas), took third place in 6:09:31.
"During my Friday recon, I saw that a narrow, metal bridge led into the singletrack about half a mile after the start. This looked like trouble so, as soon as the race began, I went to the front and made sure to lead across the bridge. This turned out to be a good choice, as there was some chaos farther down in the field through that area. I ended up staying on the front for about 5 miles, dragging a group of seven of us away. At this point, I let eventual winner Andrew Purcell move through. He was climbing harder than was reasonable for me and I quickly let the other five through as well to go chase him. Then I just settled into my race.
Joe Williams bridged up and we rode together for around 40 miles, slowly catching guys who had popped off that front group. I was focused on keeping some pace while not overextending the legs and staying well hydrated. Coming out of the third (and what I thought was the final) rest area, we navigated the last significant portion of singletrack before the course opened up into a series of gravel and fire road climbs. I was starting to increase the tempo and knew that Chris Cain was staying within about 20 seconds of me with third place on the line. Given that I had unknowingly lost track of the course, when we crossed the plank bridge into a campground I thought we were about to hit the finish. I was full gas, absolutely giving it the beans for half a mile, making sure to keep Chris behind me…just to realize that we were merely coming into the *actual* final rest area. With another 12 miles to go.
This was a tough mental and physical blow. My legs were cooked so I backed off and waited for Chris to see what kind of pace he was rolling at that point. Neither of us were going super hard, so it was a good chance to recover for a bit. Around eight miles to go, I started climbing to the power numbers again and hoping my legs wouldn't completely crump after my mistimed effort. I was able to pull away through a few of the steeper sections and really buried myself holding high tempo to the finish, securing the podium. This was a great course. Definitely challenging. Lots of variety and far punchier than I thought it would be. Glad I came to Ohio and fortunate to have linked up with some awesome riders throughout the day! Sponsors: Flow Formulas, The Black Bibs, Starlight Apparel, Industry Nine, Maxxis, Kask, Koo Eyewear, Handup Gloves, Ridge Supply"
Rounding out the podium was, Christopher Cain (Yellow Springs Dirt Syndicate) from OH finishing fourth in 6:13:20. Taking the last podium spot was, Joseph Williams (Blenman-Elm Racing), from AZ finishing in 6:15:09.
Women's Open 100k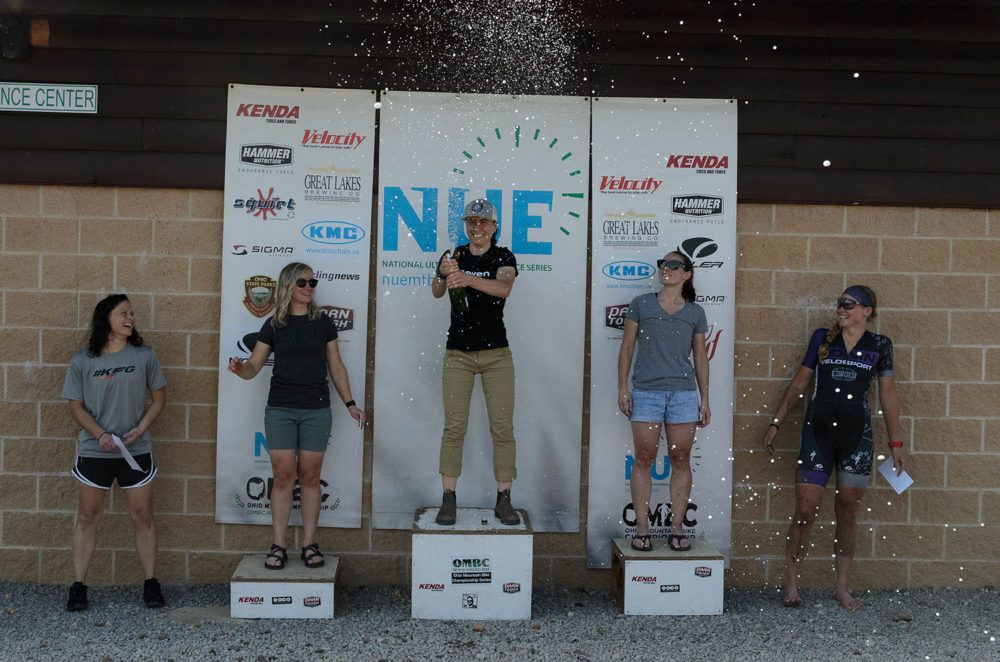 Thirty-two racers showed up for the Mohican women's 100K. It was UCI racer, Kelly Catale (Seven Cycles), making her first NUE appearance and winning the 100k with a time of 6:22:19. "The 2021 Mohican 100k was my first ever NUE race, and the longest marathon MTB race of my elite cycling career, so I truthfully had no idea what to expect. I started the morning with eggs, pancakes with real maple syrup, and coffee, and then we rolled out to the race venue. During my warmup, the sun was already blistering hot and the air was equivalent in thickness to chamois butter. For the first of what would become hundreds of times, I tried to convince myself that this weather was better than rain.
When the race began, I took the lead into the campground singletrack. Patience has never been my strongest virtue, so I decided to put some distance between me and the pack by crushing the first of what would be many climbs akin to a wall on this course. From there, we ventured into the Mohican State Park singletrack, which was a perfect combination of climbing and bumpy roots — so bumpy that I lost one of my bottles, which signaled the beginning of my inevitable dehydration saga. I reduced my pace slightly to avoid overheating too much and, thankfully, my amazing aid station crew (my husband) was prepared with plenty of fluids at aid station #1.
The race progressed somewhat uneventfully for many miles of singletrack, horse trails, gravel roads, and hills. While trying to stay focused and hydrated, I kept myself company by singing songs out loud. The soundtrack for the day included some Queen, Van Halen, Justin Timberlake, and Bon Jovi (honestly, who doesn't sing a little "Halfway there…WOOOAAAAHHH" when they pass halfway in a race?). I found myself drinking much more water than I expected (and I never cramped up, thanks to the Flow Formulas drink mix in my bottles!), and was passing many suffering, cramping competitors along the sunny and exposed gravel roads of doom.
Throughout the entire race, I was most impressed by the positivity and energy of every volunteer, course marshal, and race staff that were positioned at the intersections, aid stations, and start/finish. These folks made the ride a bit more enjoyable and tolerable in the crazy heat. Overall, the course and competition did not disappoint!
My next NUE race will be the Carrabassett 100k in July. A huge thanks to my husband, Joe, for preparing my bike for race day and for being the world's most organized aid station crew; my race success would be just a dream if it weren't for you. Thanks to Seven Cycles for the amazing KellCat SL race machine, Industry Nine for the fancy and light wheels, Vittoria for the grippy and fast rolling rubber, and Verge Sport for the spiffy kit. Thanks also to Flow Formulas for keeping me fueled and cramp-free all day and Gold Medal CBD for helping me recover and sleep."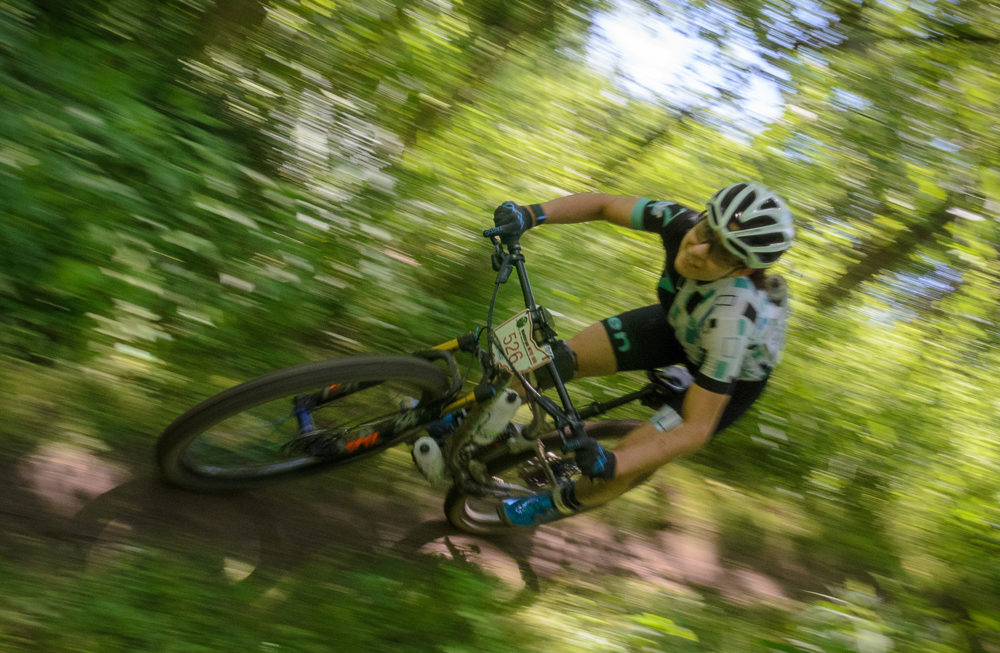 About twenty minutes back was, Teresa Laird (RVA Racing), finishing second with a time of 6:44:03.
"On our long drive from Richmond, Virginia nerves were setting in, the start list of 35 women was larger than any race I have done before. I'm relatively new to mountain biking and have been doing well locally but I was really questioning whether I was going to be competitive with this large field of women. And then I heard something on Leadville: The 100 Mile Mountain Bike Race Podcast, it was "You are better than you think you are, you can do more than you think you can". Great, I had my race mantra!
The singletrack started within the first quarter mile and I knew I needed to be towards the front, I pushed harder than I normally would and I ended up going into the woods 3rd, Kelly in 1st and Julie in 2nd. Kelly immediately opened up a gap on Julie and me but I was working hard and knew it would be a long day if I tried to follow. I passed Julie around 3 miles in and then we were together for most of the first 20 miles. I pulled away from her just before getting out of the first section of singletrack.
25 miles in coming out of the woods onto the road, I was ready to increase my pace, but that was short lived and we headed back in for some rocky trails. This was probably my favorite part of the race. I was still feeling great and I love some techy riding!
About 4 hours in, it was starting to sink in that this race was going to take about an hour longer than I thought. I had looked at previous times on the course and hadn't fully appreciated the changes made to the course when I was determining my race plan. Luckily, I had enough food in my drop bag. I went back to my mantra and kept on pushing.
The rest of the race went by slowly, the heat was starting to get to me and I probably pushed a little too hard in the beginning. One day I will get my pacing right, but luckily I was able to hold on to 2nd.
Mohican 100k was a well organized and challenging race. I am grateful for all the volunteers on the course. Aid station support was top notch! Also, my bike was having shifting problems right up until race week and Carytown Bikes in Richmond went above and beyond to get it right and it shifted flawlessly the whole race. I'm excited for the next race in the series. Next Race: Carrabassett 100k"
Taking the third spot was, Julie Medema (Founders Racing) traveling in from MI finishing with a time of 7:01:18.
"Mohican is my first nue series race besides Lumberjack100. I was excited to test the legs and ride some new trail. I asked some friends who've done the race in the past for advice and they said the first half is slow going/difficult trail but the second half is gravel/road and goes by quick. Needless to say about mile 45 I realized the fast miles weren't coming.. I settled into a steady pace since I'd been on my own from about mile 20 and didn't anticipate being able to work with anyone since the course was a constand climbing and descending pattern.
Turned out the course was challenging the whole way through! First 25 miles of Mohican State Park trail were fast despite being rooty and had great flow. The remaining mix of trail/two track and small sections of gravel then the additional what I'd call 'adventure trail' were relentless steep climbs and descents that kept you on your toes between mud sucking puddles, washed out rutted descents, ravines and many creek crossings. Needless to say that was one of the biggest adventure races I've done and the scenery was spectacular throughout the entire course!
I credit my 3rd place spot to sheer stubbornness to not wanting to walk my bike on the numerous climbs and having good technical skills through the roots, slippery rock gardens and fast descents. Also my husband was at aid stations with ice cold drinks which was a lifesaver due to the 90 degree temps and the fact that it was hard to eat with the heat and lack of easy miles to take in much nutrition.
Thankful for the stability from my Velocity Blunt SS Wheels and Founders Racing teammates to always help me push the limits!"
Completing the podium was, Abigail Snyder (Ronin Velosport) from IN crossing the line fourth in 7:13:09, and Beth Desanzo from PA finishing fifth with a time of 7:17.
Singlespeed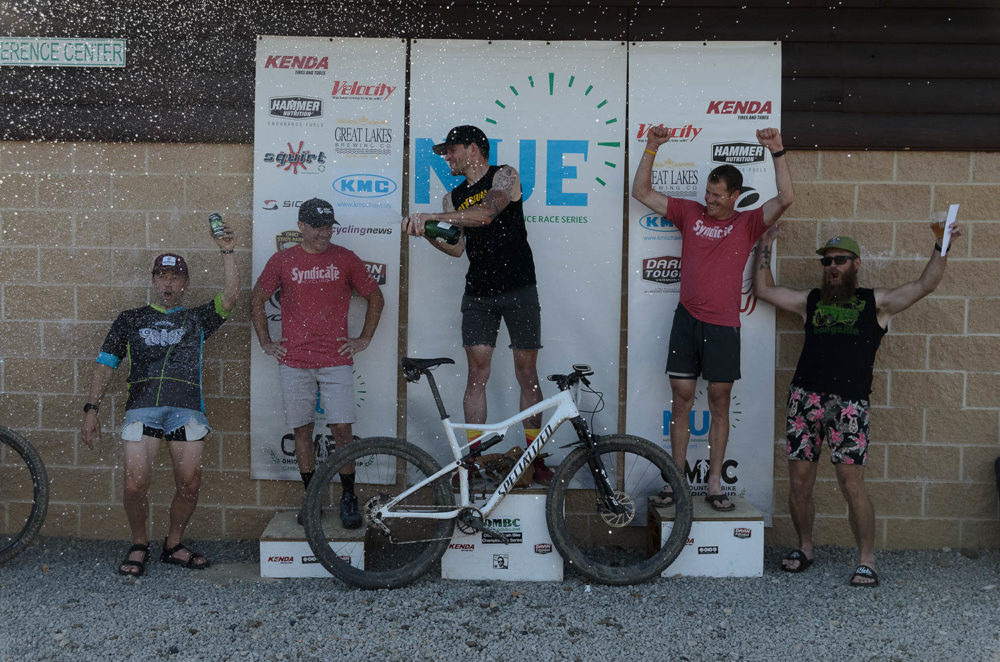 The singlespeed division was all business this weekend as the top three took the fastest times of all 100k racers including gears. Taking the overall 100k and singlespeed win was, Dahn Pahrs (UPMC Pro Bike Run) of PA finishing with a blistering fast time of 5:47:15.
"Due to changes in the course they were starting people in waves. They were sending out the Pro / CAT 1 racers at 9am, then Open Women at 9:05 and then SS'ers at 9:15. I was worried every open class racer was going to say he was CAT 1, but only about 30 of the 200+ open riders lined up. Off they went and then about 30 women went off at 9:05. Then at about 9:17 the SS'ers went off. I was able to ride with Jim Litzinger and Anthony Grinnell for about 3 or 4 miles until they dropped me. I settled into a pace I could hold and worked my way through the women's field. They all let me pass with no major issue in the tight single track but this would allow Josh Kunz to keep it pretty close to me. About 12 miles in we hit the covered bridge climb and I went at it hard to distance myself from Josh. Pushed it a little too hard and puked on the climb but was able to keep riding. Learned after the race that Josh backed off some because the pace to the covered bridge was too fast for a 100K race, he said we got to the bridge in the same time it takes him for the normal 25 mile XC race held there. So for the next 25 miles I was pretty much riding alone and passing people who started in front of me. Occasionally someone would tell me Jim was a minute or two ahead. Coming into aid station 3 you passed the people coming out of the aid station and that is where I saw Jim and Anthony for the first time. I could see they were less than 2 minutes up on me. I made quick time getting out of the aid station and went on to chase them. New this year, they had the 100K racers head to some new trails at a location called Camp Mohaven. This new stuff made this year's race 69 miles rather than the normal 60ish. There was some tough climbing into the Mohican Wilderness part of the course and then a brutal climb up to Camp Mohaven. At Camp Mohaven they had aid station 3.5 and that was when I caught up to Jim and Anthony. We left the aid station and rode the entire 6 miles of trail there together still pacing other riders. Then it was off on some gravel roads. We chatted and I just sat on their wheels. No way I was going out front against the two of them. With about 12 miles to go I recognized a tough gravel climb was coming so I went to the front. It started gradually and I was seated climbing it. I would look over my shoulder every couple seconds and I could see a small gap forming, then it started to get steep and I basically said to myself "it's go time" and stood up and just hammered it out. The gap instantly grew and they just let me go. I passed a very fast geared guy, Brian Schworm, on the climb. He looked to be hurting but I was also worried he could pull Jim and Anthony back up to me. So I just kept hammering. I found out later that Brian had to DNF shortly after I passed him from dehydration and he was of no help to Jim and Anthony. With a couple miles to go in the race I caught up to Ryan Johnson on a paved road and he told me he was in 2nd place in the Open Class and that 1st place was only a couple minutes ahead. It was at that point I realized I was in 1st place overall. I had no idea until then. In the end I finished in 5:47 and won overall. Jim and Anthony finished in 5:51 to finish 2nd and 3rd overall. The top Open class rider finished in 5:55. Definitely was not expecting to do that well after all that racing I did the 2 weeks prior, Whiskey Rebellion 200K & TSE. I used 34X20 as my gear for the race."
Crossing the line together and finishing second and third were teammates James Litzinger (Syndicate Cycling) and Anthony Grinnell (syndicate Cycling) both finishing in 5:51:33.
"The Pittsburgh Single Speeders showed the geared field how it's done this past weekend at the NUE Mohican 100K by taking all 3 top spots on the overall podium. Jim Litzinger and I had a strong start and pulled a few minute gap over multi-time Mohican winner Don Powers. The course was in great shape with a few slick spots, but the Pirelli tires hooked up phenomenally. At aid 3.5, Don pulled back the gap and the three of us rode together for the next 15 miles or so until he pulled away on one of the long grinder climbs. With the heat and humidity, Jim and I should have watched our pace a little better in the first half of the race. I remembered conditions being similar in 2016 and watching guys drop like flies in the later miles of the race and that certainly seemed to be the case this year as well. Using Flow Formulas drink mix has been a huge help in those types of conditions. Jim and I were happy to cross the finish line together for 2nd and 3rd and were even happier to find out the single speed guys swept the overall. Overall, the Syndicate Cycling team had a great week with John Vorberger getting 2nd in the 100 mile SS class, Wyatt Rodgers winning the under 30 Open Men's 100K, Jim and I getting 2nd and 3rd in the overall 100K, and Will Loevner getting 2nd in the 357 mile Unbound race in Kansas, even after suffering a broken hand and lacerated arm. Big thanks to Jim Shorkey Auto Group and Pro Bike and Run for helping us get to the races."
Josh Kunz (Trans-Sylvania Production) finished in fourth place with a time of 6:42:30. James Knott (Nocterra Trek MTB) took the fifth spot in 7:04:19.
Masters 50+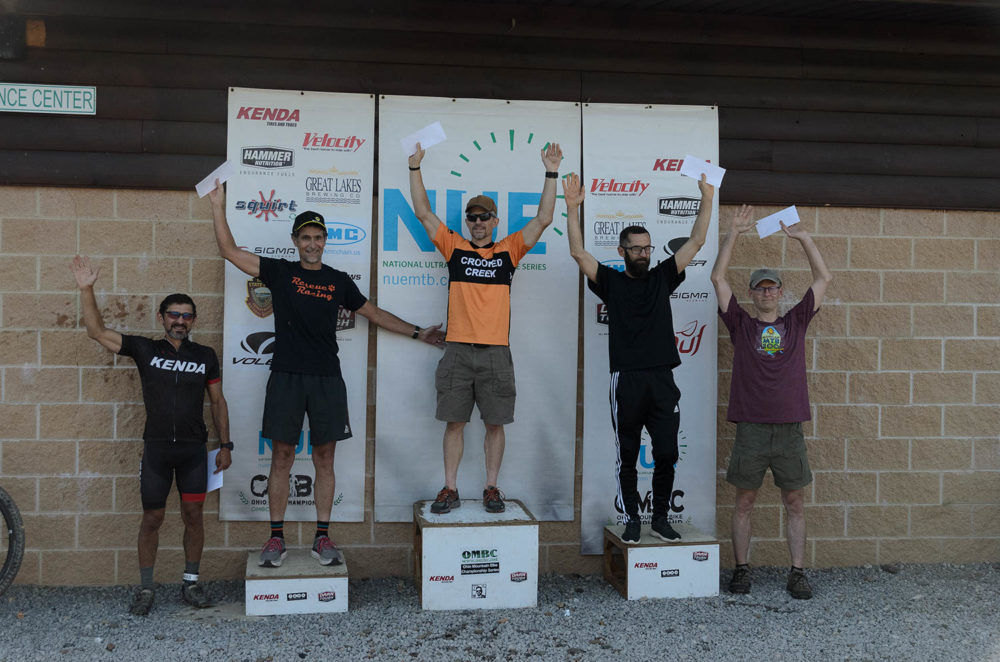 Traveling in from IN, Paul Arlinghaus (HMBA), took the masters win finishing in 6:32:45.
"With all the other age group waves starting in front of us, the first hour and a half of 50+ race was action packed. We started catching riders 7 minutes into the race. I think that later, we all paid the price for the extra effort required to pass so many riders. Dorel Stoia and I were in 2nd and 3rd coming out of the Mohican State Forest and we worked together on the gravel roads to the Mohican Wilderness. We were together until just before the double track climb in the Wilderness, this is where I got away from Dorel. After Sag 3, I caught the lead rider just before top of the Wilderness climb.
The addition more trails in the Wilderness and the new trails in Mohaven, made the 100k race harder than past years. I was riding the technical single track well and felt that I was gaining time.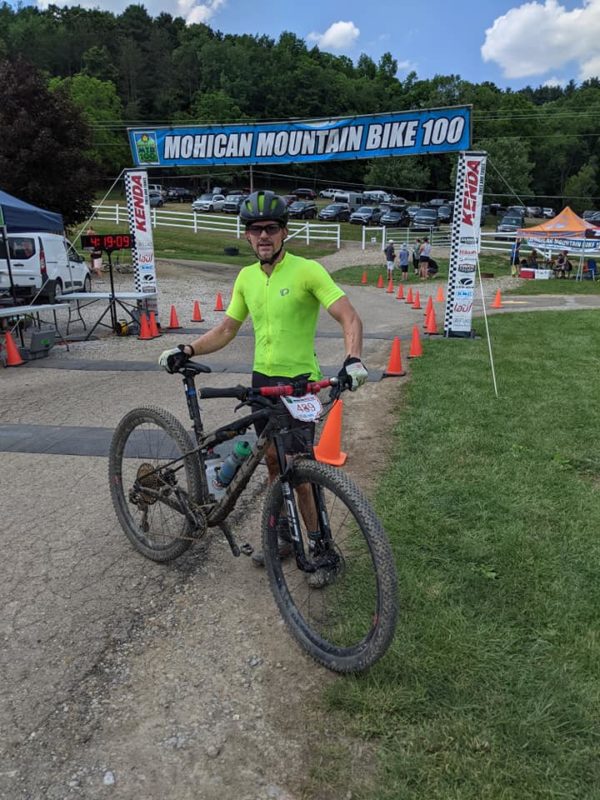 From Mohaven to the finish, it was just survival mode, I conserved on the flat and downhill sections and just focused on steady power on the climbs. I sprinted up the climb back into the Park, mostly because I was ready to be done and was happy to be finished.
I think that one of the keys to winning was having sag support. Heather Arlinghaus was at Sag 1 and 3 to support me. I left every sag station with 2 full water bottles. With temperatures in the mid 80's many riders paid the price for passing by sag stations early in the race."
Second place went to, Dorel Stoia of OH, crossing the line in 6:55:17.
"This was my 4th Mohican 100k and my first time in Master's class. Mohican is my absolute favorite trail and love everything about it. The race was very hard because of the tough competition, the tough course, and the heat. I was in the lead before the Wilderness when I started to have cramps and had to slow down the pace. After that it was just holding up to maintain the second spot of which I am very pleased with. Thanks to the organizers for putting together such an amazing race. Now is time for recovery and getting ready for the next NUE race, which is going to be Wilderness on July."
Third place was, David Jolin (Rescue Racing), 6:59:08, fourth place, Robert Goetz, 7:10:47 and fifth place went to, Ali Arasta, with a time of 7:16:32.
For full results CLICK HERE
Mohican 100 photo album by Photographer Butch Phillips CLICK HERE
Next up on the NUE series is the Lumberjack 100 mile June 19th, 2021 in Manistee, MI