The 19th Annual KENDA
Mohican Mountain Bike100
NUE Epic Race Series #2
June 10, 2020 Written by: Ryan O'Dell
Following two months of lockdown, racers were beyond ready to head outdoors and back to real, not just virtual, racing; many wondering whether the 2020 season would be a wash following Covid-19 lockdowns nationwide. On May 30, Mohican MTB100 became the first mountain bike race in the USA to re-open the mountain bike race season, picking up where the NUE Series left off in early March with the True Grit Epic season opener in Utah. The day after True Grit Epic, Utah and most of the nation were on lock down for the first time in our nation's history.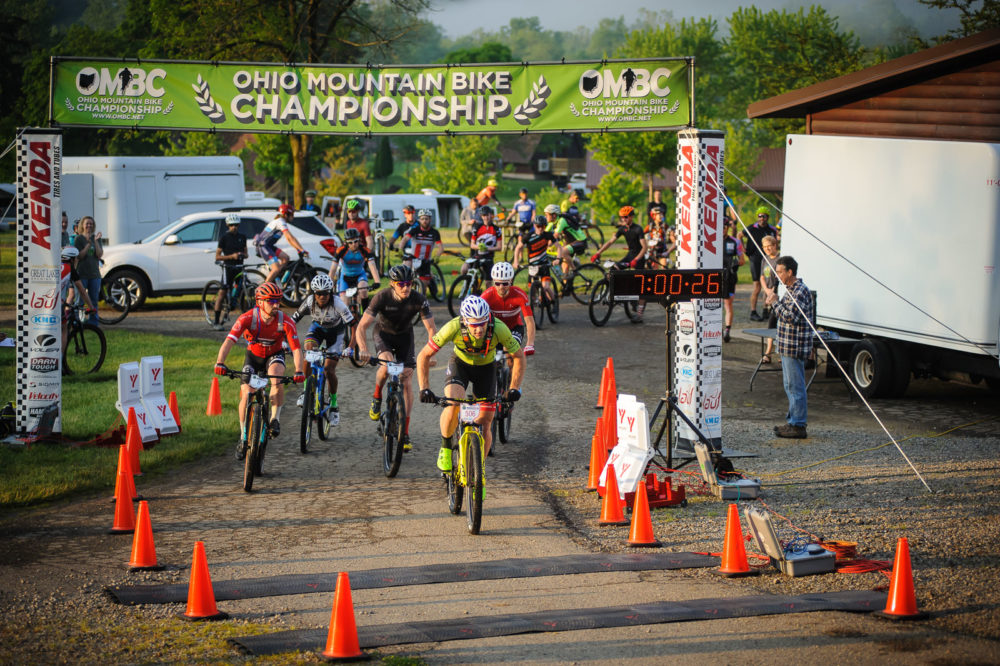 Following the latest federal and state guidelines, Mohican MTB100 put together a mitigation plan that was shared with ODNR, EMS, and the local health department requesting their input and suggestions. The plan included changing the typical mass start downtown in favor of a time trial format beginning and ending at Mohican Adventures. At least ten years ago, Mohican developed a well thought out rain route as an option to protect local trails in case of heavy rains leading up to the event. This plan had never been necessary until May 30.
Just two weeks before race day, ODNR confirmed that it was opening campgrounds statewide but cancelling existing special use permits including the Forestry permit obtained by the Mohican MTB100. ODNR also confirmed that it would not be issuing any new special use permits for special events through July 15.
After careful consideration, including the short time frame racers would have to change travel and lodging plans on such short notice and the impact on local businesses including restaurants, camp grounds, and motels that had just opened, Mohican opted to implement an optional rain route that would circumvent the top rated trail in Ohio, an IMBA epic trail system around the gorge located in the Mohican State Forest. The rain route removed 25 miles of pristine singletrack plus the five mile prolog from downtown Loudonville shortening the 100 mile race to just 65 miles with 6394' elevation gain and the 100k to just 33 miles. Local businesses welcomed Mohican racers in a community largely driven by tourism and suffering from the extended lockdown period.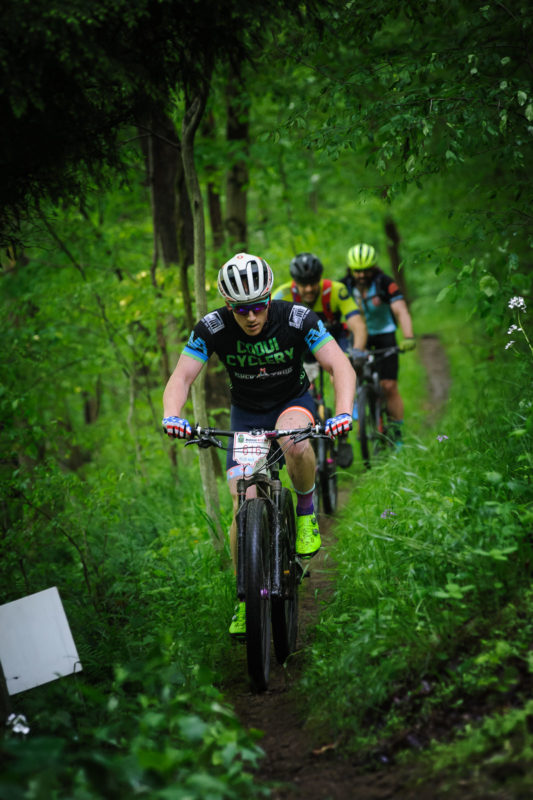 Although the race had the support of the State Highway Patrol, the rain route along SR3 is a posted bike route that did not require police support. To avoid putting any strain on local emergency services, Mohican organized its own volunteer medical team and employed a plan that racers and volunteers agreed made everyone feel safe.
After offering deferrals to 2021 for any reason, including international racers, racers from states still in lockdown, and racers whose flights had been cancelled, just 230 remained from what would have been a record turnout estimated at 600-700 before the pandemic arrived. Local landowners, Mohican captains and volunteers supported the decision. There were no injuries reported and for the first time in its 19 year history, every racer who started finished the race.
Women's Open
Sabin wins by a huge margin
Elizabeth Sabin, Honey Stinger, wins by a huge margin to finish at 6:16:31. Sabin is now tied for points with former NUE Series Champion, Carla Williams, who won the True Grit Series Opener in March. "Well, three weekends ago was a wild one for me – my first every NUE race – and my first every big race win! I raced in the Mohican 100 in Loudonville, Ohio it is one of the first races to actually happen nationwide due to Covid-19, but I felt the race director and his team did a great job making an effective mitigation plan! The race ended up being about 70miles instead of 100 due to permits and Covid-19.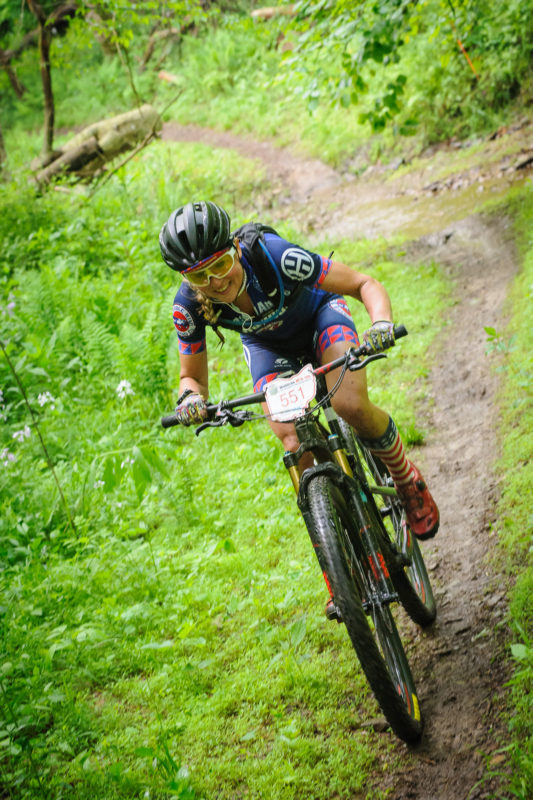 It was a wild first NUE, but it was a blast overall and all my spring training as well as the awesome support and help of my boyfriend (fellow racer Jamison Sheppard) definitely contributed to a super successful race! The scenery was beautiful and we had perfect weather (a little cooler would have been nice)! Due to the virus they changed the start of the race from a mass start to a time trial format which made it very interesting as I was pretty much on the course alone or with men, I only saw two of my women competitors at the very beginning of the race so I had to just keep pushing myself and I didn't really know what to expect as it was my first longer mileage race ever!
It was muddy and wild, with some steep hills and super fun long descents, but I just kept pushing even after my body started to struggle a bit at about mile 55. At the second to last aid station they told me I was in first for women, but I didn't really want to believe them, nor did I think it could be true I was like they don't really know for sure with the time trial format, but thanks for the encouragement! I just wanted to finish. Then, sure enough when I crossed the finish line 45 minutes ahead of the next woman, they told me I had done it – I could not believe it, not only had I finished (something I was honestly hoping I could do, but not sure of going in as prior to this race my longest race mileage wise was 40 miles with much less elevation gain!) and I had WON! Thank you again for such a fantastic race and opportunity!"
Mindy Mitchell, Momentum Racing, was next getting a sub 7 at 6:57:19 with Paula Baake, Bike Pro Shop, taking third at 7:42:22. For all three women, this was their first time racing at Mohican and the first time in 19 years that the podium consisted of all first time Mohican racers.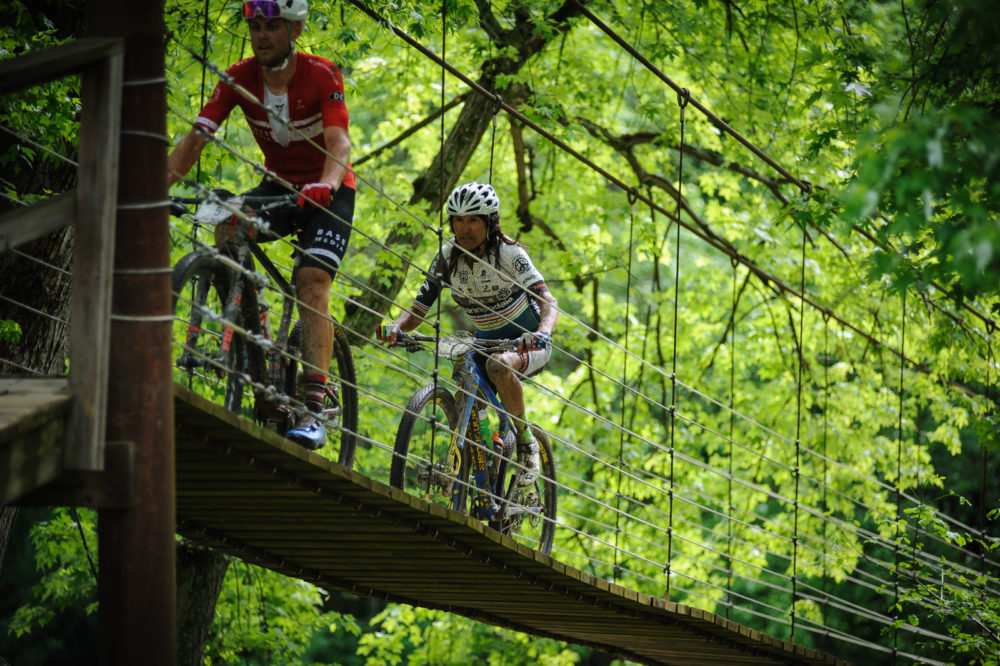 Men's Open
Kasper wins BIG in come from behind fashion
Logan Kasper. Flow Formulas Starlight, ESI Grips, Hand up Gloves, took the win in the Men's Open to finish 4:09:55.
"First off, I want to start by saying thank you! I'm sure you guys have heard this a million times but it was a great to get back to normality. You guys went above and beyond on all the hoops you had to jump through. Hats off to you! I guess you wanted me to describe what led to the win? Well lots of hard work, simple as that! (Laughing)
Just because the world stops doesn't mean training has to. Since I had never done the race before, I was placed into the 19th wave. Some call that a disadvantage, I viewed it as I have eighteen waves ahead of me to chase and use as a carrot. Since I was on my own the majority of the race, I could pick the pace. I could really call the shots without any repercussions. If I wanted to hammer up a hill, I could without fear of not being fresh for an attack. I could ride pretty much any line I wanted without interrupted flow from others. Also, no one could use me for drafting. That being said I couldn't use anyone either.
On most of the long road stretches I just put my head down and cranked away keeping the pace comfortably uncomfortable. I viewed the race as a 100k plus because no one knew the actual mileage so I raced it at a 100k pace. (Actual mileage was 65 miles). At the last aid station I asked how far ahead the leaders were and they said a few minutes. At that point, I knew as long as I kept the pace steady and rode smart the race was mine. Coming across the line confirmed that! Once again I was super impressed on the whole event and can't wait to do it again next year!
When asked, who is Logan Kasper? Logan replied, "I have been getting that a lot the past few years. I'm not on people's radar. In New England I am though. I'm from Massachusetts and have become dominant in the New England scene these past two years. Last year I smashed the Vermont 50 and the Freetown 50. I also was the elite series champion for the bubba burger race series. I was in the top ten of the 0z50 pro-race in Bentonville last year as well but a slashed sidewall landed me in 18th. I have done the Carrabasset several times all with top five results and I did the Shenandoah last year. My goal for this year was to take the NUE Marathon Series and then next year the NUE Epic 100 mile series. Obviously, a wrench got thrown into those gears but I will race as many as I can. I'm looking forward to what comes next! Shout out to the bike shop that helps me out as well, Tomten Biketown in Leominster, Mass. Hope you guys are enjoying the weather and able to get out on the trails!"
Three of the top five finishers this year hailed from Michigan, including the GIANT from Grayling, Michigan, Jorden Wakeley, GIANT Bicycles/Northbound, who took second at 4:22:03 leading the starting pack of Pro racers right out of the gate, attacking early, and setting the pace at the front. One minute behind Wakeley, Scotty Albaugh, Base Media/ Cycle Therapy, from Michigan, snatched third at 4:23:30.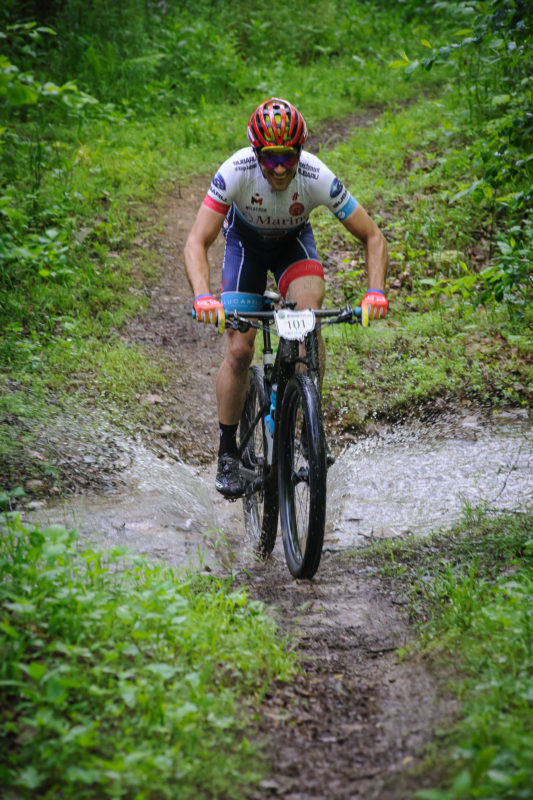 Three seconds later, Two-time USA Olympian and Hall of Fame racer, Tinker Juarez, Cannondale, at age 59, proved he still has what it takes to remain in the hunt with his younger Pro competitors as he took fourth at 4:23:33. "I was very happy to travel to Ohio to race the Mohican MTB100 with the world in panic mode. I felt happy and comfortable with the racers and felt nobody was in fear of touching or shaking your hand. This was a positive to all the races that are thinking of having their race!"
Alexander TenElshof, Base Media Racing/Giant Bicycles, from Michigan placed fifth following a missed turn late in the race at 4:23:34. Although he finished just ahead of Juarez, the time trial format allowed the Hall of Famer to place ahead of TenElshof by one second.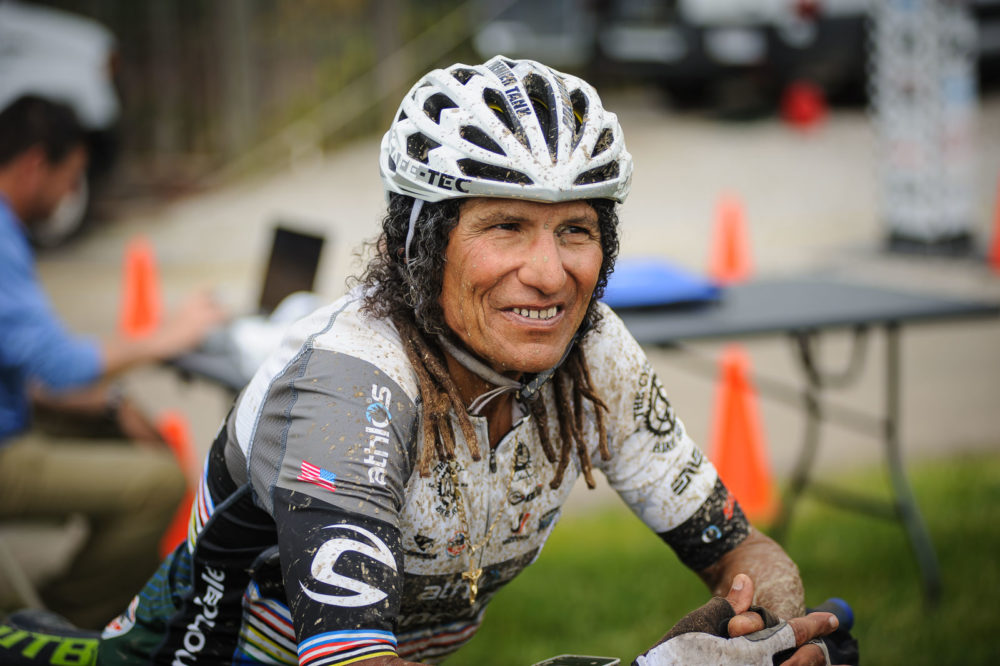 From his interview with at the Dirty Chain Podcast, "Jordan was pushing the pace right away! The climbs were tough but the four of us stuck together most of the way. The real separation started on the infamous Valley Stream Road climb, the first climb after the suspension bridge at aid 4.5. Valley Stream had like a 7% grade and Jordan attacked! Two guys go with him but Tinker didn't move. The grade then gets steeper and Jordan attacks out of the saddle and Scotty goes. All three of us separate but then I keep looking back and here comes Tinker. Jordan was thirty seconds ahead then Scotty, me and Tinker came back together.
| | |
| --- | --- |
| Tinker attacks on the last climb and Scotty is left behind. Then, I attacked Tinker knowing where I was and got some separation. One the last turn, I missed it and Scotty took the lead with Tinker behind him. What an experience it was just to ride with that guy! For a 59 year-year-old, man he's strong! Overall, The race did a great job of getting you the plan and keeping you up to date." You can hear the full story from TenElshof in his interview on the Dirty Chain Podcast at https://soundcloud.com/dirtychainpodcast/episode-30-katerina-nash-professional-cyclist Three young racers placed well including 17-year-old Joseph Urbanowitz, Chainbuster-Pactimo Race, who placed ninth in a strong field. 16-year-old Luke Gunnett, UPMC Pro Bike + Run placed 17th. The youngest finisher was 12-year-old Jared Smith at 5:47:36. | |
Singlespeed
Paunovich wins his First SS, 11 Overall!
Thad Paunovich earned victory with five minutes to spare at 4:55:12.
First off, I couldn't have been more excited to race in this year's Mohican MTB 100 Miler (modified version; 65 miles). It was an incredible feeling taking the starting line knowing that this race was the first race to be held nationwide since the Coronavirus outbreak and for most of us racers; this was our first race of 2020. The atmosphere was filled with excitement at the start line. I want to sincerely thank the race director, Ryan O'Dell and all of the awesome volunteers that helped put on this year's Mohican 100! The extra effort and work that they put in to allow this event to happen safely is to be highly commended!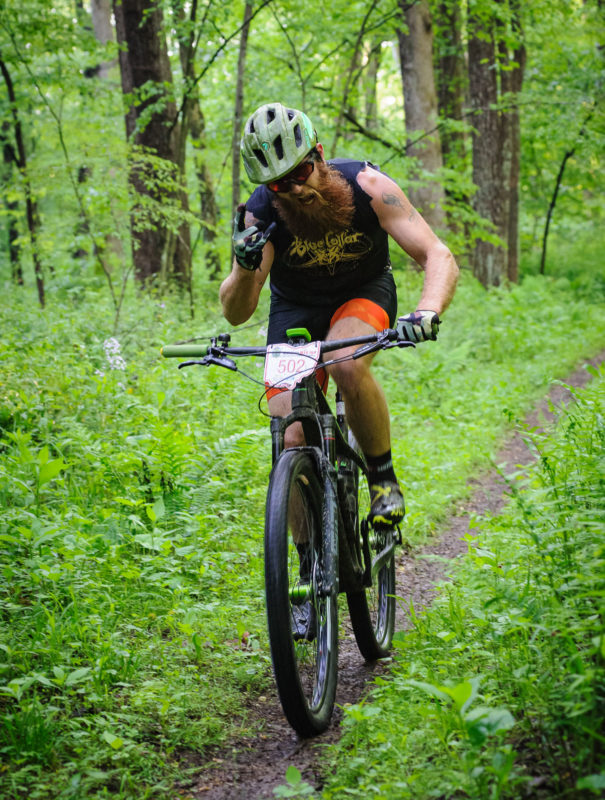 Onto the race, due to this year's circumstances, it did not end up being a 100 miler. The modified course excluded the 25 miles of Mohican singletrack but still included the 15 or so miles of single/doubletrack on private land and all of the other gravel/paved roads and the 10 miles of rail trail that usually make up the Mohican MTB 100 miler.
With that being said, I thought bike choice was going to be critical for the race. Being that I knew there was going to be about 15 miles of singletrack and 50 miles of road/gravel, I decided to take a little bit of a gamble (especially for a bigger guy that flats often) and ride my flat bar Niner One Rigid SS setup more for gravel with 2.0 tires on the front and 45mm tires on the rear. I was geared 32×17 which is a bit lighter than I would typically run for gravel but definitely harder than the 34×20 gearing that I typically run for singletrack. While parts of the 15 miles of singletrack were very rocky (yes, I did some walking) and were slow on my Niner, for the other 50 miles of the course, my Niner felt like a rocket ship and climbed like a gazelle.
At 7:05, off I went. The race started off on a little section of double track and soon turned into gravel/road for a while. I felt pretty good early on and knew I had to attack on all of the gravel/pavement sections with the bike setup I was running and that is what I did. I caught some people that went out before me and latched on for some miles until the rocky singletrack came. The rocky singletrack put me in the hurt locker riding slowly and sometimes walking my bike.
SS legend from Pittsburgh and fellow UPMC Pro Bike & Run team rider, Dahn Pahrs, who I often ride with back home, was in attendance, but he decided to come out to heckle everybody through the rock gardens this year. After getting heckled by Pahrs, I made it through the rocky singletrack losing some time but without a flat or major crash which was a win in my book.
I got back out on the gravel and made up some ground. I caught SS contender Simon Clark right before we hit the 10 mile rail trail around mile 32 (maybe). We worked together until hammer Ryan Johnson, Cannondale, caught us and basically pulled us the rest of the way down the rail trail along with two other SS contenders and another geared guy. The six of us got to an aid station and three of us, including myself and Ryan, took off.
I knew there was one more SS contender to catch; defending NUE SS champion Eli Orth. We ended up catching him right before the big and steep Valley Stream climb, which at this point was less than ten miles to go I believe. Of course Dahn Pahrs shifted his heckling position to be at the top of that climb. As soon as I heard him, I kicked in the afterburner and turned it on for the rest of the race knowing that there was a solid chance I could win the race if I held on. I felt like I was climbing Valley Streams full of 93 octane fuel as former Olympian Tinker Juarez likes to say who also raced and was in attendance from California.
To sum things up, the 93 octane fuel did not run out. I finished the race at exactly 12 noon, finishing in 4 hours and 55 minutes, which was good enough to put me on the top podium spot in 1st place for the SS class and was good enough for 11 O/A. Of course I had to rock my UPMC Pro Bike & Run cycling team shirt and jorts on top of the podium.
My win at the Mohican MTB 100 was my first National Ultra Endurance (NUE) SS win and my first major win to date. I had a blast like I always do racing my bike amongst some of my favorite people, the cycling community. I saw the entire day as a win for our country and for the cycling community! It ended up being an awesome weekend spending time with the cycling community and racing bikes! Thank you again to race director Ryan O'Dell, all of the volunteers, and of course the racers that came out to race to make this event a success!"
Five minutes behind Paunovich, True Grit Epic SS race winner, Justin Holle, No Ride Around, placed second at 5:00:23. Holle now leads the NUE Epic SS Series with three points in this lowest point's wins format.
Seconds later, David Taylor, Team HB Hilltop, took third at 5:00:51. Following his second place finish at the True Grit Season Opener, The Defending NUE Series Epic SS Champion Eli Orth, Team Stages Cycling, was fourth at 5:01:31. Simon Clark, Sponch, rounded out the top five to finish 5:06:59.
Masters 50+
Card takes the Masters 50+
56-year-old Jonathan Card, Mariner Cycling/Spoke Life, wins the Masters 50+ with the only sub five hour time at 4:59:05 and is now tied with defending NUE Series Masters Champion, Carey Smith with one point apiece. "I first want thank Ryan O'Dell for taking the lead and putting on the event under stressful circumstances. As a promoter myself, I know that it couldn't have been easy. As far as my race, I felt that the race went well and I had no mechanicals or major dilemmas.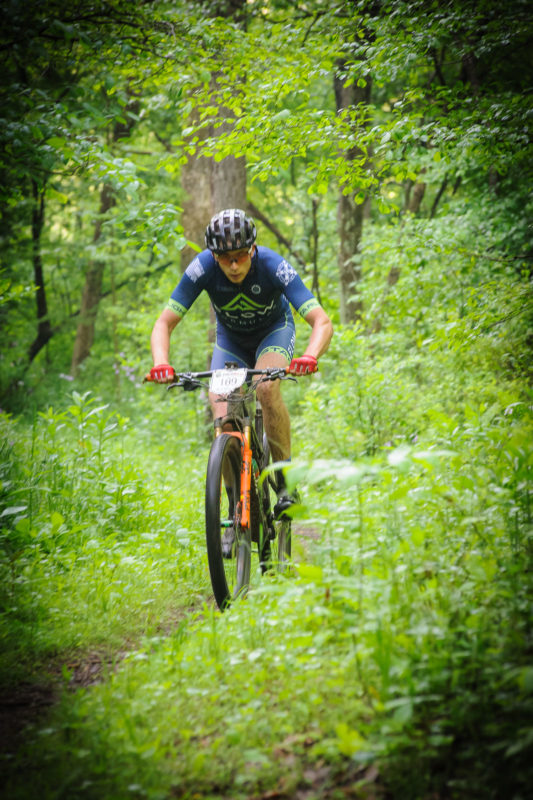 I went off in wave three with another rider and a teammate and we made good time during the early portions of the race. I hadn't ridden some segments of the course, so I tried to remain conservative early in the event for fear that I would run into a part of the course that would be unmanageable. My teammate and I rode with a group of 7 or 8 riders up until about mile 25 when we climbed to the trailhead which accessed the first major difficult section. This was the trail which encompassed the technical rock garden which then led into the difficult single track climb which was substantial in length and time. I had been lucky to have ridden this section prior to race day and knew that being in the first or second place entering this section would be paramount. My teammate took the lead and I followed him into the terrain.
By the time we departed the single track the group had fallen apart and it was just us two. He and I pretty much rode the remaining 35-40 miles trading pulls to keep our pace solid while focusing on our nutrition and safety. Our ride allowed us to finish together in 12-13 places overall with my taking the 50+ category. All in all, as good as day as I could have wanted being able to win and have a great time out with a good friend."
Less than ten minutes behind Card, 51-year-old Jason Urckfitz, Full Moon Vista, took second at 5:09:43. 52-year-old Bruce Stauffer, Cycle Works/Performance Bicycle, was third at 5:26:17. Three minutes later, Ohio native Rodney Reed got fourth at 5:29:07 with Keith Papanicolas, del-ray, in fifth at 5:43:55
 Next Stop for the NUE Epic Race Series: On July 18, The NUE Series heads to Bend Oregon for the High Cascades 100 that will be an entirely self-supportive race this year following all Federal and State guidelines for social distancing. For more information, visit http://nuemtb.com/