The 19th Annual KENDA 
Mohican Mountain Bike 100
NUE Marathon Series #2
June 10, 2020 Written by: Ryan O'Dell
Following two months of lockdown, racers were beyond ready to head outdoors and back to real, not just virtual, racing; many wondering whether the 2020 season would be a wash following Covid-19 lockdowns nationwide. On May 30, Mohican MTB100 became the first mountain bike race in the USA to re-open the mountain bike race season, picking up where the NUE Series left off in early March with the True Grit Epic season opener in Utah. The day after True Grit Epic, Utah and most of the nation were on lock down for the first time in our nation's history.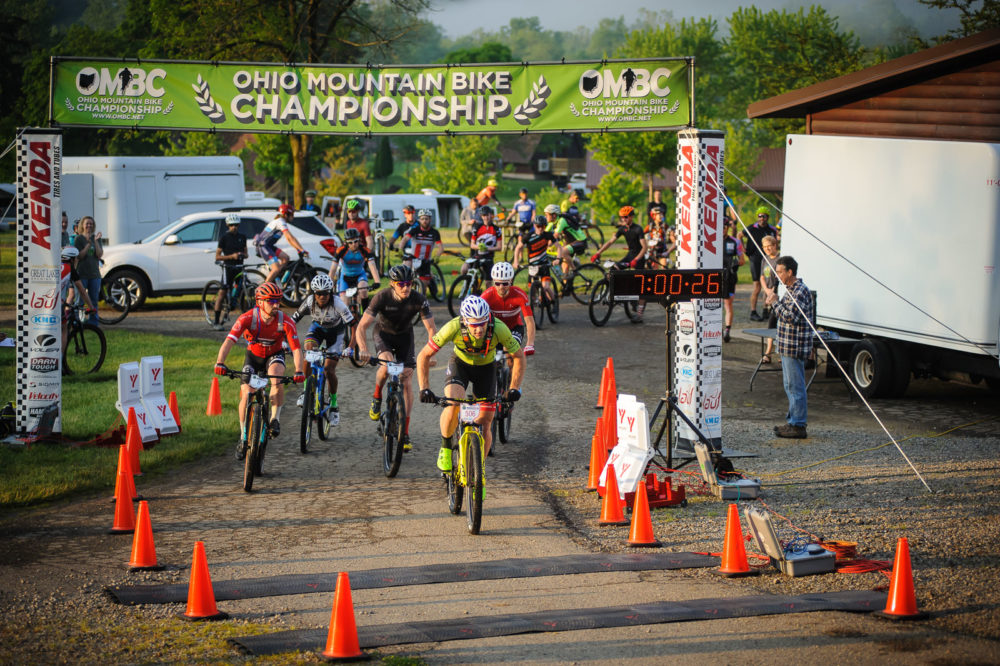 Following the latest federal and state guidelines, Mohican MTB100 put together a mitigation plan that was shared with ODNR, EMS, and the local health department requesting their input and suggestions. The plan included changing the typical mass start downtown in favor of a time trial format beginning and ending at Mohican Adventures. At least ten years ago, Mohican developed a well thought out rain route as an option to protect local trails in case of heavy rains leading up to the event. This plan had never been necessary until May 30.
Just two weeks before race day, ODNR confirmed that it was opening campgrounds statewide but cancelling existing special use permits including the Forestry permit obtained by the Mohican MTB100. ODNR also confirmed that it would not be issuing any new special use permits for special events through July 15.
After careful consideration, including the short time frame racers would have to change travel and lodging plans on such short notice and the impact on local businesses including restaurants, camp grounds, and motels that had just opened, Mohican opted to implement an optional rain route that would circumvent the top rated trail in Ohio, an IMBA epic trail system around the gorge located in the Mohican State Forest. The rain route removed 25 miles of pristine singletrack plus the five mile prologue from downtown Loudonville shortening the 100 mile race to just 65 miles with 6394' elevation gain and the 100k to just 33 miles. Local businesses welcomed Mohican racers in a community largely driven by tourism and suffering from the extended lockdown period.  
Although the race had the support of the State Highway Patrol, the rain route along SR3 is a posted bike route that did not require police support. To avoid putting any strain on local emergency services, Mohican organized its own volunteer medical team and employed a plan that racers and volunteers agreed made everyone feel safe.
After offering deferrals to 2021 for any reason, including international racers, racers from states still in lockdown, and racers whose flights had been cancelled, just 230 remained from what would have been a record turnout estimated at 600-700 before the pandemic arrived. Local landowners, Mohican captains and volunteers supported the decision. There were no injuries reported and for the first time in its 19 year history, every racer who started finished the race.
Women's Open
Lowery takes the top step on the Mohican Podium
Following her fifth place finish at the True Grit NUE Series opener, Carey Lowery, Rescue Racing/Scott's Bike, led all Women in the marathon women's open finishing in 2:29:39.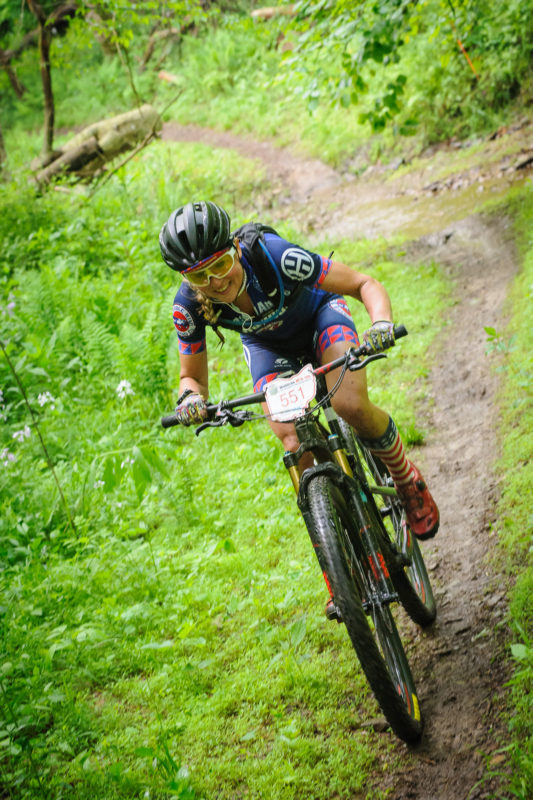 "Because of the time trial format, I had no idea where my competition was. Therefore, I just made it a point to keep the hammer down the whole time. Knowing that the course was shortened, I was able to burn quite a few matches on the short punchy climbs. I chose my hardtail as the course was gravel road heavy. I also ran a less beefy tire than usual and rode a bit more cautiously through the single track since I had "skinnies."
I drafted when I could to conserve some energy, but since I started towards the back, I was mostly on my own. I kicked it up a notch as I entered the Mohican Adventures property and laid it all out in the final mile. I surprisingly ended up winning the Open Women's race against a small, but competitive field. I am grateful to Ryan for making this happen as it was good to get back to some sense of normalcy. It was as much a mental benefit as a physical one."
Four minutes behind Lowery, Janet Edwards, Road Apple Roubaix p/b Do, placed second at 2:33:29. Eight minutes later, Mary Penta, Think Green-Bicycle Face, took third at 2:41:31 with Lara Richards, Chainbuster Racing, a minute back at 2:42:53.
Men's Open
Messer wins the Men's Open
Andrew Messer, Be Real Sports, took the W in the Men's Open at 2:03:40. One minute later, OMBC Ohio Series Champion, Troy Chipka, Ashland Bike Company, placed second at 2:04:49.
Perhaps the youngest ever podium finisher at 17 years old, Wyatt Rodgers, Syndicate Cycling Team, rolled in a minute later at 2:05:55. "Leading up to the Mohican 100 this year, there were a lot of doubts and concerns for me regarding the race. Because of Covid-19, although concerned, my Dad and I decided we were going to race it no matter what. It turned out that there were a ton of changes to the race format, the awesome mass start was no longer going to happen and the race distance was cut in half with more road than trails. With these major changes, I was concerned how this would affect my results because technical mountain biking is my strength, not gravel racing. I was pleased to find out that the race was still a ton of fun.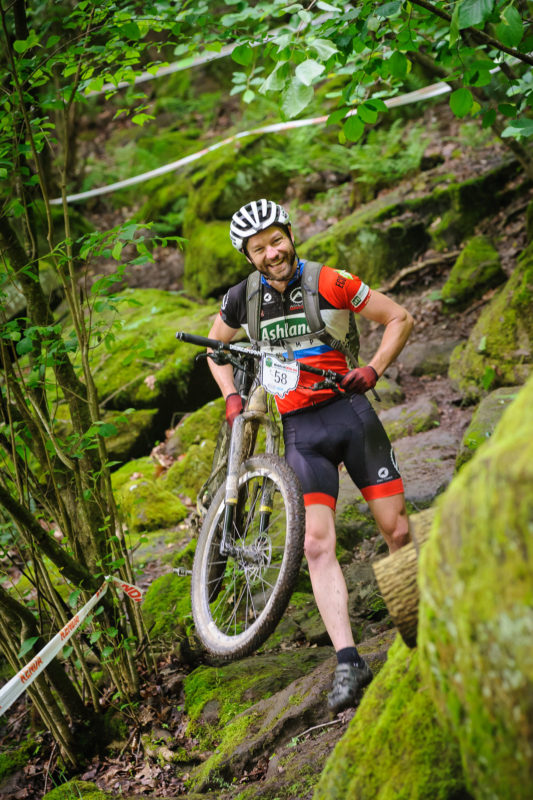 I was very happy with the mix of trails and road. With the time trial start, it was hard for me to tell what place I was in. Around mile 8 of 30, I was caught by a fellow racer, Troy Chipka that was in my class, the men's 100k open. Troy and I decided to work together and put up the fastest time we could by working together on the road. We knew we were racing at a good pace and somewhere towards the front of the race. We played our cards right and were very pleased to find that when we finished, we placed second and third despite making a wrong turn that cost us about two minutes. Being just 17 years old and placing third at an National Ultra Endurance event, I am super happy with my result. I'm also very proud to say I was the youngest ever to podium at an NUE event after missing the podium last year by two places. Overall, I was very happy with how well the race was ran and directed. A huge thank you to Ryan O'Dell for putting on another amazing race!"
Dorel Stoia and Burgess Gow rounded out the top five at 2:09:31 and 2:12:10 respectively.
Two young racers entered the competition and finished their first BIG race including 15-year-old Bryce Thompson, Ashland Bike Company and 14-year-old Alex Mesarchik, Shenanigans Cycling, who finished at 3:25:15.
Singlespeed
Kunz gets the win defending his NUE Series title
Defending NUE Series Singlespeed and OMBC Ohio Series singlespeed Champion, Josh Kunz, Evolution Training Cycles, took another step toward defending his title following a second place finish at True Grit by getting his first win of the season at 2:14:06. "It was an all-out effort. Starting in wave # 2 with a relatively long flat roll out on a SS is tricky. I grabbed whatever geared racers wheel I could on the road and took off up every steep road. Then, once in Mohican Wilderness singletrack, I kicked it up knowing I can make time on the tech climbs and the rock garden. The time trial aspect was actually a lot of fun. I'd like to thank Jeff Rupnow from Evolution Training Cycles and CarboRocket for keeping me firing!"
Nathan Grubbs was second at 2:26:14.
Dan Fausey, Trailer Park Racing, placed third at 3:00:48. "As the stay-at-home order dragged on, I was starting to bounce off the walls. I had enough "family time," and hadn't raced since March. I missed seeing my bike friends! So, I was super stoked to learn that the Mohican 100 would still be happening. As I started to share this news with my friends, I learned that a few people were loudly criticizing the decision to conduct the Mohican 100 this year (on social media, natch). But, since none of the complainers were medical professionals, or government officials, I decided to go ahead and ride. Plus, Ryan O'Dell had put a thoughtful mitigation plan in place and made changes to the race. So, I was excited about it.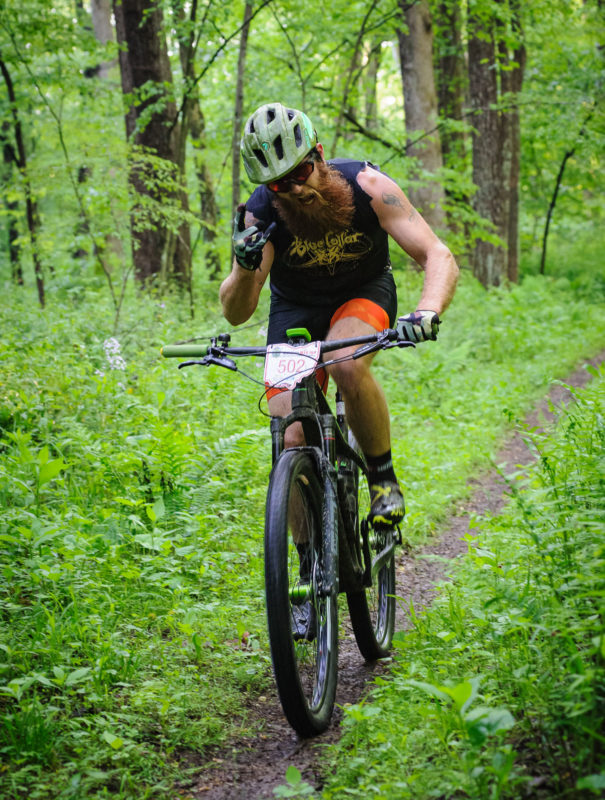 Hadn't raced since March – seemed like all of our races seasons were sidelined by COVID! Race day showed up with perfect weather, sunny, but not too hot. I picked up my timing chip and race plate in a drive-through line, and got ready for my six-person start wave. I was racing singlespeed again – for the first time this year! On the course, I did nothing but smile.
Around mile twelve I realized that there's no substitute for a live race! There were folks heckling and cheering as usual on the rock gardens and at Valley Stream. And nothing is as motivating as chasing down that rider in front of you. After the race, the festival was a little subdued (with no food) but we enjoyed our free beers at social distance anyway. I'll admit, it was weird having podiums six feet apart. But at least I couldn't smell Josh's (Kunz) sweaty pits! Overall, it was a great race and a thoughtful blueprint for race safety in the pandemic era!"
Once second behind Fausey, Scott Albaugh, Cycle Therapy, took fourth 3:00:49.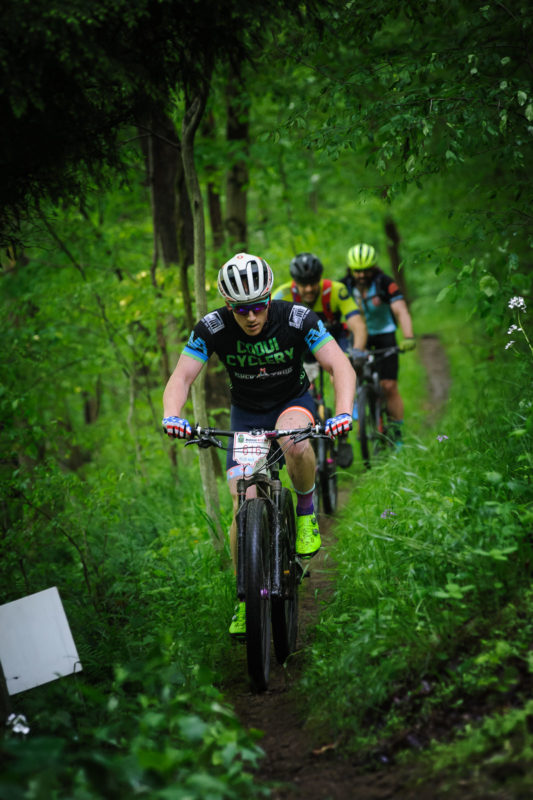 Masters 50+
Grimm victory in the Masters
In the Masters, 55-year-old Erik Grimm, Park Ave Bike Shop, led all men for the victory at 2:13:29. 53-year-old Tom Weaver, Summit Freewheelers, was next taking second at 2:21:00.
Four minutes later, Tom Arlinghaus, Crooked Creek, was third at 2:24:39.
Among the Masters finishers this year were five 60+ racers including Ohio Series Masters 60+ Champion, 66-year-old Steve O'Bryan who placed fifth, 60-year-old Tim Shepherd, Knobby Side Down, 60-year-old Doug Fanta, Hudson Velo Club, 65-year-old Charles Patterson, Dirty Harry's bike shop, and 61-year-old Tim Bonifant, Orrville cycling club.
Next Stop for the NUE Epic Race Series: On July 18, The NUE Series heads to Bend Oregon for the High Cascades 100 that will be an entirely self-supportive race this year following all Federal and State guidelines for social distancing. For more information, visit http://nuemtb.com/