Andrew Dillman and Lara Richards win Mohican 100K
Written by: Jen Toops & Ryan O'Dell
The Mayor of Loudonville, Steve Strickland, welcomed racers to Loudonville before the start of the 16th Annual Mohican MTB100 at 7am sharp. With the downtown blocked off by the LPD, The Kenda Mohican 100 released nearly 600 racers along some of the most popular single track trails Ohio has to offer on a grand single loop, 100 mile and 100k, that spans three of the four counties that make up what is locally known as "Mohican Country". New Hope Church added 200 volunteers to the nearly 250 volunteers that managed the many course marshal and aid station positions.
Pastor Paterson of New Hope Church, offered a prayer for the safety of racers who left on a slow neutral start this year due to bridge construction on Main Street that presented just one lane across the Black Fork of the Mohican River. The Ashland Sherriff's Department sounded the siren that would signal the start of the race near the city limits at Maple Heights, traditionally the spot where racers competed for a $200 Prime. Kent Cycle and Spin Bikes were among a team of seasoned professional mechanics that covered all six aid station this year.  The Ohio State Patrol offered assistance to racers at a dangerous crossing on SR97 and Great Lakes Brewing http://www.greatlakesbrewing.com offered 22 kegs of refreshment to finishing riders.
Men's Open
Dillman wins back to back at Mohican!
Coming off a win at the 2018 NUE Big Frog 65, Andrew Dillman (Think Green) wins the 2018 Mohican 100K with a time of 4:43:20. This makes back to back wins for Dillman at Mohican!  Second place was Jeffrey Pendlebury (Ride On Wooster) at 4:50:22.
Just thirteen seconds back from second place, was Chris Shannon (Think Green-Bicycle Face) rounding out the podium with a time of 4:50:35.
"My goal for the race was to be the first to enter the single track and ride a consistent and manageable pace. The trails were a bit slick in places, but still a blast to ride. About mile 30 or so I had to make a pit stop and lost touch with the lead pack. The next 20 miles were spent in time trial mode until finally catching Chris Tries and Jeff Pendelbury around mile 50. Jeff and I attacked on a steep climb to establish a decent gap around mile 55. We yo-yo'd back and forth until we entered the final road to the finish side-by-side. He was able to put in a solid effort on the final road to the finish and establish a 12 second gap. I ended up finishing third behind team mate Andrew Dillman who has been on fire all season and Jeff Pendlebury who was able to dig so deep in the final miles. Kudos to the race organizers on another successful Mohican 100. The next stop will be Wilderness 101 followed by Marji Gesik. Sponsors: Think Green-Bicycle Face p/b SWORD, Green Guru Gear, Heine Brothers' Coffee"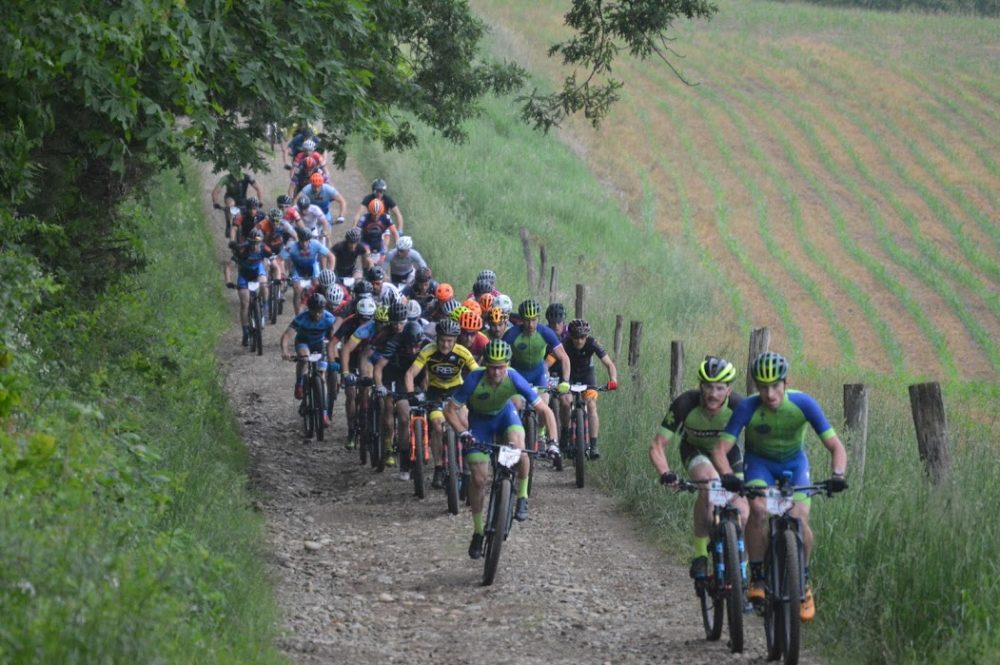 Women's Open
Richards gets her first Mohican 100K win!
After a 2nd place finish at the NUE 2018 Big Frog 65, Lara Richards (Little Fire Cycles),  takes the women's open class with a time of  5:44.
" The reputation of this race precedes it. I have some friends who have made the 11 hour trek from Georgia to race this race. But this was the first year I have ever raced the Mohican, and it did not disappoint. It was a great mix of rooty single trek, gravel and some grueling hike-a-bike. It rained the Wednesday before which made the MTB trail ideally tacky with a few slick roots, however the rain made the horse trail a sticky mess. Other than that, you could not ask for a better day on the bike. I really enjoyed the feel of the single trek – super fun. On fun trails like this I do not mind using a little extra energy to zip around corners and pop over rocks. It keeps me motivated. I have to say I even I enjoyed the down hill section of the horse trail. The railroad tressels were a fun obstacle to have in the middle of the course. The route went from trail to gravel then back trail, I liked the mix, it never kept us too long on just road. The day left me a little bloody and tired but definitely all smiles. I went into this race thinking' with a pool of 56 awesome female athletes signed up that there was no way I could pull off better then 10th but some how I managed the win. I still feel new to this style of EPIC races and To me this is probably the biggest win I have had in my MTB career. I do hope to race more NUE races in the future. I'll cross my fingers for more podiums but know it will be tough with such amazing competition. My sponsors are Little Fire Cycles wheels, Adventure Cycles of spout springs GA, Rhinohead, and Muc-off. Many thanks to all who made this race possible."
After winning the Mohican 100K in 2014, Bryna Blanchard (Barker Mountain Bikes) beats her previous 2014 winning time by six minutes to take second place this year at 5:48:38.
"Sometimes everything comes together in a way that makes me reflect on a race and feel satisfied that I did my best. With the 9 hour drive under our belts the day before the race and an early 7 AM start I wasn't sure how my body would feel for the Mohican 100K, my longest race to date this season. I was strategizing to try and get a fast start remembering the long ribbon of tight, flowy fast single track that followed the initial few miles of rolling pavement. The first plan came together and I ended up entering the single track with a group of 8-10 fellow riders, including another woman in my category, setting a pace that felt comfortable and efficient. My legs felt good but the early start and short sleep left me with a bit of a brain fog. I kept my focus, rode clean and even managed to get by a few people on the trail. Once out of the woods and back on the open road, some spectators reported I was riding in 4th, then I got passed by Lara as if I was out for a Sunday recovery ride. I quickly decided against attempting to chase with more than half the kilometers looming ahead of me. At that point I also realized I needed to catch up on hydration and nutrition that I had ignored in the single track. Within half an hour I started feeling really good, legs strong, mind awake, calm and confident, the kilometers and hours passed by. Stopping at a mid point aid station for a refill from the tremendous volunteers, I encountered a few other women heading out as I was pulling in. Jen, who I had expected would be in front of me, and Chase who was racing the full on 100 crazy miles. Jen pulled away quickly while Chase and I rode together on the pavement for many miles until the next section of delicious single track. Even with the majority of her race ahead of her, Chase put in a massive effort on the hilly road, motivating me to push myself harder than I would have alone. We managed to catch and pass Jen which gave me another boost of motivation. I entered the single track and tried to keep the pace high but metered, taking advantage of feeling strong. Enjoying the challenge of slightly slick rocks and roots I was able to make a few more passes on the men in the woods and continue to ride clean until a particularly washed out steepish decent sent me off my line and over the right handle bar. Unable to remount in the baby heads I ran down the rest of the rocks and realized I was beginning to feel the hours setting in. The final road sections consisted of steeper longer climbs, at least that was my perception at the time. Long steady climbs seem to be a strength for me so I settled in and kept reminding myself that this is a race and it is supposed to feel hard. Past the aid station where the 100K and 100 mile courses split I knew I had a good chance of maintaining 2nd, I also knew I wanted to finish strong with nothing left in the tank and try to catch the leader. I was fortunate to share ride company with some of the single speeders along the way who offered encouragement and entertainment. After riding with one single speed man on the final road he politely asked to enter the last single track first to which I replied please do, I'm exhausted. In survival mode I entered the trail which quickly turned my fatigue into joy at the superb quality of track, the bike floated along up the switch backs and around the corners. I managed to make a few more passes on the men, entered the camp ground and felt myself return to race mode as one guy pushed to pass me back. I surged ahead and found the finish line in 2nd place where Lara was celebrating her win. After a few frustrating races this season with mechanicals, it was extra sweet to have a great experience at Mohican. Thanks as always to Barker Mountain Bikes for their amazing support and friendship. Thanks to the race promoters, volunteers, sponsors and vendors for a most memorable day on the bike."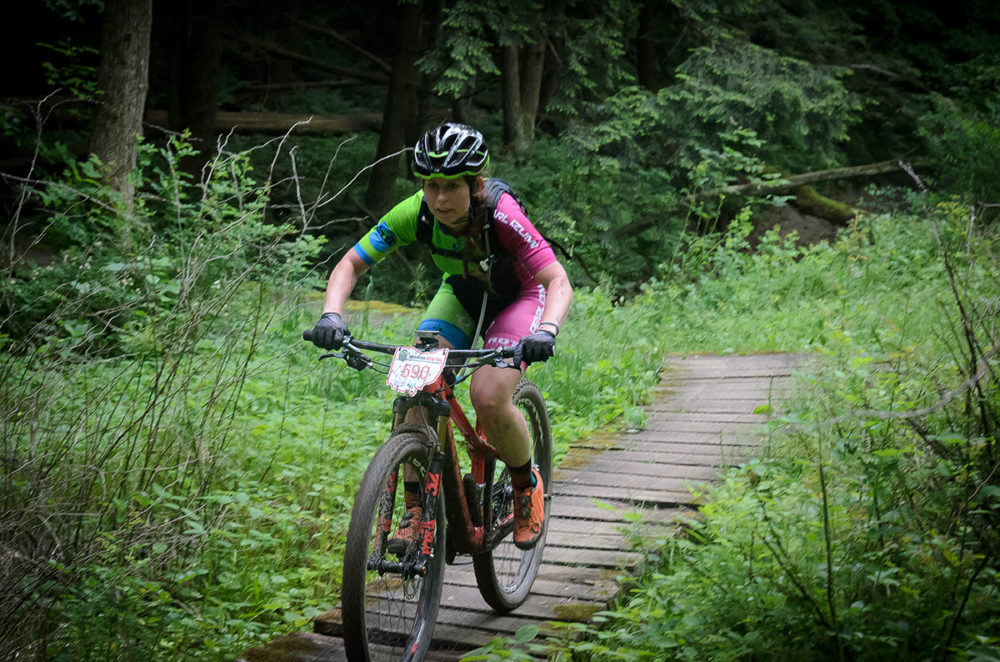 Coming off a win at the 2018 NUE Big Frog 65, OMBC Race Series Champion & NUE Marathon Series Champion, Jen Toops (Pearl Izumi/Pivot Cycles) comes in 3rd at 5:53:51.
" This year I made sure to get a spot up front since the bridge was out.  My plan was to start fast and get a good position into the singletrack after getting in a congo line the previous year.  I was first going into the first singletrack for women 100k and to my surprise rode most of the singletrack loop by myself. My first mistake was listening to my GPS yelling "off course" and back tracking a wee bit thinking I'd missed the hike a bike turn off. Finally a few other riders were coming through and I knew I should have kept going. This is where Lara caught up and we rode together until the hike-a-bike. After 2 years of racing La Ruta, I think I'm starting to get this hike-a-bike thing down. I managed to put a small gap on Lara and caught up to the women's 100 mile leader Chase. We worked together on the roads leading up to Aid 2 but Lara put it in beast mode and powered up to us!  We all rode into Aid 2 together and I was out of water and fighting off leg cramps. The volunteers did a great job and had my pack ready to switch out. I went to grab a shot of coke and some pickles and noticed Lara rode right on through the aid station. I never saw her again.  As I was leaving Aid 2, I saw Bryna was coming in and I wasn't sure if any other 100k women were with her.
The wilderness was a dark place for me. I knew I had to eat more but I was so nauseated. I tried slamming a gel and started dry heaving. Then the full on calf and hamstring cramps paid a visit.  I was behind on my nutrition plan.  I kept pedaling knowing stopping wouldn't fix anything. The cramps finally subsided and I managed to get through wilderness. Once on the roads I was just in survival mode. Mentally I wanted to race but the power and my legs just weren't there. All I wanted to do was stop, lay in the gravel and throw up! At this point I was wondering if I had a stomach bug and debated taking a DNF. Then Bryna and Chase (100 mile leader) were working together and made a pass on the roads. There was nothing left in the tank to challenge and I rode it on in to the finish.
Some races are good some are bad. Unfortunately the Mohican 100k didn't go as planned, but I somehow managed to keep it together enough to hang on to a 3rd place finish!  Thanks to all my sponsors, fellow racers/volunteers trying to encourage and motivate me, Anthony Toops for getting the Pivot Les on point, and my parents for coming to cheer me on!"
Masters 50+
Clayton Wins Masters 50+
Winning the Masters 50+ Mohican was Jeff Clayton (Georgia Neurosurgical Institute) 5:18:22.
"I think the neutral start led to the heavy hitters not punching it quite as hard, so the field stayed together for a while. I was able to hang with the lead group on the road and into the first singletrack, albeit at the back end of a long string of riders. Things were pretty good until I caught a root wrong with my front wheel and I ended up with the wheel jammed in between two roots and my bar twisted pretty good from the sudden stop.  Of course being early in the race probably 10 riders went by…never good for the confidence!  After getting going again, I pulled back a notch and focused on being efficient.  I started to reel riders in, but there was a good sized group that seemed to be holding steady behind and a couple guys right on my wheel.  As it turned out, one of those was Devin DeBoer who ended up winning the 100 mile M50+ category.  I eventually caught up to a guy who was moving through the technical parts well, so I decided to follow him figuring I would make it through the rough stuff better that way.  We chatted a bit and it turned out it was Scott Burrill who had placed 2nd in the Big Frog 65 to me a month ago.  After riding together awhile, I slowly gapped Scott on the gravel road rollers and got in with a small group of single speeders, including my old race buddy Ross Anderson,  and one geared rider.  After the course split at aid 3, I was on my own and was very happy to see the gravel rollers that come so much sooner than they do in the 100 mile race…the end was near!  As I got into the last singletrack, Anthony Toops caught up to me with another singlespeeder chasing hard for their 3rd podium spot.  It was great to use them to keep me charging hard, especially as I didn't know how far back Scott was or even if there was any other 50+ racers ahead I might catch.  I took the 50+ win, but Scott kept me honest just a few minutes back.  I'll be racing the Iron Mountain 100k next."
Scott Burrill (Bikeman.com) took the second place spot in 2017 and repeats in 2018 with the same exact time of 5:23:11!
Taking the third podium position was John Lorson (River Day Racing) with a time of 5:52:35.
"After winning the single-speed 100K at Mohican in 2008, 2009 and 2011 (in 2010, I took a wrong turn with 4 miles to go and handed the win to my teammate) I've moved further down the ranks and even off the podium in the ensuing 6 years in my past few attempts. The class was getting younger and faster and I was not. Finally, at age 54, I decided to "race my age" and entered the Masters 50+ category. Still, having ridden a single-speed exclusively for the past 10 years (even winning the OMBC Masters 45+ Championship in 2011 and 2012 against geared bikes) I knew what bike I'd be on: my 8-year-old Gary Fisher Superfly Single-Speed, running a 36×20 with my trusty Niner rigid carbon fork up front. (You've "gotta dance with who brung ya'," right?)
I've go to admit I was a little worried at the "neutral roll-out" plan for the start. I envisioned a lane-wide flesh pile as four lanes choked to one, but it turned out fine and actually a bit to my advantage because I wasn't spinning like a hamster trying to keep up as we started into the hill. The problem with the starting route now, as opposed to the course from a few years back, is several miles of road riding before we hit singletrack. It's a long spin for a single-speed and it sucks the life out of me being passed by tons of geared bikes I had just aced on that first climb.
This year I really let that get into my head and I was convinced I was having another off year until I hit Aid 2 at Buckhaven. There, the I applied the lifesaving elixirs of Coca Cola and watermelon and underwent an on-bike metamorphosis. After leaving the Buckhaven single-track I was overtaken by a pace-line of geared guys just before the infamous Township Road 344 which my buddies and I have dubbed the "Arc of the Moon" climb, because it looms on the horizon like a giant moon with tiny suffering cyclists crawling along its profile. Every one of the pace-liners passed me before the turn toward the climb, including a rider that I knew was in my class. I resolved to attack it as hard as I could up the hill and passed all but two of those guys, which I caught and then pipped on the way up the next roller. It had taken me right around 40 miles to get my grove on.
I ran up on a bunch of bikes in the bottom rock garden of Mohican Wilderness and the scene was like something from a horror film. One of the many "living dead", I stumbled and struggled through the sweaty rocks like I had learned to ride bike just moments before. This was easily the toughest part of the race for me, but nothing that couldn't be healed with a few shots of Coke and a handful of watermelon at Aid 3.
Two of my non-racing buddies, Scream and Cappy, were watching the carnage atop the Valley Stream climb and shouted that they thought I might be among the first Masters to come through. That was literally the first moment that I figured I had any shot at a podium finish. I turned myself inside out the rest of the way home, making sure to keep my place. As I crossed the line Ryan O'Dell announced me as "somewhere in the top 5 Masters" and I was blown away to find that I was, in fact, 3rd!
My Masters gamble had paid off and I hadn't forsaken my single-speed soul in the process. It was another fine day at Mohican, even if I finally had to admit I had somehow finally become an old guy!"
Singlespeed
James Litzinger gets the win and sets new SS course record!
Setting a new SS 100k record and crushing the SS Division was James Litzinger (Syndicate Cycling pwrd by Pro Bike +Run), 4:53:13.
"Wow, the Mohican 100k is an awesome race!  With a great mix of trails and gravel it made for a great day on the bike.  The anticipation of 600 plus riders at the start line and trying to navigate through a one lane bridge is a very exciting way to start off the morning!
I was really torn this year if I was going to race the Pivot Les as a Single Speed or the Specialized Epic FS which I have grown to love over the spring months.  I was kind of persuaded into racing the SS since the majority of the riders in the cabin the night before were riding single speed.  After getting all of my race prep and nutrition in line for the next day we enjoyed some time hanging out.  I have felt really good this year since starting to use some GNC products.  My top favorites have been the GNC Mega Men Sport daily vitamins, GNC Turmeric Curcumin 1000mg, and the GNC AMP Pure Isolate protein.
It was a very Single Speed friendly start this year with the controlled start until the bottom of the opening climb out of town.  I was up in the front row churning the pedals pretty casually and since there was no cash money for being the first rider out of town this year the pace was very manageable.  From the top of the first climb to the woods can be a nightmare for SSer's with the rolling hills and very high speeds.  On that road section though, I was able to link up with John Haddock, of JA King Racing, the 2017 and 2018 100 mile SS winner.  John is a very smart and strong riders.  He and I had a great time racing in the past at various NUE events.  When you have a buddy to ride with it makes the day go so much better!
Once getting into the woods in the top 20 or so we quickly learned that the prior week of rain and humidity were making the trails a little greasy.  I always have the utmost confidence in my Schwalbe Racing Ralphs!  They are truly the jack of all trades!    John and I made our way through the single track picking off only a few riders this year since we had a pretty good start on the road.   We were even able to pick up another riders for the party, Alex Hashem of Shenandoah Mountain Touring.  The three of us had a great time working together!  Alex would give us some help on the roads while John and I would pace the single track and climbs.  It made for the perfect combination!
Getting into aid 3, John and Alex hit the road for the 100 mile loop while I cut off to finish the 100k.  After doing the 100 mile in previous years it was very lifting both physically and mentally to have less than an hour to go.  I held a steady spin along the flat stream road trying to conserve a little energy for the steep Valley Stream road climb.  This year my goal was to clear the entire climb on my Wolf Tooth 30×17 gearing.  The climb seemed to go much faster this year and I felt good the whole way.  After cutting down through the woods and making my way along the stream for the last road section of the day I went through the last aid station right into the final miles of single track.  Once cutting up into the single track it was motivating to see Bubba standing along the trail taking a picture or video.  From there it was party time to the finish!  Having fun in all of the single track back to the finish I looked up to find that I caught a geared 100k rider.  Continuing and pushing on down through the campground is a great ending to a fun day with friend new and old on the bike.
Thanks to my Team, Syndicate Cycling, sponsors, and family for their continued support!  My wife Jenn and 3 boys, Garrett, Cameron, and Mason.  Pro Bike+Run,  Legacy Medical, Schwalbe Tires, Voler, Specialized Bikes, GNC, and Cenacolo all make me feel so fortunate to do something that I love so much."
Coming in twenty-three minutes back was Josh Kunz (KSD) with a time of 5:16:02. Taking the third podium position was Anthony Toops (Paradise Garage), coming in at 5:18:25.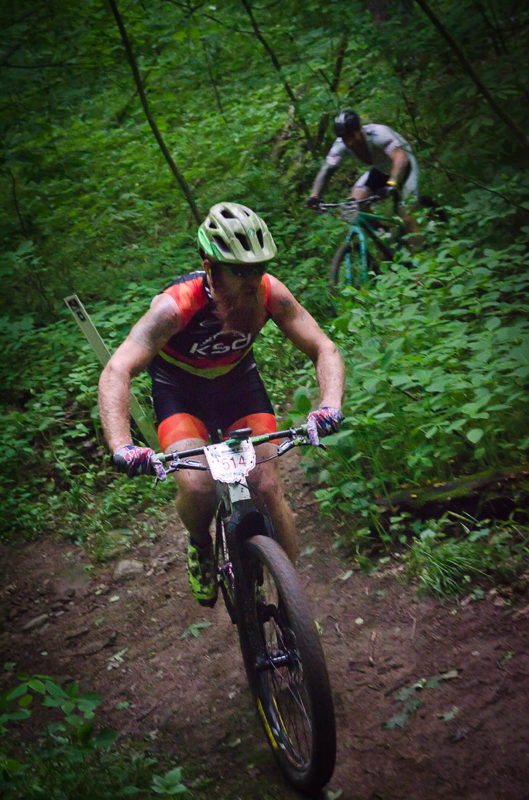 "All the usual suspects were in attendance this year for the single speed 100k so I knew it was going to be a tough day.  The race started pretty hard up the the first road climb with most of the SS'ers still together.  My goal was to get into the single track as near the front as possible so some huge efforts were required for the first 20min of the race.  This plan worked well and I had a good position behind Josh Kunz and David Mrkonja.  We were riding at XC pace the entire single track section with none of us letting up.  They would make a pass and then I would make the same pass to stay on their wheels.  Eventually I got around David and Josh and tried to up the pace a little more through some technical sections to break up the group.  This seemed to work and it was just Josh and I hitting the road sections.  About this time I looked down and realized I had lost a bottle somewhere.  Thankfully I carried three to get me to aid 2 but this was going to put me behind on nutrition, which wasn't ideal.  Josh is a super strong climber and started to drop me on the initial road sections before aid 2 and losing that bottle was starting to take its toll.  I just tried to hang onto third for the rest of the race and hope some power would come back so maybe I could catch him.
Through aid 3 and heading towards the finish my right cleat started to loosen up.  I had to stop and tighten it at about mile 48 and this is when Eli Orth passed me.  I quickly hopped back on and made sure to catch him asap.  When I had his wheel I realized my left cleat was now loose but at this point I didn't have the option to stop.  We rode together until the last single track section and I made sure to take the lead going into the woods.  Somehow I managed to find some legs and hold off Eli until the end to take third.  It was another tough Mohican 100k with close racing all day! My next NUE Marathon Series race will be Iron Mountain in Damascus, VA."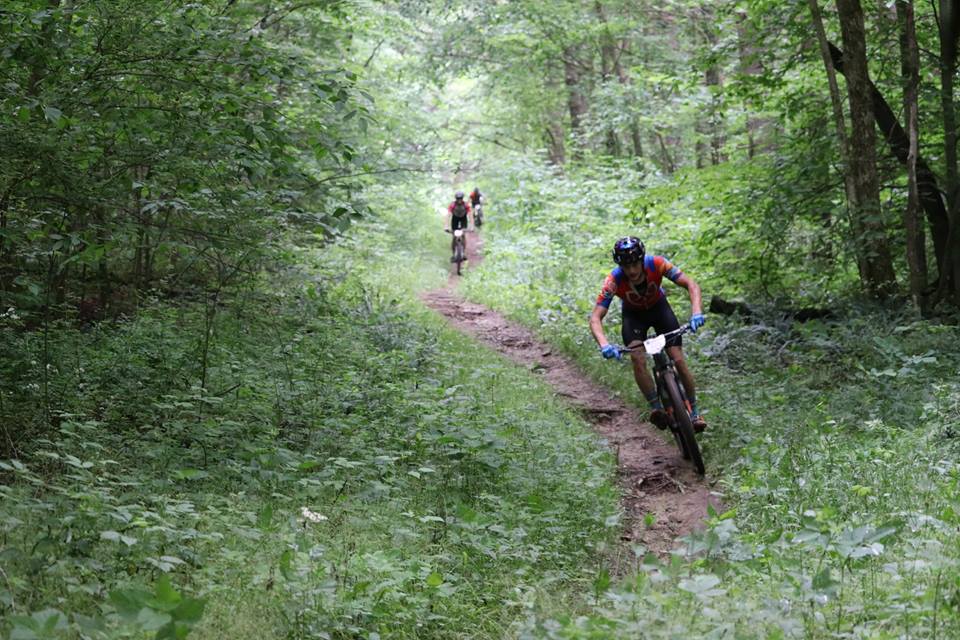 Click here for full results
What's Next?
NUE Marathon Series: June 24, 2018 in Damascus, VA  Iron Mountain
NUE Epic Series: June 16, 2018 in Manistee, Michigan (sold out) Lumberjack 100