Written by: Jen Toops/Ryan O'Dell
The Mayor of Loudonville, Steve Strickland, welcomed racers to Loudonville before the start of the 16th Annual Mohican MTB100 at 7am sharp. With the downtown blocked off by the LPD, The Kenda Mohican 100 released nearly 600 racers along some of the most popular single track trails Ohio has to offer on a grand single loop, 100 mile and 100k, that spans three of the four counties that make up what is locally known as "Mohican Country". New Hope Church added 200 volunteers to the nearly 250 volunteers that managed the many course marshal and aid station positions.
Pastor Paterson of New Hope Church, offered a prayer for the safety of racers who left on a slow neutral start this year due to bridge construction on Main Street that presented just one lane across the Black Fork of the Mohican River. The Ashland Sherriff's Department sounded the siren that would signal the start of the race near the city limits at Maple Heights, traditionally the spot where racers competed for a $200 Prime. Kent Cycle and Spin Bikes were among a team of seasoned professional mechanics that covered all six aid station this year.  The Ohio State Patrol offered assistance to racers at a dangerous crossing on SR97 and Great Lakes Brewing http://www.greatlakesbrewing.com offered 22 kegs of refreshment to finishing riders.
Jeremiah Bishop and Chase Edwards Win Mohican 100 Mile
Men's Open
Jeremiah Bishop repeats at NUE Mohican 100 Mile
After setting the course record in 2017, Jeremiah Bishop wins the Mohican 100 mile again with a time of 6:57:53.
"Perhaps I had better invite a slower car pool bud to drive to races with I though as Bryan Lewis demolished lead break of NUE Contenders on the toughest climb of the day. Christian Tangy and Brian Schwarm lost contact and I was in trouble.
OUCH 400 + watts at 5 1/2 hours in and I am getting dropped after the second big attack. I clawed my way back to the wheel and we came to a stalemate until the final slick single track where my 20 years of pro xc experience might render and edge. I attacked full gas out of the saddle on every turn and gained just the slightest edge. Stoked to take my first win after a 3 month comeback from a major crash in South Africas Cape Epic. Not sure where those last 15 minutes of attack speed came from but glad I had it! Thanks to Canyon Topeak Shimano Fox and Maxxis."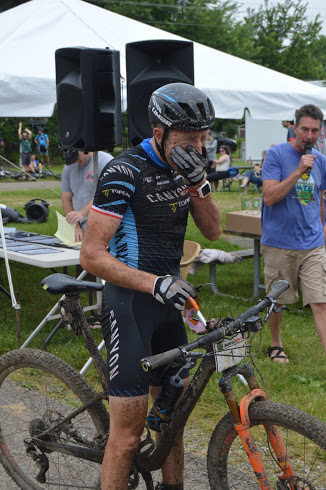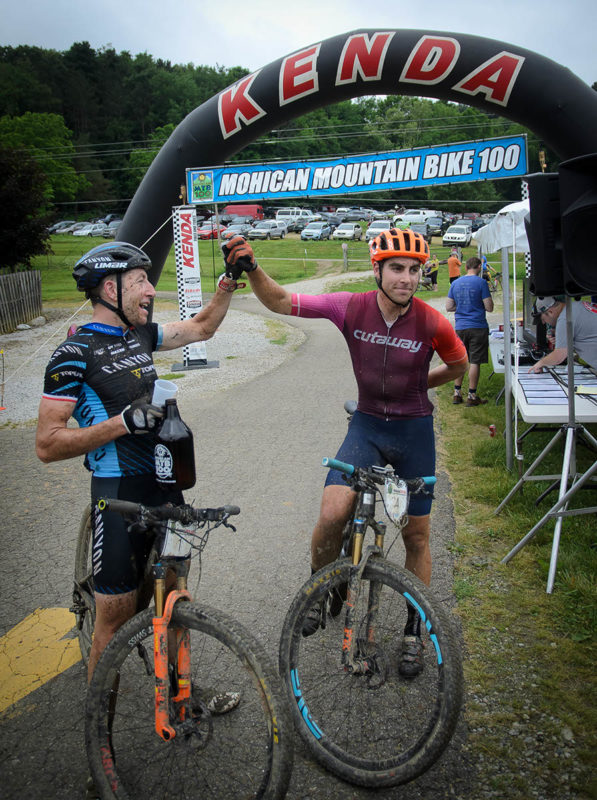 Only about one minute back and taking second place was Brian Lewis, coming in at 6:59:01.
"The Mohican 100 started with a long stretch of fun single track that formed the lead group (7 or 8 riders) of 100/100k riders of prior to aid 1.  Punchy farm roads and mixed single track slowly whittled the group down to four 100 miler participants (JB, myself, Christian Tanguy, and Brian Schworm) as the 100k folks split off at aid 3.  Our group road steady and stayed together until we hit Stroble Road.  A tricky muddy section with big bulldozer tracks left some daylight into Stroble Road climb and I rode it hard enough to split the group before pausing in the middle for some horses.  We were back together but another hard push and fast downhill left JB and I alone off the front.  I had a little gap as I crossed the Mohican river, but JB tagged on shortly.  I took another dig at JB on Valley Stream Road and again got a little daylight, but he was strong enough to bring me back after the descent.  We stayed together until the single track where JB took the lead.  As we ripped past 100k finishers JB got a little daylight and slowly build his lead on the climb until he was far enough out of sight to cause me to relax a bit into the finish.  It was a blast ripping and beating on each other over the final miles.  It definitely made the 100-mile distance entertaining.
Next NUE race:  TBD???  Suggestions? I haven't gotten past tomorrow yet. Sponsors: Flying solo, but appreciate the support of my employer Cutaway, USA as well as a good group of friends (Will, Steven, Tyler, Seth, AT, and Carlo) that consistently talk smack and give me a hard time as I chase fun events across the country."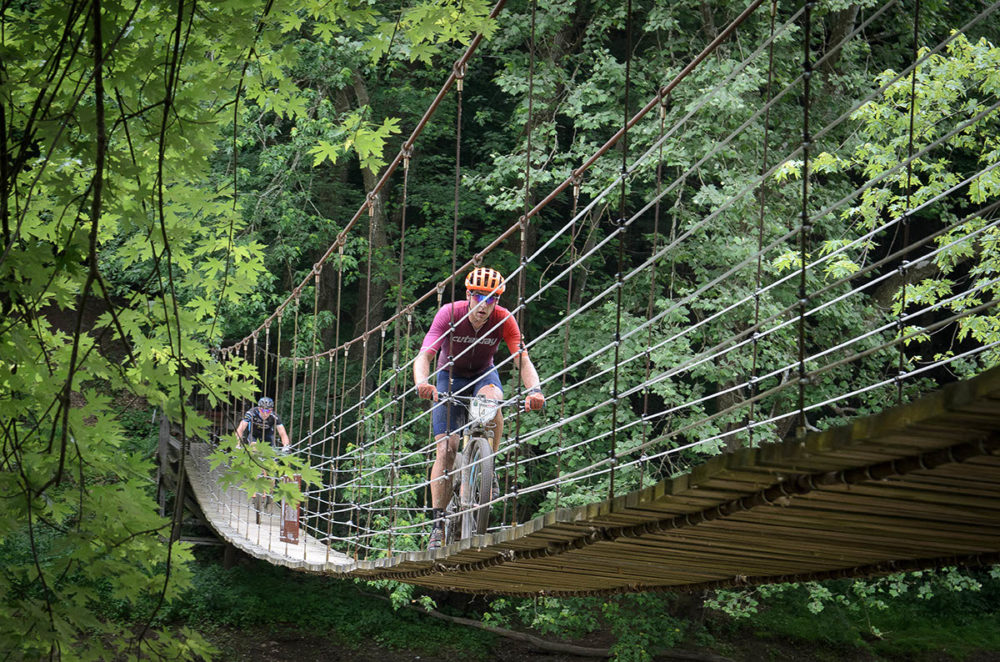 With third and fourth place only 11 seconds apart, it made for an exciting finish.  Christian Tanguy (RBS Cycling team), who finished second at Cohutta this year, manage to hang on to third place with a time of 7:03:39. Brian Schworm (Think Green) took the fourth position with a time of 7:03:48.
Women's Open
Chase Edwards Takes the Top Step
Making her first appearance at the Mohican 100 mile, Chase Edwards (CZ racing), takes the win with a time of 9:18:31.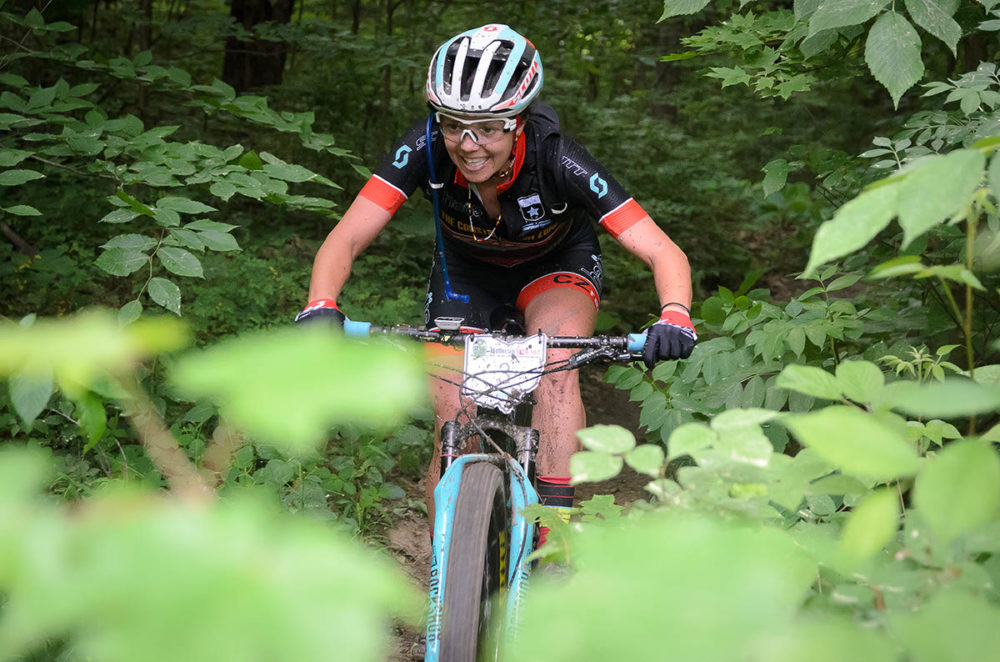 "The Mohican 100 proved to be harder than I expected in all the best ways! I was happy to land a spot on the start line next to Ohio State Champion Jen Toops (racing the Marathon) who was very kind about my dad standing nearby taking a lot of photos. I thought if I could hang with Jen for the first part of the race, maybe I'd learn a thing or two about riding muddy Ohio singletrack. But my nerves got the best of me, and I lost Jen after the neutral start and ended up in the lead. My start was fast enough to avoid a lot of bottlenecking onto the singletrack. I was stoked! Unfortunately, a few miles in the bag with my tools in it fell off my saddle and I had to stop and throw it in my jersey pocket. Shortly after, I crashed unexpectedly when my bike cut out from underneath me on some slippery roots. I got it back together quickly, though, and rode well for the next 20 miles of singletrack and proudly descended the one techy rock garden with ease. Jen and two of the other Marathon women caught me around mile 30, and I had a blast going back and forth with them for the next 10 or so miles. Just before Aid Station 3, my descending started to fall apart, and I worried maybe I had messed up my fueling and my body was already shutting down. Then, on a short hike-a-bike, I noticed my front wheel had come really loose. That explained the clunky descending! I pulled out my small race tool to tighten the thru axle and learned the hex wasn't long enough to tighten it. I tend to learn lessons in my life the hard way, and it had never crossed my mind to check this on my new bike this season. Luckily, I was only 5 miles from the Aid Station. I said goodbye to the top Marathon women at this point (their race was starting to get exciting!), and I just kept trucking and descending as best I could. At the Aid Station, Marlene (my Dad's wife who has supported me in three races now and is really good at it) was ready with fresh bottles and Honey Stinger waffles. She held my bike while I tightened down my front wheel with a full-size wrench. I had a really strong come back between the next Aid Stations and managed to put out really consistent power on the half-hour stretch of beautiful but mind-numbing paved urban trail. I was a bit surprised and worried when my back and shoulder pain from a crash last month started to flare up, but it forced me to focus all my energy on throwing down consistent watts. This was the most painful section of the course but somehow also ended up being my fastest section. I was so happy to see my support crew of five family members waiting for me at Aid Station 4.5. My dad teased me for walking the last part of the suspension bridge, to which I responded: "Too many new mediums out here for me! I'm used to dry sandstone and granite." Once again, Marlene re-loaded me with bottles and I was off toward the finish! The slippery rocks and roots on the final stretch of singletrack took all the mental power I could muster. There was a man hot on my wheel as we popped out of the woods, and I managed to hold him off with an all-out sprint to the finish line. Thanks, Construction Zone Racing, Scott Bicycles, and Paragon Athletics for the support! The Mohican 100 is an awesome race. "
Joanne Beattie (Six S Partners p/b Ciclowerks), finished second with a time of 10:13:41.
"This was my second year racing the Mohican 100 Mile and I have absolutely nothing but great things to say about this event! I loved riding the fast, flowy single track in the Mohican forest. I only wish I was a stronger climber and better able to get ahead of the pack before the turn into the first 25 km section of single track leading up to Aid Station 1. There was a line of riders ahead of me and the narrow trails made it difficult to pass, but I ended up utilizing the pace to keep my legs loose so that I had plenty of power to draw upon throughout the rest of the race.
I was thoroughly impressed by the level of volunteer support at each of the Aid Stations. Volunteers were on hand, ready to help with anything from filling water bottles to lubricating chains. Although the Aid Stations were fully stocked with anything you could imagine ingesting, I generally stuck to eating the cut-up Clif bars that I keep in a cup in my jersey pocket. They are easy to grab and eat while riding and are packed full of energy.
I currently don't have any other NUE races planned for this season, but I have been looking at the calendar, trying to figure out how to squeeze in another one. I love these ultra-endurance races! PEDAL HARDER! (Sponsors: Six S Partners, Ciclowerks, Clif, Biemme, 3Sixty5 Cycling)"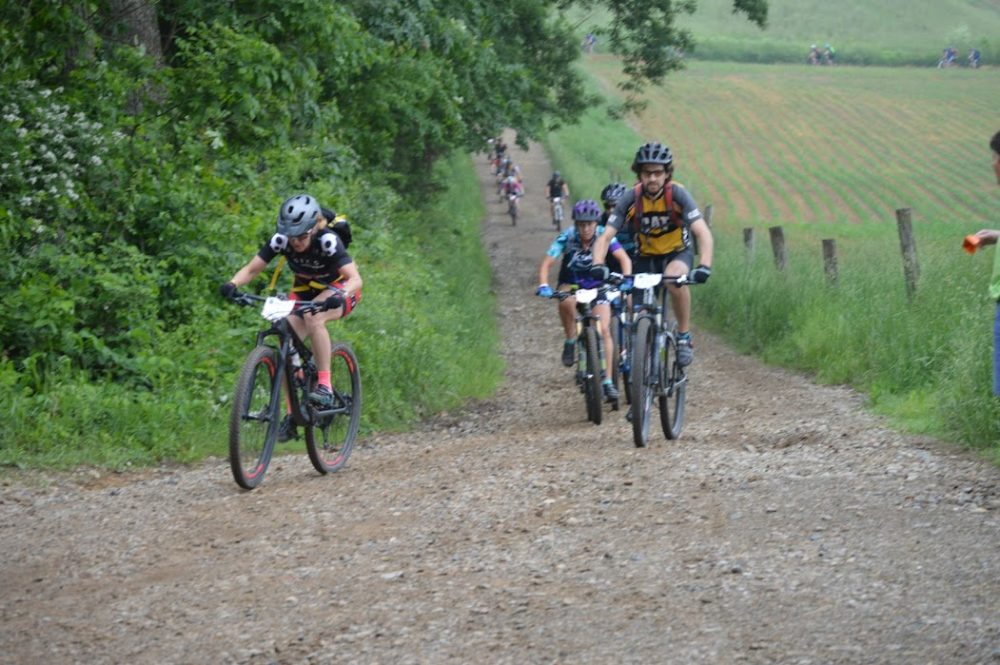 Laureen Coffelt (Los Locos/Pivot/Outdoor Inc), came in third place at 10:50:05.
"Back in 2006, I believe, it was my first Mohican 100 MTB race. I have returned 8x, with an absence for the last few years. It was a WOW this year. Incredible volunteer efforts, beyond expectations! The work of Ryan O'Dell to develop and foster the NUE series comes to fruition, at this race. My friend, and coach, Chris EATOUGH, won the NUE and the Mohican 100 in 2007. It is with pride and honor that I can say he got me where I am today, on the bike, and even off! I hope to return to the NUE Racing 50+ next year, and complete the series!"
Masters 50+
Devin DeBoer win's Masters 50+
Winning the Master's 50+ Mohican was Devin DeBoer (Fushion New Holland Brewing) coming in at 8:06:53.
Taking the second step and finishing fifteen minutes back was Joe Johnston (Brauer/Mick Management) at 8:22:25.
"It's been a few years since my last trip to Loudonville for the Mohican 100, Ryan & Crew did not disappoint. The start in downtown is always a highlight & nerve wracking at the same time. Once into the single track I found myself in a nice little group including Jeff Mandell (Rare Disease Cycling) &  Mitchell DeYoung (Hammer Nutrition). We pretty much stayed together until the water bars adding riders here and there. At one point I looked back and saw 6-8 in the group.  After aid 3, Jeff, who was riding great had pulled away with David Parson-Foresi (JA King/KTM). Just before the Holmes County Trail, Devin DeBoer (Fusion New Holland Brewing) caught and passed me on his way to the masters win (Congratulations!!!!). Other than a few 100k riders over the next 3ish hours it was a solo ride until Ross Anderson (Fincraft) came up just before aid 5 giving me the motivation I needed to push to the finish."
The third spot went to Tom Stritzinger coming in at 8:28:59.
Singlespeed
Haddock gets his Second Consecutive NUE Mohican 100 SS Win!
After a second place finish at True Grit and a win at Cohutta, John Haddock (CarboRocket, Christopher Bean Coffee, XoSkin), wins the Mohican 100M with a time of 7:44:41.
"It was great to get back to this event for another year. The trails, venue, and volunteers are always top notch, which makes for a great experience every time. My goal coming into the race was to ride fast, stay on top of fueling, and not get injured on the wet trails. Once the lead out vehicle pulled off, it was fast from the start, but actually more "singlespeed friendly" that past years where everyone redlines up the first hill. I'm never disappointed by a casual start to help warm up! I entered the woods in good position, accompanied (like last year) by my buddies Jim Litzinger and Alex Hashem. We held a steady pace together until Aid 3 where Jim, looking incredibly fresh, headed back to win the 100K singlespeed. Alex and I enjoyed each other's company for a bit longer, but a wrong turn by Alex left me to spin the rail trail alone in 34/20. Thank goodness for the deer and singing birds that kept things interesting! Surprisingly I was never caught by a geared rider nor did I hear Dahn Pahrs coming up from behind, so I rode solo to the finish. Huge thanks to my team for making all of this possible. And lastly, thank you to my wingman David Parsons-Foresi for being such a solid dude and letting my tag along to Ohio for the weekend."
Finishing second place about fifteen minutes back was, Don Powers (UPMC Pro Bike & Run) at 8:00:43.
"I wish I had an exciting race report to share with everyone but I went into the woods behind John Haddock and never saw him again.  I raced the entire race in 2nd place.  Had a couple back and fourths with some of the 100K SS'ers, Josh Kunz, Anthony Toops, & Dave MrKonja.  Caught drafts off geared guys when I could and got a super pull from Dave Parsons and Alex Hassam on the rail trail, was able to average 19.4mph on my SS (36X21, 15th fastest ever according to Strava).  At the end I finished in 8 hours and some odds seconds and enjoyed some Four Lokos on the podium."
After a blazing fast start, Peyton Randolph finished in third place at 8:20:01.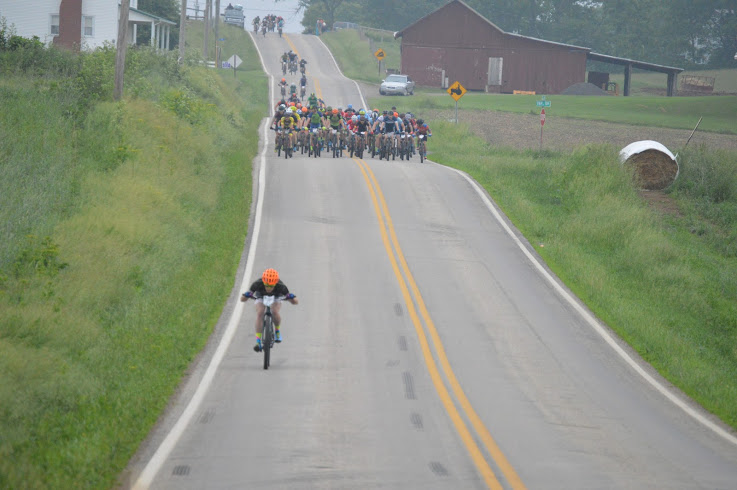 "Race week started off with daily online harassments from the one and only king of SS smack talk Dahn Pahrs. Online one of the most cut-throat talkers but in person one of the most "ok-ist" guys. Ohio has stepped up this year with a ton of SS guys. The SS class is growing and in return the podium shorts are creeping up! The Ohio OMBC and 331 series are a blast now with more ss guys than ever. Races like Vultures Knob and Tuscazoar will even bring out-of-state ss guys to join the party. It was great to see a ton of Ohio SS friends at the start. The start this year was different due to the slow pace through the bridge construction. When the lead truck honked their horn on the hill after the bridge, no one sped up. I just did my thing and pedaled up the hill by myself not noticing that the pack was taking a super chill pace up the hill. Perhaps due to there not being a $200 prem.? Now it's debatable whether this was a good idea or not. At the very least I thought the picture would be fridge-worthy so I drove it home and kept my 32:18 cadence in the sweet spot. When the flat road came, the derailleur party slow rolled on by with a few SS bros hugging the back. I rode the first single track with friends Eli Orth and Ross Anderson. We set a casual pace quick enough to call it "racing" but slow enough to talk and laugh. Mohican wilderness was in the best shape I've ever seen it. The majority of the day involved a lot of solo gravel/pavement spinning. The fresh single track between mile 50 something and the rail trail was ridiculously hard for me. Just when you think your avg speed is not looking bad, this section keeps you working hard. It sure would've been nice to throw a wrench in the PA domination over OH. It didn't happen this year, but every year the PA harassment gets worse, Ohio training grows! Next race will be Lumberjack. Huge thanks to my wife Kayla who rides, races, and travels with me as well as my parents who came to Mohican to cheer us on."
Click here for full results
What's Next?
NUE Marathon Series: June 24, 2018 in Damascus, VA  Iron Mountain
NUE Epic Series: June 16, 2018 in Manistee, Michigan (sold out) Lumberjack 100