Course Records Broken at the 15th Annual Mohican Mountain Bike 100
Loudonville, OH
Written by: Ryan O'Dell & Shana Biese
Two race records were shattered at the 15th Annual Mohican 100!
Racers from across the fruited plains gathered in Loudonville located in North Central Ohio on June 3 at 7am. Prior to the start of the race, Pastor Robert Patterson of the New Hope Community Church offered a prayer for the safety of racers. New Hope Community Church was presented with a check to help launch a mentoring program designed to help lift local Loudonville area residents out of poverty.
Following the singing of the national anthem before the Loudonville war memorial in the town square where the race officially begins, and with sirens wailing, The Mohican 100 released 600+ racers out of Loudonville, up Maple Heights, and along some of the most popular single track trails Ohio has to offer on a grand single loop, 100 mile and 100k, that spans three of the four counties that make up what is locally known as "Mohican Country". 2017 Mohican offered a cash purse of over $11,000, the largest single day cash purse in the NUE Race Series.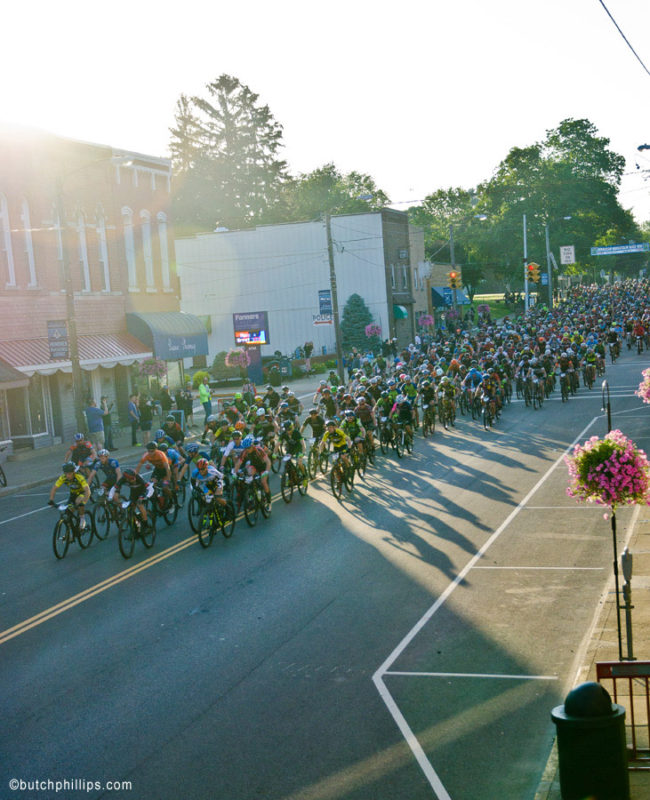 Mere blocks off the start of the race, a rider attempted an ill-advised pass, catching the handlebar of anther racer, going down onto the pavement, suffering a broken collar bone, abrasions to the face, and forcing both riders to drop out of the race. Both injured racers were taken for medical treatment but returned to enjoy post-race festivities at the finish line.
Jason Blodget, KTM Factory Racing, was the first racer to crest at the city limits before going on to finish second in the 100k Men's Open. Blodget was awarded an additional $200 cash prime courtesy of the Loudonville Visitors Bureau.
As occasionally happens at Mohican throughout its fifteen year history, a course arrow sign was stolen before being reported and replaced by Mohican course proofers. In addition to signs, racers are instructed to pay close attention to orange confidence ribbons and large painted bright orange arrows on pavement sections for added direction in case signs are stolen.
About 25 miles in, a stolen sign located just before a left turn onto a bridge resulted in a second pack of race leaders along with several others who missed the left turn when they failed to notice, and consequently rolled right over, three large bright orange painted arrows on the paved road located well before and near the left turn. This would result in several lead changes, including an expanded gap for the eventual race winner and new Mohican course record holder, Jeremiah Bishop who recognized the alternate course markings, made the left turn, and increased what had been a narrow gap on the field.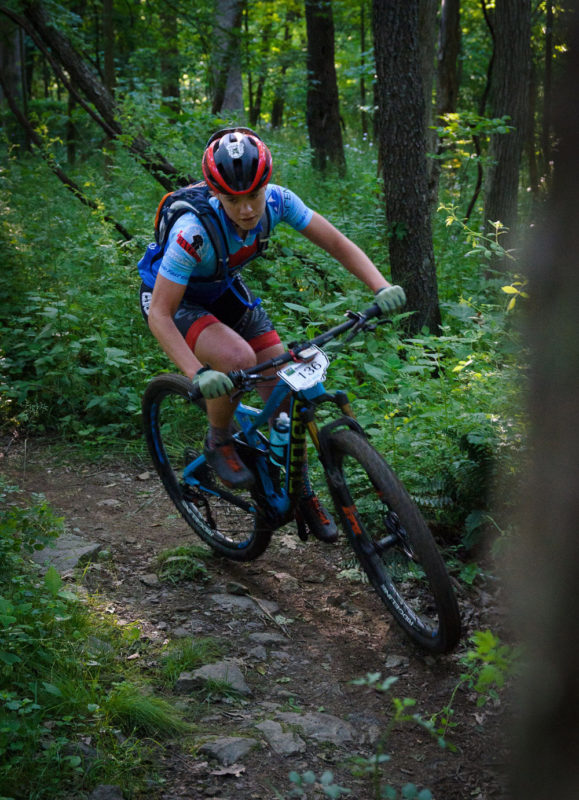 Women's Open
Williams keeps the winning streak alive scoring the second fastest time in Mohican MTB100 History!
Carla Williams, Joe's Bike Shop, ESI grips, Maxxis tires, Ridge Supply, took first place with a time of 7:56:58. After a tough race at the Cohutta 100 in Ducktown, Tennessee, Carla recorded her second straight win. William's time was the second fastest time ever recorded by a woman in Mohican's 15 year history. The course record was set by NUE Series Champion, Amanda Carey, Kenda/Felt, in 2012 at 7:42:26. The closest before Williams was 7:59:34 in 2013 by NUE Series Champion, Cheryl Sornsen.
"My race went really well. I have finally found my 100 mile racing legs and instead of flying and dying like I did at Cohutta, I felt like I was able to fly for the entire race. The start at Mohican is always chaotic. There are about 700 racers in the 100 mile and 100k race starting at the same time down Main Street in Loudonville, OH. I saw a horrible crash in the first half mile that took out at least two racers on the asphalt. Then we hit the first hill and things started to spread out a little bit. I got into a good position leading the women's field right before we entered the first singletrack section. It was so fun! The first 30ish miles are all singletrack riding through really flowy, fast trails. I had my full suspension bike with ESI grips and Maxxis Ikon tires and was just rolling through the trails behind a fast group of men.
I think there were a couple of things that made this race a lot better for me. The first was a workout my coach, Chris Beck, made me do last weekend. It was 4×45 minute intervals with 15 minutes rest. It was like doing four time trials in a row. It was hard, but it definitely gave me the confidence to keep the pace fast for the entire race without fear that I would blow up. I also brought music this time, which I don't usually race with. I think it kept me more upbeat and I could more easily ignore how hard I was breathing/working. Lastly, Jeff and I watched some of the UCI World Cup MTB races on Redbull TV. It was pretty inspiring to see the women there racing their hearts out and, anytime I started to think about backing off the pace, I kept telling myself that none of those women would slow down and that motivated me to keep going.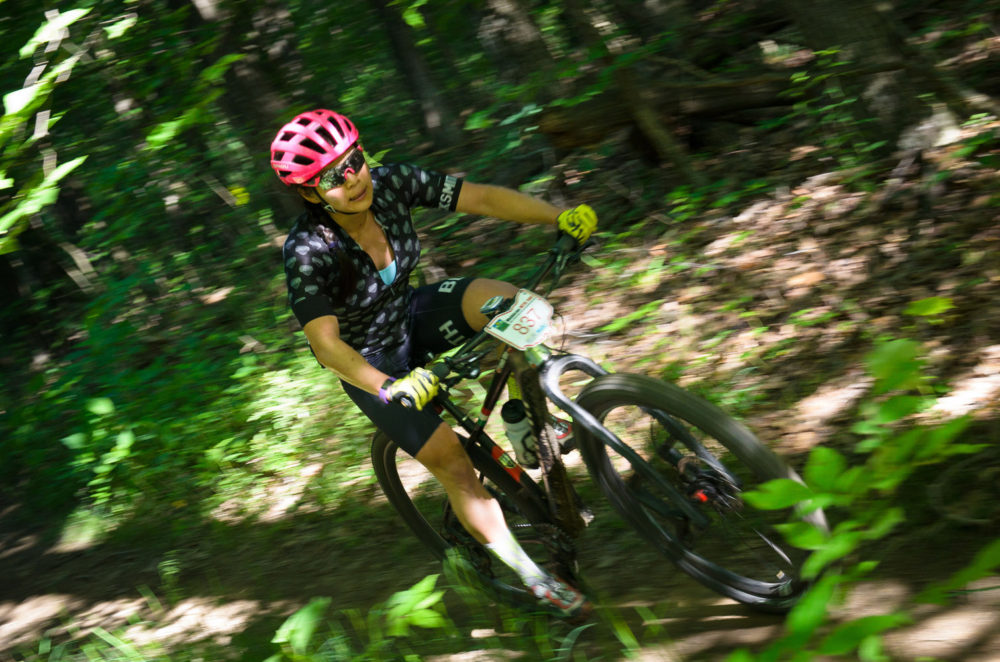 Thanks so much to Ryan for organizing the race, all the volunteers at the aid stations (having pitchers of water made filling camel packs so much easier and faster!), to Back Alley Bikes for getting my bike completely repaired after I destroyed it at Pisgah, to ESI grips, Maxxis Tires, Ridge Supply Socks, Joe's Bike Shop Racing Team, and my coach, Chris Beck, who gives me sometimes impossible workouts but never stops challenging me to get faster and stronger."
Rhonda Stickle, North Hub Bike Shop, was second at 8:48:12. "I started near the front to avoid crashes, and glad I did. I was riding in the same group with Carla off the start for a few kilometers until the first single track section, then I never saw her again. She was extremely strong and I'm sort of newer to 100miler MTB races and needed to focus on my own race plan.
A few kilometers before aid station #2, fellow Canadian and friend Linda Shin racing the 100km race, rode past me on a single track section and encouraged me to come along with her.
We rode together for approximately 20km sharing pulls when we could. We swapped positions several times, as we each had sections we excelled in. We worked together until shortly before our races went different ways at aid station 3.
I road alone for a good while after aid station 3 until a rail trail section where I was very lucky to earn a pull from another rider for a few kilometers, especially because I felt like I was bonking a tad. At aid station 4, I got a second wind and fueled well to have a good strong finish. I was climbing really well on many of the longer climbs in the final 1/4 of the race where many other riders seemed to be out of steam. I was happy to feel the second wind when I did and finish strong. The race plan my husband and I worked on for the 100 mile race worked really well for the day.
It was a very tough hilly race, but I enjoy climbing on my bike. A huge kudos to all the amazing volunteers! This race definitely has the most helpful volunteers! Top notch!
I'm grateful to my team "North Hub Bike Shop" out of Bolton, Ontario Canada and our team sponsors Global Precast, Greenbelt Property Management, Bolton Tire, AspenINC.ca, Ryders Eyewear, Garneau, Wolftooth Components, Giro Sports Design, ESI grips and Superfly Racing."
Allison Arensmen, J.A. King Racing, finished third with a time of 9:10:44. Mohican was her NUE Series racing debut.
"I didn't really know what to expect coming into the Mohican as it was my first attempt at a 100 mile mountain bike race. I had done road and gravel races that numbered 70-100 miles before (plus a couple of 35-50 mile mountain bike races this year), but didn't know how that would compare to the effort an ultra-endurance mountain bike race would take. It was one of the toughest mental challenges I've overcome yet, and the last 4 hours were full of deep soul searching, praying, and some hallucinations of small animals running down the trail. Such an epic day!
During the race I both loved it -beautiful singletrack, power-section dirt roads- and loathed it -hike a bike, not being able to fuel on extended single track sections. Towards the middle I was wondering how I was going to be able to keep sitting on the saddle for another fifty miles. The body didn't feel 100% and I began to feel fatigue only twenty miles in, so I had to change my goals from going for a sub-8 hour day to pushing myself to not pull out of the event. I was amped (and thankful) to finish and, in just over nine hours, even make the podium! It's great to know what I'm up against now as I prepare for my second and final NUE this season in Bailey, CO."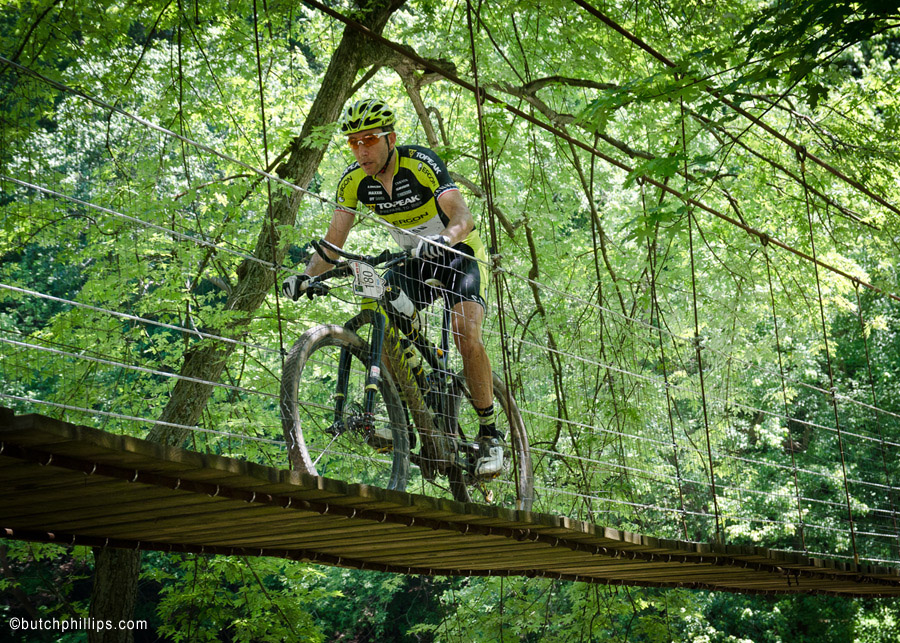 Men's Open
Bishop Wins and sets a new course record!
Jeremiah Bishop, Topeak Ergon, took the win with a time of 6:35:09 setting a new course record. Bishop's last win at Mohican was in 2009 where he finished at 6:50:26. The previous course record was held by 2013 NUE Race Series Champion, Christian Tanguy, who won the 2012 Mohican MTB100 at 6:37:58.     
"Due to the 100k guys starting with us it made for a blazing fast start! After two hours of near cross country pace, a group of eight formed. I managed to ride a wall of climb (known to local MTBers as "Big Ass Hill") and attacked over the top to get a gap. This test attack became a sixty mile solo time trial. I was running at my limit and fighting fatigue. The time splits to the chase group were falling making me nervous I might get caught.  I found a little left for the final four steep mile long climbs and I was digging deep but struggling to hold the pace. The Mohican 100 was a fun course with great trails, country scenery, and it is harder than anyone expects from Ohio. I was smashed at the finish but made it for a new course record for Team Topeak Ergon! I am glad to be back to the NUE series and will look forward to racing the next round in Michigan."
Defending NUE Men's Open Champion, Dylan Johnson, Cameron MTB, was able to come back from going off course to pull out a second place finish with a time of 6:35:09.
"The Mohican 100 is an NUE classic and one of my favorite races of the year. I knew the pace would be quick with the level of competition this year. Sure enough (OMBC Ohio Race Series Champion) Drew Purcell led the group through the opening single track at a blistering pace.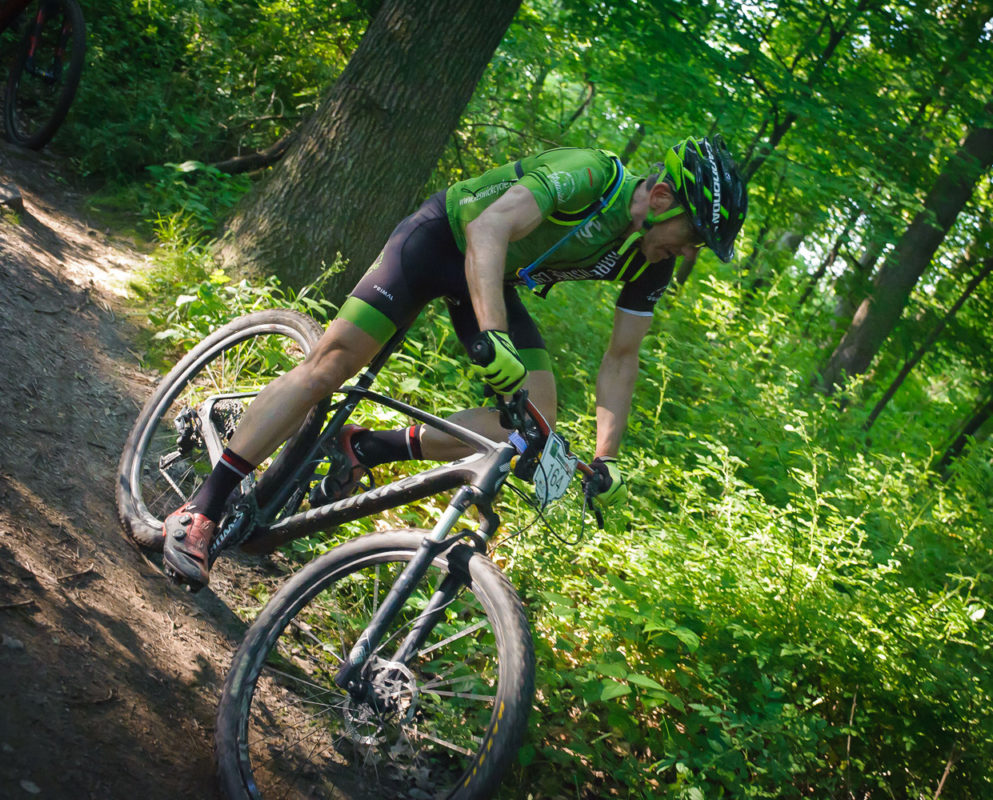 Towards the end of the single track, Jeremiah Bishop got to the front of the group and managed to ride the steep hike a bike section distancing him from the rest of us. Shortly after that the chasing group that I was with went off course and, by the time we found our way back, Bishop had put five minutes on us. Not long after that, I found myself in second place by myself with no one to share the work with to pull back Bishop.
I worked hard and managed to pull back some time but payed for it in the last hour of the race. At that point, I was no longer looking ahead to catch Bishop but looking back not to get caught by Brian Schworm. I managed to crawl to the finish line holding on to second place. I'm pleased with the result and, as always, the 2017 Mohican 100 was a stellar event with great people and an overall good time."
Brian Schworm, Think Green-Bicycle Face p/b Sword, who finished second at Cohutta, fought back and forth with former NUE Series Champion and Mohican race winner, Christian Tanguy, during the race, but managed to achieve third place with a time of 6:59:09.
"My teammates and I went on a pre-ride on Friday evening and quickly discovered that the trails were in amazing condition. They were dry and fast! Sure enough on Saturday morning during the race we were flying through the initial singletrack due to the trail conditions and due to Drew Purcell (from the 100K) setting a blistering pace. Very quickly a lead group formed consisting of Drew, Jason Blodgett, and my teammate Drew Dillman all from the 100K, and Jeremiah Bishop, Dylan Johnson, Christian Tanguy and his teammate Ron Caitlin, and myself from the 100 mile.
We rode together until the "hike-a-bike" section.  Apparently Jeremiah didn't get the memo and rode the whole thing!  He established a gap of thirty seconds or so on the rest of us.  Unfortunately for us chasers, his gap grew after we inadvertently missed a turn. Undeterred, we continued chasing with Dylan being the primary pace setter. We continued together until aid station 2 where some racers were in and out quicker than others. This broke our group into two packs with Dylan, Christian, and Jason up front and both Drews (Dillman and Purcell), Ron, and me following soon behind. Somewhere before aid 3 the groups started to break apart; Dylan and Christian were off on their own, Dillman bridged up to Jason for a battle in the 100K, and I was left by myself with Ron and Drew Purcell close behind.
After aid station 3 and the 100K racers splitting off, I was riding in fourth position. Once we re-entered the Wilderness section, I caught Christian who was struggling with a flat tire. I was now in third with Jeremiah and Dylan many minutes in front. I hammered the rails-to-trails section but kept looking over my shoulder for Christian. He was riding strong before his flat and had me riding scared. I kept the pressure on through aid 4, the five tough climbs between aids 4 and 5, and the final singletrack section to hold on for 3rd place.
Overall I was very happy with the race and the weather turned out to be fantastic. Thanks to my team Think Green – Bicycle Face and my supportive wife Jennifer for being there for me the whole weekend. Up next is Lumberjack 100 in just a few days!"
Singlespeed
Haddock gets his second straight NUE Series WIN!
John Haddock, JA King MTB Team/Carborocket, was in full force for Mohican. He took first place with a time of 7:38:52.
"The Mohican 100 was a blast this year. I chose to run a 34/20 for my gearing for this race. The course was fast, the volunteers were awesome, and the stoke was high! I spent almost the entire day riding with friend and fellow SS competitor, Jim Litzinger at a brisk, but manageable pace.
After recovering from a wrong turn and catching a SS rider that passed us during our misadventure, we pushed on towards the finish in the company of Masters race winner, Jeff Clayton. I entered the last singletrack section first and turned it up a notch on some of the climbs. Luckily, I had enough energy left to pull away and take the win. Congrats to Jim and Matt on their awesome races and to everyone else, all the way to the last racer. The folks finishing 10+ hours after the start are just amazing. It takes a determined, tough, and dedicated person to be out on the bike for that long. Kudos to them."
Finishing second, just a minute after Haddock was, 2016 NUE Marathon SS Champion, James Litzinger, Syndicate Cycling p/b Pro Bike + Run, with a time of 7:39:58.
"This definitely ranks as my favorite NUE 100 to date. This wasn't my first 100 mile SS at Mohican but it was a race that included great trails, racing, and friends. The excitement of the NUE series is always high at the Mohican 100 with the 600 plus other racers lining up in downtown Loudonville. Making my way out of town I quickly found NUE series leader John Haddock. He and I spent a good amount of time together at the Cohutta race a few weeks earlier.  John is riding very well and having a great start to his season! We got out of the city limits and just tried to hold the wheels of some geared riders as they were chewing up pavement in their big gear. We weren't trying to kill each other on the first section of road so it was a pretty nice pace continuing on the SS nightmare of a start on the gradual rolling hills.
Going into the woods I was only a few riders in front of John, so I was just trying to keep up with the mad dash of the early race adrenaline from other racers. I was pleasantly surprised to get to the short and steep campground climb with not much traffic around me. In years past this climb was clogged up and I had to get off and push. Now onto the good stuff, the 20ish miles of fast and fun single track!
I was able to keep a consistent and sustainable pace through this section of the course knowing that there was a lot of racing left. I was passed by a few anxious riders and I was able to pick off a few that were running out of gas. I was leading at this point with John still only a few riders behind. Shortly after the 1st aid station, John bridged up to me and we had a great time riding the rest of the trails leading into aid 2. At this point my strategy was to not get too aggressive, learning from my mistakes at Cohutta, and ride a more conservative approach for the finish. It seemed that John had a similar plan and it was great to have some company throughout the race. At about mile thirty we were in the early section of the roads and missed a left hand turn, going straight instead. We were soft pedaling thinking that we should have turned across the bridge but then noticed some riders were off in the distance behind us. That didn't exactly build our confidence so we let them bridge up to us. After a short conference we all decided that we should turn back and make the left.  This turned out to be a good idea and we lost about six minutes in our detour.
After the crossing the bridge, there was a pretty big climb and John and I were able to pass a lot of the riders that made up time on us. John knew one of the riders that we passed and he asked if he noticed any SS'ers going by. He said that he only saw my friend and local SS competitor, Dahn Pahrs, who won the 100k SS and he is also from the Pittsburgh area.
One of my goals for the race was to be very consistent with my nutrition and hydration. Things were going smoothly until, at the top of a short, steep, and open gravel climb, I reached for my Hammer Electrolytes and fumbled them onto the ground spilling them in the gravel. I was faced with a tough decision at that point. If I stopped, John would surely put a gap on me and I would have to burn some matches trying to catch back up or, I can stop and try to find most of my Hammer electrolytes in the gravel. I ended up stopping and picking up each of my about 20 capsules in the gravel trying not to take too much time. I knew that if I wanted to finish the race without cramping, that the Hammer Electrolytes would be vital!  I also used the delicious and nutritious Apple, Almond, and chocolate chip hammer bars for fuel! This turned out to be a great recipe for the race and the best that I've ever felt in a 7+ hour race.
Now, I have to bridge back up to John! That's hard to do on a SS alone on the roads and it's going to take some work. I noticed my work wasn't really paying off.  John is not visible in the rolling hills of central Ohio. Then I get to a relatively flat section of road and see Dahn Pahrs off in the distance. As I was fixed on catching up to him, I hear a freight train of geared riders coming up behind me, score! Craig Cozza Masters 100k winner, Dave Parsons, and a few others were putting in some big watts in their pulls and I was extremely excited to get onboard.  I was able do the same work and increase my speed greatly.  At this pace I thought it wouldn't be long until I bridged back up to John.
Shortly after turning off the road and into the woods, I was able to catch back up to John again just before the split at aid station 3. From aid 3 until the rail to trail, John and I just picked distance off of the 100 mile day. It was great to have someone to ride and share stories with which makes that time and miles pass by much quicker. We were really hoping to have some geared help on the rail trail and that's when the defending 2016 NUE 100 mile Masters series winner, Jeff Clayton caught up to us. John looked back and said, "Perfect timing!" I said, "Who is it?" When he told me it was Jeff, I knew that we would be in good shape. He really helped me out at the Lumberjack 100 last year and I knew that he was a super strong rider. Jeff pulled us the whole 10ish miles of rail trail. He pulled like one of the Clydesdale horses that we passed earlier on the course. What a monster I kept saying as John and I really had to work to hold his wheel.  Thank You Jeff Clayton and congratulations on another win!
On the rail trail, I noticed that my rear bottle cage was bouncing around a little too much because my bolts were both coming loose. I was able to hold one bottle and reach down to tighten the bolts up enough to not lose it all together. When I rolled into the aid station the amazing volunteers were asking what we needed and had water ready to go. I let them know that I needed a 4mm allen key and one of the volunteers was right on it. He saw that my cage was loose and he tightened it up for me as I got my bottles filled. I didn't lose a second! As always, the Mohican 100 has the most helpful and best stocked aid stations in the whole series. Thank You!
Pulling out of the aid station John, Jeff, and I continued to work together.  Jeff would pull on the flats and John and I would pace the group on the hills. This worked out to be a great tactic for all of us as we separated from the rest of the competition. I knew that the race was going to be won or lost in the final four miles of single track. We both passed through the last aid station trying to get into the woods as quickly as possible. John increased the pace on the first climb and I followed.  We were now riding as hard as we did the whole race.  My breathing was good but legs were turning into cinder blocks as I tried to hold his wheel. After about three miles, John pulled out of sight and earned himself his second consecutive NUE SS win and I cruised into second place.
This race had many positives! I was able to ride with a friend and competitor, John Haddock.  My nutrition and hydration were on point. I was able to enjoy the beautiful trails and weather! I had amazing help throughout the race by the aid workers and racers! I was also surprised by my supportive wife and three boys at the finish line and we got to spend the rest of the evening eating pizza, ice cream, and S'mores around the camp fire. I even spent some time with friends around the camp fire down the road at the Mould's cabin. We have a lot of great sponsors. My Schwalbe Thunderburts were the perfect tire on the day! They have a super-fast center tread with great side knobs that made the sweet trails beg you to go faster. The Wolftooth SS chain ring and cogs were rock solid. The Hammer products proved their weight in gold, again! Happy trails!"
Matt Crawford, UPMC/Pro Bike+ Run, finished third with a time of 7:55:05.
Masters 50+
Clayton leads NUE Series, raises the bar setting a Mohican course record!
Defending NUE Masters Champion, Jeff Clayton, Georgia Neurosurgical Institute, showed up to Mohican ready to ride; seizing the win with a time of 7:41:56 and in the process setting a NEW COURSE RECORD set by 2012 NUE Series Champion, Ron Sanborn, Einstein Racing, of Michigan. The late Sanborn's record held rock solid for five years at 7:43:56. In 2013, the late Alec Petro, Corner Cycle Bay Capital Management, presented the closest threat to Sanborn's record when he won with a sub eight hour finish of 7:59:35. Interesting to note that Claytons finish was precisely two minutes faster.
"What a beautiful day for a bike ride it was! My Mohican adventure started with pre-riding the first twenty miles of singletrack on Friday; always good to see the good stuff before the race. After completely blowing up just before the start of the singletrack from going out too hard in 2015, I was very keen NOT to make that mistake again.
I'm not sure if the initial pace was slower this year or I just rode more efficiently, but I managed to enter the singletrack reasonably fresh in the lead group of 35 guys or so. I enjoyed the singletrack through aid station 1 as much as I did the previous day. The trail to aid 2 was mostly fun too, except hike a bike and horse mess mud.
Still feeling pretty good at aid 3, I decided it was time to push a little harder. I was riding with a couple other guys for a while until the trail pitched up pretty steep and I pushed hard to ride it all, getting a gap. A little while later, several miles before the rail-trail, I caught up with John Haddock and Jim Litzinger-they had passed me earlier, gone off course, and passed me again. I asked if they had switched to "social ride" mode, and Jim said "yes until you came along". I did the geared rider thing and pulled them on the flats and gradual downhills….I was worried that a group of geared riders would pull me back on the rail trail, so I went hard in my top gear the whole way out and back. After that, John and Jim were an inspiration on the long grinding climbs and technical trails. Just before the last singletrack I waved them through…time for their showdown without my interference! The last trail section went quickly, but I was so happy to roll down the last steep hill to the Mohican campground and sprint to the finish. I don't even ride with a watch, let alone gps, so it was a complete (pleasant) surprise when I saw 7:41 on the scoreboard! The Mohican 100 was a blast!"
Racing in just his second NUE Race Series for the 2017 season, Sten Hertsend, Carbo Rocket, took second place with a time of 8:17:48.
"The Mohican 100 was my Second NUE for the year. My first concern was the heat and humidity. Coming from Bozeman Montana where it had been snowing in town within two weeks of the race. The heat didn't become a factor because there was plenty of shade. I lined up behind Jeff Clayton trying to give myself a chance and keep track of him. Well that lasted until we hit the dirt and he was gone. I lost track of him and didn't see him again until I finished. I was in the second group on the road before the dirt. Some guy hit the deck from the first group and didn't look to well as he tried to get up. I was feeling good in the first section of single track and trying to not go to hard.
After a bit I noticed Roger Masse coming up from behind. I was thinking he was in front of me. We stayed together for a while and then Roger got away, I believe it was the first hike a bike. Coming off some single track onto a road and going right, there was a left hand turn that wasn't marked (left turn sign missing) and a group of us went straight. Just up the road one rider said he didn't think this was the correct direction. Another rider checked his GPS and confirmed it was the wrong way; we turned back and got on course.
At this point, I was thinking Roger knew this course well and probably didn't make the same mistake. I was wrong, Roger had missed the turn and went farther than I and now was behind me. I didn't realize this until I saw him coming from behind. We talked about the missed turn and continued on. I was feeling OK and keeping up with my fuels and hydration. At one point I was following Roger a little to close and hit a big medium size box rock. I thought I would have had a flat but, I was fortunate and didn't. Roger was able to pull away again at about mile 40ish.
I clipped a tree with my bar end and went down just before aid station 3. After that incident, I stopped at aid station 3 and refilled my pack and fuel. At that point, the 100 mile and 100k course split and I was on my own chasing. On the long flat section, I was able to keep a good pace while catching some riders and having one jump on and go for a ride.
Shortly after that, I noticed a rider in a black and green Jersey on a long climb. As I got closer I confirmed it was Roger. I was able to catch up and then get away.
This is my 7th NUE race and would say the best. The fact that I was racing closely against someone in my class in a race was exhilarating. In the Masters class, you are usually racing riders in another class. So this was really nice.
The finish couldn't come quick enough. In the end I finished with-out any change in placement. This will be a race I remember for a long time. Thanks to all my fellow Masters racers for always making me ride hard and making me a better racer. Thanks to Ryan and all the Volunteers that make it happen. You all did a great job doing what you do. My next race is Tatanka, then Pierre's Hole and Big Bear to finish off the Year. I look forward to see all the great people at these Races. Race On and Race Hard. Peace."
Following up on a close second place finish behind the defending NUE Champion at the Cohutta 100, Two-time NUE Race Series Champion, Roger Masse, Rare Disease Cycling/Keswick Cycles, continues to show strength early and is clearly in the hunt that has just begun. He finishes third on the day, at 8:22:56.
WHATS NEXT?!
NUE Race Series EPIC and Marathon Series #4:
On June 17, The NUE Race Series features a double header with races in both Colorado and Michigan.
NUE Epic 100 Mile Race Series #4: The (now sold out) Lumberjack 100 features a three lap all singletrack race in the Manistee Forest.
NUE Marathon Race Series #4: The (now sold out) Bailey Hundito, located in Bailey, Colorado is a 100% fundraiser for Trips for Kids and the Colorado High School Cycling League
For more information about both races, visit http://nuemtb.com/