The 23rd annual Shenandoah 100 is the oldest race in the NUE Epic Race Series held over Labor Day weekend in Stokesville, VA. Shenandoah now includes a 100k option of racing on Saturday and the classic 100 mile race on Sunday.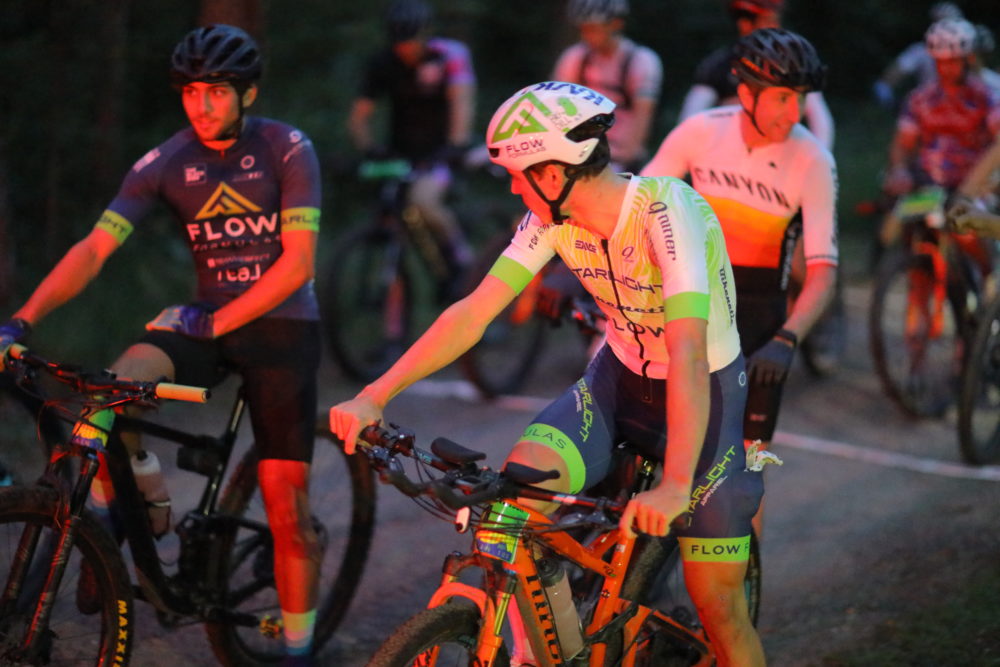 Held within The George Washington National Forest of Virginia, Shenandoah marks the start of the fall season of the NUE Series with just a few races remaining that will determine this year's champions. Shenandoah is a highly anticipated showdown showcasing top level talent in a festive atmosphere with most racers choosing to camp out at the Stokesville Lodge and campground which is included in registration.
Womens Open– Toops with second NUE win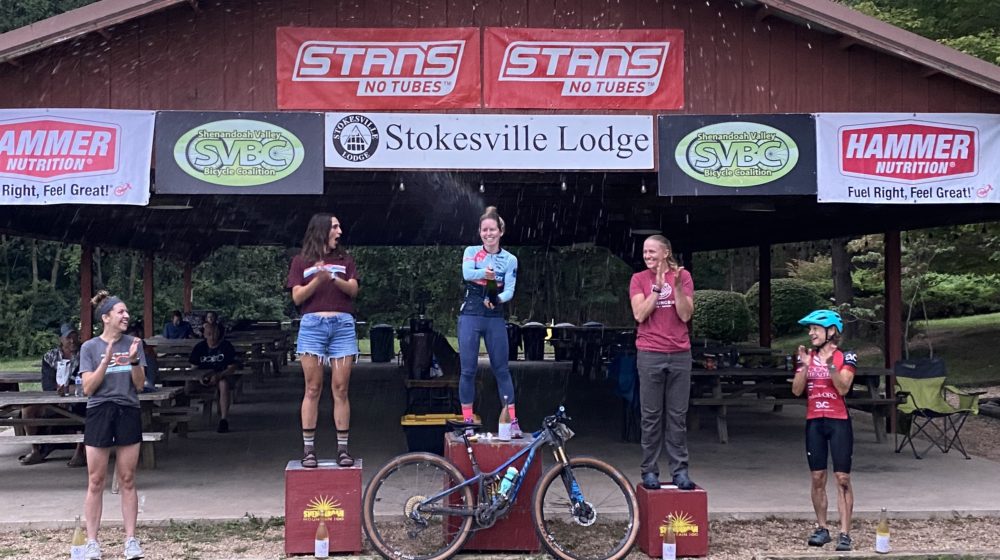 Making the trip down from Ohio, previous NUE marathon series winner Jen Toops (Pearl Izumi/ Pivot Cycles), took the top step with a time of 9:17:59. Toops now leads the 21 NUE epic series with a win at Mohican and second at Wilderness earlier this year .
" I've been signed up for Shenandoah for the past couple years but couldn't make it for various reasons. I was very excited to finally make it down to VA and see what Shenandoah was all about. My brother Shane Cusick came to cheer and is a Shenandoah veteran so we spent race eve going over the course. Game plan: the "death climb" is tough so save some matches and ride my own race. Some jerk on Saturday threw tacks out on the beginning of course and I got one in my front and rear tires. Luckily Stans sealant did the job and I was still able to run my Maxxis ikons with no issues.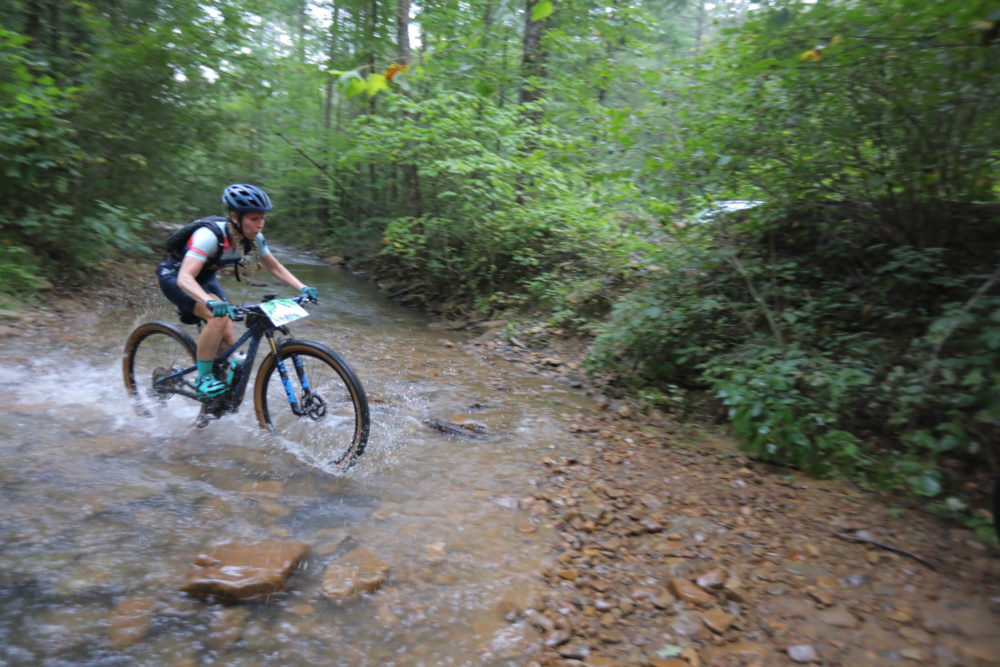 All the women were lined up together for start of the race in about 100th position. Julia and I rode most of the beginning gravel together and then I lost sight of her (turns out she had some tire issues and had to DNF). When the race entered the first singletrack there was a lot of Congo lines and hike a bikes. I think this helped in the long run by not burning too many matches in the beginning of the day. I continued to ride a steady pace, keep up on nutrition, and save plenty for the "death climb". Then the moment of truth…. the so called death climb. Turns out what I envisioned was way worse than it actually was. The 17 mile death climb is long but never super steep and you even get some breaks here and there. I kept looking back and asking at aids if anyone knew time gap and no one knew. I just kept pushing a tolerable pace and ended up taking the win! Super excited to celebrate with my brother and Ohio crew that made it to the event. Sponsors: Pearl Izumi, Pivot cycles, Ergon, Fox, Maxxis, Stans, Scc, Honeystinger, Carborocket, Lazer. Next up in Marji Gesick in MI. "
Putting in a lot of training this year for Shenandoah led to happy tears at the finish line for Leila Husain. She took second place with a time of 10:11:33.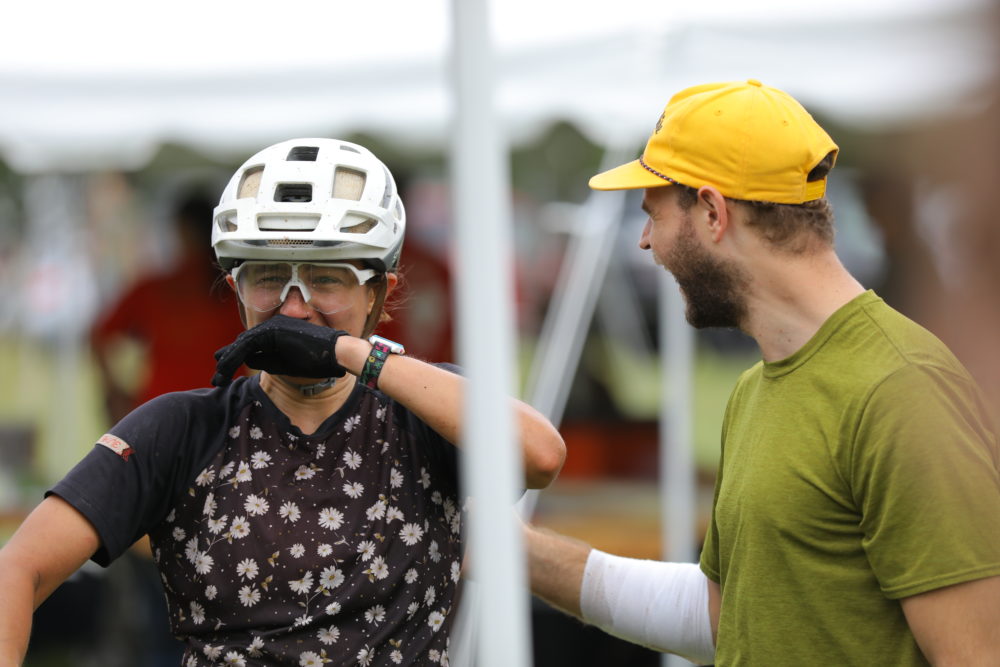 Laura Hamm made a weekend out of racing. She completed the 100k race on Saturday and also the 100 mile race on Sunday. Taking the Stan the woman award she finished the 100 mile in a time of 10:32:13.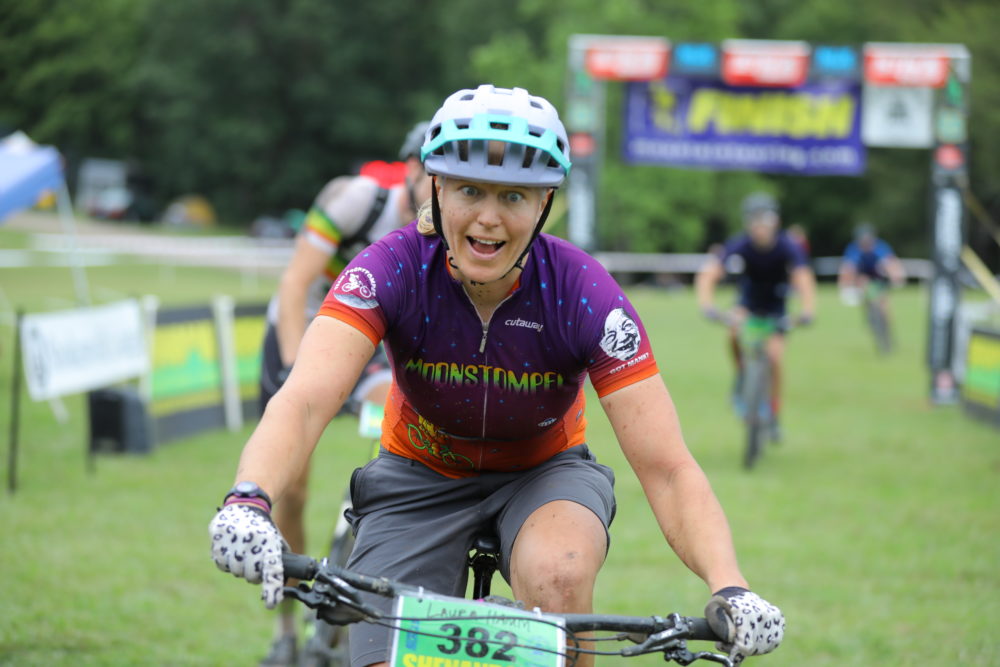 Finishing fourth was, Kaityln Maddox with a time of 11:27:26 and Lynn Faust finished fifth in 13:03:03.
Mens Open- Johnson gets Shenandoah win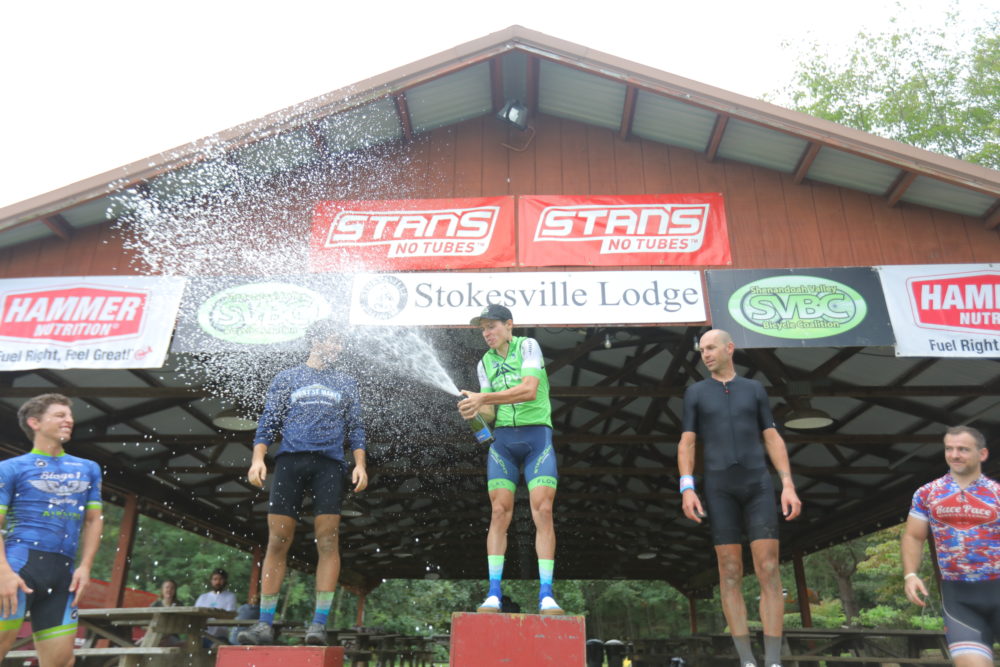 Previous NUE epic series and Shenandoah winner, Dylan Johnson took the overall 100 mile race with a finish time of 7:29:21.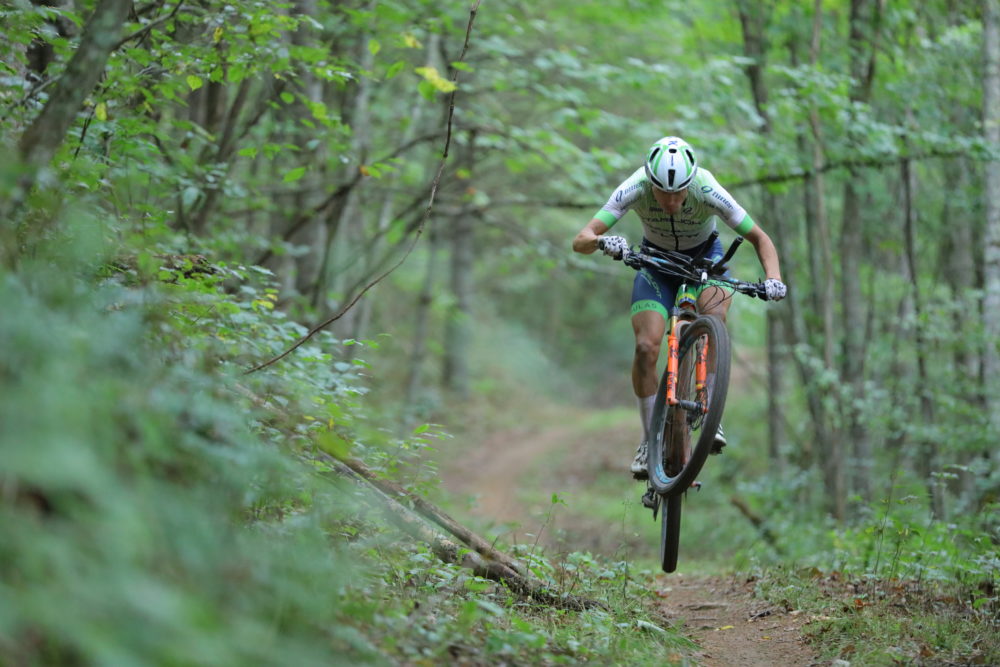 About 20 minutes back, Ian Schwing took second with a time of 7:50:34.
"My favorite race of all time had awaited me Sunday. The legs were fired up from the day before having my second collegiate race in UVA. 6:30am start is always majestic at sunrise with hundreds of people riding together in the woods. Fireworks and moves happened early and many people flatted. Worked my way through traffic until finally at the bottom of Tillman, found myself in the lead group, racing through almost 20 places. Dylan was already out of sight and put in what seemed like a death march of an attack for 90 miles, and nobody followed. Dropping into aid 3 only 3 of us were left in our group. On braileys decent, Jake got a flat and I rode passed him. A very very lonely death climb was ahead of me, and lonely it was. I shared a few miles with Bobby Lea before regaining the gap on Chestnut and hammered to the finish to ensure a second place. Thank you to Flowformulas for all the support and fueling these massive efforts! Next big race on the calendar is a full collegiate season, collegiate nationals, and marathon nationals!"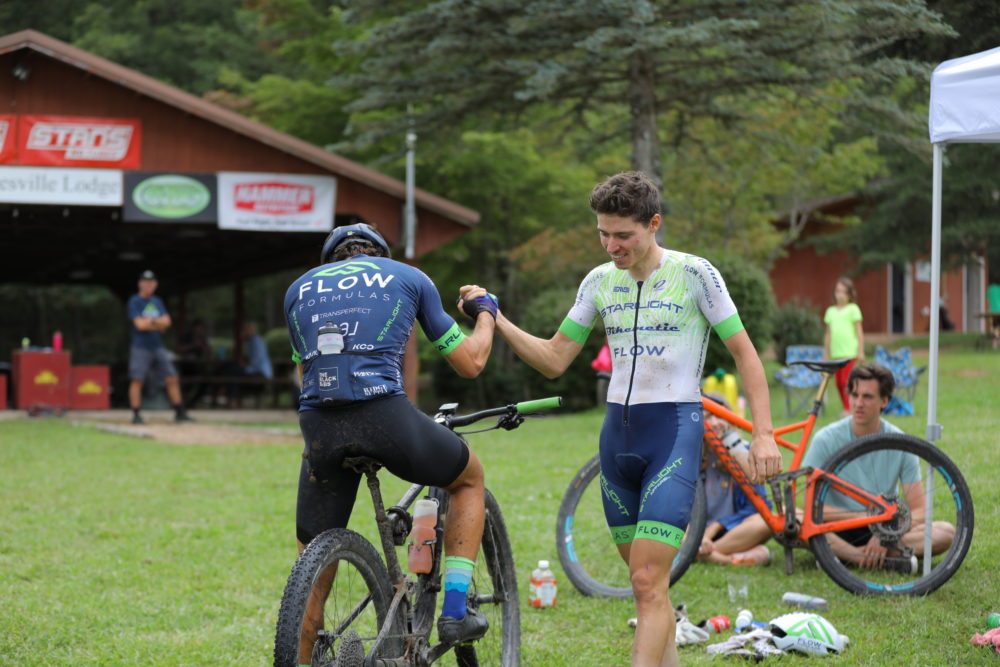 Taking third place was Bobby Lea finishing about three minutes off second place with a time of 7:53:21. Fourth place went to Jimmy Klose crossing the line in 7:54:40. Hot on his heels was Heath Thumel just one minute back in 7:55:39. Bishop had mechanical issues and finished 14th.
Singlespeed- Holle with 3rd NUE SS win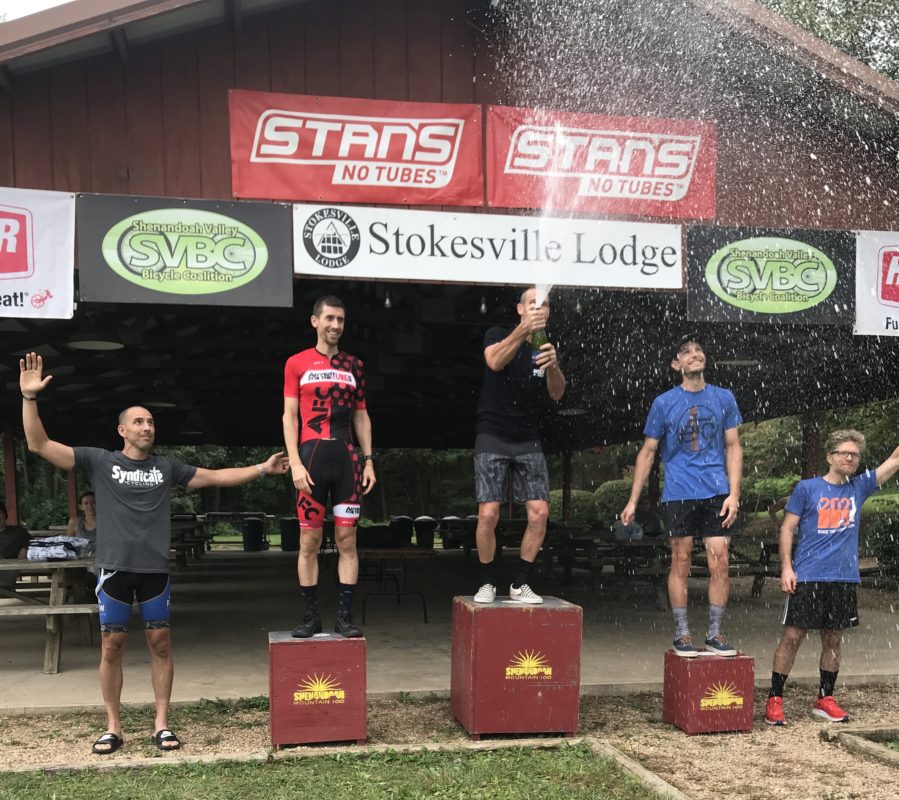 The single speed division put on quite the show with the top three just four minutes apart. Making the trip from Colorado, Justin Holle, took the single speed win with a time of 8:07:51. With previous wins at High Cascades and Lumberjack he now leads the NUE epic singlespeed series.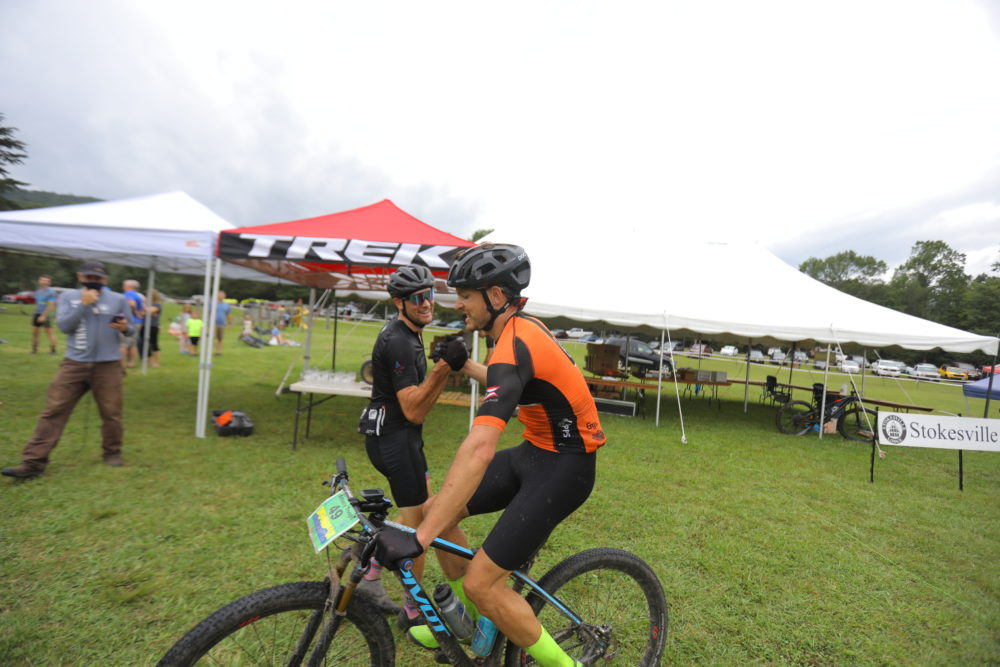 Just over a minute back, Lance Byrd took second in the singlespeed division with a time of 8:09:09.
"The Shenandoah 100 single speed division went full-dramatic in 2021. The lineup contained multiple previous winners (Justin Holle and Patrick Blair) and 39 registered single speeders. With a neutralized socially distanced mass start, the pace remained sane early, keeping every possibility alive. Justin Holle (current NUE SS series leader) wouldn't waste his premium starting position and led the entire field up the gravel climbs to the singletrack. His confidence paid early dividends as Adventures for the Cure teammates Lance Byrd and Pat Blair were trapped behind a pileup that caused the first decisive split on mountain 1.
Furious chasing towards mountain 2 ensued. Lance, Pat and Anthony Toops were hanging onto geared riders for dear life as those who were held up tried to bridge back to the leaders. Pat Blair tried eating gravel at speed, with only a chipped tooth and the dust of his competitors to show for it. He would fall further behind but wasn't done! Lance and Anothony attacked mountain 2. Lance bridged to leader Justin Holle on mountain 2, ripping Wolfe descent. The race was on.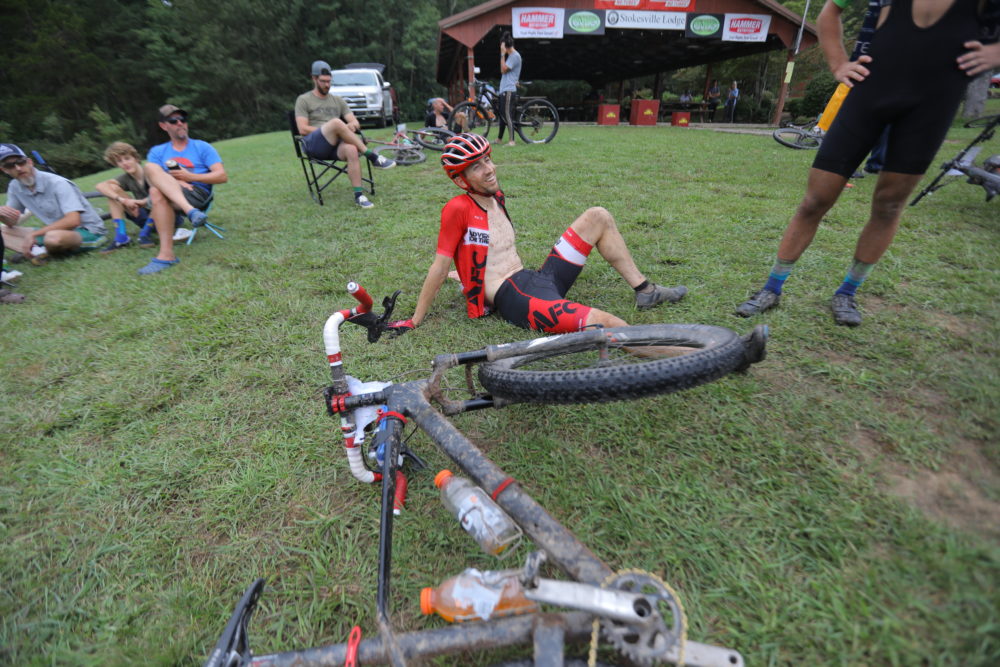 Lance and Justin joked that it would be a battle the rest of the day. They marked each other over mountains 3 and 4. They climbed similarly, Lance hiked and descended a little faster, Justin would repeatedly pedal him down and take control of the race.
Heading to The Death Climb of mountain 5 the stakes were raised… Anothony Toops bridged, Pat Blair (chipped tooth) bridged. The top 4 single speeders entered The Death Climb together. In slow motion they tested each other, some were faster on the steeps, others faster in the mud. But, even another hour of brutal climbing couldn't separate them by more than a few seconds.
Lance attacked the 5th and most epic descent. It seemed to work. There was no one in sight as he turned onto the gravel leading to the finale, mountain 6. But Justin would not be denied. He clawed Lance back on the roads, bridging just before the start of the climb. The two were inseparable and they even discussed how this would play out. They decided at the same time that Lance would attack near the top. It seemed scripted, inevitable. Justin responded to the final surge and then pulled away over the final kicker. He ripped down the final descent, sealing his Shenandoah 100 and NUE SS series victory."
Previous NUE marathon SS series winner, Anthony Toops (Paradise Garage) of Ohio took the third spot with a time of 8:12:01.
"What a race this turned out to be! This was my first SS race since 2019 and I really didn't know what would happen out there. I went into the day with no expectations and no pressure other than riding hard and NO CRASHES!
The race started pretty easy and I just focused on my own race. Justin Holle went off the front going into the first singletrack section and I wasn't sure if I would see him again. After I think aid two, I started to see a group up the road and it turned out to be a few geared and SS racers. I latched onto them on a road section and from then on it was 4 SS racers battling it out for most of the day.
The pace was quick but there weren't any all out attacks yet, just steady efforts to wear everyone down. We were all anticipating fireworks on the death climb and everyone was riding really strong. Justin dropped back a little going into aid 5 (mile 75) at the top and it was Lance, Patrick, and I together in and out of the aid. I was wondering if he had cracked… but Lance quickly replied "He's not gone yet. He always comes back!". Wouldn't you know it; by the time we were almost to the longest downhill of the day, here comes Justin!
Lance was in the lead by about 25 yards and I had a small slide out in some mud so Justin went by going into the downhill(Chestnut). I quickly popped back up and caught his wheel. Patrick was in 4th and taking it easier on the downhills after a crash earlier in the race. Justin and Lance were absolutely flying on the downhills and keeping their wheel was difficult since I was having some pretty bad hand cramping issues. The legs were feeling strong but the hands couldn't safely hold on so I had to back off and would loose some time going into aid 6 (mile 88).
At aid 6 I quickly grabbed a can of coke and got pedaling again. Justin and Lance were just up the road about 200 yards. I spun like crazy and was closing the gap going into the final climb. I was all in and went as deep as I could and almost caught them, but they put in a big attack before I could close the gap. They would again gain some time on the final downhill and at this point I was yelling at my hands they hurt so bad! At the line we would finish just a few minutes apart.
This is the best battle and the most fun I've had in a 100mi race and couldn't have asked for better competition on the day. Looking forward to doing it again at the Marji Gesick 100! Sponsors: Paradise Garage. Bike setup:Frame – Pivot LES size largeGearing – oval 32x19Tires – front Maxxis Aspen 3c exo 29×2.25, rear Continental Race King protection 29×2.2″
Rounding out the podium was Patrick Blair finishing fourth in 8:30:58. Fifth place went to Joe Fraas in 8:52:56.
Masters- Weaver gets win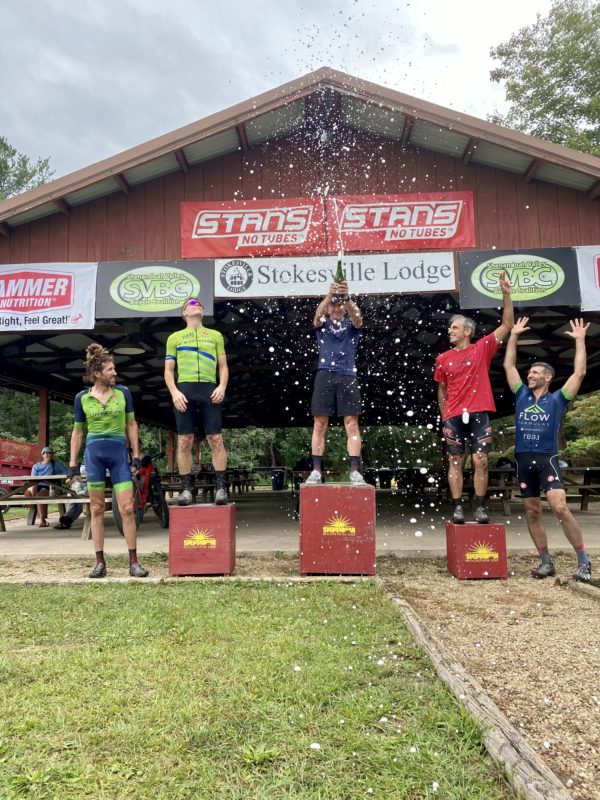 Taking the win in the Masters division was Dave Weaver (Rapha/Canyon) with a time of 8:43:05.
"Last week my rear hub cracked and a replacement never made it by Friday. My mtb shoes and helmet were still lost in shipping from the Last Best Ride in Whitefish, MT. So I threw my mtb in the car without a rear wheel along with my roadbike, in case I couldn't race, I was just going to ride Reddish and camp out with friends. Fortunately, Jeremiah came through with a loaner rear wheel Saturday afternoon!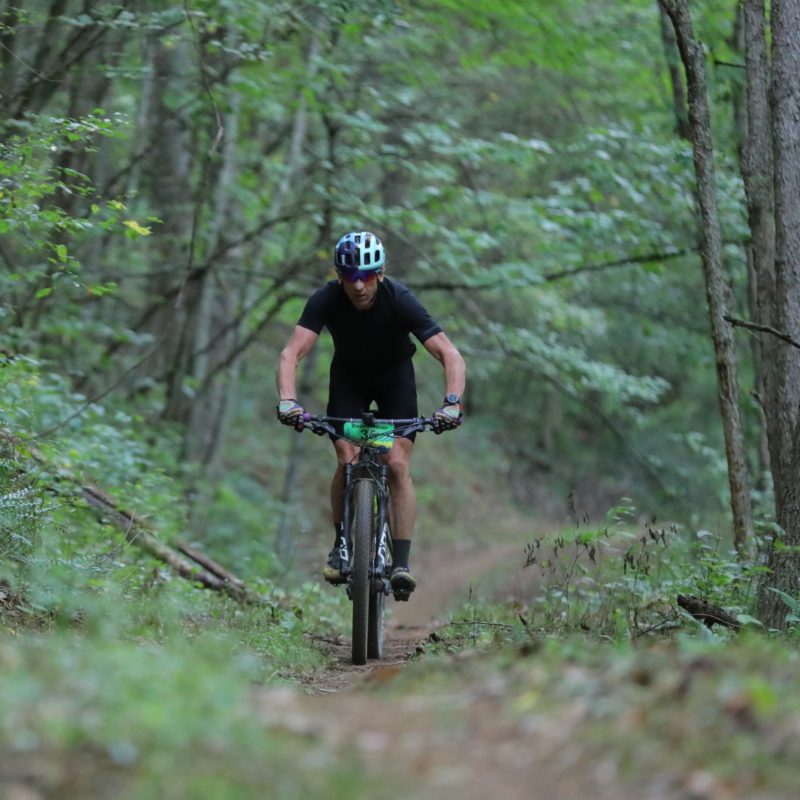 I've only done one other 100 miler and it was the SM100 in '19. I wasn't prepared for the attrition and pain it took…and my bike setup was all wrong. My goal for Sunday was not to go out too hard on the first two climbs and stay between 10-15th overall hanging close to Pat, Lance, and Anthony. It's easy to get caught up in fast starts. The masters guys at this level are all very strong and know how to ride bikes in the backcountry-I knew Amir is leading the NUE Series, kept an eye on him early, and was able to pull ahead on the technical Lynn Trail climb, only to lose time to Dan Atkins on the decent-he's fast.
On the flats going into the Death Climb I hear Nathan and Jeremiah charging back calling my name, and was motivated to jump on that train the entire climb as I was seeing some dark moments. It was great to be with two friends on the worst climb of the day. I pulled ahead of Dan again only for him to drop me on the descent again. After a season of flat tires, I took it easy on all the downhills making sure I didn't flat, or crash. Both are likely at the SM100. Hats off to Chris Scott, who always works hard putting together the best bike racing experiences for everyone! We're fortunate to have beautiful places to race bikes and volunteers who put in their time to help make the race possible. I'll definitely be back next year!"
About twenty minutes back was Eric Magnuson finishing second and crossing the line in 9:02:51.
"Taking my son on a college-campus tour through PA, DC, and VA, I figured I'd take a slight detour to race the Shenandoah 100. Glad I did. The course mixes a range of surfaces (rocks, dirt, gravel, and pavement) with suffer-inflicting climbs and smile-inducing descents. The result: a stellar MTB race. I finished where I finished (second place Masters) by pedaling with some luck and sticking to a run-of-the-mill plan, which consisted of going hard at the start; settling down to an all-day pace; and avoiding direct conflict with trees, boulders, and other hazards. There's a band of people to thank, including family, friends, racers, race organizers, and volunteers. Special shout out to Riverside Cycle for all they do to keep my "lightly used" bikes in working order. Next up: something on the NUE 2022 calendar—perhaps True Grit."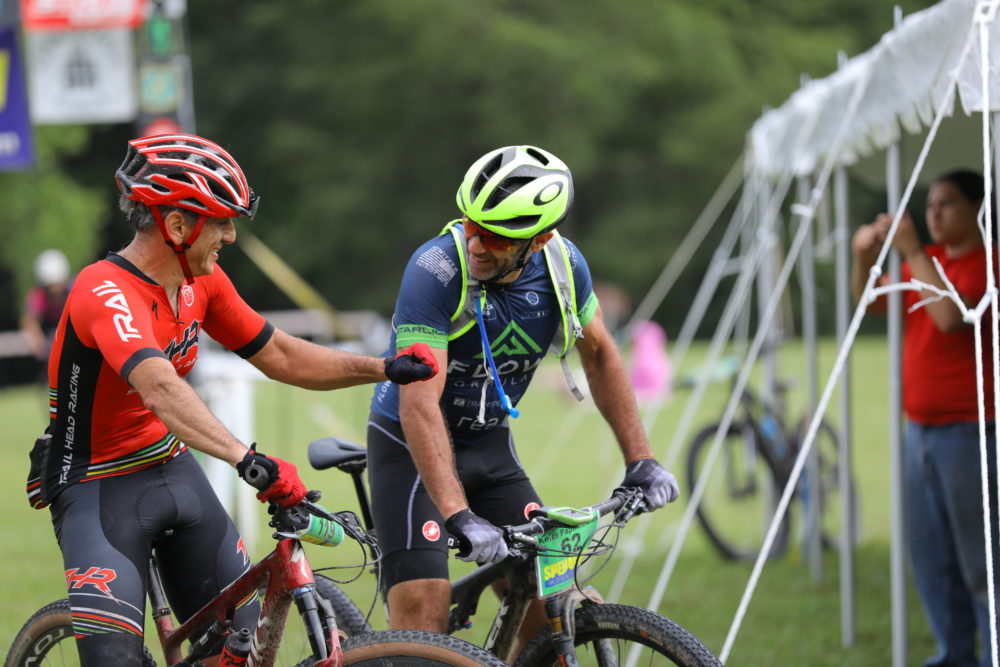 Only a minute back from second was, Amir Matityahu took third place in 9:04:12. In what looks like a sprint finish fourth place went to Keith Papanicolas in 9:04:14. After a broke derailleur Garth Prosser ran the last few miles finishing in 9:05:53.
Written by: @jentoops
Photos by: @Shenandoahmountaintouring
For full results CLICK HERE
Next up on the NUE Marathon Series is the Marji Gesick in Ishpeming, MI on September 18, 2021. See you all there!