Written by: Jen Toops
Photos: Ryan O'dell
The NUE Iron Mountain 100k mountain bike race took place June 24th in Damascus, VA. Part of the National Ultra Endurance series, this was a new venue added on the 2018 race schedule. Located within the Mount Rogers National Recreational area, Damascus is know as trail town. The Virginia Creeper trail, the Appalachian trail, the Transcontinental Bicycle Trail, the Iron Mountain Trail, and the Daniel Boone Trail all intersect in the historic downtown of Damascus.
Put on by Shenandoah Mountain Touring, the race had a mix of singletrack, doubletrack, and fire roads. The course had over 8k feet of steep and rocky singletrack climbs with some long gravel accents mixed in.  The descents were fast and technical with lots of chunky rocks, slick roots, and off camber thrown in.  Rain in the days prior created tougher conditions come race morning which made it fun and challenging for racers.
Women's open
Nielson comes from behind to WIN the women's open
Coming from behind and taking the lead on the last downhill, Jen Nielson (Southpaw Cycles/I9), wins the women's open in a time of 5:59:38.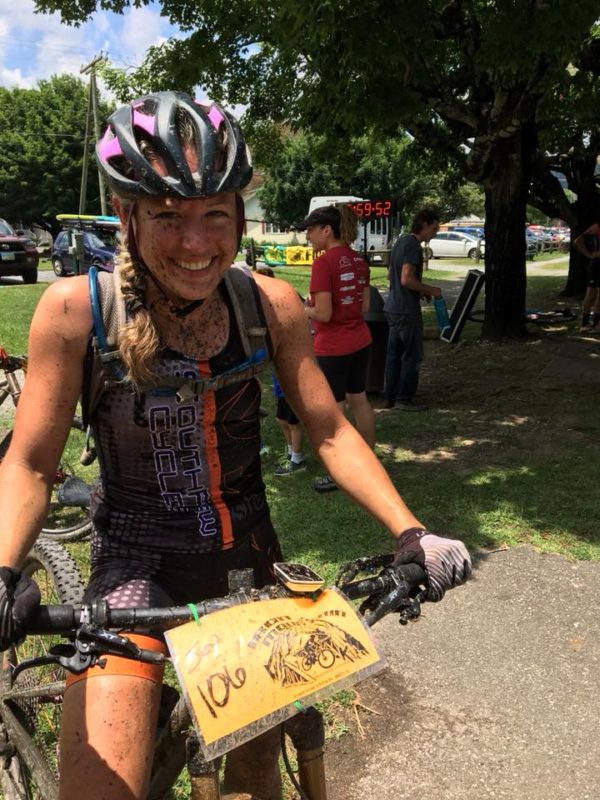 "It was a cloudy start on race day, with threats of rain and storms. After much internal debate over drop bags and riding with or without a Camelbak, I packed my rain jacket in my Camelbak and got to the start. The first 5 miles had more of a roadie feel, which suited me just fine. I found a comfortable spot towards the front of the pack and settled in. The pace ramped up as we neared the single track and before I knew it, it was all out into the first climb. The trail was slick! I spun out early on and it felt as though everyone was passing me while I attempted to remount. Once moving again, I felt like I was going backwards.  The best I could tell, I was sitting somewhere around 5th and it was disheartening. Nothing felt particularly bad or off, but I couldn't seem to get moving either. I decided to hunker down and focus on riding smart and smooth. Damage control was the name of the game and with the super slick conditions big risks didn't make a whole lot of sense.
Before the 1st aid station I had a minor crash on some slick roots and was reminded again to keep it smooth and steady. Coming through aid station 1 I snagged some liquid gold in the form of a Coke and was informed by the volunteers that I was in 4
th
 place.  Good to know. It didn't change how my body was feeling though.  Hitting the next couple of slick single track climbs 3
rd
 place came into view.  I could see her as she crested and then disappeared.  I hit the back side descent with a little more enthusiasm finding my fire had been stoked a bit.  Half way down 
the descent
Lara was off to the side of the trail looking at her bike.  I asked if she was ok as I came up on her and she responded with what sounded like she was having issues with her chain coming off.  She was ok, so I let those brakes go a little more and continued on. The 2
nd
 aid station informed me I was closing in on the next girl and that 1
st
 was about 4 minutes up.  Well, that's not so bad.  With a lot of miles left, this could actually work out.  I found a rhythm up a long unending gravel climb and slowly wound in a few guys before hitting yet another "fun" slick, rocky, rooty descent.  Rolling into the 3
rd
 aid station, I snagged some more Coke and was getting ready to break open an Uncrustable.  Time for a picnic! Before I could get my hands on the Uncrustable, one of the volunteers informed me that the next girl was 30 seconds up.  Nice!  I looked across the street just in time to see her climbing up the trail on the other side.  Forget food!  This was it! I handed back the soda, scooted across the road and got to work on reeling her in.  The climb wasn't long or technical and when I hit the descent on the other side, I let go of the brakes and let gravity carry me to her and on by.  The next climb was very technical.  With a lot of effort and heavy breathing, I pushed, determined to not let her find my wheel or any hope of hanging onto it.  I passed by a single speed guy I had been yo-yoing with all day and knew it wouldn't be long before I was hiking too.  When the time came, I made sure to move out quickly and only risked a quick glance or two back.  Once on the ridge, it was more slick rocks, but I was  compelled to push through.  I found myself getting sloppy in my haste and had to remind myself to take a deep breath and harness the smooth and steady that had gotten me here in the first place.  The deeper I dug, the more hunger pangs started to creep in.  Maybe I should have eaten.  Too late, take it smooth, food will come shortly.  The next descent felt a little dicier, but I rolled through the 4
th
 aide station and was informed I was about 2 minutes down on the leader.  Ok.  My single speed friends were with me for those final miles and with some chews in my belly, I was ready.  The ground finally felt like it was drying out and the trails were feeling oh so good. The last 11 miles were long.  The flat sections felt like climbs, but the descents were feeling like money.  I hit the last two descents hard passing several guys before finding the girl in 1st.  She was off to the side and reported thinking she was off course.  I had a moment of hesitation as I processed what she said, but with all of the bright yellow arrows up to that point, there is no way this was wrong. I let it fly! There were a couple of creek crossings that could have been ugly as I hit them blindly full throttle, finding nothing but luck as I cruised through without an issue.  I reached the end of the trail and was thrust onto pavement, securing 1
st
! It was a "neutral" roll back into town to the timing clock. My adrenaline was up and I didn't dare risk getting caught in case I had misheard the racers meeting and the battle for 1st was still on, so when I guy I came up on asked if I wanted to "pin it" I was all smiles.  I hopped on his wheel and cruised in. What a race!  Just the right amount of climbing, descending, gnar, and gravel.  Challenging in all aspects and totally thrilling!
Sponsors: Industry Nine, SouthPaw Cycles
Next NUE Race: I'm not sure. This one was a bit of a last minute decision for me. A couple of weeks prior, I had to have a heart to heart with myself, husband, and coach. The plan was to train for and Race XC Nats. The problem was, my heart wasn't in it. I wasn't excited for Nats at all and was already hating the idea of missing out on some good endurance racing. So, we switched gears and threw
Iron
Mountain
on the calendar. I couldn't be happier we did! I think I've got the NUE bug and will definitely be looking into competing in the series next year. I'm just not sure if I will be able to get the travel in for the others this year. Can't wait to do more of them!"
Just a little over a minute back was, Bryna Blanchard (BMB Racing), coming in at 6:01:13.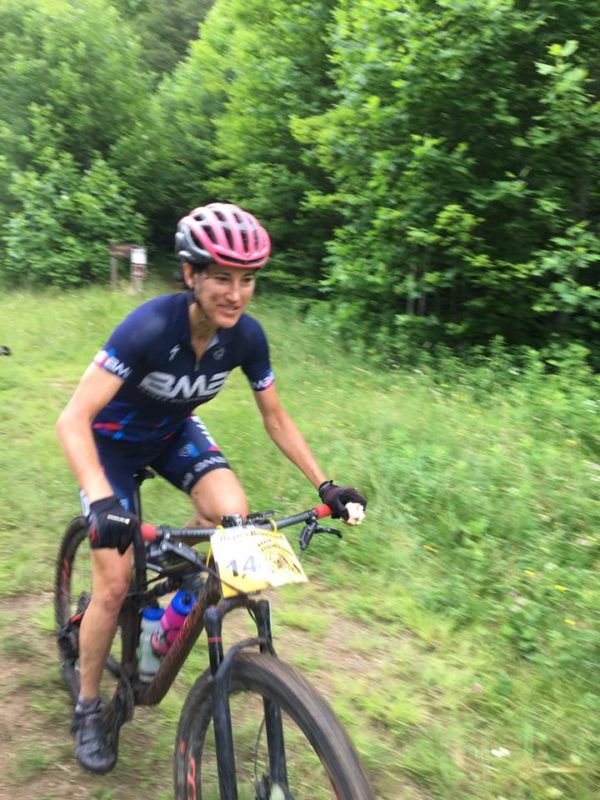 "The NUE Iron Mountain race was a great way to cap off a week of riding mountain bikes in the giant hills of VA. Long climbs make me happy and the Iron Mountain course was a good mix of climbing rooty trails, smooth single track and dirt roads. As this was my first time racing Iron Mountain I did pre-ride the first climb. I absolutely should have pre-rode the last descent to the finish line as it turned out. The first rooty washed out climb bottle necked as I predicted it would, but I stayed calm and realized I was feeling good and riding clean, passing folks who were off the bike walking. As the race went on I continued to feel strong, pushing the pace on the climbs in order to compensate for my lack of aggressive descending. The rocks in VA seem to move around like giant marbles, kind of disconcerting to me on the unfamiliar trails. After a few hours I reached aid station 3 and was told I was leading the race. I thought Jen was ahead of me the whole time and the news gave me extra motivation to push the climbs. Then came the most fun section of single track on the course, a rocky yet flowy ridge trail with gentle ups and downs. The rain and slippery conditions added to the fun, requiring extra focus and finesse. Every mountain biker knows the feeling of being in the moment, one with your bike and floating on trails. During this awesome section I felt the flow as I passed at least 3 racers fixing flats on the side of the trail. Luckily the air stayed in my tires but the rest of me was starting to deflate. According to my gps I still had 10 miles to go, which later proved to be incorrect, and I was beginning to pay for my previous efforts on the climbs. My brain was getting foggy and I knew my pace was dropping as the guys who had flatted caught and passed me. Then the ultimate mistake, I was loosing focus, riding extra slow on an especially long chunky downhill. I thought I saw a trail branching off to the left, I stopped to look around for course marking and that is the moment Jen flew passed me looking confident and strong. She quickly asked if I was ok, I said "yes", realizing I was confused and feeling out of my body with fatigue. Within a very short time I crossed the finish line in 2nd place on the day. Lessons learned, it can be extremely important to pre-ride the end, know the finish and don't trust the gps. Great day overall, in a super stacked women's field I am happy with my result. Even after all these years of racing I'm still learning and using my mistakes to improve for the next time, I love this sport. Thanks to the promoters, volunteers, NUE, and as always Barker Mountain Bikes for all the support."
Laura Hamm (Moonstompers), hung on for third place with a time of 6:10:46.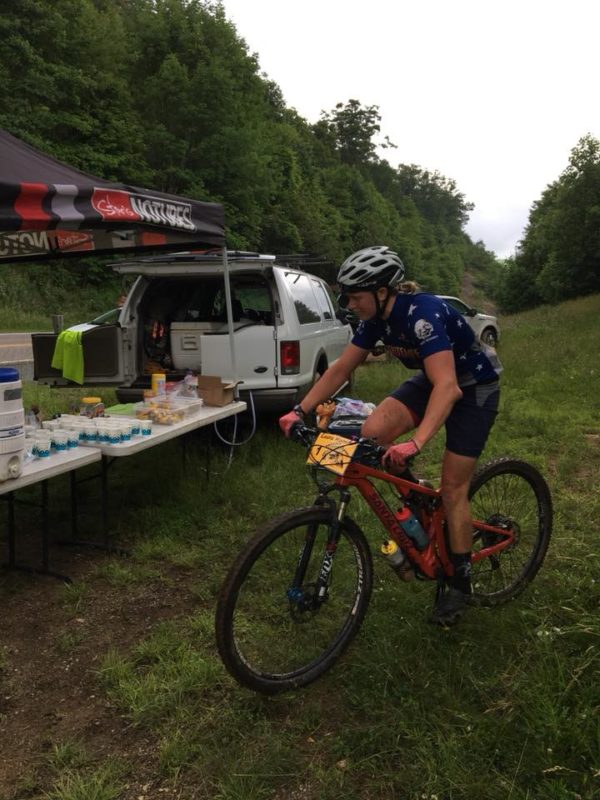 Men's open
Bishop gets the top step
Taking the win in the men's open class was Jeremiah Bishop (Canyon Topeak Factory Racing), with a time of 4:24:01.
"Keck found out his step Dad was killed in a auto accident at 5:30 that morning. It was a challenging morning then Keck and I hit a deer on the way to the race in the van.
Sometime you win by finishing, sometimes adversity finds a way of distilling how lucky it is that we can do such things for the few moments we have on earth.
Gun went off and I was not ready..
Dillion Johnson kept me honest today attacking the first climb, he kept coming back after I countered his early push! And caught me on the first nasty wet raining descent thru a jungle. I had to find my groove but I needed to nail this one.
I attacked several times on the long grind up to Iron mountain until I was clear.
Some of the best trails I didn't know where out there!
I won. But more importantly I proved I could turn the day around and stay focused when things get sideways.
Id like to thank Canyon, Topeak, Fox, Shimano, Beet Extreme, and Maxxis for the goods!"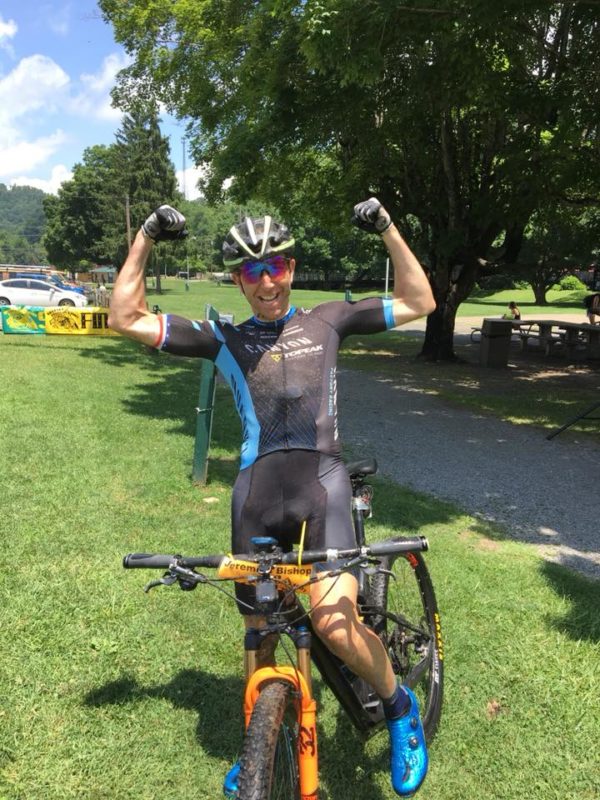 Challenging Bishop all day was, Dylan Johnson (Leska MTB), coming in about nine minutes back at 4:33:07.
Keck Baker (Blue Ridge Cyclery), took the third spot with a time of 4:56:30.
"Went into first climb of the day in terrible position. About 11 riders back. By the time I made my way up towards the leaders Jeremiah had attacked Dylan after Dylan had set a blistering pace up the first half of the climb. I caught Dylan and pushed the pace a little and was able to open a gap. The attack was short lived and Dylan and I worked together on the road sections. The next downhill was very technical and slick, as it was now raining. I could not keep up with Dylan on the downhill. He opened up a huge gap on me and caught Jeremiah. I almost rode the rest of the race solo until I was told I was going the wrong way (which I wasn't) so when I did a 180 I met up with 4th place finisher who turned me back around. I had a blast trying to hold his pace on the descents. I was able to shake him on the last climb and come in for third. The race course was awesome and the town was great. I was battling with the loss of my stepfather whom I found had past that morning from hitting a cow and that morning Jeremiah and I hit a deer. The mountain bike community is fantastic and being in the wilderness around all that beauty was very cathartic.
Sponsors: Blue Ridge Cyclery."
Singlespeed
Toops gets his first NUE win!
Taking the win in the singlespeed division and getting his first NUE win, was Anthony Toops (Paradise Garage Racing), with a time of 5:29.
"The race started pretty casual with everyone rolling out to the Creeper Trail.  I tried to position myself as near the front as I could while keeping the other one gear guys in sight.  It was Josh Kunz hitting the single track first followed by Eli Orth and then myself.  I knew this first climb was going to be a hike from my pre-ride so I didn't try to push too hard but keep the competition close.  I managed to pass Eli on that climb and Josh and I rode together until aid station 1. I grabbed my two bottles and wasted no time getting back on the road but I think Josh dropped a bottle so he had to make a slightly longer stop. I'm usually the one dropping bottles… There was a slight gap with Josh slowly catching me as we hit a steep section that I was able to ride but I think we was geared harder so had to hike. From this point on I just put my head down and tried to keep the gap which was 1min or so into aid three and growing towards the finish. Seeing the finish banner at the bottom of the final downhill was a welcome sight;  I wasn't sure how much longer my grip would hold out on the chunky fast single track!  Another great day of SS racing!
Thanks to Paradise Garage for all the support and my friends and family for making these events fun!  My next event will be Tatanka in Sturgis, SD."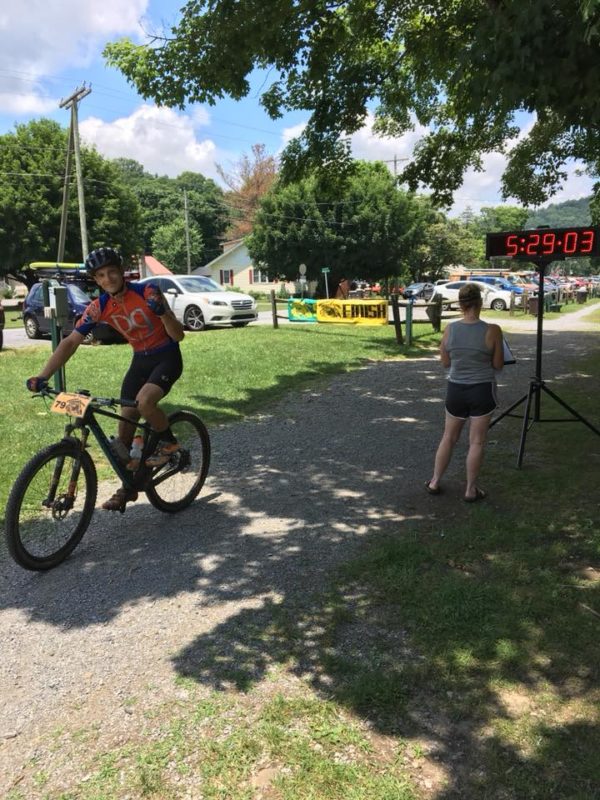 Second place went to Josh Kunz (Knobby Side Down), coming in at 5:36:10. Eli Orth (Team Hungry) came in third, just a couple minutes back on Josh, with a times of 5:38:59.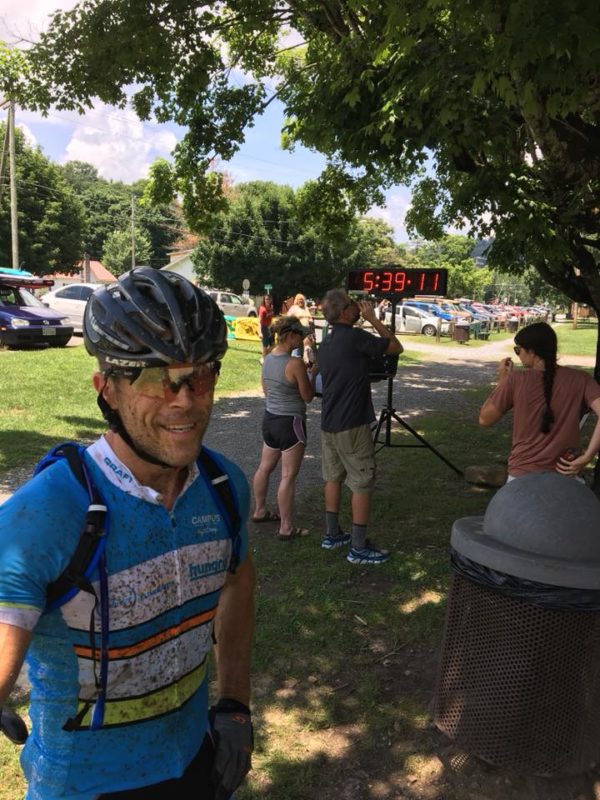 "Iron Mountain 100k lived up to the hype that I had heard and read about.I noticed immediately Sunday morning that there was yet another great single speed turnout with strong riders for this NUE race like there was for Big Frog and Mohican, where I took 4th at each.
Coming into the race I had a goal to improve on my previous two finishes. I had never done
Iron
Mountain
and had no idea what to expect for a good finishing time.
Thankfully the pace at the start on the basically flat creeper trail was very single speed friendly. I got into the woods in a good position on the initial long steep technical climb. After the long climb up I settled in. I settled in a little too much though and maybe 20 miles in I heard Kenny Kocarek coming behind me ringing his bell! Kenny passed me and Scott Smith also caught me. At that point I felt I was racing too conservative and decided to attack the climbs. I was able to put distance on both of them. I knew I had to push on every climb as I had my Pivot Les setup for smoother xc racing. I was at a little disadvantage to handle the gnar at a blistering pace on the downhills.
At aid station 3 I was within a minute of 2nd place Josh Kunz and I ended up catching Josh somewhere around mile 40. We were together for a while and he put an attack on me on a downhill and gave himself some distance from me. At the bottom of that downhill I noticed my rear tire was squirming. I jumped off and hit it with co2 and prayed it would stay sealed long enough. It didn't start squirming again until the last downhill but was never able to re-catch Josh.
It was a fun and very challenging race. All Ohio in top 3! Anthony and I were talking about how it would be great if we could keep it an Ohio top 3 as we were racing together early in the race and it happened!
My gear of choice for this race was 34×21. Overall it worked out well.My next NUE race will be Wilderness 101k. After that the plan is to race Shenandoah and Marji Gesick.
Most of all I'd like to thank my wife Cheyenne for supporting me all season long. I'd also like to thank my team and all it's members that make it great.. Team Hungry.
Thanks to Absolute Black, Lauf, and Carbonfan for their support and help on my recently completed Pivot Les ss build."
Master's 50+
Clayton WINS his third NUE for 2018
Jeff Clayton (Georgia Neurosurgical Institute) get his third NUE Marathon win this season winning Iron Mountain with a time of 5:32:35.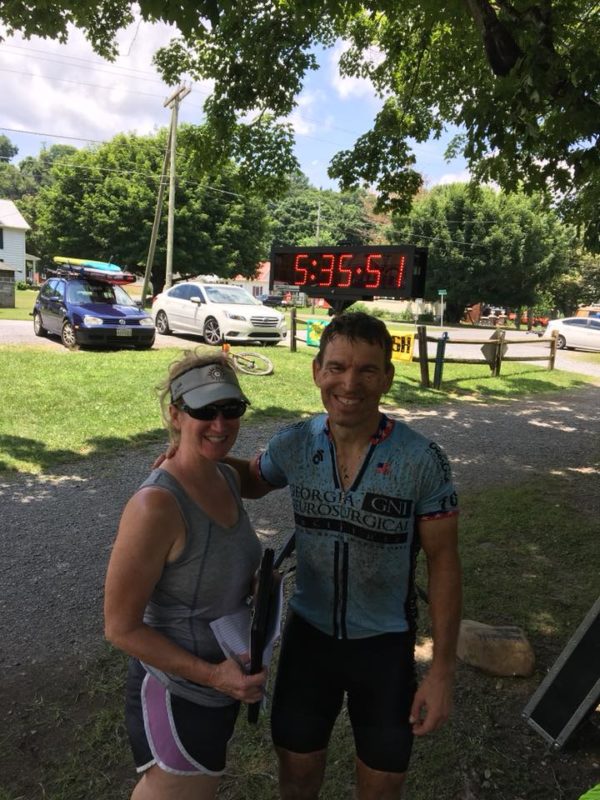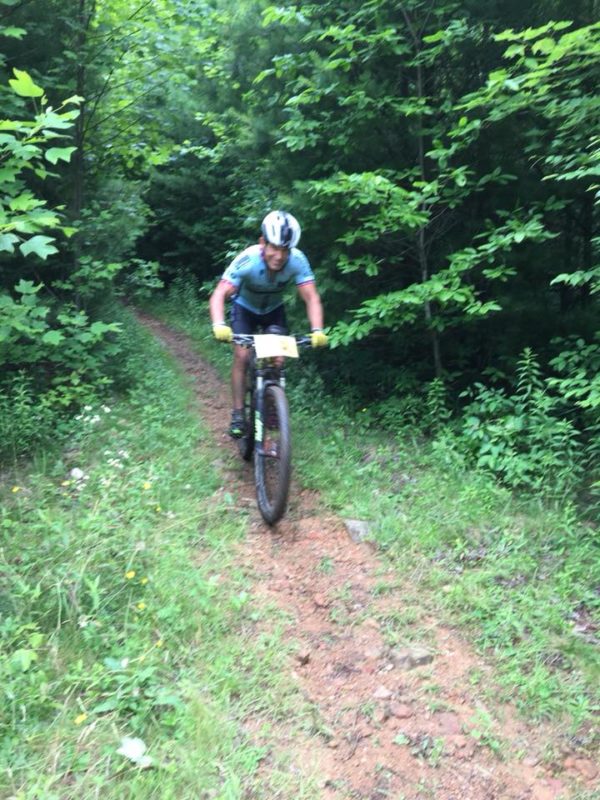 About six mintues back Darren Cox grabbed second place with a time of 5:38:51. David Jolin (Rescue Racing) rounds out the top three spots taking 3rd with a time of 5:51:19.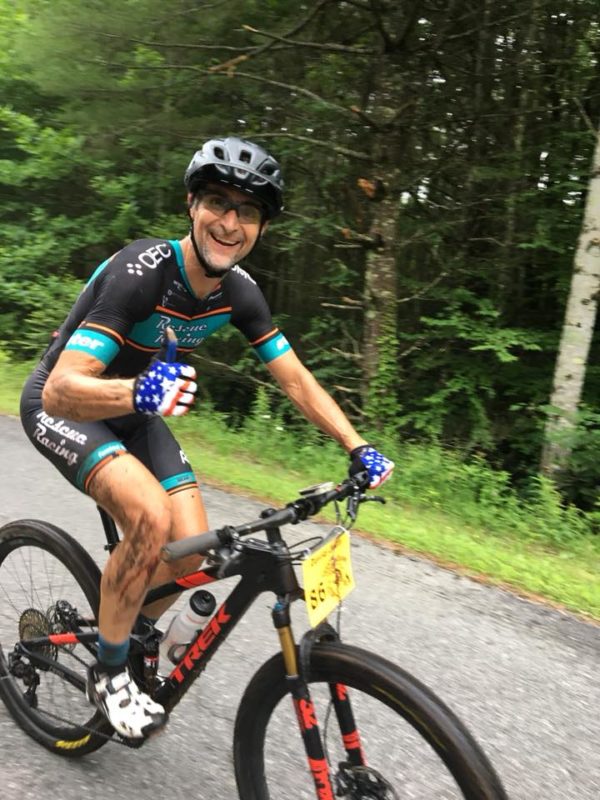 Click here for full results
What's next? 2018 NUE Tatanka Epic and NUE Tatanka Marathon mountain bike race in Sturgis, SD.