Written by: @JenToops and Marlee Dixon @graciedaze
The next stop in the NUE series, Pierre's Hole, is a rugged 32 mile single track loop that takes racers all over Grand Targhee Resort. If you're able to look up out of the chest high wildflowers, the views down into the valley and of the Tetons at Pierre's Hole 100 are breathtaking.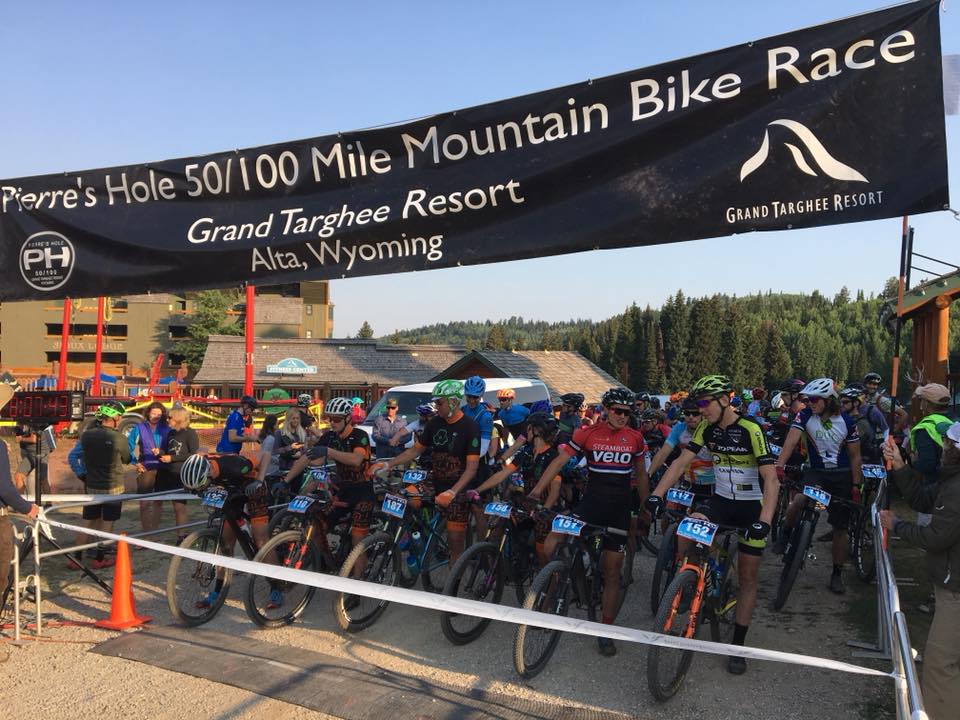 At 7:00am on a beautiful cool morning, the 100 mile racers start their three lap race followed at 8:10am by the 100k racers and at 8:40am by the 50k racers. The race starts with a grueling 1700' climb up the resort separating everyone for the 95% single track course. Once at the top, racers head down 38 special for a memorable descent with 38 switchbacks. Climbing back up the resort slopes again, riders enjoy an exhilarating high alpine descent down to aid 1 and back down to the resort base area.
The next two loops are an undulating combination of meadows, forests, twisty and smooth single track that brings racers back to the start/finish for the end of lap 1.With temps in the low 70s, a race venue at Grand Targhee resort full of campers, hot showers, local beers, good food and kids activities as well an epic single track course; this is a race geared towards the avid mountain bike racers as well as the family-friendly and casual racers.
Open Men
Lewis gets second NUE win of the season
East coaster, Bryan Lewis (Cutaway USA), proved he could handle the elevation and took the top step in a time of 8:00:01.
"The Tetons have always been one of my favorite places to visit and I was excited to meet up with a couple friends from the area and take on the PH100. With 3 distance options to choose from the 100 mile field was a lot smaller than other NUEs. It's as if others knew something I didn't. The race started with a long climb that set up the lead group fairly quickly. On the first descent of the day Sam Sweetser set the pace and quickly separated he and I from the rest of the lead group. That set the tempo for the remainder of the ride as he continued to pull me around the single track.
Sam was super smooth and fast on the switchback heavy course and it was fun to follow him along. He was riding strong and when he made a minor mistake in a corner I made my way around him and tested his legs a bit separating from him around mile 60 and never (and by never I mean always) looking back. He kept the gap tight but I was able to hold on and really felt good on the final lap in Rick's Basin and had fun ripping on it.
Overall, Pierre's Hole was an amazing race under the view of the Tetons, which is hard to beat. I will say when I was finished I didn't want to see another switchback for a few weeks, but that's just me. Thanks Andy and the crew for building great trails and putting on a fun race!
Sponsors: Flying solo, but appreciate the support of my employer Cutaway, USA as well as a good group of friends (Will, Steven, Tyler, Seth, AT, and Carlo) that consistently talk smack and give me a hard time as I chase fun events across the country. Also big thanks good friend Jansen Gunderson who hosted and helped me with feeds during the race. Also I'm really glad my girlfriend didn't shoot me for stealing her drink mix out of the cooler while she also cruised through 100 miles under the Tetons. :/ Lessons learned and thanks a great vacation Lauren!"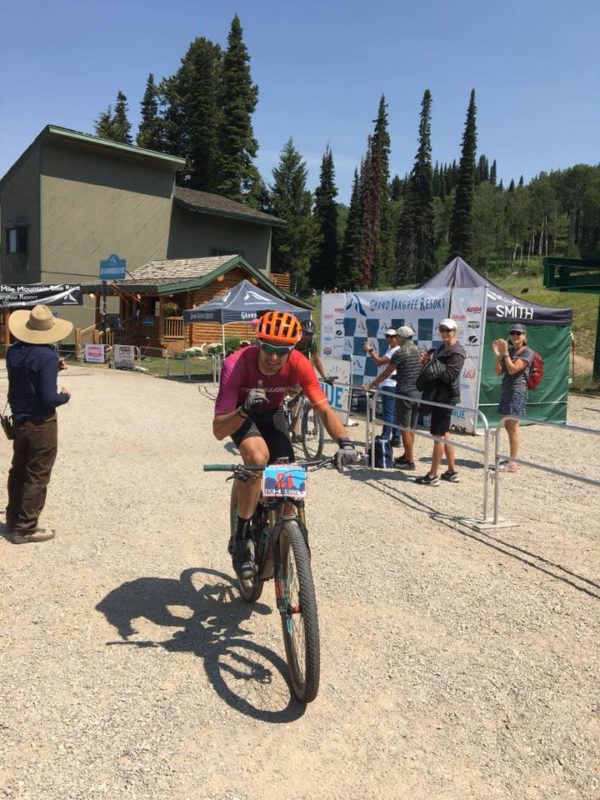 Twelve minutes back, Sam Sweetser (Cole Sport), takes second at 8:12:01.
David Krimstock (Shimano/Pearl Izumi/Pivot) rounded out the podium taking third at 8:19:47.
"Pierres Hole was the 4th 100 mile race in 5 weeks for me, and even though I have done this type of schedule before the added travel and fatigue left me with some unknowns. Riding sections of the course before the race had me looking forward to giving it my all on race day. This years course was unique with a small handful of dirt road miles, it seems to me that the PH100 has the most single track of any 100 mile race Im aware of. Between 38 Special, Action Jackson, and the winding up and down of Ricks Basin, I had a feeling my body was going to be completely thrashed by the end.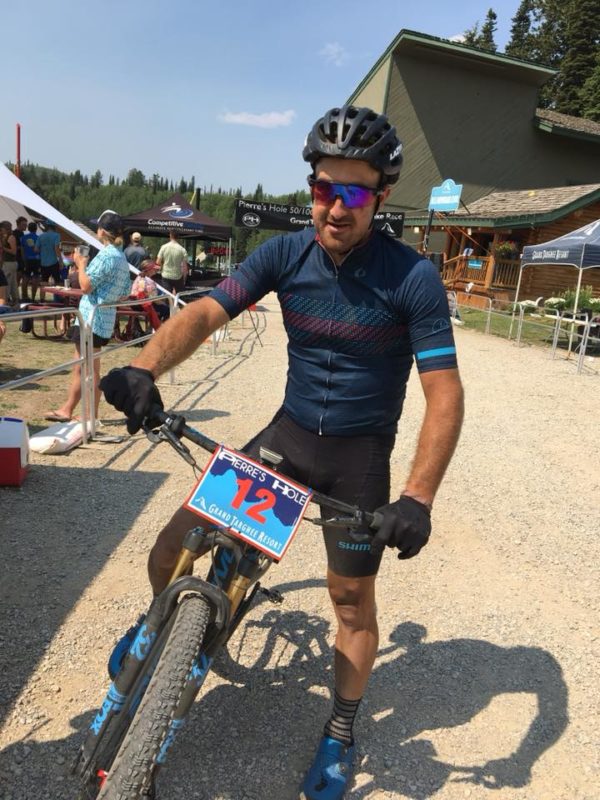 The race started with a reasonable pace, and I played it safe. Letting Brian, Sam, and Stefano get ahead then reeling them back in by the top of the climb. Leading into the 38 Special descent Sam and Brian pushed the pace to get onto the trail first, and I settled in behind Stefano. Feeling decent, I went ahead of him during the climb out of the canyon and tried to keep the leaders in sight. I was about 2 minutes back for the rest of lap 1, and was continuously trying to pull them back. I held onto faith that my strategy of fueling with EFS Pro and Gel and using a Camelbak to be able to drink while on the trail would pay off as it often does. However, the gap continued to grow and I found myself riding in 3rd for the majority of the day. I had a blast ripping the endless trail with my Pivot 429SL and seeing all the other folks out on the laps having the same experience. Even though it may not have been my best day out there, its hard to forget a day spent in that unique terrain."
Open Women
Conners gets fourth NUE win on Kenda Tires!
Taking the win in the women's open division, racing on Kenda Saber Pro tires, Larissa Connors (Sho-Air CG), finishes in a time of  8:58:17. With this win Connors has a perfect score of four and now leads the overall NUE race series.
"Pierre's Hole was a last minute addition to my race schedule. I Choose to head up to Alta because I've never been to WY and heard so many good things about it! The idea of a three lap race was exciting, as was the promise we would be racing under the Tetons all day on SO MUCH SINGLETRACK!
I tried to start easy, since the altitude meant pacing was going to be crucial. That didn't last long though and by the top of the first climb I had been lured into riding super hard, and decided to just run with it. The 38 special descent was crazy fun on lap 1, and the flowers and scenery distracted me from any thoughts of how long the race was, or how much I was going to blow up if I kept going so hard.
By lap 2 I had to slow down a bit. I realized when my wrists started hurting on lap 1 that if I didn't actively choose to recover on the dh then I was going to be in a world of pain by lap 3, since you COULD pedal every inch of the course if you wanted.
A volunteer told me that 2nd place was only 5 min back at the start of lap 3, which freaked me out since I was chillin' on lap2, so I laid down the gas again on lap 3. Surprisingly it felt good to dig deep, so I pushed hard, had fun cheering on the racers doing the shorter distances, and ate all the BonkBreaker snacks I had on me over the course of the last 32 miles.
Crossing the line a minute under 9 hours was freaking rad, and winning my 4th NUE of the year was the icing on the scenic race cake!!"
Kaitlyn Boyle (Pivot Cycles/Industry Nine) finished second in a time of 10:06:59. Crossing the line third was Jennifer Wolfrom (Hoback Sports) at 10:49:59.
Singlespeed
Fischer gets the Singlespeed win
Getting his first NUE win of the season, Henry Fischer of Wila's Wheels, won singlespeed with a time of  9:23:15. Brent Cannon (Team Elevate), took second in 9:36:58. In a sprint for third place, Adam Smith finished just seconds before Adam Miller in a time of 10:32:05.
Adam Miller states, "I am a mtb coach for our local NICA racing teams, Teton Valley Composite, and Jackson Hole Composite, so a shout out to them!!! The younger kids were supporting at aid stations All day!  We had four of our athletes compete, and one of them podiumed in the 50K open!
I had only 2 rides over 4 hours prior to race, so the hundred miles was more of a challenge to say the least, and a good lesson of perseverance for our athletes'.
I chased another single-speed rider all day. He would DROP me on any hill handedly. I relied on my downhill skills any chance I could and would get him into view every once in a while. I got a glimpse of him in  the last 10 miles, so I gave-er everything I had. He did too! I finally caught up with him about 100 yds from the finish. Sprint finish, and I won by .3 seconds!
Looking back, I would have geared my single-speed at 32/21 instead of my usual 32/20. By the third lap, I was having a real hard time getting the cranks over, and the racer in front of me with 32/22 was still spinning along…NEXT YEAR!"
Masters
Smith leads NUE masters series
With wins at True Grit, Tatanka and High Cascades, Cary Smith (The Hub) can now add Pierre's Hole to the list and finished in 9:02:12. He now leads the NUE masters race series with a perfect score of four.
About ten minutes back was, Matt Woodruff (Kuhl) taking second in a time of 9:11:56.
Mike Baughman (Lost River Cycling) took third in a time of 9:57:52.
Photo credit: Jay Goodrich / jay@jaygoodrich.com / @jaygoodrich
What's Next? Click Here for info on the next NUE Marathon series race: NUE Marji Gesick race in Michigan. Click Here for info on the next NUE Epic series race: Shenandoah 100 in Virginia.
Follow the Pearl Izumi/Pivot Cycles team adventures as we travel and report on cycling around the globe.
Instagram: @pearlizumi_pivotmtb_team, @JenToops, @HanksJen, @graciedaze