Written by: Jen & Anthony Toops
The 2019 Pierres Hole 100 was once again slated to be a great day in the mountains of the Caribou-Targhee National Forest. The area doesn't lack views with the Tetons in sight from most parts of the course. Grand Targhee events manager Andy Williams really puts his heart and soul into this race and it shows. With a great atmosphere and plenty for spectators and racers families to do, the resort really has it dialed.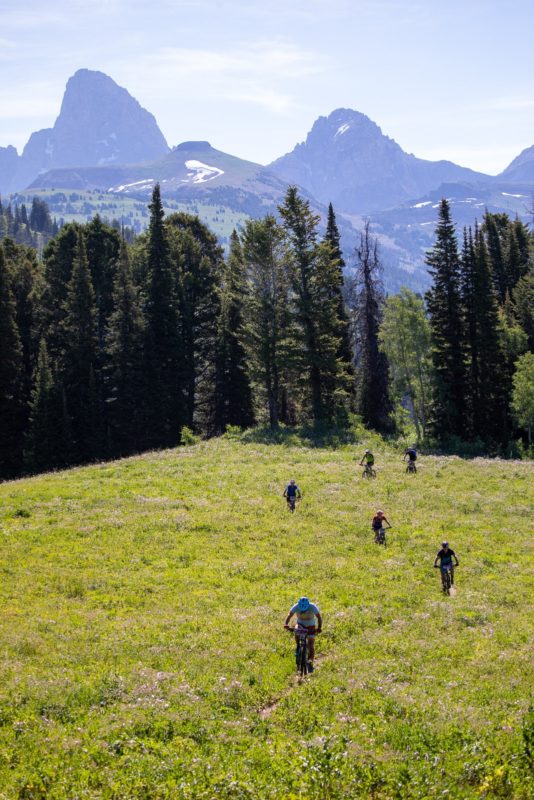 Racers start at the Grand Targhee Resort and complete 1, 2, or 3, 31 mile laps depending on their distance of choice. The course is almost 100% single track except for a few short sections of double track to connect everything together. This can be a blessing and a curse; The trails are really fun, but they will wear even the toughest riders down.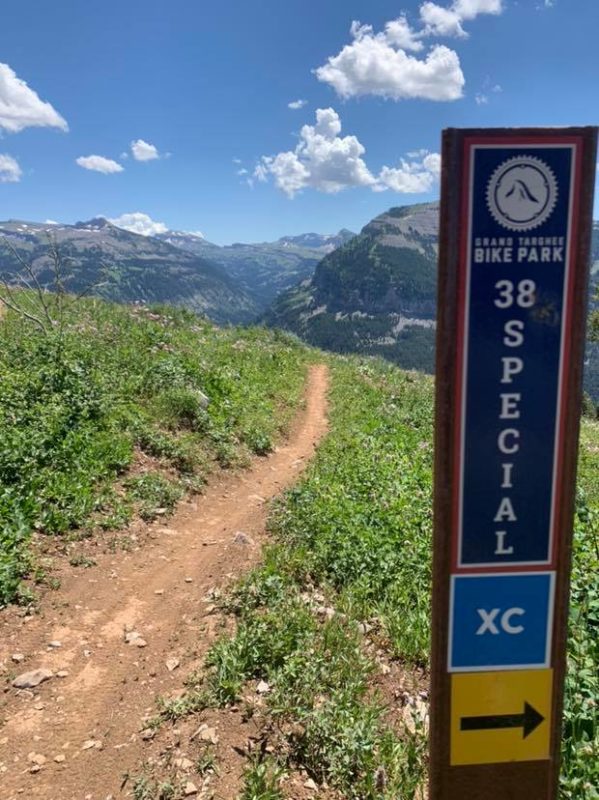 Men's Open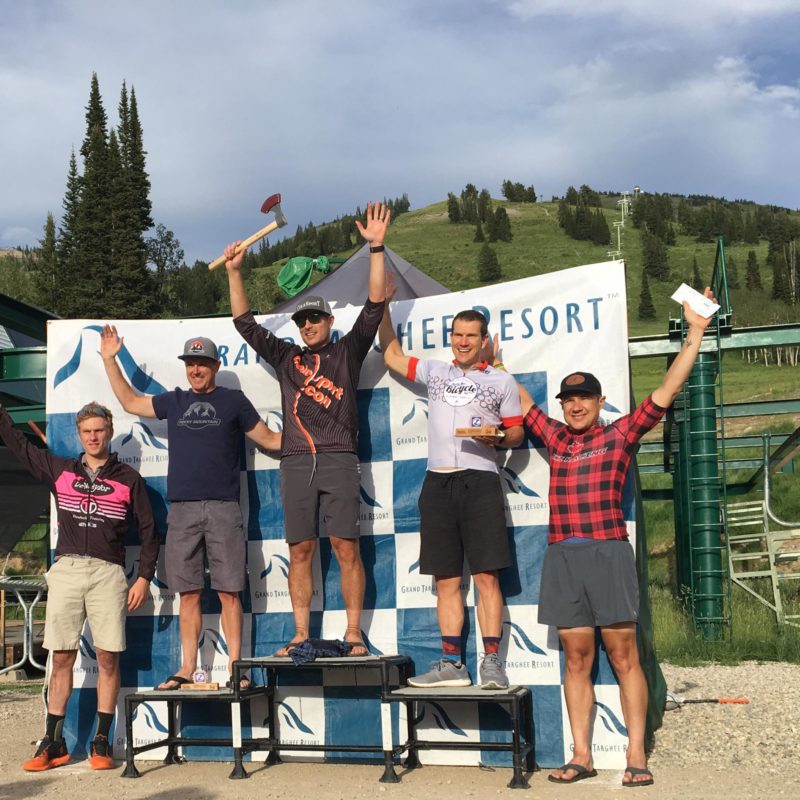 With the fastest time of the day, Sam Sweetser, wins the NUE men's open with a time of 8:26:17.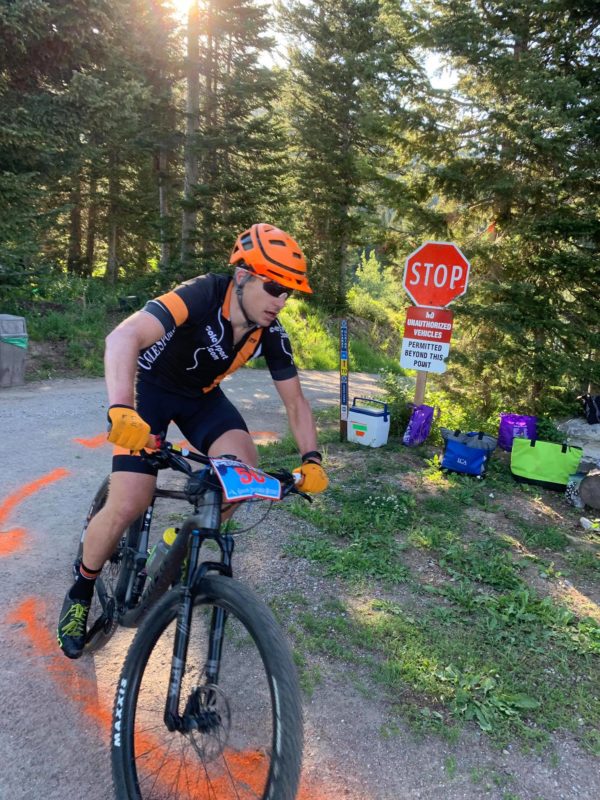 Over a half hour back, Jon Rose, pushed hard to hold off third place finishing second in 8:59:20.
"Pierre's Hole 100 mile (actually 94) mountain bike race is in the books. It was one of the hardest days in the saddle I've ever had. The race took 8h59m.
Most of the race was spent between 3rd and 5th place, sometimes as far back as 7th. I finally battled my way up to 2nd place with about 18 miles left. I could see the person who took 3rd at almost every switchback and had to go really deep to hold him off.
Riding and racing bikes has has taught me so many things. One of the biggest lessons is that I can do hard things… on the bike and off the bike.
Thanks to our sponsors Mad Dog Cycles/4Life Race Team Trek Bicycle 4Life Research USA #utahsfavoritebikeshop CarboRocketMad Dog Cycles"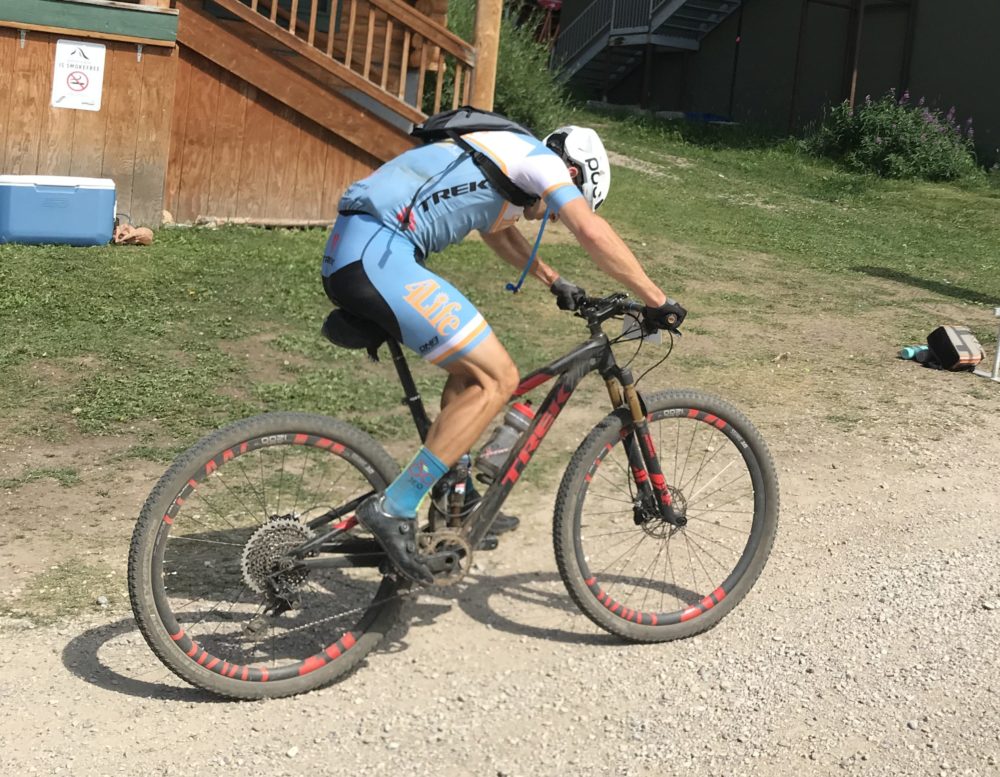 Only a few minutes back, Brandon Firth, hangs on for a 3rd place finish crossing the finish line in 9:02.
"Pierre's Hole is a very tough 100 miler. I was able to participate last year and landed just off the podium in fifth. So I figured going into this years event that I would take my time and ease into the race.
This years event saw very dry conditions and a hot day, which made it a hard day. I was glad at the midway point that I let the race come to me as the hot dry conditions started to rake a toll. It was obvious that Sam was on a mission and was riding super strong. At the start of Lap two, 2-5 positions were all within 1-2 minutes of each other and Sam had about a 5 min lead.
At that point I liked my strategy and continued pushing on. I had a mistimed feed halfway through lap 2 and dropped off the group by a minute or so. I took a minute for a quick bite and a potty break. And continued on.
At the beginning of lap 3 I was within 1.5 minutes of 2 place, and Sam was completely out of touch. I took a great feed and continued on with my strategy. By the Top of the big climb I was sitting in 3 position and making time on second. At the Bottom of the decent I overtook second position. At the midway point of the 3 and final lap I started to come unglued again and had to slow down and feed. A coke and a Banana later
I was feeling better but lost 2nd position to a rider from behind, but was confident I could bring him back on the last half of the coarse. Sadly I ran out out real estate and ended with 3rd for the day. I could see the rider just ahead of me but couldn't close. I believe he was 1:38 up on me after 9+ hard hrs of racing. Either way it was nice to be on the podium and to be finished.
I was a tight top five, with the exception of Mr Sweester 2-5 positions were only separated by a few minutes..
As always endurance racing it a long journey and there is always ups and downs in how you feel out there, but you just have to soldier on :)
Most likely my next endurance race will be the Park City P2P, where I will try to build a good strategy and stick to it the best I can. "Sponsor: Rocky Mtn Bikes"
Women's Open
Toops gets back to back NUE wins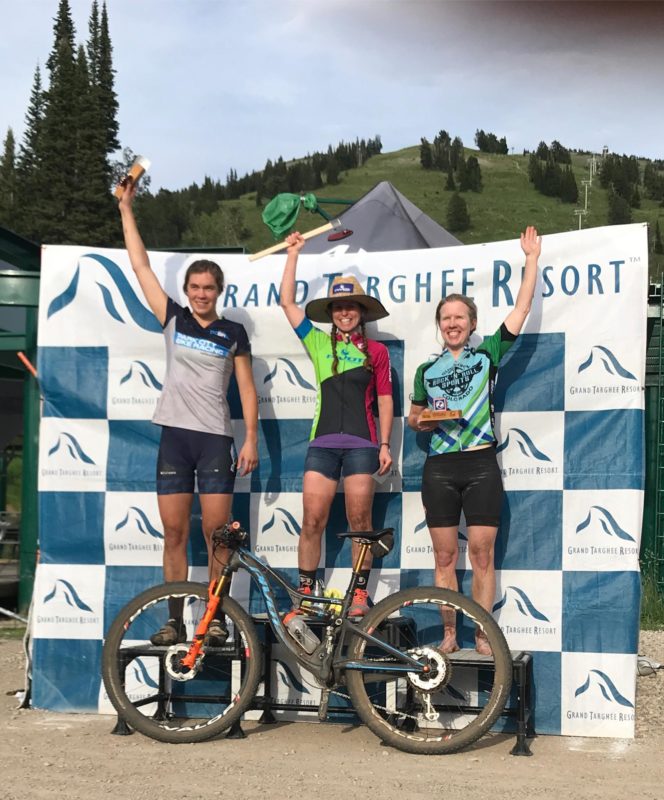 Getting her third NUE epic series win for the 2019 season, 2018 Nue Marathon champion, Jen Toops (Pearl Izumi/Pivot) wins the women's open with a time of 10:35:54. With this win she is now tied for the overall lead in the women's NUE epic series.
"After racing Pierre's Hole marathon last year I knew I needed to stay out of the red zone on the first lap or I'd pay for it later. On the first lap I kept a steady pace up the long climb and had a little fun coming down the 38 special. At the bottom of 38 special I saw second place catching me and tried not to let it get in my head, there was a long race ahead and I didn't want to blow up. My husband was aiding for me and giving me updates as I came through the aid stations. I was about 4-5 minutes ahead of second coming through the first lap. The climb after the start is tough and requires mental strength but the views are so beautiful. Wildflowers and the Tetons mountains. I decided to run my Pivot mach 4 this year for a little extra cushion equipped with a 32 Rotor Q-ring to keep my cadence higher with all the climbing! I could see Becky at the bottom of the climb on lap two and I continued my own pace, pushing when I felt good and continued putting a larger gap between us. After 70 miles of single track I focused on my nutrition, riding smart and getting through the last lap. When I entered the last meadow I couldn't see second place and cruised to the finish line ready to run to the taco bar included with race registration! Thanks to our team sponsors (Pivot Cycles, Pearl Izumi, FOX, Ergon, Rotor, Stans, Carborocket, Honey stinger, Xpedo, SCC tech, Kask, and Continental), my husband for the aid and Andy Williams for putting on such a great race!"
About 40 minutes back, Becky Edminston took the second spot with a time of 11:12.
"The first (of 3) laps was so fun! Other than the big climb, it was awesome singletrack trail that really suits my riding style. A couple of guys even commented what a good downhiller I am :) ha! At the end of the first lap I was only 4 minutes behind the lead female and I thought "I either went out too hard, or I'm about to have a great day". Turns out it was a little bit of both! Starting into the second lap ~mile 35 my body was experiencing some weird pains. My forearms were sore, my triceps started cramping, my shoes were cutting the front of my ankles. And then beginning the climb after 38 Special (long downhill) my left hamstring began to cramp. I never cramp! Fortunately, engaging my quads (i.e. pedaling harder) seemed to keep it from totally locking up. This was a game I would play for the next 60 miles. I was popping salt pills and trying to hold it together. There were lots of riders around from the shorter races and that gave me people to ride with and chase. The third lap saw me really slowing down fighting cramps and nausea (maybe I went out too hard?!). The field had thinned out and I was riding mostly alone but also knew I was "almost" done. As someone who usually runs negative splits I started getting really worried that 3rd place was going to catch me. Fortunately, the 2nd half of the lap was fun and flowy and I had to pedal to keep from cramping! So pedal I did, and I crossed the finish line in 11 hours 12 minutes, holding on to 2nd place female and in the top 15 overall. Did I have fun? You bet! A big thanks to HoneyStinger #HSHIVE for making waffles which were the only solid food I could stomach! Also Orange Peel Bikes #orangepeelbikes and Rock N' Roll Sports #rocknrollsports for keeping me rolling!"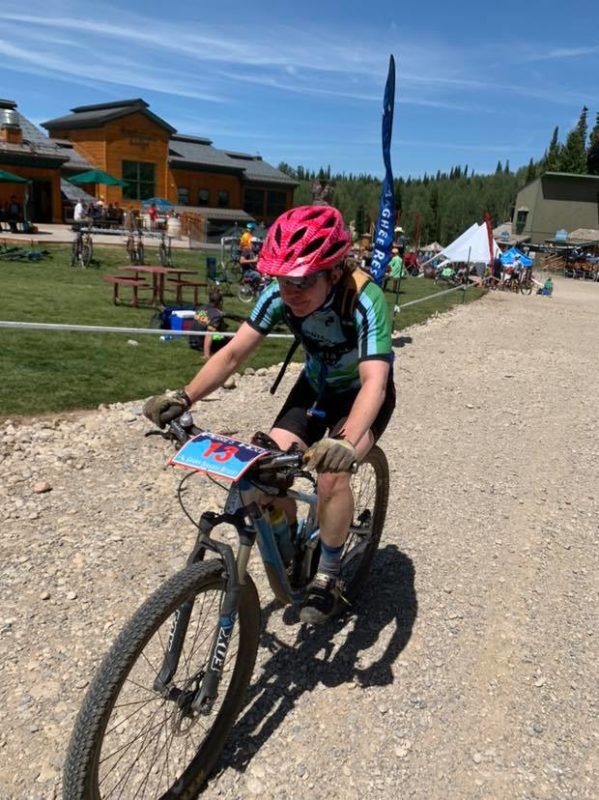 Taking the third step was, Parker Tyler crossing the line in a time of 11:44:43.
Singlespeed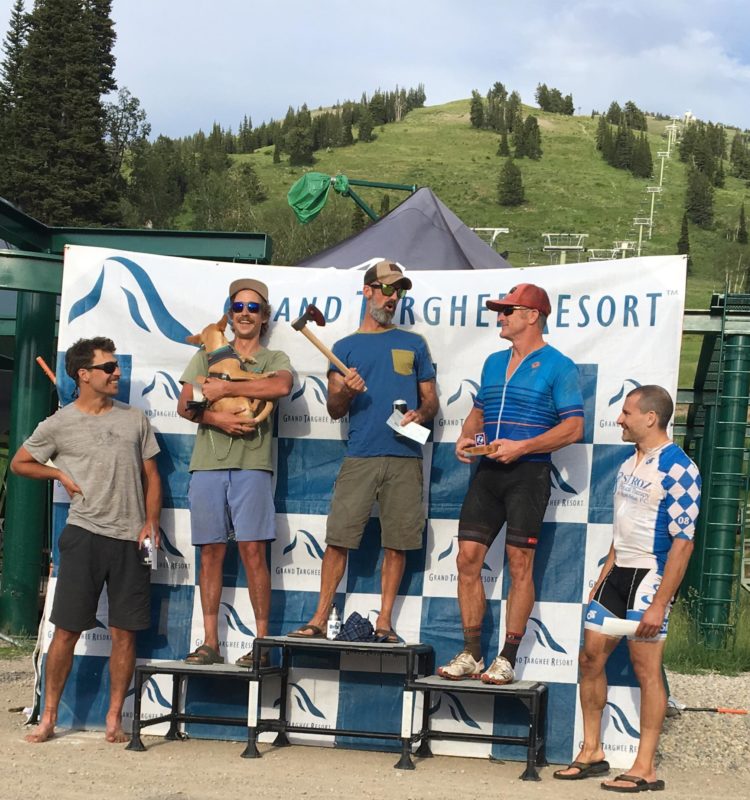 In the single speed division it was, Andrew Jones, who took the win finishing in 9:14:05. Almost a half hour back was Brent Cannon fighting hard to earn a second place finish at 9:45:30.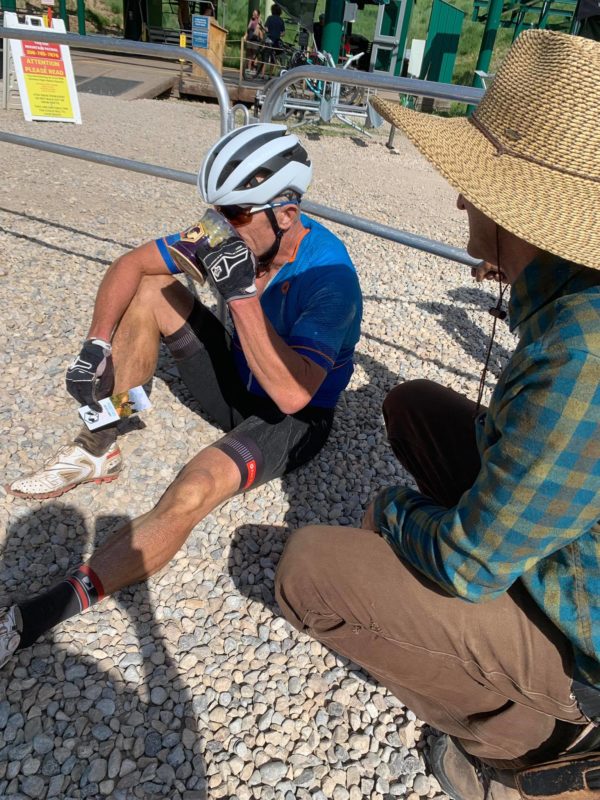 Taking third place and still managing to smile at the finish was, Hunter Karnedy, with a time of 9:59:37.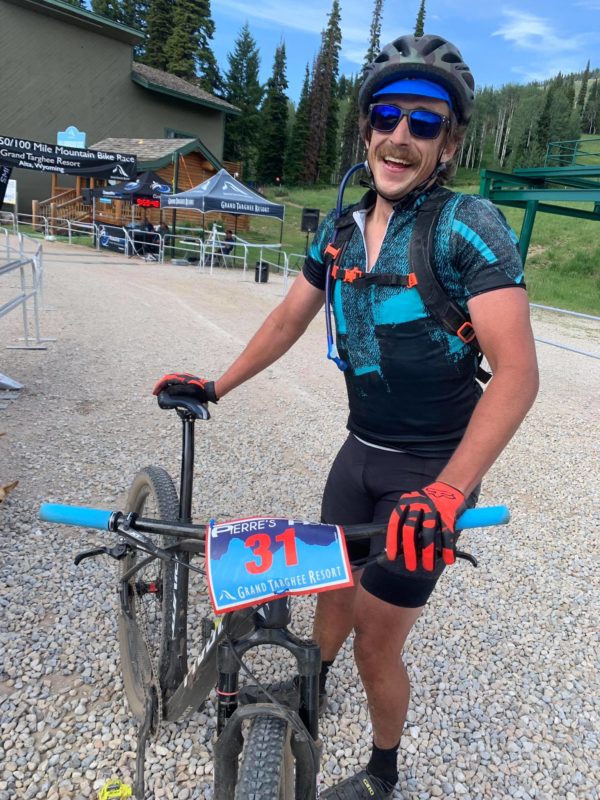 Masters
Smith earns the W and gets 2nd overall
Finishing 2nd overall and taking the win in the masters division, Cary Smith crossed the line in 8:48:16.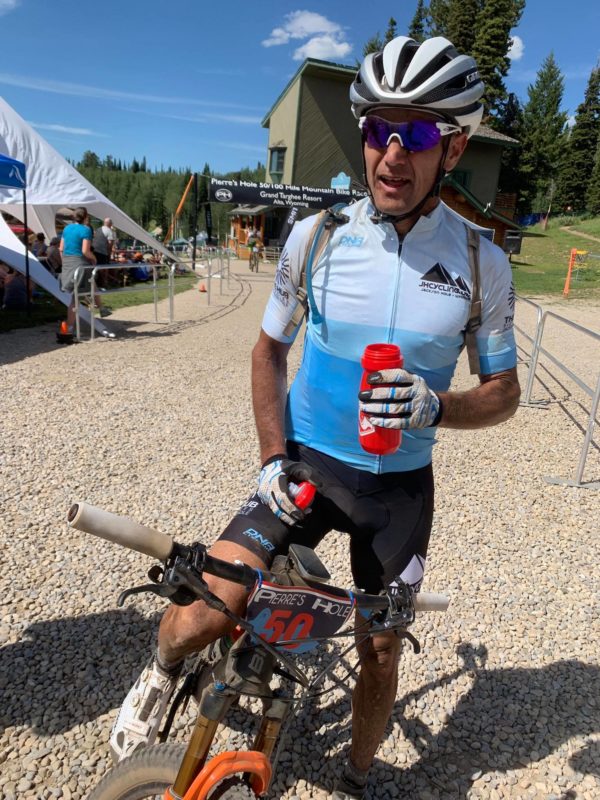 Mike Baughman took second place with a time of 10:12:09. About 50 minutes back on second, Gary Gardiner finished third in a time of 11:01:32.
Click here for full results
Photos by: Ryan O'Dell and Powder Day Photography