Written by: @JenToops & Marlee Dixon @graciedaze
The next stop in the NUE series, Pierre's Hole, is a rugged 32 mile single track loop that takes racers all over Grand Targhee Resort. If you're able to look up out of the chest high wildflowers, the views down into the valley and of the Tetons at Pierre's Hole 100 are breathtaking.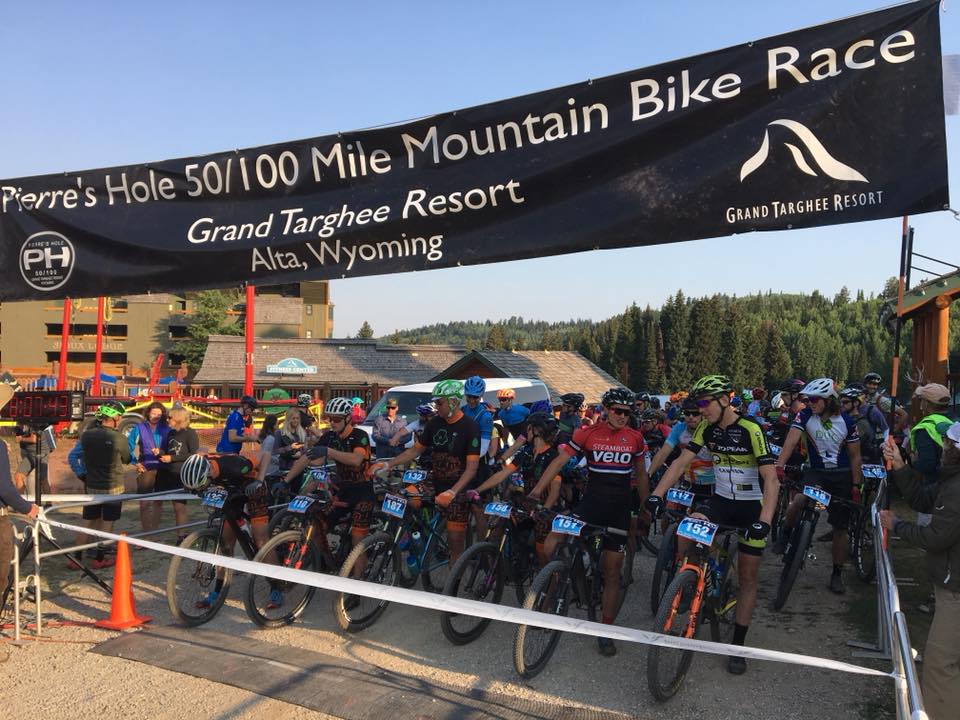 At 7:00am on a beautiful cool morning, the 100 mile racers start their three lap race followed at 8:10am by the 100k racers and at 8:40am by the 50k racers. The race starts with a grueling 1700' climb up the resort separating everyone for the 95% single track course. Once at the top, racers head down 38 special for a memorable descent with 38 switchbacks. Climbing back up the resort slopes again, riders enjoy an exhilarating high alpine descent down to aid 1 and back down to the resort base area. The next two loops are an undulating combination of meadows, forests, twisty and smooth single track that brings racers back to the start/finish for the end of lap 1.
With temps in the low 70s, a race venue at Grand Targhee resort full of campers, hot showers, local beers, good food and kids activities as well an epic single track course; this is a race geared towards the avid mountain bike racers as well as the family-friendly and casual racers.
Open Men
Brown takes the top step
Taking the top step in the Open Men's division was, Josh Brown (Bountiful Bike) crossing the line in 5:18:47.
"Race day was an absolute blast. I entered not knowing what to expect or where my fitness was as it was my first race of the season.I quickly realized up the first long climb that I had the legs that day. When we rolled over the first climb I was sitting in second behind George Flynn, with a couple of seconds on third and fourth. We maintained those couple of seconds for the entirety of the first lap, which was a very fun. George was setting a great pace and it was fun to sit on his wheel.
Just as we finished lap number one, Dave Wiens closed the gap and there was now three of us. While climbing the first big climb of lap two I could feel George fading a bit and knew that I had more legs than he did. So at the top of the climb just as it turns into an ATV road, I put in a hard surge and put about 15 seconds on George and Dave.
Down the long decent I knew that I would have to put a good amount of time into Dave if I wanted to be able to hold him off. So I pushed my comfort zone a little down the decent. I could see Dave for most of lap two, he was pegged at about two minutes back. There were times on switch backs that I would try and duck/hide behind bushes and trees to keep out of his sight. (Out of sight out of mind ;)). I somehow managed to hold the gap and cross the finish line in first. It was a great day and an amazing course! Another fun day on the bike."
David Wiens (Topeak Ergon IMBA), takes second in a time of 5:21:13.
"Racing Pierre's Hole was a blast! A most stunning place to ride, friendly, laid back people, awesome trails that wouldn't end, and top-notch race organization. On the first climb, five of us quickly separated from the field with Tanner Visnick and Josh Brown both looking strong. There was a ton of singletrack and while it was fairly smooth and fast, it required concentration as the vegetation, including awesome wildflowers, encroached from the sides and you were never quite sure what the trail was going to do around each corner: continue fast, switchback up hard to the right, switchback down to the left, you get the idea – lots of quick braking and shifting and getting back on the pedals accelerating.
I was dangling out alone in 5thearly in the first lap but steadily moved up into 3rdand caught the leaders as we hit the halfway point and embarked on lap 2. Josh rode a stellar race, marking the front and not charging until he hit the big descent on lap two. There, I jumped on his wheel and into second place but he put solid time on me on the descent. From that point on, I would get a glimpse of him now and then, but I could always tell he was feeling good and dancing on the pedals. Congrats to Josh and Tanner and everyone else that raced. I was happy with my race and also pretty stoked to not be riding another lap like the 100-mile riders. My hat is off to those men and women for sure."
Rounding out the podium was, Tanner Visnick (Steamboat Velo) at 5:30:35.
Open Women
Harvey defends title on home turf
Winner of the 2017 Pierre's Hole 100k, Caedran Harvey (Fitzgerald's Bicycles), defends her title winning the 2018 Pierre's Hole 100k at 6:09:12. Coming from Fairplay, CO, Marlee Dixon, Pearl Izumi/Pivot Cycles, takes second in 6:15:43. Taking third place was Christy Olsen, 1890 Cycling/Crazy Pedaler, crossing the line in 6:30:55.
Singlespeed
Toops gets four back-to-back NUE wins
Ohio racer, Anthony Toops (Paradise Garage), gets his fourth NUE Marathon singlespeed win finishing with a time of 6:18:14.  This gives Toops a perfect score of four in the overall NUE series for singlespeed.
"Pierre's Hole was a "bonus race" on the calendar this year since I wasn't sure if I could make it… and it was a tough one! I had no expectations coming into this one but I did know the suffering would be high. Little did I know my low lander fitness would eventually show itself halfway through.
From the gun the race started off on a long cat-track climb where the positions sorted out before hitting the singletrack (95% singletrack on this course).  I immediately took note of my power and effort being held back by the high elevation so the strategy was to never go too hard; just hard enough.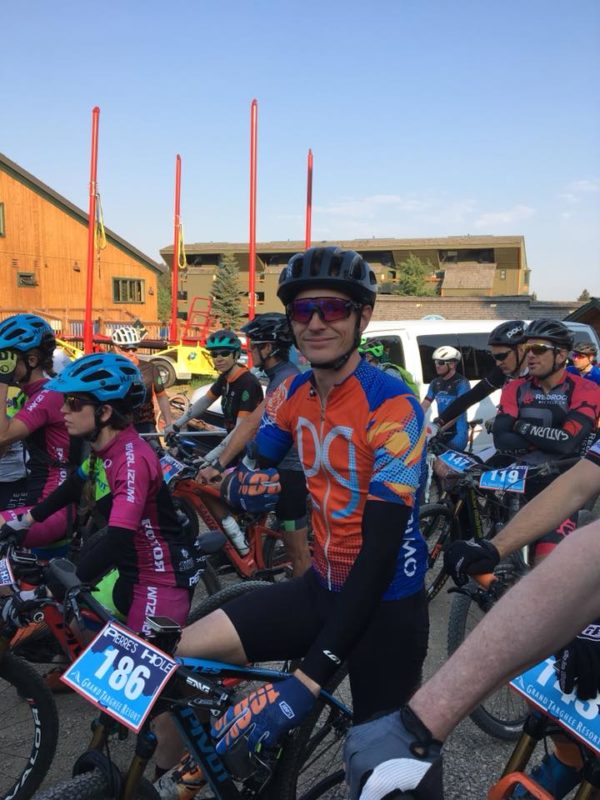 I managed to cap off the first lap pretty much on pace with my plan, but that's when the wall hit me in the face.  At around the 3:30 mark I was in survival mode.  I honestly don't remember a ton of that lap as I was just head down trying to keep the pedals turning over.  I'm not sure if its all the recent racing catching up to me but the elevation certainly spares no one from its pain.  I did manage to get some motivating words from Greg Gollete as he motored past about 1/3 of the way through the lap. I just kept trying to tick the miles off, stay upright, and keep my competitors out of site.
Coming up the last kicker and seeing the finish line was such a relief!  After tons of rugged singletrack, brutal climbs, and fast switchbacks,  I was pretty much wrecked!
My gearing was 32×20, which was a little hard I think. I'll probably go easier next time since it's a climb-descend type of course.
Thank you to Andy for putting on an amazing race, all the volunteers for their hard work, and always Paradise Garage who keep me rolling!"
Taking second was, Brad Keyes (Carborocket) crossing the line at 6:46:26.  Just four minutes back was, Weston Hutchinson (Elevate) finishing at 6:50:00.
Masters
Local racer Llinares takes the top step
Local Mark Llinares (The Hub), proved his strength on his home course taking the win in 5:55:44.
2017 Epic Masters NUE champion, Greg Golet (Team Chico) took second at 6:06:06.
"Pierre's Hole just keeps getting better! This year added a new section of trail that eliminated the pavement! Some complained that they no longer had the road to recover on, but I was glad to stay in the woods. The course was super fun and varied, and as always provided a true test of fitness—and cornering skills through endless sections of switchbacks. On race day the air was clear, and the Tetons were out!! Everyone's spirits were high. Such a nice contrast to the ridiculously smoky California where I had come from, and where for the last few weeks we've been advised to stay indoors.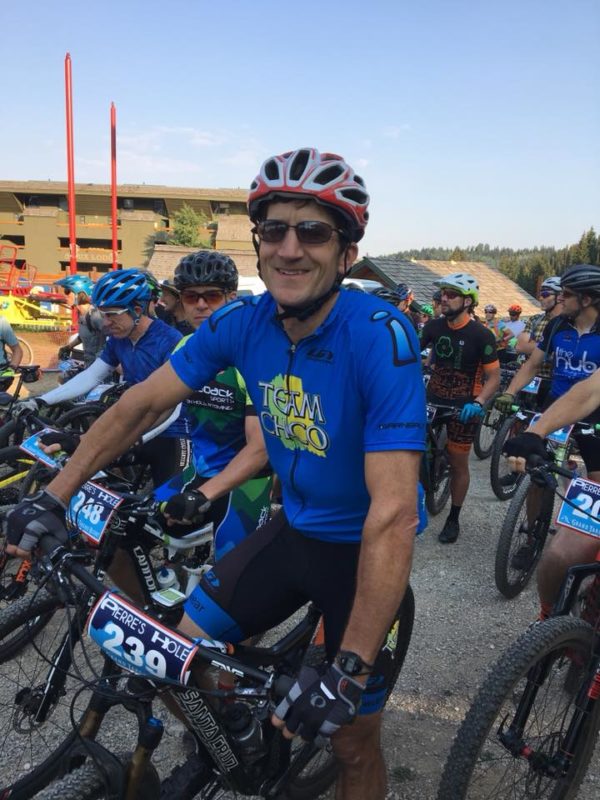 I set a fairly fast but comfortable pace and was first after lap 1, but only by a minute (although I didn't know the differential at the time, of course). Then on the upper part of the biggest climb of the second lap, a courteous fellow with an Aussie(?) accent cruised passed me. All I could do was watch him go. I didn't know who he was or if he was in my class, but guessed he might be. In any case, it didn't take long until Mark Llinares from Jackson, was out of sight. My lack of recent training probably didn't help, nor did being at 9,000' for the first time since backcountry skiing in Lassen park last winter. But even though I had just been fully dropped, I was loving it! Being fully incapable of matching his pace, I just rode my own race to the finish savoring every moment. It's hard to beat riding perfect singletrack that snakes endlessly through aspen groves and wildflower meadows. So thankful to have this time with such great people racing bikes in the mountains!!
Thanks #honeystinger, #carborocket, #kaliprotectives and #wolftoothcomponents for keeping me fueled, safe and shifting smoothly! Looking forward to Big Bear for the season finale (unless the smoke keeps me from riding leading up to it)."
Taking third place was, Michael Piker (Hoback Sports) at 6:37:24.
Photo credit: Jay Goodrich / jay@jaygoodrich.com / @jaygoodrich
What's Next? Click Here for info on the next NUE Marathon series race: NUE Marji Gesick race in Michigan. Click Here for info on the next NUE Epic series race: Shenandoah 100 in Virginia.
Follow the Pearl Izumi/Pivot Cycles team adventures as we travel and report on cycling around the globe.
Instagram: @pearlizumi_pivotmtb_team, @JenToops, @HanksJen, @graciedaze