Jeremiah Bishop Returns with a Win and Christy Olsen Closes in on the Overall Lead
By Ryan O'Dell
With lift service and high end rentals available for both XC and DH riding along miles of pristine singletrack, Grand Targhee Resort has become a cool mountain destination resort for mountain bikers. This is the time of year when the wildflowers are in full bloom and waist high in many places along the singletrack. Timely rains a night earlier made the course conditions more tacky and ideal for racers.
The Eighth Annual Pierre's Hole 100 has been adding new singletrack each year featuring long, fun descents showcasing jaw dropping views of the Tetons and surrounding mountains. This year's race included a 100 mile race, 50 mile and a one lap 50k race.
A highlight of this year's race for many was racing alongside world road champion Peter Sagan who recently won the green sprinters jersey in the Tour de France. Sagan won the 50k race setting a blistering pace and, to the delight of many, stuck around for photos and autographs following the awards presentation.
The first NUE Marathon Racer to cross the finish line on a rigid singlespeed at NUE Marathon Series races this season wins a Lauf TR29 or TRBoost fork. James Dwyer, Green Mountain Sports Velo, earned this special award.
The next day, a dedication ceremony was held for the new AJ Trail in nearby Victor. City councilman and NUE SS contender, AJ Linnell, before his untimely death, led a vision for an urban trail that would lead out of Victor to nearby BLM lands. Last year, more than 130 volunteers picked up AJ's mantle, constructing 700 vertical feet of trail on private property located at the edge of town connecting Victor to nearby BLM lands. The goal is to construct at least 12-13 miles of trail on BLM lands.
Women's Open                                                                 
Olsen gets her second straight win at PH100!
Four years ago, Christy Olsen, Fat Fish Racing, attempted her first 100 mile race at Pierre's Hole describing her effort as "failed miserably". This year, Olsen finished 9:41:34 in her second straight win at Grand Targhee.
"The Pierre's Hole 100 race this year went really well. I was coming off of a really bad race at Tatanka so I was quite nervous about how it was going to go. The course was spectacular. It's a challenging beginning to a race with a tough climb right out of the chute, but you are rewarded with 38 of the 'most fun you will have on a bike' switchbacks.
At the start, Carla Williams charged up to the top with a lot of power. I could not hold her wheel, but luckily I was able to slowly catch her on the descent and ride with her for most of the first lap. She really pushed me to my limits that whole lap. I enjoyed the new AJ Linnel trail. That was a great addition to the race. The next two laps were spent just trying to ride smart, smooth and stay on top of my hydration and nutrition because I knew Carla was right on my heels. The weather was superb, so staying hydrated was manageable. The course was well marked and the trails were fun and flowy, so that helped keep me going mentally because it was fun. I had great support at the aid stations so I didn't have to stop for more than a few seconds each time which helped me keep the lead and boost my confidence for the next section of the race. I felt strong all the way to the finish line, which is all you can ask for in a grueling 100 mile race. Thanks goes out to my Casper support crew, Pierre's Hole race organizers, and Crazy Pedaler Bicycles-Casper,WY!"
Thirteen minutes later, Carla Williams, Joe's Bike Shop, took second at 9:54:54. Williams leads the NUE Series with three wins including Cohutta, Tatanka, and most recently, The Wilderness 101.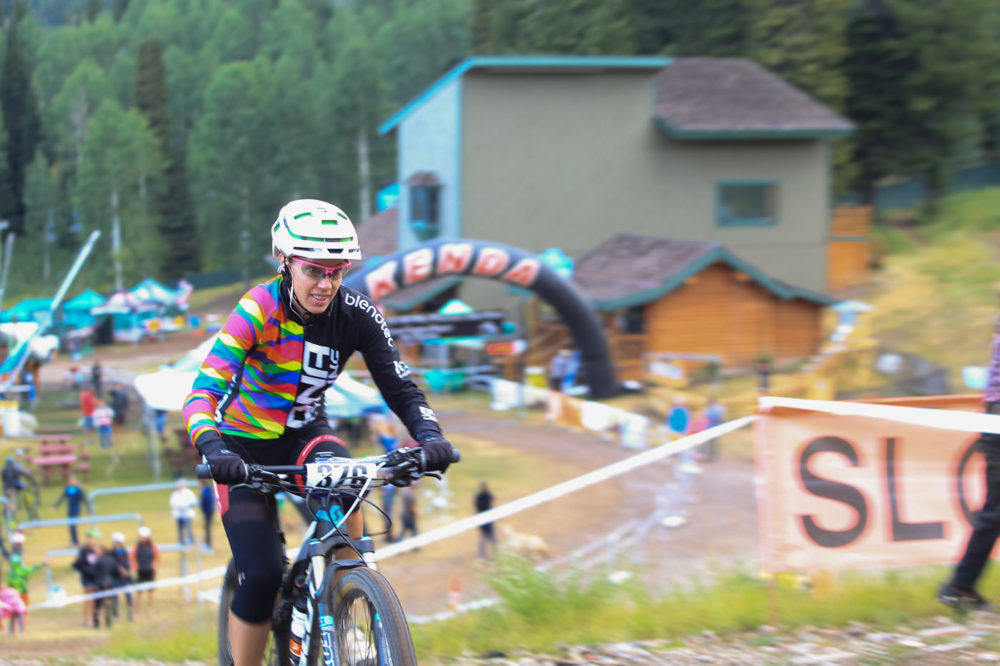 "I think Pierre's Hole was the hardest and most beautiful NUE race I've done so far this season. It is a course of wildflowers and switchbacks, beautiful mountain views and there were still patches of snow on the course. The course is almost all single track and all of it rideable without any hiking sections.
Looking at results from last year, I knew Christy was going to set a super-fast pace. I had a good start, but even up the first climb, I was breathing way harder than I was used to. I kept pace with Christy for most of the first lap but she got a gap before aid two, and I stopped to refill my camel pack knowing most likely I wasn't going to be able to catch her again.
After the 1st lap, it was constant battle with my lungs and legs. I was breathing so hard on the climbs, my legs were getting more and more tired, and overall I felt pretty bad. It was my first time racing at altitude so didn't really know what to expect going in. Very happy just to finish this race! Shenandoah is next on the schedule for me."
Ivy Pederson, Team Rockford, placed third at 10:58:44. "Pierre's Hole was a great event. The trails at Targhee are SO FUN! Everything flows well, the climbs aren't too steep, and the views of the Tetons and the valley are amazing. The volunteers on course and at the aid-stations were very organized and super helpful. The other racers were awesome too. People leaving after finishing their 50k/100k races even stopped to cheer me on when I needed it the most – at hour nine while I was riding up the road in the pouring rain (thanks Bowman Family!).
I rode alone for most of the day, quite happy to just focus on maintaining a consistent pace and ride my own race. I accomplished my goals for the race which were: don't break my bike, don't break myself, and have fun riding all day."
Men's Open
Two-Time NUE Champ, Bishop wins!
Jeremiah Bishop, Team Topeak Ergon, crushed it this year to finish 8:00:22! Bishop was the 2011 and 2013 NUE Series Champion, now focused on competing in World Cup and other large events around the world. Leading for the entire race, a crash on the final descent threatened to derail what had been, so far, a perfect race.
"Pierre's Hole 100 was the most single track I have ever done in a race. After coming back from Trans Alp and training up for Leadville, I knew this would be a good race for the rocky mountain guys who shred single track. I had an absolute blast dropping in on 38 special's 38 banked turns! There were only three sustained climbs so that's where I worked to gain my gap. Knowing anything can and will happen in a backcountry race like this, my goal was to keep steady pressure on from the gun and it worked.
I got the buffer I needed to win despite a terrifying side wall cut that was one inch long! Racing to bring back seconds, I slid out on the 'not packed edge' of one of the new trails and sampled the local dirt. Indeed, it was a nice vintage. I can't wait to come back to the Tetons for more amazing single track adventures!"
Taylor Lideen, Pivot Cycles, coming off his first victory at the Big Bear Grizzly 100, went on to finish second at 8:15:40.
Exactly one minute later, 2015 race winner, Josh Tostado, Santa Cruz/Swiftwick, finished third at 8:16:40. Tostado also finished fifth this year at the True Grit Epic and third at the Tatanka.
"I was very happy with my race, got to the front with Taylor, Jamie and Jeremiah. We rode the first half of the first lap together then Jeremiah gapped the three of us. We worked as a trio until the middle of the second lap when Jamie dropped off. Taylor and I rode the rest of the race together and we were able to work well together. In the last ten minutes of the race, Taylor was able to get a small gap on me and couldn't keep pace with him at the end. I had a great time ripping around a super fun course with Taylor all day, great race!"
Fourteen minutes later, Sam Sweetser, Cole Sport, claimed the fourth spot at 8:30:02. Thirteen minutes later, Gabe Klamer, Fitzgeralds Bicycles, took fifth to finish 8:43:04.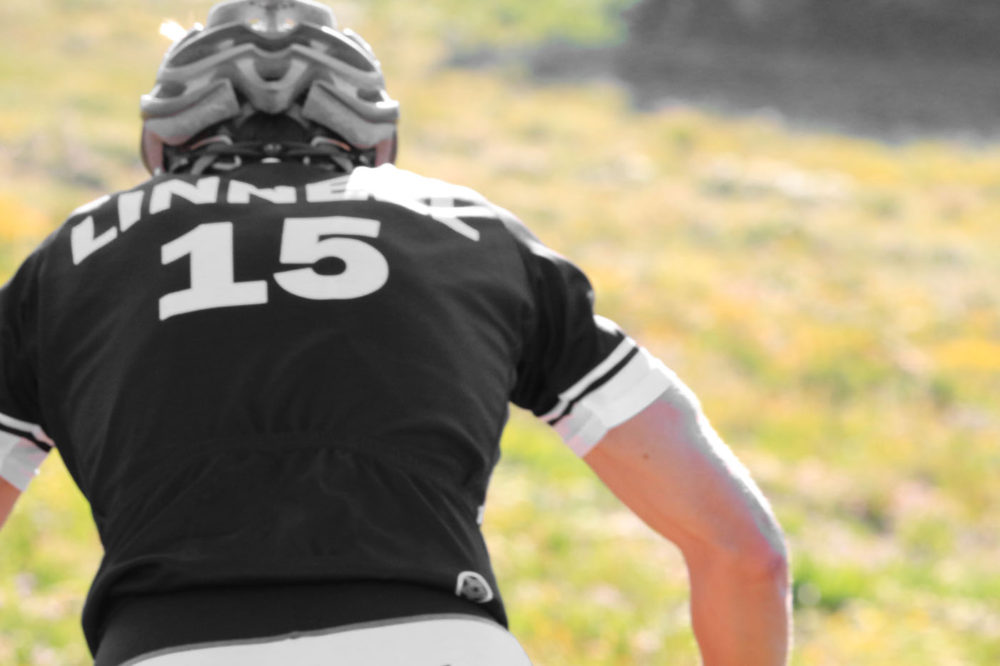 Singlespeed
Smith wins on an SS!
Two-time Men's Open winner of the Pierre's Hole 100, 2013 and 2014, Cary Smith, The Hub Bikes, is a local favorite from nearby Jackson, WY. For the first time, Smith attempted the race on a single speed with surprising results. Smith took it to the competition, including last year's race winner, getting his third win at Pierre's Hole in 8:28:23.
Last year's race winner, Corey Larrabee, Kuhl clothing, was next placing second at 8:59:27 on 32×20 gearing. "The single speed field was very stacked this year, with Carey Smith deciding to race single speed I knew that beating him would be a challenge. From the start, I never was able to ride with Carey. I went back and forth with Kip and a couple of other single speed riders through the Peaked climb but, once we hit 38 special, there was just Carey and Shaffer up ahead.
I pushed up the road and was able to catch Shaffer on the road. Carey, on the other hand, started fast and continued to put time on me with every pedal stroke. At the start of the second lap I could see Carey up ahead but wasn't feeling super great and, by the end of that lap, he had an even bigger time gap. I rode the rest of the race trying to stay motivated and, whenever I would see another geared racer up ahead, do my best to use them as bait. I was happy to hold onto second place with some severe leg cramping going into the final lap. Thanks to my amazing sponsors KUHL clothing, ESI grips, Carbo Rocket, Wolf Tooth Components, and my pit crew of my five kids and wife Amber."
Twenty minutes later, Mark Schafer, Team Eastside Cycles, took third at 9:18:51. "Pierre's Hole was my final race of the season and I was coming off a very successful third place finish at High Cascade 100. This race was definitely in my head.  I raced it the last two years and both years I was left a broken man. Noting how stacked the SS field was, my only goal was to get the belt buckle which slipped through my fingers in 2015." Pierre's Hole buckles were awarded to all men who finished under 10:15 and to all women who finished under 11:15.
"This year I decided to go with 32×20 in hopes to make the climb up the Peak Trail more bearable. On the first climb I hung back with my friend Matt Woodruff, who I could trust to set a perfect pace. We lost track of Cary Smith right away as he crushed up the climb.
We had a blast ripping down 38 Special, Mill Creek, and Cold Springs. As we spun up Ski Hill Road, we got passed by one of Matt's Kuhl teammates on a single-speed. I ask Matt "Is that Corey?" and his response was "Yeah, he is AJ fast". Noted… I will not be chasing him either, I needed to survive lap three.
I finished lap one after having a blast on Perma-grin (such a great trail!) and started into lap two just enjoying Action Jackson when I noticed Trevor Rockwell was gaining on me. Trevor put a hurt on me going up the Peak Trail but I was able to catch him again before More Cowbells on Lap two. At this point in the race, I was feeling really strong; belt buckle was in sight, so I decided to see if I could hold off Trevor and fellow teammate Adam Karch who was nipping at my heels all day.
I kept a steady pace the rest of race while enjoying the amazing views of the Tetons and some of the best single-track around. I came across the line thirty minutes ahead of what I thought my finish time would be and, not only did I get the buckle, but got the honor to stand on the podium with two of the strongest Single-speeders in the nation. Super Stoked! Thanks to (Race Director) Andy Williams and the Grand Targhee crew for putting on an amazing event. See you in 2017."
Adam Karch, Eastside Cycles, placed fourth at 9:30:55. Six minutes later, Kip Biese, KJBike Coaching, was next for fifth place at 9:36:32. Biese holds the distinction of finishing the most NUE races this season. Pierre's Hole marked his ninth straight finish including four second place finishes!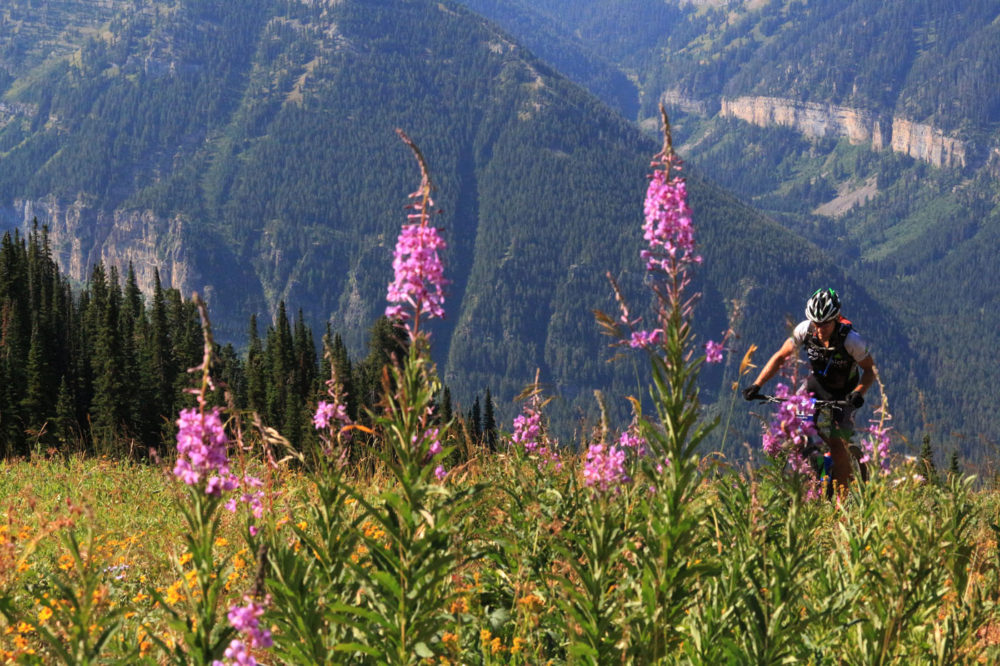 Masters 50+
Gardiner wins the Masters race!
Following a second place finish to Greg Golet in 2015, 53 year old Gary Gardiner, Bountiful bicycle P/B Mountain America Credit Union, from Centerville, UT achieved victory this year with a winning time of 9:48:39.
Four minutes later, Sten Hertsens, Muleterro, was next to finish second at 9:42:52, his best finish of the season following a fifth place finish at True Grit Epic, third at the Mohican MTB100, and fourth at High Cascades 100. "The course was is great shape and the rain helped to make it even better.
I had a good start and I think I was in first (Masters) after the first climb. I had a surprise when I came upon a tree that was laying across the course on the 38 special descent but it was gone the next lap. On the descent, Brian Brothers caught me and we rode together for the rest of lap one. I was feeling good at this time and thought I'd ride with him.
At the start of lap two, I went ahead of Brian and, I guess, he decided to let me go. I had a gap at the top of the second climb and was thinking I'd see Brian on the descent, as he seemed to be faster on the downhill sections. I didn't see him and, later, found out he flatted on the downhill.
I came upon Carla Williams and we rode together for some time. On lap two, at aid station two, I refilled my pack bladder and had my crank bolt tightened. It was making a noise and needed to be checked and it was a good thing I did since it was loose. I was still feeling ok at this point.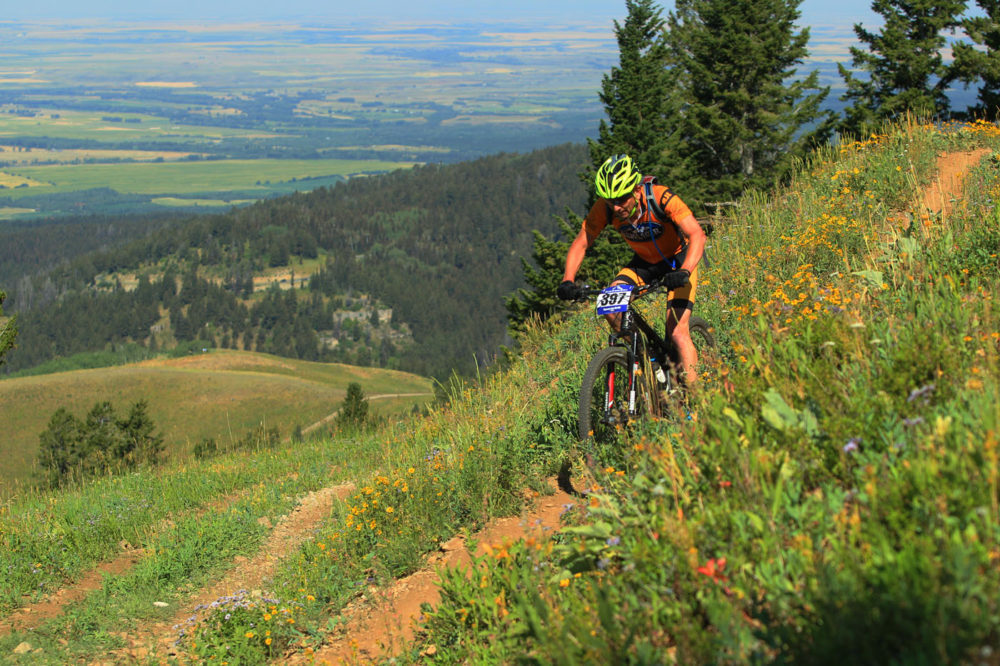 On the third lap climb, I thought I may have seen Gary Gardiner and felt like he may be close behind. At the bottom of the last descent I felt a little sluggish then, on the last road section of the day, I turned and looked back to see Gary Gardiner coming up behind me. I tried to hang with him after he passed but couldn't. Later, I did some refueling and started to feel better. Carla Williams and I came back together and rode the rest of lap three.
The rain and wind started, but didn't affect my race. I seemed to feel better on the last section of lap three and finished feeling good with my race. All in all, I didn't have any mental, physical or mechanical issues that really affected my results and I'm happy with the end result. It was a great course that was well organized and had some great volunteers to boot. No volunteers, no race. This was my fourth NUE race and I will be going to Fool's Gold to finish the season. It's been a good first year of NUE racing and hope to finish well at Fool's Gold. Keep the rubber side down and keep hammering. Peace"
John Lauk, Boutiful Bicycle Racing, finished third at 10:17:26. Twenty-seven seconds later, Brian Brothers, Hammer Nutrition, took fourth at 10:17:53, following his first ever NUE win at Tatanka.
What's NEXT?!
The NUE Race Series heads east to New Hampshire for the Hampshire 100 on Sunday, August 21. Visit www.nuemtb.com for more information and stay tuned her for the latest news, photos and results.
Click Here for Full Results from all Categories