Race Report: Blue Ridge Adventures – Off-Road Assault on Mt Mitchell
The 2016 Off-Road Assault on Mt Mitchell (ORAMM) started off in downtown Old Fort, NC, for its 17th consecutive year, on Sunday, July 31, 2016. ORAMM was one of the earliest endurance mountain bike events in western North Carolina and has gained a reputation across the country for its challenging course, beautiful scenery and great support. For 2016, ORAMM saw riders from 26 different states, and as far away as Phoenix, AZ.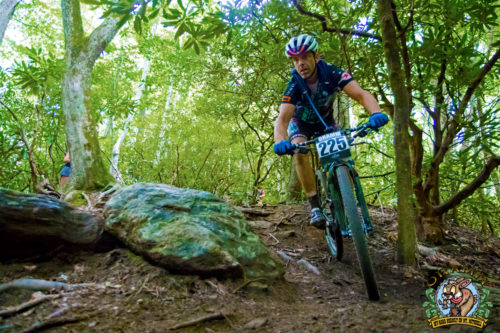 Due to construction on Old Hwy 70, there was a slight re-route this year that added an additional 2 miles onto an already long course. That still didn't stop the top riders from setting a blistering pace of over 13 mph across 62 miles and over 10,000 feet of climbing.
The Blue Ridge Parkway, Kitsuma, Heartbreak Ridge and Curtis Creek are all names that come up over and over again when talking to ORAMM racers. With beautiful views, rooty and rocky descents and climbs, long singletrack downhills and gravel road climbs that will make even the toughest of riders quiver, ORAMM has it all, leaving lots of smiles and grimaces on the faces of riders new and old.
A nice size lead group of about 12-15 riders stuck together for over half of the race. As they made the long climb up Curtis Creek to the Blue Ridge Parkway, things started to break apart. This is where racers have to decide to stay with the leaders or save some for the last third portion of the course. When all was said and done the top 3 finishers came in less than 10 minutes of each other and the top 6 broke the 5 hour mark.
For the Open Men category, current course record holder, Thomas Turner, took the win with a time of 4hrs 34min. Tristan Cowie followed for 2nd place in 4hrs 37min and Matt Champion rounded out the top 3 in 4hrs 43min. The Open Women category saw impressive performances as well, with Jen Nielson coming in first at 6hrs 21min. Jordan Salman and Erin Setzer took 2nd and 3rd place, with times of 6hrs 39min and 6hrs 45min, respectively.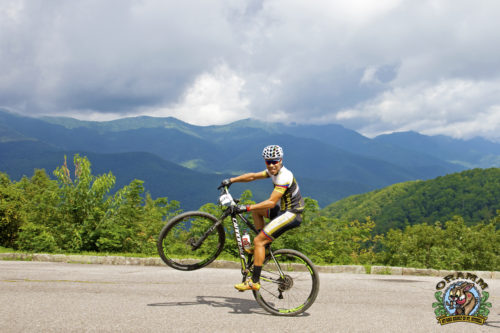 There are number of racers that choose to do a double-header, with the 26 mile Jerdon Mountain Challenge on Saturday and ORAMM on Sunday. Among these was Junior racer, Chad Hale, from Tallahassee, FL. This 17 year old racer took 5th overall in the Jerdon Mountain Challenge and almost broke the 6hr mark, with an impressive time of 6hrs 5min. With weekends like this, we're sure we'll be seeing his name pop up more and more. In addition to Hale, Andrew Blackstock and Noah Pawlik were 2 other Juniors racing ORAMM. Both at 15 years old, they endured with solid times and more importantly, finished the race.
 For complete results, visit: http://www.blueridgeadventures.net/2016-oramm-results/
It was another great day in Old Fort and smiles could be found all around the finish line area. Lots of stories shared and a feeling of accomplishment for everyone who trained, traveled and experienced one of the best mountain bike events in the country. While the podium often gets much of the attention, for hundreds of other riders, ORAMM is about setting a goal and pushing yourself, not necessarily to win, but to just have a good ride. For some, ORAMM is a race. For most, it's a mountain bike adventure and one that brings riders back year after year.
-Written by Seyl Park