Josh Tostado and Christy Olsen Win Pierre's Hole 100
Presented by Hammer Nutrition
By Ryan O'Dell
With lift service and high end rentals available for both XC and DH riding along miles of pristine singletrack, Grand Targhee Resort has become a cool mountain destination resort for mountain bikers. This is the time of year when the wildflowers are in full bloom and waist high in many places along the singletrack. Thunderstorms the night before presented brilliant displays of lightning and rain overnight made the race course slick in some areas on the first lap before drying out.
The Seventh Annual Pierre's Hole 100 newly designed race course added two more miles of singletrack featuring long, fun descents showcasing jaw dropping views of the Tetons and surrounding mountains. Over the last few years, miles of new singletrack have been added, eliminating the long service road climb from town and reducing the number of laps to just three for the 100 mile race, two for the 50 mile and one for the 50k race.
Women's Open
Olsen gets her first NUE win at PH100!
Three years ago, Christy Olsen, Fat Fish Racing, attempted her first 100 mile race at Pierre's Hole describing her effort as "failed miserably". This year, Olsen finished 9:22:27, more than a half hour ahead of her nearest competitor, including two NUE Race Series Champions.
"My main goal going into the Pierre's Hole race this year was to ride fast enough to earn the belt buckle. It was a race for redemption for me from three years ago when I attempted my first 100 miler at Pierre's Hole and failed miserably. It was quite literally the worst athletic experience of my life. I chose Pierre's Hole because it was the only one in Wyoming and I wanted to support Wyoming races. I had done a few fifty mile races previously and wanted to check a 100 miler off the list.
At the race three years ago, I was struggling with a neuroma in my left foot in the weeks leading up to the race, but thought it would be doable. I was wrong. About twenty miles in it flared up and made pedaling excruciating. It was a four lap format that year and every time I came though the start/finish area I told myself I was just going to DNF because I couldn't pedal with any power and I was basically pedaling with my right leg. My left foot felt like I had a knife jabbing into the bottom of it but my husband and two teenage kids were there at the aid station just past the start/finish area each lap and I just couldn't get myself to quit. I did not want my kids to see their mother quit so I continued on and finished with a horrendous time, but my kids didn't understand that. They thought I was amazing, so I guess it was worth it to just finish and set an example for them. However, I was personally embarrassed and humiliated. I overheard someone talking to Amanda Carey (the winner) after the race asking her about the competition and how there was basically no competition for her that year in the women's field and that made me feel even more like a complete failure.
At that point I felt like I shouldn't waste any more money on biking. I apologized to my husband for wasting money on bikes, parts, race fees, etc. so we could spend that money going on vacations with the kids.  I had already signed up for and paid to do the Dakota 50 which was in three weeks so I knew I had to do that before I gave up biking. I received cortisone shot in my foot to ease my neuroma pain the next week and was able to finish the 50 with no foot pain and first place for the women which made me feel a little better about biking. I didn't want to quit anymore at least. So I stayed with it, racing in shorter races around the region, avoiding Pierre's Hole the next summer.
That sour feeling about that experience in the 2012 Pierre's Hole would not leave me though. I knew I had to go back. Last year I saw that they changed the format to a 50k, 100k, and 100 mile. So I decided I would try the race again, but only do the 100k. I had a great experience, felt good and won the women's division. At that point I knew I was coming back for the 100 miler which led me to yesterday's race. I was really nervous and came with several friends from Casper who were all doing the 50k. They were a great support to me.
I didn't want my family to come this time because I just didn't know how or if I was going to finish and I didn't want to disappoint them. Like I said, my goal was to earn that belt buckle, but I also wanted to be a competitor in the women's field. I didn't know much about the other women in the field except that Amanda Carey has always won the race so my strategy was to try and hang with her for as long as I could.
Once we started the race and got into the thirty minute climb I thought I had passed all of the women before the switch backs, but I was not sure. So I just focused on the riders around me and tried not to make any mistakes. The scenery in this race is majestic so I did try to take that in as we started the 38 Special descent but trying to focus on every switch back did make it hard to fully enjoy the view of the Grand Tetons.
When I made it to the first aid station they told me I was the first female to come through. It was still early into the race, but that gave me a boost. From that point on, I just tried to break the course into smaller chunks or sections in my mind and I would mentally check them off as I made it through them. This seemed to make it easier for me to push myself throughout the race. I never knew what kind of lead I had, if any, during the race. I did try to calculate whether I was going to get the belt buckle based on my lap times. That helped motivate me as well. I knew I could do it after my first lap time so I did not want to let up.
The course was very challenging with a lot of tough ascents that you had to grind your way up, but were rewarded with some sweet, fun single track descents that gave your legs some relief and much needed recovery. Originally, I wasn't going to stop at any of the aid stations because I had a big camelback full of water and extra water bottles with my electrolytes stocked at the start/finish area but, after the first lap, I realized I did not want to lug that camelback up those hills anymore and just carried a water bottle.
The volunteers at the aid stations were quick and totally awesome at getting me a new, full bottle and gels without losing any time. This made my second and third laps much more enjoyable. When I finally crossed the finish line at 9 hours and 22 minutes, I felt such relief. I had ridden fast enough to get the coveted belt buckle, my #1 goal, and I had proven myself as worthy competition in the women's field. I won't ever forget my 2012 Pierre's Hole race experience, but I can now let those feelings of humiliation go. I thoroughly enjoyed the free dinner and beers after all day in the saddle. The race organizers do an outstanding job of putting this race together. The course, the aid stations, and the after party couldn't have been better."
With three NUE Series wins under her belt, defending NUE Champion Brenda Simril, Motor Mile Racing, leads the NUE Series. She finished second on Saturday at 10:00:57 nearly blowing up on lap three in her attempt to catch race leader, Olsen. Simril was gradually gaining on the leader and within seven minutes heading into lap three. It was here, at Grand Targhee, just two years ago that Simril garnered her first ever NUE win following many years of competing in the NUE Series. Since then, Simril has been on an upward climb and is now just three races away from earning her second straight NUE Series title.
Local favorite and 2010-2011 NUE Champion, Amanda Carey, Luca Sunscreen/Grand Targhee, from nearby Victor, Idaho placed third finishing 10:13:18. During the race, Carey and at least one other racer reported seeing a black bear. Carey is currently ranked second overall in the NUE Series standings that include her win at the Cohutta 100. Since then, Carey has been recovering from a bicycle crash suffering from broken ribs and an injured wrist. Pierre's Hole marked her first race back although she is admittedly not completely recovered.
Moving on from her successful career as a Pro level mountain bike racer, Carey now works as the Teton Trails Director, raising $30,000 and heading up the AJ Linnell Memorial trail building day in Victor on Sunday where a record 130 volunteers showed up to construct 700 vertical feet of trail connecting the town of Victor, Idaho to BLM lands on the Wyoming border. Carey plans to take up the mantle from city councilman and NUE SS contender, AJ Linnell, to realize his vision for an urban trail in Victor by leading the effort to build 12-13 miles of trail on BLM lands that will be accessible from this new trail on private property located at the edge of town.
Men's Open
Tostado posts his first NUE win at Targhee!
Following three straight second place NUE finishes this year and a second place finish last year at Pierrie's Hole, Josh Tostado, Santa Cruz/Swiftwick, found redemption posting his first win in just 8:14:16. His win also propelled him, for the first time, to the top of the NUE Race Series standings.
Jamie Lamb, Bicisport Calgary, winner of the Tatanka 100 earlier this season, rolled in six minutes later to take second at 8:20:28. ""As expected, given the profile, the course dictated a high pace straight off the uphill start line. Roughly one third of the way up, I came off Tostado, Smith, and Sweetser, and had to rush into damage control on the then-wet 38 Special descent. I made contact by the base but didn't find my climbing legs on the way down, being relegated to no man's land on the road climb. I then decided to ride the climbs conservatively and hit the descents and singletrack hard, hoping I could keep the gap manageable should anyone find their legs fading more quickly than mine.
I caught Sam on the end of the road climb on the second lap and we rode together until the descending started, where I started putting some time on him. There was no catching Tostado, however, it was all I could do to hold the burn rate at 3min/lap. I also have to give major props to Cary, he found my drop bag at Aid #1 and, having never met me, gave me bottle hand-offs like we were old bros, great guy and total shame about his crash."
Five minutes behind Lamb, Sam Sweetser, Cole Sport, finished third at 8:25:44. "As always, PH100 served up amazing trails and the perfect conditions with some pre-race precipitation. Like most endurance races in the west, Josh jumped to the front and along with Cary and me, we established a gap over the rest of the field on the first climb. The three of us worked well together trading off time on the front through most of the first lap.
After entering Rick's Basin, Cary got sideways on of the greasy switch backs and Josh and I got around him. We found out later that, moments after that, he put it down, broke his shifter and had to drop out. This left Josh and I along out front with the goal of keeping ourselves upright on the sometimes greasy single track. Josh and I came through the first lap together but he was a bit faster through the aid station and opened up a small gap that I was unable to close.
As the lap progressed, the gap continued to open. Jamie ended up catching me after the road climb on the second lap and quickly put some time into me. As the day progressed, trail conditions only improved from slightly greasy to amazingly tacky, which allowed for some unbelievably fun and fast descending. PH has by far some of the most fun descents of any race out there. Overall, this race only continues to improve and I cannot wait to head back next year to see what amazing single track they are going to add."
Two-time winner of the Pierre's Hole 100, 2013 and 2014, Cary Smith, The Hub Bikes/Enve/Gu, was the local favorite from nearby Jackson, WY heading into Saturday's race. "Josh Tostado, Sam Sweetser and I opened an early gap on the long first climb and stayed together for almost the first two hours, with Jamie Lamb sitting dangerously close a couple minutes back. We were swapping leads, with Josh seeming the strongest early on. I took the lead going into Rick's Basin, where the evidence of Friday night's rain was very present with unpredictable muddy spots. One of these caught me off guard and I blew a turn, almost causing a chain reaction. I jumped back on behind Josh and Sam, but crashed again a couple minutes later when I lost the front end. I went down pretty hard, slamming into the steep bank where the trail had been cut. After a quick body check I hopped on my bike but found my shifter dangling uselessly below my handlebar. I tried to rig something but I was going to be stuck in my tallest gear for the rest of the day. So, I called it a day and spent the afternoon supporting the three leaders and watching the race unfold without me."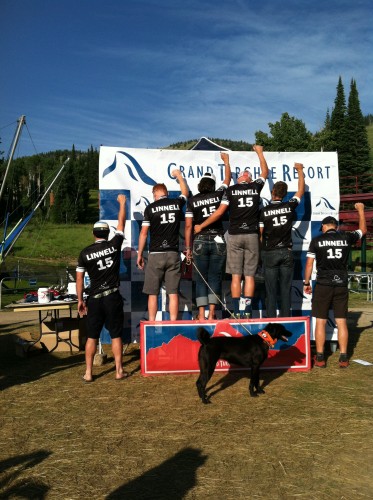 Singlespeed
Larrabee gets a commanding win!
Corey Larrabee, Kuhl/Fezzari, had a twenty minute lead as he crossed the finish line at 8:24:53. "For Pierres Hole 100 I was running a 32×20. The race started out with Cary Smith, Josh and Sam forming a group up the climb with Cole Anderson, myself and one other guy forming a second group back. Toward the top of the first big climb, Cole bridged up to the lead group and I stuck with my plan to ride with the second group. I caught up to Cole on the 38 special descent and Jamie Lamb passed us both a few minutes later. I gapped Cole on the descent to aid 1 and rode the road section up to the resort.
At the top of the road, Cole and another SS rider along with two geared riders passed me going back onto the single track. I was happy to let them lead for a bit. Just before aid two, I had to stop and pee (the first of three on my first lap) and was left for a few minutes by the group. I caught back up but again I had to pee. Again, Cole gained some time but it was still early and I was ok with the gap. I caught back up to Cole just before the lap and we basically went through together. I stopped at aid three and refueled as Cole led out on the second lap. Just a few minutes into the lap Cole bobbled on some rocks, I went around him. I increased my speed a bit to see if he would follow and caught up to the geared riders in front of us. I rode the rest of the lap by myself, tried to push the climbs and enjoy the beautiful scenery on the descents. I was in awe at the perfectly built switch backs.
When I went through the start finish, someone said Sam was five minutes up. I was not feeling very good and was happy to just climb as hard as my body would allow and descend as fast and smooth as I dared. Toward the top of the climb I could see Sam two or three switch backs ahead. Being from the Salt Lake area, Sam and I have raced together quite a few times so we yelled back and forth to each other. On the 38 special descent, Sam disappeared on his full suspension bike and I thought I would never see him again but right before the aid station, I saw him pedaling away up the road. I did my best to push as hard as I could and caught up to him at the top. We rode together and I jokingly asked if he wanted to trade bikes.
Both of us were not feeling great, at this point, I had thrown up four or five times. Sam stopped at aid two and I rolled through hoping to get done. On the super steep climb after the flyover, I pushed as hard as I could and was seeing stars for quite a while afterward but then simply tried to enjoy the wild flowers and good thoughts of my friend AJ Linnell. We had ridden against each other a number of times at the Park City Point to Point and other races around the Salt Lake area. After battling back and forth at Point to Point last year, AJ invited me up to race the Pierre's Hole 100 on his home trails.
Pierre's hole has been on my race calendar since just after Park City Point to Point. His tragic death really shook me and my family and I knew that, although AJ would not be at the race, I needed to be there to honor him. I finished the race with only one thought "ride like AJ."
It was a great race with amazing scenery and support. I was happy with how I was able to stay motivated to race although I was alone for most of the race."
Twenty minutes later, Quinten Bingham, Roosters/Bikers Edge, placed second at 8:44:11.
Three minutes behind Bigham, Cole Anderson from Salt Lake City, UT placed third at 8:47:55. "Soul sucking climbs, warp speed descents and flowy singletrack, this race has it all. Sadly missing from this year's race though was single speeding legend AJ Linell, but his spiritual presence was definitely there in full force, with many riders racing in his honor.
The previous night's deluge made for a greasy first lap, which was spent riding with Corey and a couple of geared riders. I knew Corey and Quin would be riding really strong as they are usually on the Park City P2P SS podium every year. A few miles into the second lap, Corey took off on the Peaked climb, singing as he passed, and eventually finishing over 20 minutes ahead of me. Riding outside a reasonable pace on the first lap, the stupid 34×19 ratio, and the fully rigid setup made for very painful second and third laps. Although, repeating AJ's "HTFU" (Harden the F*** Up) mantra to myself, I was able to endure the pain and actually have fun riding through the fast rolling Rick's Basin loop. In the last lap, Quin eventually passed me on the .38 Special descent, where I ultimately finished in 3rd a few minutes back.  Overall, Andy and the crew put on another amazing race. I am definitely looking forward to next year!"
At the awards ceremony, SS podium finishers honored the two time winner of the Pierre's Hole 100, AJ Linnell, Fitzgerald's Bicycles/Pivot Cycles/American Classic, with all finishers wearing his jersey on the podium.
Masters 50+
Golet gets his second win in the NUE Series this year!
Greg Golet, Team Chico, following his first win at the NUE Bailey Hundo earlier this season, crushed the master's field by more than twenty minutes to finish 9:10:36. As a result, Golet is now ranked second overall in the NUE point series behind defending NUE Champion, Roger Masse.
"This was my fourth NUE race, and my favorite course to date and I wasn't planning to go, mostly because it's a long way to travel, but also because it was looking really grim for competing for the NUE overall title win having come up a few minutes short at High Cascades a month ago. But after a super fun Downieville race that I went to mostly for the chance to hang with some friends that I haven't seen much lately, my wife said " You've gotta go to Pierre's Hole!" I guess she liked seeing how happy I was after that day (or wanted me out of town?). In any case, within ten minutes, I had booked a flight! I'm super thankful to Debbie for her support. Also thanks to Cole who let me hide in the back of his truck the night before this race so I didn't have to field test my 20 year-old bevy when the drenching thunderstorm moved in.
The Pierre's Hole course offered spectacular riding on purpose-built mtb trails with incredible scenery. Loads of sweet banked turns on ripping descents, and opportunities to both punch it on short climbs and settle into sustained efforts on the long ones. All that made better by perfect dirt thanks to the rain.
My race was pretty uneventful. Fellow master's rider, Gary Gardner, and I rode together for about half of the first lap, but he flatted and then blew up trying to catch me so I mostly rode alone, just me and my tallboy reveling in the alpine wonderland of the Teton range. It was a time for life's deep reflections, like how a full suspension bike is really better for me in these long grueling races, maybe not as efficient with energy transfer from pedal to wheel, but way less fatiguing over the long haul.
Mental fatigue is something that you've got to watch out for in these long races and I definitely suffered some of that in this one. It was nicely exhibited when I stopped at a tent alongside the course where some kind folks let me stash some supplies. Pulled off the bottle swap fine, but then came out with "where's my lube. I know I put it in here" to the sweet woman who was patiently waiting there for her friend to ride through. "Uh, in your hand" came her reply. "Oh, yea…", at least having my bike close at hand gave me the option for a speedy getaway.
The event was expertly run, and everyone was super friendly, but I was bummed to see all the gel wrappers littering the course after the feed stations. Just stuff them in your jersey pocket–it's gonna get nasty after a 100 mi ride either way.
In the end, I was psyched to take the Masters win, and crack the top ten overall. At the same time, I was totally humbled to see Josh Tostado finish nearly an hour ahead of me. It's good to consider the greater realities now and then. Even so, a confidence builder, I guess, as think about the next one, be it this year or next. A huge thanks to the NUE and all the event organizers for making this series so awesome!!"
52-year-old Gary Gardiner, Bountiful bicycle P/B Mountain America Credit Union, from Centerville, UT placed second in 9:37:57. Nineteen minutes later, Lee Simril, Motor Mile Racing, who recently won his first NUE race at the Tatanka 100, took the three spot in 9:56:49. Simril is now ranked third overall in the NUE Masters division. Just three minutes behind Simril, John Lauk, Boutiful Bicycle Racing, finished in 9:59:00.
What's NEXT?!
On Saturday, August 22, The KENDA NUE Race Series will debut at its first ever international race, The Rincon Challenge located in Liberia, Costa Rica. Visit www.nuemtb.com for more information and stay tuned her for the latest news, photos and results.