NUE Series 2021-Marji Gesick 100 mile
September 18, 2021
Written by: @Jentoops
The Marji Gesick is a point-to-point endurance race located on the upper peninsula of Michigan. It starts in Marquette and ends in downtown Ishpeming. The one-hundred mile and fifty mile mountain bike races are part of the National Ultra Endurance Series. There is also a one-hundred mile run, fifty mile run and one-hundred mile duathlon option. It's quickly gaining popularity as one of the toughest endurance races in the United States and sells out in less than twenty four hours. This GPS required race is self supported, and racers are required to collect tokens at random checkpoints along the course.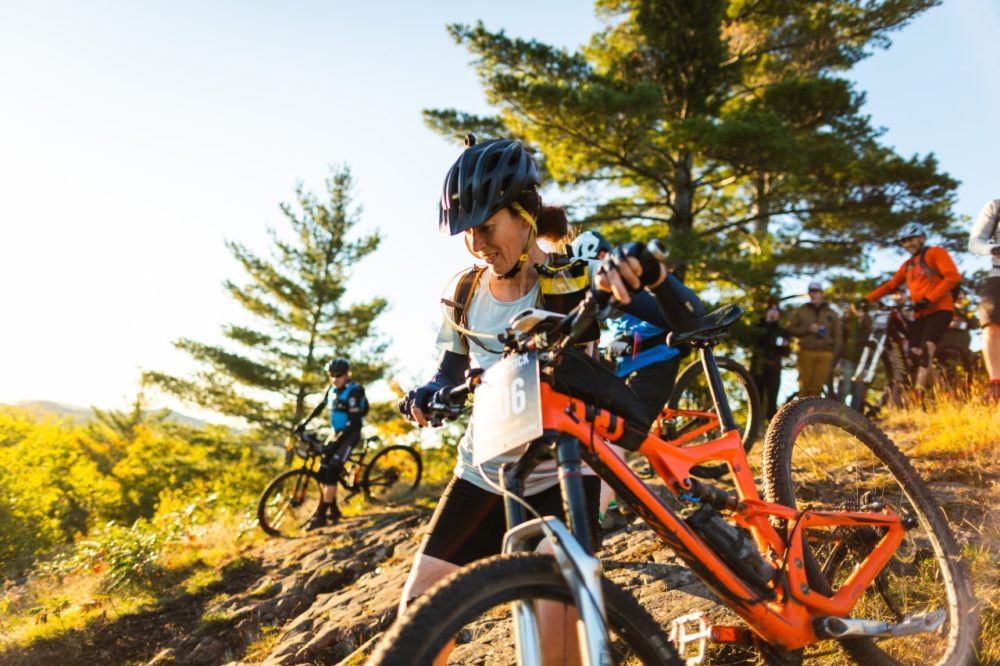 The course was designed by Danny Hill and made to push riders to their absolute limits. The one-hundred milers having around twelve-thousand vertical feet of climbing, and the fifty milers around seven-thousand. In both courses, racers have to navigate through sand, roots, rocks, off camber climbs, drops, jump lines and technical descents, all while saving enough energy to get through the grueling last fifteen miles.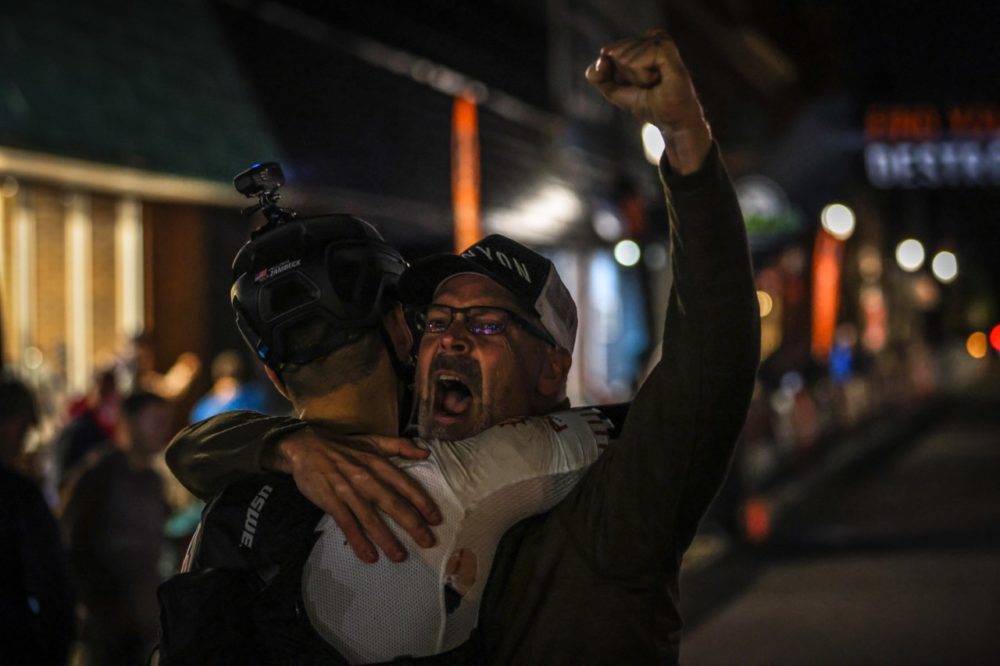 Racers in the one-hundred mile course finishing under twelve hours for mountain biking, under twenty-eight hours for runners and under twenty-two hours for duathlon, will earn the coveted belt buckle handmade by blacksmith Gordon Gearhart.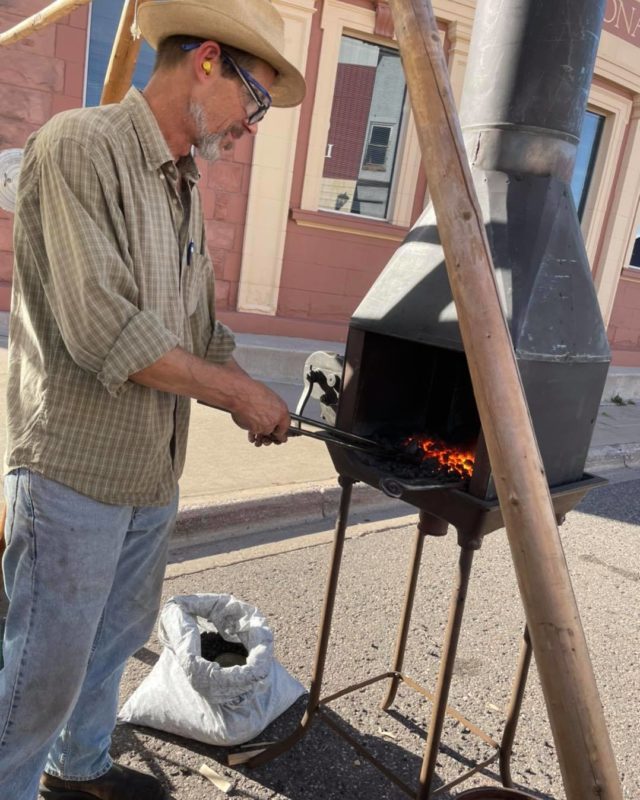 Women's Open- Toops secures NUE overall win
Former NUE Marathon series winner, Jen Toops from Ohio, took the win in 12:58:22. With this win she secures the overall female Epic NUE title. " I have a love/hate relationship with this race. How can a race so fun, hurt so bad? After completing the 50 mile Marji twice I decided it was time to conquer the 100. Although it would be awesome to get the buckle, I had one goal. To finish the race. As long as I finished I'd lock up the NUE epic overall win for the season. The start of the race was very busy and reminded me of the La Ruta de los conquistadors. Instead of a helicopter roll out we had an electric guitar national anthem, beautiful paint horse, lemans start and fire works. Just before the start, I got to meet fellow Pivot Cycles rider, Kaityln Boyle, who came all the way from ID for a chance at the buckle. After the lemans start I had no idea what place I was going into the woods. Did it matter? No. A very long day awaited. Even though I had my GPS, I still managed to blow by turns, start up the wrong trails and got turned around a lot at the beginning. Once we were on the single track I was having so much fun and was finding my rhythm. This is the part I love about Marji!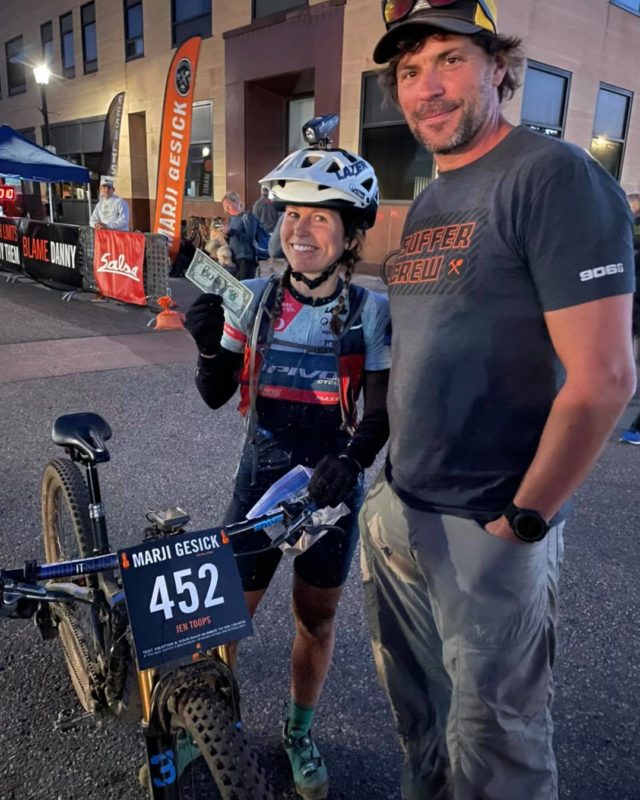 Just before the Jackson Park I caught up with Kaityln Boyle. We rode most of the sandy snowmobile trails and bike path together chatting it up! A welcomed mental break. The first loop out of the park I felt amazing and really was having fun on the tech singletrack. This loop went on forever! I was so focused on riding I didn't eat enough on this loop. That was my downfall of the race and paid for it on the way to the finish. I stopped back at the park to get a back up charger and lights. This is when I saw Kaityln Boyle had DNF due to pain from a pre-ride crash. Kaityln and my support Heidi encouraged me I still might be a buckle contender. I had 15 miles to do a little over 2 hours. Feeling confident I continued to push the pace. After about an hour of riding I did the math in my head and realized a buckle was not in the cards today. My riding started to get sloppy, the fatigue had set in and I was in survival mode. I forgot how hard the last sections of trail were with non-stop punchy climbs, hike-a-bikes and just shenanigans. The last 30 minutes were torture, I wanted to lay down on the side of the trail. I wanted real food. I turned my lights on and navigated those roots and rocks walking what I normally could ride during the daylight. Jasper knob was such a rewarding sight to see on the GPS. The last hike a bike! I walked to the top collected my tokens and gave fake Todd a high five and headed in to the finish. My whole body hurt like it never has with any other race. I laid in the van post race for a couple hours before I could even function. Marji is by far the hardest hundred I have ever completed. I love it but hate it. I'm proud of my effort and learned a lot. Will I be back? You bet and next year I will have a different goal in mind! Calling all Ladies….lets go get this BUCKLE. Thank you Danny and Todd for an amazing event as always! Bike: Pivot Mach 4SL size XS. Sponsors: Pearl Izumi, Pivot cycles, Ergon, Fox, Lazer, Honeystinger, Carborocket, SCC, Stans, Maxxis." Special thanks to Heidi for the race support!
Nicky Ruszkowski of New York, took second place with a time of 16:27:54. "Marji Gesick 2021 was my second attempt at this race. In 2019 I dropped out at around mile 85 and so I certainly came at this with unfinished business. I love riding the more technical trails and Marji certainly has plenty of those. The gnarly, rocky descents in this race play to my strengths and are so much fun to ride. I think the cooler temperatures on race day were actually a little deceiving and I don't think I was alone in underestimating the amount of fluids needed to stay hydrated. Overall this is a phenomenal race and I was delighted to come in second behind Jen."
About fourteen minutes back from second place, Jessica Nankman of Pennsylvania, finished third with a time of 16:42:44. "For years I have heard about this race with upwards to 70% non-finisher race called Marji Gesick and decided it was time to see what it is all about. I typically race ultra endurance events, 24 hour mountain bike races, thus was looking forward to another way to test my physical and mental fortitude. With my long-distance background I was confident in my ability to cover the miles and being that I live in Eastern Pennsylvania I felt strong about my technical skills, the thing I was most concerned about was the logistics of the race. I was concerned about the self-supported aspect, it took extensive planning and contemplating on my part about how to carry the hydration, nutrition, and gear needed. Rumors about "trail angels", volunteers who set-up aid stations along the course, were true and they helped immensely with rider needs . Another part of the race that takes pre-planning is the point to point factor. Just being my husband (who was also racing) and myself making the trip to Marji, we had no outside help. We opted to stay in the campground located at race start, which made for a very relaxed pre-race morning but we wondered how to get back afterwards. A friendly volunteer drove us from the finish back to our campsite post-finish.As for the course it's self…it was a challenging and tough 105 miles. There were many miles of smiles; fun single track, rewarding rock gardens, flowing berms, and air-time inducing jump lines. But there were even more miles of tough trail that caused much suffering. Near vertical ups and downs, soul-sucking sand, and sketchy washouts induced a fair amount of walking. To add to the physical and mental challenge many of the last few miles were ridden in the dark. Thank goodness for the great cheering and support of the spectators and volunteers along with many friendly fellow racers that kept me going strong.I have never experienced a race like this. Marji Gesick truly is as advertised, it one tough event not to be taken lightly. But the achievement of reaching the finish line, and being on the podium, is an accomplishment that will never be forgotten.Sponsors to please be included in the review: Liv Cycling USA Ambassador, Lupine Lights, Saucon Valley Bikes."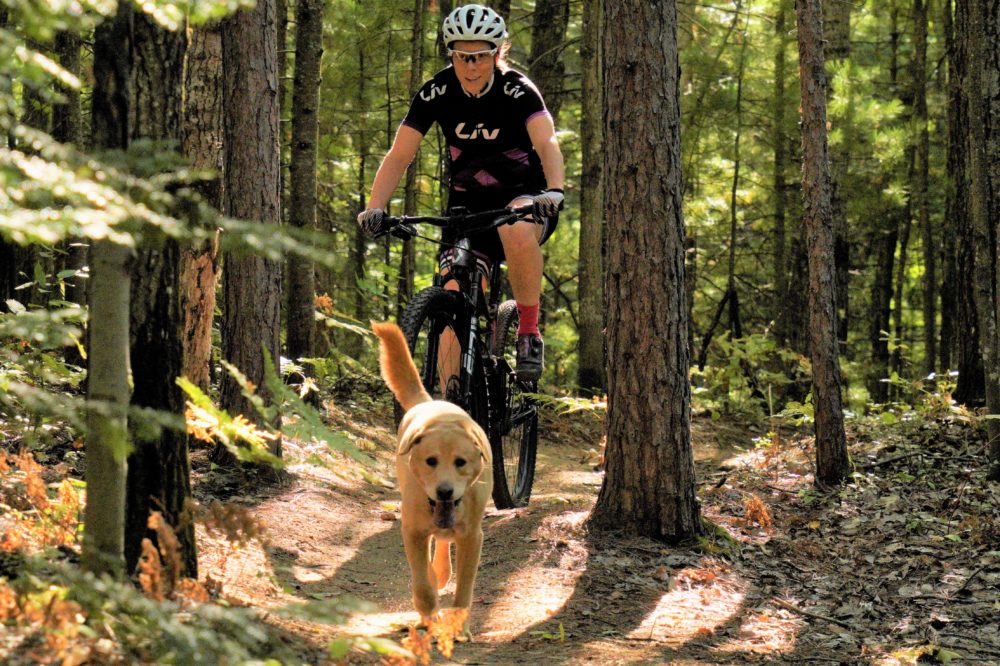 Taking fourth place was Jenny Acker from Michigan with a time of 17:48:38. Finishing fifth was Christina Peek from Michigan crossing the line in 20:51:19.
Men's Open– Acker takes back-to-back Marji wins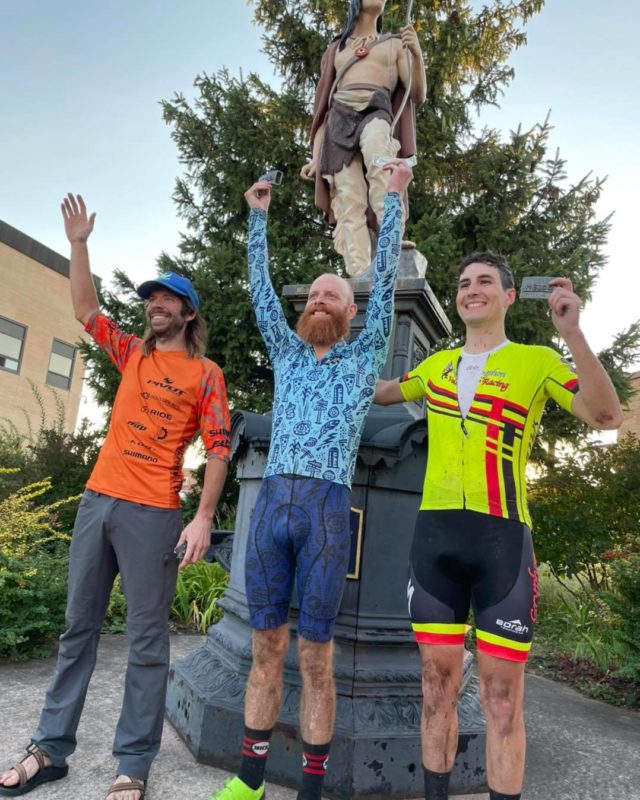 The 2019 Marji Gesick winner, Matt Acker of Michigan, gets back-to-back Marji wins with a time of 10:36:55.
Just four minutes back, ultra endurance racer, Kurt Refsnider of Arizona, finished second in 10:41:38 "I made the decision to fly up from Arizona for the race just a few days before the race, so eveIrything was a very last-minute affair for me. But I had heard story after story about how technically challenging the Marji is, and that's hands-down my favorite kind of riding. And I'm so glad I made the trip – it's been a while since I've ridden a race course that was as difficult and fun as the Marji Gesick 100! I had the pleasure of riding with local legend Matt Acker for most of the race, and following his wheel for so many miles sure helped me ride efficiently (especially as I tried to keep him in sight on the longer descents). 100 milers are a bit on the short end of the races I typically do, and my legs started to fade in the final miles after trying to ride fast for 10,000+ feet of punchy climbing. Matt gradually disappeared ahead of me, and I just tried to hold it together after mile 90.I also am especially impressed by how the race organizers have created an incredibly demanding event in which riders openly embrace (and come for) that challenge. Most races with a course of this style would have relatively small fields, but the organizers have created a welcoming and empowering atmosphere around the race that's truly one-of-a-kind."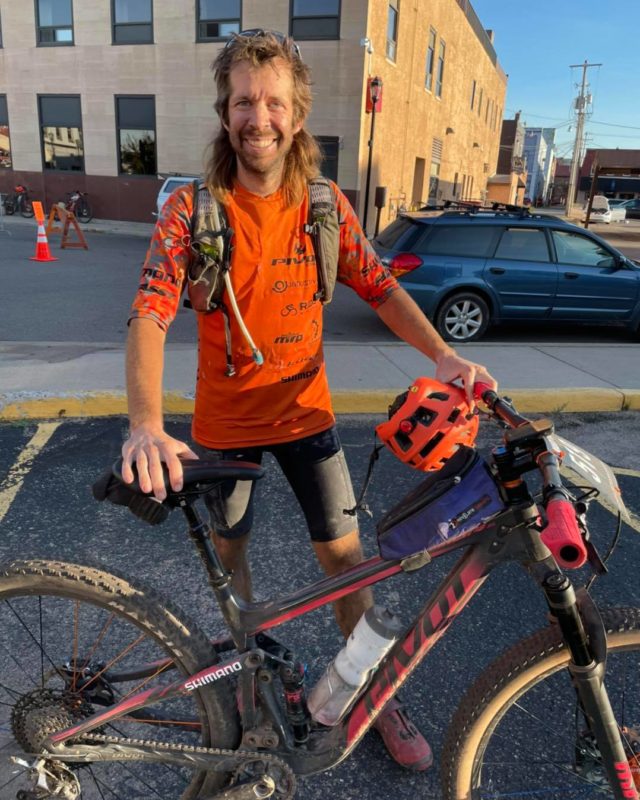 Taking third place, Chad Cannon of Wisconsin, finished in 11:34:32. Ryan Goemans of Wisconsin finished fourth in 11:39:28 and Ben Senkerik of Wisconsin took fifth place with a time of 11:43:37.
Singlespeed– Holle takes overall NUE SS win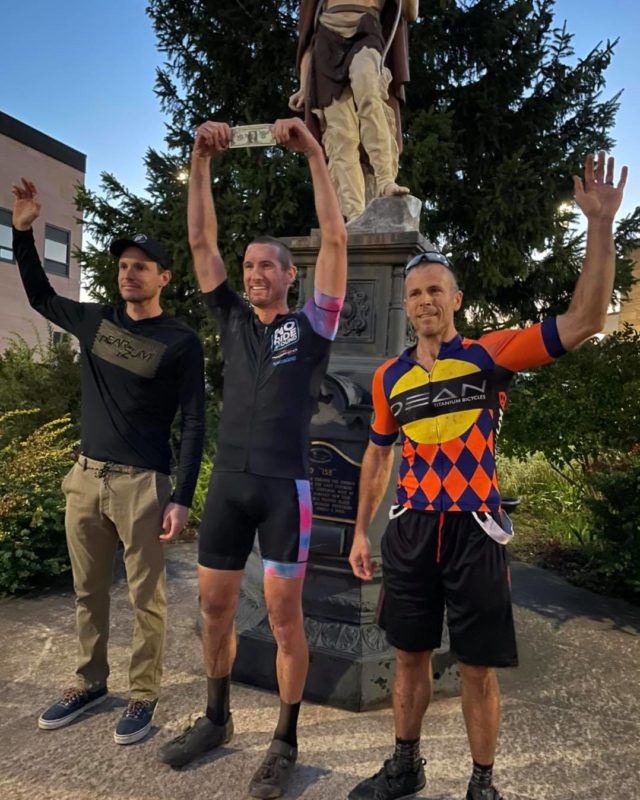 Justin Holle of Colorado wins the singlespeed division and takes 4th overall with at time of 11:39:15. With this win he has secured the overall Epic NUE singlespeed title and went undefeated this year. "Bike: 34×19 gearing on Norco Revolver HT. The overwhelming sentiment leading into Marji seemed the same from every source, 'good luck'. Having never quit a race I didn't understand the high DNF rate or the fear expressed by such sources. And then…after missing my 4th turn only to see the arrow placement AFTER the turn did I realize these racers quit because, damn, that course just presses your buttons! I jumped out early with fellow Singlespeeders Mark Kransz and Scott Quiring, jockeying 1st to 3rd. Just as I passed the hilltop bagpiper I put in a gap and thought I'd race off the front. No sooner did I see myself careening over the handlebars into a pile of rocks, giving up my position. Through mile 39 we danced positions and at that Aid Station I made haste and passed through without support. Alone until mile 65 Aid at Jackson Park I learned this "race" was more an "adventure". Staying on course demanded full awareness so race efforts sat second wheel.On the loop from Jackson Park that Singlespeed Monster: Anthony Toops closed in behind me. I guess this IS a race! More friend than foe, we chatted and grunted through the loop keeping tabs on our pace for that coveted sub-12 buckle. Back through the Jackson Park aid we knew we had enough time to finish under 12 barring any issues. We hung together, alternating position, riding, and power hiking the steeps. Near mile 94 I slowly pulled away and looking back didn't see Toops in sight. The course became more intuitive, sign reading less challenging, and I stayed committed to ignoring my computer data. I relied on looking up to the sun to gauge my sub-7:30PM finish. With 50-milers becoming more frequent on trail I could tell we were close. Feeling confident I looked back and saw Toops! What?!?! He closed in on me AGAIN. Providing that final fire I needed! I drove my pedals, attacked the steep hill holding the precious tokens, and headed back down with enough of a gap. Passing Toops I hollered to my friend and turned onto tarmac to punch it home. I passed a final geared racer and came across the line in 4th overall position with the SS win. Marji is the hardest 100-mile MTB race course I've ever done. It attacks you mentally, physically, and, when you blow a turn, emotionally. Fortunately I had a good day and I attribute that to accepting MG as an adventure first, race second. Oh, and the guys making grilled cheese at mile 58, thank you sirs. Thanks to my support: Base Canp Cyclery, Norco, Shimano, Crankbrothers, ESI, and Carbo Rocket."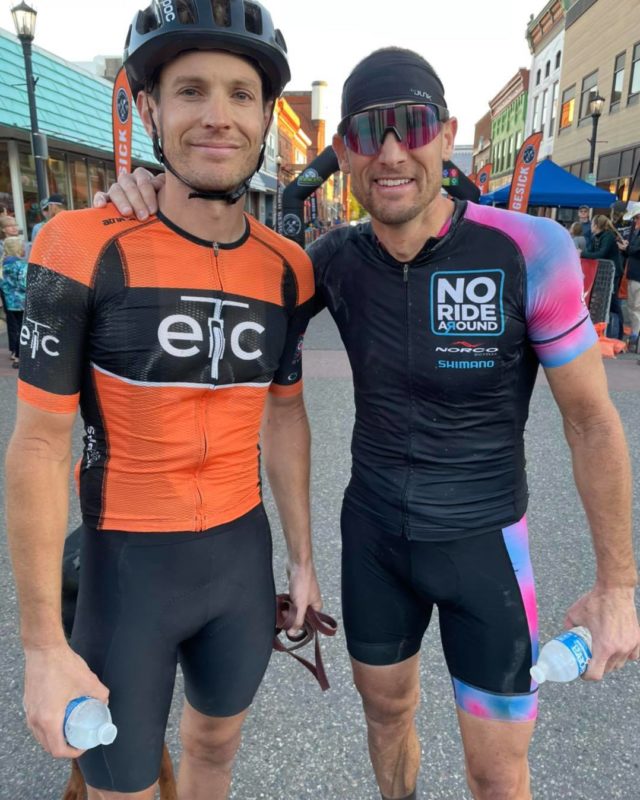 Just a couple minutes back on Holle, Anthony Toops from Ohio, took second place in singlespeed and sixth overall, finishing in 11:41:13. "Marji Gesick is always the biggest test of the year. This year, my goal was to go sub 12hr and get the coveted buckle on a single speed. I was able to get a buckle on gears in 2018 but it was a true test for me at the time… so doing it on a single speed had me wondering if it would even happen. The race started with the traditional 1/2 mile run and from the beginning I was on my own pace. My goal was the buckle and if this turned into a "race" then so be it. I could see a few ss racers up ahead but I stuck to my plan and didn't chase. I was in a good group with my teammate Jeff Rupnow, who has tons of experience at this race, and I knew he could carry me to a buckle… if I could hang! At mile 13.5 the group was flying and unfortunately missed the left turn back to Forestville. We were heading back up to the Top of the World! Eventually we noticed the mistake but it cost us roughly 12min, which isn't something you can easily claw back at this race. This caused some high anxiety until I could get my time splits back on track. Going into Jackson Park I was still up 20min on my previous sub 12 race! Now the stress was off some but I knew the two loops out of Jackson Park are no joke. This is where the race really starts. At this point I'm still sticking to my plan and haven't seen another ss'r in a while. About 15min later I caught up with Justin Holle and we rode together pretty much the rest of the race, pushing each other to make sure that buckle was ours! Half way into loop 2 out of Jackson, Justin started to get a gap on me. I made a mistake with my nutrition on the first loop and ran out of calories and water for almost an hour (rookie!) so I started to fade. I made sure to get some calories in and started to feel normal again with about 7mi to go. I would guess Justin was only a couple minutes ahead but I was solely focused on that buckle! The last 15mi of this race is the true test and every second counts. It's a weird experience because this is a race where you are in a battle with the trail and yourself; racing someone else is a bonus. No matter how well you're doing, you're always wondering if you'll make it.I put my head down and went as hard as I could for that last hour or so. I WASN'T coming up short! When I could see the last climb to Jasper Knob on my screen, I knew I had it. BUT where the heck were all the tokens! Of course they were on the way up to Jasper Knob (blame Todd & Danny) so everyone had that stress all day. In the end, I finished 2nd by just a couple minutes and the buckle was mine!Marji is one of those races where you always say you don't need to do it again… but you always want to. Now that I have a geared and ss buckle, next year will be a new challenge! Thanks again to my wife Jen for her motivation, my team Evolution Training Cycles/Paradise Garage Racing, and especially Heidi for all her help! See you in 2022?! Bike Setup:Frame – Pivot LES size large. Fork – Fox Step Cast 32 100mmGearing – oval 32x19Tires – Continental cross king protection 2.3 front and rear."
Finishing in third place, Eli Orth of Ohio, crossing the line in 12:20:44. "Marji was my fourth NUE epic distance SS race. Going into the race my main goal was to have a clean race and finish with a decent overall time. I ended up finishing 3rd.The race started great getting into one of the lead groups. It took a little hit though when our group made a wrong turn at mile 15. We were repeating a section we had went through around mile 5. Luckily Jeff Rupnow and Anthony Toops realized it once we had climbed all way to Forestville Rd. We turned back and by the time we were back on track we had lost about 14 minutes… and we were battling through other riders that we were previously well in front of. Surprisingly time was made up and by the time hit Jackson Park I was still on track to get under 12 hours. On the first loop through Jackson I was still on pace. On the last trails through the last 15ish miles I was pushing the pace and had a small crash that set me back just a little and seemed to slow my momentum a little. I made it to the finish only to realize I dropped an orange token on my way in. Soooo I had to go back and get the orange token. My finish time was 12hrs 3 min 57 sec. A little frustrated getting so close to the under 12 but falling little short. Overall happy with the race though and finishing Marji without mechanical and any physical issues is always a win. Thank to my sponsors Dean Titanium Bikes, CarboRocket, Kenda, AbsoluteBLACK, ESI Grips.Also thankful for all my family that supported me to do this race from my wife staying and watching the kids to my step-dad that ran support for me!My gearing for the race was 34×20. This was my last NUE points race for the season. My next planned race is the Cruce Del Istmo in Panama to represent the NUE."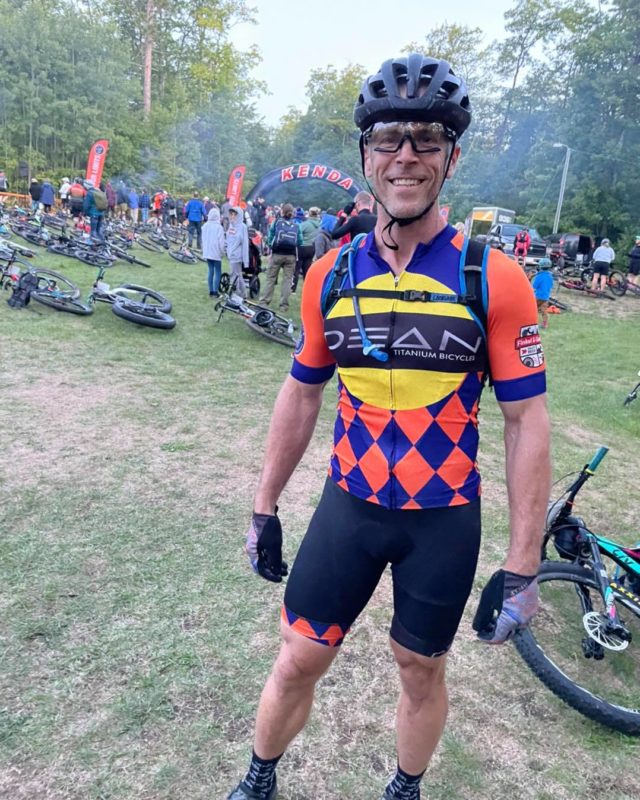 Fourth went to, Nathan Lillie of WI, in 12:45:47. Brent Pontius of MI, took fifth place in 13:37:48.
Women's Singlespeed-First woman to complete Marji on a Singlespeed
Kristen Wade of Illinois is the first woman to complete Marji on a singlespeed. She finished in 23 hours. " I hardly feel like I should be writing a race report considering the top female racer crossed the finish line nearly 11 hours before me but this was no ordinary race and I was in no ordinary category. The 2021 NUE Marji Gesick was my first Marji and I competed on a single speed. I was the sole female in the single speed category and much to my surprise I was the first female to ever FINISH the Marji with one gear. I rode a titanium VooDoo Dambala 29er with a 30:22 gearing and my nutrition consisted of a lot of Snicker bars, PayDays, grilled cheese and beef sticks. The Marji Gesick is more than a Hard Day, for some, it is a hard night too. I have no sponsors to thank because I am not a sponsored athlete. However, I would like to thank my husband, Al, for his continued support riding with me and encouraging me when I struggled. Next year I would like to return to race another Marji, with one gear, but faster."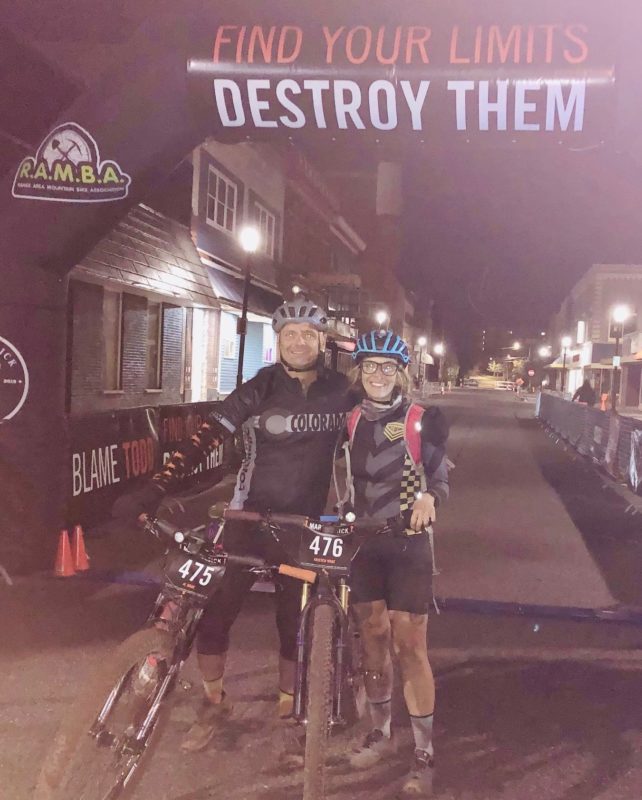 Schultz of Ohio takes the Masters win
Taking the Masters win, Brad Scholtz of Ohio, finished in 14:24:12. " Having participated in other 906 events I knew it would be special and epic! I had not raced Marji before, but I knew lots who had attempted, and a few who had completed the race- and they made it REALLY clear that this would be the hardest thing you've ever done! "Words can't do it justice"! I started the race with two of my RBikes teammates as we knew that we should match up fairly well and to have some company at least for a while. Not having any idea what I was in for, I would have been more conservative at the beginning, but my teammates were pushing a pretty spicy pace- I hung on and tried to settle in and stay on top of nutrition/hydration. What a challenge it is pay attention to navigation, hydration, nutrition, physical effort and tackle the technical sections was crazy fun and challenging! When I reached the bag drop(mi 65ish) I was feeling pretty good, but I also had a decent idea that the last 40 mi were the hardest! And needless to say I was not disappointed! The scenic views, stupid hard climbs and technical descents were my favorite- make no mistake, the constant punchy climbs really accumulate to break you down. My secret is really to just "stay present" and enjoy/tackle the section that you're currently doing. Don't even think about what's yet to come. The second most critical thing for me is to stay in a "positive" place- giving and receiving positive energy from/to the other riders. Positive engagement with everyone I can in contact with. Thank you to my teammates(RBikes) for the pacing and to the amazing volunteers all over the course!!That was amazing! I'm proud of my effort, but now I'm completely hooked, and already thinking about next year and how I can go faster! I Was extremely pleased to take 1st place in the Men's Master division."
About fifteen minutes back, John Munger from MN, takes second place in 14:38:20. Vin Dog Mack of MI, takes third place with a time of 15:10:11. Fourth goes to, Scott Cole of WI, in 15:45:44 and fifth place to, Derrick Seys of IL, crossing the line in 16:21:30.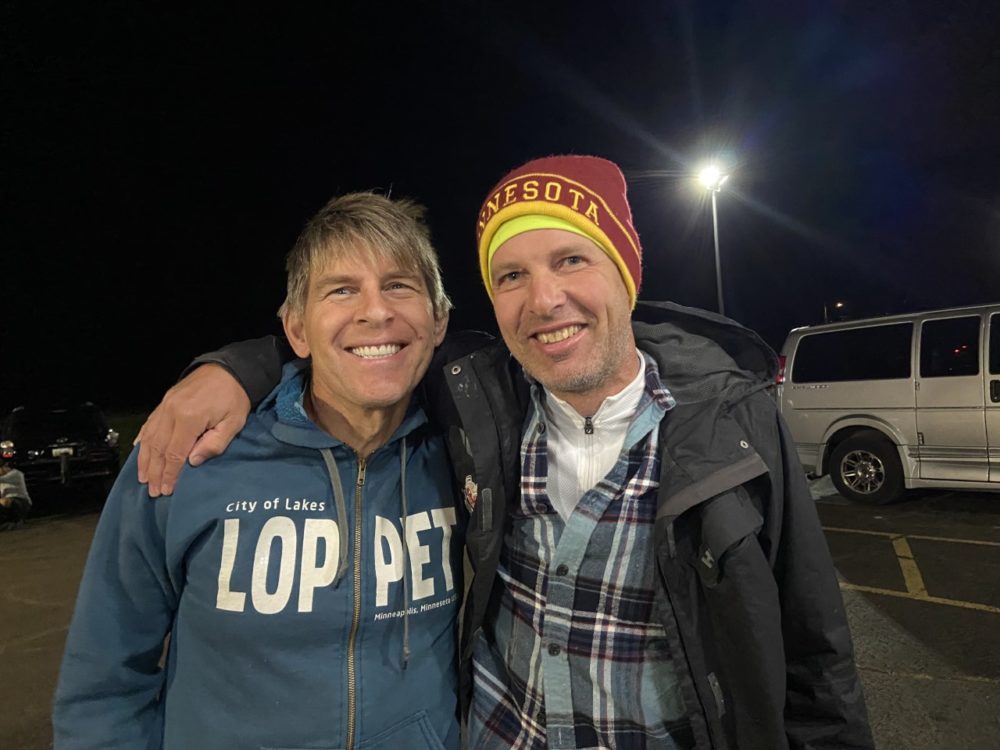 For full results CLICK HERE
Pictures from the race can be found here: Rob Meendering and Ryan Stephens
Mark your calendars. Registration for the 2022 Marji Gesick is October 15th.