The 23rd annual Shenandoah 100 is the oldest race in the NUE Epic Race Series held over Labor Day weekend in Stokesville, VA. Shenandoah now includes a 100k option of racing on Saturday and the classic 100 mile race on Sunday.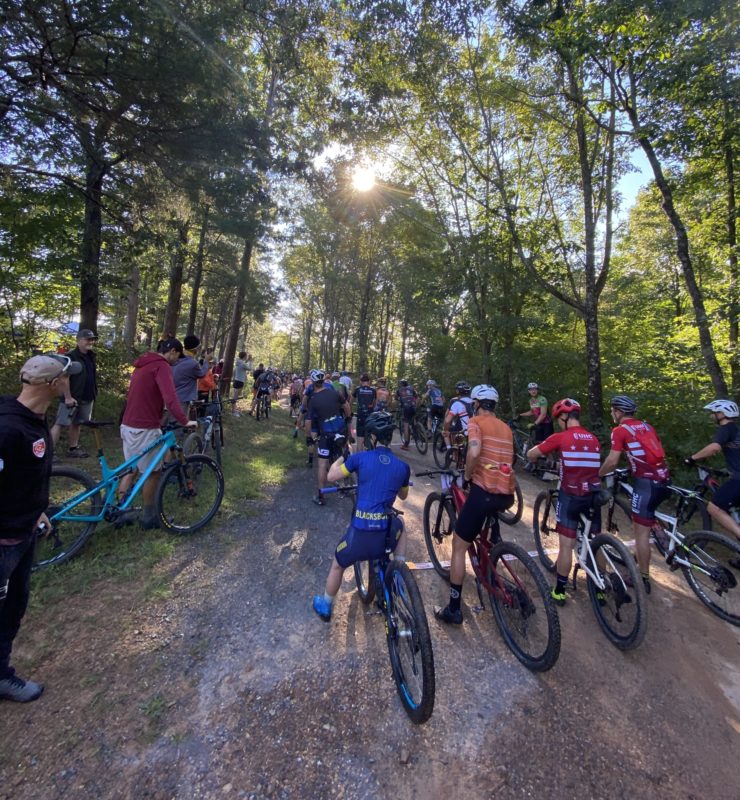 Held within The George Washington National Forest of Virginia, Shenandoah marks the start of the fall season of the NUE Series with just a few races remaining that will determine this year's champions. Shenandoah is a highly anticipated showdown showcasing top level talent in a festive atmosphere with most racers choosing to camp out at the Stokesville Lodge and campground which is included in registration.
Womens Open- Sheldon wins 100k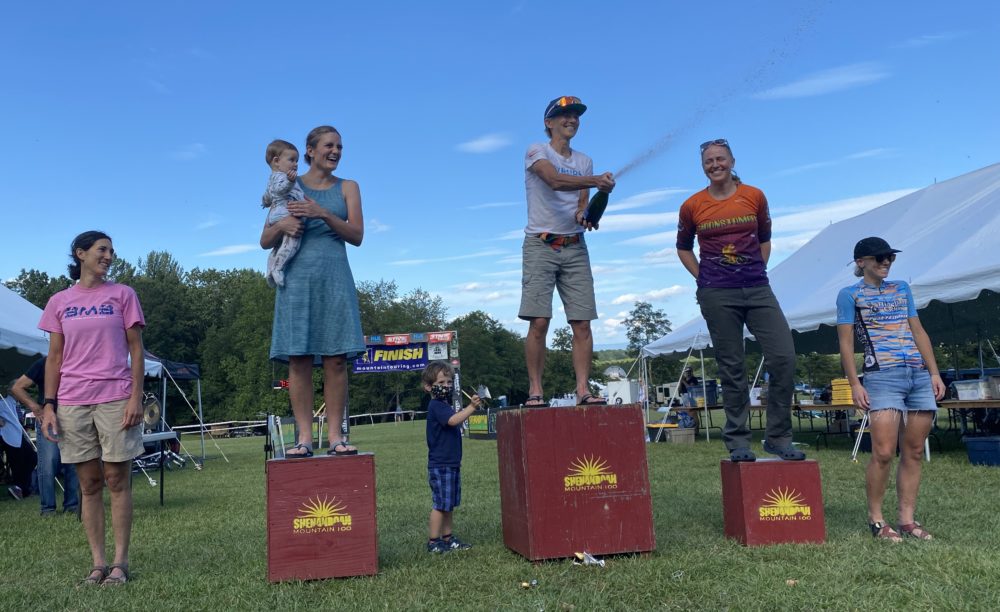 No one could match the pace of Libbey Sheldon (CSHairs Devo) in the women's 100k race on Saturday and she took the win with a time of 5:29.
In her first mountain bike race after having a baby, previous NUE epic series winner, Carla Williams (CarboRocket) of Roanoke took second place in 5:38:25.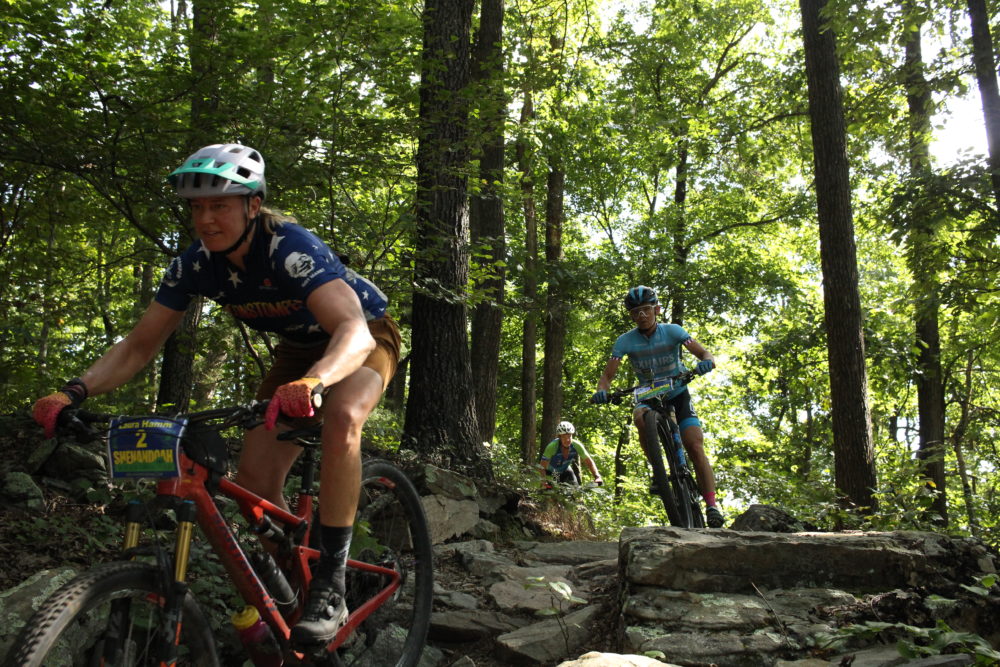 Just a couple minutes back from Williams, Laura Hamm (Moonstomper) took third place in 5:40:22. Hamm also went on to complete the 100 mile race on Sunday with a third place finish.
Making the trip from New York, Bryna Blanchard (BMB Racing) finished fourth 5:47:37. Taking the last podium spot went to Lauren Zimmer (Bingham Cyclery) in 5:57:15.
Mens Open- Petrylak second 2021 NUE marathon win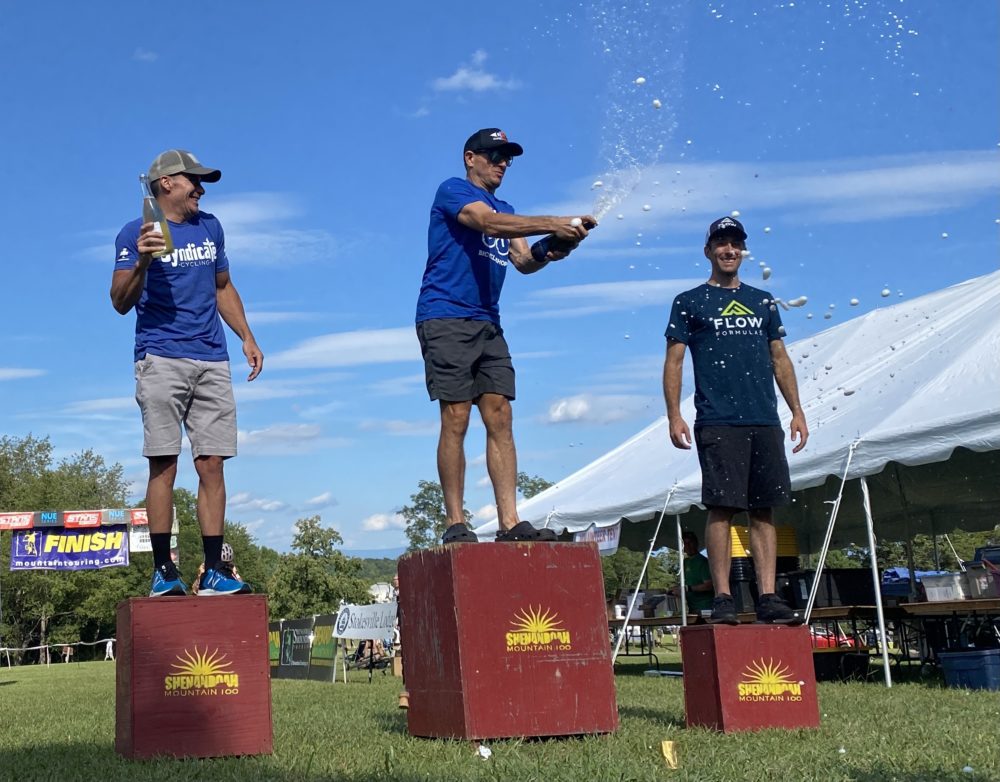 After a major setback with course markings, John Petrylak (CarboRocket) fights hard to take the Shenandoah 100k win with a time of 5:25. Petrylak had a previous NUE 100k win at Wilderness.
"After a typical start to the National Ultra Endurance Mountain Bike Race Series Shenandoah Mountain 100K we came to an intersection that I know very well. The course arrows should have pointed LEFT ; however they were pointing RIGHT. We got off course and after an extra 6 mile loop and 37 minutes waisted we climbed back to the original intersection in question and by this time someone came and realized that the arrows were wrong and fixed them.
Later in the day it was suspected that a person or persons maliciously changed the arrows.
Now at this point I believe we were absolutely dead last or very close to it. Without much thought I just pressed on full gas and set out to pass every rider I could. After 5 and a half hours I managed to catch every rider except masters athlete George Ganoung and take the open men's win.Also a huge amount of respect for Anthony, Will and Stew for rolling in literally a few minutes behind me as they had just as much additional pain and suffering to deal with and still rose to the occasion. Thanks to: CarboRocket, Molly's Bikes, ESI Grips, Kenda Tires and Athlos Sports"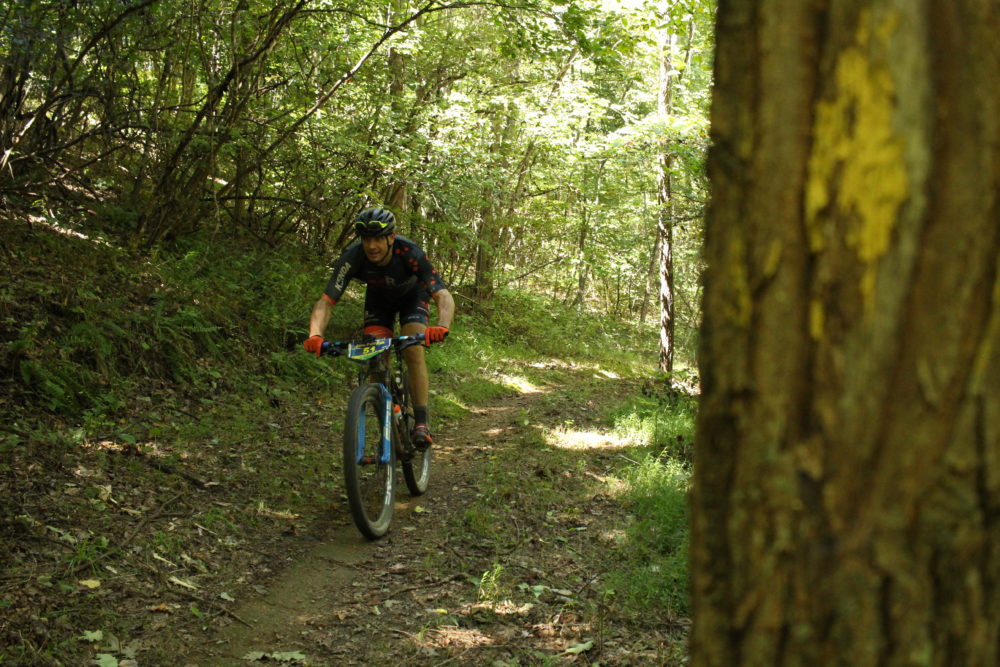 Just three minutes back, Anthony Grinnell (Syndicate Cycling) took second with a time of 5:28:32.
"The racing didn't really start until we began climbing on the initial road sections, but even then, it was a manageable pace. Shortly into gravel, the top 8 or so guys formed a pretty large gap to the rest of the field. Heading up the first single track climb, we had a lead group of 4 and pulled a gap on the rest of the breakaway. But as we got to the top of the climb, we encountered a problem. GPS said go left, but the arrows pointed right and a tape banner blocked the trail to the left. We all figured there was an issue with the GPS or a last minute course change since there was both tape and arrows telling us to go right. Big mistake. About 5 miles down that trail, we all realized there were no more arrows, too many downed trees, and we should have gone left. At that point, it was easier to keep going and complete the 9 mile extra loop and re-peat that tough single track climb to make the correct left turn at the top. 37 minutes later, we were back on course and, as Will Pfeiffer so adequately stated "pedaling pissed off". The even bigger downside is, while we were adding our extra miles, someone corrected the course marking issue, which ended up putting the entire 100k class in front of us. We literally had to pass hundreds of other riders as we worked our way up. I've been a huge fan of Flow Formulas products, but wow did it make a difference in being able to maintain energy needed to make up all that lost time. Big props to Pirelli tires too…they were bullet proof and with all of the sharp rocks on the course, that was a must. I was shocked, and REALLY happy to see that John, Will, and I were all able to put our heads down and battle our way back up to sweep the podium. We think a hunter likely changed the markings, but in the end, it didn't keep John Petrylak from winning his first SMT 100K race, didn't keep me from getting 2nd, and kept Will Pfeiffer's title hopes alive for the series. It was a great day for the Syndicate/Flow Formulas team with Jim Litzinger getting 1st in the 100K Single Speed Class and Joe Frass getting 5th in the 100 mile Single Speed Class. Huge thank you to Shorkey Auto Group and Pro Bike & Run for getting us to these races and keeping our equipment working."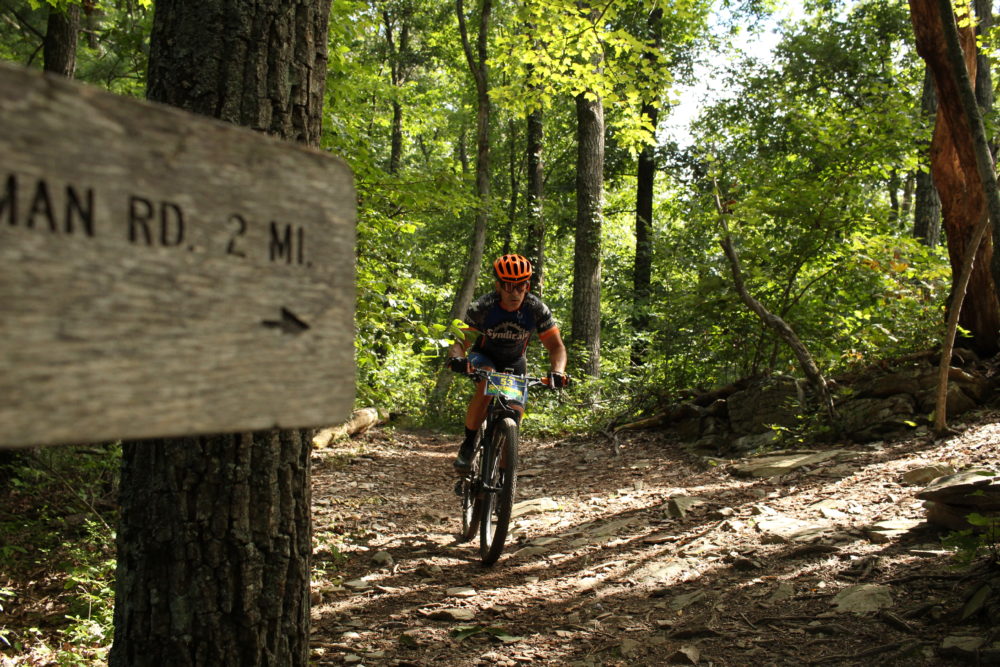 Will Pfeiffer (Flow Formulas) took third crossing the line in 5:31:37.
"The race started like any other, with a good push up the first climb. Five of us got away and kept a good pace on Narrowback. When we came to a T-intersection near the top, an unexpected right turn was marked. We figured there was some issue with the normal trail and just followed the arrows and tape. This proved unfortunate, because it turned out there were some people messing with signage on the course. As we realized what had happened, I'll be honest, I was not in a good place mentally. I have been chasing the season standings this year, and I was watching all that effort go out the window in one fell swoop. John Petrylak, Anthony Grinnel, and Stewart Gross were instrumental in keeping my head in the game and I am very thankful to have been with those guys. So, one bonus loop later, the lost boys joined back up DFL and all sorts of motivated.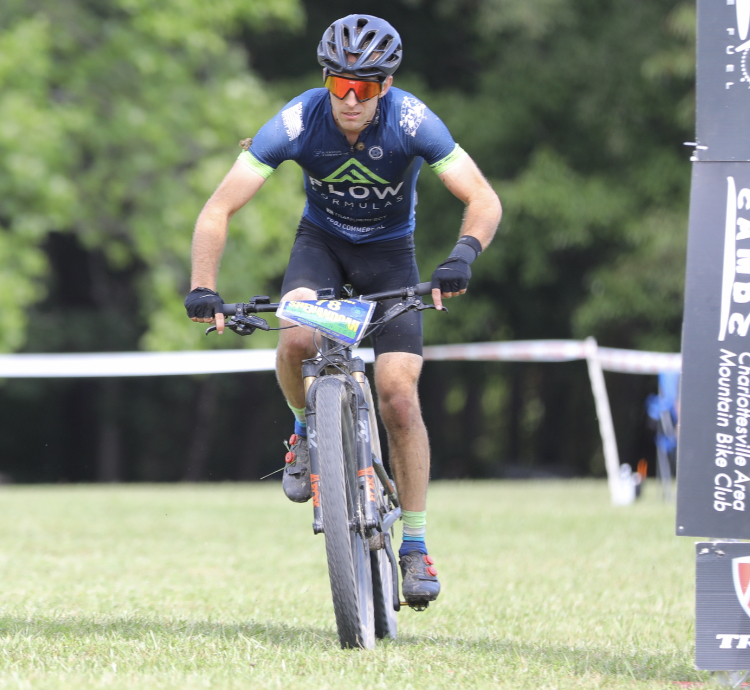 The rest of the race turned into a 50 mile TT trying to fight through the field. My mom was a massive help, supporting me at each aid station. Late in the race she told me I was 10th heading into the final climb of Hankey. I was already deep in the effort and absolutely buried myself trying to catch riders. Pulling a third in class was a mixture of some effort and a lot of luck. But I will say this, I've had a handful of races over the years that presented some physically and mentally difficult obstacles. It sounds cliche, but never once have I regretted refusing to give in. The mindset, challenge, and camaraderie this weekend meant so much more to me than the result. Huge thanks to Flow Formulas, The Black Bibs, Maxxis, Industry Nine, Kask, Koo, Handup, Ridge Supply, Chris of Shenandoah Mountain Touring, and my awesome teammates who let me be a part of their super inspiring rides on Sunday. #flowformulasfamily"
Ben Ferguson finished fourth in 5:34:09 and Jarod Lawver fifth in 5:46:37.
Singlespeed– Litzinger leads NUE marathon SS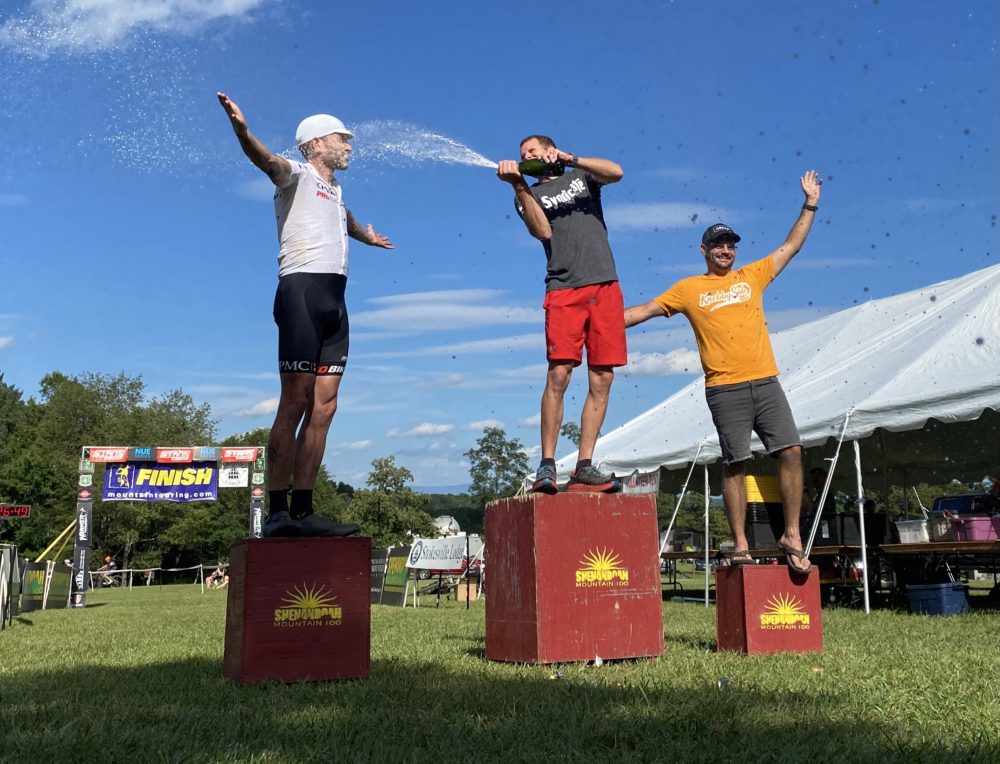 With a second place finish at Mohican and first place at Wilderness, James Litzinger (Syndicate Cycling) took the Shenandoah win with a time of 5:32:09. Litzinger now leads the NUE SS Marathon series.
"The backcountry racing at Shenandoah Mountain always is always a blast and this year was no different! The start and preparation for the race was very smooth and thought out. We were put in to starting corrals of 5 and I was lined up with some hammer in the corral 50-55, teammate Anthony Grinnell (2nd) and John Petrylak (1st) crushed the course! Coming out of the campground it was very chill until it hit the road and everyone started to jockey for position. Dahn Pahrs and I were the only 2 single speeders spinning and tucking our way to the front with the geared guys. We were comfortable with the brisk pace of the opening gravel climb and taking some pulls. The biggest deciding factor in the race came at the top of the first single track climb when 2 arrows pointed right and the GPS said to go left. Decisions, decisions…we went right with the arrows which cost us about 4 miles and 13 minutes. During the single track I noticed the screw on the top cap of my fork was coming loose so I used my thumb to push down on it and tighten it. After getting back on course we were faced with the challenge of making our way through a lot of riders on the tight single track. After getting back out on the road, Dahn and I worked together on our way to the next climb which was a lot of hike a biking. At the bottom of the climb I noticed my fork was not responding as it should, it was stiff and in the down position. I decided to put it in the lock position to prevent it from going down but made the descents very challenging. After the race I noticed that I changed the rebound to SLOW when I was tightening the screw. After the long, steep, rocky, and rooty climb.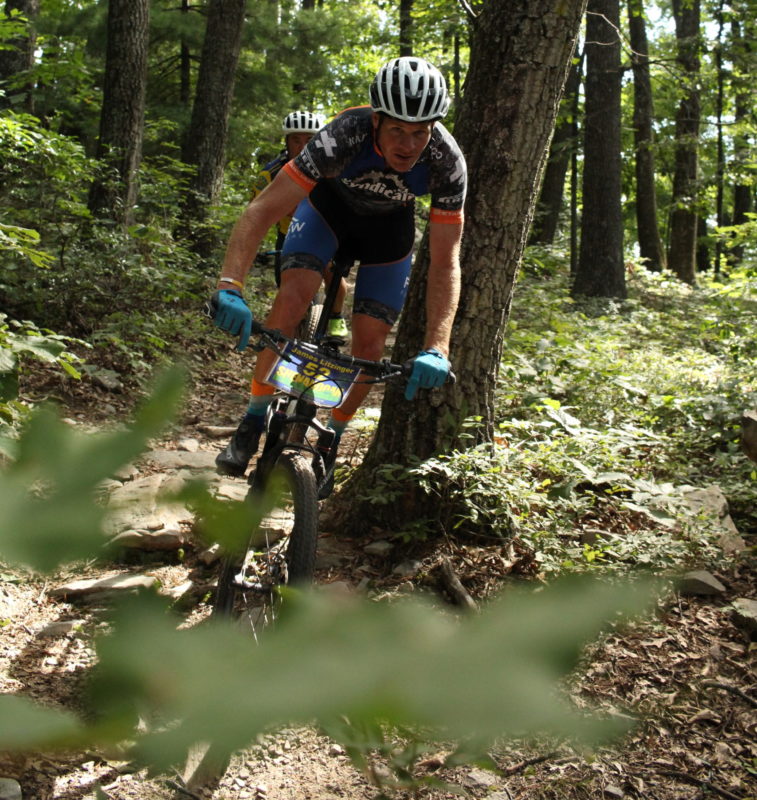 After the hike a bike we were rewarded with a super fun descent. To my surprise, I was able to catch a few more riders before poking out onto the dirt road again. After completing the descent, I looked back to join up with Dahn again and he came back out on the road a few seconds after me. I decided to sit up, get some nutrition, and wait for my buddy since these races are a lot more fun with some company. After fueling up and spinning down the road a little I thought I heard a car coming so I moved off to the side of the road and looked back to see that it was not a car but John Petrylak. As a single speeder we are often faced with the decision to burn some matches get dragged along by the strong geared guys or rider your own race and conserve your energy. Well, I decided to burn some matches for a big increase in speed on the backcountry Virginia road. I was able to make up some great time spinning and tucking behind John's wheel. When we pulled into aid 2, I had to fill my bottles, grab grub, and by that time John was already rolling and there was no catching him. I continued rolling the course at my own pace until the ripping descent leading into aid 3 when teammate Anthony Grinnell caught me. It was a blast shredding the descent and getting a big pull on the road with him until I had to let him go before burning up all my matches. I was glad to be looking at the Hankey climb for the last time before working my way down the mountain to the finish. Special shout out to the Syndicate Cycling support of Pro Bike+Run Shops, Shorkey Auto Group, Specialized bikes, Flow Formulas, Wolftooth Components, Extreme Nano Lubes, Esi Grips, Pirelli tires, KOO, Kask, Dr. Bryan Hooks Orthopedic, and last but not least my amazing family."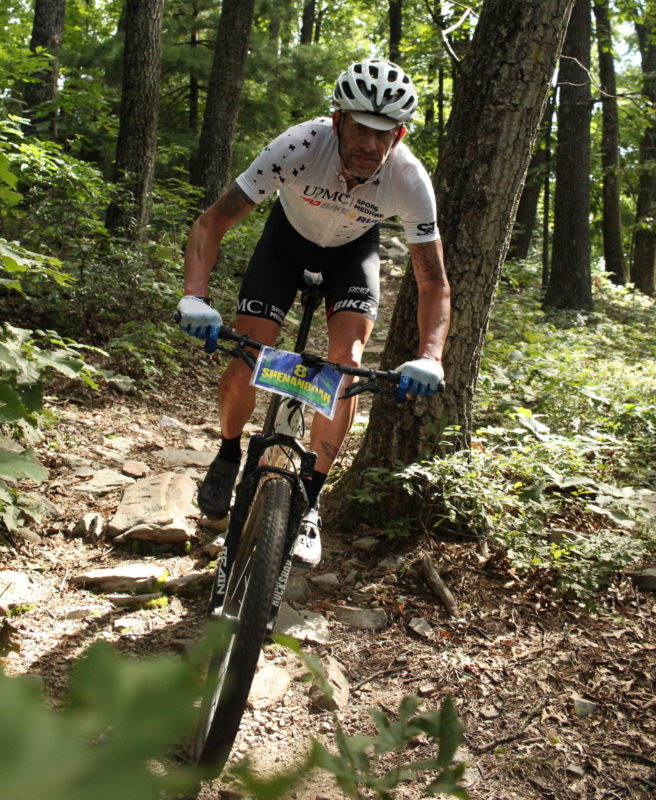 Previously winning Mohican earlier this season, Don Powers, of Pennsylvania took second in 5:41:27. Don also raced the Shenandoah 100 mile race on Sunday.
Stopping the Pennsylvania podium sweep, Kenny Kocarek (Kobby Side Down) of Ohio finished in 6:12:53. Larry Miller (Team Bikenetic) took fourth in 6:47:32 and Kasey Clark (Velopigs) finished fifth in 7:10:30.
Masters– Ganoung takes top step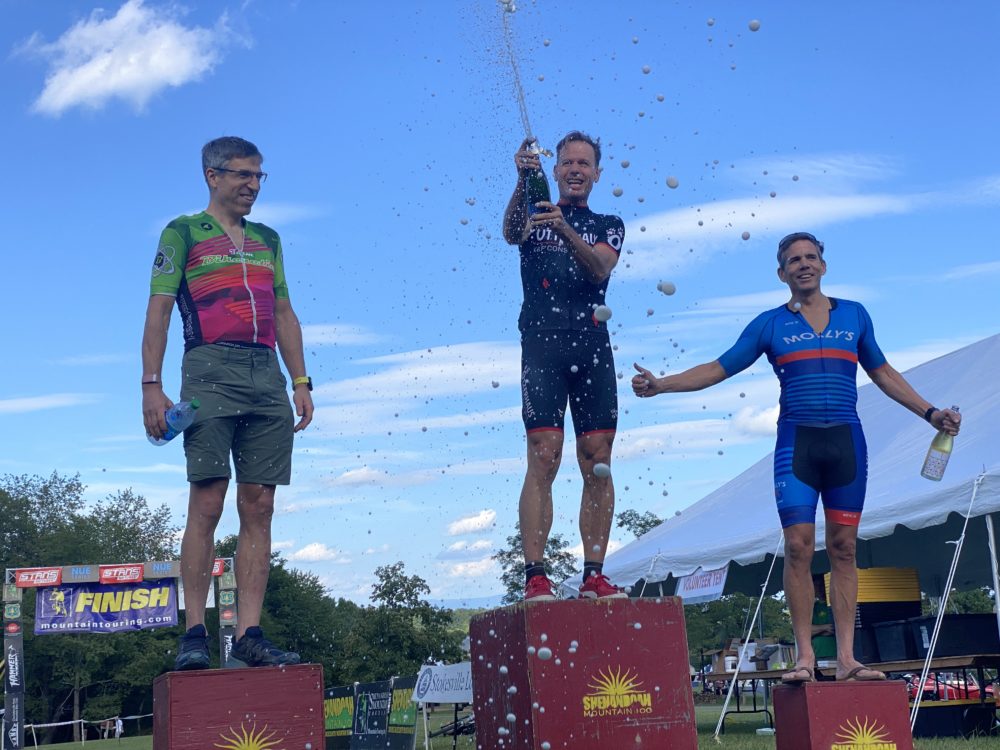 Winning the Masters category was George Ganoung (Otterhaus) with a finish time of 5:23:37.
" I have a long competitive road and gravel history but this was my first ever marathon mountain bike event. I won the Master 50+ and due to some strange circumstances, I came out the overall winner as well…with a big footnote though.About 9 miles into the race I was 8th in a group of 4 ~30 seconds behind the leaders and we had a pretty big gap on the rest of the field. We came across a major arrow marked intersection, but having pre ridden the course, and having the map on my GPS, they were not pointing in the expected direction. My compatriots followed the arrows so I went with them, about .5 mile in I just felt it was wrong, and told them I am turning around. They agreed and we flipped it, went the other way at the intersection and ran into course tape across the trail, it was broken, but seemed to indicate it's a reroute. We flipped again and went back further, but with the trail getting significantly rougher and no other markers I told the other guys I think someone mucked it up and I am committing to the GPS track. By then the bulk of the race had caught up and the two way traffic on single track was chaotic and was forced to walk. I told the riders I ran into as I back tracked to make their own call but I am following GPS. It seemed like the majority turned around, and someone else had turned the arrows back by the time I got to the intersection. Fortunately it was the right call and the race markers had clearly been sabotaged. I ended up being about 30th out of the 1st single track after the confusion. Convinced the leaders went the right way and were long gone, and half the race was ahead, I just rode hard out of anger on the next fire road section catching as many folks as I could. It turned out the leaders had actually gone further off course before turning around and after the next big single track climb and descent, I was told I was in the overall lead…and somehow managed to hold on for ~40 miles to the finish. Massively impressive ride by 2nd place John Petrylak who went further off course and came back to win the open class and nearly caught me at the end. Big thanks to @shenandoahmountaintouring and all the volunteers for putting on such a cool event and hats off to the riders who do this stuff all the time, huge respect for the skill/fitness required.
In regards to NUE future, Shenandoah again and maybe Wilderness 101 next year are probably it for me because they are close. This is just a branch out as a new challenge."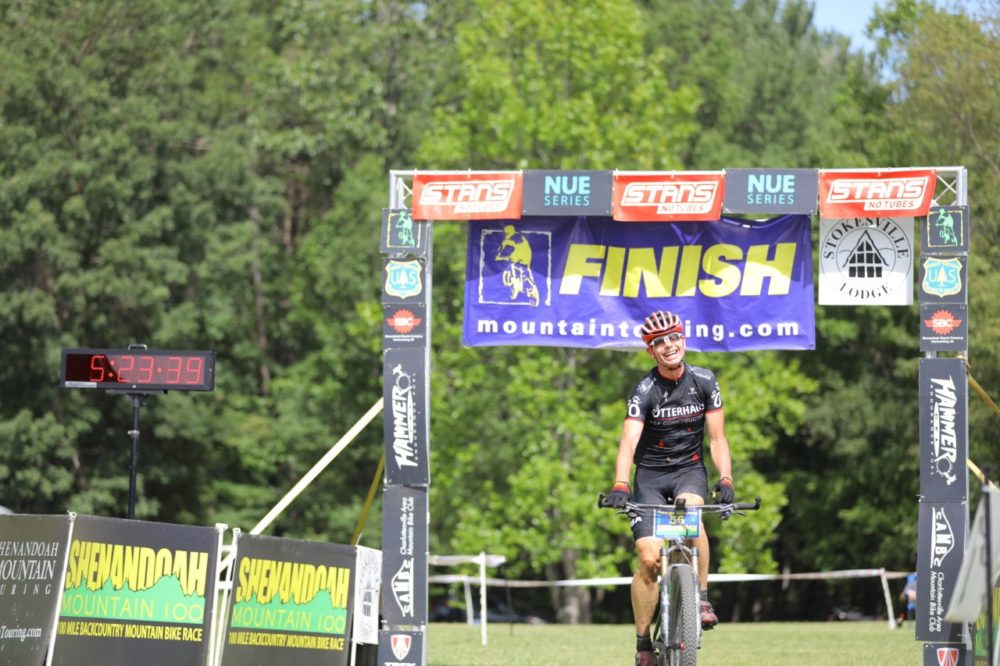 About 10 minters back, Peter Schultz (Team Bikenetic) finished second with a time of 5:32:35. "As we charged up the first climb, I had my coach's voice in my head to stay within myself. I was doing about 4 W/kg on the double-track climb and thought that's about the power that would need to be sustained for 5 hours by the overall winner. So, I let about 30 people crank on past, pretty sure that they'd come back.The hitch in this plan came at the top of the first climb where the arrows were pointed in the wrong direction. When we finally got ourselves turned around, I got shuffled backward another 20 spots or so. So, I spent the entire descent in a conga line, as well as most of Lynn Trail. I tried to stay calm and stick to the plan.But things went further sideways on the Wolf Trail descent when I had a 5-minute mechanical due to a messed up jockey wheel. "The Plan" went even further in the crapper on the road to Hankey's where I'd stashed my two bottles on little stands: someone stole one of my bottles. Whoever did that and whoever swapped the arrows on Narrowback is a complete butthead."The Plan" started working in second half of the race where I passed dozens of people. I was able to keep my power relatively high (for me) at about 3.6W/kg. My times on the first and second Hankey's climbs were within a second of each other. I was able to hold it all together on the descents and get back in one piece.I'd like to give a big shout-out to the OGs in this race, with the fastest overall times going to folks over 50. I had a front row seat watching Libby Sheldon (and Laura Hamm) from the rear as she nearly cleaned Lynn Trail. So impressive!I'd like to thank my sponsors — my wife, myself, and Bikenetic – and my coach, Jeremy Powers, for his attention to detail."
Taking the third step, Derek Dagostino (Molly's Bicycles) finished in 5:50:13. "While living and mountain biking in Richmond, Virginia, I had always heard about the Shenadoah Mountain 100 but never seriously considered participating in this race because of its difficulty. I participated in local XC races through the year in 2020 while working to improve my fitness. Going into 2021, I was looking for a challenge and made the SM 100 KM my "A" race for the year. New to endurance mountain bike racing I realized that I had a lot to learn before the race. I joined local marathon XC races for training and also to work my hydration and fueling plan. Admittedly I made some big mistakes along the way.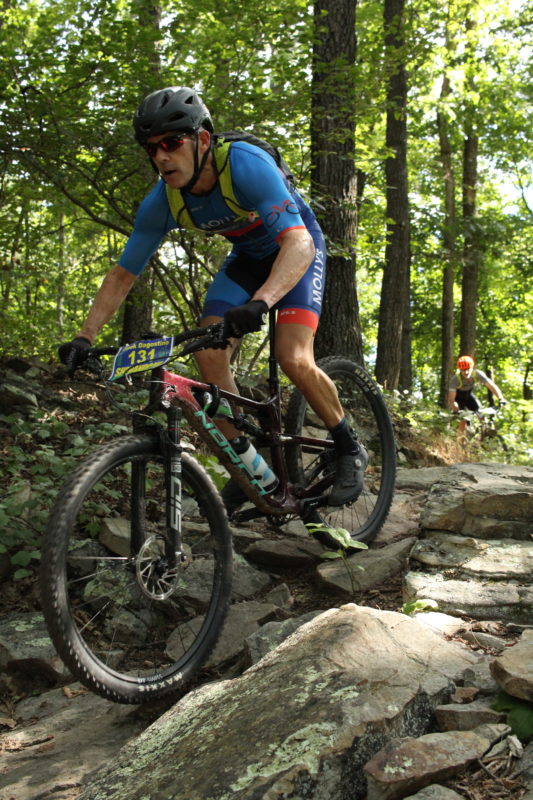 The SM was as exciting and challenging as I thought it would be! Race participants were lined up by bid numbers and in rows of five people. I started mid-pack and used the first 7 miles of fire road to move up while minding my pace. From the fire road you jump onto single track which starts the first significant climb of the day. A few miles into the climb, the riders leading the group of 15 or so stopped and mentioned that they thought we were off course. We turned around and back tracked to the proper course and I later found out that a prankster changed the course markings. The little detour added 3 miles to my race and I also found myself in heavy traffic until reaching the fire road at the end of Tilman single track. At this point I really had no idea where I was in the field because of the mix-up. The climb up the Lynn trail was as memorable as it was steep! Once back on the fire road, I was able to pace with some other riders including Eli Drooger who ended up taking 1st in U19 category. The climb up Hanky was tough but I was also able to pass other riders, make up some ground, and stay on track until the finish line! Special thanks to the SM race promoter and volunteers who pulled off the event this year. The event was well organized and not surprisingly will continue into its 24th year in 2022. Also I want to acknowledge my sponsor Molly's Bicycle Shop and Blind Dog Brewery in Chester, Virginia. The team at the shop has played a pivotable role in supporting me with fantastic equipment (including my Norco Revolver FS1), topnotch service and an occasional beer!"
Fourth place went to Justin De Leo (Blue Ridge Cyclery) with a time of 5:55:46. Fifth place to Roberts Moore (Moore Velocity) crossing the line in 5:56:30.
Written by: @jentoops
Photos by: @Shenandoahmountaintouring
For full results CLICK HERE
Next up on the NUE Marathon Series is the Marji Gesick in Ishpeming, MI on September 18, 2021. See you all there!