NUE Series
Written by: @JenToops
September 22, 2018
The Marji Gesick is a point-to-point endurance race located on the upper peninsula of Michigan. It starts in Marquette and ends in downtown Ishpeming. The one-hundred mile and fifty mile mountain bike races are part of the National Ultra Endurance Series. There is also a one-hundred mile and fifty mile run option. It's quickly gaining popularity as one of the toughest endurance races in the United States. In 2018 it sold out in less than twenty-four hours with eight-hundred mountain bikers and seventy runners registered. This GPS required race is self supported, and racers are required to collect poker chips at random checkpoints along the course.
The course was designed to push riders to their absolute limits. The one-hundred milers having around twelve-thousand vertical feet of climbing, and the fifty milers around seven-thousand.  In both courses, racers have to navigate through sand, roots, rocks, off camber climbs, drops, jump lines and technical descents, all while saving enough energy to get through the grueling last fifteen miles.
Racers in the one-hundred mile course finishing under twelve hours for mountain biking, and under thirty hours for runners, will earn the coveted belt buckle handmade by blacksmith Gordon Gearhart. For 2018: three-hundred-thirty-one mountain bikers started the one-hundred mile course, two-hundred-eighteen finished and only nineteen claimed a buckle.  For the one-hundred mile runners: twenty-seven started, twelve finished, and only nine buckles were handed out.
Men's Open
Jeremiah Bishop goes sub ten and takes the WIN!
The first racer go sub ten hours and take the win in the 100 mile was, Jeremiah Bishop,  coming in at an impressive time of 9:57:05.
"Marji
ate my lunch last year, this year I came loaded for Bear.  I had a much smoother race and made all the selections early on, Matt Aker drove the pace. I put in a dig after clearing the most technical climb of the day and got clear. Legs ached but they answered the call. I nailed the last hour and took back my pride.
It was a honor to take down my last NUE 100 Win on Canyon Topeak Factory Racing.
It's been a killer season."
Following second place finishes in 2016 and 2017, Matt Acker of Salsa Cycles, took second place coming in at 10:06:54.
"I've done Marji Gesick since the first year and have good knowledge of the trails so I used that to my advantage to stay on the front and keep the pace quick through the first 40 miles. Our group dwindled shortly after the first aid station and after a well placed attack there were only 4 of us going into the biggest climb of the day. Around mile 50 it was down to just myself, Jeremiah and Tinker. We rode together into mile 65 aid station where i stopped to refuel and the other two got out quickly. Chased them down and the three of us continued to roll until around mile 85 where Jeremiah made a move on a technical climb that Tinker and I got gapped on. We chased into the last aid station at mile 87 where he held about a minute gap. I was the last one out again, and all three of us rolled the last 15 miles solo until i caught Tinker with a mile or so to go at the last climb.  Great race with some fast guys, always a pleasure racing against some legends!"
Finishing less than a minute back was, Tinker Juarez, claming third in a time of 10:07:10.
Women's Open
Williams gets her first win at Marji Gesick!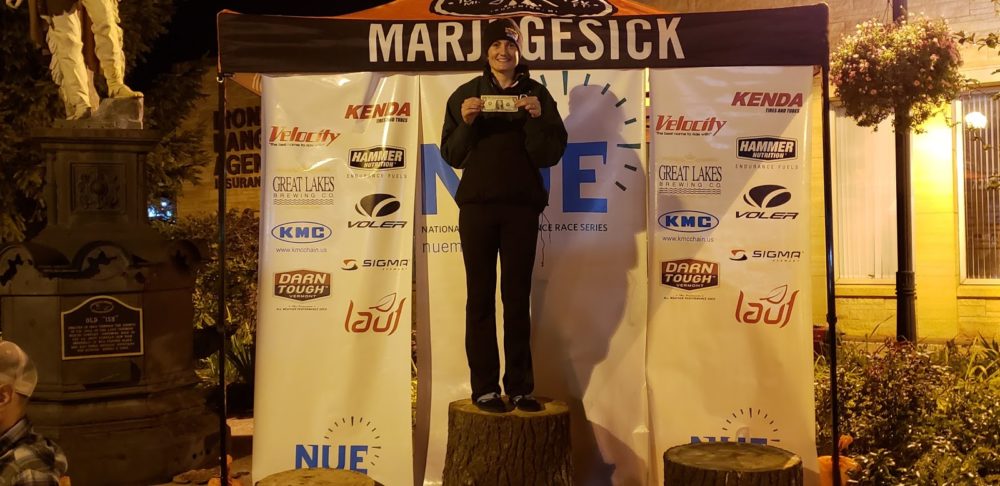 Defending NUE Series Champion, Carla Williams, takes the top step with a record time of 12:25:51.
"It was around mile 50 when I knew that my best effort was not going to be good enough. I asked the guy riding next to me through the sand what our chances were to break 12 hours and he shook his head. "Maybe if you gun it through the next 50 miles, you might have a chance." I knew that it was going to be near impossible to "gun it" through the tight, twisty technical singletrack that lay ahead, and I also knew that the 2nd half of the race was going to be harder and only slower than the 1st half.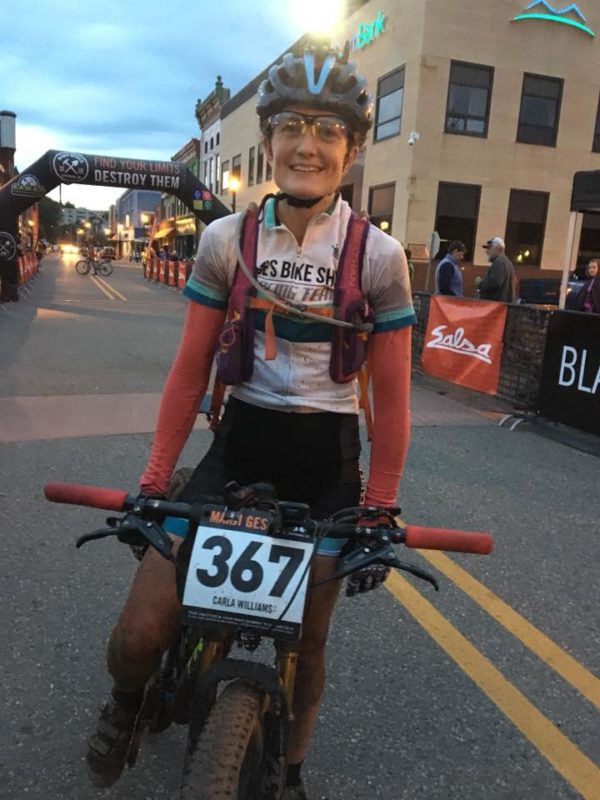 I had prepared as best I possibly could for this race. I had read about every blog post out there. I had talked to as many people as I could who had done this race before for advice. I knew that I had to go out hard at the start and hammer every easy trail because I needed to bank time for all the technical slow trail in between. My mom flew out from New Hampshire to spend the weekend with me and run support. She met me at miles 30, 50, 64 and 87 with food and water so I could minimize time stopping. I had the course loaded onto my wahoo, I had a back up charger for the wahoo, I had lights, I had food, I had tools and tubes for all the possible mechanicals that I knew how to fix. I guess it is fair to say that even the best preparation doesn't really prepare you for this race.
I didn't reach my goal of 12 hours, but I am still really happy with my ride. I felt like I pushed the entire way, my legs felt strong, I never mentally broke down or entered a dark place, even when I got lost. I actually had a lot of fun working my way through the trails and was pretty happy with how I rode a lot of the technical stuff. It was awesome having my mom out there, and I kept looking forward to reaching the next spot out on course where I knew she would be. I think that if you accomplish all of your goals in a season, that means you are setting the bar too low. So I am ok with setting myself up for the challenge, giving it my best shot, but coming up 25 minutes short. It was an incredible backcountry adventure and a great end to my 2018 NUE season.
Taking second place, Chelsea Strate, finished in 15:07:30.
"Some of the recurring advice that I heard from past competitors that stuck with me was how it was very important not to get caught up in the fast start of the race, so I took it easy during the LeMans start, and even forgot where I put my bike. I just stood there for a few moments, wondering where the heck my bike was, when finally, my red grips caught my eye. I had actually forgotten I put red grips on, and thought my bike was all black. Oops! I hopped on, pushed myself a little bit, but I didn't get caught up in where the other women were. There was still 100 miles of racing to go!
All day, I kept thinking to myself, "is killing this uphill or catching that person ahead of me worth burning a match over?" The answer most frequently was a solid "nope." My matches are a precious commodity. I kept a solid pace, and just tried to keep moving. I hiked my bike up a lot of hills, and didn't clear all of the technical sections that I probably could have on a shorter ride, but I was in a good headspace, and really enjoyed the constant challenges. By mile 40 I was probably in 5th or 6th place, but by the end I had secured 2nd. I was just a bike throw (2 1/2 hours) behind Carla, the 1st place finisher, with Heidi on my tail (45 min behind), so it sure was a close race! (But in all seriousness, this is why we need to work on getting more women out!) Thanks to Teravail Tires and my friends for the race support!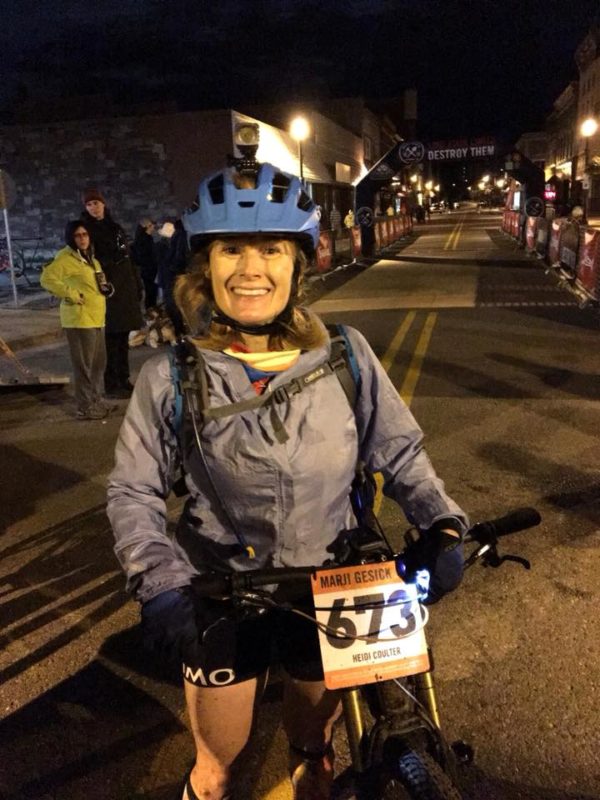 Rounding out the podium and taking third was, Heidi Coulter in 15:53:35.
"Last year I signed up for the Marji Gesick 50, I was in the running for placing 2nd overall in the NUE Marathon Series.  All I had to do was have a good race.  That slowly slipped away when I got lost, went without water for 3 hours, ate apples from a tree on a long lost farm and finally found my way back to the finish. It was the first and only DNF of my life.  It didn't sit well with me, so much so that this year I put on my big girl pants and signed up for five 100 mile races!
The day started with the National Anthem played Jimi Hendrix style by the Grim Reaper, fireworks signaled the start of the race and then we were led out by a princess riding a unicorn.  Seriously how could the day get any better!?  I'll tell you, it actually was incredible until it wasn't and then it was amazing and then it was painful, gut wrenching and then It was the best day ever all over again.  The day went in waves like that and continued into the night.  The last 18 miles I ended up riding and sometimes walking like a zombie with my friend James Knott. I hadn't seen him all day and by some sort of unicorn magic he saved the day with his spare light when mine died and helped keep me on course since my Garmin and phone had both been dead for about half the race. Finishing was a huge accomplishment and getting third was a great way to finish my season.  Will I be back? Yep. I've landed on my head a lot lately so it's hard for me to think clearly! The Marji Gesick 100 is truly what dreams and nightmares are made of."
Master's 50+
McFadden takes the top step
Winning the Master's division was Todd McFadden with a time of 13:04:35. Taking second, Greg Gentle crossed the line at 13:27:47.
"In 2017 the heat kept me well off the buckle pace with a 14+ hour finish.  My friends that know me were confident I could buckle if I could keep a strong pace, follow a solid nutrition plan and keep the demons off.  Honestly this race isn't so much about the terrain, but keeping your PMA and  mindset in-check.   I made some smart choices starting dropping 5 pounds off my ride by going with a Canyon Lux CF 9.0 instead of the Ibis Ripley I rode last year.  I was on pace and things were humming well until I left Ishpeming. I could feel the wheels start to come off at about mile 80.  Todd McFadden caught me just before we got back to Negaunee.  I was happy to see him doing well this year.  By the time I started the last section back to Negaunee I realized my buckle aspirations were gone so I decided to finish the race with my buddy Jason Kunisher.  Once I took the pressure off I could simply enjoy the ride and have fun.  Thanks to my bro Jay Henderson from Hollywood Cycles and my Team Hollywood Cycles (THC!) mates for the support throughout the year.  I look forward to crushing that 12 hour limit in 2019.  As for other NUE plans.  I raced the Tatanka in 2016 and plan a return to the Black Hills for an early season prep for the Marji. "
Just a  minute back from second place, Tom Stritzinger finished third with a time of 13:28:22.
"Marji Gesick is one of my favorite races.  This year the conditions were perfect and I was hoping to have a shot at a belt buckle.  As fate would have it, around mile 48, my seat broke off on a rocky descent.  At first I thought my race was over, however, I was able to fix the seat back on but there was only 1 rail to hold it.  That lasted until mile 55 where the second rail broke off and I was left with no way to secure my seat to the seat post.  I began walking off the course with the seat in my hand, dreading the "quitter" text I would need to send to the race promoters.  A number of racers passed me, saw the seat in my hand, and expressed their encouragement and disappointment to me.  A racer named Justin Michels saw me carrying my seat, stopped and asked me if I wanted his seat so I could finish the race.  He said he really wasn't feeling it.  We took his seat off and fixed it to my post.  It wasn't perfect so we had to use some tape to make it fit better.  Finally, I had a seat, thanked Justin profusely and set off to finish the race.  The seat came loose about 10x over the last 45 miles but I was able to finish and somehow managed a 3rd place finish.  I feel like I still have unfinished business at Marji Gesick and will be back next year to take care of it. I did 8 NUE races this year and Marji Gesick is both the most fun and most difficult of them all.  I want to again thank Justin Michels for lending me his seat to finish the race!"
Singlespeed
Fuhrmann takes fifth overall and WINS Singlespeed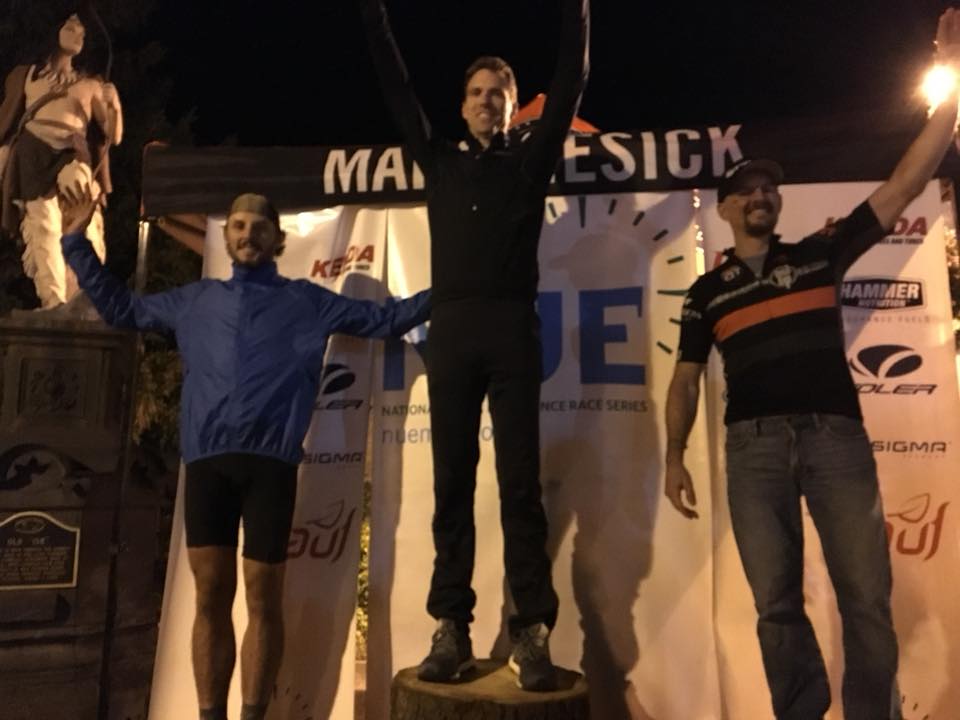 Brian Fuhrmann takes fifth overall and wins the Singlespeed division with a time of 10:49:21.
"After several years of not competing on bicycles I decided to drag my lazy carcass off the couch to try out a race called the Marji Gesick 100.  Since I was unfamiliar with the trails and the area I relied on past race results, reports, and word-of-mouth for how to plan my training and bicycle build.  The pre-race consensus was that the last 35 miles were not for the faint of heart and I would need to treat that as the true halfway point.  As such, I adopted the mantra "smooth & steady" for the race and routinely mouthed the words to myself to keep from going too hard early on.
Following the LeMans start, I was sitting around 10th place overall and stayed there for the first 25 miles before latching onto the wheel of Chris Lowry from LaCrosse, WI.  Chris and I were both riding smooth and we helped each other to keep an eye out for the trail markings. When we got to the trail magic station at mile 40, I realized we were already 30 minutes ahead of schedule for my goal of getting a belt buckle… decent!  Chris and I trucked on together until a few miles before the 65ish mile drop bag location when I stopped for some electrolytes and let him continue on with his gears and derailleur.  At mile 65 I reloaded my food reserves and got a quick bite to eat before learning about what the last 35 miles was going to deliver.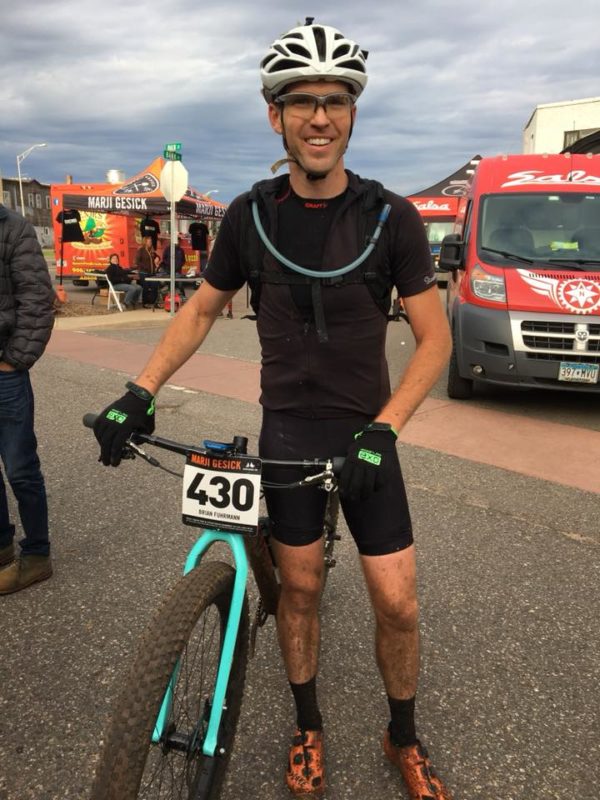 Much to my surprise, these trails were very similar to my local stash of trails in Decorah.  Where other people were struggling, I found that I was able to thrive. The trails were tight and less flowy such that I had to be a scavenger of momentum.  Around mile 80, I once again met up with Chris along with another chap he was riding with at that time.  I think they both realized I was enjoying my time on these trails and let me by.  I pulled through Jackson Park for the last time at mile 85 and did a quick fill-and-go with the bottles.  The last 15 miles contained many climbs that forced me off the bike, but I continued to think about staying smooth and steady, especially since I was buckle-bound unless something catastrophic was to happen.  Somewhere in these trails, I passed a couple more MG100 racers before making my way to the finish line.
My bike setup was a Trek Stache Carbon 29+ singlespeed with rigid fork.  Gearing was 34:20 with a 29×3.0 tire.Thanks to Route 66 Bicycles in Rolla, MO for help with bike setup, Oneota River Cycles in Decorah, IA for 11th hour wheel building, and my wife Melissa for encouragement, race support, and keeping me from stepping in another racer's vomit at Jackson Park."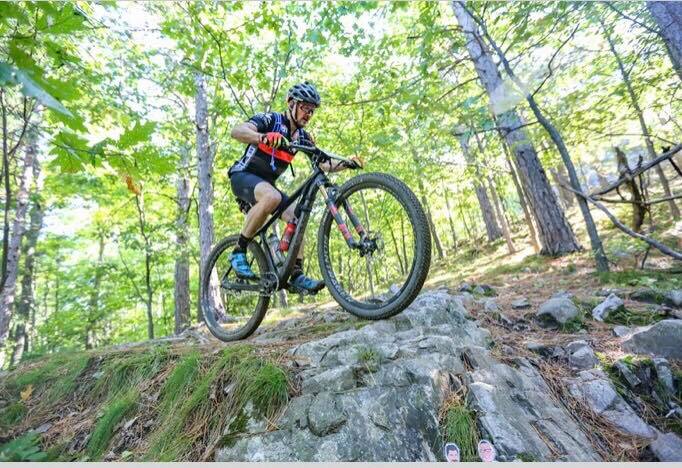 Joe Worboy finished second with a time of 13:07:48.
"The day started with a Unicorn and the National Anthem.  We started with a Lemans start which I paced myself, I was prepared to start the day at a slower pace than my usual NUE starts.  Marji is a long day and the last 30 miles of this race is tough.  The day started out with the perfect temperature and I quickly settled into a nice 10 mph pace, as planned.  The course is fun at this point and it is the perfect day to be on the bike.  The first 40 miles of the race has plenty of challenge but rewards you will some flow sections.  I split the day into small goals, this helped maintain a positive mental attitude versus thinking about the finish line.  Nutrition was spot on, I use infinite which always gets me through long days in the saddle.
Everything was going great, and then boom!  I hit the ground hard.   It was techy descend after the ski slope climb.  This is where I lost focus for a split second and I went straight over the bars in a techy downhill rock garden.  It felt like I just got hit by Connor McGregor.  This is for real, I am not sponsored in any way by Oakley.  The Oakley Jawbreakers saved the day, without that protection I am pretty sure my day would have been over.  They took the majority of the blow versus my face and cheek bones.  However, I did have some cuts around my eye from the frame impact that caused bleeding and my hand took a big hit, later to find out it is only a deep bruise.  I asked a passing rider if the cuts looked ok and if he thinks the bleeding will stop, he said, "Can't see the bone so you should be good, but I am not a doctor."  This was refreshing to hear….  So I kept going,  I must have looked like Rocky after fighting Apollo because there were a lot of comments.   I knew to complete the day I must stay focused and push through.  I was still riding but at a much slower pace trying to actively recover on the bike, this is not easy at the marji and hit the ground a few more times because I was not riding my usual speed.
Finally I made it to the Aide at mile 65 about one hour off my pace goal.  One of the volunteer nurses cleaned me up, thank God for her.  I am very appreciative of this because she confirmed my hand was ok and cleaned up my cuts.  Mentally I was back to 100% and feeling strong again.  I also saw my son, Mikey Worboy.  This was awesome!  We had a waffle, peanut butter, whip cream sandwich together.  Totally coincidental, he just happened to be coming through the same aid for the 2nd time to complete the 50 miler.  It was so cool to see him and knowing he is doing well was refreshing.
My energy was really good now, I was back on pace and caught up to single speeder, Joe Stroz, my NUE rival this year.  We chatted for a minute to compare battle stories then separated.  To his defense, he had some bike issues with  that caused him some time and riding on a broken saddle is not easy.  He would of never let me leave his sight otherwise.
I finished the day in 2nd overall in Men's Open SS on my Pivot Les 34:21.  I will be back in 2019 for my third attempt for the Buckle.  I would like to thank friends and family that supported all the my training efforts. Especially my wife, Nicolette.  So hon, doing this one again!  She is so supportive, big thanks to her.  Warp Speed Training coach, Steve Clement, Wheelie Fun Bike Shop, Trailer Park Racing Team, North High Brewing, Grandview Pro Fitness, Hatfied RV that provided support."
Taking third was, Regis Ricketts, finishing at 13:17:44.
For full results: Click Here
Want to register for 2019 Marji Gesick? Registration opened Oct 13th and sold out in under a few hours. Don't worry plenty of people back out so Click here to get on the wait list. Danny and Todd are looking to get more women racing. Any women on the wait list get moved into the race automatically! So get registered for 2019!
What's NEXT?!
On September 29, the NUE Series heads to California for the NUE Championship race at the Grizzly 100k and 75k in Big Bear, California.
Follow the Pearl Izumi/Pivot Cycles team adventures as we travel and report on cycling around the globe.
Instagram: @pearlizumi_pivotmtb_team, @JenToops, @HanksJen, @shannonboffeli @graciedaze,