NUE Series
Written by: @JenToops
September 22, 2018
The Marji Gesick is a point-to-point endurance race located on the upper peninsula of Michigan. It starts in Marquette and ends in downtown Ishpeming. The one-hundred mile and fifty mile mountain bike races are part of the National Ultra Endurance Series. There is also a one-hundred mile and fifty mile run option. It's quickly gaining popularity as one of the toughest endurance races in the United States. In 2018 it sold out in less than twenty-four hours with eight-hundred mountain bikers and seventy runners registered. This GPS required race is self supported, and racers are required to collect poker chips at random checkpoints along the course.
The course was designed to push riders to their absolute limits. The one-hundred milers having around twelve-thousand vertical feet of climbing, and the fifty milers around seven-thousand.  In both courses, racers have to navigate through sand, roots, rocks, off camber climbs, drops, jump lines and technical descents, all while saving enough energy to get through the grueling last fifteen miles.
Racers in the one-hundred mile course finishing under twelve hours for mountain biking, and under thirty hours for runners, will earn the coveted belt buckle handmade by blacksmith Gordon Gearhart. For 2018: three-hundred-thirty-one mountain bikers started the one-hundred mile course, two-hundred-eighteen finished and only nineteen claimed a buckle.  For the one-hundred mile runners: twenty-seven started, twelve finished, and only nine buckles were handed out.
Men's Open
Tries takes the win and leads NUE series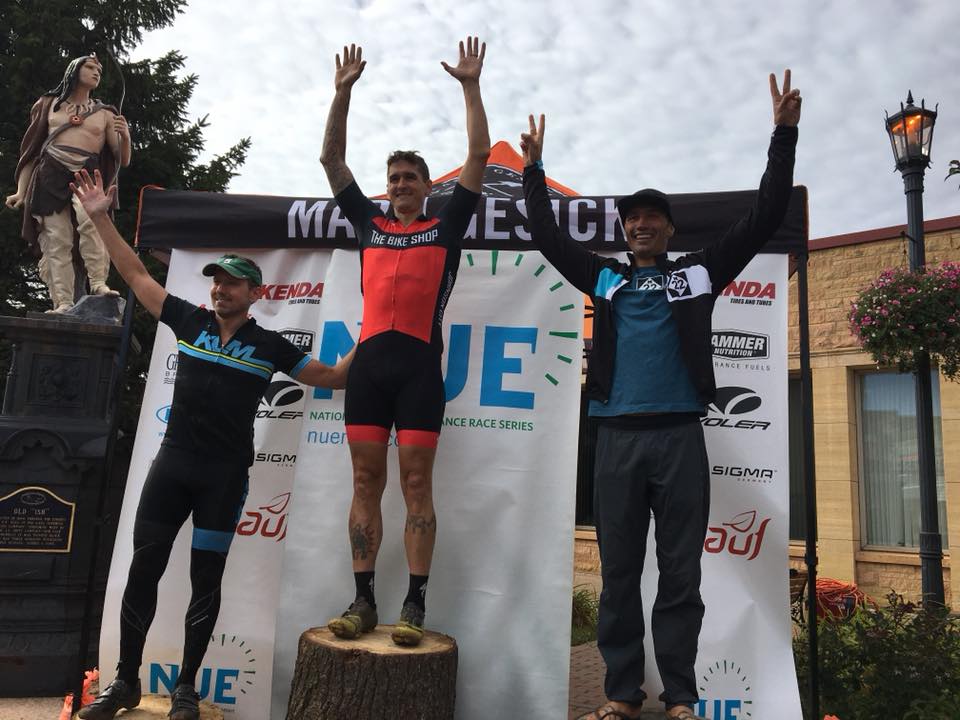 Chris Tries takes the win in the Marji Gesick Marathon race, finishing with a time of 5:38:05. With this win Tries is now leading the NUE Marathon Series.  "I came into the Marji 50 not really knowing what to expect. I had seen the videos and heard the horror story's of endless relenting single track. My only race plan was making the lead group and see how things shook out from their since I hadn't ridden any of the course.  I went hard at the first climb and got a gap and never saw anyone the rest of the day. I felt that I was riding well and had good legs all day but still heard footsteps the whole time.  Lucky I had no mechanicals and was able to take the win. The Marji was my favorite race of the year and hope to make it back again.  Thank you to my sponsor Bike Shop for your support.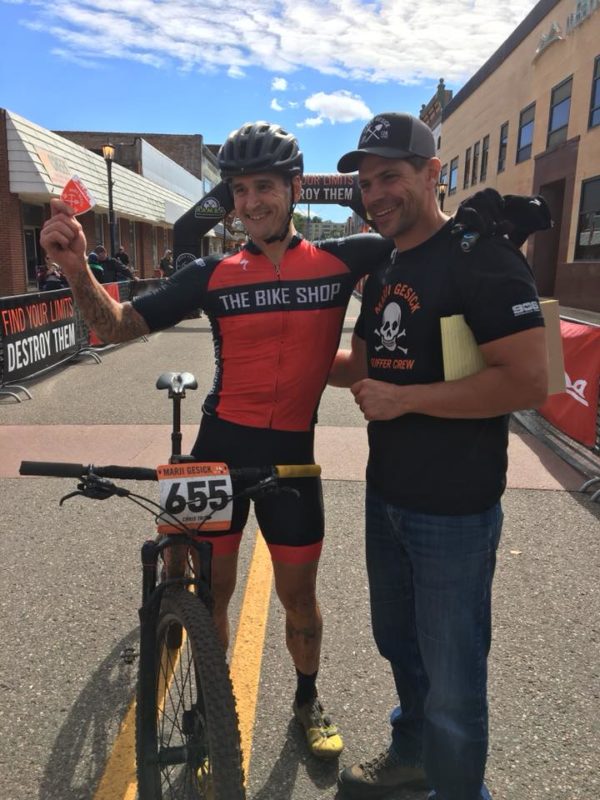 Matt Myers takes second place finishing at 6:33:25. "Still in disbelief that I actually stood on the podium at Marji. Hands down toughest 50 miles I've ever endured. I was with Eli Orth most of the race, he won the SS division and finished second overall. Anyways my best story from the race was when Eli and I came up on two riders and we got stuck behind them for a while. Finally on a decent climb Eli went for the pass, moved slightly off the trail, told the guy he was gonna pass, he didnt move over, Eli ended up hitting a dead pine tree that fell over and nearly took the guy out, Eli made the pass and just crushed. I call him Paul Bunyon, that guy is strong! Eli and I came into the final aid station together, but I never saw him again. Those last 15 miles are as much of a mental grind as a physical one. But crossing the finish line never felt so good. Amazing race, Todd and Danny are sick cats."
Claiming third, Scott Wolfson finished in 6:50:01. "Never had I gone over my handlebars three times during a race until I met Marji. The climbing was extensive and the start straight up a ski hill a little comical, but it was a beautiful day, the trails were dialed, and for the first 30 miles I was thoroughly enjoying myself.
Then I got tied up between a couple trees and went OHB relatively slowly and uneventfully. A mile or so later I went flying over the handlebars on a fast descent after hitting a piece of fencing that was in the middle of the trail. I hit the ground very hard, but, other than a headache, I and the bike were okay. The fall a mile later sucked all the fun out of the day – it was a fast and technical descent but this time I flew onto a rock field and one squarely hit my right knee, gashing it and swelling it to the size of a softball. And my derailleur was bent two ways – I started riding again, but my chain came off four times until I figured out I could not use my two easiest gears. By that time, I got passed by at least five racers while I was repeatedly prying my chain out of my spokes. I pulled in to the 39 mile checkpoint a wreck, hoping and fully expecting my nurse wife Katie to suggest that I DNF — I planned to reluctantly agree. Instead she gave me some food and said, "Get going, you're still in the top ten!"
A short time later on the luge hill climb I started cramping, especially when I had to get off my bike to walk it on some of the insane rock climbs. I fought like heck to make every hill from then on. With a couple miles left, spectators kept yelling that a group of racers was only 30 seconds to a minute ahead of me. But I didn't care. I just wanted to finish. I eventually caught them and passed them up the last few climbs to finish a grateful and unexpected third.
The next NUE race I plan on is the Lumberjack 100. Thank you to KLM Bike & Fitness, Cold Stone Creamery, and my Bike Babe Katie Wolfson!"
Women's Open
Toops gets back-to-back wins at Marji Gesick

Defending NUE Marathon Champion, Jen Toops (Pearl Izumi/Pivot Cycles), wins Marji Gesick 50 with a time of 7:17:17. She now leads NUE Marathon Series going into the final race at Big Bear, CA next weekend.
"This was my second time racing the Marji Gesick 50 mile and I felt prepared.  I just finished a training block and had previous knowledge of the course. I was ready to race and chose to race my Pivot Mach 4 with Continental Cross Kings.
The race starts out on the Marquette ski hill and positions are sorted out early. It was much colder than last year and the conditions were perfect.  On the first downhill I dropped my 100% speedcraft glasses, but I wasn't about to stop and get them.  I kept going and tried to stay on pace winding through the singletrack and at one point washing out on some loose sand.
About an hour or two into the race a group of guys caught me and were going at a fast pace.  I tried my best to hang on for the ride up the bike path, knowing that any energy saved here would greatly benefit later in the race.  Eventually most of the guys took off and fellow Ohioan, Chuck Boyle and I decided to work together for a while.
Chuck and I rode over half the race together and helped each other navigate and keep each other sane.  The second half of the Marji 50 is by far the hardest. Any matches burned at the beginning of the race will catch up here.  I continued a moderate pace playing it safe on the downhills and pushing the pace on the uphills. The end of the race has a lot of climbing and I saved enough energy to move up a quite a few placings and ride into the finish taking the win in women's open.
The Marji Gesick is a race not like any other.  The trails are fun, technical and challenging and that's why I keep coming back.  It's an adventure and I can't wait to see what shenanigans Todd and Danny have waiting for next year."
Taking second, Lisa Randall crosses the line with a time of 7:54:02. "I did the 100 in 2016 when I was actually in pretty good shape but I've had a hard time the past 2 years with my health/personal life so haven't been able to really train/race again, nor really get back to even what "normal" fitness was. I love this race though, and wanted to just come up and ride the trails because I really enjoy this type of riding. I didn't want to push too hard for fear of melting down, however just keeping moving this year was tough for me. I'm hoping I can get my health in order so that I can come back and do the 100 again."
Just a few minutes back from Randall, Ronnie Wick places third in 7:59:59.  "I've only been riding bike for 3 years but long enough to have heard about the Marji Gesick.  After checking out the website and watching a few videos, I wanted to ride it.  And I say ride it because other than what I'd seen on social media, I had no idea what to expect.  My goal was to finish  it – intact.
I thought the 50mi was a great course.  I rode conservatively all day, unsure of what lay ahead.  I had heard a lot of different stories. I dig most terrains to ride and was happy the Marji had a bit of everything.
I'll be back next year for sure! Being familiar with the course, I'll be in race mode and leave it all out there! I'm sure, it being the 5th year anniversary, there'll be some fun challenges!
I don't have any sponsors.  I'm married with three kids.  I work shift work in an Emergency room as an RN.  I ride my bike whenever I'm able; it makes me smile."
Master's 50+
Lundsten takes the win in Master's
Roger Lundsten gets the top step in the Master's category and finished with a time of 7:39:08.  Almost an hour back was Paul Tepp taking second in 8:22:39.  Rounding out the Master's podium was Robert Zimmermann  with a time of 8:47:43.
Singlespeed
Orth takes the WIN and gets second overall!
Eli Orth gets back-to-back wins at the Marji 50 mile and takes second place overall with a time of 6:17:43.
"With Marji Gesick being my last NUE race of the season and one of my favorites i was really looking forward to race day. With cool temps i knew there was a good chance of improving on my time from last year. Up the first fire road climb i was surprised to find myself all alone up front with only Chris Tries catching up and passing me before the single track. During the race a wrong turn was made a few times but i quickly realized it and was able to catch those that had got in front of me.
During one of those passes a very memorable moment was when i was going for a pass on the right and my handlebars clipped a tree. I stayed up and kept going but the tree came crashing down next to us..narrowly missing me and at least one other rider!
The majority of the race i spent it just enjoying the trails and the perfect weather and staying consistent.
At the finish i was actually surprised i was 2nd overall on my single speed.. just like we started the race. My goal going in was sub 6:30 with last years time being a 6:50. I easily got it with a 6:17.
This is my last NUE race this year and this off season I'll decide if I'm going to race the 100 milers or 100k's next year. More than likely I'll definitely be doing 100 mile at
Marji
Gesick
next year no matter what.My bike in the race was a Pivot Les with 32×19 gearing using an Absolute Black oval. It was a little changeup from my normal gearing but it worked out good.
About twenty minutes back, Joshua Blum took second place with a time of 6:37:38.  "Ah the Marji Gesick, perhaps the most feared race in the galaxy, or at least the Upper Midwest. How the race took shape for the Half Marji. Metallica was playing at the start, the National Anthem was belted out via Electric Guitar, and we were off up a steep hill (which is fitting). Eli Orth sprinted his SS to the top of Marquette Mtn. We all then descended and settled in. Knowing the course from 2017, I was reluctant to do anything but ride my own pace in fear of the final 15 miles… (Note, staying redlined in the first 40 miles isn't wise). Unlike 2017, the weather was perfect. Once stopping at the unofficial aid station (Jackson Park, around mile 40) I was greeted by an awesome group of volunteers, known as the "Suffer Crew" they helped refill water, and then I was off for the final 15. At this point I felt great, and knew I was in position to race the final 15 instead of survive the final 15. Upon leaving the Unofficial Aid Station, I was told that I was in 7th place overall for the Half Marji. Awesome! Time to pedal and push the bike. I was able to pass 3 more people in the final 15, and cross the finish line. Crossing the finish line at the Marji might be the best feeling one can have period. My goals for this race were a top 10 finish, and no mechanicals. Both were accomplished, the bonus was a 4th overall, and 2nd in SS. The gearing that was chosen for this race was a Wolftooth Oval 32 tooth ring, and Wolftooth Stainless 20 tooth cog.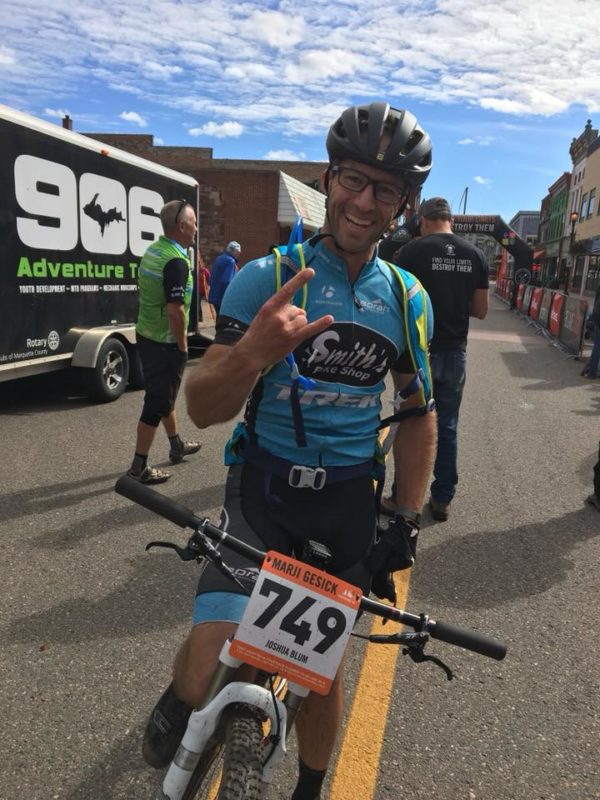 Thank You's go out to my wife Rachel for taking care of our kids while I'm gone, Smith's Bike Shop in La Crosse WI, NOX Composites for building very durable carbon hoops, and having an awesome crew from La Crosse to travel to this race with.
My next planned NUE race is likely the Marji Gesick in 2019. Time just doesn't allow for more NUE races, as most of my free time away from my job is spent as a volunteer, building & maintaining local trails, and hanging out with my wife & 2 young daughters. At some point I would like to venture east to do another NUE race, as this style of racing is becoming more appealing than the standard XCO type of racing."
Taking third was Yianni Pimenidis with a time of 7:24:03.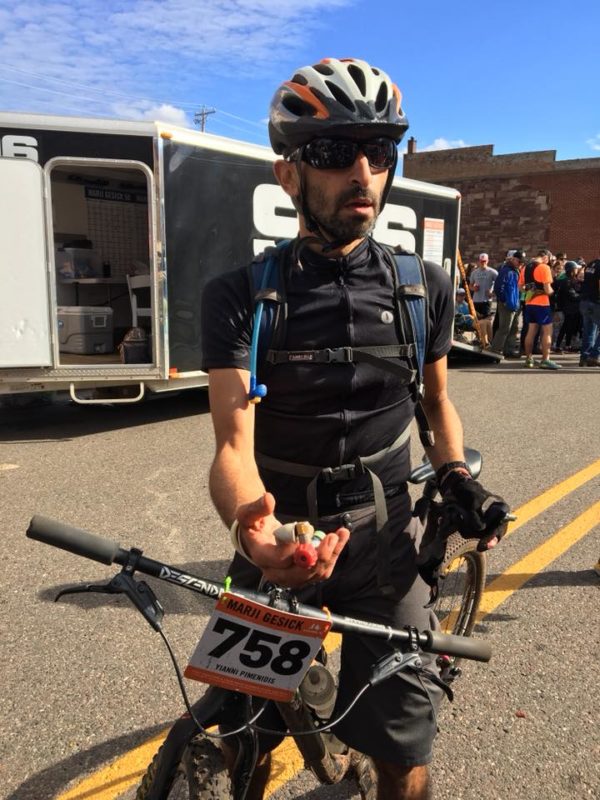 For full results: Click Here
Want to register for 2019 Marji Gesick? Registration opened Oct 13th and sold out in under a few hours. Don't worry plenty of people back out so Click here to get on the wait list. Danny and Todd are looking to get more women racing. Any women on the wait list get moved into the race automatically! So get registered for 2019!
What's NEXT?!
On September 29, the NUE Series heads to California for the NUE Championship race at the Grizzly 100k and 75k in Big Bear, California.
Follow the Pearl Izumi/Pivot Cycles team adventures as we travel and report on cycling around the globe.
Instagram: @pearlizumi_pivotmtb_team, @JenToops, @HanksJen, @shannonboffeli @graciedaze,