"The 2019 event was hosted by Mountain Goat Adventures, who recently took over promotion of the event from Roost Racing, LLC. Race day weather at the Ocoee Whitewater Center could not have been more perfect with temperatures in the mid 70's. Similar to prior years, the race was well attended and had sold out by the Monday before the race.
One change we immediately made to the course was to make the final singletrack section nearly all downhill to the finish. I had raced in several past editions of this event in both the 65 and 100, and every time I returned from the gravel road loops, I wished that we could just bomb down to the finish instead of winding around on 8-12 more miles of rolling (and sometimes steep) singletrack. While the gravel road loops of the course remained the same from the 2018 edition, we configured a course that included nearly all of the Tanasi singletrack on the front end, while riders were fresh. After leaving it all out on the course for the gravel road loops of the 65 and 100 mile, riders were treated with a nearly all downhill 4 mile mile run into the finish.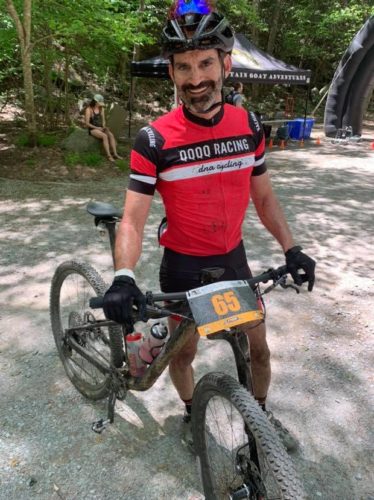 Another change we made was to offer more swag to our event participants.  Big payouts are great if you can manage to land on the podium, but that only accounts for a very small percentage of our riders so it is important to me to make sure we are taking care of the other 95% of our participants as well by offering them nice swag, a well-marked course, good support at the aid stations, and overall a great race experience that they will remember.  We saw riders from all over the US and Canada, so it was great hearing how much riders from other regions enjoyed the course (albiet a tough one!)  While the race overall went very smoothly, we learned a lot in our first year of production that we can take with us moving forward to make this event even better in 2020." -Lisa Randall (2019 Race Director)
Men's Open
Pendlebury takes top step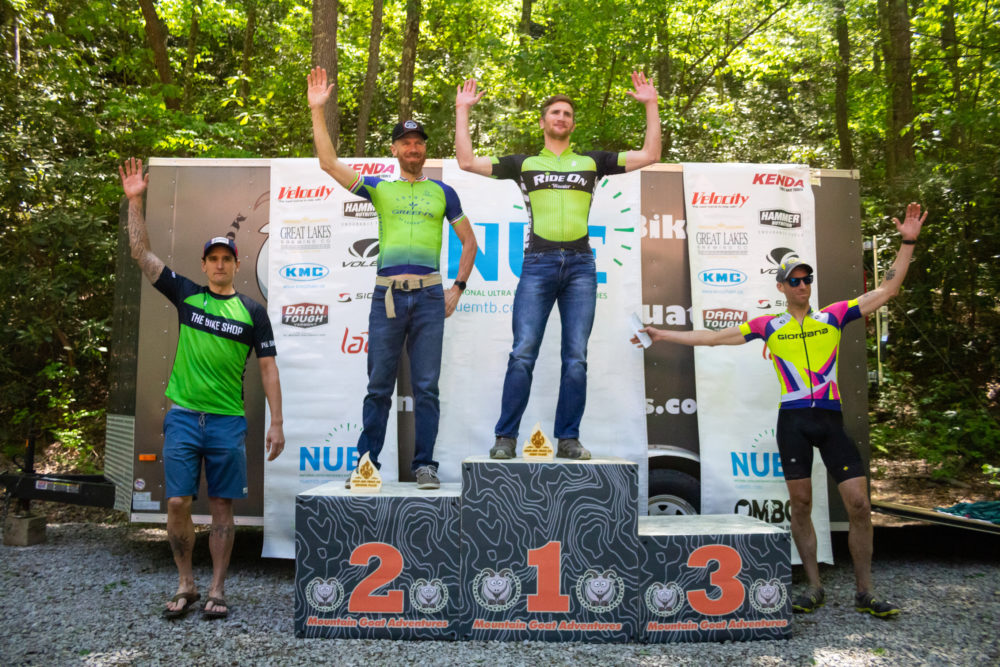 Jeffrey Pendlebury from Rideon Wooster took the Men's Big frog win with a blistering fast time of, 4:39:04. A close second place was, Brian Schworm, Think Green/Bicycle Face crossing the line in 4:43:39.
"Racing the shorter Big Frog was a change for me this year since I've entered the Cohutta 100 the last four years or so.  My goals for this year have changed with a focus on the shorter marathon and traditional cross-country distances in mind.  Anyway, I was not unfamiliar with the Big Frog since I raced it three times many years ago.  I knew the similarities and differences between the two races and knew what to expect.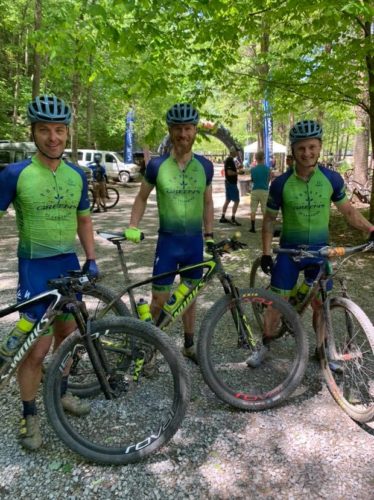 The race started as usual up the paved climb with the typical scramble into the singletrack. Chris Tries lead the way with five more riders, including myself and teammates Nathaniel Cornelius and Paul Karle, separating fairly early. We rode the first portion of singletrack together until Thunder Rock Express and the following gravel climb. On that climb eventual winner Jeff Pendlebury attacked and I was able to respond (although I had to dig deep). From that point we rode together through the rest of the singletrack and most of the gravel section. I think Jeff knew I was struggling a bit as he threw in some attacks and I was able to respond until the last one on the gravel section headed back to the start/finish. Jeff threw down a big attack and I had no response. I tried to keep my pace high to fend off any chasers behind and was able to finish second on the day. It was great to see my teammates, Paul and Nate, finishing close with sixth and seventh positions giving our team three in the top ten.
Of course I need to thank my team Think Green – Bicycle Face for their incredible support and my other sponsors SWORD, ESI grips, Native Eyewear, and Specialized Bikes. An extra special thanks to my wife, Jennifer Schworm, for her daily support. Without her these pursuits would not be possible. Up next is the USA Marathon Nationals in Texas followed soon by the Mohican 100K in Ohio."
Just four minutes back, Dereck Treadwell, finished third in 4:48:06.
Women's Open
Schneeberger takes Big Frog win
Taking the win in the women's marathon race was, Leia Schneeberger, Broken Spoke Racing, finishing in 5:50:20.
" I had been informed the race was mostly single track in style with a "portion" of gravel. To my surprise it was the reverse. I am a single track specialist and have never raced gravel before so it was an eye opener. I certainly understand why they call them gravel grinders as this race was certainly a steady grind for me. I made a solid effort to be the first women into the single track portion so that I could create a gap on the rest. I've never raced a course this long or with this amount of elevation so I kept my heart rate in the endurance / tempo range all day in effort to avoid bonking. It ended up being enough to get the job done. I currently race for Broken Spoke Bikes in Green Bay Wisconsin and Hammer Nutrition. I will be racing the Marji Gesick 100 this fall.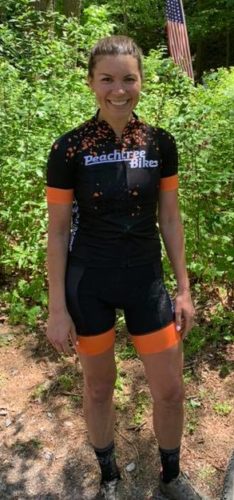 About thirteen minutes back, Ali LeCraw of Peachtree Bikes finished second in 6:03:15. A close third place, Kelsey Devereaux crossed the line in 6:06:16.
Singlespeed
Kunz gets his first NUE win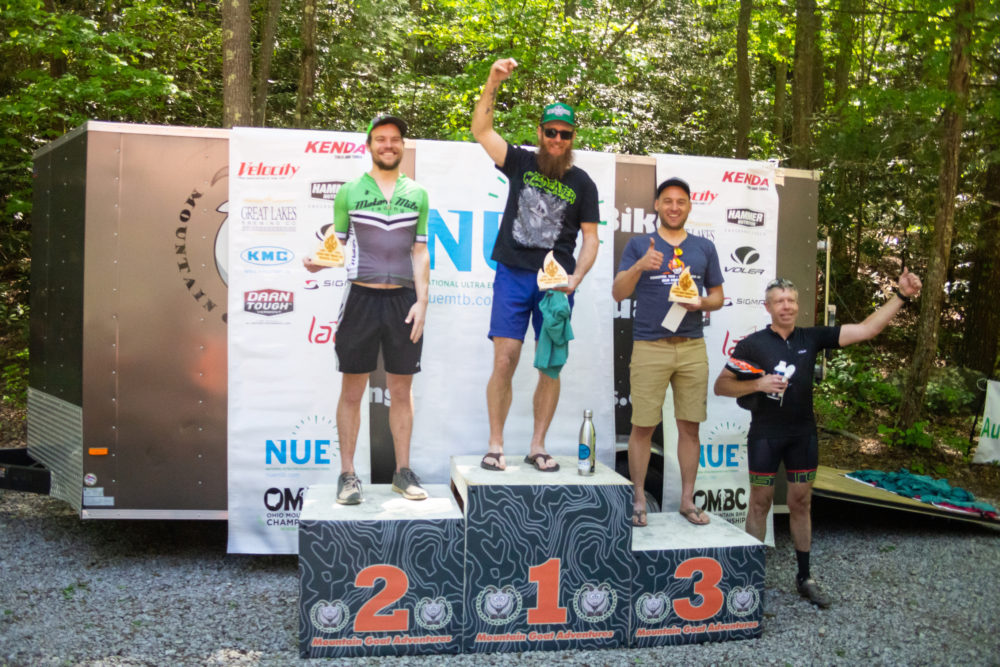 Getting his first NUE win, Joshua Kunz of Knobby Side Down finished in 5:14:52. Eleven minutes back, Scott Brannon of Motor Mile Racing crossed the line second in 5:26:11.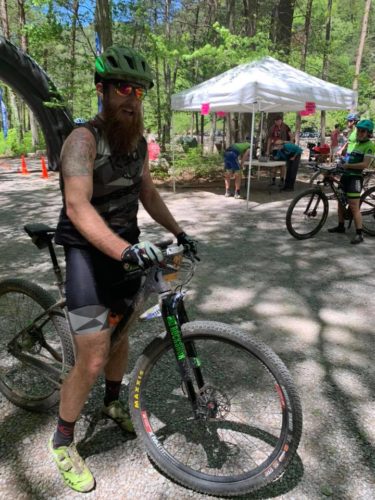 Nathan Grubbs grabbed the third place step in 6:01:10.
"For the first race of the season and only my 4th ride on single track this year, I opted to gear down to a 32-20. It was a pretty slow ratio for the first 10 miles of singletrack, but I managed to finally start passing other riders on the first big climb after the bridge. By aid 3, I had moved up at least 30 positions and was feeling good. By the massive climb on FS 62, 32-20 seemed like a good choice. With a healthy mix of 'stand-and-mash' and swearing, the large gravel climbs went by quickly. Into the last 5 miles downhill, geared riders that I had been passing since Aid 4 were starting to catch me. Dylan and Christian blew past on the last few hundred yards of singletrack, and I gave a last big effort to try and get in under 6 hours. I was very happy with third and a 6:01:10 final time. "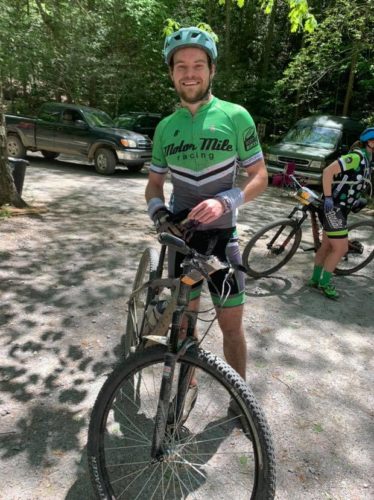 Masters
Crowley WINS Masters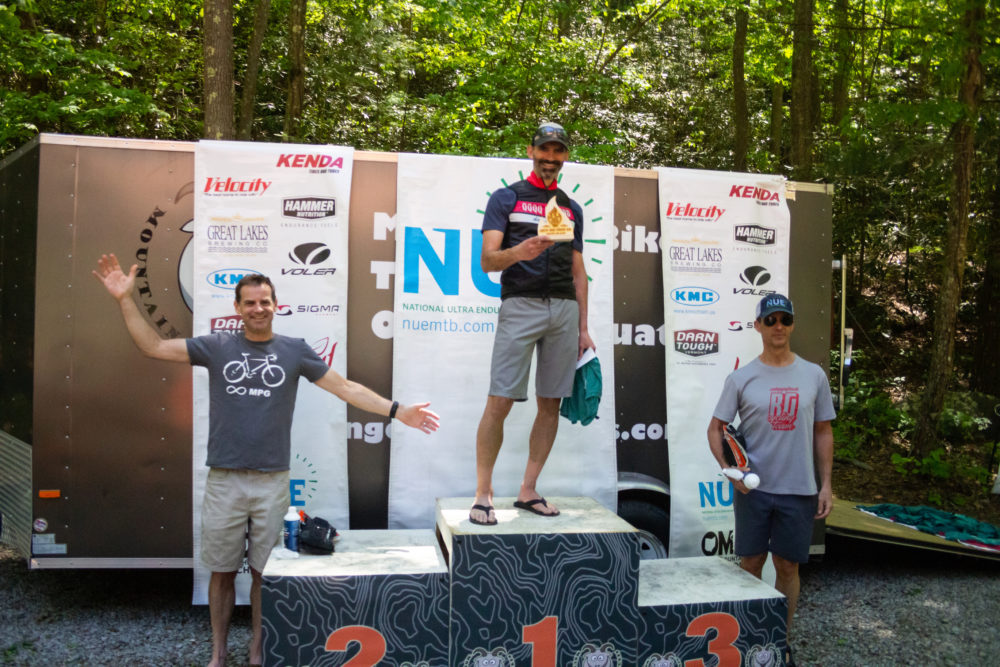 Making the trek from out west, Ariel Crowley of QQQQ Racing, wins the masters division in 5:23:50.
No stranger to the NUE series, Jeff Clayton of Georgia Neurosurgical Institute took second in 5:25:25.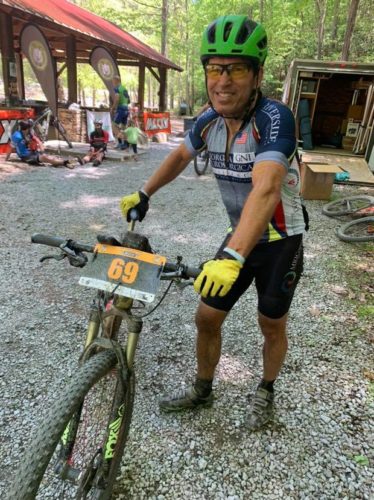 "I came to the race with much less than ideal training. Just one ride of over 5 hours in the last few months and that was a gravel grinder race. I did a late afternoon pre-ride Friday and found the trails to be in great shape. The start was nice and mellow, giving me a few minutes to get my body ready for the shock of the inevitable surge on the paved climb. I accepted being dropped on the second surge and settled in with a couple other guys entering the singletrack. We caught a group ahead and were caught by a few riders from behind. Things split up again in the roots on old copper rd and the bear paw climb. By the time I got on the gravel road portion of the race I'd left all but one of those racers behind and caught a few more. On the gravel loop I rode mostly solo, catching and riding with a few racers and then dropping them. The last long road section had me feeling my lack of training—cramps! I got dropped by one companion I'd caught and then passed by one other guy. I was able to keep it that way, though I could feel that I was slowing. One racer I caught a glimpse of in the distance on the final climb ended up being Matt Crowley who held me off for the win in 50+. Kudos to Matt for coming from Utah to race and taking the win!"
Finishing third was, Jorge Cortes with a time of 5:37:41.
Click here for full results
What's up next? Click here to register for the NUE Mohican 100 mile & 100 K in Loudonville, OH.
Written by: Lisa Randall & @Jentoops