"The 2019 event was hosted by Mountain Goat Adventures, who recently took over promotion of the event from Roost Racing, LLC. Race day weather at the Ocoee Whitewater Center could not have been more perfect with temperatures in the mid 70's. Similar to prior years, the race was well attended and had sold out by the Monday before the race.
One change we immediately made to the course was to make the final singletrack section nearly all downhill to the finish. I had raced in several past editions of this event in both the 65 and 100, and every time I returned from the gravel road loops, I wished that we could just bomb down to the finish instead of winding around on 8-12 more miles of rolling (and sometimes steep) singletrack. While the gravel road loops of the course remained the same from the 2018 edition, we configured a course that included nearly all of the Tanasi singletrack on the front end, while riders were fresh. After leaving it all out on the course for the gravel road loops of the 65 and 100 mile, riders were treated with a nearly all downhill 4 mile mile run into the finish.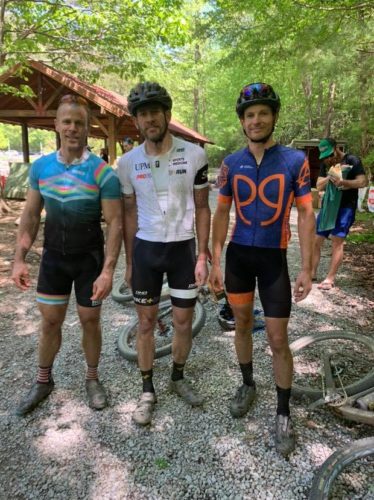 Another change we made was to offer more swag to our event participants.  Big payouts are great if you can manage to land on the podium, but that only accounts for a very small percentage of our riders so it is important to me to make sure we are taking care of the other 95% of our participants as well by offering them nice swag, a well-marked course, good support at the aid stations, and overall a great race experience that they will remember.  We saw riders from all over the US and Canada, so it was great hearing how much riders from other regions enjoyed the course (albiet a tough one!)  While the race overall went very smoothly, we learned a lot in our first year of production that we can take with us moving forward to make this event even better in 2020." -Lisa Randall (2019 Race Director)
Men's Open
Johnson gets FOURTH consecutive Cohutta WIN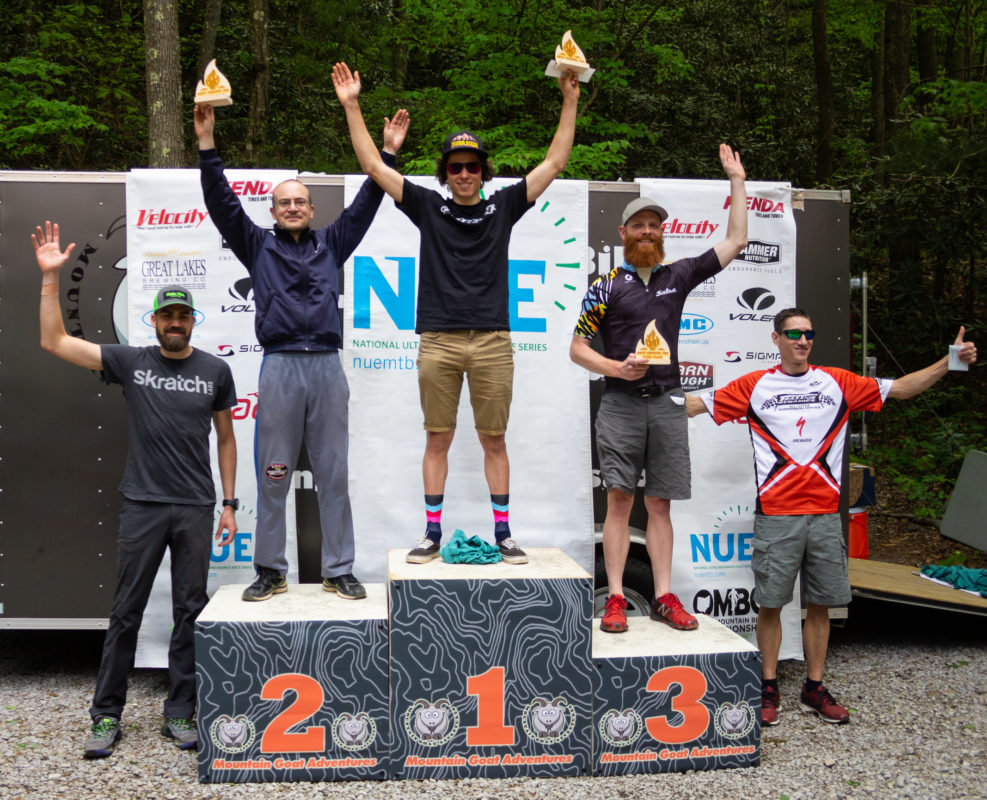 Taking the win in the Men's Open class for an impressive fourth year in a row was Dylan Johnson, FBS Racing, with a time of 6:57:09. Christian Tanguy, RBS Team, took a close second just two minutes back, coming in at, 6:59:08.
Matt Acker grabbed the third spot with a time of 7:05:15. Sponsors include: Salsa Cycles, Velocity USA, Industry Nine, and Grand Rapids Bicycle Company based out of Michigan.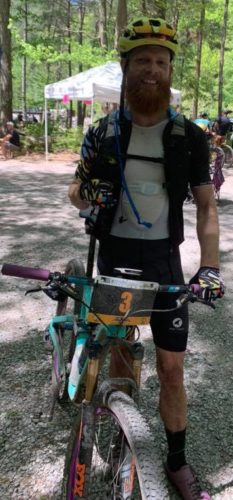 "The weather was perfect for race day and the pace started out modestly from the whitewater center. As we got out onto the highway roll out there were some attacks and Dylan and Christian got out in front. I settled in behind them with another gentleman. Their gap slowly grew through the first 30 miles of trails and 4th place and myself stayed together. Once we hit the big gravel loop we could no longer see 1 and 2. The 4th place rider pushed a hard pace and rolled ahead of me for quite some time on the gravel loop while i focused on staying true to my pace. About halfway through the event i caught him again and we rolled into the 59 mile aid together to re-supply. They told us that 1 and 2 were almost 5 minutes up the road so it became a race between us. We worked together a bit back and forth until just over 80 miles and when 4th stopped to get bottles and nutrition i kept rolling. I kept the effort smooth but hard until the last singletrack descent and rolled in for 3rd. Great event, awesome volunteers and fun course."
Women's Open
Toops gets first NUE Epic Win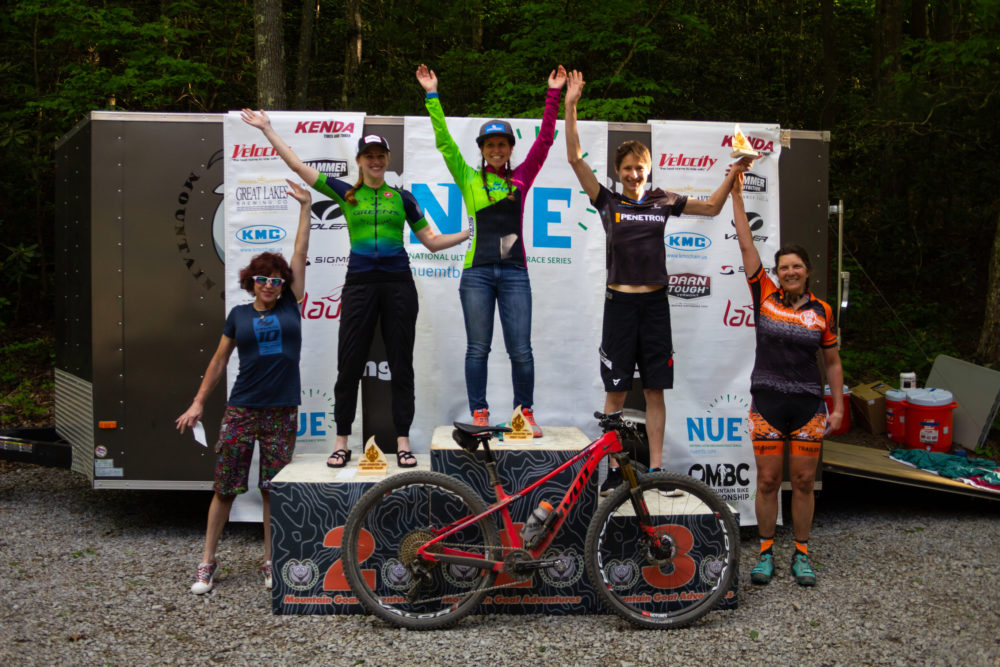 Taking the win in the women's race, 2018 NUE Marathon Champion, Jen Toops, Pearl Izumi/Pivot Cycles MTB race team, finished in 8:33.41.
"This was my first 100 mile race so I wasn't sure what to expect. I knew Penta was a strong gravel rider from her finish at the Barry Roubaix, so I went hard on the first climb and made sure I was ahead of her going into the singletrack. Having some fun on the downhills and pushing the pace a few times uphill, I was able to make a gap before entering into the gravel. My legs were feeling good and I continued to ride my own pace. The changes to the course this year were a pleasant surprise ending the race with so much downhill. I rode my Pivot Les 27.5 and am always reminded how well this bike climbs! My next NUE race will be Mohican 100!"
Jen Toops

Mary Penta

Anne Pike
Taking second was Mary Penta, Think Green/Bicycle Face, crossing the line at 9:17:51. Third place was Anne Pike with a time of 10:03:38.
Singlespeed
Pahrs takes top step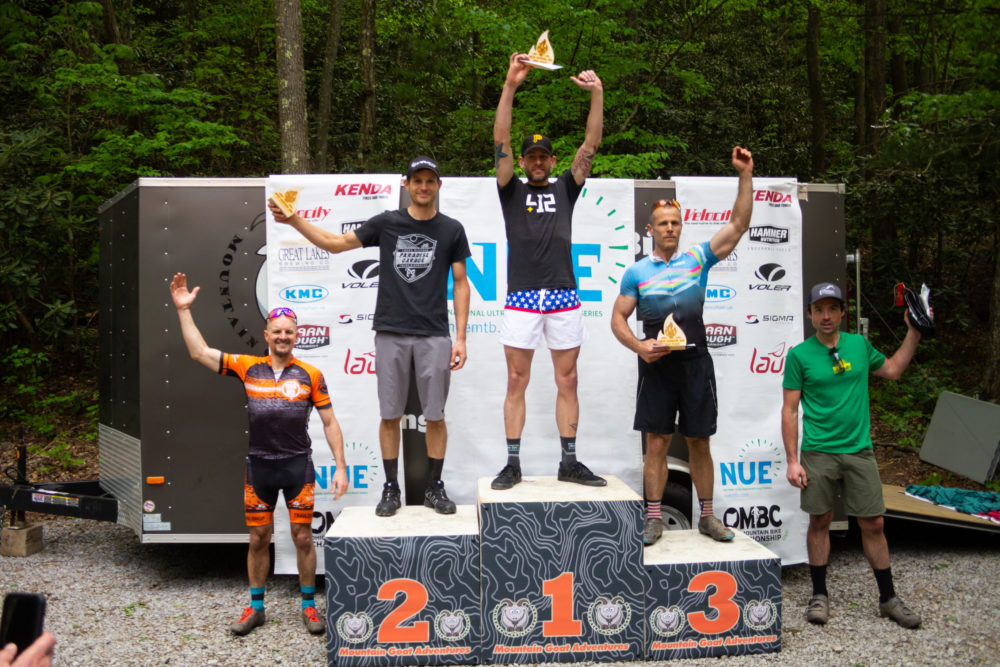 Winning the singlespeed class was, Dahn Pahrs of UPMC Pro Bike, crossing the line in 7:30:07.
Anthony Toops, 2018 NUE SS Marathon series Champion, racing for Paradise Garage took second place, 7:43:12.
"Cohutta was my first big test of the year so I was ready to get this one in the books. The race started with the usual effort up the road to get to the single track as near the front as possible. Pahrs led the pack up the climb initially until the spring over the top into the trail. I made sure to get into the singletrack as the 1st single speeder so I could hopefully use my full suspension to my advantage. This year 95% of the single track was at the beginning of the race unlike previous years where it was 50/50. I should've done more homework here as the full suspension wasn't really needed due to the course changes.
Pahrs was on my wheel the entire singletrack section and with a few riders ahead, passing was difficult. He eventually passed me and we hit the first road sections together. He started to pull away some on the climbs but I was making up time on the descents. Eventually he got a gap around mile 45 I think that would grow for the rest of the race. I struggled some in the potato patch section of climbs, trying not to lose time because I had a feeling Eli Orth wouldn't be far behind. Around mile 65 or so Nick Bragg caught up to me and we rode together for a while. Some good conversation made the time pass faster as we kept turning over the pedals. He would pull ahead out of aid 5 and I just kept the power down to bring home 2nd place… only around a minute ahead of Eli Orth!
This was the first race with my Pivot 429sl set up single speed. After some initial setup issues the bike was performing great. My bike selection was overkill for this course, but I kinda knew that going in. Next time will be the hardtail.
Another great event put on by Mountain Goat Adventures. The crew and staff did an amazing job! Looking forward to some more NUE racing coming up! Gearing 34×20″
Taking the third spot was, Eli Orth of Team Hungry, with a time of 7:44:30.
"Cohutta was my first NUE race of the year. The weather for the race couldn't have been better. It was a little cool in beginning but quickly warmed up with the first long climb. I played it safe in the beginning on the first climb but also made sure i was in top 3 in ss going into the single track. I got into single track with Michael Gottfried and we kept a good pace but got slowed down in several areas by slower traffic. We called for the pass and started to pick up the pace. Once we got into the death march gravel loop I was hoping i was still within striking distance of "Dahn Pahrs" and Anthony Toops. I picked up the pace on the gravel loop trying to make up time if possible. Everything was going great and I still felt great but got a puncture flat on my rear tire at mile 80.. after we joined up with big frog racers. Of all places it was on gravel and i didn't even see what caused it. I felt the tire going down so i jumped off and grabbed my plug kit from my jersey pocket. I initially put in small plug but it didn't hold. So i put in big plug and after stans sprayed out for a few seconds it stopped leaking and sealed. A fellow teammate that was racing big frog stopped and gave me one of their co2's to take just in case i would need it. Fortunately i didn't need it. Unfortunately though having the plug in there and what seemed to be barely holding i started to race conservative, so i wouldn't rip the plug out and flat again. I knew i could hang onto 3rd as long as i kept everything together.I was really surprised at the finish to find out Anthony came across the line only a minute ahead of me. Once again it was a close race between us after over 7.5hrs of racing. It was a great race and I look forward to more. I ran 34×19 gear. The gearing made some of the climbs a little tough but overall it was the perfect gearing for me on that course. My next big race will be the TSE 5 day stage race in May followed by Mohican 100 5 days after that. Thanks to my team, team mates, and sponsors Team Hungry and Absolute Black. "
Masters
Hammond gets first Cohutta win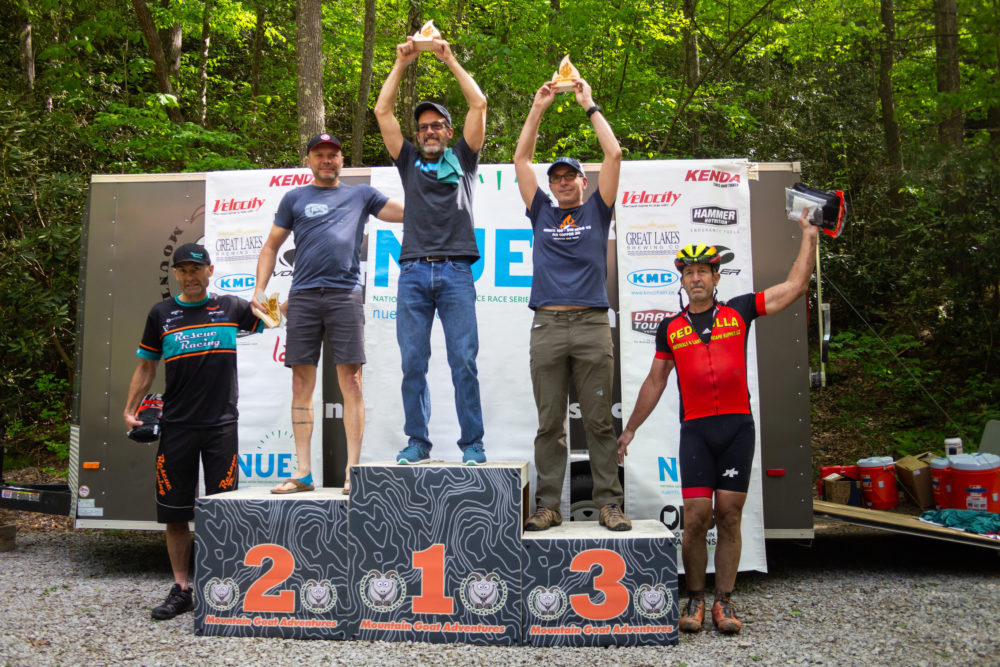 Matt Hammond took the Masters win with a time of 8:11:34.
"My experience with the Cohutta 100 this past Saturday was fantastic! The course was well marked and overall production was great! Could not have asked for better weather and conditions for a bike race.I'm a veteran bike racer but first time winner of a 100 mile race. I will very likely participate in this event again next year. Not sure that I'll do any more of this years series. I'm not sponsored currently but would entertain any offers!
Taking the second step was, Zdenek Fiebinger of Sonic Cycling, 8:44:16.
"After racing Big Frog few times in the past and recently turning 50, I decided that is time to try the big boys distance. I did many different races around Ocoee and love to return to this area. Plus, mountaingoatadventures.com is always guarantee of perfectly organized race. My race started slower as my old diesel needs little more time to warm up. Once in the single track, I moved up several places and felt good until about mile 30 miles when I had to back of the pace little bit after my lower back started to remind me that as rest of me it is also 50 years old. Few riders came from behind and we formed nicely working group For rest of the race I was yo-yo ing around few younger riders, passing and getting passed. I was happy to see my teammate RJ and was able to ride with him for some distance later in the race. I was hoping to see the finish line sooner but was happy with the result under the circumstances. It was hard but great race. Well organized with many super friendly and helpful volunteers. Cohutta definitely found a permanent place on my race calendar."

Rodney Reed finished third in a time of 8:50:08.
"This was the 8th time I've lined up for the Cohutta 100. The difference this year is it was my first time competing in the masters category. The day couldn't have started off more perfect weather wise – high 40's to start and getting up to mid 70's by the finish. Although the course was similar to last year, there were a few course changes early in the race that left me with some uncertainty but off we went. I felt really good headed into the first bit of single track with good position and good pacing. After the first aid station I began having some stomach issues which would come and go the rest of the day. I had one minor mishap when I miscalculated my bunny hop over the off camber pine on Riverview Loop causing me to go over the bars. I picked myself up and continued. Once onto the gravel section I was caught by a couple guys who were "not racing, just riding" then they dropped me! Probably about 5 1/2 hours in Jen Toops caught up with me and we chatted for a few minutes exchanging positions on the climbs before she took off. After the merge with the Big Frog riders I knew I only had a few moderate climbs left so I gave it all I had to the finish. Very much appreciated the downhill sections after the last aid stations.
A special thank you to my wife Amy and daughter Emma for putting up with my long weekend away and supporting the countless Sunday's spent gravel grinding in Ohio. Shout out to the Sunday Gravel Church gang – Rick, Matt, Terry, Mike and Benton for pushing me all winter! Special thanks to Rick's Bicycle Service and HWB Cycling for keeping my Santa Cruz Tallboy in tip top shape year after year for these grueling races. Next up, Mohican 100."
Click here for full results
What's up next? Click here to register for the NUE Mohican 100 mile & 100 K in Loudonville, OH.
Written by: Lisa Randall & @Jentoops