A Day of Firsts for True Grit
This year's True Grit Epic in Santa Clara, Utah, represented an exciting new chapter for the southern Utah race. 2019 was it's first sellout year with an impressive 800+ riders taking the start. It also represented the first year of the True Grit gravel grinder.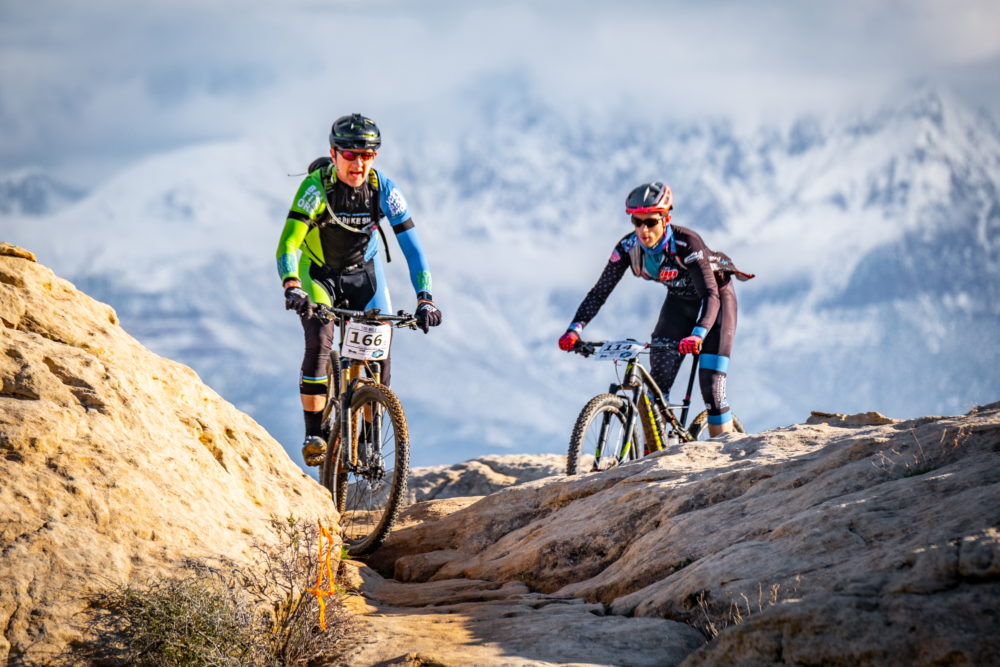 As race morning broke it seemed to be following a now-familiar pattern, early forecasts of cold temperautres and rain turned into pleasant skies and ideal riding weather. Rain throughout the week had left some puddles on the trail but nothing a seasoned True Grit rider couldn't handle.
The hundred milers start first just as the sun rose over the cliffs of Zion.
True Grit defending champion and endurance-veteran Taylor Lideen (DNA Cycling/Pivot) was a heavy favorite for the men's category as fellow Arizona rider Chase Edwards (CZ Racing) was favored for the women who was determined to improve on her fourth place from last year.
As the riders rolled out a puddles and standing water from the previous rains splattered the field until they exited the opening wash and the climbing started. At the front Lideen moved to the front with Pete Karinen.
Karinen kept the heat on the defending champion ensuring he wouldn't ride away for an easy win. The lead duo rode together throughout the opening 50-lap and the early climbs of lap two.
It wasn't until the steepest climb of the day up to the dreaded waterfall descent that Lideen was able to open a gap. A small advantage was all Lideen would need as his riding skills took control on the highly challenging Barrel and Zen trails.
It certainly wasn't an easy day for the defending champion. At the finish Lideen said, "some days you feel great and just ride away and other days it feels like you really have to work for it. Today was one of those days."
But despite not feeling his best Taylor Lideen was able to control the day and finish the 100 miler in just over six and a half hours. Nine minutes in front of challenger Pete Karinen.
After the race the repeat race winner had this to say:
It was a blast riding with Pete throughout the day as he is a super talented and skilled rider. I was able to make my move on the longer climb up to the waterfall early into the second lap. You never know how the day will go on such a rough and technical course out there but I was fortunate enough to grab the win. I am always blown away by how awesome and friendly every racer is out there no matter the distance they are competing in. It's always a pleasure to race in this event. Mary (Mrs. Lideen) of course was my everything with her aid in the pits. I am one lucky dude to have her in my corner. Big thanks to all of the volunteers out there as well! Races like this wouldn't happen with great people like that!
Timon Fish (Sticky Racing) finished in third with a time of 7:00:12 after a close battle with Stefano Barberi (Serious Cycling).
Chris Alstrin (Carborocket) grabbed the final podium spot in fifth.
With the win Taylor Lideen takes the lead in the NUE series but will not likely feature in the final series picture as his goals for the season are outside the NUE leaving the door open for others to challenge for the NUE title.
The women's race appeared to be starting as expected with Chase Edwards opening an early lead through the big climbs on the opening lap. She held the lead heading into the technical slickrock jungle of Zen trail but St. George local Shirley Leydsman (Team Redrock) closed things down in the rocks and pulled ahead.
Once out front Leydsman stayed focused on riding her own race and erasing the disappointment of crashing and badly injuring her wrist in last year's True Grit.
Her motivation showed as she opened a big gap finally crossing the line over 30 minutes up on Edwards who had this to say after the finish.
True Grit is a brutal NUE season opener! Shirley, the local gal who won, caught me at Zen, took a line I was unfamiliar with, and dropped me on the first lap. It was a great warm-up to the season as the techy sections on the course forced me to keep my head in the game and to also acknowledge skill sets that got a little rusty over the winter. I'll be chasing other NUE races this season while representing Construction Zone Racing. I'd also like to say thanks to Paragon Athletics for helping to keep my body strong and injury-free, to Coach Kata for continuing to work with me on this ongoing journey of balancing work stress and training, and Honey Stinger for fueling all the adventures.
Julie Thumel (Race Pace Bicycles) finished in third place followed by Becky Edmiston (Steamboat Velo) in fourth.
In the singlespeed group, Mark Schafer improved on his bronze medal from 2018 with a race win at this year's True Grit. Schafer dominated for most of the race finishing almost a half hours clear of runner up Johnathan Ciampa (DRT/Cycological).
Ciampa put together a strong race chasing down Nathan Whipple after the opening 50 miles and opening a gap in the second half of the race. Whipple started out strong but a tall gear and a long New England winter effected his performance. The third place rider had this to say about his day in Santa Clara:
Early season weather in New England didn't let me get out on the SS as much as I'd have liked. Just days before the race, Boston got a fresh 18" of snow even. Add in an optimistic gear choice for the race and I did a great job setting myself up for an Epic amount of hurt. It was hardly noticed though, what with the amazing trails and spectacular vistas constantly trying to one-up each other.
The gear choice did help early positioning, but by the start of the 2nd lap the damage from the low cadence grinding started to show. I found myself forced off the bike to avoid having the wheels fall completely off. I had nothing to counter with when the second place finisher caught me and I watched him motor away from me up the first climb on Zen. I rode by myself for the majority of the second lap after that and soaked in the views and amazing trail.
The men's master group saw Cary Smith once again crushing the hopes of all competitors. Smith, who had the fifth fastest finishing time of all the 100 mile riders dominated from the starting gun leaving no doubt he was going to repeat as master's champion short of major catastrophe.
But Smith avoided any complications to his race and finished a full 2 hours clear of runner up Gerry Hatcher (Santa Cruz).
Hatcher turned in a strong effort in his first True Grit experience and had this to say after the finish: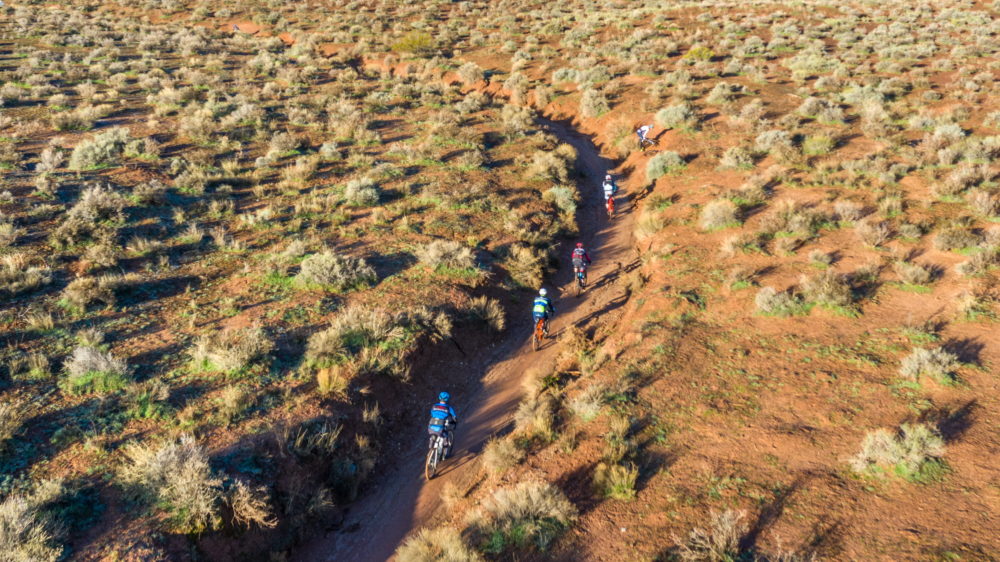 The Santa Clara/St George area has intrigued me for a while and I've never ridden in Utah so learning of the "True Grit Epic" race gave me the push I needed – Road Trip! I brought my 2018 Santa Cruz Highball CC 29'r hardtail.
Having never ridden in the Santa Clara area before, and my introduction to it being the most gnarly sections of the True Grit rattled that confidence and made me immediately re-calibrate my race strategy.
I dialed everything back from "go fast" to "just make damn sure I finish." Having fitted relatively thin walled & fast rolling tires thinking because I'm a small framed lightweight rider it was "probably worth the risk", didn't help with my anxiety. Sidewall tearing, rim & tire destroying geology was lurking everywhere! It wasn't until I got through Zen Trail on my second lap that I relaxed a bit. Until then I had to constantly remind myself to stay focused, keep good lines, and to not take unnecessary chances. I used my cyclo-cross skills to shoulder the bike and trot over, around, or down more sections than I'm proud of, but hey I finished! And, un-expected icing on the cake, with a respectable second place too!
Jim Miller finished third after enjoying his day and improving after a broken frame almost ended True Grit in 2018.
He had this to say at the end:
It was a great day, I love this race and plan to come back again and again. The trails are nearly 100% sweet single-track, the race vibe is competitive but fun and friendly, the event is well run, the volunteers are great, and the setting is so very beautiful! Thanks to Joe's Bike Shop in Baltimore for having my Trek Fuel EX in tip-top shape.
Click Here for full results from True Grit Epic 2019