Alexis Skarda & Cole Paton Wrap Up 2023 Moab Rocks Titles
Written by: Shannon Boffeli
Another cold start lead to a second day of heated racing at the sold-out 2023 Moab Rocks. With a start temperature of 30 degrees it was slightly warmer the yesterday while most riders still opted for tights and thick gloves for the frigid temps.
Stage 3, held at the Gemini Bridges trailhead, starts with some big climbs and a long section of jeep road before turning to singletrack. The lead groups powered up the climbs with Alexis Skarda (Santa Cruz HTsqd) leading the way but Juliana teammates Kaysee Armstrong and Evelyn Dong were just seconds behind.
The group stayed close throughout the race descending the snow-covered rocks on the Bull Run and Great Escape trails. Skarda slowly stretched her lead out while Evelyn Dong opened up a gap by cleaning a steep uphill slab of sandstone while Armstrong had to get off.
No one could catch Alexis Skarda on the final climb as the race leader danced her way up the final 1.5 miles of the Gemini Bridges road climb and crossed the finish line to win the day and take the GC title.
The men's race featured close racing as well. With Cole Paton (Orange Seals Academy) and Andrew l'Esperance (Maxxis Factory) separated by just 1/10th of a second.
After cresting the early climbs together the first attacks came from Bradyn Lange (Scott Sports), who started the day in third place and l'Esperance who opened up a gap to Paton. The race was on as the leaders set a grueling pace up the singletrack and rocks of the Getaway ascent.
After climbing they had their hands full navigating the turns and drops of Bull Run after a light layer of snow blanketed the trail overnight.
After holding a slight gap for most of the race the leaders were caught by Cole Paton on the slopes of the final 1.5 mile climb up Gemini Bridges road with Howard Grotts (Specialized Off-Road) also joining the party.
The group bombed down the final stretches of Gemini Bridges road trading attacks to decide the winner of the 2023 Moab Rocks stage race.
Andrew l'Esperance held a slight margin just before the finish before Cole Paton jumped in front at the tortuous finishing chute to claim the title for Moab Rocks champion by just 6/10ths of a second.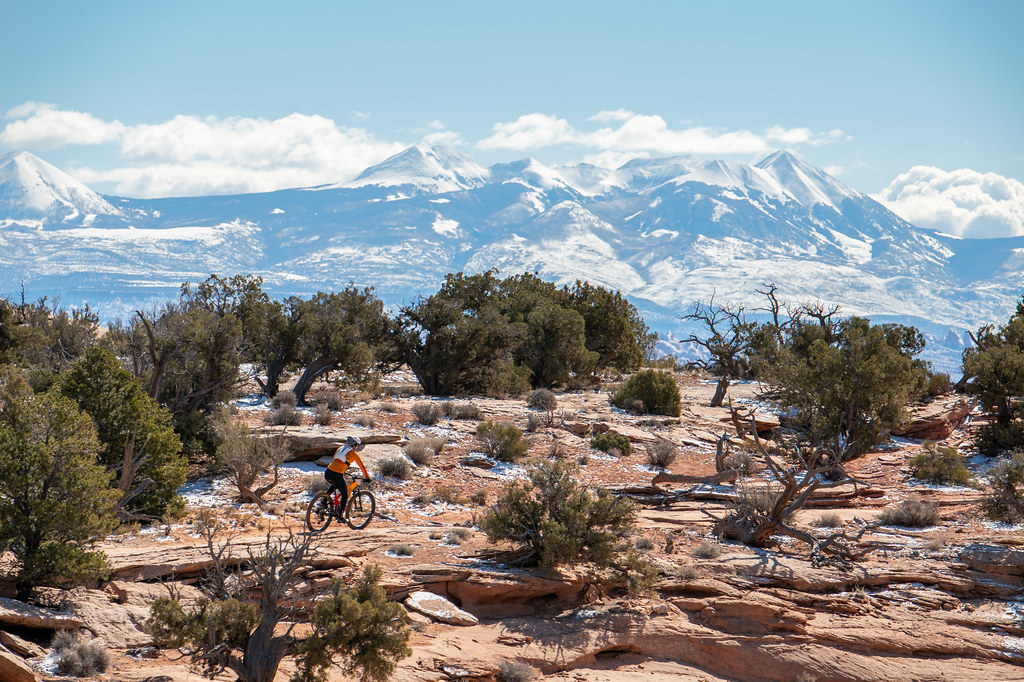 L'Esperance finished second with Howard Grotts taking third.
Despite the cold temperatures racers were thrilled with the challenging trails and epic views on hand in the snow covered red rocks around Moab.
Alexis Skarda and Cole Paton now take a lead in the Singletrack Series with them to the next round May 5-6 in Skarda's hometown of Grand Junction, Colorado.
Stage 3 Results
Pro Women
Alexis Skarda (Santa Cruz HTsqd) 2.20.17
Evelyn Dong (Juliana) 2.21.15
Kaysee Armstrong (Juliana) 2.22.00
Deanna Mayles (Velocio) 2.27.50
Sarah Sturm (Specialized/SRAM) 2.30.24
Pro Men
Cole Paton (Orange Seals Academy) 1.58.54
Andrew l'Esperance (Maxxis Factory) 1.58.55
Howard Grotts (Specialized Off-Road) 1.59.02
Bradyn Lange (Scott Sport) 1.59.12
Stephan Davoust (Giant Bikes) 2.00.29
Click Here for full results from all categories
Click Here for full GC results from all categories