The final stage of Moab rocks is the most popular and it's no surprise with the mixture of challenging rocky climbs and burly, thrilling descents. The race starts on Gemini bridges road which turns from a flat dirt road to a steep climb in the first mile. The climb helps to spread racers out and once over the top it's a fast, loose road descent onto a flat road ride until the next steep paved climb. After a few more miles, racers start climbing technical single track but are rewarded with fun descents and some dirt flow sections. The trail continues in an upward trend until Bull Run, a thrilling rocky descent. Next the trail climbs and descends some rocky plateaus before racers head over to great escape for some more downhill fun. Once off the single track it's back up and over Gemini bridges road to the finish. Today was another beautiful sunny day for racing some challenging, phenomenal singletrack.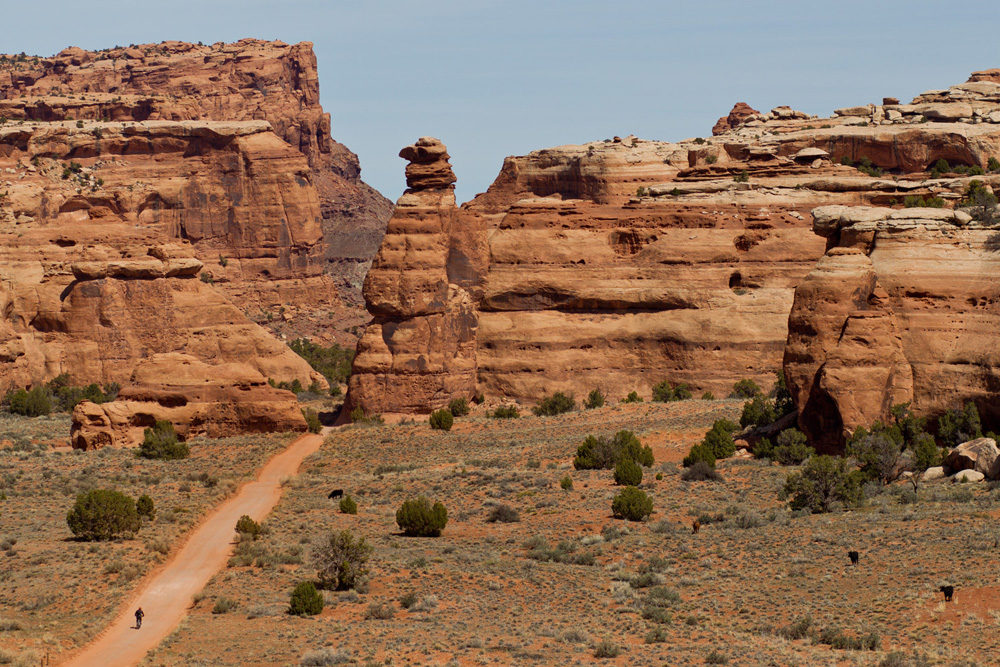 For the pro men, on the first single track, Geoff Kabush (Yeti) pushed ahead from the lead pack. Cal Skilsky (CZ racing), Taylor Lideen (Pivot), and Justin Lindine rode together on the single track but once on the final road section they were caught by Ben Sonntag (Clif Pro Team) and Cooper Wiens (Topeak Ergon). It was a sprint finish to the end for 2nd-6th. Kabush won the stage in a time of 1:57:31. Lindine finished 2nd (1:59:01), followed by Lideen (1:59:02), Skilsky in 4th (1:59:02.5) and Sonntag in 5th (1:59:04.3). For the overall, Kabush wins with a total time of (5:17:50.3), followed by Skilsky in 2nd (5:20:27.2), Lindine in 3rd (5:20:50.2), Sonntag in 4th (5:21:26.1) and Lideen in 5th (5:21:29.2).
For the pro women Katerina Nash (Clif Pro Team) started in the lead on the road climb. Once over the first climb and on the flat road, Karen Jarchow (Topeak Ergon) worked with a group of men to catch her but when they reached the single track, Nash took off. Marlee Dixon (Pivot/ Pearl Izumi) raced in 3rd until Bull Run where she ran into chain issues and was caught and passed by Tamara Donelson (The Cycle Effect). For today's stage, Nash wins (2:16:02), followed by Jarchow (2:29:48), and Donelson in 3rd (2:30:19). For the overall, Nash wins Moab Rocks with a time of (6:10:05), Jarchow finishes 2nd (6:45:17) and Dixon in 3rd (6:46:32).