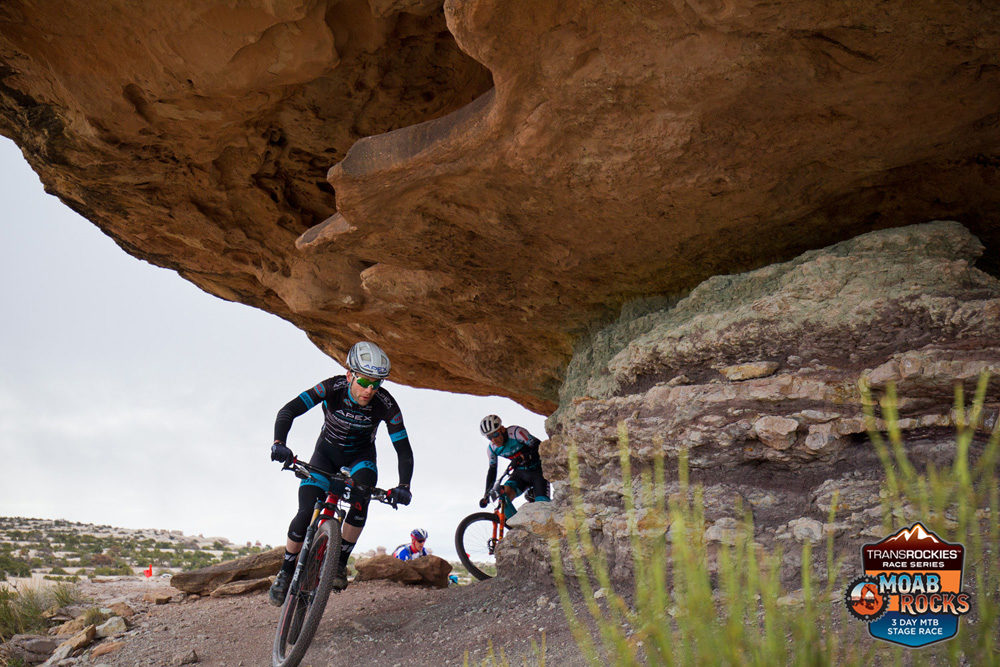 For stage 2 of Moab Rocks, racers head out of town to the Klondike Bluffs trails.  Unlike the beautiful sunny skies of yesterday, racers started this morning in overcast, cool conditions. The forecast was for 60' weather and no precipitation but an hour into the race, big wet snowflakes fell on racers! There's something about crazy weather conditions to add to the epic-ness and challenge of a mountain bike race! 
At 8:30am, the gun went off and racers charged ahead. The first 5 miles of the race are an undulating road ride where racers quickly spread out. Once on the single track it's a mixture of slick rock and dirt with technical features and quick climbs/ descents. The snow added a different complexity to the race- with wet rocks, cold temperatures and limited vision. Once the storm had passed, racers again enjoyed sunshine and tacky trails.
For the pro men, it's still a tight race with 2nd-5th in a sprint finish. The top 5 pro men raced together until the 2nd check point when Geoff Kabush (Yeti) attacked, leaving the other 4 guys behind. 2nd through 5th worked together trying to catch Kabush, but couldn't reel him in. Kabush won the stage in a time of 1:48:56. Once off of single track on the last 4×4 dirt road section, it was a sprint finish between 2nd- 5th place with Taylor Lideen (Pivot) finishing 2nd (1:49:20), Cal Skilsky (CZ racing) finishing 3rd (1:49:21) Ben Sonntag (Cliff Pro Team) in 4th (1:49:28) and Justine Lindine in 5th (1:49:29). The overall for men changes today with Kabush still in 1st (3:20:18), Skilsky in 2nd (3:21:25), Lindine in 3rd (3:21:57), Lindeen in 4th (3:22:27) and Sonntag in 5th (3:22:29).
For the pro women, Karen Jarchow (Topeak Ergon) lead the women on the road until Katerina Nash (Cliff Pro Team) passed her before entering the trail system. Jarchow kept Nash in sight for the first climb but Nash continued to pull ahead finishing 1st (2:10:23). Karen remained in 2nd (2:20:51) and it was a sprint finish for 3rd with Syd Schultz (Jamis Bikes/ Pearl Izumi) finishing (2:24:00) ahead of Marlee Dixon (Pivot/ Pearl Izumi) (2:24:04).  For the overall, Nash increases her overall lead with a total time of 3:54:03, followed by Jarchow in 2nd (4:15:28) and Dixon in 3rd (4:15:34).