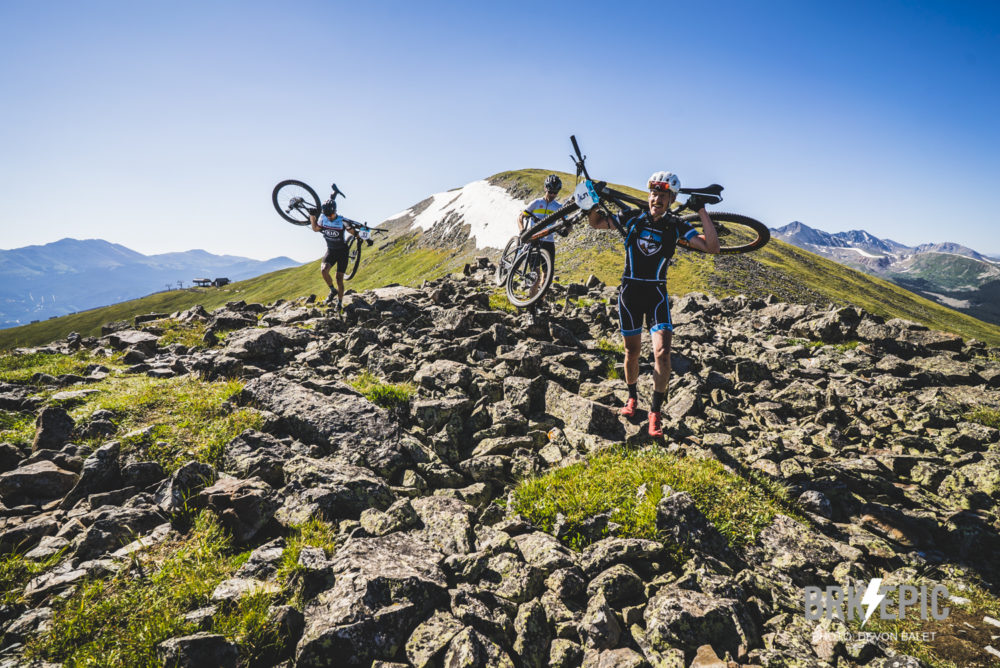 Vaunted Wheeler Stage takes racers into rarefied air along Tenmile Range
Swenson, Nash stay perfect while Mejia moves into third overall
By Devon O'Neil
GC TAKEAWAY: Keegan Swenson and Katerina Nash remained undefeated this week, both winning the Wheeler Stage by comfortable margins (28 seconds for Swenson, a whopping 4:33 for Nash). It sounds redundant, but they were never threatened on the 24-mile stage, which crests 12,400 feet three times and gains 5,544 vertical feet. The UCI Elite names behind them, however, were a different story. Colombia's Luis Mejia marked Swenson (whose winning time was 2:36:33) for much of the day and leaped from sixth to third overall. He needed 1:34 to pass Arizona's rising star Nash Dory, 21, who placed third on the day but conceded 2:53 to Mejia. With Russell Finsterwald looking solidly entrenched in second overall, Mejia's advantage sits at 1:09 over Dory going into the final stage.
In the women's race, Nash (3:23:16) and Hannah Finchamp again swept the top two spots, but the big surprise was Laetitia Roux snagging third after starting the day in eighth overall. Roux, a French ski mountaineering racer who won the World Cup overall title eight times before retiring last year, capitalized on the rugged terrain to make the biggest jump by a women's racer all week. She finished two minutes back of Finchamp.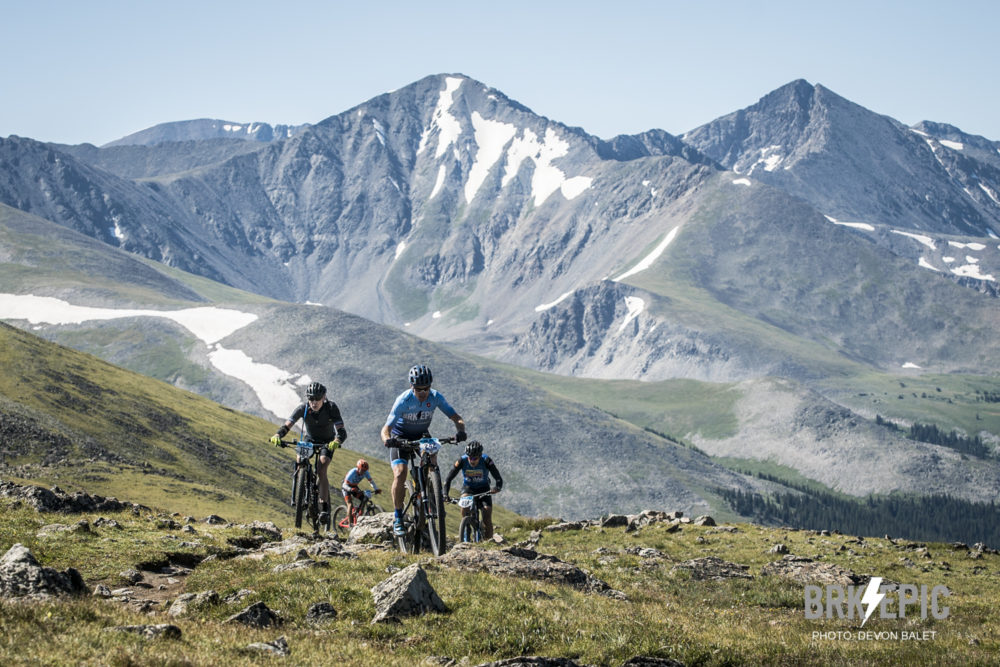 BIKE COUNT: With help from SRAM's staff, we checked bike and component specs and brands before today's start. Some interesting trends shone through. Nearly half the field (44 percent) is using seat dropper posts, for starters. Among the 28 bike brands in action, one in four racers is on Specialized, while 13 percent are riding Santa Cruz. The rest of the top eight broke down as follows: Scott (10 percent), Yeti (9 percent), Trek (8 percent), Pivot (6 percent), Niner (4 percent), and Rocky Mountain (3 percent).
Fox is the suspension of choice for 55 percent of the field, while 38 percent of riders are on RockShox. SRAM dominates the drivetrain category over Shimano (76 percent to 21), while Shimano led the way in pedals (49 percent to Crank Brothers' 21) and brakes, edging SRAM (48 percent to 46). Amazingly, only three people are using front derailleurs this week.
WHEE-LER, WHEE-LER!: The theater never gets old on Wheeler Pass. Thursday an eight-pack of Summit Endurance Academy rippers donned white hazmat onesies and handed out bacon, candy, and bourbon (OK, maybe their parents handed out the liquor since this is a public forum, but let's just say the adolescents were integral recruiters).
'You want some whiskey, bro?" a 13-year-old boy asked a racer as he crested the 12,408-foot pass.
"Nah, I'm drunk enough as it is, man," replied the racer.
The kid moved down the trail. "Hey dude, you want some liquid speed?"
This guy declined, too, but he did accept two strips of bacon. "I'm gonna stash this in my burrito," he said, pulling off the trail. "I'm so sick of all this gel-y food."
"I love you all!" someone yelled while pedaling away.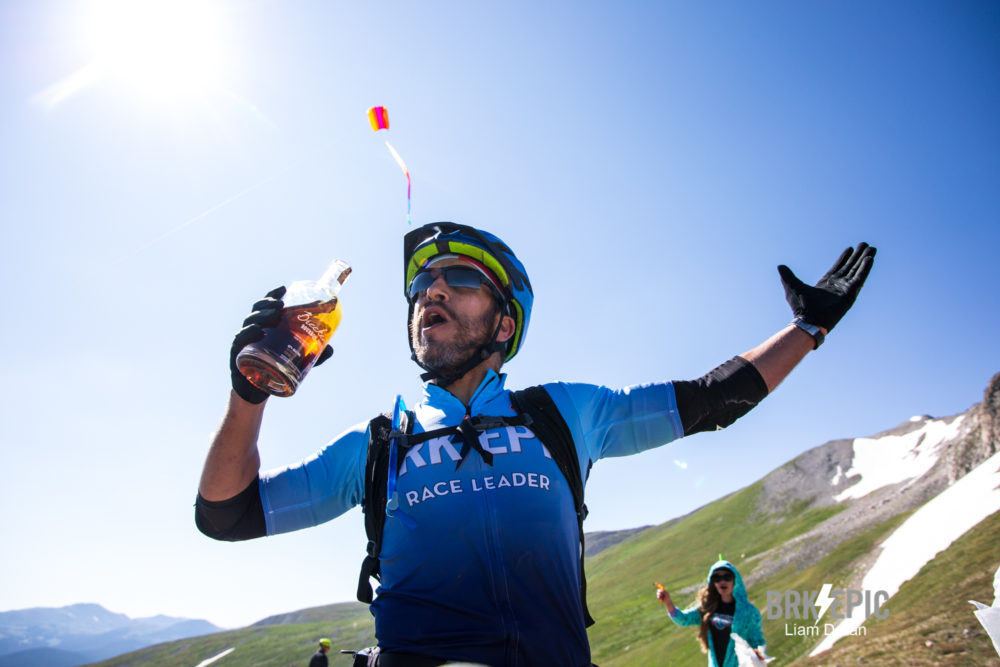 HOW DO YOU FEEL?: I asked this in various ways and at various locations along the Wheeler Trail between Peak 10 and the pass. Some excerpts:
"Good. I thought it'd be harder."
"Terrible."
"Emotional, incredible, on top of the world."
"I'm seeing Elvis, man."
"I'm not gonna lie. I'm a little loose today. My wits are about me, but only tangentially."
"I don't feel much."
"Oh, excited, man."
"Incredible," said a man walking up the trail in his socks. "Blisters. I should've done this three miles ago."
"I wanna see how YOU feel." [Woman hugs me for a while.]
[Man takes a swig of bourbon] "Well, I'm Canadian, so this makes me feel normal. The bacon'll round it out. All I really need now is a donut."
BEST THING WE SAW TODAY: On my way back to civilization, I ran into Dawn Whaley. She is racing this week in place of her husband, Marland, who registered for the race but died of cardiac arrest on June 27. Whaley gave me a hug, tears welling up in her eyes, then introduced me to her two riding buddies at the back of the pack. "This race has changed my life," she said.