Racers tackle wild queen stage around 13,370-foot Mount Guyot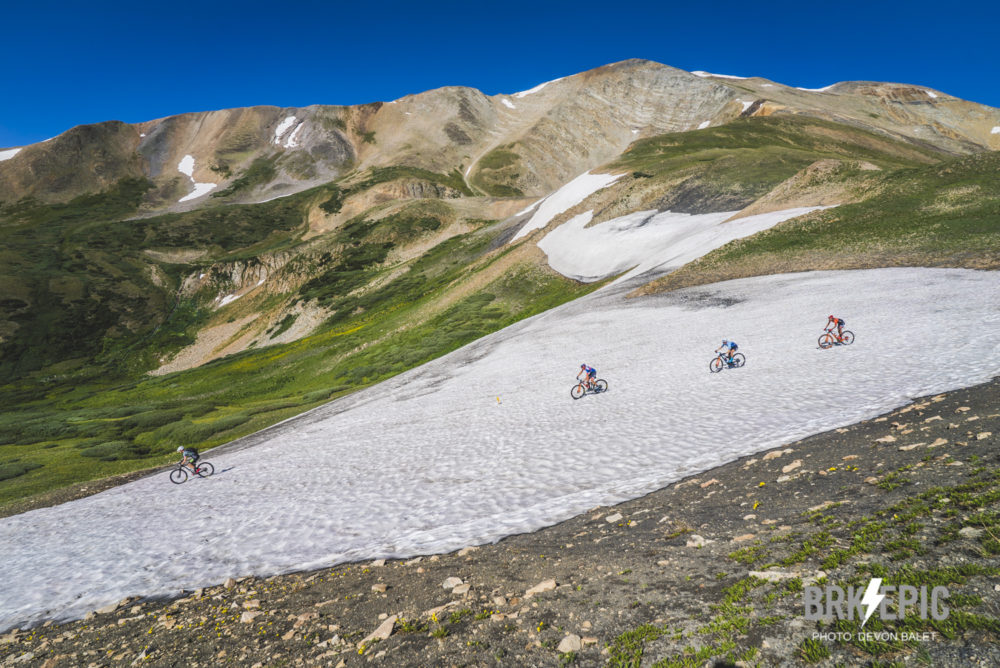 Swenson, Nash build GC leads as race crosses Continental Divide twice
By Devon O'Neil
GC TAKEAWAY: It was déjà vu at the front of the field, as Keegan Swenson and Katerina Nash continue to separate themselves from their challengers. Both won their third straight stage in the grueling, 39-mile circumnavigation of Mount Guyot on Tuesday – the race's queen stage. Swenson rode with Russell Finsterwald and Luis Mejia for much of it, with Nash Dory joining the group at various points. Finsterwald fell off on the climb up to the Great Flume, about 29 miles in, and Swenson dropped Mejia—who'd been attacking most of the day—on the final descent into French Gulch thanks to his flow-trail prowess. He put 42 seconds into Mejia over the last three miles, with Finsterwald taking third and Dory fourth. Swenson now leads the GC standings by 6:30 over Finsterwald. Dory moved into third overall.
Nash found herself chasing 2015 champion Evelyn Dong early in the stage. Dong, who started the day in fourth overall, was the only woman to clean the punishing French Pass ascent to 12,046 feet. She led Nash by 90 seconds and Hannah Finchamp by more than three minutes then. But Nash remained patient and eventually passed Dong on the Colorado Trail descent from Georgia Pass, riding alone for the next 17 miles. Nash beat Finchamp by 2:47 and Dong by 5:04, and leads the GC by 5:50 over Finchamp going into the second half of the week. Dong now sits in third. "This race is tricky," said Nash, the 2017 runner-up. "The altitude is very challenging, but so far I have an appetite and can sleep, so I'm getting my recovery. That's been big."
HOW DO YOU FEEL?: Today this question was posed to the latter half of the field as they climbed French Pass, a spectacular saddle between 13,370-foot Mount Guyot and 13,684-foot Bald Mountain that doubles as the Continental Divide.
How do you feel?
"Torn. It's beautiful. It's brutal."
"Sin aire!" [Translation: airless]
"Wonky. With a slight bit of clueginess."
"Pretty lucky to be here, to be honest."
"Super medium!"
"Well, not as good as my wife and kids at the beach. I'm missing a family vacation to be here."
"That's a hard question."
I'm feeling like in paradise!"
"Not bad for a guy from Ohio."
"Just good enough."
"Feel me."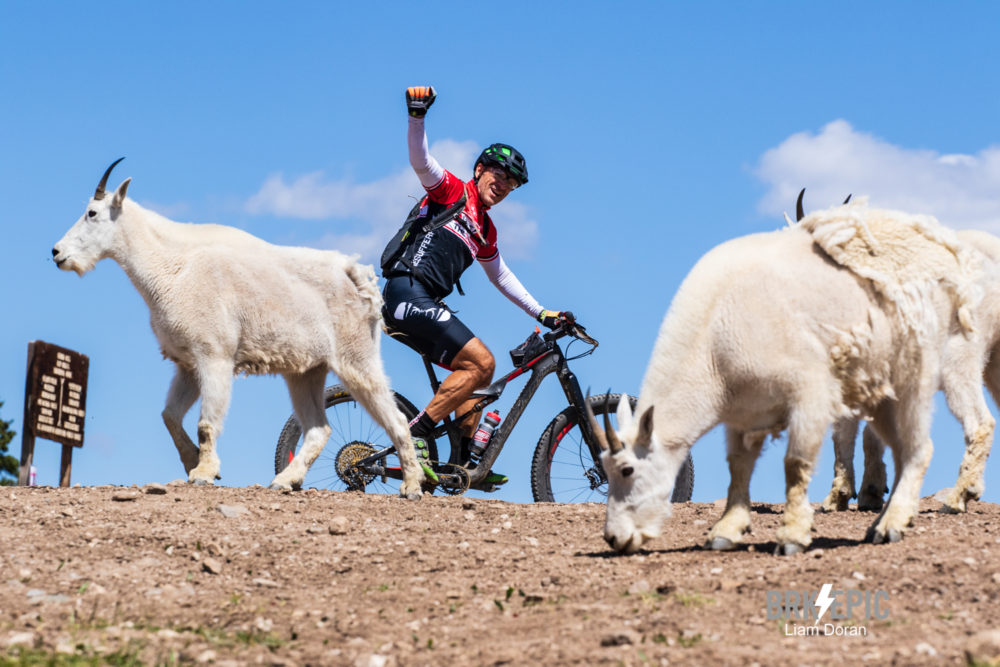 RANDOM ACTS OF RADNESS: During Monday's second stage on the Colorado Trail, Joseph Rosentel, 50, a first-time Epic entrant from Michigan, suffered through what he called "the hardest mental day I've ever had on a bike, in more than 30 years of riding." He flatted four times and rode the final 10 miles on a rear tire with 10 psi, losing more than two hours to drop from fifth to 15th in his division. So when his seat snapped off in a crash 15 miles into Tuesday's stage, he stood there in disbelief. Then he put his saddle in his jersey pocket and began what he figured would be a demoralizing ride to Aid Station 2 and the end of his race.
Soon afterward, he bumped into another racer who had crashed and dislocated his ankle, eventually requiring a medevac. "After I made sure he was OK, I was like, 'Oh, hey, can I use your seat?' He said sure. So I took the seat off his bike and put it on mine," Rosentel said after finishing the stage. "I can't remember his name—I was cross eyed at the time. But it's the only way I would've been able to finish. Just unbelievable kindness."
BEST THING WE SAW TODAY: Rosentel wasn't alone in his run of bad luck. Justin Holle of Denver was in the midst of a stellar stage when he endured "a cascading waterfall of turmoil" at mile 32. He broke a spoke, sending his derailleur and chain into his wheel and bending the derailleur beyond repair. Then his tire started hissing. He was resigned to coast home gearless on the flat, at which point he heard a crunch and looked down to find his carbon seat tube broken in half. He walked the last seven miles of the course. "It was so calamitous that I could only laugh and enjoy my hike," Holle, 36, said at the finish. He was smiling.