Race's longest stage incites drama in men's field, but yields same result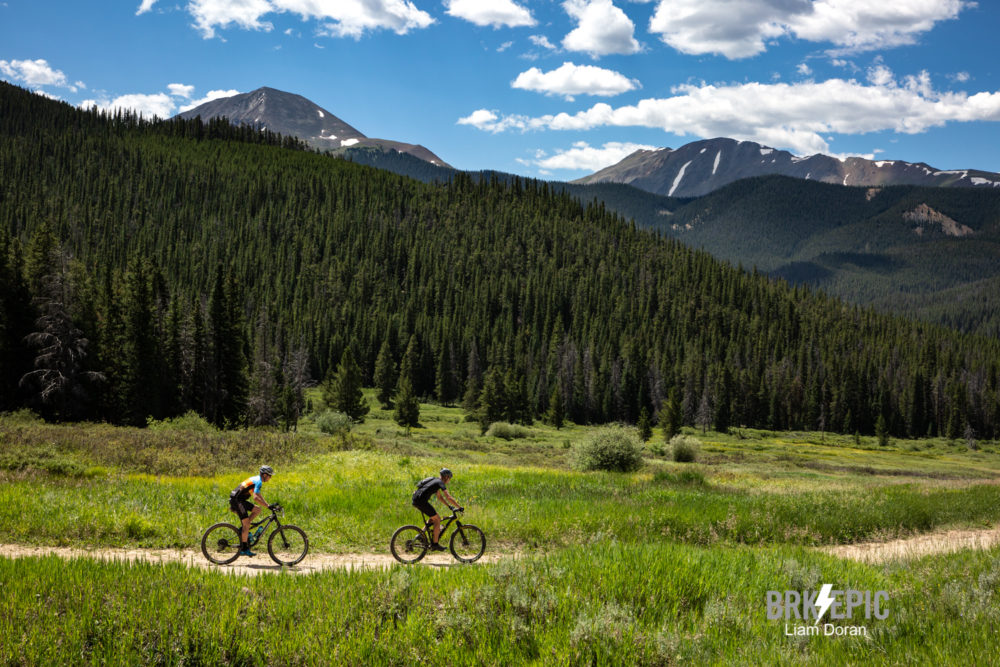 Davoust, Nadell break away but fall short; Nash and Swenson increase GC leads as international field marvels at terrain
By Devon O'Neil
GC TAKEAWAY: Things got interesting in Wednesday's Stage 4—for a while. Durango, Colorado, roommates Stephan Davoust (ninth overall) and Henry Nadell (12th) launched an attack on overall leader Keegan Swenson and the men's elite field 10 miles in. Davoust, who won the Downieville Classic All Mountain World Championship the week before, flatted twice Tuesday and lost 24 minutes; he was intent on reclaiming some time and possibly stealing a stage. He and Nadell built their lead to 3 minutes, 15 seconds by the halfway point, and Swenson was content to let them go. But Luis Mejia of Colombia was not on board, and he attacked his fellow chasers in pursuit of the lead duo. Swenson matched Mejia's attacks, which resulted in them passing the breakaway at the top of the 2,000-foot climb out of Keystone Gulch. "I was keen to just chill today, take it easy," said Swenson, who rides for Stan's/Pivot. "If those guys could hold the gap, good for them—I was kind of hoping they would. But I didn't want to let [Mejia] go."
Swenson then took over, as he has all week. He put 53 seconds into Mejia and coasted to his fourth win in four days in 3:11:39—building his GC lead to 11:01 over Russell Finsterwald, who took seventh Wednesday. Brevard College cycling coach Cypress Gorry claimed his first podium of the week, 16 seconds back of Mejia, while Nash Dory held on to third place overall. There are now four riders within 1:44 of the final GC podium spot.
The women's race also felt familiar. Clif Pro teammates Katerina Nash and Hannah Finchamp rode together for most of the day before Nash pulled away, staying perfect on the week and inching closer to the overall title. She finished in 3:54:43 to beat Finchamp by 1:27 and increase her GC lead to 7:16. Evelyn Dong took third in 4:00:34.
WOOOOOOO!: With racers from 25 countries here, the international finish-line flavor has been rich. Languages, accents, and eyes as wide as pinecones permeate the race. Much of their conversation has centered on the local trail network and how diverse it is, so we were interested in how it compares with their hometown terrain.
"These trails are totally different from my country," said Ajay Pandrit Chhetri, 31, a five-time national champion from Nepal. "We ride on quite wide trail, not narrow one, but I'm getting used to it day by day. It's quite fun. In Nepal we can ride anywhere, from 500 feet elevation to 18,000 feet. But not like this—not technical singletrack."
"You never get tired of it," said Laetitia Roux, 34, of Sauvines Le Lac, France. Roux is a 17-time world champion in ski mountaineering who retired from the World Cup last year and now dabbles in mountain bike racing. "In France and Europe right now, the organizers don't want to accept much risk, so they take the easy way down to avoid crashes. It's so nice to see that we can have these super technical trails here. French Pass was awesome. It was just like, wooooooo!"
"This feels like home, like I'm in the Rockies in Canada," said three-time 24-hour world champion Cory Wallace, who lives in Jasper, Alberta. "Even if you're not flying, it's still going to be a great week on the bike. Whereas if you're not flying at a lot of races, it's not that sweet."
Cat 1 30-plus racer Mathias Purtschert of Ecuador usually rides fire roads. He lives at 9,200 feet in La Sierra, surrounded by volcanoes. "We're not used to riding trails," he said. "But they're really amazing; good turns and jumps and berms. It's very, very technical. I have to focus the whole time going downhill. You can't recover on these descents."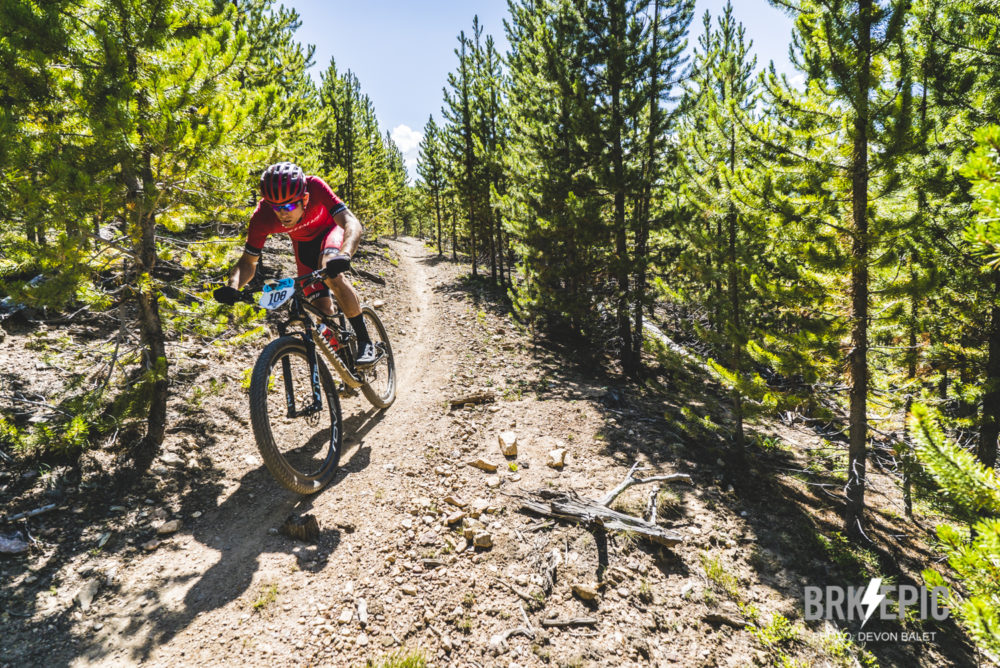 BEST THING WE SAW TODAY: While sitting on a bench in a meadow halfway up Vomit Hill on Wednesday, a long procession of very fast cyclists grinded past me. It was still relatively early in the stage, so heads were down. The 41-mile Aqueduct Stage is a moving day—a good one to make up time or distance oneself from challengers. So I was surprised when Thibaut Level pulled off the trail and came over to sit down. "I'm sick," he said. "Forget the race." Level, a journalist from Lyon, France, who is writing about each stage, said he hadn't taken enough time to enjoy his surroundings this week, and he wanted to make up for that. So he sat down on the bench, opened up his pack, and took out a waffle. Then he spent 10 minutes admiring the view as all the people he is faster than passed him. He couldn't have cared less.