Early this morning racers shuttled to the Klondike Bluffs trail system 20 minutes north of Moab where they battled through 25 miles of vast rocky trail system racing with a combination of slickrock trails and fast flowy single track.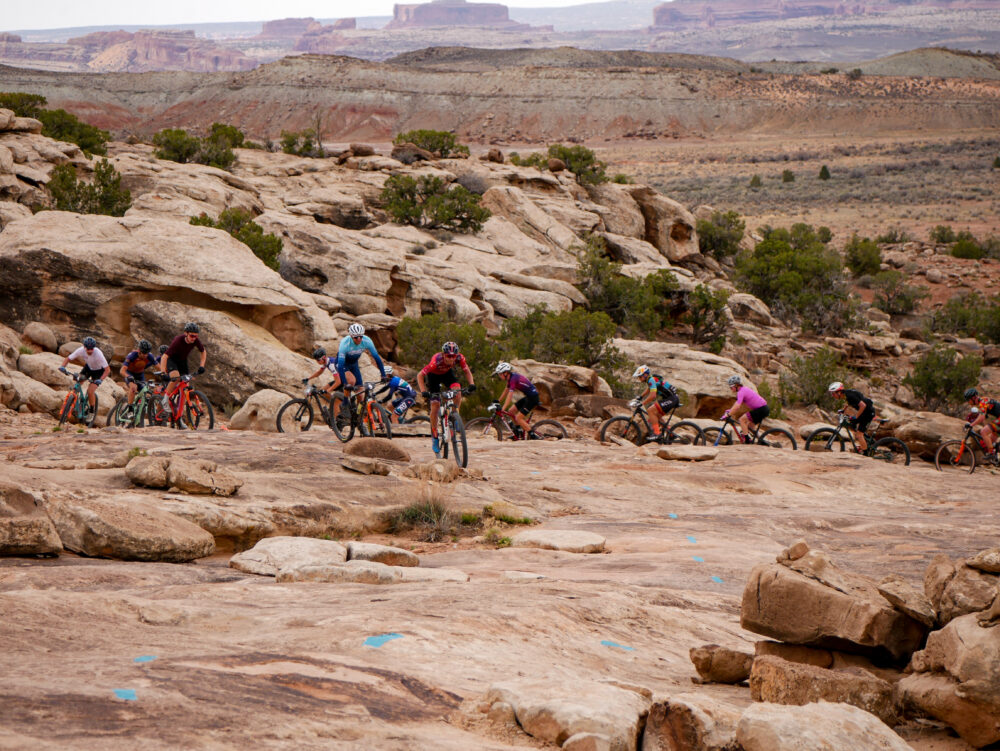 Today's course, on the Klondike Bluffs trail system, had over 2200' of elevation gain in the most XC stage of the race. Racers mentioned their favorite parts being the incredible views on Alaska Ridge and the awesome Moab experience of climbing and descending grippy slickrock!
For the pro women, Katerina Nash (Clif Pro Team) increased her overall lead finishing 6 minutes ahead of the women's pro field (2:12:56). Jennifer Gersbach finished a strong race today in 2nd place (2:18:06) only 13 seconds ahead of Lauren Cantwell (Orbea/Velocio) (2:18:19).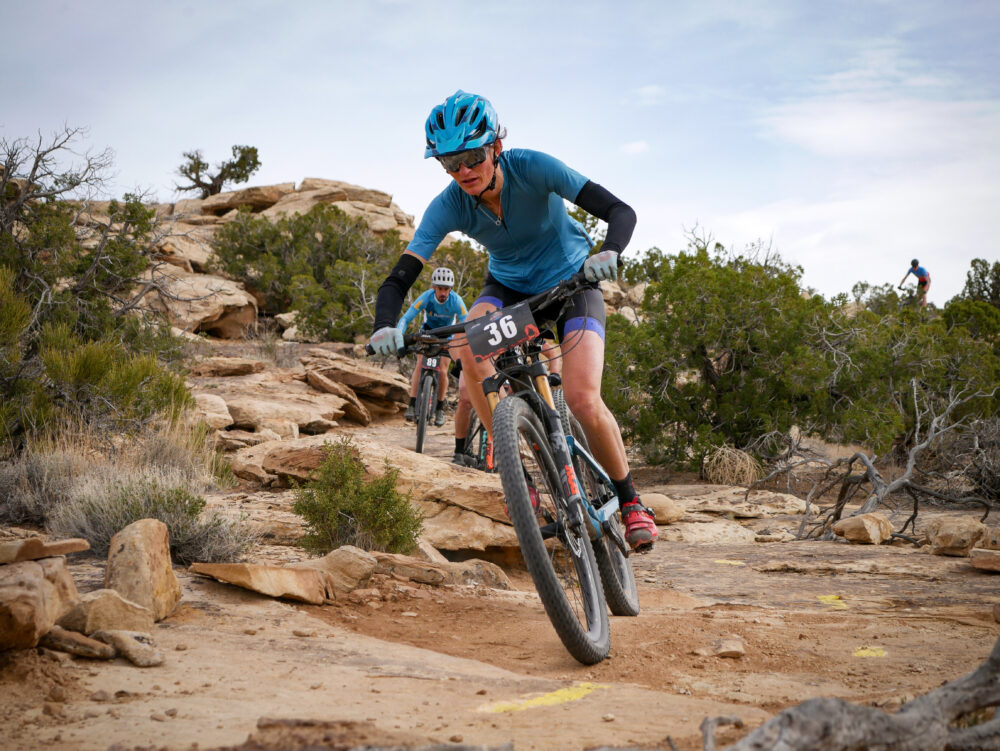 Nash took off from the start with Cantwell in 2nd place. Cantwell was in 2nd place for most of the race but at the end of the last descent she made a technical miscue that let Gersbach flash by. She lost the group she was riding with and with a strong headwind heading to the finish, Cantwell wasn't able to catch back on finishing 3rd.
For the GC, Nash leads by 16 minutes while Gersbach moves from 5th into 2nd place. Karen Jarchow (Revel Bikes) rounds out the top three women's podium only 1 minute 20 seconds back from 2nd place.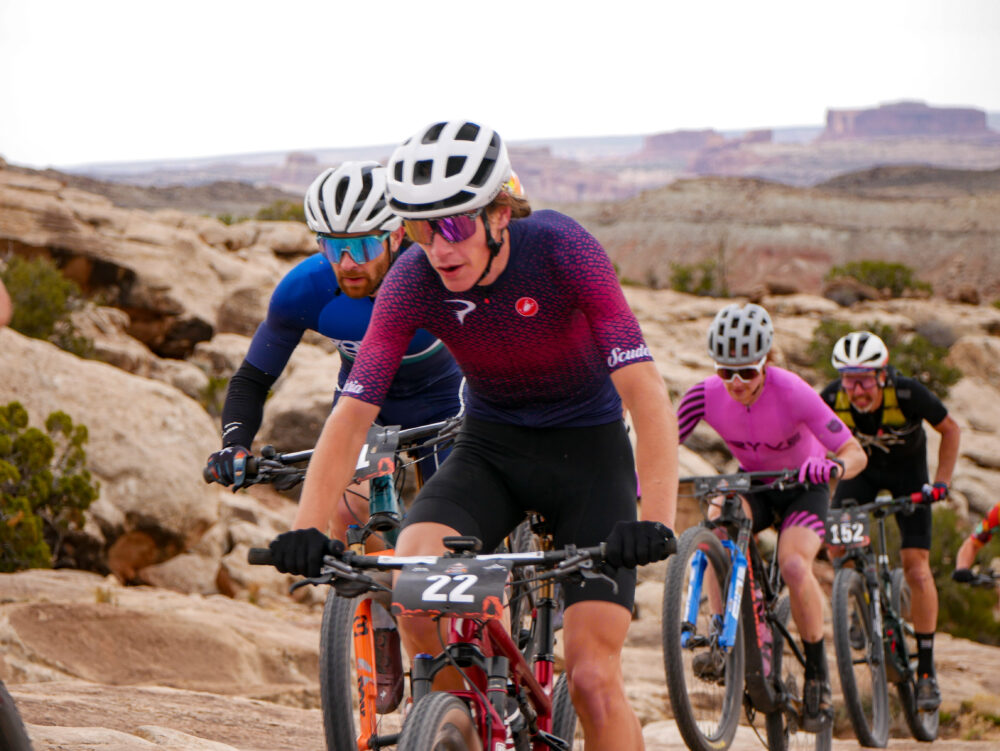 For the pro men, Geoff Kabush (Yeti-Maxxis-Shimano-Fox) won today's stage by over 40 seconds. Starting off the race Kabush was in a large lead group in the early slickrock sections. Bradyn Lange (Cycle Progression) and Carter Nieuwesteeg (Santa Cruz) were leading on Baby Steps trail followed by Kabush then GC leader Stephan Davoust (Giant-Maxxis-Fox) and Ivan Sippy (Team Durango).
In the middle sectors of the race Kabush pushed ahead taking a huge lead and finishing solo in 1st place. A multi-time Moab Rocks winner, it's not surprising to see Kabush on the top step of the podium as he holds off his younger challengers for the GC. Lange finished close behind in 2nd place (1:54:08) with Stephan Davoust less than a minute back in third place (1:54:12).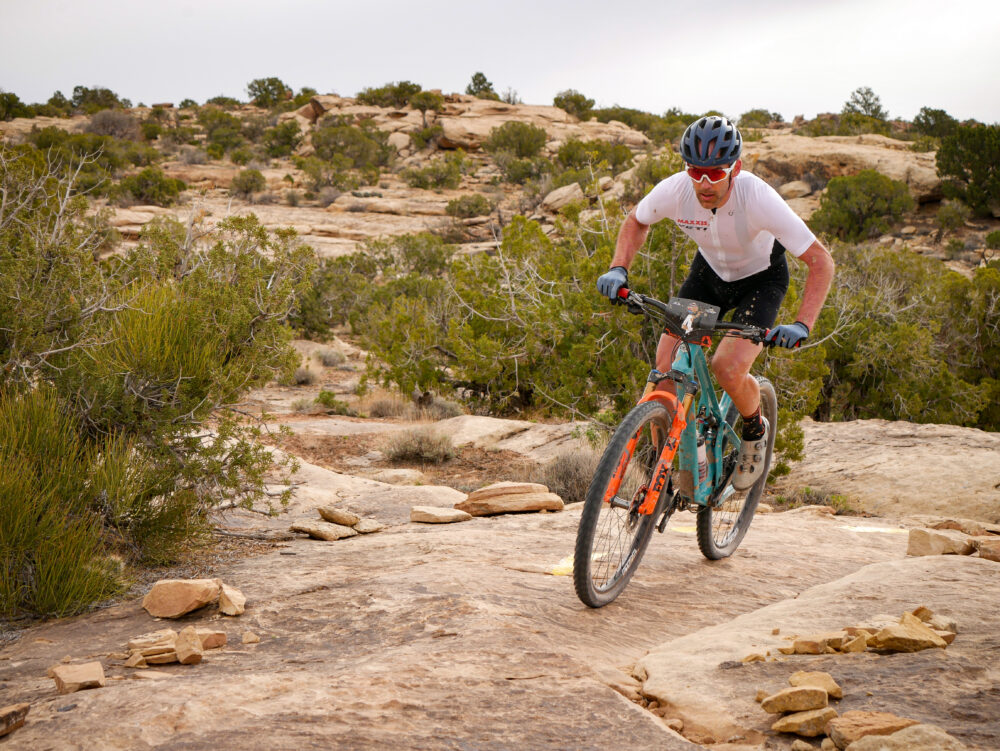 Kabush moves into 1st overall leading the pro men's field by 30 seconds (3:35:01). Davoust is in 2nd (3:35:32) with Lange only 4 seconds back in 3rd place (3:35:36).
Tomorrow is the final day of Moab Rocks as racers compete on the Mag 7 trail system. With shake ups in both the men's and women's field, it will be exciting final race.
Full results at: https://zone4.ca/event/2022/29F4F1AE/