Alexis Skarda and Cole Paton Take Opening Stage of Shortened Moab Rocks
Written by: Shannon Boffeli
After race officials neutralized stage one due to extreme conditions atop Moab's famed Porcupine Rim trail racers started day two with everything in the tank. And despite the 28-degree temperature at the start nothing could cool this stacked field of North America's best mountain bike racers.
Today's stage was also slightly modified from years past due to the unending moisture that has blanketed the west this winter. The course changes meant riders would the final 4 miles on the unrelenting EKG trail named because its profile looks like a reading from a heart monitor; nothing but sharp ups and downs. A challenging end to a demanding stage.
Alexis Skarda (Santa Cruz HTsqd) had a smooth race moving to the front early and staying clear for much of the stage. After the race, she reported, "there were so many men on the course I got in with a few and never saw any women most of the day." Also stating she had to slow her pace on EKG to prevent any missed turns that plagued riders on the exceptionally turny trail.
Juliana teammates Evelyn Dong and Kaysee Armstrong finished second and third respectively signaling a strong start to the season for the team.
Cole Paton (Orange Seal Academy) took top honors in a thrilling sprint finish against Andrew l'Esperance (Maxxis Factory Racing) taking the win by just 1/10th of a second.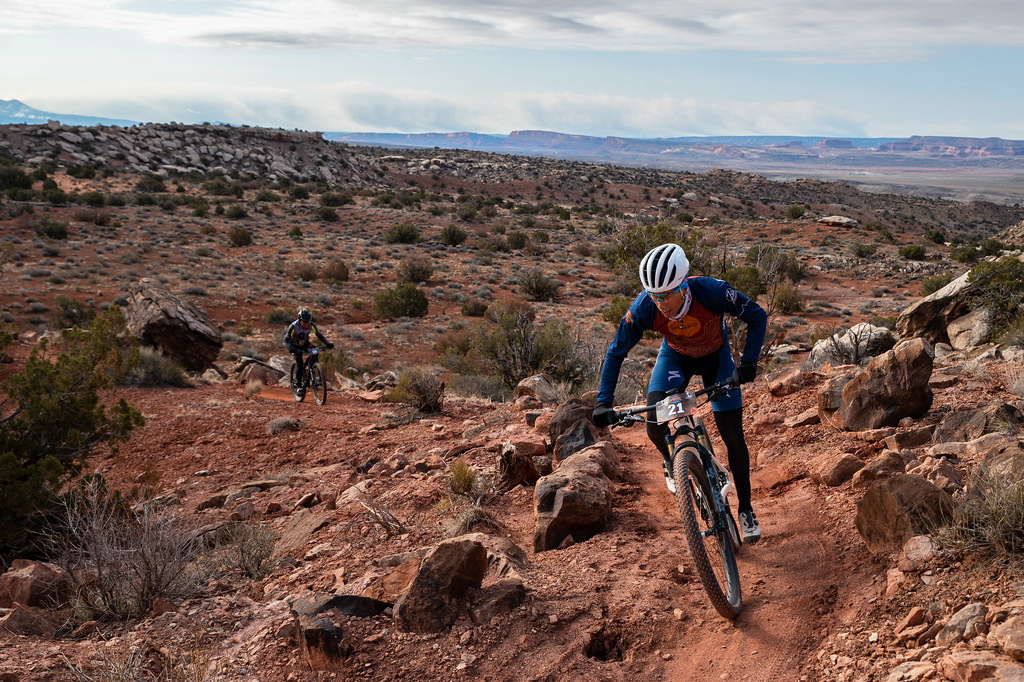 The lead finishing duo was followed just 50 seconds later by Bradyn Lange (Scott Sports). Lange finished third in last years Moab Rocks.
The 2023 Moab Rocks is also round one in the debut season of the Singletrack Series. A 4-race series featuring some of the most-demanding, trail-focused mountain bike events in North America. Round two happens on May 5-6 at the Grand Junction Rides & Vibes in Grand Junction, Colorado.
Stage 2 Results
Open Women
Alexis Skarda (Santa Cruz HTsqd) 2.10.41
Evelyn Dong (Juliana) 2.12.06
Kaysee Armstrong (Juliana) 2.16.58
Ellen Campbell (Specialized/Rapha) 2.17.07
Deanna Mayles (Velocio) 2.17.07
Open Men
Cole Paton (Orange Seals Academy) 1.49.42.1
Andrew l'Esperance (Maxxis Factory Racing) 1.49.42.2
Bradyn Lange (Scott Sports) 1.50.32
Howard Grotts (Specialized Off-Road) 1.51.18
Carter Nieuwesteeg (Santa Cruz/7Mesh) 1.52.17
Click Here for full results from all categories
Click Here for our coverage of last year's Moab Rocks stage 2