Written by: Jen Toops
Close to 300 riders showed up for the Black Fork Gravel Grinder, held May 5th, 2018 in Loudonville, Ohio. New this year was the 54 mile race option, along with the original 23 mile and 30 mile ride routes.  The new 54 mile race brought mountain bikers, cyclocross, gravel, and road racers from all over and offered up a cash purse.  The race had 10 major climbs with about 5500 ft of elevation gain; hitting many gravel roads that are in the Mohican 100 National Ultra Endurance race.
The weather was perfect and the gravel roads were in prime condition after some rain earlier in the week.  Racers were all smiles at the start since its finally warmed up enough to be off the trainer and riding on real roads!  The race started with a short neutral roll out that led into one of the harder climbs of the day (Valley Stream) followed almost immediately by the KOM/QOM climb (Big Hill).  From there the race was on and small groups worked together to keep the pace high.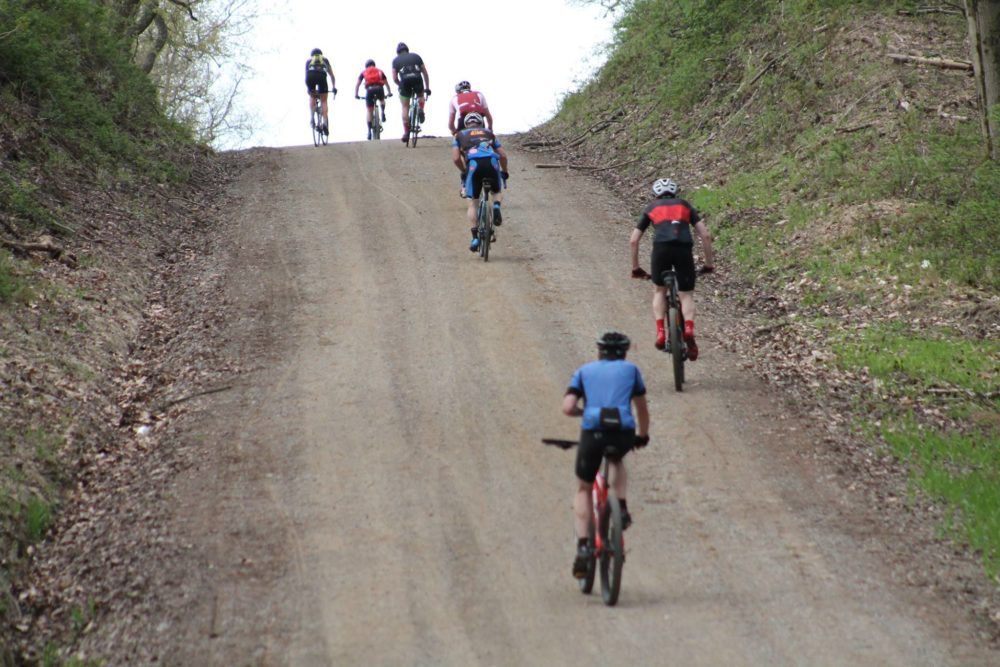 In the 54 mile Men's Open it was James Pooler from West Salem, OH that took the overall win in a time of 3:08:27.  About 25 miles into the race Pooler's handlebars broke but he somehow still managed to finish and take that top step! Coming in 5 minutes back was Dan Payton for a 2nd place finish at 3:13:32 and Joh Wischmeier rounded out the podium just 30 seconds back at 3:14:04.
The women's overall 54 mile race winner was Jen Toops from Marion, OH with a time of 3:39:57.  Only 6 minutes back in 2nd place was Wendy Billings at 3:46:02 and coming in 3rd was Allyson Tufano with a time of 3:49:12.
The first male and female to reach the top of Big Hill Rd (a 0.3mile section with a 15% grade) was crowned King and Queen of the Mountain and given some extra cash!  Taking the KOM was Taylor Kruse and QOM Jen Toops.
Both Overall male and female winners received entries into the Barry Roubaix!
When racers finished race directors Jay Clipse and Matt Simpson gave high fives and a finish beer compliments of  North High Brewing Co.
Overall results click here
The Black Fork crew is also hosting a night gravel grinder Sept 1st: Nite Rider Gravel Grinder