NUE #3 Takes Flight with Covid Precautions in Bend, OR
Bend, OR
Ryan O'Dell
Due to cancellations resulting from Covid-19, The 12th Annual High Cascades 100 became only the third NUE Series race to go forward following True Grit Epic that occurred one day before the Covid-19 lockdown in Utah, and Mohican MTB100 in Ohio, the first mountain bike race to open in the US on May 30. Following these two successful events, Race Director Mike Ripley took similar steps to insure a safe event for both racers and volunteers.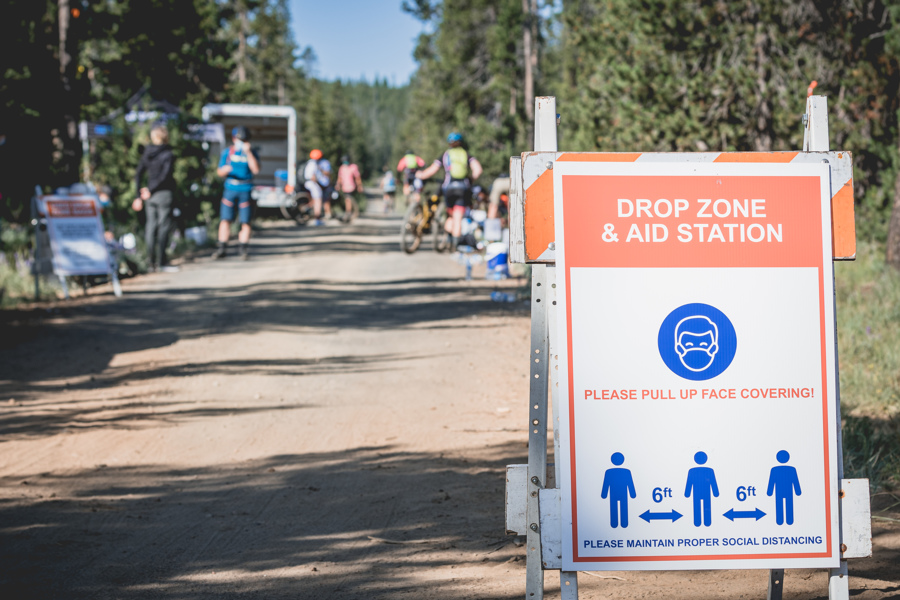 Race Director Mike Ripley, "We knew the process was good, the aid stations had process, the online Covid-19 waivers and event waivers were sent, sanitizer and hand washing sinks were placed and masks were required and enforced with a social distancing violation of 15 minutes for riders that ignored our rules which we never had to use. The event featured a remote start and remote finish deep in the Deschutes National Forest. Each rider had a unique start time based on a ride to the start line after 5:30 am. This allowed riders to self-select a start and with 8 miles of double track to kick off the morning and an extra 15 miles of double track overall provided extra passing lanes and a tough first 41 miles. Overall the event was a success, from no injuries on course and more than that the fact that for one day things felt a bit more normal in 2020!
Women's Open
Reis gets the Win!
Erin Reis, Hutches Bend, wins the HC100 at 8:42:19. "Being a Bend local, I was super thankful that Mudslinger Events was able to host the High Cascades 100 (COVID edition) this year- the preparation for making it safe for participants, volunteers, and the community was impressive. The format introduced some new challenges to contend with- riding with a mask coming through the aid stations and the time trial start. It was nice to have an untimed 9-mile warm-up, but unfortunately, you have no idea where you are in the pack with this format.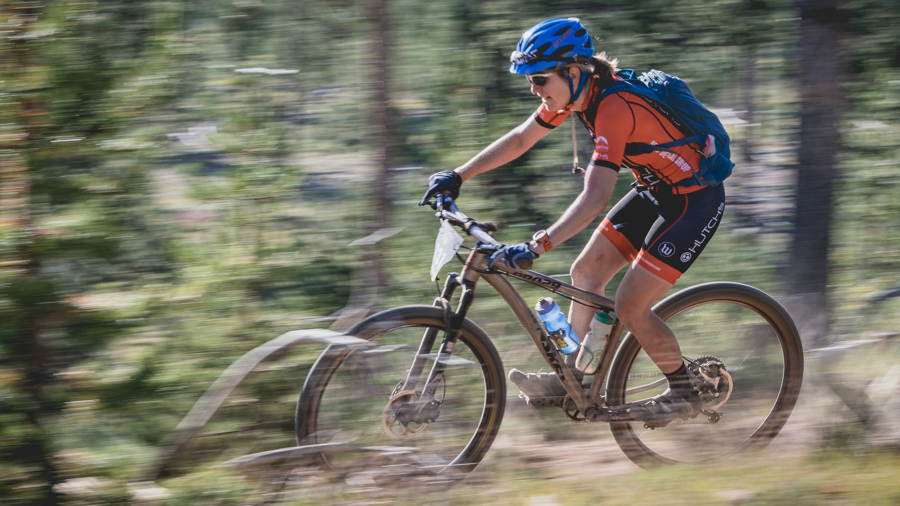 I rolled out a little after 5:30 and quickly figured out that Julie (Zivin) was my mark for the day when she came from behind at a good pace. She was a bit faster going up, but I kept things in check and fell behind on the first singletrack, making a pass on the downhill. She went by on the next road section, and I just tried to keep her in sight and my speed constant. When we got to Kwohl, we were side by side through the lava sections, suffering together, and at the top.
I knew I had my only chance to gain some ground since technical riding (and especially descending) is my strength. It did beat me up, though, since I was riding my husband's hardtail without a dropper (having broken my frame last month!) but I was able to make a gap and just tried to hold it the rest of the race. I never knew how many people were behind me or how far back, and I knew Clarice Sayle was there somewhere (she is a beast on the SS and was third overall last year!) It really made me stay focused the whole time, paranoid that someone was coming from behind.
The course was typical Bend riding- loose and sandy and lots of lava rock (you can't live here without being comfortable with a little drift), but I had marked a large section of the course last week, so I had the advantage of knowing the danger spots and also the flow. I didn't even know I had won overall until a half-hour before awards when a teammate from Hutch's Bend Dental sent me a congratulatory text– the website had me listed as second until the 100k results were adjusted. It felt good to be able to race again, and kudos to Mike Ripley to make it happen responsibly."
Twelve minutes back, Julie Robertson Zivin took second at 8:59:29. Karoline Droege took third at 9:17:40.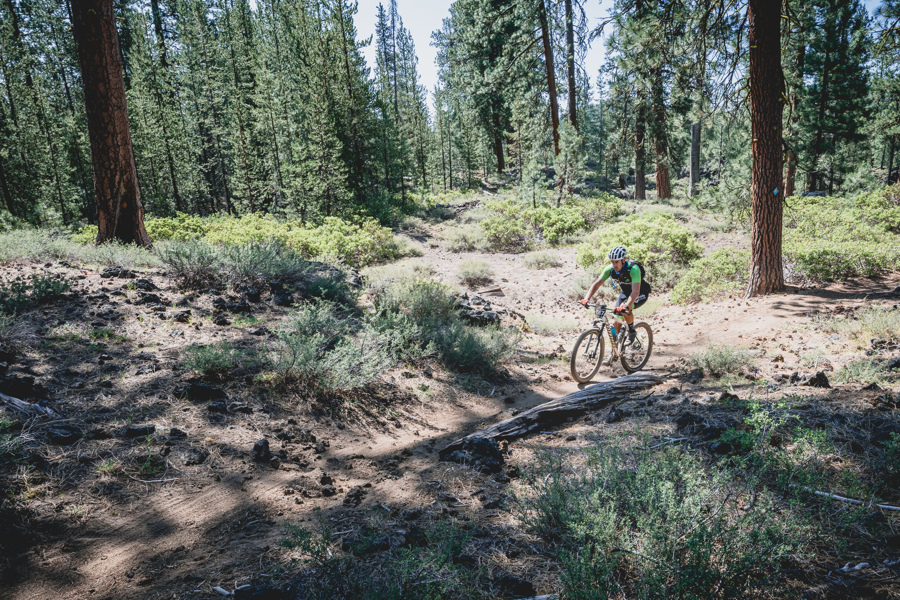 Men's Open
Barberi earns his first HC100 Victory on new Kenda Booster Pro Tires!
Stefano Barberi (Kenda Tire) earned his first HC100 win at 6:21:17. "First of all, big thanks to Mudslinger Events and all the volunteers for putting on the best possible experience under the current situation with Covid19 using some creative measures to keep everyone safe.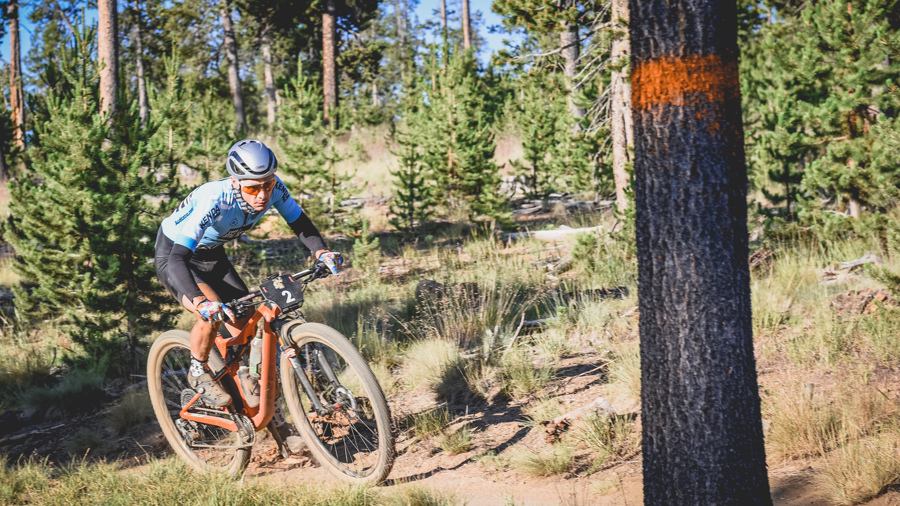 As far as the race goes, one of the safety measures was that we were effectively doing a Time Trial, an 86 mile mountain bike TT. Knowing that, my plan was to kit up in the Starlight Apparel Skinsuit, and ride the first bit in a solid hard pace but without getting into the red at all and then dig a little deeper on the big climbs like Kwohl Wall, FS 45, and Skyliner Ridge to make up time on the competition.
About forty minutes in I took a wrong turn and ended up adding about six minutes to my time trying to find the corner I missed, but I stayed cool and kept going with my plan and waiting for the Kwohl Wall. There I caught and passed a couple of the riders I knew were podium contenders so I knew I was back on track.
Edison Lava DH was about being patient and making sure I didn't crash or damaged something on my Orbea Oiz on the loose lava rocks. This was pretty much the pattern that my race followed, smash the climbs and back off and play it safe on the more techy sections knowing I was always in control of my pace both up and down hill. Legs were good all day even setting most of the fastest uphill times even compared to all previous race editions, and kept my record of ZERO flats in 18 months on my Kenda BoosterPro tires (who also happens to be a NUE Series sponsor). All in all, I'm super happy just to get in a race day, and finally a WIN at the HC100.
Four minutes later, Matt Fox took second at 6:25:01. Ten minutes behind Fox, Evan Plews took third in 6:35:42. "I came to HC100 after many years away with strong ambition to compete for the overall. I felt decent and started fast. By the first feed zone I'd gained time on all the protagonists and had Stefano in sight after his mishap. However, once I started up the Kwol Butte climb I lost my rhythm and never really felt fast again. It was a hard course but a beautiful day! Mike and Andi and their team have always put on a great show and I've known Mike since my first mountain bike race in 1992. When I heard they were putting on this event against all odds, I wanted to be there. They crossed every "T" and dotted every "I"—it was an AWESOME job!!!"
Singlespeed
Schafer wins SS
Improving on his third place finish in 2019, Mark Schafer, Eastside Cycles, rolled up to the top step of the single speed division podium to finish in 7:31:15. Brad Herauf took second at 7:53:16. Five minutes later Seth Patla took third at 7:58:01.
Masters 50+
2017 NUE Series Masters Champion, Golet WINS, now leads NUE Series!
Following his second place finish at the season opener, True Grit Epic, 2017 NUE Series Masters 50+ Champion Greg Golet, took the win at HC100. Golet now leads the NUE Epic Series. "High Cascades is often harder than I expect it'll be, and this year was no different. But that's why we go, right?, to face a challenge beyond the ordinary.
People complained about the lava on Kwhol Butte, but for me it was a highlight. Washboard fire road is what I dread, not techy punchy climbs without obvious lines—that's real mountain biking and (Race Director) Mike put it early in the course, perfect. I don't ride road and spend lots of time on trails I built that have steeps which amount to forced intervals. My biggest concern on Kwhol was just trying not to flat, given I was on pretty light tires and forgot my pump.
This year I didn't put in as many training hours, unless you count backcountry skiing and yard work. This showed on one of the last little climbs coming out of aid 3 where I slipped out in sand and had to walk a stretch, but couldn't bend my legs due to cramping. I wasn't feeling very strong or capable at that moment! Luckily, it was mostly easy spinning to the finish from there. I did miss the (well-marked) left turn onto the last single track, but pretty soon came to an obvious unmarked junction so knew I had better backtrack.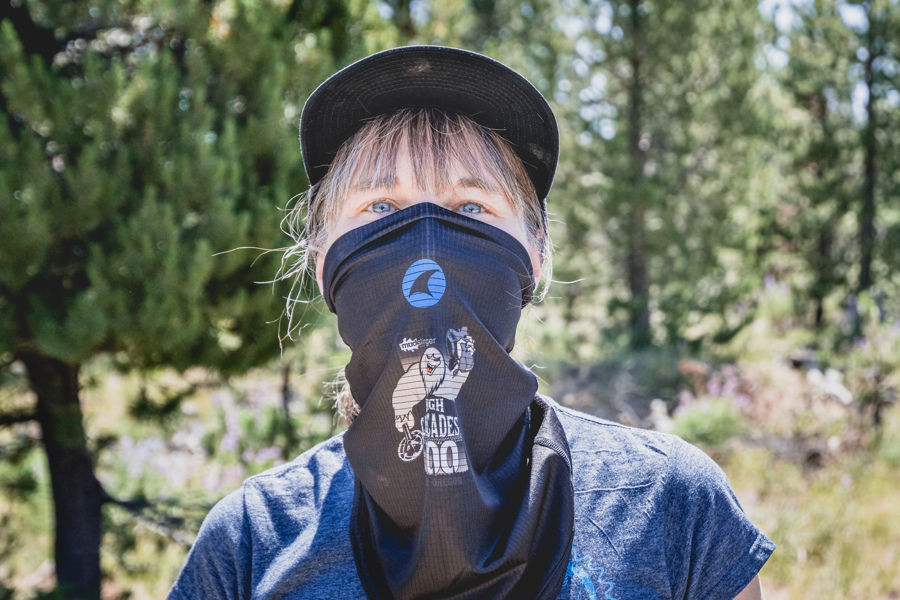 The TT format was a good call given the situation. From what I saw we all practiced responsible distancing following Mike's well defined code of conduct. This was all way beyond what you see on the streets, and I am extremely thankful to Mudslinger and all its amazing volunteers for the gift of another fantastic and well-supported day in the woods above Bend!"
Seven minutes behind Golet, Wayne Tonning took second at 7:31:30. Twenty-One minutes later, Tim Phillips took third at 7:52:09.
WHATS NEXT: Get Stoked! On September 6, The NUE Epic Race Series and NUE Marathon Race Series heads to Virginia for the Shenandoah 100 in Stokesville. Shenandaoh now includes a new 100k option as part of the NUE Marathon Series. From there, NUE Marathon Series heads south to Georgia for the Fool's Gold 100.
FULL RESULTS FOR ALL CATEGORIES
| | | | | |
| --- | --- | --- | --- | --- |
| Category | finish time | bib number | First Name | Last Name |
| 50+ Masters Men | 7:24:01 | 59 | Greg | Golet |
| 50+ Masters Men | 7:31:30 | 157 | Wayne | Tonning |
| 50+ Masters Men | 7:52:09 | 125 | Tim | Phillips |
| 50+ Masters Men | 8:22:24 | 21 | Aaron | Boone |
| 50+ Masters Men | 8:23:00 | 145 | Ed | Serrat |
| 50+ Masters Men | 8:42:45 | 16 | Demian | Bailey |
| 50+ Masters Men | 8:57:21 | 92 | Cort | Johnson |
| 50+ Masters Men | 9:12:00 | 13 | Matt | Allen |
| 50+ Masters Men | 9:13:33 | 25 | Mike | Burris |
| 50+ Masters Men | 9:13:46 | 116 | Dodi | Nov |
| 50+ Masters Men | 9:17:28 | 169 | Brad | Tymchuk |
| 50+ Masters Men | 9:39:38 | 105 | Joseph | Lindstrom |
| 50+ Masters Men | 9:46:31 | 44 | Darrell | Finlayson |
| 50+ Masters Men | 9:46:44 | 72 | Mike | Hardenbergh |
| 50+ Masters Men | 9:46:53 | 164 | Robin | Wessel |
| 50+ Masters Men | 9:50:36 | 70 | Terry | Hamness |
| 50+ Masters Men | 9:58:17 | 26 | Scott | Bury |
| 50+ Masters Men | 10:00:37 | 71 | Matt | Hanrahan |
| 50+ Masters Men | 10:04:24 | 124 | David | Pettigrew |
| 50+ Masters Men | 10:07:18 | 14 | Erik | Anderson |
| 50+ Masters Men | 10:52:28 | 37 | Ed | Daniels |
| 50+ Masters Men | 11:18:07 | 162 | William | Waring |
| 50+ Masters Men | 11:26:10 | 90 | Dave | Jansik |
| 50+ Masters Men | 11:34:36 | 81 | Derek | Hoenisch |
| 50+ Masters Men | DNF | 29 | Frederic | Carrier |
| 50+ Masters Men | DNF | 47 | Michael | Frank |
| 50+ Masters Men | DNF | 138 | Tony | Ruiz |
| 50+ Masters Men | DNF | 54 | Michael | Gaudio |
| 50+ Masters Men | DNF | 78 | Paul | Hemson |
| Open Men | 6:21:17 | 2 | Stefano | Barberi |
| Open Men | 6:25:01 | 175 | Matt | Fox |
| Open Men | 6:35:42 | 7 | Evan | Plews |
| Open Men | 6:37:34 | 3 | Landon | Farnworth |
| Open Men | 6:40:28 | 4 | Cody | Peterson |
| Open Men | 6:46:53 | 5 | Jeremy | Tufts |
| Open Men | 6:50:52 | 173 | Brent | Mattison |
| Open Men | 6:52:23 | 10 | Josh | Oppenheimer |
| Open Men | 6:56:50 | 30 | Eric | Chizum |
| Open Men | 7:02:42 | 167 | Nate | Youngs |
| Open Men | 7:06:02 | 160 | Matthew | Turney |
| Open Men | 7:10:14 | 181 | Kent | Ross |
| Open Men | 7:13:00 | 43 | Curtiss | Feltner |
| Open Men | 7:13:02 | 8 | Andrio | Abero |
| Open Men | 7:22:53 | 185 | Jake | Szymanski |
| Open Men | 7:29:00 | 126 | David | Pilz |
| Open Men | 7:31:07 | 57 | Nate | Ginzton |
| Open Men | 7:32:09 | 170 | Erik | Hammerquist |
| Open Men | 7:36:49 | 76 | Cliff | Heaberlin |
| Open Men | 7:39:01 | 63 | Carey | Grumelot |
| Open Men | 7:41:02 | 128 | Zach | Powell |
| Open Men | 7:45:54 | 144 | Jason | Schroeder |
| Open Men | 7:53:55 | 171 | Andy | Krueger |
| Open Men | 7:54:14 | 17 | Jordan | Barber |
| Open Men | 7:55:21 | 146 | Spencer | Severance |
| Open Men | 7:55:43 | 180 | Justin | Pane |
| Open Men | 7:56:12 | 118 | Errin | Odell |
| Open Men | 7:56:26 | 15 | Aaron | Bailey |
| Open Men | 7:57:53 | 179 | Damon | Gjording |
| Open Men | 7:58:34 | 153 | Ben | Taber |
| Open Men | 7:58:47 | 174 | Kyle | Wuepper |
| Open Men | 7:59:35 | 23 | Jeremy | Brodhead |
| Open Men | 8:04:19 | 107 | Mark | Matson |
| Open Men | 8:05:32 | 122 | Will | Pease |
| Open Men | 8:06:25 | 22 | Brian | Bowling |
| Open Men | 8:07:11 | 111 | Doug | Merritt |
| Open Men | 8:08:13 | 112 | Joel | Meyer |
| Open Men | 8:08:23 | 139 | Jeremy | Russell |
| Open Men | 8:11:49 | 82 | Tim | Holmberg |
| Open Men | 8:12:46 | 187 | Lance | Wong |
| Open Men | 8:13:22 | 114 | Patrick | Nagler |
| Open Men | 8:16:15 | 140 | Chris | Sarrett |
| Open Men | 8:18:43 | 99 | Bill | Knudsen |
| Open Men | 8:18:49 | 177 | Chad | Nelson |
| Open Men | 8:18:56 | 152 | Luke | Sykora |
| Open Men | 8:25:39 | 41 | Leif | Embertson |
| Open Men | 8:33:47 | 49 | Kevin | Frederick |
| Open Men | 8:34:48 | 156 | Quinn | Tirpak |
| Open Men | 8:39:40 | 19 | Robert | Bautista |
| Open Men | 8:46:37 | 42 | Paul | Fagan |
| Open Men | 8:47:14 | 12 | Andrew | Alexander |
| Open Men | 8:48:32 | 51 | Ross | Fuhrman |
| Open Men | 8:49:49 | 127 | Stephen | Plomer |
| Open Men | 8:53:47 | 96 | Josh | Kenyon |
| Open Men | 8:57:18 | 52 | Robert | Gade |
| Open Men | 8:57:50 | 186 | Jordan | Boutilier |
| Open Men | 9:02:55 | 9 | Mike | Modica |
| Open Men | 9:03:52 | 89 | Russ | Jackson |
| Open Men | 9:12:35 | 39 | Gregory | Dufour |
| Open Men | 9:16:28 | 165 | Joel | West |
| Open Men | 9:18:41 | 77 | Eric | Heinemann |
| Open Men | 9:24:25 | 109 | Keats | McGonigal |
| Open Men | 9:26:02 | 161 | Adam | Vollmer |
| Open Men | 9:29:24 | 45 | Grant | Finter |
| Open Men | 9:41:04 | 176 | Dalton | Charest |
| Open Men | 9:42:24 | 33 | Sam | Conklin |
| Open Men | 9:46:49 | 66 | Geoff | Grummon-Beale |
| Open Men | 9:52:44 | 119 | Erik | Parry |
| Open Men | 10:00:51 | 27 | Julio | Cabrera |
| Open Men | 10:12:05 | 136 | David | Rosen |
| Open Men | 10:14:03 | 106 | Todd | Liphardt |
| Open Men | 10:15:42 | 149 | Stewart | Southwell |
| Open Men | 10:19:52 | 31 | Brian | Cimmiyotti |
| Open Men | 10:26:44 | 163 | Daniel | Weiland |
| Open Men | 10:34:54 | 58 | Andy | Goggins |
| Open Men | 10:36:18 | 11 | Eric | Aldinger |
| Open Men | 10:41:17 | 147 | Michael | Shaw |
| Open Men | 10:44:06 | 40 | Matt | Ehrenstrom |
| Open Men | 10:49:00 | 101 | Danny | Kuntz |
| Open Men | 10:58:12 | 133 | Sean | Robertson |
| Open Men | 10:58:40 | 132 | Sawyer | Robertson |
| Open Men | 11:01:52 | 188 | Jake | Biskar |
| Open Men | 11:20:18 | 166 | Mike | Wilburn |
| Open Men | 11:20:20 | 35 | Jordan | Cusick |
| Open Men | 11:20:24 | 18 | David | Bauer |
| Open Men | 11:24:38 | 34 | Anthony | Cree |
| Open Men | 11:34:38 | 178 | Henry | Daniels-Koch |
| Open Men | 11:47:34 | 183 | Anders | Carlson |
| Open Men | 11:53:44 | 95 | Ryan | Kelly |
| Open Men | 11:59:28 | 50 | Neil | Friedrich |
| Open Men | DNF | 62 | Jay | Gronemyer |
| Open Men | DNF | 83 | Ken | Holmes |
| Open Men | DNF | 100 | Jeffrey | Koger |
| Open Men | DNF | 32 | Chad | Coder |
| Open Men | DNF | 60 | Brett | Gombasy |
| Open Men | DNF | 135 | Jade | Rohde |
| Open Men | DNF | 143 | Daniel | Schroder |
| Open Men | DNF | 56 | Joel | Gilrein |
| Open Men | DNF | 84 | Scott | Hood |
| Open Men | DNF | 102 | Marc | Lange |
| Open Men | DNF | 110 | Scott | McNees |
| Open Men | DNS | 24 | Jason | Brown |
| Open Men | DNS | 73 | Cam | Harmon |
| Open Women | 8:42:19 | 131 | Erin | Reis |
| Open Women | 8:59:29 | 134 | Julie | Robertson Zivin |
| Open Women | 9:17:40 | 38 | Karoline | Droege |
| Open Women | 9:22:49 | 172 | Cherie | Touchette |
| Open Women | 9:23:07 | 67 | Nicole | Gunton |
| Open Women | 9:30:56 | 6 | Clarice | Sayle |
| Open Women | 9:31:56 | 117 | Elizabeth | Odell |
| Open Women | 9:34:26 | 74 | Jennifer | Hart |
| Open Women | 9:58:23 | 108 | Caitlin | McCarthy |
| Open Women | 10:55:57 | 148 | Cassandra | Slemmer |
| Open Women | 10:56:25 | 141 | Delania | Sather |
| Open Women | DNF | 69 | Kamila | Gwiazda |
| Open Women | DNF | 53 | Cynthia | Gaudio |
| Open Women | DNF | 86 | Bobbie | Howard |
| Open Women | DNF | 123 | Jessica | Peterson |
| Single Speed Men | 7:31:18 | 142 | Mark | Schafer |
| Single Speed Men | 7:53:16 | 182 | Brad | Herauf |
| Single Speed Men | 7:58:01 | 120 | Seth | Patla |
| Single Speed Men | 8:18:32 | 129 | Blake | Prince |
| Single Speed Men | 8:27:17 | 20 | Brandon | Bentz |
| Single Speed Men | 8:29:51 | 104 | Scott | Lindbloom |
| Single Speed Men | 9:49:56 | 103 | Todd | Lawrence |
| Single Speed Men | 10:30:38 | 159 | Logan | Trammell |
| Single Speed Men | 11:53:25 | 55 | Charly | George |
| | | | | |