Larissa Connors Continues to Win at NUE High Cascades 100, Bryan Lewis Takes the Title for the Men
Bend, OR
Written by: Ryan O'Dell
Race Photos by: Ryan O'Dell and Frizz Studio
The 10th Annual High Cascades 100 marked the midway point of the eleven race National Ultra Endurance MTB Race Epic 100 Mile Series.  At 5:30AM sharp, 400+ racers departed from Bachelor Village, near Mt. Bachelor in Bend, Oregon in what has become one of the most popular races in the NUE Race Series. The town of Bend is a top destination for mountain bikers thanks to hundreds of miles of primo singletrack trails that can be accessed directly from downtown connecting to other nearby towns including the town of Sisters.Deschutes Brewery, www.deschutesbrewery.com, one of the top rated craft breweries in the US, was on site at the finish line serving up draft brews. Sagebrush Cycles of Bend, www.sagebrushcycles.net, in addition to offering mechanical services on the race course at every aid station, also offered racers a place to ship their bikes that included getting the bikes race ready and inspected before the race. For riders not wishing to ship their bikes, Sagebrush offers a full line of high end ($6000+) demo bikes that includes popular brands like Pivot.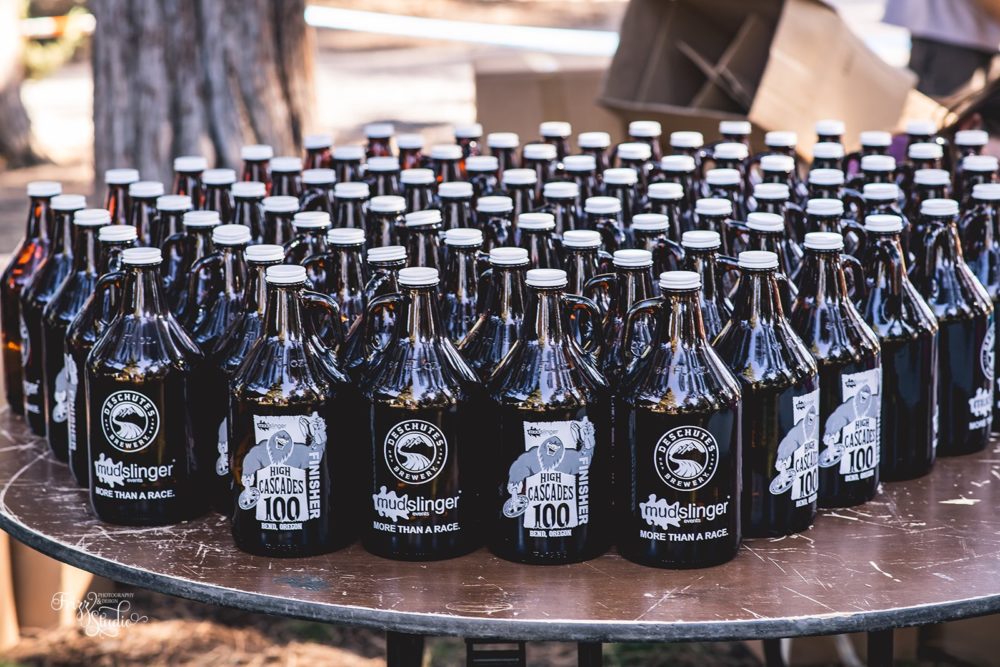 Women's Open
Conners makes it three in a row with NUE Series!
2017 Leadville 100 race winner, Larissa Conners, Davis Bike Club, finished in 8:15:49 making it three wins in a row in her NUE Epic Series debut. Following wins at NUE True Grit Epic and NUE Tatanka Epic, Conners needs just one more win to obtain a perfect score of 4 in this best 4 of 11 Epic 100 Mile Race Series.
"By the time our rowdy group of crazies turned right onto forest road 4130 to begin the first serious climb of the day, my nerves had finally subsided enough that I could breathe. The massive cloud of dust engulfing us was a hilarious distraction from the fear sitting heavy in my mind that the 2017 NUE overall winner (Carla Williams) was in the MASSIVE women's field, and that I didn't know if I had what it takes to beat her.
Pretty quickly the survival mode that usually settles in much later in these long races kicked in, shifting my mindset from 'what's the strategy to win?' to 'race your own race and survive this ridiculous dust trail'. I found a nice rhythm, focused on staying with the duders in front of me, and soon enough we were at the mile 38 aid station where my husband (who I hadn't seen for a month) was waiting with a bottle and a smile. Seeing him was a huge boost in the joy factor, and I powered on up the second long climb knowing I would get to see hubs again at mile 82.
Somewhere on the climb to the high point of the course I ended up alone, very, very alone. I started understanding why people believe in Bigfoot as the trail wound its way through the massive trees, in a forest straight out of a fairy tale. After that climb I spent a LOT of time not sure if I was going the right way, so I waited a few times for the next dude to catch me and confirm I was on the course.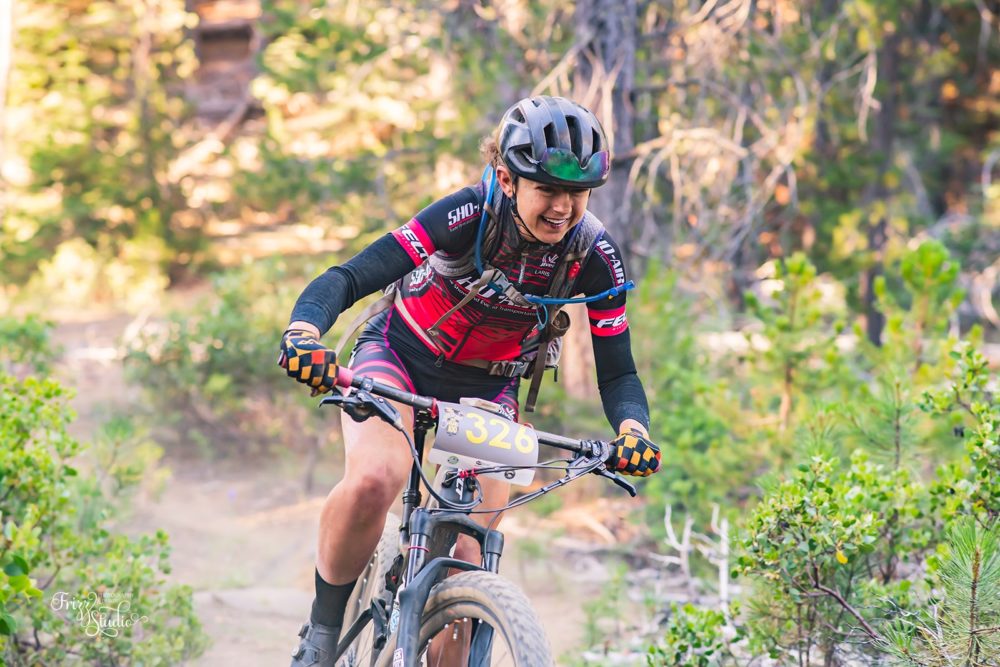 A pretty severe side cramp prevented me from eating from mile 38- 85, less than ideal, but the pain made it impossible to reach in my pocket for food. I also crashed hard on the sandy fire road descent, which was funnier than it was painful. Why do I only crash on fire road?! During a quick stop at the hubby aid station, in which I inhaled a PB&J and an $8 whole foods energy bar (my husband doesn't look at prices… it's terrible) I was informed that Carla was only twenty minutes back the first time through. Knowing she finishes strong sent me into a panic, and I took off, hoping to stay in the lead just a little longer!
A few dudes passed me in the next 15 miles, all of which I was CONVINCED were chicks when I saw them from a distance coming up on me, but was SO relieved to find to be men when they got close enough to pass. I rode my little brains out on Tiddlywinks, which was SO FREAKING fun even when I was tired, and then cruised into the finish with two random dudes somehow still in first!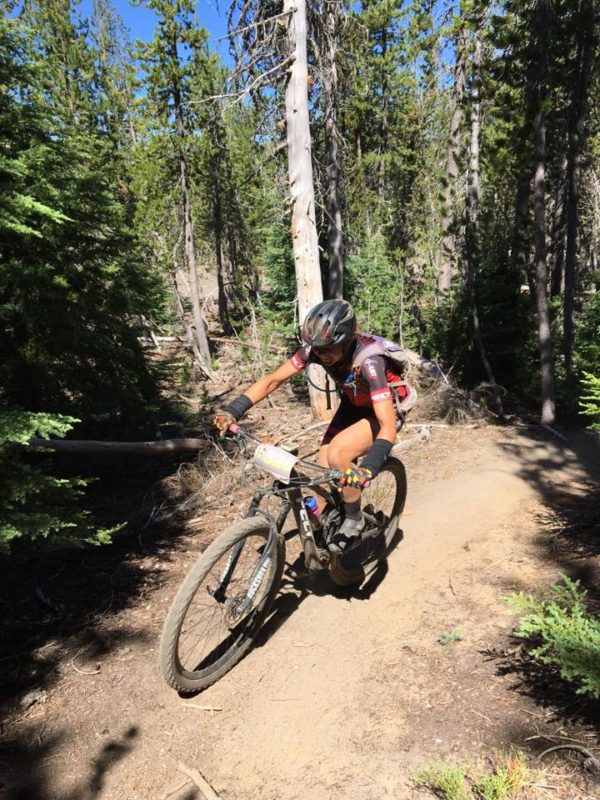 This was one of those freak races where I still felt alive at the end, no laying on the ground this time! In comparison to some of the recent 100 milers I have done this one was WAY less painful. Although my Garmin still registered 10,400ft ascent it never felt like we were climbing (too much) and the weather was so freaking perfect. One of the things I tell myself when I get anxious about racing is that 'I GET to ride my bike for 8+ hours today!' and this race really felt like GETTING to ride fun trails with cool people in an awesome new place! Thanks Mudslinger Events for putting on such a rad race!
Huge shout out to Sagebrush Cycles who helped me swap brake pads the day before the race! Friendliest bike shop service I have EVER experienced! You guys are awesome, keep up the good work!!! I also plan to attend Grizzly100 and hopefully Pierre's Hole (we'll see if coach lets me)"
NUE Epic Series Defending Champion and 2017 HC100 race winner, Carla Williams, Joe's Bike Shop Racing Team, placed second at 8:38:09, although her time was nearly four minutes faster than last year. "I might have failed at my goal of trying all new races in 2018, but when the stars all align easily and I can take a trip to Bend, it's impossible to say no. Besides, since the High Cascades 100 course changes every year, technically I did race a new course, so maybe my 2018 MTB goal isn't completely kaput.
I knew that Larissa Connors was registered for the race, so I figured that I would be racing for second place since she is way faster than me, and so that is what I set out to do.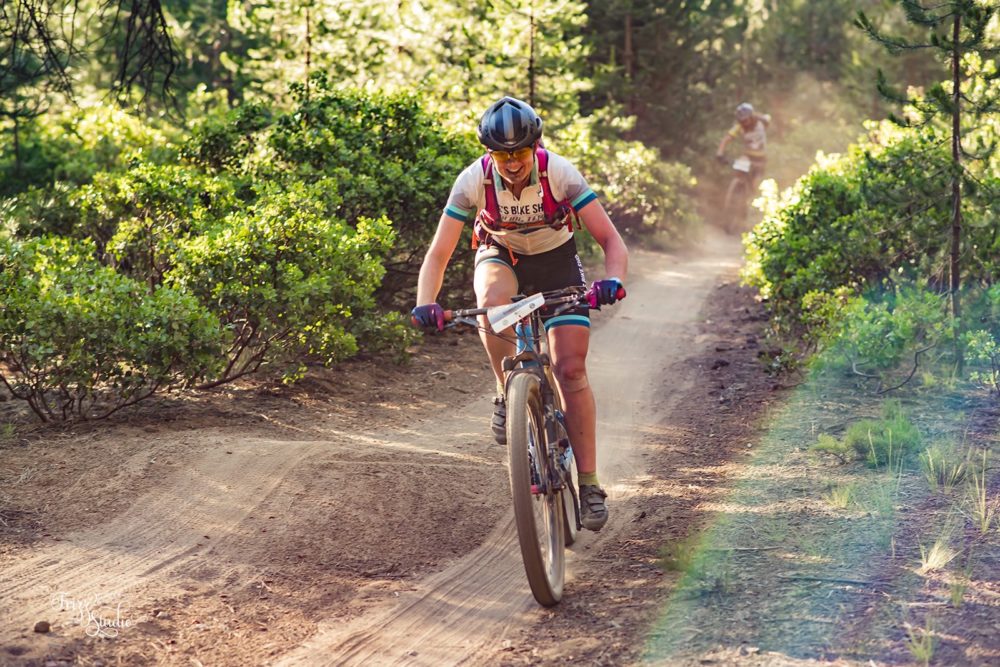 There is a fairly long neutral roll out at the start along the highway that leads to the trails. The first turn off of the main road takes you immediately onto a dirt road for the first of many climbs and the racing starts. The dirt road this year was not really dirt but deep sand and it took a while maneuvering past squirrely bikes to get into a good position on the climb for the 1st singletrack section.
I've been struggling the last couple of weeks with mid-season physical fatigue and also just mental burnout from constantly trying to keep up with work and with training. There have been a lot of tears and questioning what exactly I am trying to accomplish on the bike. Since I still don't have those answers, I decided to simply focus inward for this race. I decided to be happy that I was feeling strong again after some rest days last week, and that I was capable of riding 100 miles on my mountain bike, and that I was lucky enough to be able to ride in an amazing place with incredible scenery. Not exactly race mode mentality, but I did have a smile on my face for the entire day!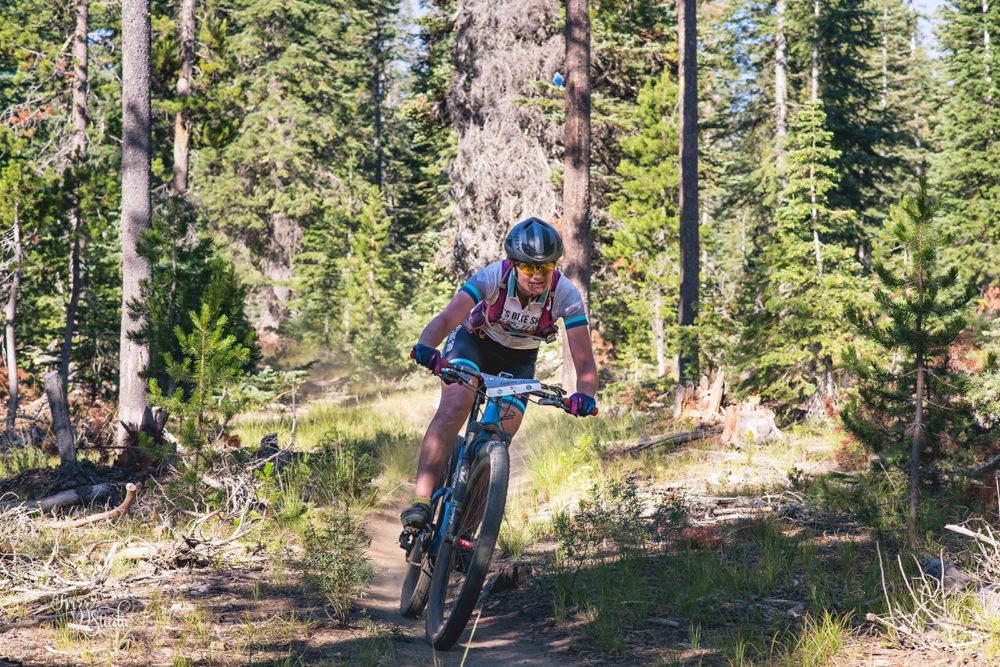 After the 1st climb, there is a really fun descent on a trail called Tiddlywinks, which has fun rollers and tabletops and berms. With all the dust kicked up from racers in front and the morning sun squinting through the trees, it was nearly impossible to see the trail and I basically pointed my bike down and hoped for the best.
I stopped at aid 3 at mile 50 to fill up on water and then started up this incredible climb that slowly wound us up a mountain away from the sandy desert trails and onto real soil, past alpine meadows, and we even passed pockets of snow that hadn't melted yet. It was definitely my favorite part of the course.
I made friends with Eric on the way up the climb and followed his wheel on the descent back down to sandy fire roads and singletrack with some punchy steep climbs thrown in for good measure. I stopped again at mile 82 for more water. Dan Atkins, who I know from Baltimore, and I played leapfrog on the last part of the course, he would pass me on the descents and I would catch back up on the climbs. The last 18 miles had more descents then climbs, and I couldn't quite catch back up on the 5 mile road section back to the finishing line, and ended up finishing right behind him. It was a great day to be out on the bike, and I managed a second place finish in the women's open field.
The race director, Mike, is one of the nicest people and puts on an incredible event. There are lots of pre-race emails that answer every possible question you could have, the course is super well marked and almost all singletrack, the aid stations are great, the volunteers are super nice, and there is Deschutes beer at the finish! It is a really quality race, and I would highly recommend this race to anyone thinking about going next year."
Courtney Boyd, Cima Cycles, finished third at 9:30:16. "This was my first actual 100 mile race. I've raced over that amount in 12-18-24 hour events but never one that had a predetermined 100 mile finish. I was pretty nervous about the course and the stacked field.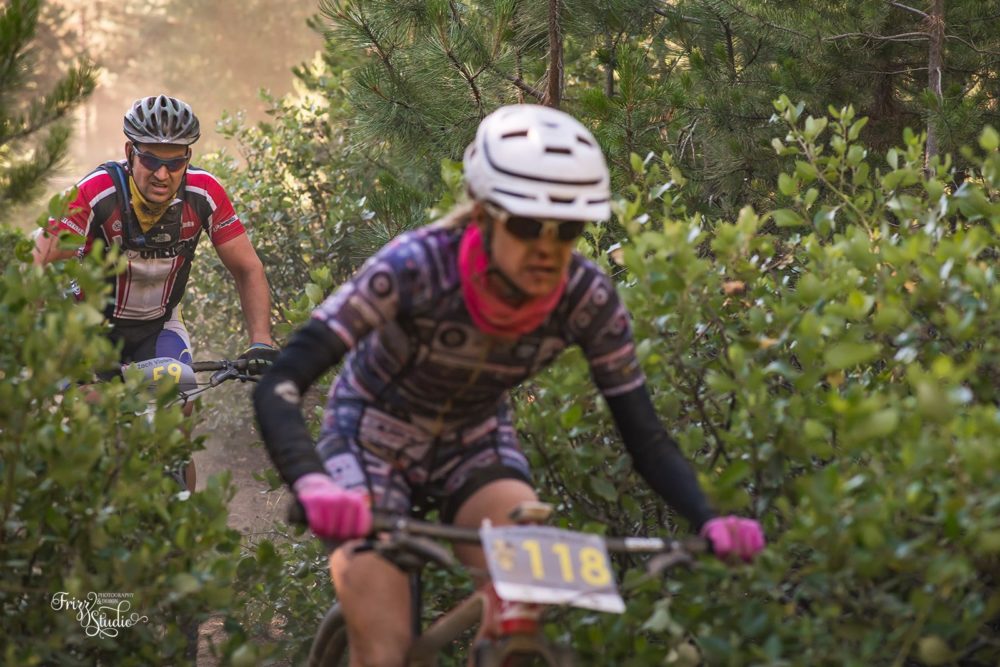 Without a doubt this was the most fun I've ever had racing a bike. The great singletrack climbs and descents more than made up for the sandy fire roads, which were challenging both mentally and physically. All the other racers were incredibly kind and supportive, and the volunteers were absolutely amazing.  I had a fantastic time and hope to be back again!"
 Men's Open
Lewis gets his first NUE High Cascades Victory!
Following his second place finish to Jeremiah Bishop at the Mohican MTB100 in June, Bryan Lewis, BSlow Racing p/b Cutaway, earned the win finishing 7:16:07. "The High Cascade 100 started at 5:30 with a serious chill in the air. The initial road section made for a very chilly start but also made the first section of trail climbing hot. Stefano set a solid pace that saw us a bit off the front early. The group came back together on the gravel road before dropping down Tiddly Winks for the first fun descent of the day.
Ben Shaklee, riding a SS took the lead, until Stefano past him before the downhill, but Ben would get his revenge hitting a rowdy straight line double as Stefano went around a berm to take the lead.  Coolest pass I've seen in my life.
On the following climb, Stefano set the pace and that was the last I saw of the rest of the group.  We made it through the 50-mile aid together and then began the big climb up to Bachelor.  Halfway up, I jumped into the lead for a descent and then looked back to see no one behind me.  I didn't know, but Stefano had crashed, and that was the last I saw of Stefano for the remainder of the race. The net downhill finish made for a ripping fun last 40 miles. Dinah Moe Humm almost got me as I started really feeling the early pace set by Stefano but, after that, it was a good rip of a "downhill" home.
Overall a great race, with a ton of fun single track, and a great atmosphere. I look forward to going back for sure. Next NUE race: "Writing this from Jackson, Wyoming where I'm relaxing until Pierre's Hole on August 4th."
Sponsors: Flying solo, but appreciate the support of my employer Cutaway, USA as well as a good group of friends (Will, Steven, Tyler, Seth, AT, and Carlo) that consistently talk smack and give me a hard time as I chase fun events across the country."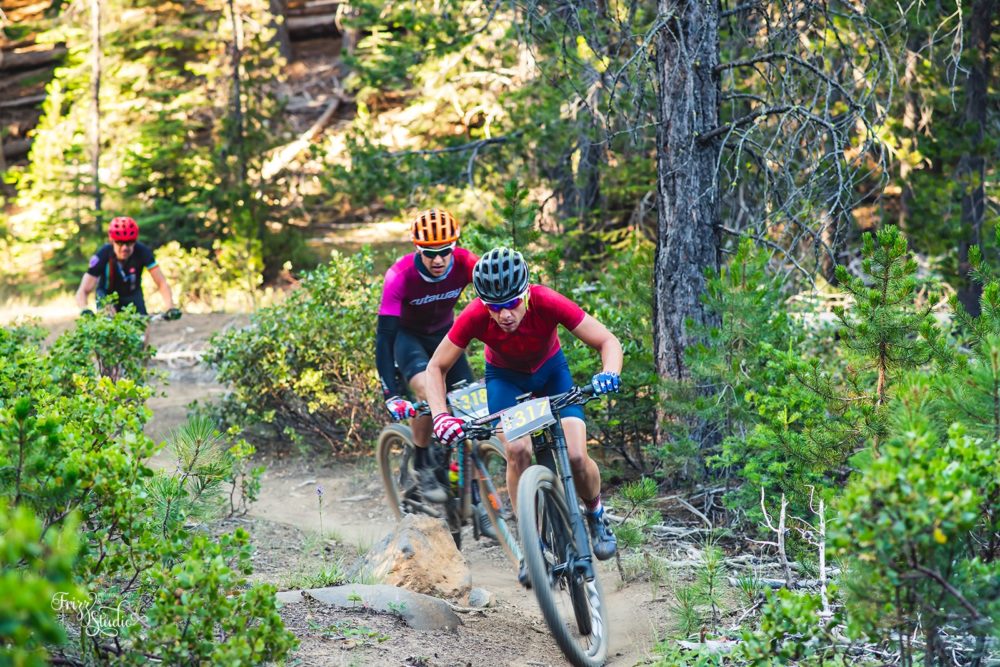 Following his second place finish at the NUE Series Opener, True Grit Epic, Stefano Barberi, Dryve Wheels/K/SA/TBB, placed second to finish in 7:29:16. "High Cascades was a great time, I did it last year but sort of a last minute thing as I had to be in Bend for Cascade Classic Road Stage race (which I have done 12 times). The reason I mention this is because it was at that race that I decided that maybe more endura MTB races were going to be my thing going forward after 15 years of racing road full time. Even though that day wasn't supposed to be for me as I took a wrong turn around mile 75 after being in the lead group with Chris Jones and Dylan Johnson while racing on ALL borrowed equipment as none of my own stuff showed up at the airport when I landed the day before!
Back to this year, after the "neutral" startup Century, we hit the first trail and I knew right away the race was most likely going to be between myself and Bryan Lewis who I also knew from road racing. There were a few sections where I picked up the pace and there was a bit of separation. Bryan and I had a "gentlemen's agreement" and decided to stay together for the early parts of the race, and even wait for one another through the aid stations and nature breaks along the way.
Once we hit the Mzarek climb, I picked it up a bit and the racing was on. He stayed with me over the top, then on a short DH right after there was a group of hikers and, as I was trying to go around them, I ended up going over the bars. Not a big crash by any means, and Bryan waited for me to get back on, but enough that it took a bit out of my concentration.
Less than five minutes later, while following Bryan, I had another crash, this time a bit more high speed and I landed much harder and it took me a minute gather myself. I hit my head so I checked my helmet to make sure it was ok and got back on the bike. I was back to pedaling but I needed a few minutes to shake off the crash before getting back into racing mode. At this point I had a pretty god idea that, short of Bryan having some bad luck of his own, it was going to be hard to pull back the time I lost.
Bryan had a great ride and was a deserving winner,  I'm happy with my second place especially since I'm coming back from a broken Tibia in another crash exactly two months ago to the day of the HC100. Next up for me is Pierre's Hole, and I'll for sure be at the Grizzly 100 as well as I was second there last year and would like to go one better this year!"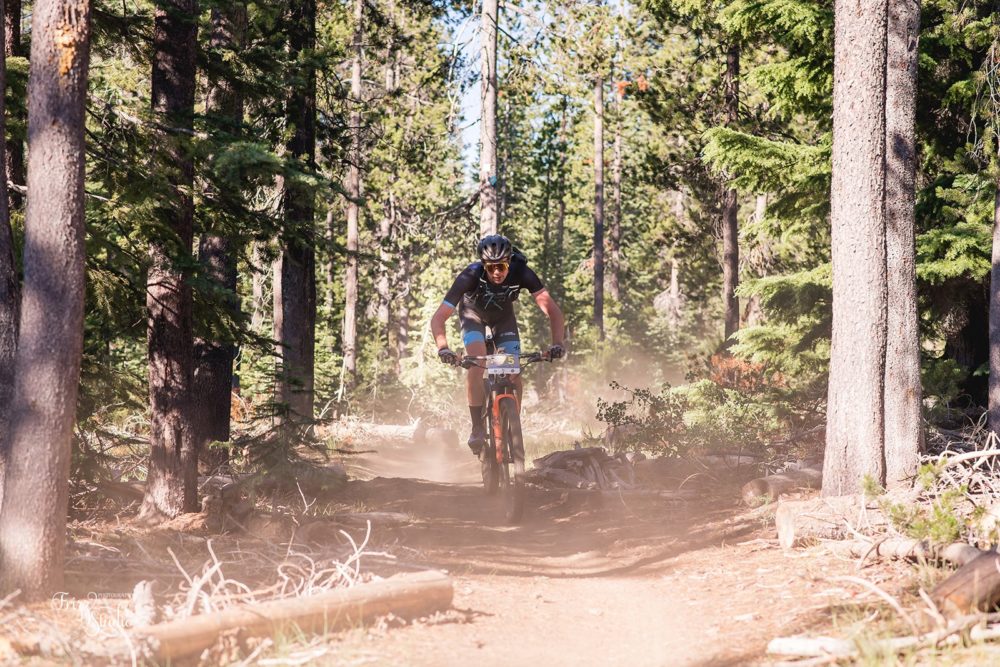 Matthew Turner, Spry-Legacy Properties West, finished third in 7:40:35. "The High Cascade 100 was my first 100 mile mountain bike race. I have done the True Grit 50 and the Pierre's Hole 100k. The race in Cascade started out relatively slow up the cold road start.
Once we hit the dirt, the race quickly separated with a small group of about 7 of us on the front. It took until about mile 28 where the first Feed zone was located until our lead group also started to split up. Between there and the second Feed zone, I was riding in 3rd and 4th with one of my good friends from Fort Lewis College. Unfortunately, he made a wrong turn and lost a lot of time, otherwise it would have been a great battle with him for the last half of the race. From about mile 50 to the finish, I rode all by myself with no one in sight to a third place overall finish."
Singlespeed
Linn wins his first ever 100 mile race!
Gabriel Linn, Trusty Switchblade, finished in 7:52:35, earning his first NUE SS win in his FIRST ever 100 mile race!
HC100 was a blast and met my goals. This was my first 100 mile race and I ran a 2:1 gear ratio. It was what I had been training on and I realized its downfall early in the race. I had a hard time holding wheels on the double track climb. When I hit the Mrazek Trail and beyond happy valley, my legs were screaming at me. I basically walked my pedals up and over to Dutchman's flat and recouped at the aid station.
Volunteers screamed that Ben was just ahead so I rode hard. This is where the gearing started paying off. I caught Ben at the water bars after he punctured a tire. I rode my way down and was 100yards or less from 6 and 7 at the road but when I came out on the road, they were gone! I spun my way in looking over my shoulder. Lessons learned and will be ready for next year!"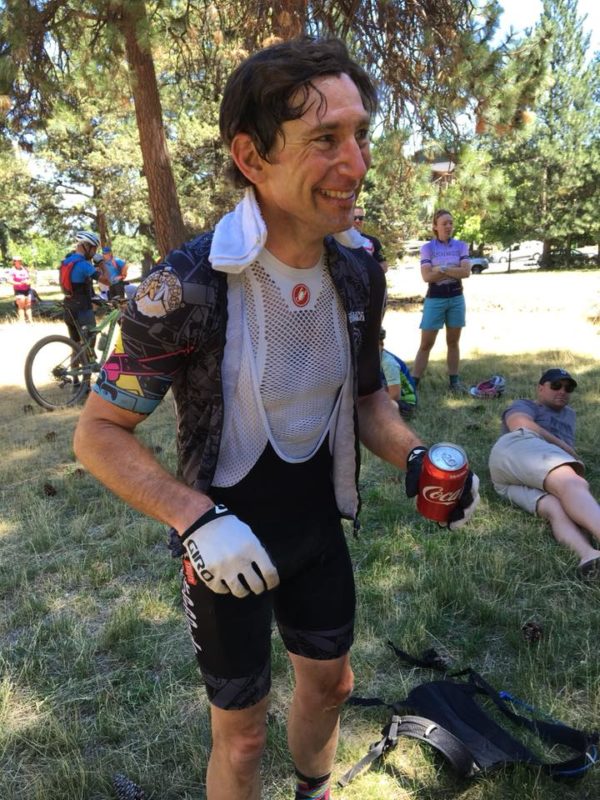 Following his first NUE SS win of the season at Tatanka Epic, 2017 HC100 SS Race winner, Ben Shaklee, Jack's Bicycle Center/Homegrown Racing, suffers a major mechanical but still manages to finish second in 8:01:12.
"After the neutral rollout, I went into the dusty double-track climb in the top 15 or so and gradually worked through traffic and into the top five. I passed Bend local, Cody Peterson, in the moto trail after the double-track. Back on fire roads, I stopped for a quick pee and watched about ten riders go by, now putting me in about 13th place overall. I passed some of those racers back on the fire road and a couple more on Duodenum climb but stuck in traffic. Once I was back on the fire roads, I caught some geared riders and assembled a group of 3-4 and we were able to catch back to the race leaders before the next singletrack. I made a pass on Tiddlywinks descent and emerged as race leader at mile 20, before tapering back for the climb up Funner to Aid Alpha and getting passed by Stefano and the Cutaway rider from VA (Bryan Lewis).
From there I settled into a rhythm with some geared riders, making good time, but got dropped at the climb out of the sandy underpass. I rode pretty much rode solo from there, seeing only David Krimstock as he came by me following Swampy water station, now in about 8th place overall. I fed on the road climbing up to Aid Bravo, hit my drop bag and refilled bottles there, before continuing on. I really paced myself up the climb at mile 50, as it is where I cracked about four years ago.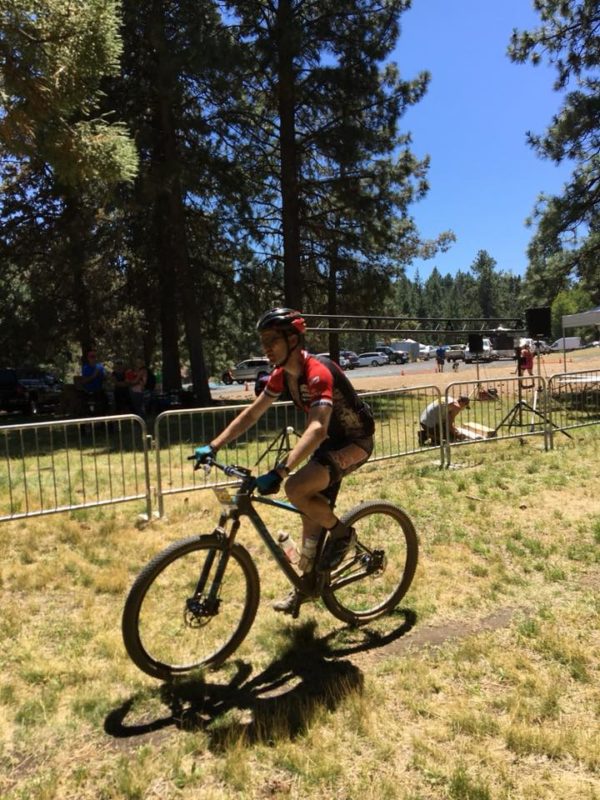 A couple more geared guys caught me mid-climb, and we all stuck together with a quick pit at Aid Charlie. They left about 20-30 seconds ahead and I caught them back on the ripping descent, following their wheels on the flats and making good time. At about Mile 70, I badly punctured my rear tire on one of the erosion control logs at the descent into the sandy underpass. Stan's sealant and plugs would not hold, and I ultimately spent about 10+ minutes to install a tire boot with tube to get rolling again, all while about 12 riders passed, including Gabe Linn on SS.
I caught back a few of those riders in the final thirty miles, with a quick pit at Aid Delta for a spare tube just in case. I crossed the line at about 8:01, good for second in the SS and 11th overall running 34×19 gearing."
Mark Schafer, Team Eastside Cycles, was third in 8:32:18.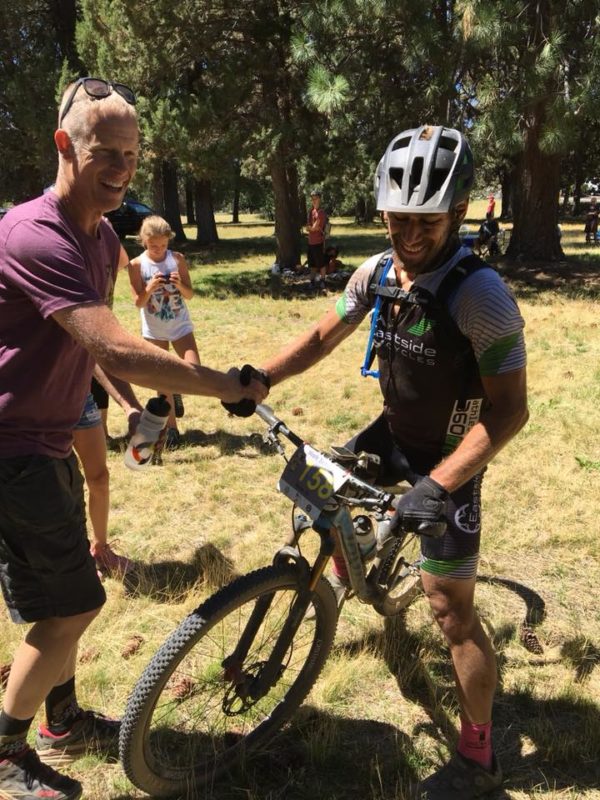 Masters 50+
Smith gets the Masters W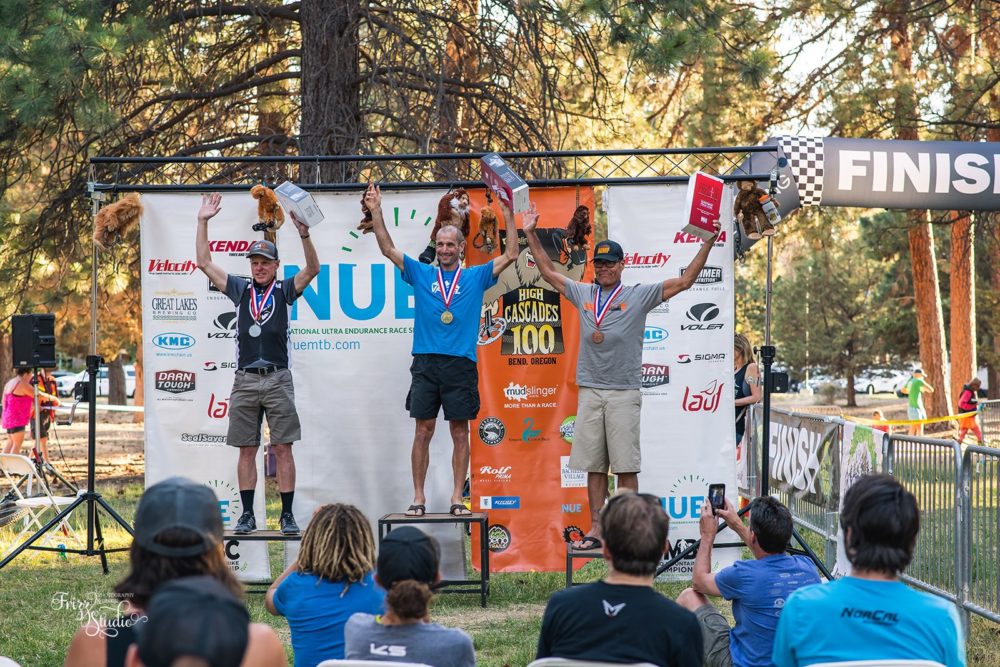 Three-time High Cascades 100 Race Winner, Cary Smith, The Hub Bikes, now in the Masters 50+ division, continued his winning way finishing in 7:53:07 to win the Masters this year.
"The race started at the insanely early time of 5:30, as it always has but it felt warm so it was only arm warmers for me, huge mistake. I was shivering the entire way up the highway and I couldn't feel all my fingers until about 25 miles into the race. Luckily, the majority of that time is spent climbing so it didn't matter that I couldn't tell if my fingers were on my brakes! One thing that was a huge factor as soon as we hit the dirt was the dust. Even though I was in the top 20 of the 500 racers, visibility, breathing and chain lube all took a hit.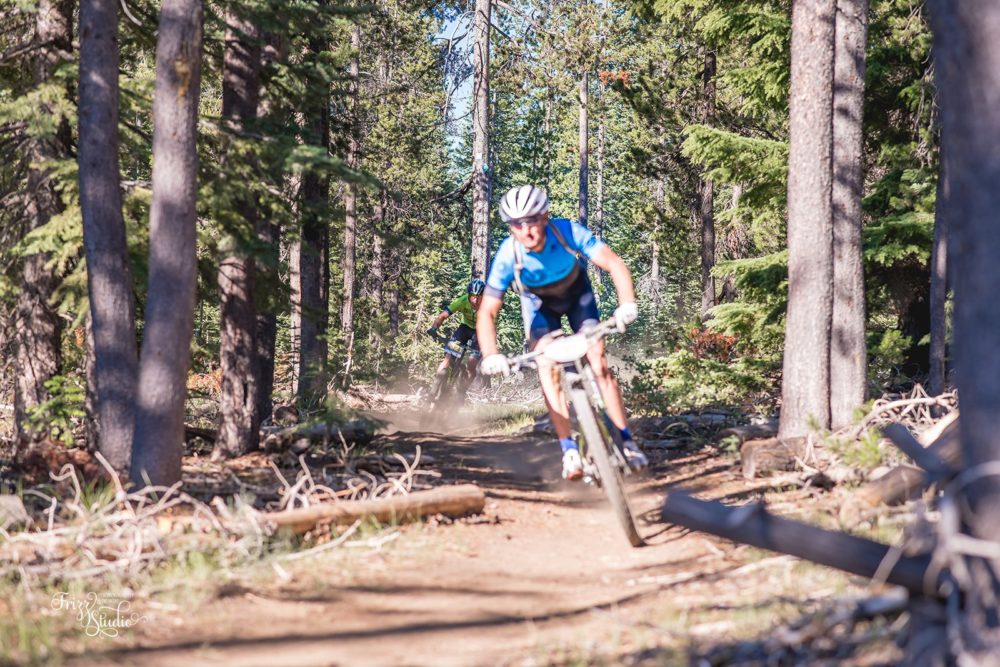 After settling into the race rhythm, I found myself in a group of four that worked pretty well together on the gravel roads that make up a good portion of the early race. I lost them when I crashed in a dusty rut but was able to regroup and get back on. It was nice to ride with people but every descent was a dusty crapshoot whether you would hit a stray rock or root.
This year's course covered some of the best trails of the high country into Happy Valley. Although challenging, it is beautiful and feels very remote. I, unfortunately, cracked a little near the top and lost my group. From there to the finish, it was just me, my thoughts and my dusty eyes and lips.
Ten minutes later, Matt Woodruff, Kuhl MTB Team, came in at 8:03:22 taking second place.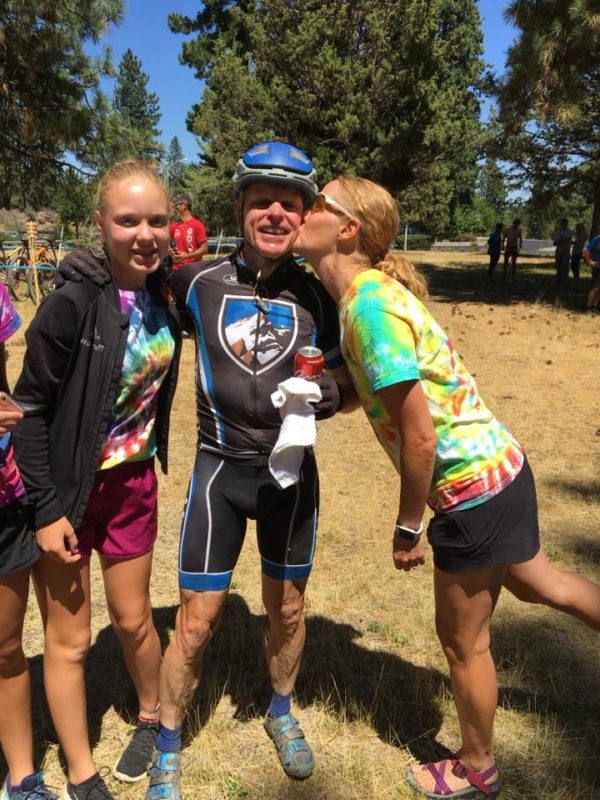 Nineteen minutes later, Mike Castaldo, Chico Cycling Team p/b Amain Cycling, took the third spot on the podium at 8:22:46.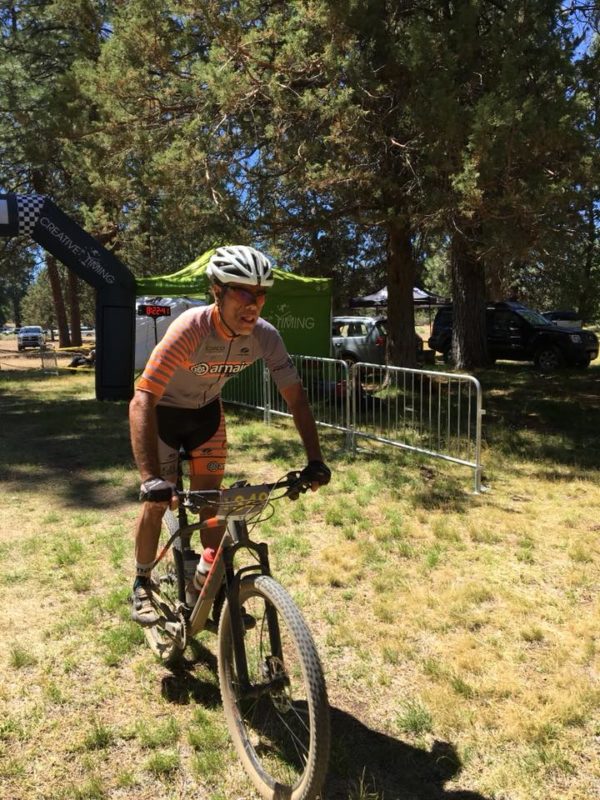 Full results click here
WHATS NEXT: The NUE Epic Race Series heads to The Wilderness 101 in State College, PA, that includes a new 100k option as part of the NUE Marathon Series. From there, racers will head due west to Wyoming on August 4 for the Pierre's Hole 100 at beautiful Grand Targhee Resort.