Haley Batten is the youngest US Mountain Bike racer on the 2021 Tokyo Olympics long-team, although she is by no means a long shot. In our interview, Haley shares how she arrived at the top of the sport, the importance of mentorship, and basically just a whole bunch of wisdom for such a young athlete. We are grateful to Haley for taking the time to be interviewed by us while she is preparing for the final Olympic qualifying event in a few short months.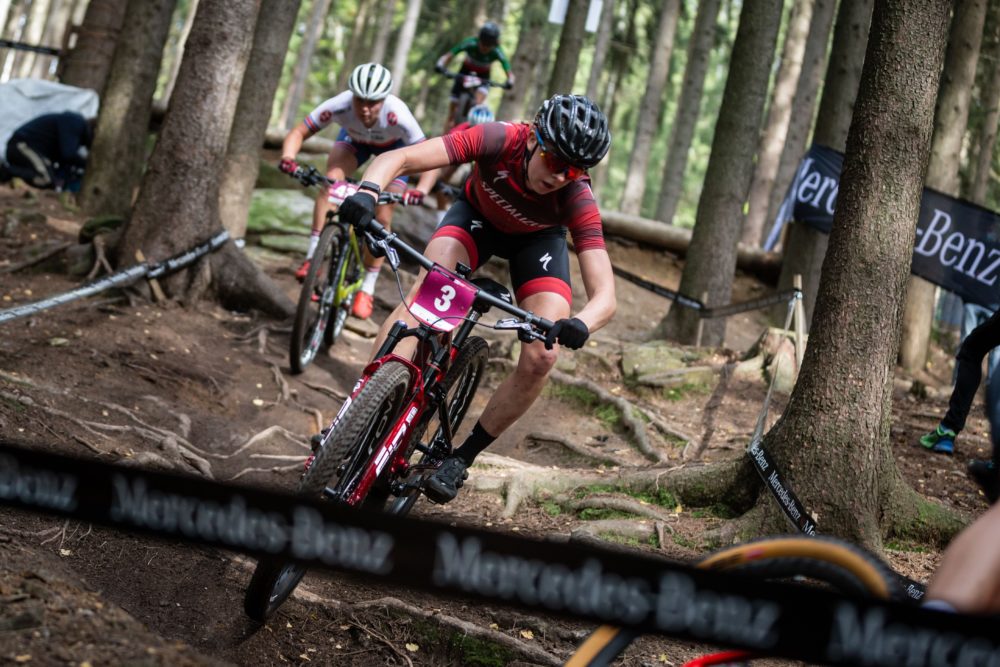 MTB Race News: Briefly summarize your cycling resume.
Haley Batten:
4 x junior US national champion
2017 U23 US national Champion and fourth in U23 World Cup Overall
2019 U23 Pan American Continental champion
In 2019 I landed my first two U23 world cup podiums and World Cup win.
Silver medal in the 2019 World Championships Team Relay with team USA.
2020 Swiss Epic overall win with teammate Annika Langvad
4th U23 world Championships 2020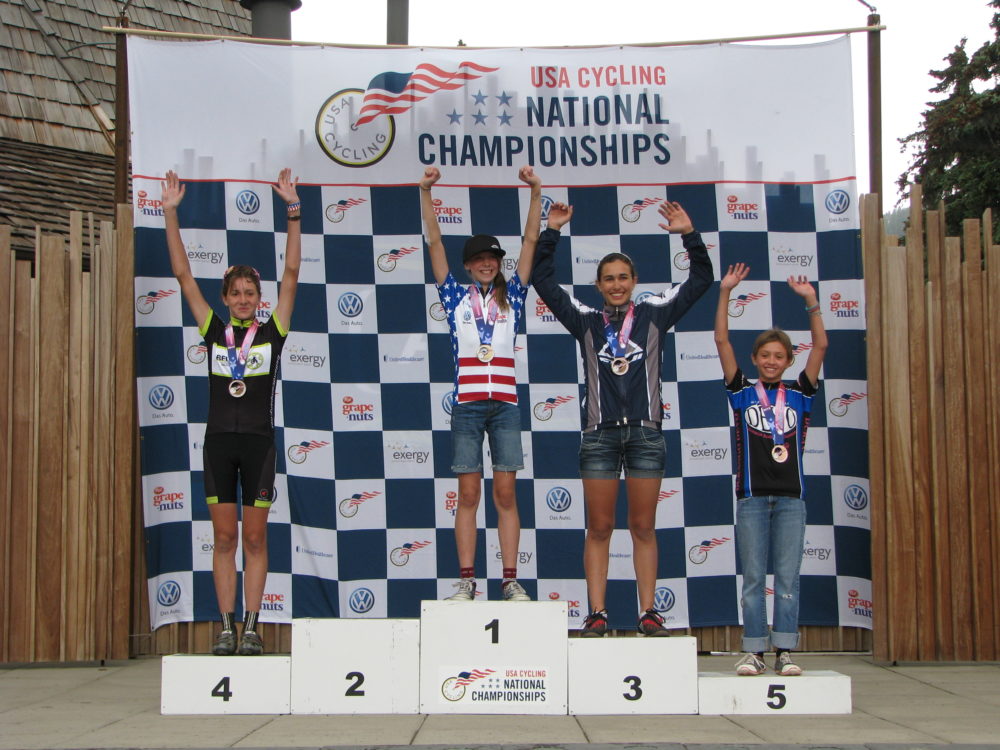 MTB Race News: When did you know/how did you decide to pursue mountain biking as a profession? Why and how did you choose to balance it with attending college?

Haley Batten: I can clearly remember the moment I decided that I wanted to compete in mountain biking at the Olympics. It was 2012 and I had just won my first national championship in Sun Valley, Idaho. The US Olympic team had recently been announced and they called the selected athletes onto the podium for photos. Todd Wells, Sam Schultz, Georgia Gould, and Lea Davison all stood up there, ready for London. Each one of them a humble, kind, and hard-working individual. I decided then, watching them stand on that stage, that I wanted to see what I could do in this sport. That year, for the first time, I watched the cross-country Olympic event on TV and I realized that the sport I loved was something that I could pursue at a high level. From a young age, I had the confidence and belief in myself that I had the ability to chase after any big dream. I think my parents instilled that in me and my bike helped me find the independence and passion to fuel my pursuits. Now, as we begin the 2021 season, I'm getting closer to making that vision my reality.
I couldn't have predicted that both Georgia and Lea would become my teammates on the Luna Pro Team (Clif Pro Team) years later, when I began my professional career.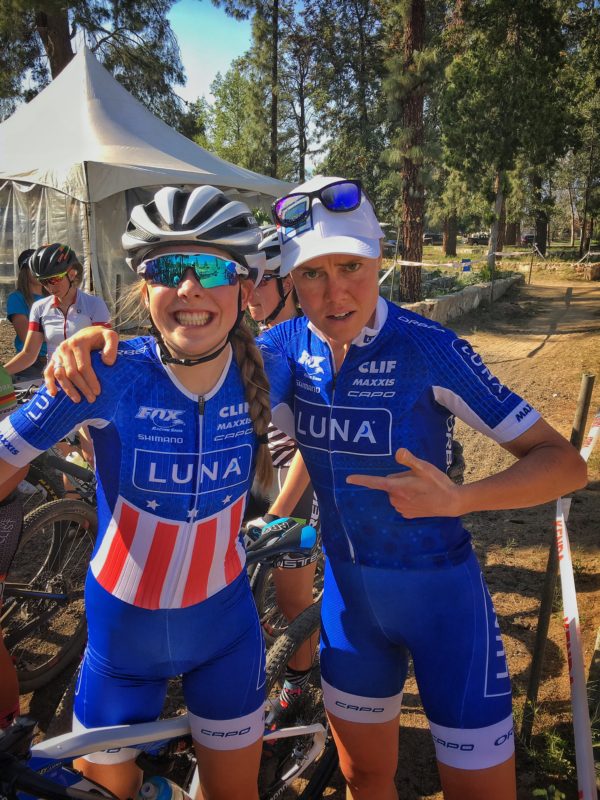 They would help guide and inspire me, along with the many other incredible women on that team including Catharine Pendrel and Katerina Nash that I am grateful to call my mentors and friends. I think that having the guidance of this team in my first years on the world cup stage were fundamental to the rider that I have become. I learned the ins and outs of travel and race preparation, as well as the type of environment that I need to be in the right mindset come race day. Plus, I was surrounded by an all-women's team and THAT was empowering because it made professional cycling a feasible opportunity to me.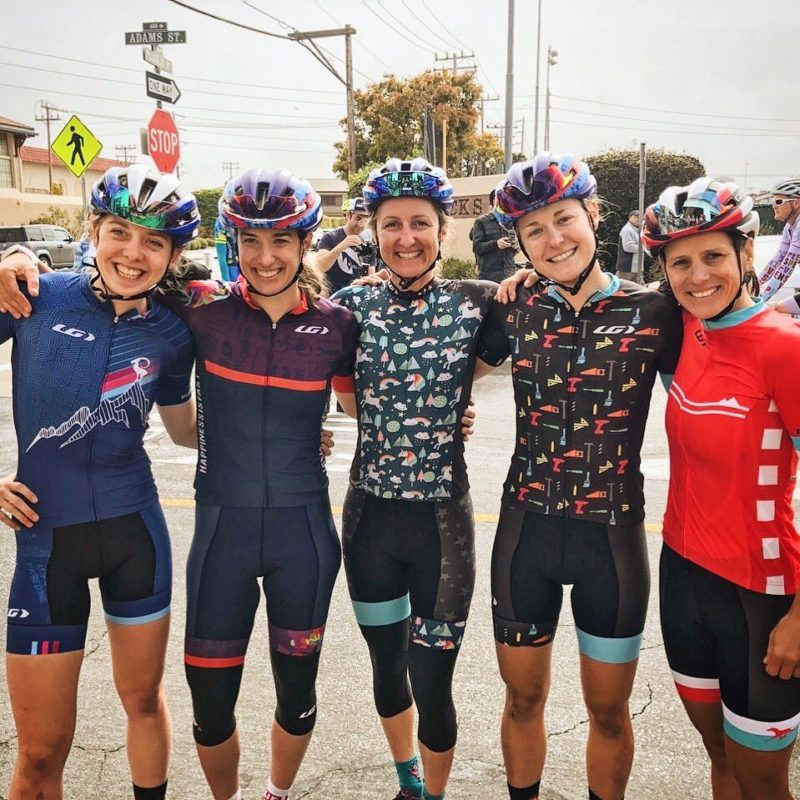 From a young age biking was something I absolutely loved. It gave me freedom, adventure, and adrenaline and it became an important part of my life early on. Although I always dreamed big and poured my energy into cycling, school, or anything that grabbed my attention, I don't think racing professionally became my reality until I got on my first pro team. It wasn't until then that I really started to bring my youthful joy for the sport and the career possibilities together. I had the support to begin to put the pieces together to not just dream, but do.
Although most of my energy and drive is pursuing professional cycling, attending university has created an important balance in my life. Not only has it connected me with a special community, but it has also helped me find my passions off the bike and reminds me that being a professional athlete is a unique opportunity. As an athlete, it is often easy to get caught up in the 'biking bubble" where everyone shares a similar lifestyle. Stepping outside of that has allowed me to find perspective on racing and results, but also makes me appreciate the journey even more. I love learning and I think that challenging myself in new ways, while growing my knowledge base and skill-set is beneficial for being both human and athlete. Yes, it's very hard to have a high workload for both school and training, but once I can embrace struggle as something that stimulates growth, I often surprise myself with what I am capable of. What I've learned is that it's easy to work hard at something you enjoy. I study what I find meaningful, break up those study sessions with my favorite thing in the world… biking :), and surround myself with great people that will support me and smile through it all. And that, is my recipe for success!
At Quest University Canada, we have a Question as our major and build-your-own degree. My Question is "How can education be optimized to inspire?" I'm really interested in the research surrounding how people learn most effectively. In the future, I hope to help implement effective teaching and learning strategies into the educational system, so that more students can find meaning in their educational experience. I want to help inspire our youth to engage in their education, their own physical and mental health, and apply themselves to the environment and global issues!
MTB Race News: Tell us about your new 2021 team, Trinity racing. How will your bike be spec'd? Anything special/unique about your set-up?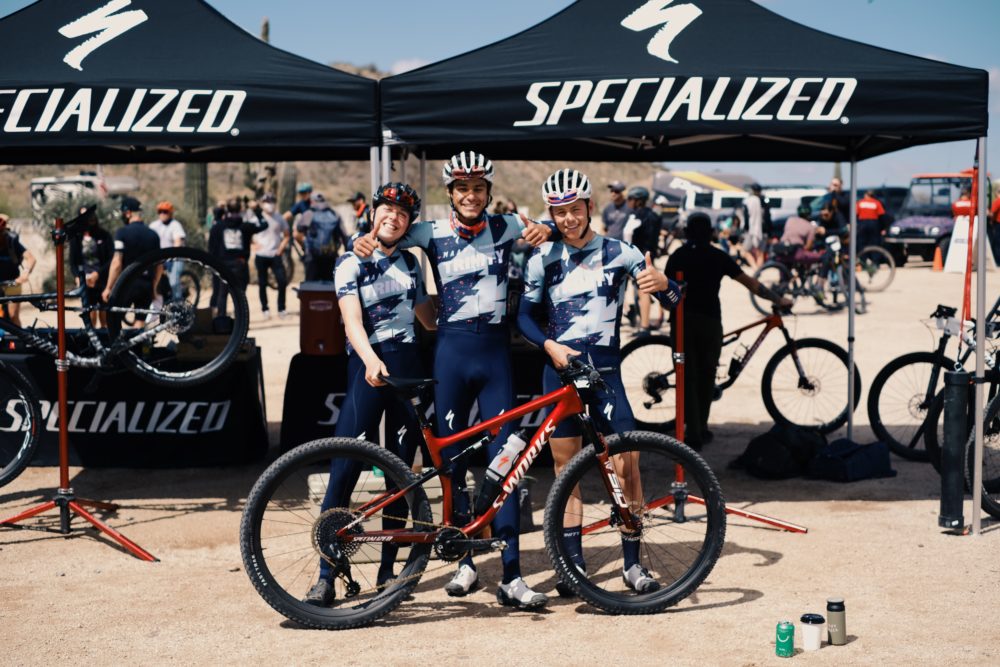 Haley Batten: I am thrilled to be on Trinity this season. While I will continue to be on the same great equipment with Specialized bicycles and Sram components, the support behind the scenes will look a little different in 2021. The staff supporting the athletes on this team have experience helping young athletes make the leap into the elite field and I think this guidance and support is what I need to become the rider I hope to be. I'm happy to continue to be teammates with Christopher Blevins, a good friend of mine and my teammate during our junior years on the Whole Athlete development team, while also building new relationships with athletes from all over the world. Plus our bikes will be DIALED!! Last season Specialized launched the new S-works Epic and wow does this bike know how to go fast. It's spec'd with a RockShox Sid SL fork and RockShox-Specialized rear shock, both with the BRAIN-controlled travel. This, along with my SRAM XX1 Eagle AXS, keeps my cockpit extremely clean. I believe this setup has been a game-changer for allowing me to keep my focus on the race moment, not on the buttons on my handlebar. I have also added the RockShox Reverb AXS dropper post for training and most racecourses. This is another game changer that has improved my riding position on the downhills and overall skill level. In addition, I run the Roval Control SL carbon wheels with 29mm rims and choose between the Specialized Renegade, Fast-Track, and Ground Control tires. All my bikes have the Specialized Women's Power Pro saddle with Mimic and Wahoo Element Bolt head-unit. The final touch are my sparkling gold Crankbrothers Eggbeater 11 pedals. This bike is light and made for fast racing, but it's also extremely capable! I've tested my limits on the Squamish trails and have been blown away with what this bike allowed me to ride. Having confidence in my equipment is really important to me and this bike can really do it all. Hands down the best xc bike I have ever raced on.
MTB Race News: You coach with Olympic Gold Medalist, Kristin Armstrong. What is your training plan like?
Haley Batten: It has been such an honor to have Kristin Armstrong on my team. Not only is she one of the most successful cyclists in the world, but she is also an incredible mom, coach, and entrepreneur. What she has taught me goes far beyond the workouts she loads to training-peaks, including a mental-toughness, confidence, and perspective that has allowed me to train and prepare for racing at a new level. Our perspective is QUALITY not quantity. I train smart, rest smart, and race smart. Our plans are very focused for the races we want to perform well at and we prioritize the training that will help us get there. With Strava and social media it is becoming more and more common for people to compare their numbers (power, hours, distance, elevation) to others. Although this can definitely be a great motivator and way to create community, it's important to keep in mind your unique circumstances and what your goals are!! Kristin and I don't add extra hours that, although they may feel like extra-credit, are really a distraction from what we want to prioritize. Every season I take about a month off the bike and during this time I prioritize my school work, add a variety of sports into my routine, and ride with friends and family I don't usually get to. This is SO crucial for bringing a fresh and excited mindset back onto the bike when it's time to get back to training. Kristin's training approach also focuses on making the process FUN!!! Pursuing mountain biking professionally is something I am so grateful to do, so every day I'm out on my bike I enjoy it. Some days are hard, that is no doubt, but even the hardest days are what make the outcome that much more rewarding.
MTB Race News: What is your biggest strength as a MTB racer?
Haley Batten: What is so cool about MTB is that there is endless room for progression, from technical skill or physical strength to your mindset. No doubt, growing up in Park City with the incredible Utah cycling community really helped me advance quickly and grow to love the sport. I did a lot of racing and group rides with my friends (mostly guys) and I think this really helped me develop my skills early on. Moving to Squamish, BC for university was a whole different level of technical riding!! I've SO enjoyed being there in the winter to ride and train, although it does get a little wild out in those woods! I've always loved the adrenaline and technical riding aspect of mountain biking, so I think that has allowed me to excel on the more technical courses. This is why I'm not much of a roadie! I love the trails too much! Overall, I think I have a range of skill sets and I try to use that to my advantage. I don't often consider one race course being better for me than another and I train to perform at any World Cup that is thrown my way. What I have found to be helpful is that I am a very adaptable and positive person, not much can "phase" me. When it comes down to it, you can train as much as you want, but all the travel and chaos of racing at such a high level needs to be enjoyable, not stressful! I focus on the things that I can do to help me perform, since the things that are out of my control aren't worth worrying about. Although it's easy to get caught up with how someone else is riding, or what the weather is, or if the airline lost my baggage, it really doesn't do me much good! So I try to put my energy and focus on the aspects of racing that fuel my passion and prepare me for the incredible journey ahead!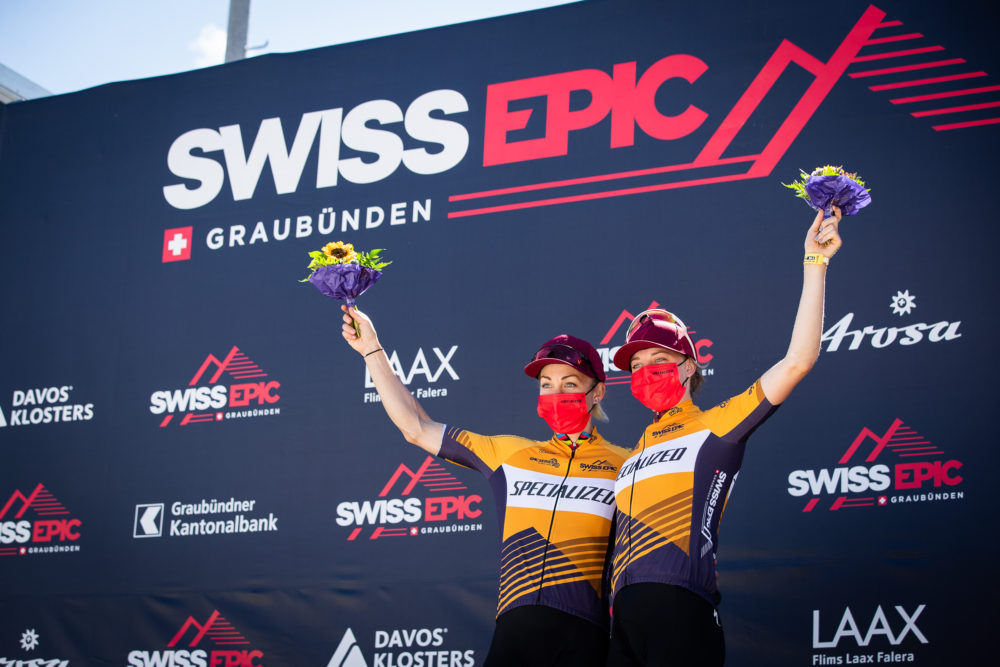 MTB Race News: There are currently six US women on the long list for the Tokyo Olympics. Kate Courtney has already qualified for the team. How will the remaining two spots be determined? Do you have a game plan to make the team?
Haley Batten: The second world cup race in Nove Mesto na Morave, Czech Republic will be our final qualifying event. Until then, it's all about dotting my i's and crossing my t's to make sure I am the best rider that I can be on that day and the events prior. I am confident that I have what it takes to perform during my first year in the elite category. My eyes are also on 2024, so I think doing everything that I can to be at the start line in Tokyo is a huge step for my career. I am confident that there is a good chance one of us can meet the second spot through the selection criteria, but after that it will come to discretionary selection. We have a talented group of US women working for those slots and I think it will be a thrilling year to be a part of!
MTB Race News: Can you tell us a bit about Outride? How are you involved?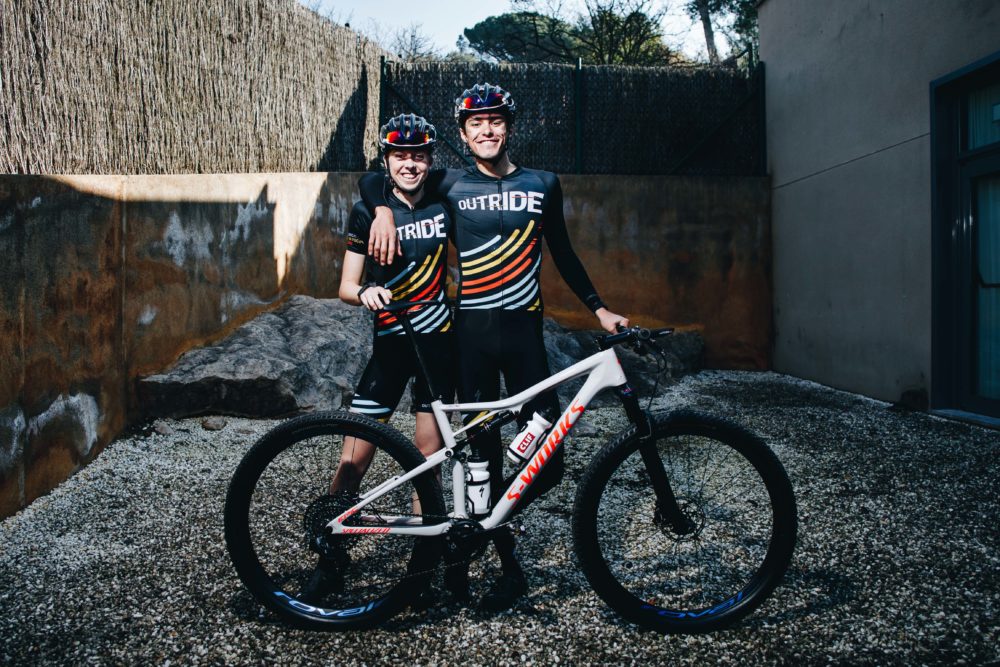 Haley Batten: Outride is a non-profit organization that is dedicated to improving the lives of youth through school-based cycling programs and grants. Their programs are evidence-based with the goal of improving social, emotional, physical, and cognitive health of young students. The Outride mission is to make these benefits accessible and sustainable!! Bikes are such an incredible vehicle to empower individuals, beyond the race-course. What Outride stands for aligns with many of my values and working with them has allowed me to speak out about what I value. All that Outride does is supported by research and has had a positive impact on so many children, schools, and communities. I have witnessed the power of the bike first-hand and I'm glad that I can share this journey with Outride to help make the benefits accessible to more people! As an ambassador I work to spread the word about Outride to get more cycling programs into schools. I have not yet been able to get involved with a school visit or more hands-on work as a result of Covid-19, but I am so looking forward to when that becomes a possibility again!