Anthony and Daigle Conquer Carrabassett
Written by: Ryan O'Dell
Located in the beautiful Carrabassett Valley of Northern Maine at Sugar Loaf Ski Area, The eighth annual (CBCC) Carrabassett Backcountry Challenge 100k joined the NUE Marathon Series in 2017 witnessing tremendous growth. According to race director, Warren Gerow, "the event has evolved a lot since 2011 when the 100k was a two lap course that was stitched together with mostly old single-track and double track. We've seen tremendous growth in the past few years; 2015 187 people registered online, this year, the race has grown to about 500 racers." In addition to the NUE 100k distance, CBCC also includes shorter distances of 50k and 25k plus kids races.
During the past seven years, approximately $750,000 has been spent building mountain bike trails in the Carrabassett Region. The goal is to construct an iconic mountain bike trail network that is on everybody's "must-ride" list. To date, there is approximately eighty miles of riding for all abilities. This includes miles of super flowy, machine-built singletrack and old-school style trails that have been carved out with hand tools and sweat. Profits from the race go towards construction and maintenance of new trails.
Women's Open
Anthony Wins!
Crystal Anthony, Liv Cycling, won the Women's race finishing in 5:44:59, her first NUE win of the season!
Following her second place finish at Cohutta and her first NUE win at the Mohican 100k this spring, Lara Richards, Little Fire Cycles, finishes second in 6:11:19. "This year has been a great year of racing for me. I have really enjoyed doing the NUE series. It seems that every race the weather has been wonderful and each location seems to be more beautiful than the last.
However, since having to DNF due to a mechanical at Damascus, I was definitely not going into the Carrabassett Challenge with much confidence.  And after the 20 hour drive from Georgia to Maine, I was contented with just enjoying my race, doing my best and finishing where I may.
At the start of the race Kaitlyn and Crystal both took off fast and I thought I was sure not to see either of them again. I was not too far along when Bryna passed me strong on a climb of rocky switch backs putting me in 4th. I was able to keep her in my vision for the first 18 miles or so and was able to pass her, while charging down a steep downhill. But not for long, she passed me back soon after and this time I was not able to keep up.
At this point I found myself riding with the same group for several miles. I road chill and paced myself accordingly. I did not think I would make it onto the podium. But even still I was having a crazy fun time on the trails and the ever changing terrain. Even if I finished last, I would not have regretted this race at all.
The Carrabassett Maine trails offered a more challenging course than I expected and kept me engaged throughout. I enjoyed the twisty sections, moving in out of the rocks. I enjoyed getting to ride up the Widowmaker to and through the ski resort. There were longer and steeper climbs than I anticipated. The downhills were also a blast and so much of the single trek was fast, fun, and flowy.
I was picking up speed in a level area of single trek, just enjoying my ride, when I noticed a female rider ahead of me. I could not believe it!  I told the male rider just in front, "to the left".  I was going to catch my competition. At that point, the race became a race to me again.  I was off and was able to catch and pass Kaitlyn before exiting that section of single track but I knew I had to keep pushing. I could tell she was a strong rider and knew if I slacked off at all she would be right on top of me. I think I was able to put a little distance between us after a long climb through a clearing.
After this came Birthday Hill which I bombed down fast as I could and it was here I unknowingly passed Bryna as well. She road in behind me from the aid station from on top of the hill. I only noticed her as we exited on to the gravel. She got in front of me at the u-turn and, from there, we road together for many miles passing each other now and then. I still, at this point, thought she would get away from me before the race was over and I would finish third but I was able to break from her after a short stretch of gravel and then the last climb of single track switchbacks. It was hard for me to keep a decent pace at this point, I was getting very tired and was waiting for her sneak behind me. I gained some speed on some fun downhill which was a nice break and helped push to finish the race and take the second spot.
I did not see Cathryn at all during the entire race and I am proud to finish second to someone so strong. I am also grateful to be able to race with such amazing female athletes as Bryna and Kaitlyn.
NEMBA and the volunteers did a terrific job setting up this race.  Many thanks to Little Fire Cycles and Adventure Cycles for making sure my bike and wheels are race worthy and Rhinohead for my awesome gloves. See everyone soon at the next NUE race!"
Four minutes later, last year's race winner, Bryna Blanchard, BMB Racing, was third at 6:15:06. Blanchard is a top contender for the NUE Marathon Series title with second place finishes at both Mohican and Iron Mountain this year. "Another fantastic NUE race happened last Saturday, this time in the Carrabassett Valley wilderness of Maine. The weather and trail conditions were perfect, much different from last year's mud and pouring rain on the start line. The level of competition had also taken a step up from last year.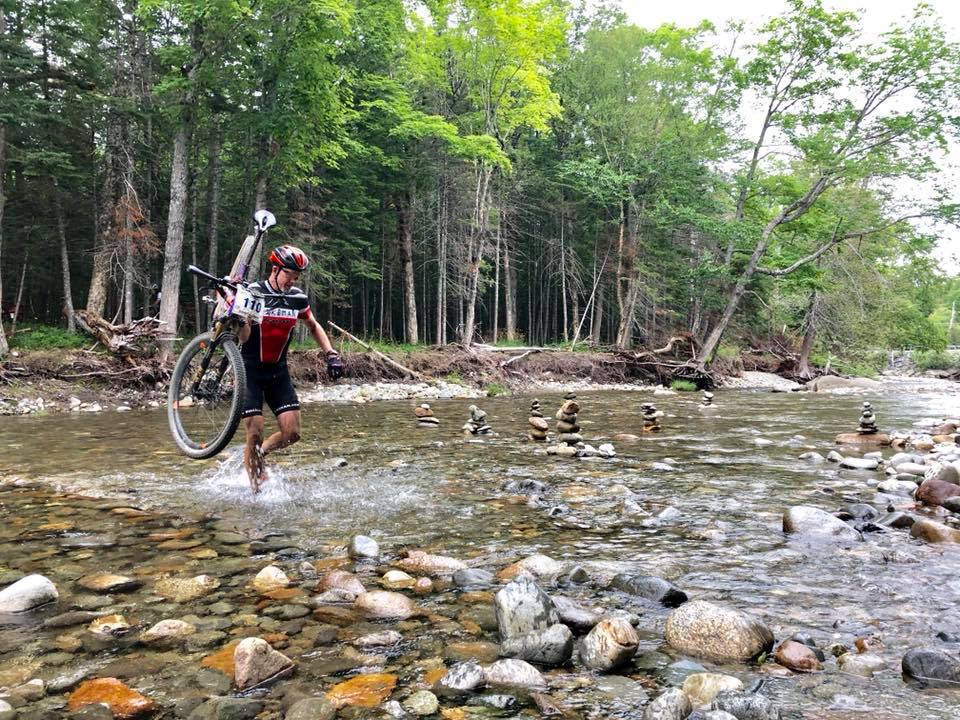 Two very accomplished women from the west coast, Crystal Anthony and Kaitlyn Boyle, pushed the pace from the start. I love racing this course, the constantly changing terrain, long climbs and descents keep me engaged and distracts from the exhausting number of hours it takes to complete. I raced hard and felt good, passing Kaitlyn on the long exposed midpoint climb to move myself into second. Super strong Lara Richards and I rode together on and off, trading places back and forth for much of the race until she dropped me for good and rode away on the final long double track climb. The highlight of my race was riding with Lara, trying to capitalize on my strengths and minimize my weaknesses to stay ahead or in contact with her. Not sure if I went out too hard or didn't fuel properly but the last five miles were absolute survival, suffering and going nowhere fast.
Overall, I'm very satisfied with finishing third in such a strong field of women. While my good friend and world class racer Crystal easily took the win, less than eight minutes separated 2nd through 4th place. At the end, I was spent, all my strength, mental focus, and strategizing was left out on the course. Every race is a learning experience and I have two weeks to makes some tweaks and prepare to the next one in PA. This was my most challenging day on the bike so far this year, and quite possibly the most fun!"
Men's Open
2018 Marc-André Daigle wins, setting a new course record!
37-year-old Marc-André Daigle, Garneau/Pivot Cycles OTE Canada, was first overall, earning his first NUE win completing the 100k course in 4:54:15, setting a new course record, the first racer to finish sub five hours!
Four minutes back, Mathieu Belanger-Barrette, Pivot Cycles OTE Canada, gets second at 4:58:03. "I wasn't expecting such a fast start especially knowing that we were about to shred singletrack for 5+ hours. The pace was sustained and even exaggerated for a while and we finally got settled around km 60. Marc-André and I were in front and we couldn't see the chase group. I was starting to see double when Marco pulled a big attack. It was way too much to handle. As I tried to catch him back, I clipped my pedal on a hidden rock and crashed quite hard on my ribs.
I was able to keep my second place untouched even though I slowed down quite seriously after the crash. The course was insanely good, not too much climbing but a lot of technical section to distance the riders."
Two minutes later, 2017 Race Winner, Andy Scott, Riverside Racing, took third at 5:00:08, sixteen minutes faster than last year.
Singlespeed
2018 Kramer wins the SS Race!
Shane Kramer, Placid Planet/Barkeater Trail, won the Single Speed race to finish 5:35:29. "After hearing several of my friends talk about how great the riding was in Carrabassett Valley, I knew I had to add this race to my calendar. I've always been a slow starter and showing up to the line late didn't help me any this past weekend. I was probably in 100th place leaving the start and maybe 80th by the time we hit the tight singletrack. Patience was the name of the game while I waited for every opportunity to pass. As we got to the condos on Sugarloaf I heard someone counting off riders as we went by "…48, 49, 50…" making up ground but still a long way to go. I finally caught up to a group with Peter Bradshaw and Matt Sousa just after the 1st aid station on the climb up Buckshot.
I was racing on a borrowed frame from Solace Cycles that I just built up on Wednesday before the race. The frame fit and rode great but didn't have any water bottle mounts. I don't like riding with a hydration pack so I only had one water bottle in a fanny pack. This meant I had to stop and fill bottles at every aid station. Not the best race tactic.
I yo-yoed for quite a while with Peter and Matt. Matt told me that Doug Thorp was still up ahead somewhere. I don't know Doug but heard he was a strong racer and figured he had 1st place already wrapped up. So, after finally getting a gap from Matt and Peter, I was pretty surprised to come up behind Doug a couple of miles before the 3rd aid station. I made a pass but he passed me back as I stopped to fill my only water bottle. I caught and passed him again on the fast gravel out and back section. I think mainly because I was pushing a bigger gear, 34×19. This section also allowed me to see that Peter and Matt were still right there. So, although, my legs were showing signs of cramping I tried to keep the pace up and decided to skip the water refill at the last aid station and push through to the finish. I'm so stoked to come away with a win at such a great event.
Four minutes later, Peter Bradshaw, Mad Alchemy/Zanconato, took second at 5:39:28. "Start was quick into singletrack and super fun. Lots of people but it moved well. Weather was cool and just got a few sprinkles right as we got going. Doug seemed to have a great start and was well ahead. I was riding just behind Sousa for the open miles through all the fun stuff. Once the race opened up to the gravel climbs we were joined by Shane and a bunch of people from other categories. We kept a pretty large group until maybe halfway up the large climb in the middle of the race and Shane rode away.  Sousa and I rallied pretty well to the top but split. I connected with another rider and he pulled me along for a long way along a great river trail. I saw Doug and Shane riding together at the turn around, then later caught Doug and tried to chase down Shane but he was flying. Fun day, singletrack we rode looked great, monster climbs, sketchy skimobile descents, and a river crossing! Gearing was 30×18 and I was pretty happy with that."
Three minutes later, Doug Thorp, Colonial Bicycle Company, finished third at 5:42:21. "To fully understand why I ended up on the podium you need to understand two things; I'm addicted to cycling and I'm broke. This was my second NUE single speed race, and truly my third SS marathon mountain bike race ever. My journey began in Pisgah in April where I was JRA and ended up bashing my carbon wheel and squishy bike just days before Big Frog for which my girlfriend was registered and I was still only toying with the idea. With my squishy bike in the emergency ward, I only had one option. I had to race my cobbled together SS which was an old On-One 456 26" setup like a dirt jumper. So with the option to race Open off the table I was more inclined to race but still unsure if I was up to the task of slogging for 65 miles in Tennessee. I did some reconnaissance the day before with a few friends who had flown in for the race and felt it was within my ability to finish. The race started slow and ended well with me getting stronger throughout and moving from 13th to 7th in the last 10 miles. I ended up losing a sprint for 6th, but was elated that my first marathon SS race went so well. The only question I had was could I do better? I was hooked.
Brimming with confidence I registered for my local race the Carrabassett Backcountry Challenge knowing full well that this race was full of both Backcountry and challenges. My race morning got a little thrown off since I had forgotten my 2toms chamois sheets; I was desperately searching for anything that would keep me from destroying my undercarriage. I found my Shimano bleed kit in my trunk and slathered on some green mineral oil and was hoping for the best. I rolled up to the starting line late and found a friend that let me squeeze in. He told me he just applied his own sheet, and was worried his hands were now too slippery to hold his bars. "5 minutes to start." ~Announcer. I sprinted over to his car and went full sloppy seconds on his 2toms sheet, rolled back to the start line at peace and waited for the gun. Right there my race was saved.
"Bang" we were off! The first couple turns are important at every race but hitting that single track before the rest can save you minutes in the overall. I fell back to somewhere in the high 30s or low 40s before making it to the first real climb. After the first 10 miles I was only 6 minutes back on the open leaders. I was feeling great and kept just spinning up the climbs and letting her buck on the descents. I was sitting in the 20s overall and was really feeling the flow.
Across the 30k mark at the aid station I was told I was in the lead just before heading out on the 5 mile climb. I felt strong and was forcing myself to keep up on my nutrition. Greg Jancitis who was recovering from an early mechanical went by me on a power section like a freight train. I was baffled by his speed; he was kind enough to let me know I had a solid lead over the next single speeder. Little did he know I was four miles away from the "Lake Placid Kid" (aka Shane) from blowing my doors off.
The course had some great water crossings and the last one had an un-rideable log at the top of the bank which was about 4 feet wide. Looking back and watching four riders hurdle the log and seeing the absence of a rear derailleur on one was disheartening. It was now a race or so I thought at the time. Shane and I rode together for the next few miles until I went past him at the aid station. Shane quickly filled a bottle and gave chase. The best and worst part of this course is around mile 44. It's an out and back power section on a dirt road, where you can see 5 minutes ahead and 5 minutes behind you. As I found out the hard way my cadence of 120 couldn't match the gearing and legs of Shane. I then was doing damage control wondering if all these other hammerheads that saw me spinning my wee little legs could see how much I was hurting. Turns out one other did and also had the legs and will to do something about it. Bradshaw caught me after mile 50, somewhere in the willywacks on some OG single track. For the most part I kept up to him, until I didn't.
I had one last trick up my sleeve, a trail called Crommet's which is a half an hour climb at mile 60 (Yeah, 60! If you're quick at math you'll realize this was not as billed; a 100k.) I kept going the best I could with will and legs starting to fade I finally hit the last aid station just before the climb and started pushing my way by the masters racers up Crommet's. At the top I was truly hurting with my stomach turning sour, my Garmin reading 65 and my legs all but spent. Heading down Oak Knoll, a heavily armored trail which I did my best to vibrate my way down, I didn't manage to catch Bradshaw and believe he stayed strong. The last piece of this course has you cross the mighty Carrabassett River via a small footbridge. However this year's big spring storms took it out and we were forced to ford the Carrabassett on foot. Running with my bike in knee deep cold river water was the highlight of the day. I finished better than I could have hoped and raced my hardest with limited mental mistakes.
If you're not from around here and want to disprove the local colonialism "You can't get there from here." Mark your calendars for the hardest NUE in the Northeast.
Masters 50+
Golet gets his first NUE Win of the 2018 Season!  
NUE Epic Series Champion, Greg Golet, Team Chico, earned his first win of the season now competing in the NUE Marathon Series.  Golet completed the 100k course in 5:34:26. "This trip was a homecoming of sorts for me having spent many of my vacations as a kid alpine skiing at Sugarloaf and hiking in the Bigelows. And with my mom still living on nearby Eustis ridge, the race was the perfect excuse for a visit. The plan also made sense for my brother and best childhood friend who came from Alaska and Colorado.
I'm terrible at pack starts and group riding in general, and had a pretty bad start jamming a stick in my derailleur trying to pass in a brushy area, and otherwise wasting energy being spastic when I should have just been patient and waited for the course to open up. On the first sustained climb I got past my friend/rival Jeff who I've battled with the last couple years in the Epic series.
After traversing the resort we hit a section of steep narrow trail where a wrong line choice sent me flying over the bars. My bike cartwheeled, but somehow I landed on my feet. With no apparent bike issues or injuries I was able to ride on.
All day I was blown away by the varied terrain and trail conditions. Coming from dry California, it felt so good to ride in the moist forests.
On the out and back I saw Jeff was riding fast with a group just a few minutes back, and so kept pushing, skipping aid stops even though I was low on water and out of food, but then wondering if the little bits of time I saved would be lost from slowing down if my intermittent leg cramps worsened, which didn't seem unlikely given how dehydrated I was.
But on the last long climb I felt good, and the oak knoll descent was pure joy. However, at the bottom I relaxed too soon and went off course. Luckily a guy not far behind me figured it out quickly and soon we were back on track.
Before the race started, the guy who set up the course welcomed us there "as family". That resonated with me, and I felt lucky to have so many friends and family there to share the experience with. Maine rocks, and it's awesome to see such a vibrant and quality mountain bike  scene developing in Carrabassett Valley.
Next up Pierre's Hole!
Three minutes later, 2016 NUE Epic Series Masters Champion, Jeff Clayton, Georgia Neurosurgical Institute, now competing for the NUE Marathon Series title, finished second at 5:37:21. "My wife Jodi and I arrived at Carrabassett Valley on Thursday afternoon after several days of spirited hiking in Cape Breton Island Nova Scotia and Acadia NP. I was looking forward to riding some rugged trails, but unsure how my tired legs would do. My potent rival, Scott Burrill, graciously offered to share his slope side condo minutes from the race start….it is not at all unusual in mountain bike racing for the fiercest competitors to become great friends.
On Friday morning race director, Warren Gerow, gave Scott and me a riding tour of some of the course, which was very helpful because it covered some of the more technical single track and sketchy "rake and ride" sections. Race start was pretty typical sprint for the trail, with the usual silly risk taking for very little gain. Not wanting an early crash or quick burn out, I was content to settle in behind the large front pack.
About 15 minutes in, Greg Golet came cruising by and I got on his wheel. I managed to stay on his wheel for about 15 minutes while he passed several riders. Just after we passed Scott, Greg kicked the pace up, I fell off and Scott passed me back. For the next couple of hours I plugged away, my technical riding getting more comfortable and pushing a big gear on every road climb.
I finally caught Scott on the Esker trail but he was having none of that and gunned it dropping all but a few of a train on riders I'd brought up. Barely hanging on through the poplar stream trail, I knew I needed to drop him (and have any chance of catching Greg) on the road and/or Crommets trail after aid 4. I was never sure I had dropped him because I was passing many of the 50k racers and it was hard to see who was behind.
The lady who let me know five miles to go put a smile on my face, and I made sure to have fun but be cautious on the switchback descent to the narrow gauge trail. From there it was a nice cool river crossing and hammer up the final single track, never giving up hope of catching Greg. I really enjoyed the race and appreciate the effort and hospitality of the CRNEMBA crew and my new Mainiac friends."
Seven minutes later, NUE Marathon Series defending champion, Scott Burrill, Bikeman.com, finished third in 5:44:25. "This was my fifth or sixth time riding the Carrabassett Backcountry Challenge and by far the best. The race organizers really nailed it this year and we were graced with perfect racing weather and trail conditions!
Coming into the race after two weeks of nursing a summer cold, my strategy was to go in slow and steady and to keep an eye on Jeff Clayton. The first 20 miles or so went well. I got ahead of Jeff after the first gnarly downhill from West Mountain. I knew, though, that he's a steam roller and gets faster as the race goes along.
Through aid 2 I saw no sign of him and kept on trucking up the notorious 4 mile dirt road climb.  When I made the turn onto the Esker trail I was feeling good and maintained a fast steady pace toward aid 3 at "Birthday Hill".  Looking over my shoulder on a long power line stretch, I saw no one behind and felt fairly secure; surely I had a big lead on him by now? Nevertheless, a couple miles later, a group caught me including Jeff; so much for the gap. We left aid 3 together and headed out.
The group worked together on the out and back and then into the "Sticky Trail", a technical stretch of ST I know well. I led the group and we whittled it down to three quickly. Unfortunately, I blew a lot of energy in there and felt it climbing to the Poplar Hut. I followed Jeff and another racer into aid 4 feeling pretty blown and knowing I had the very long climb up "Crommets" to the Stratton Hut area. Sure enough, I had no gas going up and watched as the two rode away from me, so, another lesson in the never ending course of XXCM racing.
The race was blast with fantastic competition, amazing turnout, stellar management and killer conditions! The aid station crews were, as always, simply awesome. Thanks to everyone who helped make it happen!"
WHATS NEXT: NUE Epic Series heads to Bend, Oregon on July 21 for the High Cascades 100, a race around the volcano of Mount Bachelor. One week later, NUE Marathon and Epic Series racers will head for the challenging hills and rocks of State College, PA for the Wilderness 101.