Written by: @Jentoops
On July 24th, 2021, Shenandoah Mountain Tours held the Wilderness 101 ultra and marathon races in Coburn, PA. The Wilderness 101 is part of the NUE National Ultra Endurance Race Series. This east coast course takes you through the Bald Eagle and Rothrock state forests of Pennsylvania, and is know for pristine mountain streams, old growth forests and rocky backcountry single track.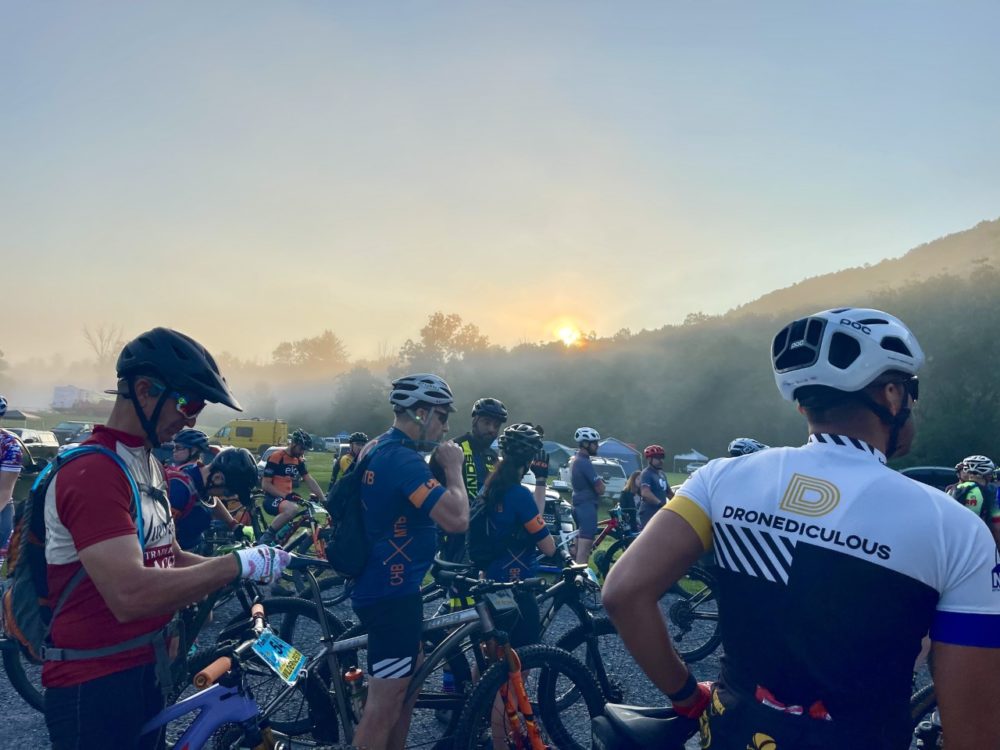 Sunny skies and temps in the mid 80's made for a near perfect race day. The gravel was fast, trails were dry, and racers put down some blazing fast times. After a hard days work, racers were greeted at the finish line with well deserved tacos and beer included with entry fee.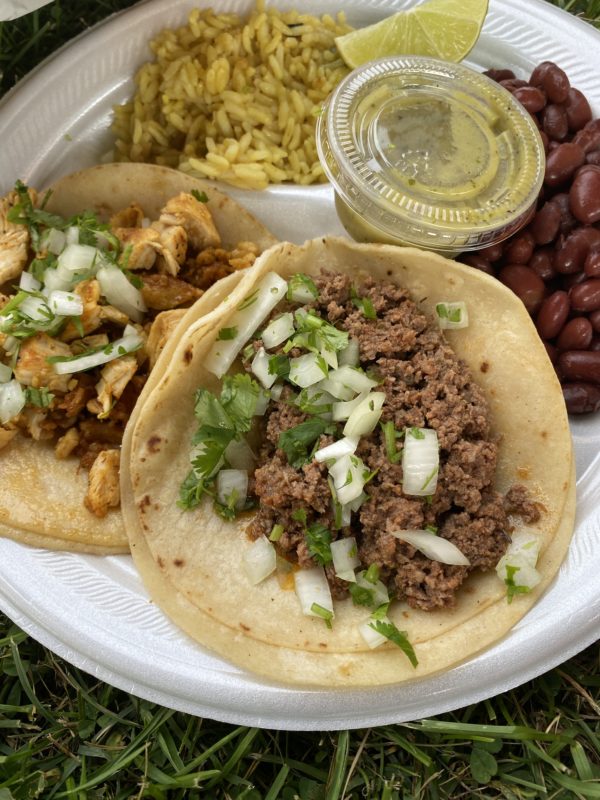 Camping was also included with registration in Coburn Park. This is the staging area making for a trouble-free race morning and celebration at the finish line.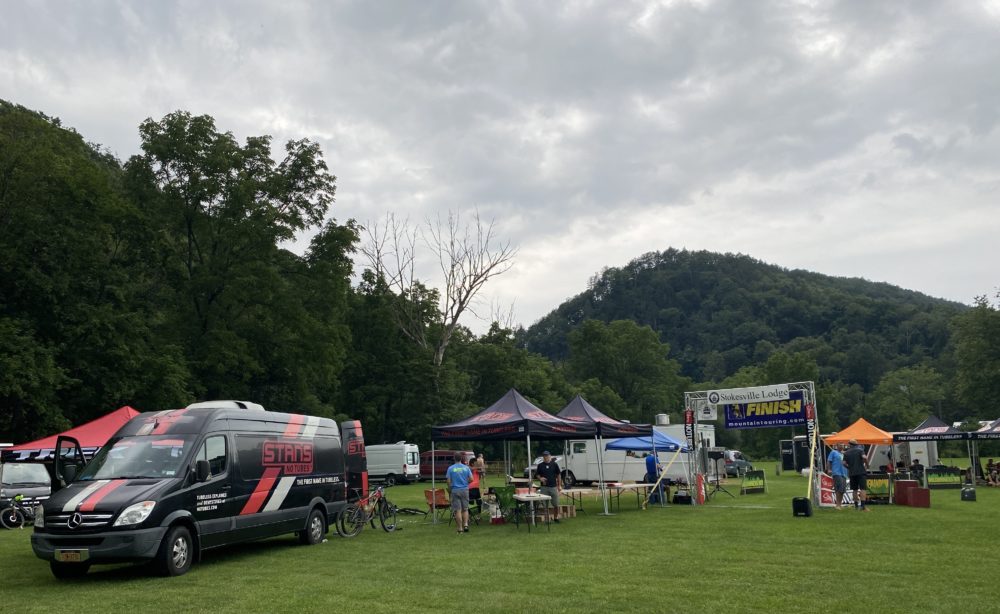 Thank you to the volunteers that came out to support the Wilderness ultra and marathon races!
Women's Open– TSE winner Britt Mason gets 101 WIN
Coming off a win at the 2021 TSE, Britt Mason (Knobby by Nature) of Maryland, proves she can still navigate those PA rocks taking the win in 8:23:26.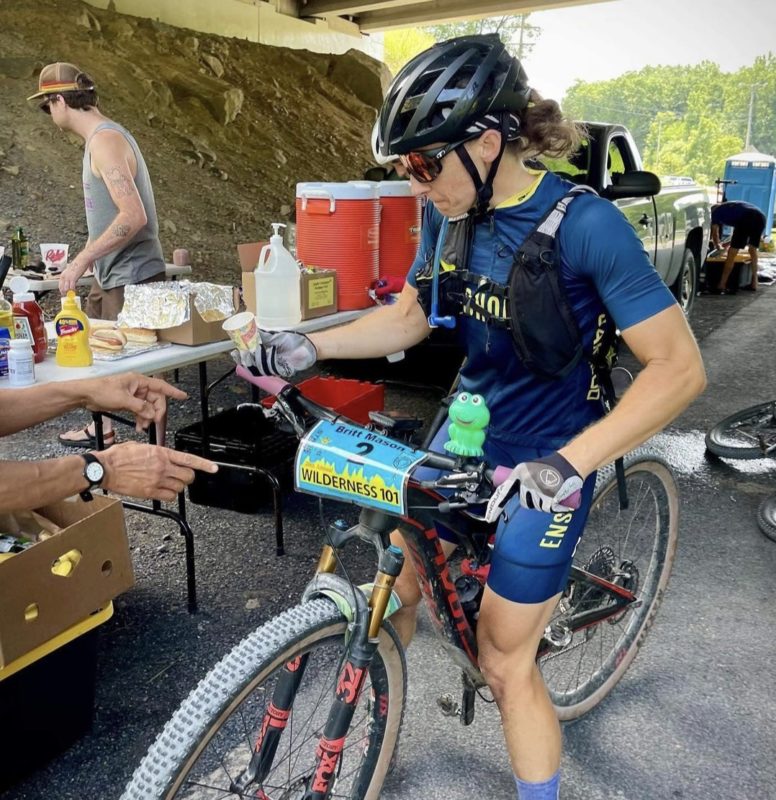 The 2019 Wilderness 101 women's winner, Jen Toops (Pearl Izumi/Pivot) finished 2nd with a time of 8:31:04.
"Coming into this race I felt tired after a week long family reunion full of activities and wondered how my legs would feel. I knew Britt would be tough one to beat, especially after just racing TSE and the powerhouse she is. There was also quite a few other fast lady shredders signed up I had my eye on. I decided to take it steady on the first climb and feel it out. I found myself in a manageable pace and holding Britt's wheel, we settled into the 2nd peloton for the first LONG gravel section. The pace line entered the first grassy downhill and I made the mistake of being 4-5 riders behind her in the pace line. There was no room to safely pass and this is where we got separated. I was told all day it was only a 3 min gap but could never quite shut it down. Around mile 45 was my dark place and I wanted to pull the plug as I was quite a bit nauseated but I'm stubborn and battled on. Still wondering if my racing legs were ever going to show up, I tried to rally on Stillhouse and closed some time. My back and arms couldn't handle the beating of the PA rocks anymore on the downs. After I clipped a pedal at one point, went sideways over the bars I luckily managed to somehow land on my feet in a bush. This is where I decided to pedal it on in for 2nd and I was more than happy with a 30min PR from 2019! Congrats to Britt on her well deserved win! It was fun chasing all day :) I plan on hitting up Shenandoah next on the NUE tour. Bike: Pivot Mach 4SL live valve. Sponsors: Pearl Izumi, Pivot Cycles, Ergon, SCC, Honeystinger, Carborocket, Stans, Fox, Maxxis, Xpedo, MTBracenews.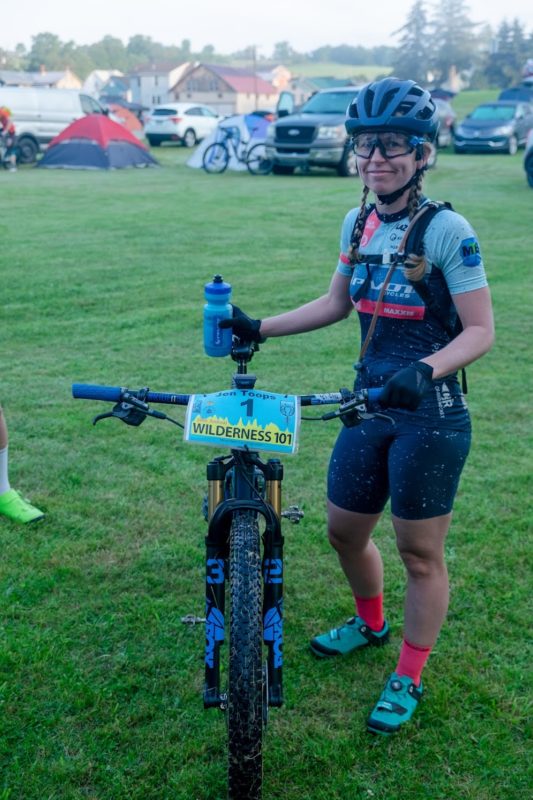 Taking third place, Libbey Sheldon finished in 8:50:27 "So great to get back to the Wilderness 101, especially with the great conditions. I was coming back from a hard landing on my tailbone a couple of weeks back, so I wasn't sure what I'd be able to do out there. Britt and Jen took off from the start on the road sections, and it was clear that I wasn't going to keep up with them, so I settled in at what I hoped would be an all-day pace. The trails and double track were in great shape, and the temperature never got too high, so I mainly focused on enjoying my favorite sections and seeing friends out on course. Congrats to Britt and Jen for smashing it at the front, and to everyone out there—it's so great to be back to racing!"
Fourth place was, Tina Severson, from Connecticut with a time of 8:54:14 "No stranger to the endurance scene having done events such as Breck Epic, Dirty Kanza, Gravel Worlds and Maah Daah Hey, I was looking for something new and challenging on the mountain bike. Wilderness 101 was just that! This was my first time riding in this area and I didn't know much about the course. It had a good amount of fast gravel sections, some chunky, rocky descents and even pitch black tunnels! At times it had a real adventure feel to it, which I loved! My goal was to charge hard and steady for the duration of the day, keep the nutrition and hydration in check and finish strong to land on the podium. I had a really great experience and look forward to trying other NUE events in the future. Sponsors: Orange Seal, Specialized, Schwalbe Tires, Voler Apparel, Pedro's, Wolf Tooth Components, Julbo, DeFeet"
Taking the fifth step was, Julia Thumel, crossing the line in 9:07:09.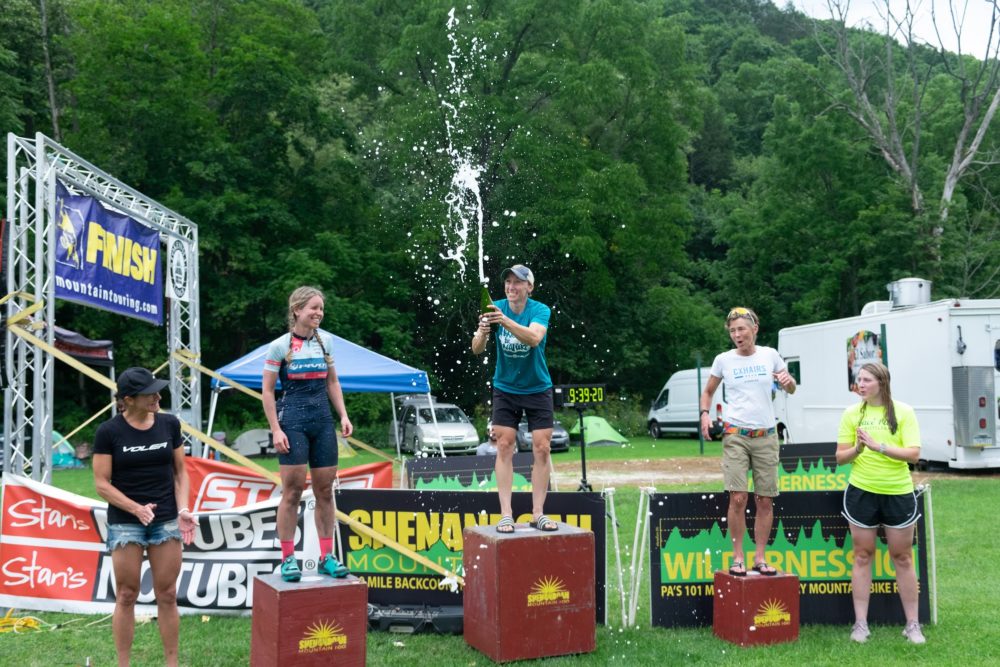 Men's Open 101 mile- Inger gets back to back NUE wins
Coming off a NUE Carrabassett 100k win the previous weekend, Jake Inger (Ride the Whites) took home the 101 WIN with a time of 6:53:23.
Ian Schwing (Flow Formulas) rode to a second place finish, coming in at 7:06:07. "Saturday morning started off great and I was fully prepared on the starting line. As all 100 milers I've done, the race started up the first climb like we were full gas racing. But there was no dropping off the peloton since I knew there was still a lot of gravel and flat road before any singletrack where some big separations could happen. My good friend, Jimmy Klose and one other rider broke off the front and we lost sight of them before any singletrack. Going in 6th wheel on Lonberger trail, I wasn't able to pass riders and front and was getting frustrated seeing riders ride away, so much so I wasn't paying attention to the trail and hit a huge boulder, endo-ed and by some miracle pulled off the ninja move of my life and landed flat on my feet. Got back on my bike, and somehow nothing was broken, headed back up the gravel road to catch the group again. Riding into aid 2 our group of around 10 riders got split up pretty quickly with the technical trail right afterwards, to about 6 of us. Team mate, Will Lovener, didn't stop at aid 4 and broke away from our group on the following climb. Decided to chase and Jake Inger followed and we caught him on the singletrack at the top of the climb. I would find out later his wrist was still bothering him from his insane effort at Unbound XL. Jake and I rode the next 2 hours together and caught the break of Jimmy and the other rider close to the 60 mile maker. Descending into aid 4 there was nobody to be seen but Jake. Jake dropped the hammer at a water station around the 75 miler marker and I couldn't quite keep his pace. All I could do as a smaller guy the last hour was get as aero as I can, fight off the lingering cramps, and pray there wasn't a strong group of riders working together to catch me. Once I hit the tunnel close to Coburn, I was stoked to know I would be crossing the line in second. Shenandoah 100 is definitely on the schedule and huge shout out to flow formulas for fueling and sponsoring me"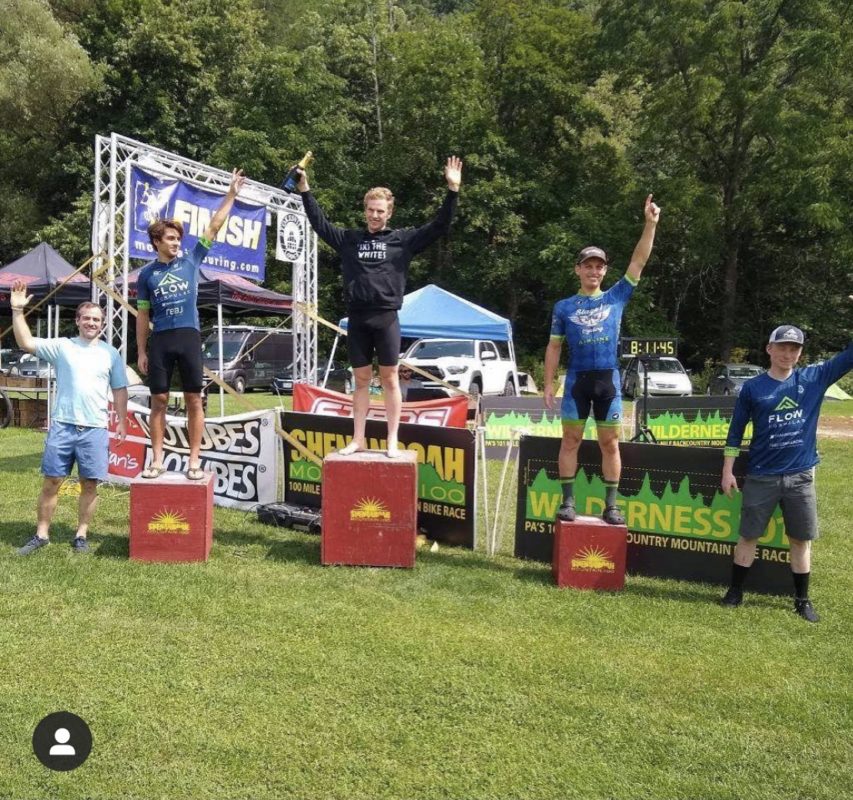 Just two minutes back, Jimmy Klose, finished third with a time of 7:08. Fourth place was Heath Thumel 7:16:10 and fifth Will Loevner 7:17:15.
Not racing in 3 years, Ron Harding, finished 6th place with a time of 7:19. " About 10 years ago, my wife (Kathleen Harding) and I focused (and by focused I mean raced enough races to qualify for the series, which at the time was four, I think…) on the NUE series for approximately two seasons. Back then I rode and raced exclusively on a single speed. I look back on those days wistfully and wish with all of my heart that someone with more age and experience had pulled me aside, explained to me how stupid I was being, and encouraged me to ghost ride my single speed off the nearest highway overpass. Racing a single speed for 100 miles is akin to beating your head against a cement wall for 8 hours, only the wall never breaks and neither does your head. As I sit here in 2021 with the benefit of 10 more years of life experience under my belt and the relative wisdom that comes with it, I offer this to all of the single speeders out there – there is a good reason that gears were invented.
Anyway, I've never raced a 100 miles on gears before and didn't know what to expect. I got roped into this race about 1-2 months ago by a long time buddy of mine who was going to be visiting from AK the weekend of the W101. He asked me if I was interested in racing it. In my head and my heart, I said "no", but I heard myself tell him "yes." And I'm glad I did. The weather was perfect (which was novel in itself as 9 of 10 previous NUEs I participated in suffered from rain the day before or the day of the event), the trails were in great shape, and the aid stations were operated by the kindest and most accommodating Pennsylvanians a guy could meet. Chris Scott puts on a top-notch event.
Regarding the race, the lead group crushed the first climb to create separation and rocketed down the first descent at warp speed to the point where I feared for my life. I spent the first ~33 miles of the race riding in the top 10 wondering what I was doing there. I knew a handful of people in the race but only two other people in the group at that point, Stewart Gross (who is local to me in southeast PA and a semi-regular riding buddy), and Christian Tanguay, (who needs no introduction). On the climb up to Aid 2, the elastic snapped and I had to let the lead group go. I defaulted to riding my own race. Around mile 44 I pulled Stewart back and Christian caught us. We rode together for a bit. They stopped at Aid 3 and I kept going. Riding largely by myself for the next 50 miles pulling in three more riders and finishing 6th. I saw 5th at the bottom of Old Mingle, but was unable to pull him in. Having since learned of the insanity that is his riding life, I understand why I saw only a glimpse of him. Who the f*** voluntarily does three laps of the W101? Aside from witnessing one of the Flow Formula racers go OTB, cartwheel off the trail two wheels in front of me, and land on this feet like El Gato, the race was largely uneventful. Lessons Learned – (1) you can brake all of the cardinal rules of endurance racing and still do well, (2) having no expectations is a huge asset to racing, (3) people tend to come back to you late in an NUE if you don't overdo it early.Next Planned NUE Race – N/A – I didn't really plan to do this one and at this point I don't plan to do any others this year but you never know…stranger things have happened.Sponsors – Full-****ing-retail brought to you by gainful employment. I'm 42 years old. Who am I kidding seeking after sponsors? Ain't nobody got time or energy for that. I don't race for a team anymore, because I don't really race anymore. That said, shout out to Trestle Bridge Racing (if I raced for a team, they'd be it) and Twisted Cog and Shirk's bike shops; two shops I frequent if I need something for my bicycles."
Master's 101 mile- Kogelmann wins
Newly minted 50+, Chip Kogelmann (Bikeflights.com) coming off a 50+ win in the EX2 Exterra off road triathlon, won the Masters race with a time of 8:03 (15th overall). Multi-time Wilderness 101 winner Roger Masse who finished 8:07 (16th overall) lead the race for much of the day and was reeled in only in the last 10-miles after the final aid station. Kogelmann lost touch with Masse in the Dutch Alvin section of single track about 45 miles in. Kogelmann, a State College local on his 12th Wilderness 100 struggled to stave of intermittent cramps which kicked in around the 55-mile mark. Kogelmann recovered after some pickle juice at Aid 4 and made a late charge to catch Masse thanks in part to a few 101k riders who he was able to work with on the gravel sections.
The 2019 Master's 101 winner, Roger Masse, took the 2nd step crossing the line in 8:07:36 "After a one year hiatus for this event due to Covid, I showed up this year to defend my Stokesville Team Masters win from 2019 without knowing too much about the now two new classes of "incoming freshmen" into Masters 50+. Early in the opening climb, led by Chip Kogelmann (BikeFlights), several of the top Masters guys started inching away. They were going hard. Chip was climbing strong and seemed like the early favorite. I lost sight of Chip until mile 15 or so when the chase group that I was in caught the larger group that he was in which was what remained of the peloton. Then at the bottom of Thickhead, Chip again just laid down some climbing power and opened up a sizable gap. Hours later, after emerging from New Laurel Run, I was again in a chase group that together closed the gap on Chip as he was riding solo. Together again. I managed to climb up Bear Gap with the group that now included Chip which was encouraging. At the top of Bear Gap, out of the group of 5 or so, I dove into the Croyle single track first and tried to work some separation in the woods thinking the slower single track riders might delay his chase. The effort seemed to work as we started getting into more of that amazing Rothrock knar. Dutch Alvin, Chestnut Spring, Sassafras, Sassy Pig, Pigpile, Shiitake, Beautiful and No Name all went by with none of the original group containing Chip. Sweet! Riding solo up Stillhouse, Sand Mountain, Panther Run all the way to Poe Paddy and the last aid, I started to feel like I might be able to hold on despite being pretty tired… Alas, it wasn't to be, Chip came rolling by me with authority on the rail trail with about 7 miles to go. He spoke some words of encouragement, but I didn't have the legs to respond. In the end he had put 4 minutes into me and I settled for 2nd. But wow, great course and great racing! Congrats to Chip on the win and a hearty welcome to you and all the newcomers to the Masters family!"
Finishing twelve minutes back, Bruce Stauffer, grabbed third place, 8:19:44 "What a great weather day for Wilderness 101! This was my 3rd race of the NUE series this year. If I complete Shenandoah as planned it will be the first year that I will be eligible for series points, so I really wanted to do well but also to finish. I figured there was probably a sharp rock out there somewhere with my name on it, so I packed two tubes and a pump instead of just the usual CO2 inflator. Fortunately it all stayed in the saddle bag. I started conservative on the first big climb, but by the technical signal track descent right after the 2nd aid station I was in a pretty good rhythm. I enjoyed the mix of gravel and single track. Riding thru the final tunnel at the very end is super satisfying as it's the last challenge before banging the gong and collecting the finishers pint."
Fourth place went to Rob Campbell in 8:30:46 and fifth place Donovan Neal in 8:34:46.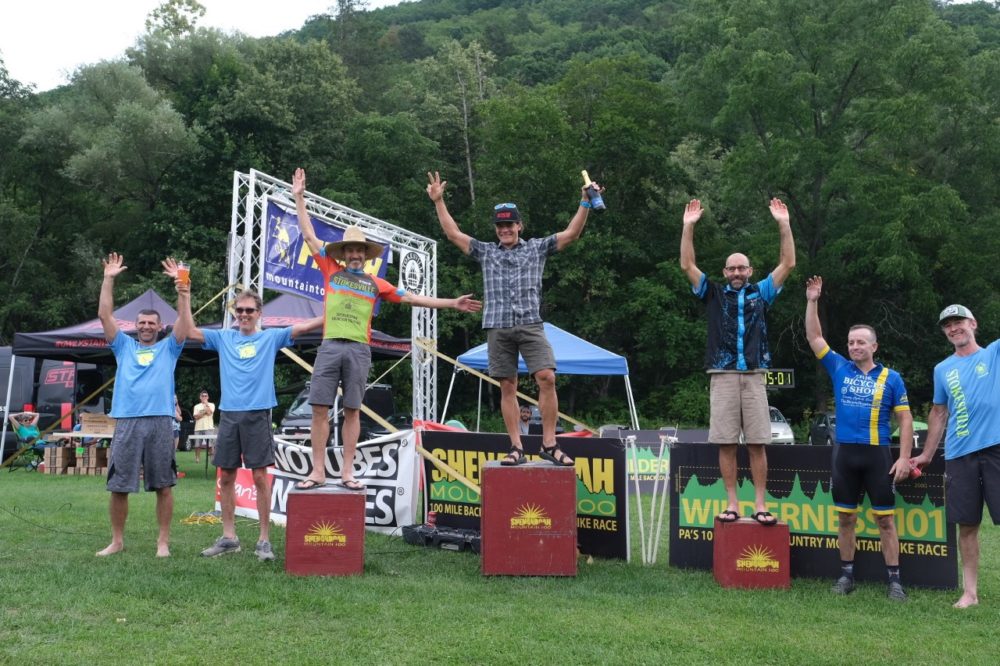 Singlespeed 101 mile- PA's Vorberger gets the W
Taking the single speed win, John Vorberger (Syndicate Cycling/Flow Formulas/Sweetwater Bikes,) from Pittsburg, PA finished in 7:35:27. "Friends told me the W101 normally starts off pretty mellow for the first 25-30 miles, but right from the start of the first climb this year, some open geared guys took off and hammered. I stayed with them and by the top of the first climb, I was in the lead group of only 10-15 or so riders, and the only SS'er in the group. A couple teammates on the Flow Formulas team were in the group with me – Will, Ian, and Caleb – so it made for fun riding as we cruised along the gravel roads. The second climb was also super hot, thanks to Will Loevner pushing the pace. I hung on for that climb also but got spun out on my singlespeed on the gradual downhill after it and lost the geared guys around mile 25-30. Oh well, I was hoping I put a lot of time on the other SS'ers, so my plan changed to just keep riding hard but smart to keep my lead. I rode the rest of the race mostly solo, but occasionally with a couple friends. Toward the end I got caught by a geared teammate and another geared friend doing the 100k race. I drafted them for a little on the rail-trail, but I got spun out and went solo again. Right near the end of the race I caught back up to my buddy Ryan Johnson, who got 3rd in the 100k open, and we crossed the line together. It was a fun way to end the race. The whole day and trip to State College was a lot of fun, it's hard to beat heading out to a race with a friend and having a good day on the bike! I used 34×20 gearing, but next year I think I might switch to 34×19. Next up is the Shenandoah 100. Thanks to Flow Formulas for race-day nutrition, Syndicate cycling for the support, Sweetwater Bikes, and Extreme Nano lubricants for keeping my chain quiet and smooth the whole race. Also, thanks for Chris Scott for another great event!"
Coming in second was, David Taylor, with a time of 8:33:12. "Wilderness 101, I came in with a new outlook and it worked out this time. I have been racing the 101 since 2016 and love every bit of Chris Scott's events. I had a bit of redemption for my poor performance at the Mohican 100 last month thanks to a nutrition mixup and the scorching heat. I dnf'd that race. I decided to focus on a couple things this race. Do an easy but consistent taper week, mix my nutrition properly and to go out easier. This worked exceptionally well. I paced with my buddy Jesse for most of the race and just let it come to me. I was back and forth with Joe Worboy but he went pretty hard up the third climb and I refused to chase. After aid station three I caught Thad and Joe again and managed to put a good gap on the long climb. I came up on Matt Ferrari in the new singletrack section and he didn't seem to put up a fight. I just continued nice and steady and at the last aid station I came up on second place Stephen Schwarz. He quickly took off and I followed about a minute behind. I definitely had more gear than him and caught him about a mile later and never looked back.Despite some cramping on the final stretch I was happy to PR on Stillhouse and the final climbs. By the end I had gapped third place by about 12 minutes and gained a couple more positions on the geared guys. If you haven't raced the W101 make sure to do so. It's my favorite of all the courses I have raced. Thanks to The Peddler of Long Branch, Rescue Racing and Hilltop Bikes for all they do for me."
Taking the third step, Steve Schwarz, crossed the line in 8:46:30. "The Wilderness 101 was really a phenomenal experience for me all around. To give some background, I have been away from racing for probably 10 years, and this was my first race back with any real kind of training under my belt. Coming into the race I knew I felt pretty good, but I didn't know what to expect as far as results. I'm also not a regular on the single speed circuit, so I didn't really know who was who as far as the competition goes. I know Chris Scott mentioned a few names on the pre-race report, like Thad, Ivan, and Matt Ferrari, but besides that I didn't really know who to look for.
The race started out beautifully. I had a great nights sleep with a belly full of delicious food and yummy beers from Elk Creek brewing. I knew once we turned on the first climb that I was going to ride well, but I didn't know where my limits were, so I told myself I'd ride my own pace and let a number of the single speeders go by. Kept feeling well as the day went on, making sure to stay on top of my hydration and fueling, and things kept going great. I kept wondering to myself when things were going to go sideways, but they never really did.
I passed a couple single speeders right before or after aid station two and noticed I was riding the trails pretty well. Sometime around aid station three, I passed Thad Who is walking his bike on the technical single track and seem to be in a bit of distress. That was the first time I thought things might be going OK for me. Then I passed another couple single speeders coming into aid station four, I made it a point to bust a move out of there. On the nasty climb out of aid station four, I came across Ivan Who was now shirtless But hilarious as always. I chatted with him briefly, but wrote a way up the hill and he yelled out "looking strong," which gave me a boost. I ground myself a bit to make it up to the top of that nasty climb, and then settled in with a bunch of gearies who helped me pass the next 15 or so miles. At that point I figured I was probably sitting in a pretty good spot. I didn't know if I was in first third fifth or what, but I suspected things were going well and just road steady and hard to the finish. The finish line came a little sooner than I expected and I was glad to be done. I didn't know where I had finished until about 45 minutes later when I decided to roll down to the keg for a beer and I saw Ivan standing up for the podium awards and I realized I better get my butt over there for the presentation. Really good to be back in the mix in some serious racing, and no place Better to do it then at one of Chris Scott's events. I'm thinking more NUE events are in my future for next year."
Fourth place was Ivan Temnykh in 8:54:00 and fifth place Scott Rath in 9:04:39.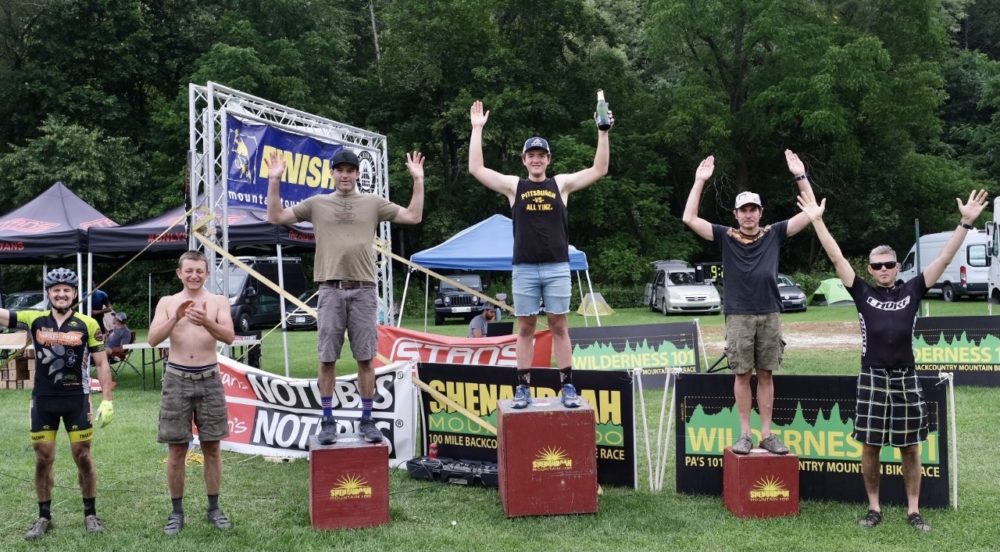 Women's 100K- Laird's 1st NUE win
After a 2nd place finish at both Mohican and Carrabassett 100k, Teresa Laird, from Richmond VA took the 100k win finishing in 6:36:45.
Taking second place was, Abigail Snyder, finishing in 7:16:36 "This was my first time at the Wilderness 101k, and only my second NUE or 100k race. I was both excited and nervous coming into race day, having never ridden in PA before, but having heard stories about how rocky the trails in the area could be. The mass start allowed me to settle into a moderate pace for the first climb. I soon realized that I really didn't feel strong at all, but that being a 70+ mile race, I could still just diesel on. So I kept a steady pace and didn't get too bothered by seeing riders pull away from me on the climbs. I approached the unknown singletrack cautiously, not wanting to risk a fall. I was pleasantly surprised by being able to ride the majority of the trails, only walking a few especially technical sections. As a whole, the gravel and trails were absolutely stunning—what a gorgeous course!! Many thanks to the amazing volunteers at each aid station who helped find my drop bags and fill water—that was a lifesaver! When I finished, I really had no idea where I had placed; it was such a fun surprise to realize that I was second! Sponsors: Ronin Velosport; AMP Human; OSMO Hydration; Cardinal Bicycle Next Race: Shenandoah Mountain 100k"
Taking the third step was, Tanya Campbell, with a time of 7:56:33. "HARD HARD HOT and HARD! In 2020 the Wilderness 101 race was cancelled. I still set a goal to see what The Wilderness was all about. I like pushing myself to try new challenges. That summer I rode the Wilderness 101 unsupported, with a little help from my friends Brad Fey, Mary Ann, Bri and Nikki. I also supported a fellow rider Will Lovner on his 300 mile tourture fest when he tackled the Wilderness 101 three times in a row this past spring. Last weekend at an after party from Mid-State Gravel Mary K and I decided that we were going to race the 101. One week out all we basically had to do was rest and recover for our next race.. Chris Scott was more than generous to us. I volunteered with registration and picked up 50 liters of cokes from Wall-Mart for the aid stations. Then this past Saturday was my very first attempt at the Wilderness 101 Marathon 75 mile distance. My performance was not spectacular but I did manage to keep moving forward all day. I was not trained for the distance. At one point I pedaled by the course marshal, a Mom and her small daughter. Her daughter said look a girl. The Mom said look women are doing it too, see you can do this too! That kept me going out on the course all day. Mary and I found each other riding the single track together which was nice. At this point it was hard to tell who was doing the full or the sort course. Evan and Helena were amazing at the last Support Station! This was the only station I stopped at all day. I also had some coke and a pickle. (THANK YOU) I really wanted hot dogs, roasted avocado and whisky but, I know what not to do during a race from experience. I caught up to my friend Ryan and It was nice to chat and ride with him up Stillhouse. The rest of the ride I was suffering. My back hurt and my ankle were killing me. The tunnel was scary and the fishermans path sucks! If you want to know more about the 101 you should just go race it! I finished third on the podium of open women. My friend Mary was actually in front of me. She registered in the 50 and over so she ended up taking 1st in her class. "
Just a few minutes back Kat Brady took fourth 7:59:50. Paula Baake finished fifth in 8:42:36.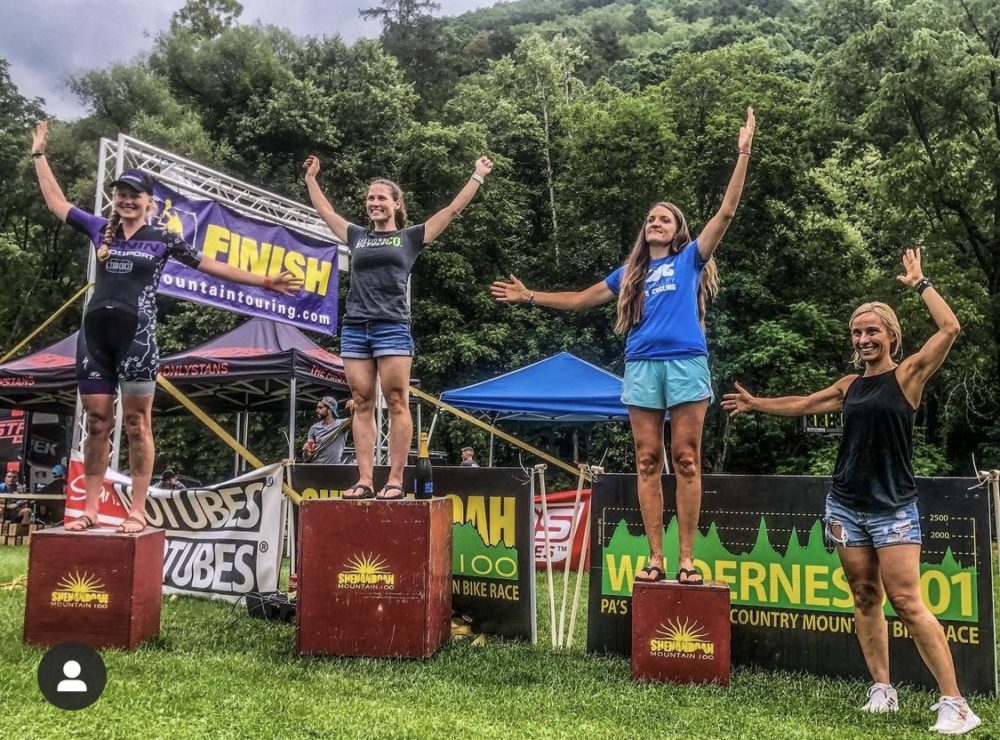 Men's 100K- Petrylak takes 100k
Taking the men's 100k win was, John Petrylak, (CarboRocket, Athlos, Kenda, Molly's Bikes, Norco Bicycles) finishing in a blistering 5:28:35. "It was great to see Coburn park full of NUE racers! The W101K (which is closer 120k🥵) started on a bright beautiful Saturday Pennsylvania morning. Right away I could feel the energy as the peloton moved down the road towards the first big gravel climb of the day. The pace going up the climb quickly escalated until the elastic started to stretch and I found myself in a small group with Will Pfieffer and Ryan Johnson. We all equally shared time on the front and quickly established a lead over the chasing pack. For the first 25 miles we swiftly made our way through Rockrock State Forest towards the first piece of single track. I was first into the single track and proceeded to have an absolute blast!! After some twisting and flowing though the PA single track I got a little space on my breakaway friends; Ryan and Will.Almost immediately after the single track it was AS(1) and a quick refill of a few bottles of CarboRocket. As I began to climb up the gravel road away from the AS Ryan caught back on and reported Will had a little trouble in the single track. Ryan got on the front and both of us started up yet another Pennsylvania gravel road climb. This climb was a little different as it pitched pretty good at the top. Once we got to the steepest part I couldn't hear Ryan tires crunching through the gravel so I threw caution to wind and just went for it. At the top I established a nice gap; this was mile 30. For the next 45 miles I proceeded alone and did a LONG TT; holding off the chasers to finish in first. Next up SM100K"
About six minutes back, Anthony Grinnell, finished second in 5:34:17. "The race started at a manageable pace and picked up a bit on the last 3rd of the opening climb. I decided I didn't want to push my power that early in the race so I maintained my power. Three riders pulled a small gap by the top of the climb, but I made a very big mistake in thinking they'd slow down a bit or I could pull them back. I spent the next 40 minutes solo'ing trying to bridge until I finally gave up and decided it would be wiser to slow down and work with the chase group behind me. Even though I burned a few matches solo'ing, that decision to wait and work with the chase group paid off. I saved enough energy to feel somewhat fresh heading into the single track. I caught 3rd place half way through and caught my buddy in 2nd place, Ryan Johnson, on Sandy Mountain. Ryan and I decided to ride together for the rest of the race, which was a lot more fun than riding the next 2.5 hours solo! All in all, it was a fun day with some great single track and good friends. I was happy to finish in 2nd place, considering the judgement error and resulting solo effort early on. Huge shout out to Flow Formulas. Their products have made a big difference for me this year in keeping fueled up and hydrated. Big thanks to Shorkey Auto Group for financially helping the team get to the races and Pro Bike and Run for keeping our bikes going. With a SS Marathon Win, a SS Epic Win, a top 5 in Men's Epic Open, and a 2nd in Men's Marathon Open, the Syndicate Cycling team had a great weekend."
Only a minute back from second, Ryan Johnson, took the third step with a time of 5:35:28. Will Pfeiffer took fourth in 5:39:42 and Philip Maynard finished fifth 5:42:20.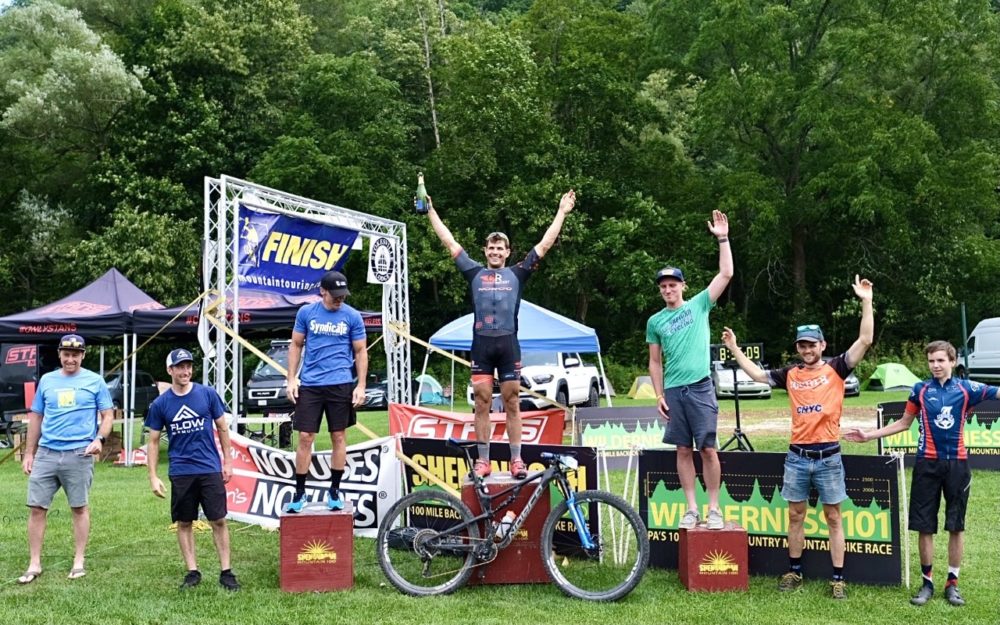 Master's 100K- Hagen gets master's WIN
Mark Hagen (Charm City Cycling (C3 P/B Wagner Roofing) took the masters's 100k win crossing the line in 6:16:57. "This was my first MTB 100k of the year, first time racing the W101 and my longest ride of the year thus far. Eyeing up the pre-reg I saw some familiar names including some of the mid-Atlantic legends such as the Thummels, D Atkins, Tanguy, Masse and Rob Campbell to name a few. Getting beta on the course was surprisingly tough but settled on my Yeti SB100, running Schwaby RaRa 2.5's on a 34 tooth front with a 9-48 in the rear, running 2 bottles, couple of gels and 2 expired/very hard Shot Blocks I found in the bottom of my race bag. My strategy was going to be like any other MTB race and try and get a good start and hang as long as I could with the lead group. The 9am start was civil compared to our 101m compatriots (7am) and the temps were in the mid 70's, which was welcomed as this race is notorious for being about 10 degrees hotter. My strategy worked on the first 4+ mile/1,100-virt. ft. climb until about ¾ of the way up the lead group of about 12 splintered off into a chaise group with myself the eventual single speed winner Litzinger, Josh Coffman, Sunny Gil, one other Bike Doctor guy and a smattering of others from the open podium. It was a friendly but focused group and we traded pulls leading up to the first single-track which I entered last and I never saw most of them again. The first 2 sectors of ST were pretty slow going and technical with sweaty PA rock in full effect. We met up with the 100m groups at around mile 35ish which gave me (and them) riders to trade pulls with. The two middle ST sectors were fun maybe not flowy but good singletrack and each gravel section was welcomed reprieve from the pounding PA rock gardens and used the gravel zones to refuel and lick my wounds. Eventually on the second-to-last long super fast fireraod DH I caught up with the Bike Doctor guys again and we met up at the last aid station, which I left first, and thought that they would me on the final climb but never did. On the final flat trail, through a rather dark and scary tunnel, I traded pulls with fast young-gun Chase Caughey and we both worked together in hopes to drop the BD guys on the final 3-mile climb. We hit the last ST sector at the which I knew from pre-riding the final 5-miles on Friday, so I just knew to get off, shoulder my Yeti and run much of it. Super happy with my first W in a while and huge thanks to the support from the volunteers at the aid-stations (well stocked) and Chris Scott at SMT for this and the other great MTB and Gravel events he throws down on. Also shout out and thanks to my team C3 PB Wagner Roofing and Charm City Cross…cross is coming people.Next up for me is the Breck Epic and can't wait for the Shenandoah 100!"
Six minutes back and finishing second, Dorel Stoia, finished in 6:23:35. Ohio riders, Bob Sowga (PG racing), finished third in 6:51:51 and fourth went to, David Jolin (Rescue Racing) crossing the line in 6:54:06. Jeff Adamcik took fifth in 7:10.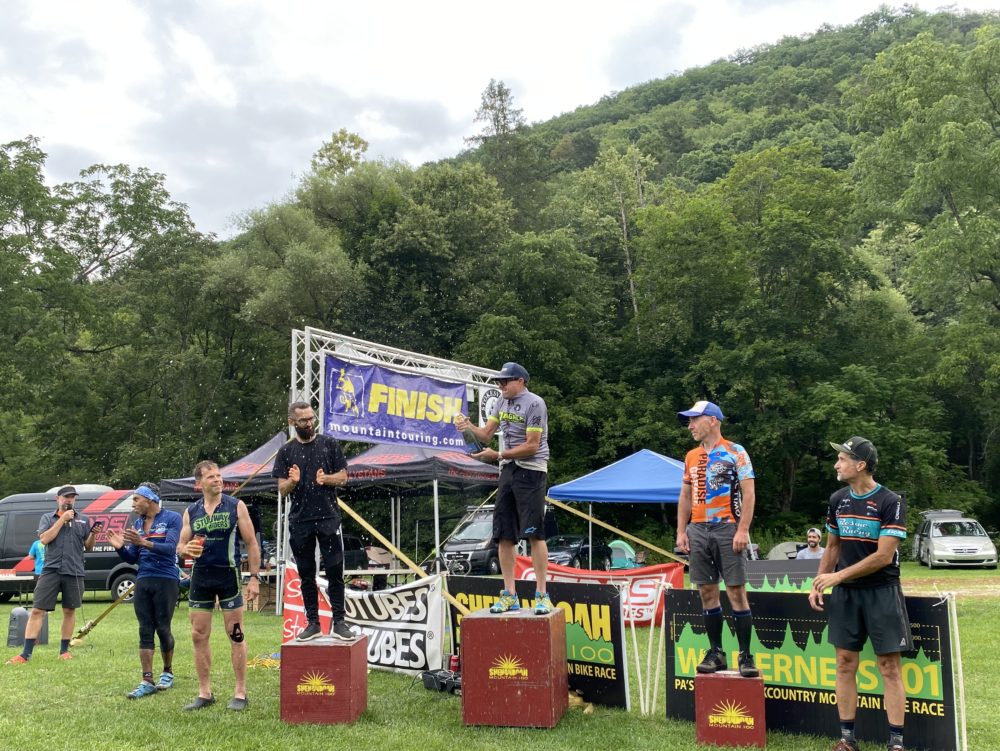 Masters 100k Women
Mary Kowalski crossed the line in 7:44:50 taking the women's masters win.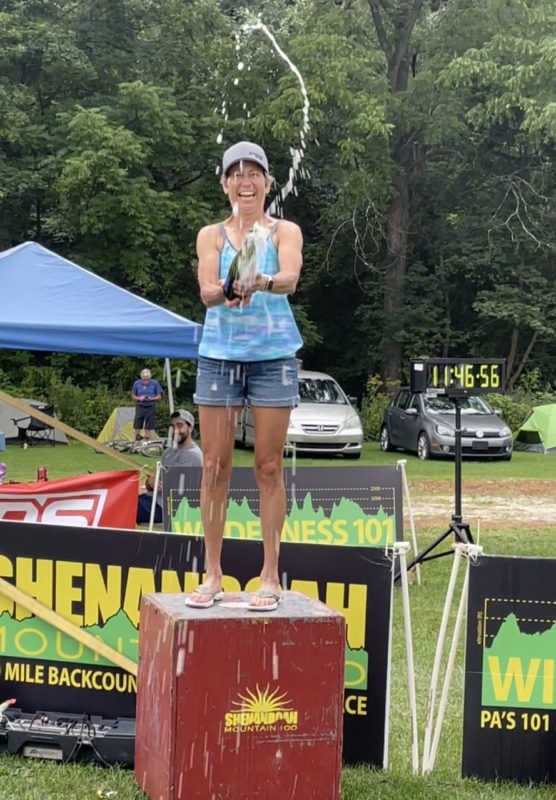 Singlespeed 100K
Pennsylvania's very own James Litzinger (Syndicate cycling) took the singlespeed win and sixth overall finishing in 5:44:01."
Who would not like the Wilderness 101? Loads of the finest gravel in Pennsylvania with east coast rock gardens and beautiful single track. On the first climb after the neutral start the race heated up with about five riders separating themselves as the lead group. I thought it would be a good race move to conserve some energy and continue the climb at my own pace. When I got to the flat section at the top of the climb, I jumped on the chase group of three riders who meant business. They were putting in big pulls making it difficult to hold on with all the spinning on the flat roads. I was able to hang on for 6 miles or so before deciding it would be best for me to conserve some energy for the big climbs later in the race. After all my spinning, I could not wait for another climb and that came were the 100-mile racers joined the course. This is the point in my race where I felt steady and strong. The race just kept getting better, at the top of the climb I was able to put my Specialized Epic to work on the Dutch Alvin trail. It was a blast! From here I started to build confidence as I began passing more 100 and 100k racers. As I worked my way through the field it was great to run into some old friends and make some new ones.
I had a bunch of support that made this race possible to do my best. Excellent support and friendship from the team shop, Pro Bike + Run. I was using Extreme Nano Lubricants which kept my chain incredibly happy in the harsh conditions. My nutrition and hydration were on point with flow formulas. My Perelli tires were fast and durable. My Wolf tooth 34 x 20 gearing was strong and flawless. As always, I would like to give special thanks to my Syndicate family for always supporting me and pushing me to do my best. Next up is Shenandoah!! "
Matthew Doyle took second with a time of 6:42:02.
For full results CLICK HERE
Next up on the Epic and Marathon NUE series Pierre's Hole in WY on August 7th, 2021