JULY 23, 2016
Kenda NUE Series #9
Presented by Hammer Nutrition 
By Ryan O'Dell
The third annual NUE Big Bear Grizzly 100 race course received its inspiration from the infamous Terrible 10,000, a ride the local endurance hammerheads have been doing for years. This year's race included racers from seven different countries and twenty different states. It also rewarded racers in both the Grizzly 100k and 75k with NUE Race Series points.
The race kicked off a week-long cycling festival organized by Big Bear Valley Race Association teamed up with the Big Bear Cycling Association and the City of Big Bear Lake. Big Bear Cycling Association promotes the Tour de Big Bear this next weekend with an anticipated 2000 riders.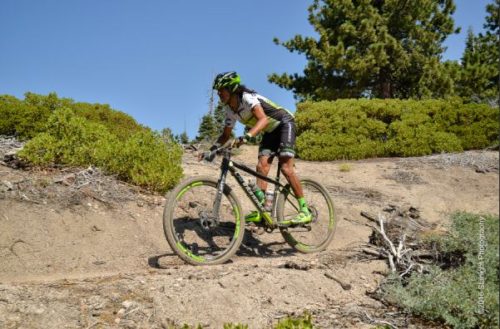 Located at 7000 feet above sea level, the charming tourist town of Big Bear has long had a solid reputation as a cycling destination, attracting visitors from the LA Valley and hosting some of the largest national events over many years. Nearby ski resorts offer lifts for cyclists during the summer months accessing the newly developed Skyliner Trail. New Belgium Brewing offered several variety's of draft brews throughout the day in the beer garden welcoming weary racers and fans with malty, hoppy goodness.
Women's Open – Edwards wins!
Following her fifth place finish last year, Chase Edwards moved up and across the finish line first in 2016 at 6:19:13.
Eight minutes later, Nikki Peterson, took second at 6:27:38 improving from a fourth place finish in 2015. "The Grizzly 100 is a unique event: with 8,000+ feet of climbing that is 75% singletrack, it is extremely challenging! However, at point in time when you are in excruciating pain all you need to do is look around and suddenly you are feeling better because the views are that AMAZING! I was recently signed to Team RideBiker, a professional mountain bike team, and this was my second race with them. Adam Pulford, the director of Team RideBiker and a coach for Carmicheal Training Systems, is my coach so, as of two weeks ago, I am training more than I ever have! I am so excited to have this opportunity, it is a dream come true!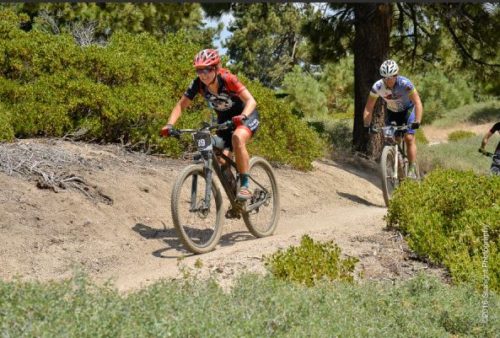 The Grizzly 100 is not a focus for me as I am focusing on XCO distances (1:30-2hr races) so we decided to not rest up for it and ride it in the middle of a large training block. With this is mind, we focused heavily on my nutrition throughout the race to ensure that I was fueled properly for the latter half, where I bonked hard last year!
I came into this year's event as the fastest returning competitor from the 2015 event. However, I knew the field was stacked: Chase Edwards, who finished 5th last year only thirty seconds behind me and beat me by 21 minutes at the Whiskey 50 in April; Madeline Bemis, a high school Phenom who happens to be the U23 World Champion in the 24 Hour Solo; Lauren Mulwitz, a new Pro who won Cat 1 Nationals 2 weeks ago; and local endurance legend Rhonda Patterson-Geiszler, who is commonly found on the podium of endurance races.
The race started out fairly fast given the fact that we had 56 more miles to go! I knew it was important to get a good position for Seven Oaks so I went with the quick start, went back and forth with Chase, and had a good spot going into the sketchy downhill. I ended up passing three people going down and felt good about the descent. Shortly after we got onto the fire road Chase was there again. We played Cat and Mouse for a while but Chase ended up getting onto SART ahead of me. I paced myself on SART, feeling my heavy legs but not worrying as I knew there was a lot of racing ahead. I caught up with Chase towards the beginning of Radford. She turned around, saw me, and put in a huge attack! I ended up struggling up Radford, which is usually a strong point for me, and never saw Chase again.
I stopped at the Heaven aid station to fill up my pack and continued on. Skyline was slow going at times but unlike last year when I had to dab and even get off my bike often, I was able to clean everything this year! I kept up with the hydration, sugars, and electrolytes and didn't even bonk- another success! The best part though? I felt amazing going up the five mile Pineknot climb at mile 50! Some of it had to do with my positive mindset, but most of it had to do with nutrition and training. I finished strong on the fire road and came across the finish line in second place, 25 minutes faster than last year! I ended up about 8 ½ minutes behind Chase, which is also an improvement over the Whiskey 50 results.
All in all, I am stoked on my race given the circumstances. The Grizzly 100 is a very well-organized event and will likely be my next NUE event as I am going to work on getting some UCI points to hopefully compete in World Cups in the next year or two!"
Lauren Mulwitz from Marina Del Ray, CA finished third at 6:50:03.
At the age of fifteen, she was the final finisher in 2014, not long after becoming the 2014 NICA California State Champion. Last year, Madeline Beamis, Bear Valley Bikes, moved up to sixth place. Beamis moved up again this year finishing fourth at 7:01:06. "I took off fast from the starting line to begin the long uphill climb, paying close attention to the women around me, and estimating who would be my toughest competitors. The 7 Oaks single-track is the first downhill, and is particularly challenging because of the sandy terrain being easily influenced by every tire that passed before mine. Large ruts were left in the ground, leaving me holding on tight to my handlebars while sliding around; trying to avoid falling down the steep sandy slopes beside me. I was relieved when I reached the end of the daunting 7 Oaks and a wide downhill fire road greeted me.
Next up was SART, which is a more stable singletrack complete with just the right amount of rocky and technical terrain. At the end of SART, I had moved up from 9th place to 6th, and was determined to continue powering through. Next on the agenda was the infamous Radford climb, which is a grueling six-mile uphill. 5th place was in sight at the beginning of Radford, and I was determined to make a move or, at the very least, keep her in my sights. She and I both stopped at the aid station midway up, so I took off while she continued fueling.
But, as soon as she started again, she began gaining on me. I considered giving up and letting her steal 5th place back, which is something I would have done in my first or second year of the race, but this year was different. I became the U23 24-hour solo world champion in New Zealand this past February, so now I stand for something. People know who I am, cheer me on by my name, and hope to see me succeed in endurance races like these. So I persevered and held on tight to 5th place.
I had paced myself well in the beginning, so I was able to stay strong for the remaining 30 miles. More mountain singletrack and fire roads followed, but nothing as challenging or exhausting as Seven Oaks Singletrack or Radford. Temperatures reached up into the 90's mid-race, but by the finish it was pouring rain with crackling lightning and dark clouds shadowing the landscape. The scenery was breathtaking as always in Big Bear, and the spirit and energy of the whole event is always memorable. The SAG stations of the Grizzly 100 are what make this race truly special. About every ten miles, an EZ Up sheltering cheering supporters awaited hungry racers, ready to serve boiled potatoes, fresh fruit (the watermelon was especially refreshing), peanut butter pretzels, olives, beets, pickles, trial mix, and even smoothies!
I am grateful for the support of my parents, coaches of my high school mountain bike race team Corona Composite, Empire Bikes, Kenda Tire, and, most importantly, God for the opportunity and ability to race mountain bikes. I ended the race in 4th place for the 2016 Grizzly 100 NUE, and I'll definitely be back next year to improve my time and fight for another podium finish.
Eight minutes later, Mary Dannelley took the final podium spot to place fifth at 7:09:57.
Men's Open – Lideen gets his second NUE Win of the season!
Taylor Lideen, Pivot Cycles 92Fifty, from Phoenix, AZ earned his second NUE Series victory with a winning time of 5:05:16. Lideen won the NUE Season Opener at True Grit and was 8th at Bailey Hundo before suffering an injury to his wrist and hand at the Tatanka.
"Oh man! What a fun event the Grizzly 100 was! I was super nervous going in knowing I had to conserve a bit due to racing next weekend at Pierres Hole in Wyoming. I think trying to keep a lid on things was a real test of patience but a smart choice considering that I have heard Pierre's Hole is a tough race!
A group of eight or so formed right away and it seemed like we were all having so much fun! The first long downhill was such a blast! About half way into our day it was Tinker, Steven and I. Up the long climb Steven kept pushing his single speed gear and pulled away from Tinker and me. It was super impressive to watch Steven crank out an amazing ride on his singlespeed, massive congrats to him! I wasn't at all interested in chasing Steven down as I was worried about coming across some more bad luck if I pushed too hard. I was happy enough to come across the line with a clean race and no crashes or bad luck like the last few NUE's for me. Everyone was so dang friendly in Big Bear and it is an event I would definitely go back to! Next up is Pierre's Hole and the Hampshire 100! I can't wait for those events!"
Two time US Olympian and Hall of Fame inductee, David "Tinker" Juarez was next, just four minutes behind Lideen to finish 5:09:09. "I was hoping for a better result, of course, but when it is not your day, just go with the flow and be happy with what you get. When you make the podium that is not so bad. The course was awesome with 80% single track and over 8,000ft of climbing. It takes a lot of concentration because of the single track and that makes it a different challenge to race."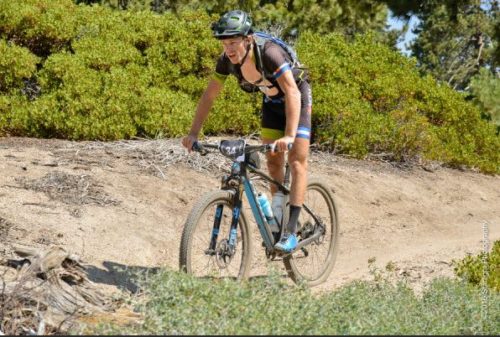 Three minutes behind Juarez, Ryan Steers was third at 5:12:10. "This is one of my favorite races of the year and one of the best courses you can ride in SoCal. To race here you have to be able to do everything well. Long, scorching, brutal fire road climb? Radford. Check. Elevation? Most of the race is at 6500-8k feet. Check. Technical single track? About 40 miles of it: Cabin Trail, Skyline, Santa Anna River Trail, Plumbers Trail. Check. Ridiculous loose descent with massive exposure? Seven Oaks. Check. Pavement? A few miles but still a check. To win this race you've got to be able to climb, descend, flow, spin, climb some more, shred it, and hammer….and ride a singlespeed?
We lined up at 6:45 for a 7am start. It was already getting warm in the sun, which was worrisome. The start was quick. You have a few hundred yards of gradual uphill pavement on Pineknot and then you hit 2N08 and the race is on. It's only a few miles but just shy of 1000 feet of climbing and gets the heart pumping. The peloton blew apart quickly. I was in the front with Tinker, Steven Mills, Taylor Lideen, Stefano Barberi, Cameron Brenneman and Alfred Pacheco. I noticed Steven was on a single speed and thought to myself, "Wow, this guy is going to blow up." Boy was I wrong.
After the climb you roll on the fire road a bit and the hit the singletrack and it's right on to the Seven Oaks Descent: two miles and 1600 feet of descending a super narrow, exposed, sandy rut. No room for error. Every year I've been behind someone that's taken a tumble- nothing serious but it's easy to do some barrel rolling. Last year Munoz took a few spills and this year Barberi went toppled over. I play it a little too safe and it costs me a minute or two. Most the guys were out of sight by the time we were halfway down. Barberi and I were together and Alan Laframboise caught us and I let him by. Barberi and I hit the fire road at the bottom and played chase with poor single speed Alan spinning out on the rollers. I pulled ahead and caught sight of the leaders (after watching Tinker add some air to his tire and then speed away again). SART trail is always a blast and seems longer every year. They've done some work to it so there are no more walking sections and it's all ridable. It's a hard trail to rail because there are so many sweeping turns with exposure but you can get some speed. Lots of sharp rocks (I flatted here twice 2 years ago) so don't run Schwalbes.
After the Santa Anna River Trail the real work begins. You roll along Seven Oaks road for a bit and then start to head up up up. Bit of advice- make sure you get aid here. Don't hit Radford without full bottles. Sure there's an aid station 3/4 of the way up but if you stop there you'll have a really hard time moving again.
My plan all along was to chill the first 30 miles and then give Radford a good push. I saved the segment in my Garmin and gauged my effort against my time last year. On the way up I was able to pass Pacheco and Brenneman and catch sight of Tinker, and Tayler ahead. I also saw Steven throw the hammer down and take the lead on a single speed at the top of Radford! What a beast. This guy was not going to pop. I shaved over two minutes off my climb from last year but it wasn't enough to catch the leaders.
The joy of Plumbers is immense. After a hot and brutal fire road you are rewarded with two miles of blissful single track….until you hit 2N10 and have to climb all the way back up to Skyline. Ouch. From there it's about seven miles of rolling skyline but you've got to stay on top of your nutrition or it's super easy to bonk or cramp here. You're flowing and rolling along and suddenly you forget to drink and you're out of water with twenty miles left to race. Miles of single track roll by.
I caught a glimpse of Barberi about two minutes behind me and kept the speed up. I kept getting time checks that Tinker was two minutes up but I was never able to spot him. Cabin trail is a blast but the climb back out to the fire road is brutal. Punchy and steep and your legs will be screaming. However, once you get back to 2N08 its easy street. The race ends with four miles of rollers and descending. Don't crash. The descent into town (the same as the starting climb) is steep, fast, and loose. You probably won't catch anyone but you can end your day in sight of the finish.
Big Bear is so much fun this time of year and every year we've been treated to a thunderstorm at the finish. The course is amazing and the talent is exceptional. I'm three for three on this race and I'll be back again next year. So excited to finish fourth this year and win a little cash. Shooting for top three next year!"
Two minutes behind Steer, Stefano Barberi, took fourth at 5:14:29, two minutes ahead of Cameron Brenneman of Sante Fe, NM who took the final podium spot at 5:17:18.
Single Speed Open – Mills smokes the field!
Coming off his first NUE win at the High Cascades 100, Steven Mills dropped the hammer in his home state of California getting his second straight win at 5:01:04. Mills also placed third at True Grit and sixth at Bailey Hundo this season.
Allen"The Rasberry" LaFramboise, Don's Bikes/Bike for Bender, was next at 5:35:37. The Rasberry achieved back to back wins in 2014 and 2015.
NUE Race Series SS leader, Kip Biese, KJBike Coaching/ Old Town Bike Shop, was next taking third at 6:02:15. Already, Biese has completed eight of the last nine races, including four second place finishes and two third place finishes. "I went in tired so I ran a little gear (32/20 on a 29er). On the very first hill I quickly saw I didn't have it to keep up with Steven or Alan. So I just settled in and enjoyed my ride (except for the Radford climb)."
Ten minutes later, 50-year-old Rex Merritt, claimed fourth at 6:12:36. Three minutes later, Freddie Espinoza took the fifth spot at 6:15:42.
 Masters 50+ Open – Golet gets his fourth NUE Victory!
Greg Golet, Team Chico, moved UP to the top rung of the NUE Standings gaining his fourth straight win in the NUE Race Series this year. Golet's time of 5:40:55 was four minutes faster than the blistering time put down by 2011 NUE Race Series Masters Champion, Doug Andrews, at the 2015 Grizzly 100.
"I spent an amazing day at Big Bear racing on fantastically varied trails that tested me in new and ever changing ways. I remember a crazy downhill on off-camber, thick coarse sand, where the only sign of the trail ahead was a transient rut carved by the previous rider, a sweet river trail with blind sandy and rocky corners flanked by steep drop offs, a fairly monstrous (HORS) climb that made me really wish for my hardtail, awesome rolling, flowy singletrack along a ridgeline with incredible views of the San Bernadino Mountains taking me up, around, and over cool sculpted granite towers, then a sweet bermed corner forested descent on relative hard pack leading to a nice late-in-the-game, pin-it-to-win-it singletrack climb up to the final fireroad downhill where the probability of a car appearing around each blind loose corner seemed to increase the closer I came to town (but where I got my only top 10 Strava segment on the day!)… All of that packed into one fantastic sub-six hour experience at a truly incredible place on the planet.
In terms of the actual racing, I spent most of the day chasing Doug Andrew's ghost. He was registered, but didn't show, although I didn't know that until after the race ended. Doug was the 2011 NUE champ who has dominated the Master's field here in the past, and I was worried about getting crushed by "the Hulk", as he is sometimes called. So much so, I guess, that I taped a couple of his split times from his last year's Strava record to my top tube. I thought that this might help me track where I was on the course relative to him. In the end, I finished a few minutes ahead of his last years' time but, of course, that doesn't really mean much. Just the idea that he might be out there was motivation enough to work hard until the end.
Thanks to Derek and his team for doing a fantastic job hosting all of us 317 riders from seven different countries and twenty US states! Next up Rincon de la Vieja, Costa Rica!"
Ken Winston from San Diego, CA was second finishing 6:03:55.
David Turner was third at 6:23:36. "I really hope that the fast guys in my class that whipped my ass this year share their secrets, as I would really like to go faster next year!
Yes, of course there will be a next year; there was never any doubt from the moment I finished. I was already looking forward to the Grizzly in 2017, maybe even try an out of state NUE like True Grit Epic or the High Cascades 100. The Grizzly race course was incredible, the numerous aid stations staffed with the most helpful people handing out a variety of snacks.  I really cannot thank everyone enough, hats off to Derrick Hermon and the dozens of staff scattered all over the mountain.
Anyone that calls themselves a mountain bike racer should plan on doing an NUE event, this IS mountain bike racing! A long day on the bike away from it all makes the rest of our cluttered lives shut up and just let us be for a good long ride, a total mental and physical reset. I look forward to doing it again."
Eight minutes later, Dan Bartlett, finished fourth at 6:31:40. David Jolin, Stark Velo, from Belleville, Ohio claimed the fifth and final spot on the podium to finish 6:53:56.
NEXT:
NUE Race Series #10, Pierre's Hole 100 in Alta, Wyoming on August 6