It's been a wild ride, but I am here in Andorra about to go out and do the final course check ahead of tomorrow's World Championship XC race. This week has been a blur of travel and intermittent sleep (for some reason I am not adjusting to the time change well), with some bike rides and lots of good meals mixed in.
I left Salt Lake City on Sunday morning, and by the time I arrived in Andorra it was about 3pm local time on Monday, and I had barely slept. Unfortunately I don't sleep well on planes so these longer flights kind of kick my butt. I resisted the temptation to just crash and nap after lunch, grabbed a coffee, and went for a short spin to change some money and just get outside. I also hoped this would help me sleep better at night, which it did, even if just for one night.
Unfortunately my first spin was not on my own bike, as it didn't make it to Barcelona on my flight. USA Cycling saved me with a loaner bike, which I needed the next day as well, my bike didn't show up until Tuesday night. I put the loaner to good use on Tuesday and did a mellow road ride up some mountain passes, and even crossed over in to Spain on a dirt road for a few miles. The views are incredible and the mountains are beautiful here. The Pyrenees are dramatic mountains with a lot of steep slopes and huge vertical relief.
My bike finally arrived Tuesday night after dinner, and I rushed to start building it up. Right away I noticed that the airline had crushed my bag and cracked the frame! Aaarrrgggghhh! I tried not to panic and luckily didn't need to as the next day the Cannondale Factory Racing team saved my butt with a replacement swing arm, which the USAC mechanics promptly installed, and I was on course Wednesday afternoon.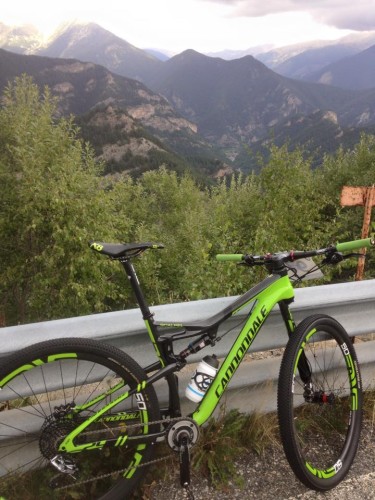 The course is awesome. It is super hard all around with really steep short climbs and some steep technical descents. All the climbs are less than one minute long so it will be a really punchy race and will surely tax the legs and lungs a lot. It is also super treacherous in wet conditions, which the juniors and U23's are experiencing. It looks dry for our race but you never know.
Tomorrow is the elite race, and I have my work cut out for me for sure. I have number 97, which means that almost 100 of the best riders in the world will be called up ahead of me. I am rooming with Russell Finsterwald and he likes to make the goal of halving his start number. I like it. Honestly that's about all I can hope for, that is a lot of passes to make still! I'll add to that the goal of finishing on the lead lap, and there we go, two things to shoot for.
So far it has been a great week over here with top-notch support from USA Cycling. It has been great to stay with the national team, we have a solid group of riders in all categories right now, most importantly everyone has a great attitude and is having fun.
I'll check back in after the race, hopefully with some good war stories.
Thanks for reading and good luck to all the Park City Point 2 Point racers back home.