Breckenridge Returns for 2019 with Big Bear, California
"Celebrating more than TEN YEARS as the nation's premier XXC Race Series"
The 13th Annual National Ultra Endurance (NUE) Series www.nuemtb.com announced the 2019 race schedules this week featuring a balanced schedule, east and west.
The NUE Epic Race Series Schedule is comprised of races at or near 100 miles in length. Big Bear Grizzly in California will again host the NUE Series Championship race where all ties are broken. The Breckenridge 100 returns for 2019 bringing the total number of Epic Series races to twelve in this best four of twelve series.
The NUE Marathon Race Series schedule is comprised of races at or near 50 miles to 100k in length. In 2019, The Breckenridge 100k returns bringing the total number of races to 11 in this best four of eleven series.
"On behalf of The NUE Race Series, I would like to thank all of our sponsors, many who have been with us for up to a decade now, for believing in our vision and supporting NUE. We are proud to promote our NUE sponsors including Kenda Tire, Hammer Nutrition, Sigma Sport of Germany, Darn Tough Socks of Vermont, KMC Chain, Lauf Forks, Voler apparel, Squirt Lube, and Chris Eatough Coaching, for providing training plans for NUE Racers, many tailored to specific NUE race courses based on his success with NUE." Ryan O'Dell, NUE Race Series Director.
Born in 2006 to fill a need for XXC racers, the NUE Series began with just six races before growing over the last eleven years to now include a total of twenty three races held within twelve different states.
The NUE Marathon Race Series will be made up of eleven well known races including the newest Iron Mountain 100k in Damascus, Virginia. Distances will vary ranging from 50 miles to 100k. Like the NUE Epic 100 Mile Race Series, the NUE MARATHON Race Series will be governed by the same rules and will require the same number of races (BEST 4) to become eligible for series awards and recognition. It is important to note that the NUE Epic and NUE Marathon are two separate race series. Points will not transfer between the Epic 100 Mile and Marathon Race Series. Marathon Series finishers will receive a national ranking and qualify for series awards, Custom Voler NUE Champion Jersey or discounted NUE finisher jersey plus prize packages for ALL NUE Race Series Finishers.
To claim the NUE Race Series Epic 100 Mile title, racers best four finishes will count. NUE requires a minimum of four races to receive a national ranking. ALL racers who complete four of the NUE 100 Mile distance races will receive a national ranking and qualify for series awards, Custom Voler NUE Champion Jersey or discounted NUE Finisher Jersey plus prize packages for ALL NUE Race Series finishers.
Additional Travel awards for NUE Division leaders include an NUE Epic Series Champion travel package to compete in The LaRuta de los Conquistadores, a three day stage race across Costa Rica recognized as one of the toughest races on the planet. Details will be announced publicly soon.
All Epic and Marathon series ties will be broken at the Big Bear Grizzly in California. An attractive feature of the NUE Series is that there is NO LICENSE REQUIRED in order to participate. Everyone is welcome to compete on a level playing field alongside top Pro's. ALL finishing racers receive a score based on their race finishes with a "lowest points wins" formula. The best possible score is 4.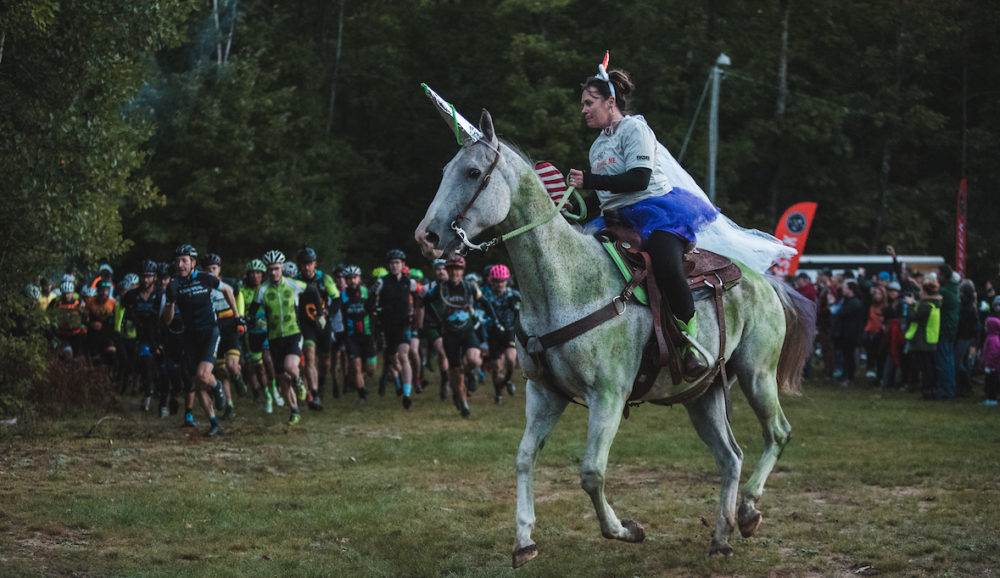 Nearly ALL NUE Race Series events sold out again in 2018, some within mere minutes. The Marji Gesick 100, the first race to open registration has already sold out. True Grit, High Cascades and Mohican have recently opened registration and are also expected to sell out.
NUE is currently soliciting the support of additional partners interested in promoting products and services that racers can use. Potential sponsors can receive more information by contacting Ryan O'Dell at nolimit@mohican.net
What's on tap for each event for 2019?
Both, the NUE Epic Series and Marathon Series will roll out on March 9 in the southwest at the True Grit Epic and True Grit Epic 50 in sunny Santa Clara, Utah.  According to Race Director Cimarron Chacon, "The True Grit Epic is long, tough, and technical. The first twenty miles are along rocky and steep terrain that requires excellent bike handling skills and upper body strength. This course is a roller coaster of desert riding with over 70% of the 89 miles on single track and slightly over 13,000 feet of elevation gain. We are adding a 15 mile challenge ride this year to include those who may not have trained enough to take on a series course but would like to experience a little bit of True Grit. True Grit Registration is already open and nearing capacity."
On April 27, NUE returns to Ducktown, Tennessee for the Cohutta 100 and Cohutta Big Frog 65 under the new direction of Lisa Randall at Mountain Goat Adventures, who also produces the Fool's Gold 100. The course has reverted back to the original Cohutta 100 course from a decade ago, using the singletrack section of Brush Creek and the Tanasi trail systems, and an intense gravel loop known as "The Death March".  Staging for the race takes place along the banks of the beautiful Ocoee River — site for the 1996 Olympic White Water Events.  The 100 miles of race course traverses the mountain terrain by world class single track and fire roads. The single track is fast and flowing, but can get tight and technical in spots. The fire roads are demanding but rewarding with long ascents, fast descents, and spectacular mountain views.
Out of the gate, the race makes about a three mile climb on pavement up highway 64.  This warm-up serves as a good field displacer and pole position before entering into the fast and flowy single track for the next twenty miles. Next is a challenging loop on beautiful mountain fire-roads.  Road texture alternates between hard-pack gravel and smooth moist dirt. Expect tenacious climbs (over 12,000' of elevation gain overall), hundreds of curves, and peaceful mountain streams.  Upon return, racers will re-enter the single track for about nine final miles of the best trails in these mountains.
The weather in Southeastern Tennessee in late April ranges in expression. Expect a chilly morning for sure on race day, but a quick warming up in the early miles.  Six Aid Stations provide supplemental support throughout the course and a delicious meal and coveted "Finisher" mug await finishers at the Finish Line.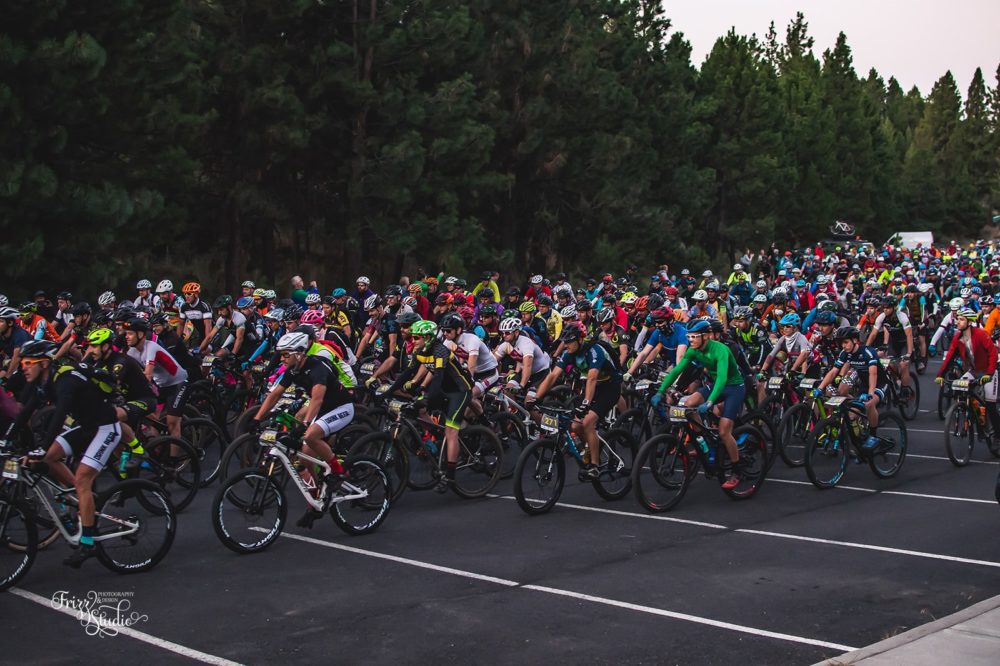 Next up is the 18th Annual Mohican 100 and Mohican 100k on June 1 that hosted nearly 600 racers in 2018. Like the Leadville 100, Mohican features a downtown start in Loudonville with plans to continue the neutral start that started in 2018. From there, the course covers several miles of double track before treating racers to a recently recognized IMBA Epic trail of pristine, flowing single track within the 5000 acre Mohican State Forest along a single loop spanning three of the counties that make up what is known as "Mohican Country". Due to tremendous growth, The Mohican 100 mile and 100k imposed a limit of 600 racers. This race may sell out quickly so it is recommended to register soon. 100 Mile Race finishers receive a custom Mohican finisher growler to be filled and refilled with a truckload of microbrew provided by award winning Great Lakes Brewing of Cleveland.
From the Buckeye State, racers will head north into the Great Lakes State of Michigan for the Lumberjack 100, on June 15. Located deep within the Manistee forest in Wellston, Michigan, The Lumberjack will cap off the spring portion of the series.  If you like fast flowing, mostly non-technical single track, and Founders Brewing, this is your race. Perhaps that is why this event always sells out early, sometimes within minutes.
One June 24, Iron Mountain 100k, located in Damascus, Virginia returns to the NUE Marathon Race Schedule. Damascus is called "Trail Town" because the Appalachian Trail and the Creeper Trail pass right through the historic downtown. Bicycle advocates are also creating a Great Eastern Trail Bicycle Route that passes through Damascus too. This route is under development and utilizes the Iron Mountain Trail and the Highlands Horse Trail in the Mt. Rogers National Recreation Area. The GET Bicycle Route links to the New River Trail and onto Blacksburg where it gets back on singletrack and joins the existing GET at the southern end of the Shenandoah Mountain Trail.
As summer arrives, The NUE Race Series returns to the Black Hills of Sturgis, South Dakota on July 6 for the Tatanka Epic and Tatanka Marathon. The Tatanka introduced a brand-new course and format in 2018. Starting and finishing on the legendary Sturgis Main Street, in the middle of downtown in the "City of Riders", racers will duke it out as they race through town between unique loops in a clover-leaf format. The new course covers dozens of miles of newly constructed trail and keeps the best trail from past events. The Tatanka Marathon will share its main loop with the Epic and represents many hardcore locals favorite "BIG ride".
One week later, on July 13, NUE Marathon Series heads northeast to Maine. The Carrabassett 100k located in the Carrabassett Valley adds some northeast flavor to the NUE Series. Carrabassett, located near Sugarloaf Ski Area, has spent approximately $500,000 building mountain bike trails in the Carrabassett Region.  The goal is to construct an iconic mountain bike trail network that is on everybody's "must-ride" list.  To date there is approximately 100 miles of riding for all abilities.  This includes miles of super flowy, machine-built singletrack and old-school style trails that have been carved out with hand tools and sweat.  The Carrabassett Backcountry Cycle Challenge (CBCC) is your chance to experience some of this outstanding riding in a true point-to-point style race through the western mountains of Maine!  Profits from the race go towards construction and maintenance of new trails.
Also on July 13, The Breckenridge 100 mile and 100k races return to the NUE Series Schedule. The Breckenridge 100 mile and 100k in Colorado can take your breath away, literally, as it begins at an altitude of 9000 feet before crossing the continental divide three times, eliciting jaw dropping views throughout in a three loop Clover shaped race originating from Carter Park in downtown Breckenridge.
On July 20, think Big Foot and Volcano's as Mudslinger Events hosts The High Cascades 100 in Bend returning for its tenth year to represent the state of Oregon. The Trails around Mt. Bachelor are truly epic and racers are treated to quality craft brews from Deschutes Brewing. With just 350 spots available, racers are encouraged to register as soon as possible.
Also on July 20, The Wilderness 101 and the Wilderness 101k, directed by Chris Scott, is located in the Rothrock and Bald Eagle State Forests just outside of State College, Pennsylvania, home of the Penn State Nittany Lions. If you enjoy technical backcountry single track and hair raising downhill thrills, nothing rocks quite like PA! W101 was one of just six races included in the inaugural NUE Race Series.
The final four races will occur within a two month period and, as usual, has a tendency to create some chaos in the series standings before the final tie breaking event.
First up is the 11th Annual Pierre's Hole 100 and Pierre's Hole 100k located near Alta, Wyoming on August 3. Pierre's Hole, a mountain valley tucked up to the Wyoming border on the western side of the Tetons, was once known as the strategic center for fur trade in the Northern Rockies. Today it is known as the strategic gathering place to ski unfathomable deep powder and ride some of the best known single track in the nation.
According to race director Andy Williams, "The Pierre's Hole 100 and Pierre's Hole 100k at Grand Targhee Resort  newest course layout adds even more new single track without the nasty climb down to the ranch from the early years of the race that many old timers may recall. The 2019 course will take racers through fields of wild flowers, aspen trees and old growth forest right in the shadows of the Tetons."​ The "Grand Loop" which is all a part of the Pierre's race course was recently named as an IMBA Epic trail!"
The next day, on September 1 over Labor Day Weekend in the USA, the 22nd Annual Shenandoah Mountain 100 in Harrisonburg, Virginia, will send up to 650 racers into the George Washington National Forest. Shenandoah is the grand-daddy of them all, and the largest strictly 100 mile race in the NUE Race Series! Shenandoah not only has a great reputation for amazing trails but is also well known for the outstanding support of volunteers and aid stations that many racers would agree sets the bar for excellence.
One September 21, NUE shifts north to the upper peninsula of Michigan to Ishpeming for the Marji Gesick 100 and 50 mile races.  100 miles and 13,000 vertical feet armored with rocks, roots, drops, jump lines, flow trails, grueling climbs, dangerous technical descents and a final fifteen miles designed to push riders to their mental and physical limits. This year's Marji Gesick with a limit of 666 already sold out, in a single day!
Over its twelve year history, the NUE Race Series has alternated the Championship race from east to west several times in an effort to keep the playing field level for racers. In 2019, the final NUE race will break most ties and determine the new NUE Champions on the west coast of California at the Big Bear Grizzly 100 and Grizzly 75k in Big Bear Lake. Big Bear has attracted racers from nine countries and eighteen states!
Directed by Derek Hermon, racers familiar with the 100k Grand Fondo course will be treated to an extended portion of trail along a ridgeline with amazing views and an altitude beginning at 7000′ and reaching 8500′ with enough single track racers will beg for a fire road.
The NUE series schedule subject to change as race organizers are still in the usual process of procuring forest service permits and other logistical race planning details. Stay tuned here for upcoming information about NUE Series Sponsors, Prize Money, Potential travel awards, and other race details. www.nuemtb.com.
2019 NUE Epic 100 Mile Race Series
| | | | | |
| --- | --- | --- | --- | --- |
| Race | Date | Location | Limit | Reg. Open |
| True Grit Epic | March 9 | Santa Clara, UT | 700 | November 11 |
| Cohutta 100 | April 27 | Ducktown, TN | 275 | December 1 |
| Mohican 100 | June 1 | Loudonville, OH | 700 | November 15 |
| Lumberjack 100 | June 15 | Wellston, MI | 430 | January 5 |
| Tatanka 100 | July 6 | Sturgis, SD | 300 | January 1 |
| Breckenridge 100 | July 13 | Breckenridge, CO | 500 | January 15 |
| High Cascades 100 | July 20 | Bend, OR | 350 | November 24 |
| Wilderness 101 | July 20 | State College, PA | 400 | December 1 |
| Pierre's Hole 100 | August 3 | Alta, WY | 550 | February 1 |
| Shenandoah 100 | September 1 | Harrisonburg, VA | 650 | December 1 |
| Marji Gesick | September 21 | Ishpeming, MI | 666 | October 13 |
| Big Bear Grizzly 100 | September 28 | Big Bear Lake, CA | 500 | January 1 |
2019 NUE Marathon Race Series
| | | | | |
| --- | --- | --- | --- | --- |
| Race | Date | Location | Limit | Reg. Open |
| True Grit 50 | March 9 | Santa Clara, UT | 700 | November 11 |
| Cohutta Big Frog 65 | April 27 | Ducktown, TN | 275 | December 1 |
| Mohican 100k | June 1 | Loudonville, OH | 700 | November 15 |
| Iron Mountain 100k | June 23 | Damascus, VA | 250 | December 1 |
| Tatanka 50 | July 6 | Sturgis, SD | 300 | January 1 |
| Carrabassett 100k | July 13 | Carrabassett, ME | 600 | February 1 |
| Breckenridge 100k | July 13 | Breckenridge, CO | 500 | January 15 |
| Wilderness 101k | July 20 | State College, PA | 400 | December 1 |
| Pierre's Hole 100k | August 3 | Alta, WY | 550 | February 1 |
| Marji Gesick 50 | September 21 | Ishpeming, MI | 666 | October 13 |
| Big Bear Grizzly 75k | September 28 | Big Bear Lake, CA | 500 | January 1 |