Kaitlyn Boyle Interview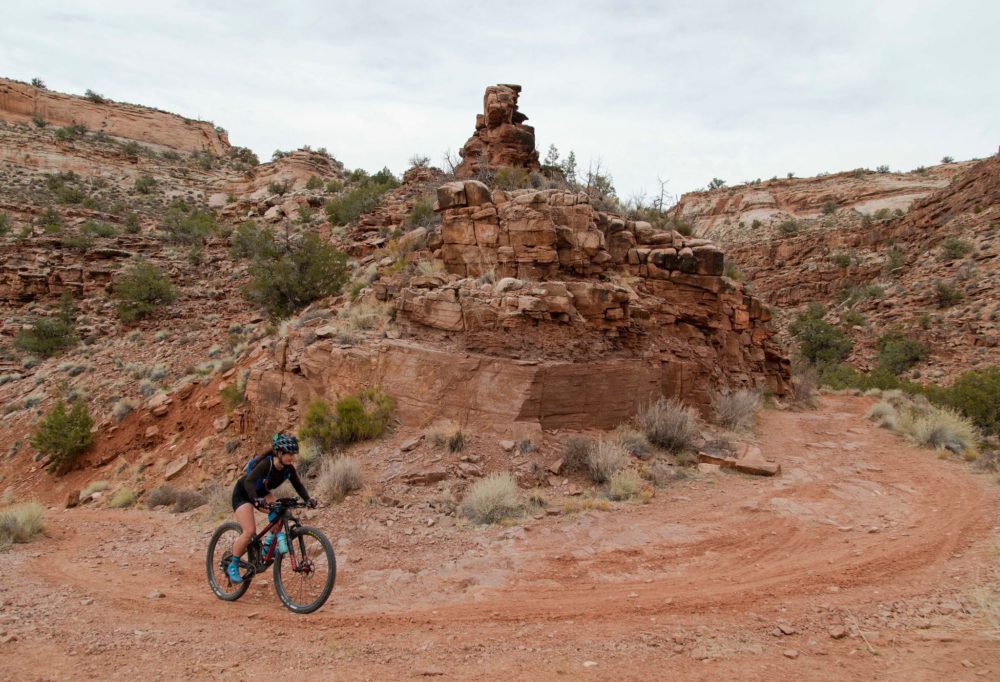 In 2018 Kaitlyn Boyle was on top of the World. Literally. In February she set a course record at 24-Hours in the Old Pueblo (18laps, 300miles) and then went on to be 2018 24-Hour World Champion in Wembo, Scotland. Two short months later, on Christmas Eve, the champion ultra-endurance racer's life took an abrupt turn when she was involved in a single-vehicle car crash on icy roads in Teton Valley, Idaho.
This was the beginning of a long road of recovery and an uncertain path back to ultra-endurance stardom. Almost two years later, after countless hours rehabbing injuries and regaining fitness, Kaitlyn set out to attempt a FKT (fastest known time) on the Kokopelli trail, a 142-mile rugged mixed terrain trail near Moab, UT. Spoiler: Kait's finishing time was 13 hours 7 minutes. She shaved 25 minutes off Rebecca Rusch's long-standing FKT.
Can you share a little background on your accident and rehab?
In October 2018 I won the 24-hour World Championships, capping off the strongest race season of my career. Two months later, on Christmas Eve, I was in a car accident that landed me in the ICU with a shattered pelvis and sacrum, ruptured bladder, and broken fibula.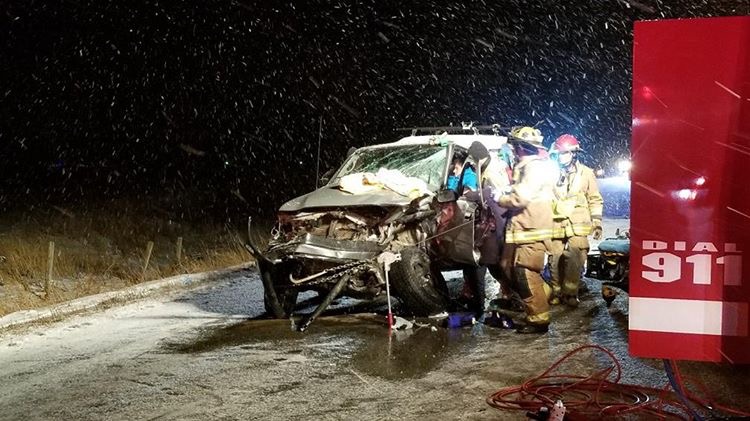 For a long 16 hours I wondered if I'd ever walk, let along race bikes again. I was so lucky to learn that I would in fact have a chance for a full recovery, which started off with 5 weeks in a wheelchair and 6 weeks on crutches, all wearing an external fixator to stabilize my pelvis.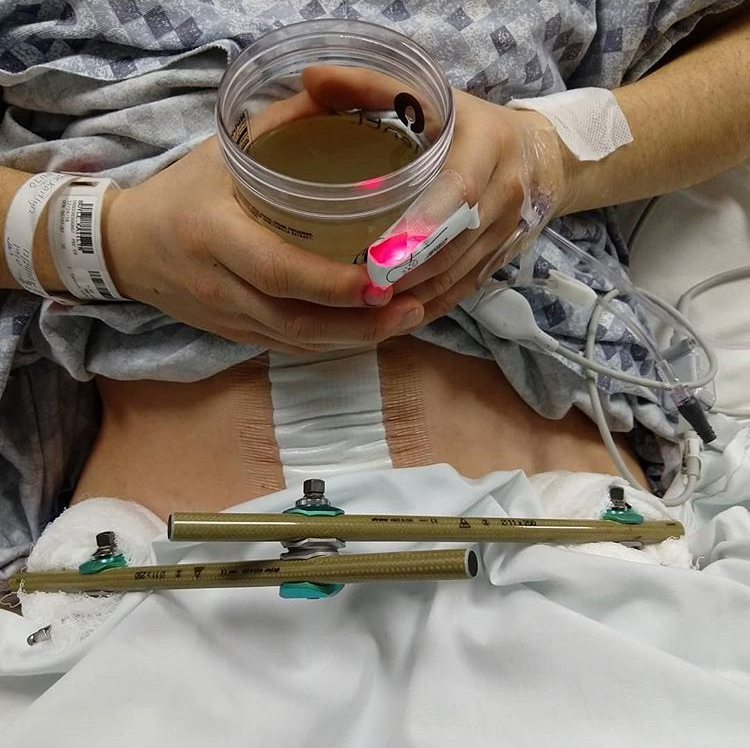 Months 3-6 I regained a lot of my strength, endurance and mobility and could ride my bike, start training, and go bikepacking. The final few percent has been an elusive target…I've been slowly retraining and rehabbing all my connective tissue as my body learns to ride far and fast with a fused sacrum. I probably won't ever feel the way I felt pre-accident, so now it's just a matter of working on small gains in strength and mobility as I work towards racing multi-day ultras again.
How did you choose the Kokopelli trail for your FKT? Had you ever ridden the entire 142-mile route before?
I've had a long and speckled history with Kokopelli. The trail was the first route I bikepacked, in 2011. I rode it in 3 days, and used a 45L alpine climbing pack to carry my stuff. I had no idea bikepacking or bikepacking bags were a thing. Although I don't recommend anyone ride with all their stuff on their back, the experience provided enough joy and wonder to hook me. In that way, Kokopelli Trail arguably changed the course of my life as after that ride, bikepacking became my primary focus for outdoor adventures. 5 or 6 years later I returned with a few ultra-races under my belt, hoping to test myself to the challenge of riding the route in one go, as fast as I could. Rebecca Rusch held the record and I didn't consider myself anywhere near capable of beating it, but I was curious to see what would happen. Despite a few attempts over the following years, including one final one a month after 2018 24-hr Worlds, I never pulled together a complete FKT attempt. In that way, I had unmet goals on Kokopelli, and it would be an opportunity to resume where I left off and achieve a dream I'd had and not met prior to my accident.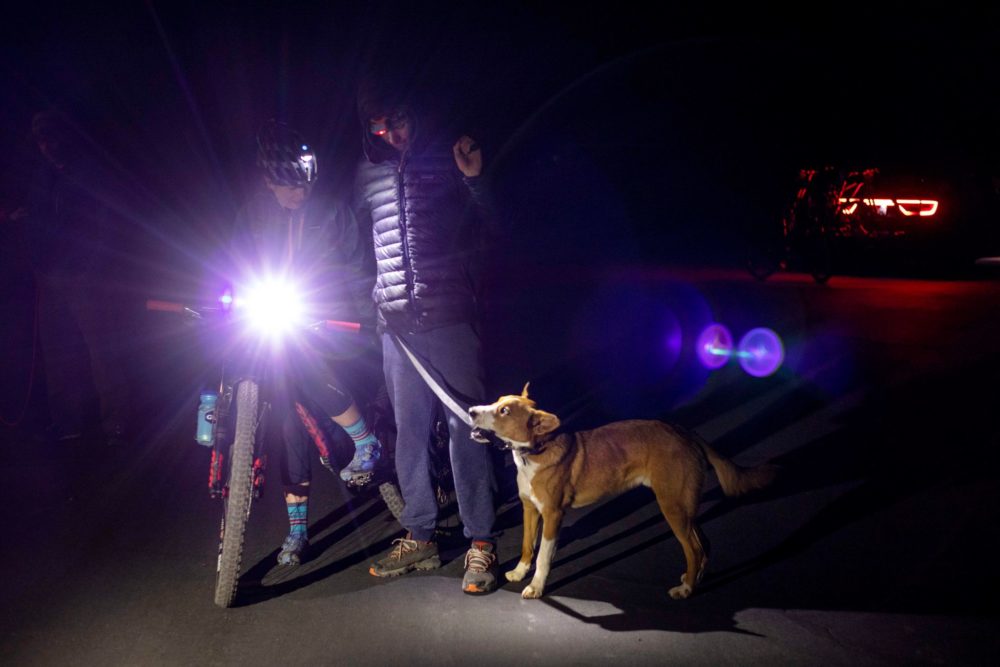 Additionally, Kokopelli was the perfect length for my first ultra back from my accident. It was just long enough to be an ultra – it's one full day. But it wasn't any longer. I wanted to do a race that would challenge my body in many of the ways ultras do so I could see what would happen, without the commitment or risk of racing for 24, 48, etc hours. In that way, it was a test, a stepping stone towards longer races in the future.
How do you approach a FKT attempt?
I approach it like any other race in how I prepare physically and mentally but the technical preparation is a bit more involved. Because they are self-supported races I spend more time studying the route. From the route and past FKT attempts I can anticipate splits and use those to plan my pacing, nutrition needs, hydration needs, and the plan for how much I'll carry and when/where I can refill. I'm also more particular about making sure my bike and clothing choices are dialed and won't fail me, and I bring stuff to field repair whatever is possible. Basically, I think of everything that could reasonably go wrong and try to plan a solution for it, or control the controllable.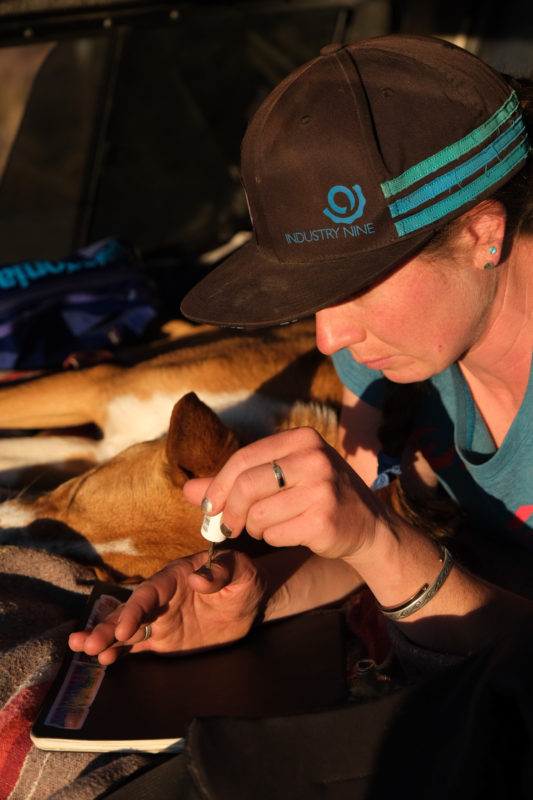 Beyond that I write mantras on my handlebars to motivate and ground me in my effort (Note: Kait's mantras for the Kokopelli FKT were: "I'm Kait" and "Break it down" to help keep her grounded in the present while believing in herself) and then once it's game time I ride my own ride and try to be in the present as much as possible.
I noticed you chose to ride your Pivot Mach4. Why did you choose this bike?
Because it's the fastest bike that can take on any terrain. 😉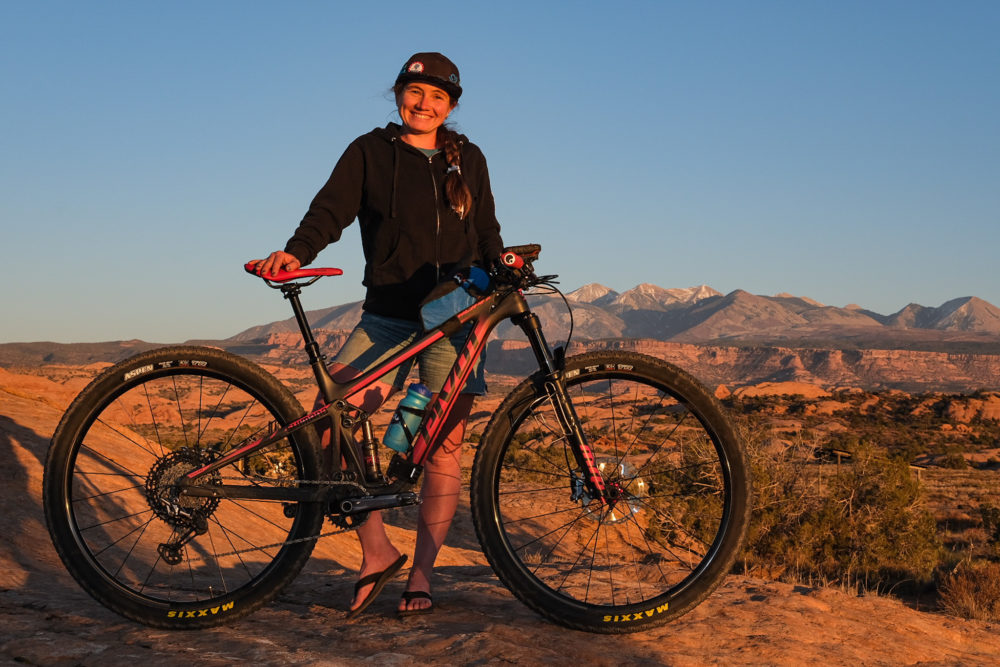 Some people debate if a hardtail or full suspension is the bike to ride on Kokopelli, after all it is mostly road. But, a lot of the road is rough, ledgy and chunky 4×4 road and the final 15 miles are fairly technical slickrock style singletrack. While I might climb a little faster on my Pivot Les (a hardtail), I gain so much speed on descents and, most importantly, my fatigue is hugely reduced. Being able to fully enjoy every rock, ledge, and rut in the final 15 miles and be able to ride it all smoothly is a testament to that bike.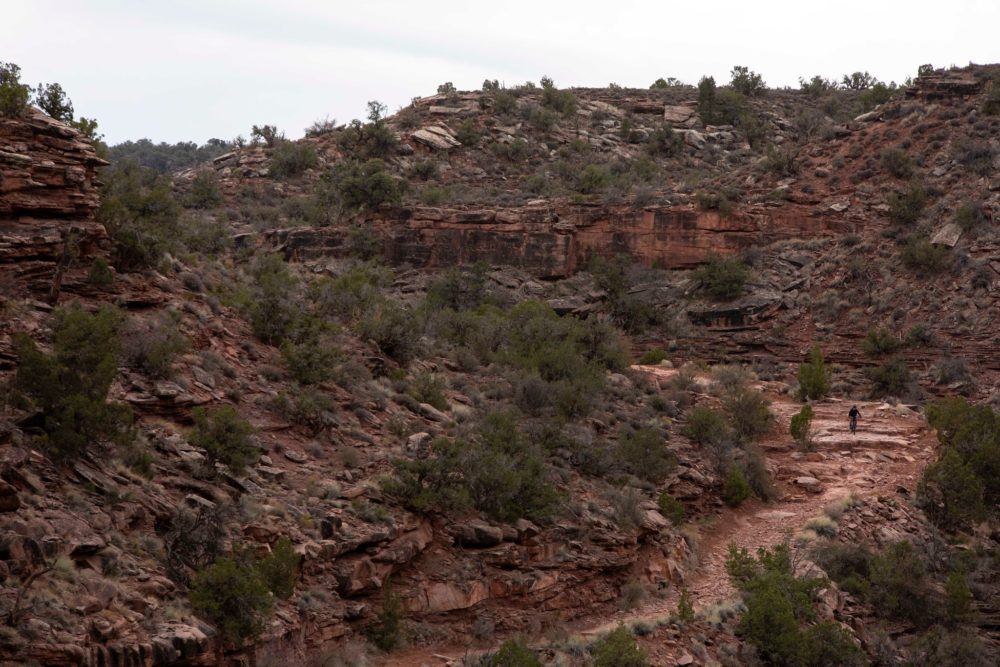 What was your bike set-up? What tires did you choose and why? What was your suspension set-up?
I rode my Pivot Mach 4SL with an MRP Ribbon fork at 120mm, the new Industry Nine Ultralite Carbon 280 24h wheels with Hydra MTN hubs, Shimano XTR drivetrain and brakes, and a 9Point8 Fall Line R dropper post. I ran Maxxis 2.4 Aspen, they are super fast rolling, which is ideal for all the road, but the 2.4 width provides just a bit more traction on slickrock and a bit more float in sand (of which there can be a lot!).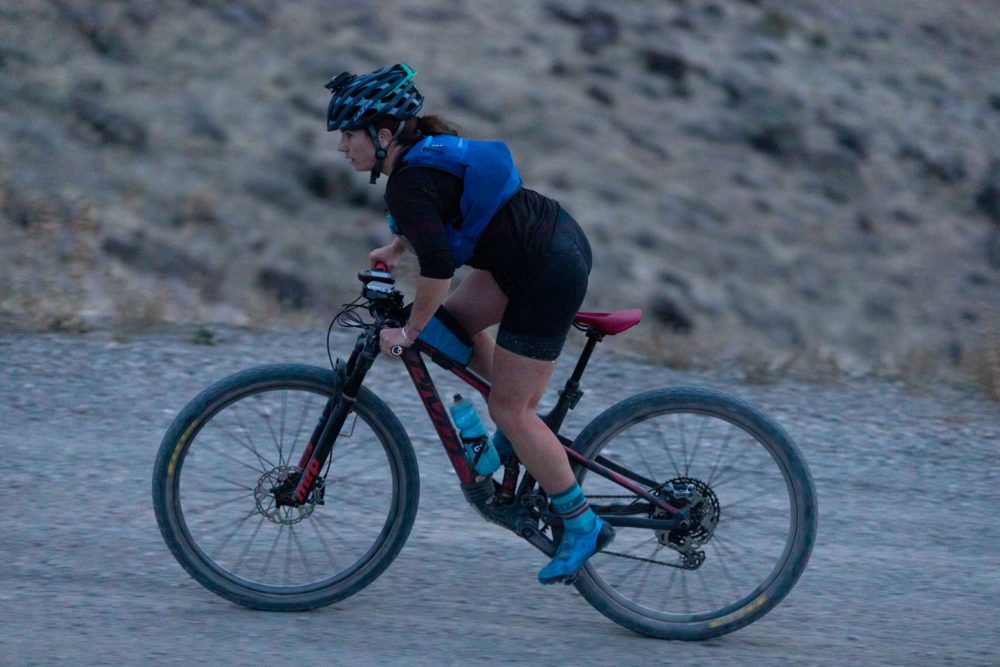 In the cockpit I mounted a Revelate Designs Mag Tank 2000 for most of my calories, my Garmin Edge 520+ for recording power and pacing, my Garmin Etrex 30 for battery charged navigation, and my NiteRider Lumina 1200.
Anything special on your bike build worth mentioning?
This was my first opportunity to race the Mach 4SL in an ultra. I'd used it in some shorter races but not yet in anything long (it was released in late Spring 2019). It was incredible to feel how fast and smooth it really is. Also, the MRP forks are made in Grand Junction, Colorado which is just down the road from the Kokopelli Trail finish. It was fun to be out there knowing that fork was crushing on home soil.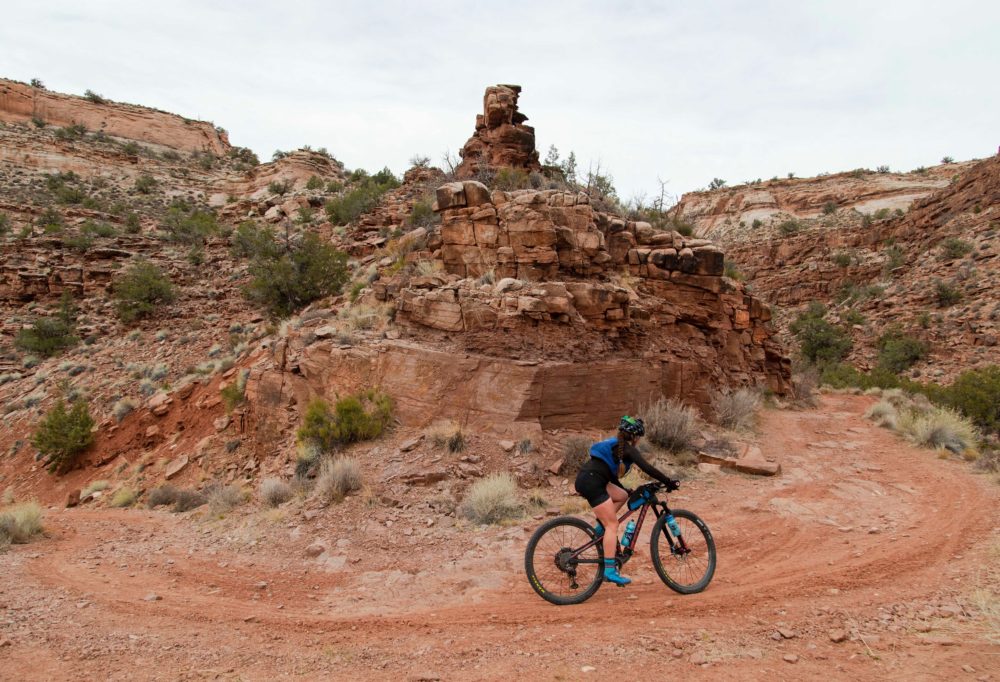 How do you successfully fuel for a 13+hour self-supported race effort? What are your tricks for carrying all of the water and fuel necessary for this monumental effort?
I use grams of carbs to hold me accountable to consuming enough fuel to keep my tank full and stomach happy. I know I personally race ultras well on 60 grams of carbs/hour, so I plan food around that. For a pretty fast paced ultra like Kokopelli with little opportunity for recovery while riding, I stuck to a lot of simple fuels by GU – chews, Summit Tea Roctane, and Cola Me Happy gels to be specific. I supplemented those with a few gf chocolate chip cookies, small gf blueberry muffins, and a couple Joje bars. These whole foods keep my food diverse to keep me interested enough in eating. I put about 2000 calories in the Mag Tank 2000 (hence the name), and then the overflow thousand I stuffed into the pockets on my Patagonia Slope Runner vest.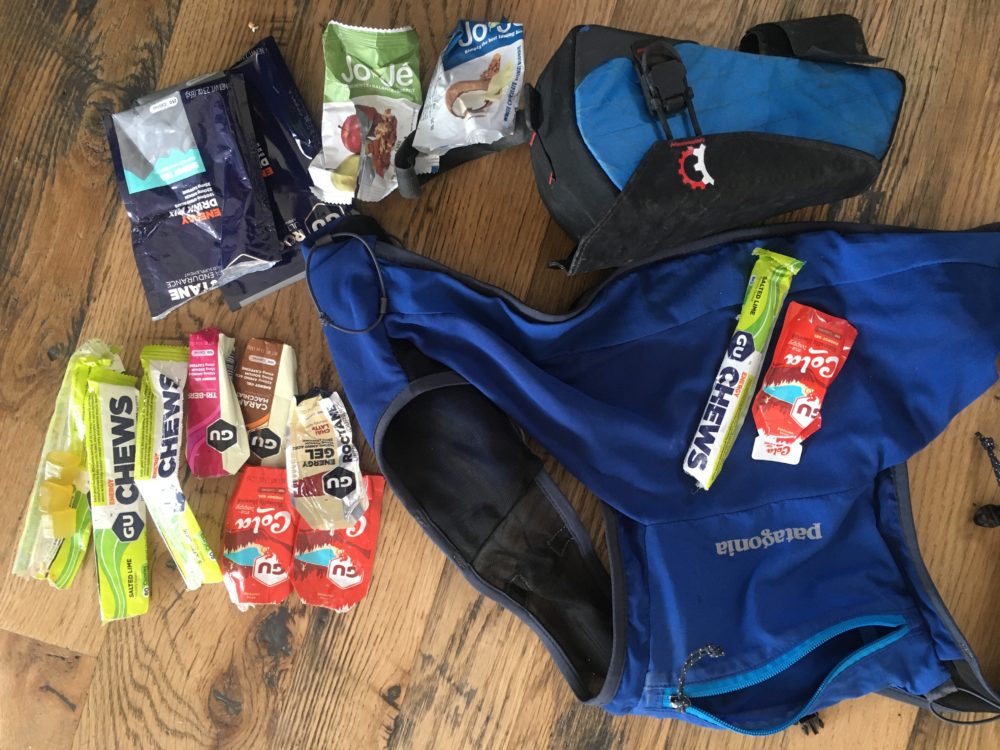 For water I used the bladder in my vest and two 24oz water bottles to carry my water and I refilled in a creek and the Colorado River along the way. (Kait uses aquamuira to treat her water; it's a liquid chemical treatment and is faster than filtering).
How do you stay comfortable in the saddle for such a long effort?
Well first, I don't wear chamois. (Kait reports that her ideal cycling short would be chamois-free, breathable, and seamless). I learned early on that a breathable and unpadded short with the right saddle is the best strategy to having a happy butt for continuous hours or days in the saddle. I wear running or tri tights and use the Ergon SR Pro Women's saddle and Ergon GA3 grips.
What did Hank do while you were racing? (Hank is Kait's beloved dog)
Hank served stress relief for my partner, Will! He did run with me to the start line in the dark at 4am, which was pretty adorable because he just trotted out in front of me in my beam of light, down the dirt road for about a ¼ mile, as if he was going to pace me for all of Kokopelli. Beyond that he kept Will company as he drove our truck to meet me at the finish and they went for their own MTB ride to distract them from checking trackleaders.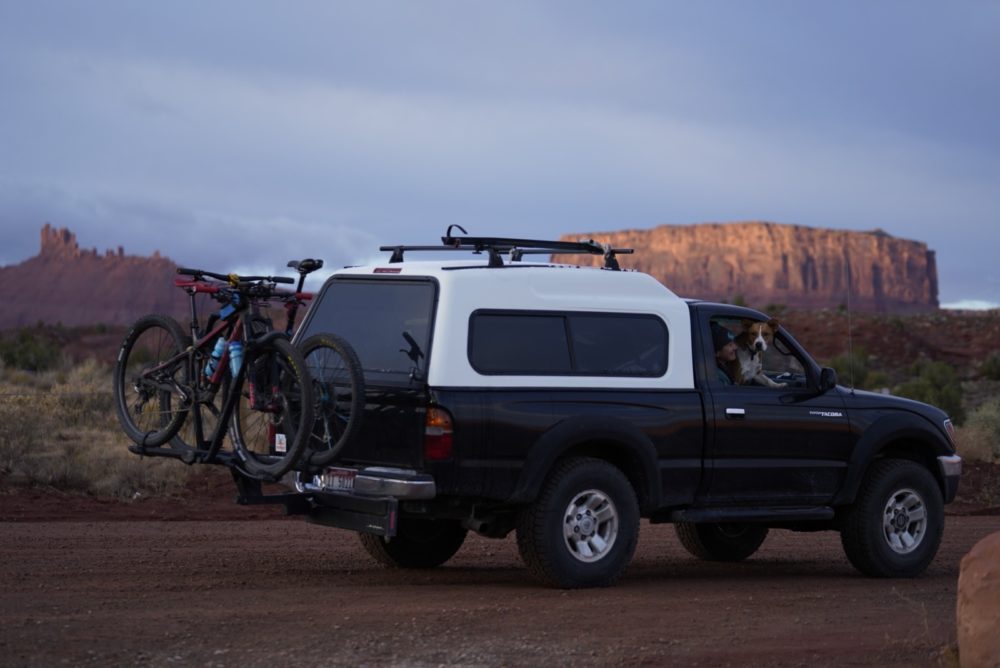 They were both at the finish line, which was a first for us and that meant the world to me.
Anything else you would like to share?
I was pretty stunned that I set an FKT. It was such a milestone in my journey, and has given me a lot of hope. It also felt incredibly vulnerable to set a big goal after such a long recovery and show up committed, all in and with an invitation for the world to watch me race for a Kokopelli FKT alongside Lael Wilcox and Kurt Refsnider. I share this because for anyone reading, regardless of what their source of doubt, nerves or fear is, it's always worth showing up, day after day to try your best and believe in what you can do.