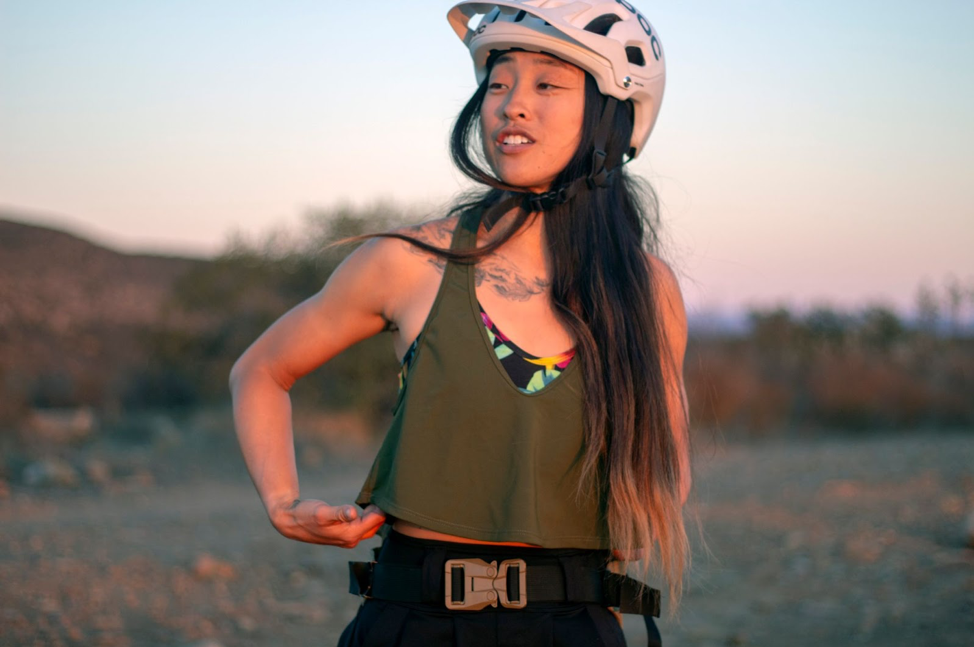 Josie Fouts, Elite cyclist, is trailblazing her way to the Tokyo Olympics. While the US National Champion paracylist is relatively new to the sport, she has risen to the top of the field similarly to how she rides her bike-fast. Josie's unconventional plan to prepare for the Olympics parallels her life. In fact, the Olympics aren't even her end goal of the 2021 season!
Josie was recently featured in a Pearl Izumi docufilm-Go Josie. We had the opportunity to chat with Josie after the film was released.
What would you like the World to know about you? Can you explain your disability and how it affects your performance in everyday activities?
My name is Josie Fouts and I'm a self-proclaimed mad scientist single-handedly discovering the human body's limitlessness as an elite paracyclist!
As a congenital amputee without a left hand, I've been adapting to a 2-handed world since birth. My life experiences have taught me that nothing is perfectly designed for anyone; there is no 'one size fits all.' The reality is that customizing everything — from bikes to healthcare — helps people reach their personal best faster!.
Can you share some details about the progression of adaptations made to your bike(s)?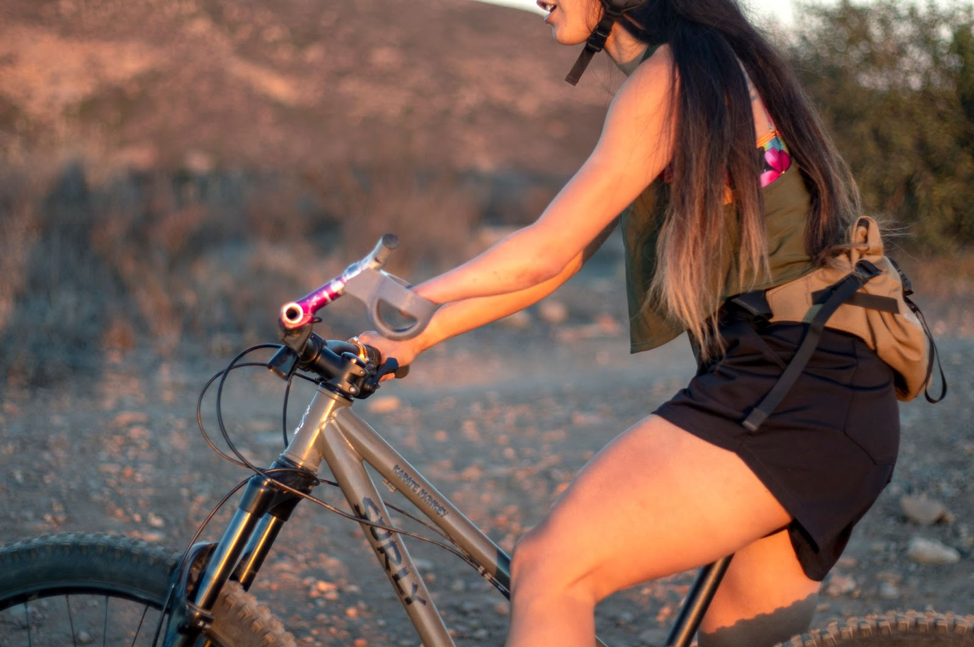 BRAKES: I started off riding only using 1 brake because that's how a stock bike is built, the rear brake on the ride side of the bars. Using a cable splitter, my brake system evolved into having 2 brakes, but at 50% power and without the ability to articulate if I wanted more of the front or rear. With the help of Shimano and creative thinking of another paracyclist, I now have the capacity to use hydraulic brakes either separately or together all with using one hand!
SHIFTING: I actually started racing on a bike with down-tube shifters which was quickly upgraded to a 1x system so I didn't need a second shifter. Today, I use Shimano Di2 and its Full Syncro technology to change front chainrings easily!
STUB ADAPTATIONS: My stubborn self started using nothing but an extra layer of bar tape on the tops of my bars on the left side. Anything was going to be better than nothing so I took baby steps first mounting a PVC pipe end to the bars using a shifter clamp. Then a fellow cyclist and UC San Diego graduate student evolved the cups using 3D printing. The biggest and most effective adaptation — both on and OFF the bike — is getting a cycling prosthetic from Hanger Clinic.
How are you preparing for the Tokyo Olympics? What event(s) will you be competing in and what are your goals?
My Tokyo preparations are unique: just like my bikes and my life experiences, my training is all about adapting! While most athletes dial in their training, recovery and nutrition routine at home, their performance suffers when they travel for competition. The way I see it, the more I train in uncontrolled environments with diverse foods, the better prepared I'll be for anything unexpected life throws at me!
This means riding outside, not just in the city, but out in the natural elements where there is no air conditioning or space heater, no air or light pollution. Physically, my lungs work better, my circadian rhythm is cyclical with the sun, and thus, not only my training quality increases but I become my best self as humanly possible!
Nature and its natural elements also shape the mind. Everything natural is dynamic with undefinable shapes, infinite dimensions and different colors! No tree is perfectly horizontal, nor two trees are the exact same shape or color, but together, it's picture perfect. When I'm out in nature and its beauty sets in, it transfers an unspeakable message to me: we are meant to be different and accepting our differences is most natural. With present-day social justices like Black Lives Matter and the Paralympic Movement, we as a culture are becoming a better, more natural, version of ourselves.
Further, riding on trails that ungulate teaches me that fitness, progress, and life are anything but straight forward! Everything has its ups and downs, its ebbs and flows. When I hit a rocky section, my brain can't move fast enough to contemplate every bump and rock; I have to let the small ones go. This is a big cross over to living life: we must pick and choose our battles and what we fight for. That is why I have chosen to fight and advocate for Para-Mountain Biking to be a Paralympic Sport!
Do you feel that para-athletes have the same opportunities of competition as non-para-athletes? How would you change this?
There are definitely double standards for para- and non-para athletes. For example, the Olympics offers 4 disciplines for cycling — track, road, BMX, and MTB. But the Paralympics only offers 2 — track and road. I'm not certain why it's set up this way, but I have a hunch, and it also may be the same reason why a handcyclist doesn't have the same opportunities as a para-cyclist on a bicycle like myself.
The infrastructure, the industry and the idealized picture of a cyclist is limited and designed by a one-size-fits-all mindset. In a single word, it's exclusive: The industry excludes different bodies and abilities from marketing > the consumers exclude different types of riders > para-categories are excluded from racing > demand for customizable bikes and parts are excluded from production > and the cycle repeats.
At this point in my life, I understand that life works in cycles and trying to stop or start a new one is difficult especially if it's already set in motion (like why balancing is easier when you go faster!). My goal is to change the perspective of the cycling industry from exclusive to inclusive: First include para-athletes by sharing their stories, and films like 'Go Josie' > viewers will be inspired to believe in all abilities to ride bikes including themselves > more categories are included in racing (para, e-bikes, etc) > demand and supply includes bikes and parts for everyone > and the bicycle industry evolves, repeat.
Swiftwick, the performance sock brand working to empower adaptive athletes through partnership and innovative gear, has been a big supporter of the 'Go Josie' film. Swiftwick feels strongly that brand ambassadors should not be restricted to only able-bodied athletes, and they intentionally sponsor adaptive athletes and feature them in their marketing materials. Through these endeavors, we hope to inspire and motivate the next generation; it is Swiftwick's way of living and breathing their mission through all that they do–empowering people to be their best self through the pursuit of adventure. (Editor's Note: Swiftwick is proud to be the only athletic sock brand that currently makes both adaptive and non-adaptive socks. When they realized there was not an adequate sock on the market to support amputee athletes, they closely worked with the adaptive community to design the VALOR™ line: a collection of socks made for below-knee and above-knee amputees).
How has cycling changed your worldview?
Before cycling, I was a stubborn scientist that thought only linearly and didn't understand why I burnt out every 2-4 years. Now I get it: I understand my own cycles (menstrual, circadic, sleep, etc), I think cyclically, and have found balance through cycling!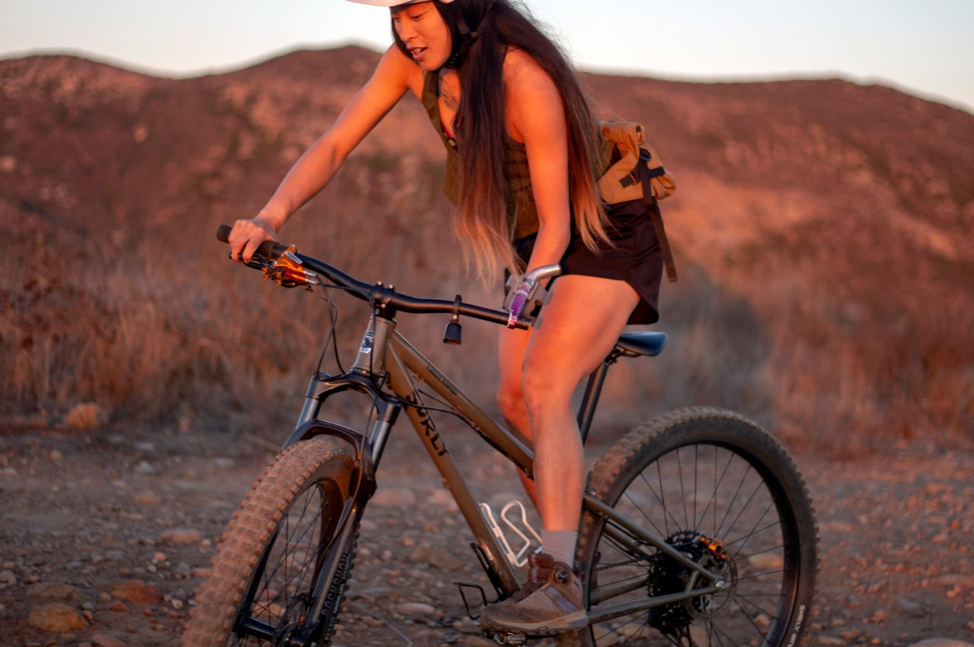 What's your post-Olympics plan?
My plan after Tokyo is to set the first Para-FKT (Fastest Known Time) on the White Rim Trail in Canyonlands National Park! Not only does this set the foundation for Para-Mountain Biking to be accepted as a Nationally-recognized sport, it mentally sets me up for success at Tokyo. As all competitive athletes know, finishing a race mentally and physically strong is about focusing past the finish line. Thus, the way I see it, the Tokyo Paralympic Games is the perfect way to get into shape to ride 100-miles on a mountain bike in 1 day, pivoting my perspective of Tokyo from the destination into part of my paracycling journey!