Jeremiah Bishop has long been a familiar face on podiums around America. He's won National titles in everything from Short Track to Marathon, brought home overall NUE titles, and dominated countless stage races in North America over the years. In the last few seasons, Bishop split his time between shorter XC style efforts and longer NUE races and stage races. That will change in 2015, however. The Harrisonburg, VA based Bishop has signed with a new squad this season, Topeak-Ergon, and will be focusing exclusively on endurance racing.
"It's super exciting," said Bishop. "I was planning to do the Pro XCT's in the spring and strike a balance between those and the endurance races," but, as Bishop explained to MTBRacenews, the opportunity to race the Andalusia Stage Race, the Cape Epic, Trans Alp, and other international races was too good to pass up. "It's a huge honor to race the hardest races in the world," Bishop said, adding, "we've got a really strong, fun crew." And though racing internationally is nothing new for Bishop, the move to Topeak-Ergon nonetheless represents a shift in his career.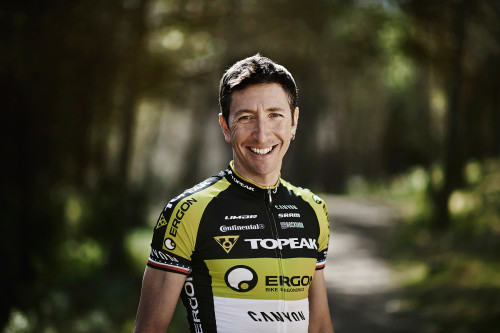 "Those races scare me a little bit," Bishop said referring to Cape Epic, Andalusia and Trans Alp. "But at this point in my career, having done this for so many years, the long scary stuff, that's what I want to do." He explained that his training for La Munga (a planned race in South Africa last winter that was cancelled due to funding issues) got him ready for his latest challenge. "The Munga getting cancelled was a disappointment for sure, but the training was an eye opener for me." During a huge, 20 hour ride, from Stokesville, VA last winter Bishop says he went through nearly every emotion possible but came out better for it. "The truth is I wasn't sure if I could do it when I set out." He finished the tour though, and "crazy as it sounds, I loved it. It gives me a lot of enthusiasm for this new team and the events we're doing."
But not only are the events new, but the style of racing is as well. "I'll be partnering with Robert Bennet for Andalusia Bike Race and the Cape Epic as part of Topeak-Ergon Team 2," racing in support of Team 1, consisting of Alban Lakata and Krystian Hynek. Meaning that Bishop with be racing more or less as a domestique at those big, early season, stage races. And while that may be an unfamiliar concept in American mountain bike racing, the major international mountain bike stage races have evolved to the point where they are very much team affairs. Team Bulls and some of the other big endurance programs all have multiple two-person teams in the race, with the second squad often setting the pace at the front of the group, or providing mechanical support (i.e. giving up their wheel) if one of the riders on the first team suffers a mechanical problem – much like road racing. "My goal is really to prove my metal in those first races," Bishop said.
Thus far this season Bishop has done that and then some. Despite some mechanical issues of his own in the Cape Epic, he and his teammate Robert Bennet did some big turns on the front over the course of the week, and managed some top finishes in individual stages.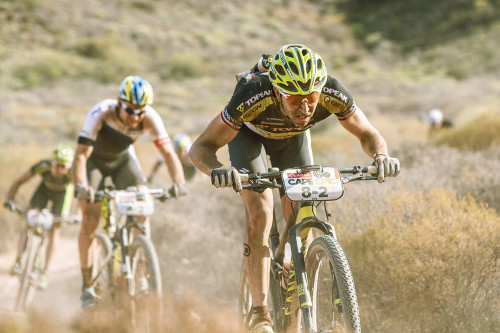 So what's next for Bishop? First up is the Trans Alp Stage Race in Europe. "That's a significant race for me," Bishop said. "It's got this outrageous terrain, it's super hard, but it was a big stepping stone for me in my career. I had a real break through ride there, taking a stage win. During that race I went from thinking I was at my limit to realizing I could do more, and that I needed to work more in training to get there," he added, clearly excited about having the chance to return and give the race another go.
Bishop will also be at a number of domestic races in the second half of the season, including Marathon Nationals in May. "It's a cool, fast technical track this year, like flat track moto racing for four hours," Bishop said of the course. "It'll be tight, pack racing. Not what we're used to seeing in the US, but I'm excited for it." Also on the radar for Bishop: the Pisgah Stage Race, Mohican 100, Breck Epic, Whiskey 50, Grand Junction Off Road, and a number of other NUE Races. "We'll see," he said, adding that managing his race days will be important after 21 days of high intensity stage racing at Andalusia, Cape Epic, and Trans Alp so early in the year.
As we wrapped up our conversation things turned, as they often have when I've talked to Bishop, to big tours and adventures he's hoping to tackle. From multi-day epics in Virginia, to the Arizona Trail Race, do 170 mile singletrack loops he'd like to tackle in one shot, straight through, the do list is a long one. "The truth is I have no idea where the limit is," Bishop said, but one things for sure, he's trying to find it.