Cohutta 100 Race Report
Ryan O'Dell
The KENDA (NUE) National Ultra Endurance Race Series #2 rolled out Saturday from the Ocoee whitewater center near Ducktown, Tennessee, host of the 1996 Olympic whitewater competition. The race course features more than 14,000 feet of vertical elevation within the Cherokee National Forest, including much of the Tanasi trail system, recently rated best in the state of Tennessee by singletracks.com.
The buzz before Saturday's race centered on the weather forecast calling for severe thunderstorms. As expected, the rains moved in after midnight with a drenching downpour in fifty degree temperatures just before the 7am race start. However, not long afterward, skies cleared with more comfortable temperatures, a gentle breeze, and pleasantly mild weather conditions.
Carey gets the "W" in a tight Women's field
Following her second place finish the True Grit Epic, four-time NUE Series Champion, Amanda Carey, Luca Sunscreen, earned her first win of the season at Cohutta finishing 8:49:46.
Less than six minutes later, Carla Williams, Joe's Bike Shop Racing Team, finished second at 8:55:24. "The first two hours were tough: muddy single track in pouring rain. I came out of the woods in third place but not too far behind Linda who was in second. We were right together at aid station 4 and we rode the entire loop from aid station 4 to 5 trading off who was in front and talking about all our past races and mountain biking stories. It was really awesome getting to know her!
At aid station 5, we heard that Amanda was only a few minutes ahead of us. We pulled out and decided to try to catch her. At least it would give us motivation for a strong finish. We blew through aid stations 6 and 7. Around mile 85, we saw Amanda ahead of us on one of the hills. We were excited we had her in sight. I was a little ways ahead of Linda on the climb and she told me to go catch her. So I rode up alongside Amanda and then rode past her for a few minutes. I knew I would never be able to match her speed in the last nine miles of single track before the finish so I figured if I wanted to catch her, this was my chance! It only took a few minutes before Amanda turned up the power and passed me back. I stayed with her for a bit but I didn't have the energy to match hers, and she got a gap before entering the last single track. My main concern for the last nine miles was holding off Linda who I knew was right behind me and also stronger on the technical trails. It worked though and I finished second. It was awesome racing with Amanda and Linda and I am super excited to try out my new Lauf fork."
Twenty-six seconds later, Linda Shinn, Blacksmith Cycle, rolled into third place at 8:56:00. " After racing in the rain all day in 2013, I was excited to come back to Cohutta to ride in better conditions until the I saw the forecast calling for 20-30mm of rain! After driving 16 hours from Toronto, there was no way I wasn't going to start. At least the temperatures were warmer than in 2013 so I wasn't too dismayed about warm rain.
It was pouring driving to the start but let up a bit as the race started. Amanda cruised by me on the start road climb as did Carla but I jumped on the back of Carla's wheel and we entered into the single track together. The trails were in great shape despite all the rain and the rain stopped an hour in. I wanted to just go into the single track and try to shake Carla off but I had to keep reminding myself that it's a long day, don't blow up and pace yourself.
We were riding with a couple of other guys and they set a good pace so we stuck with them for a bit. Once we got on the fire roads, Carla and I were going back and forth, cruising into the aid stations together. We were kind of testing each other out but also setting a great pace. I had never ridden with another girl during an NUE race before, so it was pretty awesome that we rode together all day, especially between aids 4 and 5 where it could have been a death march riding solo with 30 miles of fire roads.
We settled into a good pace and when we got to aid 6, we were told that Amanda had just left and she was really close so we were motivated to catch her! We worked together on the Big Frog loop to try to reel her in and it was so much fun passing other riders as a two-woman train! With about 13 miles to go, we saw her and were pretty stoked. I didn't have that extra push but I told her to go and get her. She sped away and jumped on Amanda's wheel and I could see that it was going to be a good battle for first.
As I came into the last single track section, I saw Brenda & Lee Simril. They told me that Carla was right there, so I kicked it up to try to reel her in for the last six miles. She was within sight with three miles to go and I put the hammer down. When we got out onto the road I just put my head down and hammered as fast as I could. I knew I didn't have enough time but was super happy to have finished 35 seconds behind her and 7 minutes back from Amanda.
I was super happy to be able to ride and keep up with Carla, she is such a strong rider. This was my best NUE finish yet and probably the most fun I've had since the women's race was so close. The new course was awesome, conditions were perfect, and Blacksmith Cycle provided me with the perfect race rig, 27.5 Scapin Murdock. I really want to commend the race organizers for putting on a top-notch event, amazing volunteers and support at the aid stations and it's so great that there is equal payout and prizes are really awesome! I will definitely be back next year!"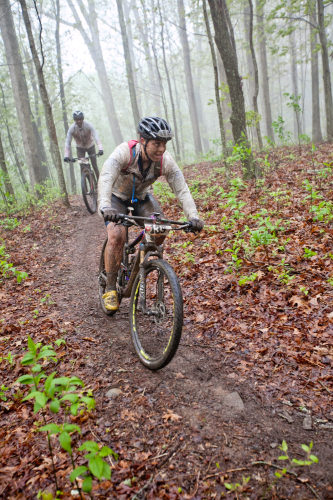 Simona Vincenciova, Hammer Nutrition, finished fourth at 9:28:22 "This was my second year racing the Cohutta 100 and my first race of the 2015 NUE series. The new course was a welcome change as it eliminated one of the longest brutal climbs. Unfortunately, it was pouring rain at the start of the race so I decided to stay out of the rain as long as possible. I delayed lining up with a quick warm up ride and got to the start line five minutes before the count down and, as expected, the front was already full of racers so I lined up towards the back.
I rode a few fast wheels and made most of my passes along the first hill climb and settled into the first single track section. It was in surprisingly good shape given it had been raining all night. By the time we got to the first aid station, about 22 miles in, it had stopped raining and the clouds were clearing away bringing in the humidity. About half way through my race the sun started peeking out of the clouds and my legs were feeling good. Sometime between aid stations 4 or 5, I was able to catch up to Danielle Musto on the gravel road climbs moving into fourth place. The very last single track section was tough but I needed to HAMMER through since I knew Danielle was on my heels. I was super stoked to improve my time from last year by over an hour.
Since I raced it last year I had an idea about the terrain and conditions of the trails, so I decided to swap out my front suspension fork with my new Lauf Fork. This turned out to be a perfect choice since the course mostly offered gravel and fire roads with some smooth single track. The Lauf Fork performed great enabling a fast and smooth ride."
Danielle Musto, Grand Rapids Bicycle Company/Salsa, finished fifth at 9:44:44 with the former Ohio OMBC Race Series Champion, Shannon Tenwalde, Paradise Garage Racing, coming in twelve minutes later at 9:56:00.
NUE defending Champion and last year's Cohutta Race Winner, Brenda Simril, Motor Mile Racing, was at this year's race cheering racers but withdrew from competition following a recent rollover accident that broke six of her ribs. Simril plans to return to defend her NUE Series title beginning with the Mohican MTB100 May 30.
NUE Men's Open
Schworm earns his first NUE WIN at Cohutta!
Following up on an impressive third place finish behind Tinker Juarez and Jeremiah Bishop at last year's Fool's Gold NUE Championship race, Brian Schworm blew through the finish line right on the wheel of SS Winner Gordon Wadsworth, achieving his first NUE win to finish 6:55:53.
"Before the race, I was sitting in the car dreading what was about to come. 100 miles in the rain with the possibility of serve storms did not sound very appealing.  Regardless, we all lined up and the race was off with a steady rain on our shoulders.  The pace was moderate up the first climb but things got a bit dicey when everyone juggled for position into the singletrack.  We all made it in safely and found a very wet, but solid, trail. The pace was again moderate and steady.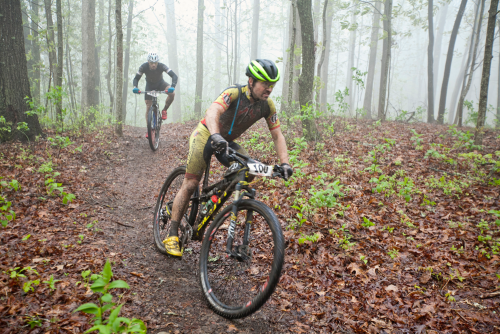 Once we popped out onto the forest service roads, the lead group included eight racers.  Previous NUE race winners Christian Tanguy, Michael Simonson, and NUE #1 True Grit Epic winner, Keck Baker, singlespeed specialist Gordon Wadsworth, a couple of young fellows Dylan Johnson and my teammate Drew Dillman, and Wes Richards and I were in the group.  We rode together for most of the roads although Simonson was "puttin' it down" on a few of the sections.  During the early part of this time I was extremely concerned since I could not stop shivering.  The rain had zapped all of my body heat, and even after it stopped raining, I could not warm up.  Fortunately, the sun popped out and I finally warmed up.
A decisive move came around 70 miles. Keck attacked hard at the base of a climb with Dylan and I chasing.  It was at this exact moment I realized I had a small leak in my rear tire.  It could not have happened at a more inopportune time!  I rode it for a minute but needed to stop and take care of the situation.  I stopped and noticed there was a small tear on the sidewall so I just aired up the tire with my co2, rotated the tire so the sealant could do its job, and was back riding.  I didn't take more than a couple minutes but now I was behind the others with the stepped up pace from the attacks. I figured I could at least maintain my 8th position if I didn't have any more tire trouble, but I chased hard! 
One by one I was able to catch riders and, just beyond aid station 5 and before a significant climb, I caught Gordon, Keck, and Wes.  I didn't let up and hammered up that climb.  Gordon came with me and we were left with just one rider ahead, Dylan.  We worked hard and passed Dylan near the top of the climb.  After that we powered the ridge and following descent to try and open the gap.  I was so pumped with adrenaline at this time with the prospect of winning a NUE Series race that the miles were just ticking off.
Gordon and I hit the final singletrack section together.  We found the trail much different than earlier; it was now thick and slippery!  We held it upright and blasted the final descent, Thunder Rock Express, with just a two mile road section remaining.  We rode in steady and, basically, crossed the line together, Gordon winning the singlespeed and me the open division.  I was just elated!  I could not believe I just won a NUE Series race! 
Of course this would not have been possible without my incredible sponsor, Team Green – Pedal the Planet p/b Sword (we had three racers in the top ten, Andrew Dillman was sixth and Nathanial Cornelius was tenth) and my incredibly supportive wife, Jennifer!  Thanks guys!!!
About four minutes behind SS Wadsworth and Schworm, former NUE Series Champion, Christian Tanguy, Rare Disease Cycling, placed second in the Men's Open at 7:00:19 in his first race of the 2015 NUE season.
Just over four minutes later, 20 year old Dylan Johnson, Scott Pro Mountain Bike Team, took third in 7:04:41. It was just two years ago at Cohutta when, at age 18, Johnson hung on with the lead pack of racers before suffering an early crash that sent him to the ER. Todays finish was a triumph for the young NUE Race Series hopeful. Four minutes later, Westley Richards, Clemmons Bicycle, claimed fourth place in 7:08:26.
Keck Baker, Cannondale/Carytown Bikes pb Battley Harley, who achieved his first win of the season at the True Grit Epic, took fifth at 7:10:44. "Dylan Johnson set the pace up the first climb out the gate and I jumped at the top and drilled it on the downside to ensure the holeshot into the woods. I had planned on racing conservatively but that changed when I woke up to the downpour and knew that getting into the woods first might be a good idea.  I lead for the first part of the single track. We were going fast but a "safe" fast.  When we exited the first portion of single track, someone jumped around to lead and did so until the root section beside the river.  I had more momentum so we traded spots again and I lead through the creek, over the bridge and going into the next portion of single track which seemed to climb more than anything.  After breaking through this section, the selection had been started pretty well.  I think, at first, it was about 8 of us and we started riding along pretty well together.  All but Brian Schworm and a few others were unwilling to put in any work. So, all in all, the group did a good job at moving forward to keep the gap established after exiting the single track.  Tanguy said that he had not been training much but he was more than willing to ride the front to keep the speed up. I can't recall exactly when but I decided to attack simply because the race was becoming boring and this had me straying yet again from my pre-race strategy. However, I like racing my bike and it just seemed that we had been riding along casually for too long so I attacked and Dylan Johnson answered and bridged up to me as we started to roll up a climb. 
I looked back and saw the group had shattered and there was a group in chase.  I told Dylan I thought we had to far to go to try and keep this up and thought we should join the three behind us who were bridging up and all five of us worked together but, as I sat up, he kept moving forward.  I dropped back and now the group four just started rotating at a nice even pace.  I was wondering where Tanguy and Schworm were. Schworm had to shoot air in his tire and Tanguy appeared to be playing it smart, trying not to burn a match. 
As we were rolling, I started to feel worse and worse. I had not felt good all day after starting to cramp 20 miles into the race. I'm not sure whether it was the cold or the lack of riding for the past couple of weeks due to work, but I was starting to have difficulty keeping our pace. At this point Schworm had caught up and decided to peg it. Gordon followed and I just kept riding the pace I could hold which was not fast enough. Very soon after, Tanguy came by and Wes Richards tried to follow. I just kept riding my own pace.  I rode for a while and then, surprisingly, caught Wes and was able to pass him. Then I was able to catch Dylan who was paying now for his effort out front.  We rode together and hit the single track to bring it home. 
I could tell from the start that my tire was low since, in the first section, I was hitting my rim here and there. I was hoping that it would hold and I could manage it so I tried to ride away from Dylan in the upper section. I was able to get a nice gap and knew and I was hoping that the tire would hold out but it did not. After stopping and trying to shoot some air in it real quick, I could not get my co2 to work.  After getting help from a few of the 65 milers with no luck, I was walking down the trail at which point Dylan passed and there shortly after Wes passed. I finally was able to get air in my tire and make it down to the finish for 5th, thankful that I was able to get it fixed and at least hold onto something but extremely disappointed as I had really hoped to at least finish in the top three to remain the hunt for the early season prime, an all-expense paid trip to Costa Rica to compete in NUE #12, The Rincon Challenge. Oh well, that's racing and note to self, when you purchase a new tire inflation product, test it out and learn how to use it.  Oh yes, and another thing, lightweight valve stems can be problematic."
Seven minutes later, 21 year old, Andrew Dillman, Think Green Toyota of Lexington, took sixth place to finish in 7:17:30.53. 2013 Mohican MTB100 winner, Michael Simonson, finished seventh just three minutes later at 7:20:54.  
NUE Singlespeed Open
"Wadsworth gets back to back wins at Cohutta!"
NUE Defending SS Champion, Gordon Wadsworth, Blue Ridge Cyclery p/b Reynolds GM Subaru, put the hammer down to finish in

6:55:53

, the best overall time. This marks his second straight win at Cohutta and his second straight win of the 2015 race season in the NUE Series following his victory at the True Grit Epic.

Brian Patton, Eastern Panhandle Bicycles/Military Endurance Cycling, took second in 7:51:19. Three minutes later, Daniel Rapp, Team Noah Foundation, took third in 7:54:56.44 with teammate, Peat Henry, nine minutes back to finish 8:03:31.

Five minutes later, Ernesto Marenchin, Pivot Cycles, Twin 6, WAS Labs, took fifth in 8:07:13. "I ran a 34×19 gear, full rigid.
The race was a bit hot going up the first climb and I lost contact with the main group and got caught up in some traffic in the first single track.  I made it around traffic right before the single track ended and held off the geared riders on the downhill road before the next trail section before the creek crossing. 
I made it through that section pretty solid, passed quite a few geared riders, across the stream and onto the bridge and then made contact with the second and third placed single speed riders – Gordon was well away at that point.
I chased for about 5-10 miles about 20-30 feet between me and the next two single speed riders and then the elastic snapped and they got away from me. 
Brian Patton was behind me the whole time and went cruising by me running what looked to be a bigger gear.  From the looks of his efforts, he was all in very early in the race and putting forth a lot of effort.  I honestly didn't think he would last, but still tried to catch him.  He eluded my efforts and surged on to end up second on the day.
I didn't see another single speed rider for about 30 miles or so when I caught up to Peat, just as my second wind was kicking in.  I kept the power on and he kept up with my efforts.  What made it more impressive was the fact that he only had his rear brake working and was skidding around the corners faster than I was going with two brakes.
Around mile 75'ish, a climb came up and Peat lost contact with me.  I kept the pressure on as I was feeling good and I had hopes to catch a few more single speed riders.
Around mile 80 or so, I caught a glimpse of the third place single speed rider on the road, Dan Rapp.  I put my head down and dug deep and was soon about 15-20 feet off his rear wheel five miles later. Dan caught a glimpse of me and not five seconds later I heard a snap of some sort – two pedal strokes later and my chain had snapped. 
I made quick efforts to fix my chain, but my chain tool and efforts were failing – but I eventually got it fixed.  I lost approximately 7-10 minutes by my guess.
I proceeded to get back on and ride steady to the end – having been passed by Peat about five minutes before my successful chain fix, I was sitting in fifth where I would finish the race. Next race up is Mohican!"
NUE Masters 50+
Clayton Takes NUE #2
Jeff Clayton, Super Sport Athletic Wear, posted his first NUE win on Saturday at 8:11:46. "From what I've heard, this event is about 50/50 on beautiful weather/trail conditions or rainy weather/miserable trail conditions. I've raced the Big Frog three times and this year was my first Cohutta 100, and the 50/50 odds have been my experience, with a cold/wet 2013 race and then the rainy mess that greeted us this year. I was making clothing choices right up to five minutes before the start, and eventually went with a layering approach, figuring I'd be able to shed some stuff as the day wore on…but I didn't realize how warm it would get.
The start was fast and furious, as I expected, and by the top of the first rise on the pavement climb I was gapped by the lead group. I was pretty sure last year's masters NUE champion, Roger Masse, wasn't in that group and I found a nice single speeder (I think it was Pete Henry) to pace me up the rest of the climb. The singletrack was messy but manageable. I think the fact that it was raining pretty hard kept the trail from becoming the energy sapping peanut butter mud. As would become a theme of my day, I ended up in a string of mostly single speeders. Most of the time we'd climb at about the same rate, the steeper stuff they would pull away, the shallower stuff I'd gear up (I like to grind too) and pull away. If there was pedaling involved on the descent I'd pull away there too.
I started to get hot as the rain stopped and the sun peaked out. Quickly shedding the arm warmers, vest and skull cap, but really couldn't do anything about the wool base layer, tights and wool gloves—my hypothermic experience of 2013 made me dress too conservatively and I would pay for that later. I was still rolling along with my singlespeed buddies (hopefully keeping them happy by trying to do pulls on the descents) when reaching aid station 4…then things got real. Brian Patton scooted out of the feed without Dan Rapp and Peat Henry and the chase was on! I eventually settled in, although at a bit higher pace than really felt right, with Dan and another geared racer (maybe Zane Wenzel). I stuck with them until about mile 50 when the heat started to take its toll on me. I figured out that I'd better ease up or I'd run out of hydration and energy as this was a 33-ish mile leg between aid stations.
Several minutes later Ross Anderson rolled by me and I jumped on his wheel right as he started a descent. He's a pretty big guy and was riding using a power meter, so he was a perfect pacer for me, keeping me from going too hard on the (seemingly endless) climbs, and powering down the descents in his draft. It helped that he was great at cornering on the gravel too. I didn't do a lick of work for him, but he was really cool about me sticking with him.
Finally about mile 70, two singlespeeders caught us and Ross added a few more squirrels to the power output and I capitulated. From there on it was time to do the endurance racing survival thing. At 80 miles my rear shifter, which had already been giving me warning signs, seized up entirely, leaving me as a two-speed (thank goodness I haven't made the swap to single ring). I figure that I am a closet singlespeeder at heart anyway, so what the heck. It sure did make some of the steeper pitches on the long road back a bear—I probably was down to 30 rpm cadence in places! I started to do a lot of checking over my shoulder (please don't catch me Roger!). The singletrack was still nasty, surprisingly so I thought. My dreams of a sub-8 hour vanished as I slowly struggled through the quartz loop (again), quartz bypass (again) and chestnut trails. I decided to take the Thunder rock descent slowly…if Roger caught me there then I'd just try to duke it out on the last bit of pavement. My last foray with my single speed buddies flying down TR and I happily yielded the trail to them, and then one last pavement push to the finish. A tough day, but I was happy to finish first in the 50+ and looking forward to the rest of the series!"
Coming off a win at the True Grit Epic, NUE defending Champion, Roger Masse, Rare Disease Cycling, finished second at Cohutta coming in at 8:28:37, three minutes faster than last year. "Despite a solid warm-up the day before the race, I really felt weak at the start and pretty quickly started dropping behind the fairly large front group up the first climb. I latched onto the chasing group for a while but was really hurting and, as a result, my position in the single track was not so good.

I stuck to my slotted in position though the single track toward Aid 1, trying to regroup. I soon found myself riding in a small group that included fellow Masters rider, Tom Kruse. The group was passed by Blackwater Bikes rider Daniel McPeake and I latched on leaving Kruse behind. I rode with McPeake through Aid 4 until we encountered Andy Rhodes. They started attacking each other on the climbs. I didn't want to and really couldn't match those efforts for long so I let them go.
I crossed the line at 8:28 and was surprised to find that Super Sport Athletic Wear rider Jeff Clayton had won the category in an impressive 8:11.  Hat's off to him. I admit not knowing who he was until after it was over or that there were any Masters racers in front of me, but that's the beauty of Masters… new freshman every year can be a surprise. I certainly know who he is now!"
Four minutes later, Tom Kruse, took the third podium spot at 8:32:58. Twelve minutes later, David Jolin, Stark Velo, finished fourth at 8:44:38 with Alan Miner, Banks Bikes, rounding out the top five at 8:52:57.
NEXT UP: The KENDA NUE Race Series heads deep into the backcountry of the Mohican State Forest in Ohio for the 13th
 Annual Mohican Mountain Bike 100, a single loop 100 mile and 100k race spanning four counties. For more information or to register, visit www.mohican.net
Results Below: