Karen Jarchow and Alex Pond Conquer Pierre's Hole 100k
Written by: Jen Hanks & Ryan O'Dell
The Eighth Annual Pierre's Hole 100 has been adding new singletrack each year featuring long, fun descents showcasing jaw dropping views of the Tetons and surrounding mountains. This year's race included a 100-mile race, 50-mile and a one lap 50k race.
A highlight of this year's race for many was racing alongside world road champion Peter Sagan who recently won the green sprinters jersey in the Tour de France. Sagan won the 50k race setting a blistering pace and, to the delight of many, stuck around for photos and autographs following the awards presentation.
The first NUE Marathon Racer to cross the finish line on a rigid singlespeed at NUE Marathon Series races this season wins a Lauf TR29 or TRBoost fork. James Dwyer, Green Mountain Sports Velo, earned this special award.
The next day, a dedication ceremony was held for the new AJ Trail in nearby Victor. City councilman and NUE SS contender, AJ Linnell, before his untimely death, led a vision for an urban trail that would lead out of Victor to nearby BLM lands. Last year, more than 130 volunteers picked up AJ's mantle, constructing 700 vertical feet of trail on private property located at the edge of town connecting Victor to nearby BLM lands. The goal is to construct at least 12-13 miles of trail on BLM lands.
Open Men
As riders toed the start line Alex Pond (Sonoran Cycles), with two marathon wins on the NUE series already, stood out at as the clear favorite. So much so that the race announcers were almost giving him credit for a win before the race even started.
There to foil Pond's plans most prominently were local twin-powers Bart and George Flynn (Hoback Sports). The Flynn twins started off strong, leading the group on the opening climb and creating an early break, which included Pond.
Pond took over the lead just before starting the singletrack and quickly opened a lead. He built on that lead and stayed clear through the opening lap. Lap two looked to be shaping up similarly until bad luck struck the race leader midway through the second and final lap.
Here's how he tells what happened next:
"The addition of the Action Jackson trail (in lap two) made for some extra time out on course and I was through my fluid almost before making it back up the climb on Grand Targhee.
After the long descent down 38 Special again my leg started to get tight and so I tried spinning my leg out, which was the biggest mistake of my race.
I clipped a rock and went down at full speed. After unrolling myself from the pile I put myself in I realized I was fairly unharmed, but I had absolutely demolished my saddle. I rolled about a half mile to a course marshal and frantically asked if he had anything I could bang my seat into place with. He came out of his backpack with a machete to which I thought 'That'll DO!'
I banged on the seat with the handle and right when I had the seat back into place, the foam snapped and completely destroyed the saddle. I knew I didn't have much time left and in my head I only had 20 miles left to race. (It was really like 30).
I made it to the road and was able to barely sit on my saddle, very uncomfortably. Once back onto singletrack my seat started bouncing off the rails and I could no longer sit on it. I made it back to the last aid station before the final loop of 13 miles and scored some duct tape, which I secured the saddle with and a couple bottles and started the climb to hopefully hold off the very nearing Flynn brothers."
Once back on course, Pond was now in sight of a chasing Bart Flynn who felt good about his chances to reel in the race leader. Almost as soon as he started his chase bad luck took it's turn on Bart, this time in the form of a flat tire, essentially ending any challenge to Alex Pond taking his 3rd NUE win of 2016.
Bart's flat cost him a position to his brother George who rolled across the finish line in second just over 4 minutes behind Pond. Bart would cross the line in third.
Behind the lead trio Troy Heathhecker (P-Town Cross) and John Reuter (Elephants Perch) had a back-and-forth battle for much of the day with Heathhecker finally coming out on top to take fourth in front of Reuter.
Alex Pond now controls the open men's category in the NUE series. He will look to continue his winning ways at the Hampshire 100k in two weeks and the Volcano 100k in Costa Rica.
Open Women
The women's race also featured a series leader with Karen Jarchow (Ergon) looking to build on her NUE exploits of 2016 with another win.
She was confident about the course profile as it included an abundance of climbing all at high-altitude, which played into the Colorado-based rider's strengths. Her toughest competition would be coming from a pair of Jens. Jen Hanks (Pivot/DNA Cycling) and Jen Kandolin (Hoback Sports) both have the experience and fitness to challenge for the win.
Jarchow climbed into the lead early and was clearly feeling strong on the steeps at Grand Targhee.
"I was able to put in a couple minutes lead on the opening climb. However, once I dropped into the first descent, 38 Special, I got a little too excited and ended up on the ground within the first 5 of 38 switchbacks, bruising and scraping up my knee and elbow within the first 40 minutes of the race," Jarchow shared after the race.
Another crash on lap one and a bent derailleur hangar slowed her progress but not enough to lose her race lead. After getting her derailleur issues straightened out Jarchow was back on course and taking no chances with position. "I kept my "foot on the gas" with efforts steady and took zero chances on the descents for the last 16 miles of the race – knowing I had already wasted a lot of time and energy through silly mistakes I didn't want to lose the race with another. The quality of the trails really kept my mind focused and having fun through the finish!
The race finishes with a short, power sucking climb up a grassy knoll to the finish line – again, taking no chances, I put my head down and pedaled hard to the line. I've been sprinted out at the line before and since I have never let up even when I think I have it in the bag. With luck, I wasn't caught through all of my silly mistakes and was able to secure my fourth NUE marathon win, and hopefully the overall for the season."
Behind the lone leader a two-person battle was raging between Hanks and Kandolin who traded positions all throughout the race with Hanks opening gaps on the downhills and Kandolin climbing her way back in front on the uphills.
After multiple position changes throughout the race, Hanks took a small lead into the final 13-mile loop through Rick's Basin. Knowing she had to push it on the climbs if she wanted to hang onto her lead the Pivot/DNA Cycling rider gave her all on the seemingly endless punchy climbs throughout Rick's Basin.
"I basically started my sprint 10 miles from the finish," Hanks said at the line. "I knew if I couldn't stay ahead on the climbs I wouldn't beat Kandolin because there weren't any long descents left for me to attack on."
At first her strategy seemed to be working until roughly two miles to go when Kandolin closed the gap and made her final move into second place. Hanks had given her all trying to hold off the Hoback rider and had nothing left when Kandolin made her final attack.
Jen Kandolin crossed the line with just over a minute in hand saying this was the hardest race effort of her career.
Hanks held on for third.
Fourth place went to Caedren Harvey followed Ami Stuart (Storm Cycles).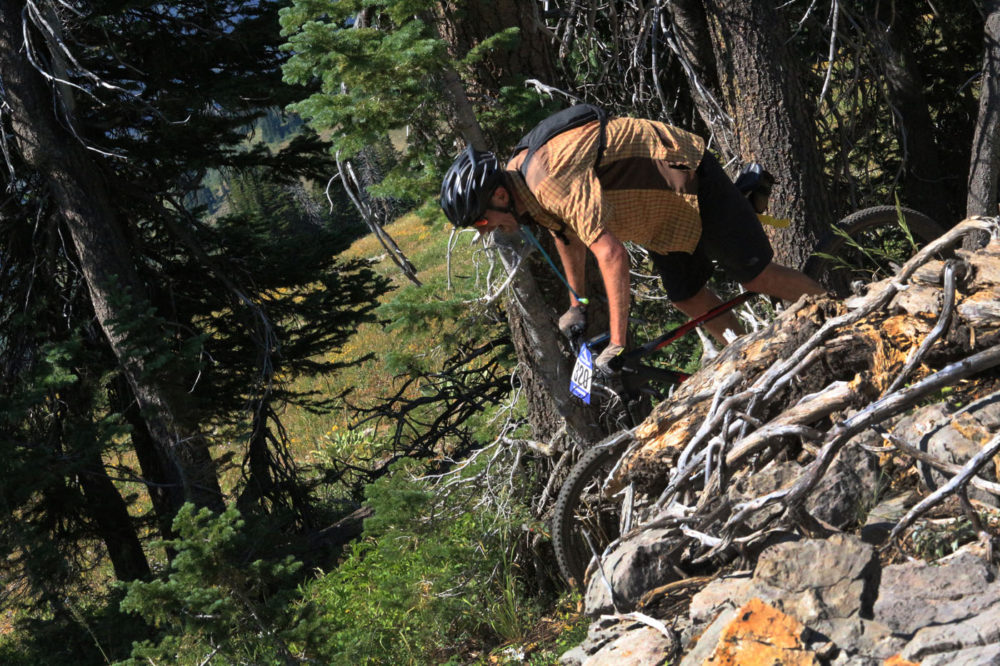 Men's Singlespeed
The singlespeed race was won by Utah rider Shannon Boffeli (Pivot/DNA Cycling), who crossed the line in 5:45:15; over 45 minutes in front of second place and the sixth rider to cross the finish line. Despite the big gap at the end, Boffeli's race wasn't as easy as it might appear. From the opening climb the lanky Utahn was challenged by long-time Idaho strongman Ryon Butterfield (Pro Leisure).
"I started pretty strong but when we reached the steepest parts of the opening climb I was having a hard time turning my gear (34 x 20) and Ryon got past me," Boffeli shared after the race.
In fact, Butterfield led for the remainder of the first of two laps before the two riders met up again at the halfway point. Butterfield led by 20 seconds through the Action Jackson trail starting the second lap, finally giving up the lead during a "natural break" just before starting the lap's big opening climb.
Here's Boffeli's description of what happened next: "I got past Ryon and just focused on turning the pedals and staying on the bike. I was turning my gear better than I did on lap one and after a few switchbacks I could tell I was putting time on Ryon. After that I just kept riding as hard as I could. It was an emotional race for me being almost exactly one year since losing my Mom to Leukemia. She was always my biggest fan and I could feel her excitement as I was riding out front. It helped me keep pushing all the way to the finish."
Ryon Butterfield held onto his second place until late in the race when a mechanical forced him to end his day on foot.
This moved Paul Nash (Benchmark Builders) into the runner up spot, over 30 minutes in front of third place James Dwyer (Green Mountain).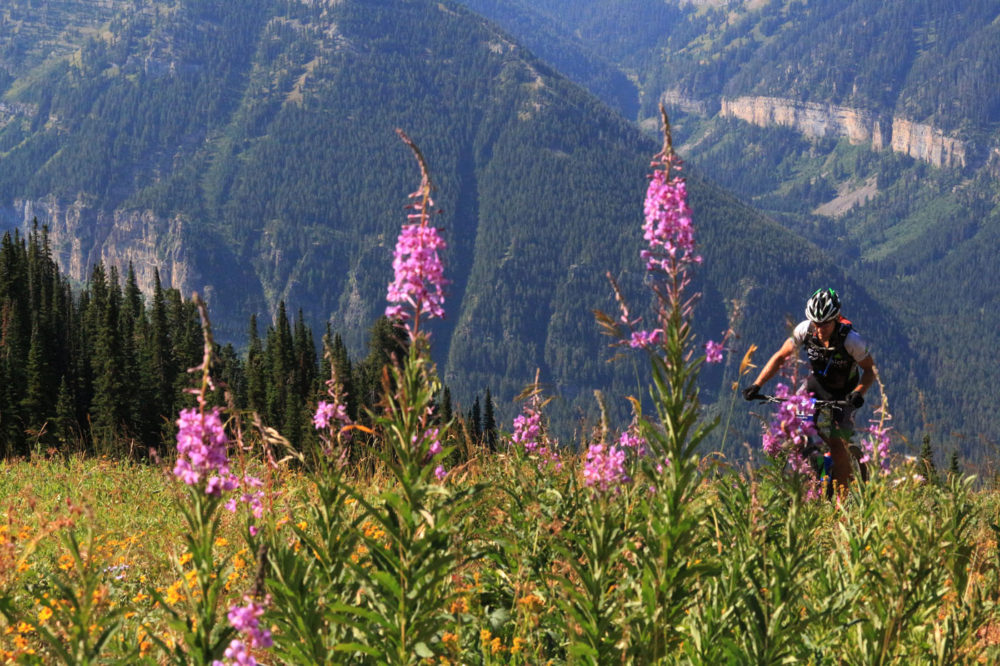 Men's 50+
The master men's race was open for grabs until local rider David Saurman (Fitzgerald's Bicycle) took control of the 50-plus field.
Saurman is a veteran of all eight editions of the Pierre's Hole 100 and knew exactly how to gauge his efforts to conquer this challenging course. "I started slow but my engine finally warmed up and I started reeling in the field.  One by one I caught up to other riders.  First lap was great due to welcomed rain the night before and perfectly tacky trails and cool temps."
As Saurman rolled on through the 100k course conditions were getting tougher and his fitness began wearing a bit thin until an unusual inspiration lifted his spirits. "I really was lacking on my long distance training this year, but muscle memory and general stubbornness kept me going.  I did get a bit of a boost when world road race champion and Tour De France green jersey winner Peter Sagan (Tinkoff) tore past me like a freight train doing the 50K race.  That was inspiring and so cool that he would show up to our local race before heading to Rio!  And though I missed him at the finish, I heard he was a real sport to hang out and let everyone (a lot of my friends) get photos taken with him."
His inspiration held strong throughout the final lap as Saurman took the 50-plus race by over 5 minutes.
Rich Pampe finished second followed by David Caplan (Webcyclery.com).
You can continue to follow the NUE series as it moves to New Hampshire for the Hampshire 100 in two weeks. Check back with MTBRaceNews.com for full coverage and results.
Click Here for Full Results From All Categories