December 4, 2016
Titan Tropic by GAES Stage 1 – Havana to Soroa
The first serious day of riding finished after riding 97 kilometers from the urban and historic city of Havana to the relaxed mountain resort of Soroa. In observance of the final day of mourning for former Cuban leader Fidel Castro today's stage was a transfer stage only, meaning no official time was kept.
Tucked into the mountains we chased for about half the day, Soroa is known as the "Rainbow of Cuba" for it's natural beauty and the Orquideario Soroa park, which is home to 700 orchid species from around the world.
Today's stage started with several miles of road transitioning to a jumbled mix of pavement and dirt cane field roads. The pavement sections could barely be called roads as the mammoth potholes littering every stretch made life difficult for the riders and prevented pack riding in groups larger than 4 or 5.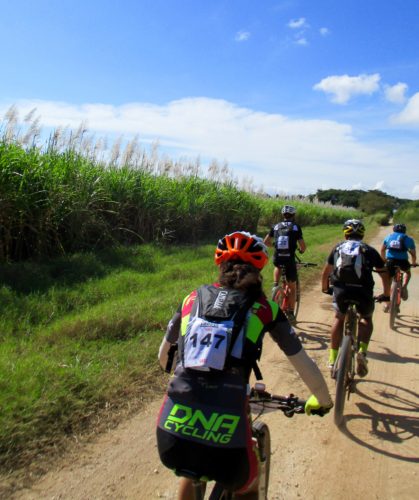 The second half of the race featured primarily dirt roads only with some primitive trails that would pass for singletrack throwing in some small river crossings and rocky climbs leading to the finish.
We started off slow as burning matches on an untimed stage seemed stupid. As the day went on temperatures started to rise and with the wind blowing hard at 20-30 mph. Our gameplan changed as limiting our time in the heat and holding on to our drafting partners suddenly rose in importance.
After just over 4 hours we finished without any major issues although we spent most of the day worrying about stray dogs, goats, or cows wandering onto the roads and weaving around atomic potholes.
Once across the finish line, the stress immediately stopped and the chilling began with a distinct Carribean feel. Palm trees, great food, and lounging near the pool was the order of the afternoon.
Tomorrow's stage starts and ends in Soroa. Stage 2 will be the first real racing of Titan Tropic. We don't know what to expect from our competition but today gave us a nice introduction to riding as a team again and the course markings and feed zones of Titan Tropic.
Tomorrow's stage will be a 106 km loop bringing riders back to Soroa after completing a tour of several hydro-electric dams, fertile crop fields, and some technical riding including a 300-foot rocky climb to the finish line.