Healthy Holiday Recipes from our team to you plus check out these mountain bike races that keep us motivated during the winter!
As the end of the year approaches, here are a few of our favorite recipes for the health-conscious athlete:
1. Jen Hanks: Plant-based pumpkin cookies
2. Jen Toops: Healthy Carrot Cake Muffins
3. Marlee Dixon: Delicious No Bake Cookies
1. As a professional mountain bike racer and 2-time breast cancer champion Jen Hanks follows a healthy diet and is a great resource for race recovery nutrition. She has worked with dieticians to formulate recovery plans to maximize recovery after the body has gone through a strenuous race effort. As an athlete, it's common to experience cold-like symptoms or feeling run down after a big race due to the heavy exertion the body went through while racing. Jen has helped her teammates adopt race recovery nutrition and supplement plans to help with their recovery.
Below is one of Jen's healthy homemade cookie recipes! A great treat and nutritious option.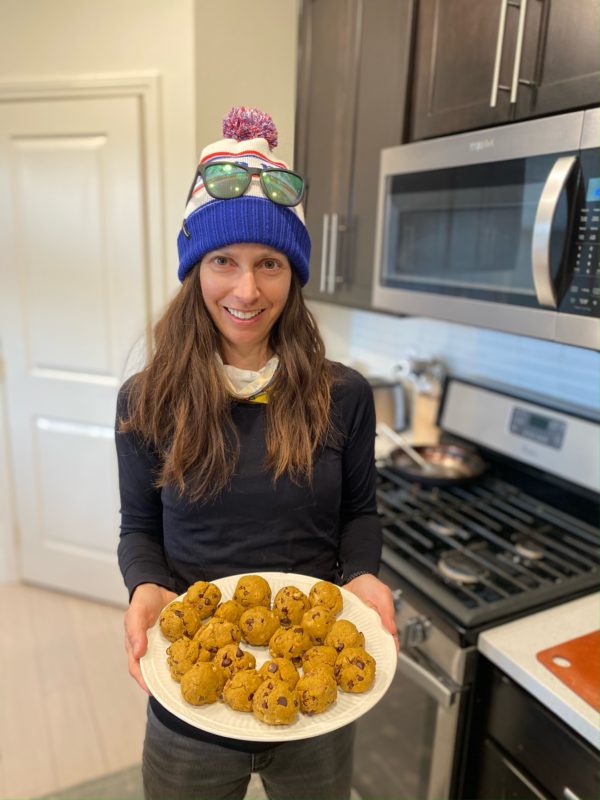 Jen's homemade plant-based pumpkin cookies:
– 1/2 can pureed pumpkin
-1/2 cup nut butter (your choice)
-¼ cup maple syrup or honey
-1 ½ cups flour (I use almond flour or garbanzo bean flour)
-dark chocolate chips (you decide how many chocolate chips you want; I use an embarrassingly large amount)
-handful of walnuts and/or dried fruit (optional)
– 1-2 scoops of protein powder of your choice (optional)
– ¼ teaspoon baking soda
-1 tsp vanilla (optional)
– 1 tsp pumpkin pie spice (or add to your preference)
– ½ tsp ginger spice (or add to your preference)
– ½ tsp cinnamon spice (or add to your preference)
Preheat oven to 350degrees. Mix. Place cookie dough ball of your preferred size on parchment paper covered cookie sheet and cook for 20 minutes. As you can see there are many optional ingredients. These cookies are easy to customize to your taste and nutritional preference.
2. One of Jen Toop's favorite recipes combines cake with breakfast, The perfect way for any athlete to start their day! 😊 Check out the link below for this healthy and enjoyable breakfast option to give you optimal fuel for training and racing!
Healthy Carrot Cake Muffins: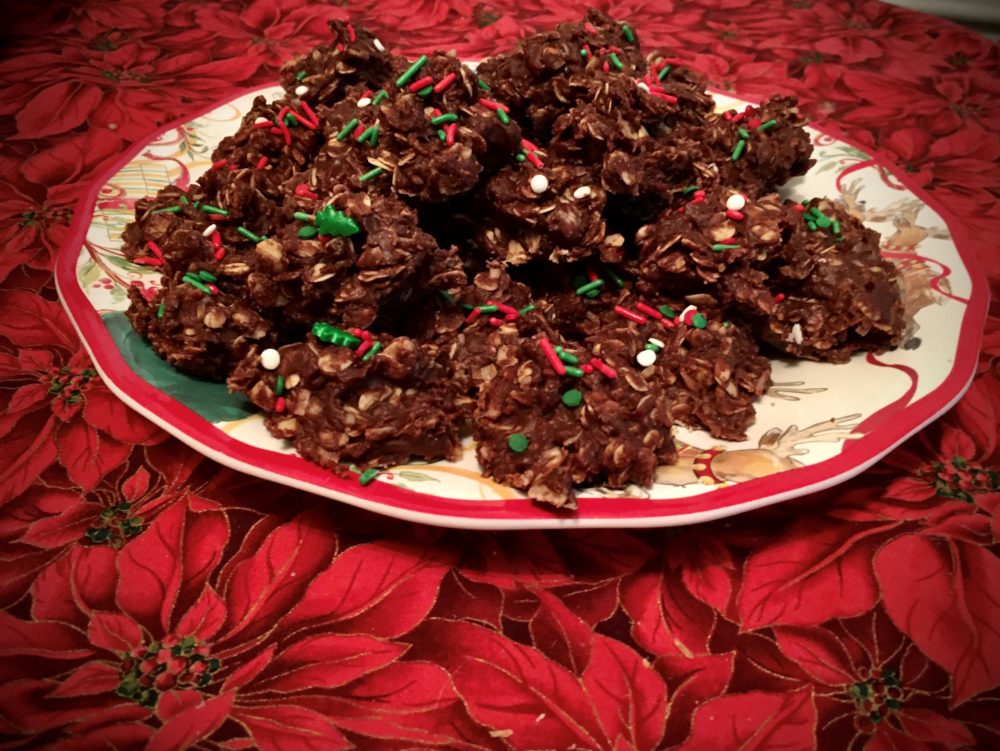 3. Marlee Dixon is a sweet-tooth fanatic and loves to make and eat sweets all year. This recipe can be adjusted for the holidays by adding some red and green sprinkles. It's a healthier alternative to the usual no bake cookies and combines two of her favorite ingredients- chocolate and peanut butter! It contains healthy fats from coconut and peanut butter, protein, and anti-oxidant rich cacao. These cookies also taste great as a trail treat!
Healthy no bake chocolate peanut butter cookies:
Ingredients:
– 1 cup creamy peanut butter (I use no sugar added peanut butter)
– ½ cup honey or maple syrup
– ½ cup coconut oil
– ½ tsp salt
– 4 TBSP Cocoa powder or Cacao
– 2 tsp vanilla
– 2 cups old fashioned oats (you can also use quick cooking oats)
– ½ cup unsweetened shredded coconut
Instructions:
– Grease a baking sheet with oil
– In a medium saucepan, combine and heat: peanut butter, honey salt and coconut oil stirring continuously, until melted and well-combined.
– Stir in vanilla and cocoa powder.
– Remove from heat then add oats and coconut and mix well.
– Drop 1 TBS portions of mixture onto your prepared baking sheet. Continue until you've used all your cookie mixture.
– Add some holiday sprinkles on top if desired
– Let cool in the refrigerator or freezer until hardened.
– Serve cold
– Store in an airtight container in the refrigerator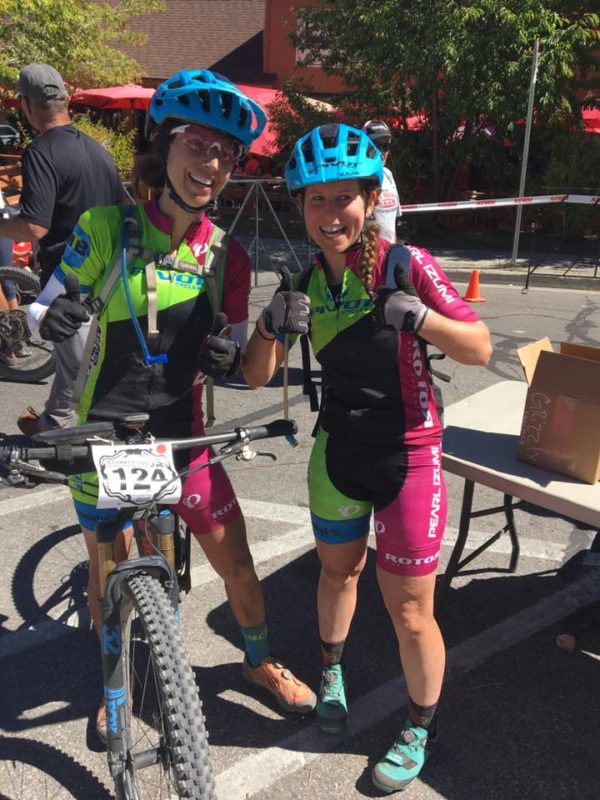 For anyone living in cold, dark, grey, snowy, dreary areas, there is a lot to look forward to in 2022. Here are the races that keep us motivated and excited for the new year! Hope to see you there!
Jen Hanks: Epic Rides and Dakota 5-0 Races:
For 2022 Jen is really looking forward to participating in the Arizona Epic Rides races including Whiskey 50 (April 30) and Tour of the White Mountains (October 1). Todd Sadow and his team put on great events where every participant is valued and has a great experience. 4–6-hour races (aka 50 milers) are also her favorite distance for racing. For Jen, this distance is challenging enough that it feels worthwhile to travel to the event, but not so challenging that she can't function for a few days after the race!
A new race that she has added to her calendar this year is the Dakota5-0 (September 4). This event has a great reputation for being super fun and it falls into her sweet spot distance for racing. Jen has never traveled to South Dakota and is looking forward to exploring a new state and trails.
Jen Toops: Pisgah Stage Race, Secreto race in Costa Rica and setting new course records for Marji Gesick:
Jen is most excited about the Pisgah stage race coming up in April. Pisgah has some really old school trails in the hills of NC. She is looking forward to racing this race co-ed with the hubby- it's special when you get to race with someone else and work together all week. It's extra special when you can share that with your spouse!
Jen is also excited for the Secreto race in Costa Rica at the end of the season in November. It's a new stage race put on by GRO races. She is looking forward to ending the 2022 season with a little fun racing bikes and relaxing on the beach in CR. https://gropromotions.com/secreto-cr/
This year Jen will also be very focused on trying to buckle at the Marji Gesick next year. She has one Marji hundred under her belt and now she can go back with a plan! No woman has buckled yet (Under 12 hours) and she is really hoping to make that happen!
Marlee Dixon: True Grit Epic, Moab Rocks and La Ruta stage races:
With her toddling toddler coming along with her to races, Marlee's focus has shifted to finding races that are more local to where she lives as well as focusing on a few big travel races where she will have a babysitter. In March she is excited to be back at True Grit! This is a fantastic course and she's pumped that it includes a gravel race and a mountain bike race. Fingers crossed for no snow.
Next Marlee will be doing Moab Rocks for the 4th time. This race is one of her favorites with fun courses each day, camping with friends in the warm desert, and a great race vibe.
New this year, she is doing La Ruta in Costa Rica. Marlee has only raced in the US and Canada and traveling internationally to race has been high on her bucket list. Costa Rica is a beautiful country and Jen Toops has said this was one of her overall favorite races!
Cheers y'all to Racing in 2022!