Carrabassett 100K
Written by: Shana Biese, Ryan O'Dell
Located in the beautiful Carrabassett Valley of Northern Maine at Sugar Loaf Ski Area, The seventh annual (CBCC) Carrabassett Backcountry Challenge 100k joined the NUE Marathon Series this year witnessing tremendous growth from three hundred last year to now more than four hundred racers in 2017. In addition to the NUE 100k distance, CBCC also included shorter distances of 50k and 25k plus kids races.
During the past five years, approximately $500,000 has been spent building mountain bike trails in the Carrabassett Region.  The goal is to construct an iconic mountain bike trail network that is on everybody's "must-ride" list. To date, there is approximately eighty miles of riding for all abilities. This includes miles of super flowy, machine-built singletrack and old-school style trails that have been carved out with hand tools and sweat. Profits from the race go towards construction and maintenance of new trails.
Blanchard gets the W!
Bryna Blanchard, BMB racing, took first place with a time of 6:24:40.
Eight minutes later, Karen Potter, Pivot/DNA Cycling, took second with a time of 6:32:17. "My race went pretty well considering I haven't done a lot of endurance racing of late, nor in training. I didn't expect to be up front much so going back and forth with Bryna for the first twenty miles was motivating. Although, Bryna was climbing much better than I was, we went back and forth a few times early on and then, when we hit some dirt road climbs, and she was gone, I knew I had to settle into a pace I felt more comfortable keeping for the next 40 miles.
There was more climbing than I had anticipated and certainly more than had been described. The muddy conditions made for some obvious challenges for everyone but there was lots of fun purpose built single track that was really fun and handled the water well. Mid-course there was some stream crossings that I was thankful for cleaning off my drive-train some. The crews at the aid stations were awesome. I had faded some mid-race but, around the five hour mark, my legs came back around and I started to feel better and stronger on the climbs. I had some aspirations of reeling in first again but Bryna had a great race and it was too little too late, but good enough to hold onto second."
Following her 100k Marathon win at Mohican in June, Linda Shin, Blacksmith Cycle, took third at 6:44:20. "I've never been to Maine so I jumped at the chance to visit for a MTB race! I didn't do my due diligence on researching what the trails were like before heading to Maine and opted to race with my Lauf fork setup on my hardtail Scapin Spektro 29er, which only has 60mm of travel. I should have known better with 'backcountry' in the race name that the course was going to be rugged and rough! The course was rocky but manageable and I knew I had to just stay loose when we pre-rode the day before the race.
I had a really bad first half of the race that started with wiping out within the first 12 seconds of the race and had to chase from the back of the pack. I knew I had some work cut out for me to try to catch Karen and Bryna. I worked my way up the field but then had a few mechanicals along the way and a couple more wipeouts! It was a fine balance of trying to stay really loose in the rocky sections and descents and not losing grip on the bars.
On one of the rough descents, my Garmin popped off. I stopped to look for it in the lush trail when my boyfriend rolled in behind me after a few minutes, told me to keep riding and that he'd stay back to look for it. The second half of the race was really tough too as I had no idea when to eat without my Garmin and was starting to feel the fatigue settle in. I knew I was sitting in third, likely way behind Karen and Bryna, so I just wanted to ride safe without any more mishaps to maintain a podium spot.
On the out and back section, I saw Karen and realized I wasn't too far behind, and also saw Liz Allen who wasn't' too far behind me so my motivation picked up. When I arrived at aid 4, one of the volunteers had my Garmin which Craig had found and left for me at the aid station. I was so stoked!!! Thanks Craig and to all the amazing volunteers who catered to all the racers!
My luck was turning but my upper body was really starting to feel beat up from the lack of suspension and I was ready to get to the finish line. I was slowing down on the last big climb; the last descent couldn't come sooner. I finally cruised into the finish line feeling pretty battered and muddy, but all smiles. Despite my bad luck, I still had so much fun. The course was so rad and the volunteers and aid stations were awesome. The Christmas aid station was the best! There were quite a few of us from Ontario racing so it was a really fun road trip with friends. I will definitely do this race again, but with a better bike setup! Next up, I'm headed to Shenandoah 100."
Nine minutes behind Shin, Elizabeth Allen, took fourth at 6:53:37. Laura Dougherty was fifth at 7:16:41.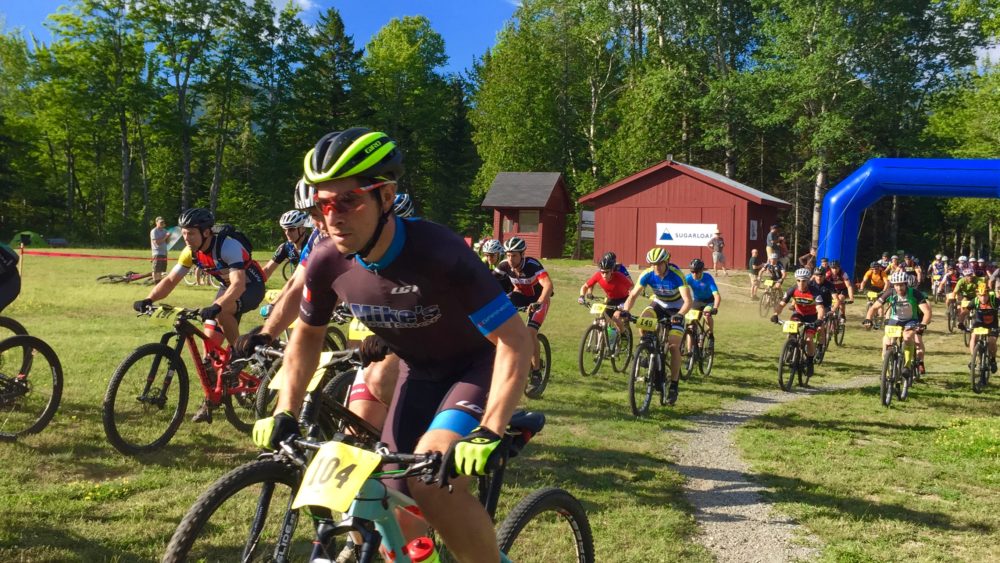 Men's Open
Scott wins by eight minutes!
 Andy Scott, Riverside Racing, earned his first NUE race win with a time of 5:16:77.
Eight minutes later, John Petrylak, Scott Pro MTB Team/Bike Factory/EIS grips/Bishop, came in second place with a time of 5:24:22. "I got to Carrabassett a little earlier than I anticipated. This gave me an opportunity to do a pre-ride on both Thursday and Friday.
The first ten miles of the race is just the most absolute fun New England Single track you can imagine. On Friday, I rode the last five miles or so of the finish (which is an awesome five mile descent back into the valley). Since this was the first year the NUE was making a stop in Carrabassett, I wasn't sure what to expect but, right away, you could tell this race was a well-oiled machine with folks directing parking for an easy, orderly morning and signage everywhere. The course also has good markings and the race description was right on. After a brief riders meeting, we lined up and then it was GO time!
The start is a nice field section that funnels into double track and then eventually single track. I was very motivated to get to the single track first since rain the night before and into race morning made for muddy conditions. I had a great start and was first wheel into the single track around the outdoor center. It was crazy fun with such amazing trails and fun obstacles. After the first six miles of single track, the race starts to get a little more serious.
A group of around eight riders started to get some distance as we climbed towards the top of the resort. The group was led by race favorite Dereck Treadwell, eventual winner Andy Scott, Brian Oickle, and myself. I followed Dereck's wheel as he punished the steep pitches at the top; soon after that Dereck and I had gotten some daylight between us and the chase group! The gap didn't stick as we descended down some of the XC skiing trails; they were pretty chucky and it was a big gamble to just let it rock down them.
After the descent, the group was down to four riders and another four in a chase group just a few seconds back. We climbed up a super fun piece of machine built single track and then popped out onto a fire road heading towards aid station 1. After the aid station, the group came back together as we descended this amazing piece of double track with tons of little bridges and small creek crossings. The group was rolling smooth along a pretty blown out fire road with monstrous mud puddles sprinkled around. I was about twenty seconds in front of the group with Andy and then a terrible crash caused Dereck to call it a day as his handle bars broke!
Right after the second aid station at mile thirty, it was Brian Oickle, Andy Scott and I heading up a loose, rocky, steep double track trying get away from the chase group. Our group was together all the way until around mile 45 when, after a long flat-ish section that Brian was flying on, we dismounted for a steep creek crossing and then Andy got a little separation from Brian and I going up the powerline. Right after the second to last aid station is a five mile gravel road that we started to work together on to close the gap on Andy. The road is an out and back so we could see Andy about 30 or 40 seconds in front of us.
Once we hit the check point and turned around to head towards the final climb, we did a nice, old school, New England piece of single track. While I was riding, I could feel my left foot starting to have a bunch of float in the pedal and then it started slapping against the pedal. UGH!!!  My cleat came loose. I got it tightened back up just before the bolt fell all the way out! Now I was in crisis control mode heading towards the final five mile climb before a nice rewarding descent back to the finish line.
I didn't realize that we used the same piece of trail twice (listen to those announcements during riders meetings), so I panicked thinking I missed a turn and then rode backwards, when I found Bobby Nash and we both decided to head the way I was going originally. After a few nervous miles, we popped out at the last aid station signaling we were going the right way.
After I started to get rolling up the climb, I found Brian Oickle had some terrible luck and flatted. With third place on my wheel I kept the pace high, climbing up the final stretch and was able to put just a little daylight between Bobby and myself. I kept the gap all the way to the finish but I could never catch Andy as he was on fire! After a very exciting race for almost the entire day, I was so thrilled to land on the podium. Congrats to Andy Scott; he rode very strong all day."
Just one minute behind Petrylak, Bobby Nash, Dr. Naylor-Treadwelltraining, finished in third place at 5:25:52. Five minutes later, Neal Burton, Team Errace p/b DSO Manufacturing, claimed fourth at 5:30:56. Four minutes behind Burton, Alan Starrett, took fifth at  5:34:08.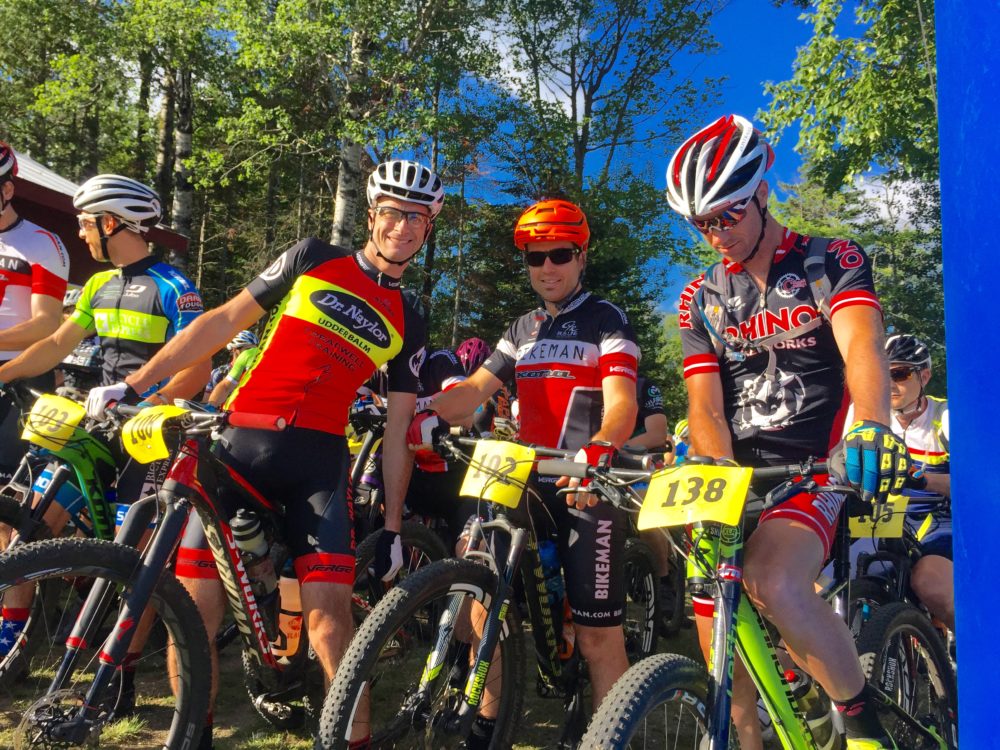 Singlespeed
Giroux wins on 32×20 gearing!
Dan Giroux, BSWC, was first across the line at 6:14:35.
Jesse Bell was second at 6:52:18. "The morning started out with a light rain, but warm weather. The start was not overly fast and, being on a low geared single speed, I did not make a big effort to get to the front of the pack before the single track, which ended up being my biggest mistake of the race.
As we approached the bottle neck to the single track, several riders shot in front of me who I didn't think much of and figured they were probably fast. As it turns out, they were not overly skilled in the tight tech New England single track so the pace was slow to say the least. It took the whole first single track section to pick off all of those slower riders (at least 5 miles).
About 15-20 minutes into the race, the rain picked up pretty steady and eventually became a good hard rain for a bit. The trails became pretty soggy with all the rain and the volume of riders. The whole time I was dealing with the wet trails, I couldn't help but feel bad for the people behind me and the 50K racers. For the most part, the trails handled the rain very well and 95% of them were rideable. There were a few places where, if you hit the wrong line through the mud, you would come to a complete stop. The wet also made flats a common problem. I saw several people on the side of the trails fixing flats. I just concentrated on riding clean and not doing anything stupid.
I was able to ride the whole race without a mechanical and was able to keep the rubber on the ground. The rains stopped about an hour in and the skies cleared for a very nice day. I raced an Ibis Tranny 29, with a 100mm Reba, Next cranks, and I9 Trail 24 wheels with Vittoria Mezcal G+ 2.25″ tires and was impressed with how the tires handled the wet and mud. I was geared out at a 32X20 and, after talking to the other single speed riders there, I was geared the lowest. It was a great day to do a great race in beautiful country."
Masters 50+
Taylor with a commanding win!
Within a large master's field of 38 racers, Scott Taylor, Blue Hill Cycling, took a commanding win at 6:06:21.
Seventeen minutes later, Scott Burrill, bikeman.com, rolled into second place at 6:23:10. Just one minute behind Burrill, John Burkhardt, HUP United, took third at 6:24:48. None of the masters responded to our request for a race report.
WHATS NEXT: NUE Epic and Marathon Series Racers will travel to Breckenridge, Colorado on July 29 to brave the high mountain elevation of the Rockies. On the same day, many NUE Epic racers will choose the challenging hills and rocks at the Wilderness 101 in State College, Pennsylvania.